Game Guides
Saint Seiya: Legend of Justice Beginner's Guide - The Best Tips and Tricks for New Players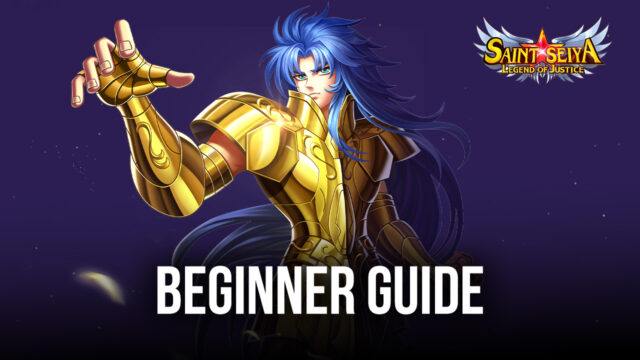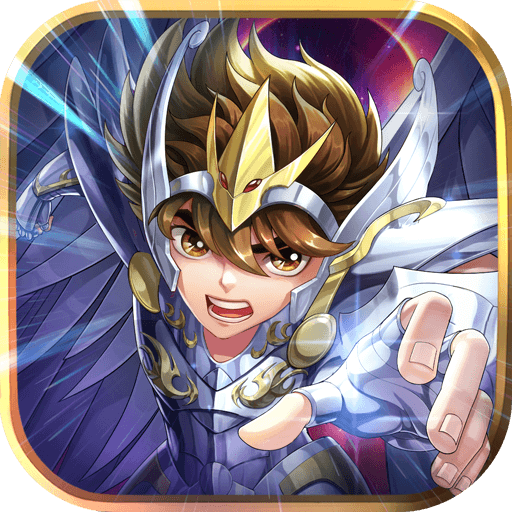 The Idle RPG mechanics have arrived to the Saint Seiya franchise with the newest mobile game based on this series, Saint Seiya: Legend of Justice. In contrast with existing titles like Saint Seiya: Awakening, which is more akin to full-fledged RPGs like King's Raid or Epic Seven, Legend of Justice is more identical to games like AFK Arena, in that it has a heavy emphasis on automation, as well as auto farming mechanics that allow players to continue generating resources even while offline.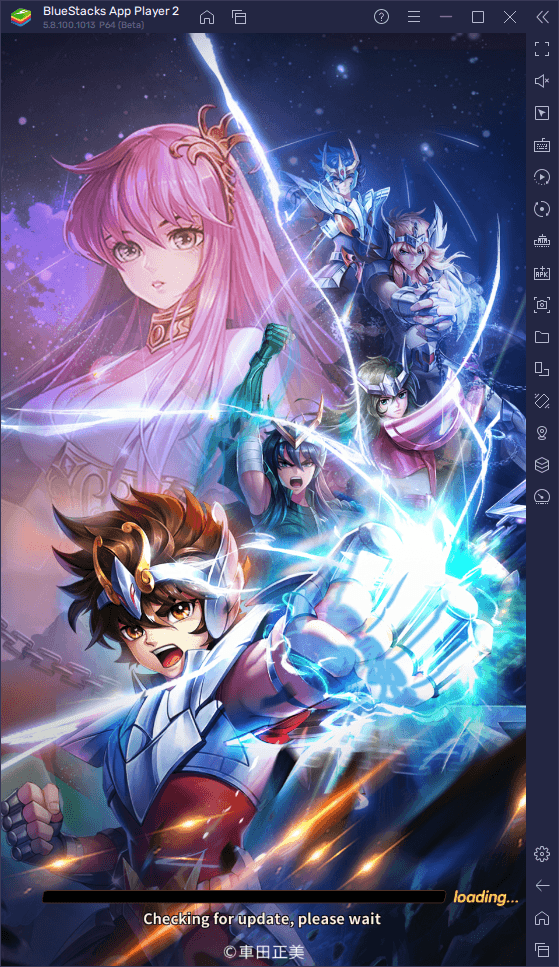 Just like with any other idle RPG, however, Saint Seiya: Legend of Justice has a whole host of features and systems that you'll need to learn about in order to progress effectively. Luckily, in this brief beginner's guide, we'll be covering most of the basic aspects that you need to know in order to get a good start, as well as sharing a few tips and tricks to speed up your progress.
The Combat System
Just like in games such as AFK Arena, the combat system in Saint Seiya: Legend of Justice, is nothing to write home about in terms of complexity.
When in combat, your characters will automatically approach and attack enemies until one team is left standing. However, as the battle rages on, and your characters attack, they will continuously build up their rage meters. And once these meters are full, you can click on their portraits to unleash their signature attacks, which are usually very strong and can shift the tide of battle in your favor at any given moment.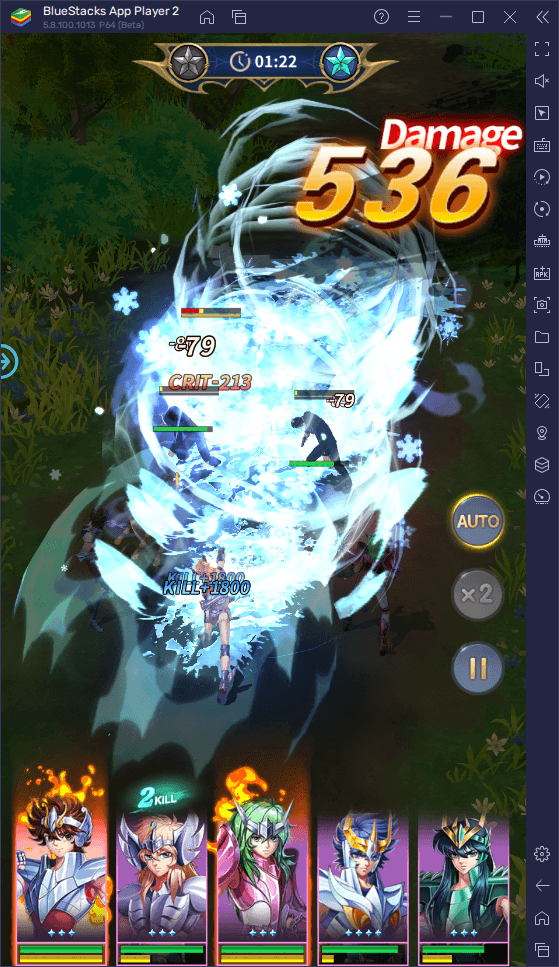 With that being said, your success in this game boils down to putting together powerful teams with positive synergies, more than actually doing anything complex in combat.
The Elemental Matchup System
However, if there's one important aspect that you should consider when it comes to building good teams in Saint Seiya: Legend of Justice, it's the elemental system.
In short, every single character in this game is aligned with a certain element, which can be either water, fire, wind, earth, light, or dark. These elements, in turn, are each weak against one, and strong against another, dealing an extra 25% damage to those they are strong against, and taking 25% extra damage from the ones they are weak against.
The way these elements interact with each other is the following:
Water

defeats

Fire
Fire

defeats

Wind
Wind

defeats

Earth
Earth

defeats

Water
Light

and

Dark

are opposites and deal extra damage to each other, but don't have any interactions with the other elements.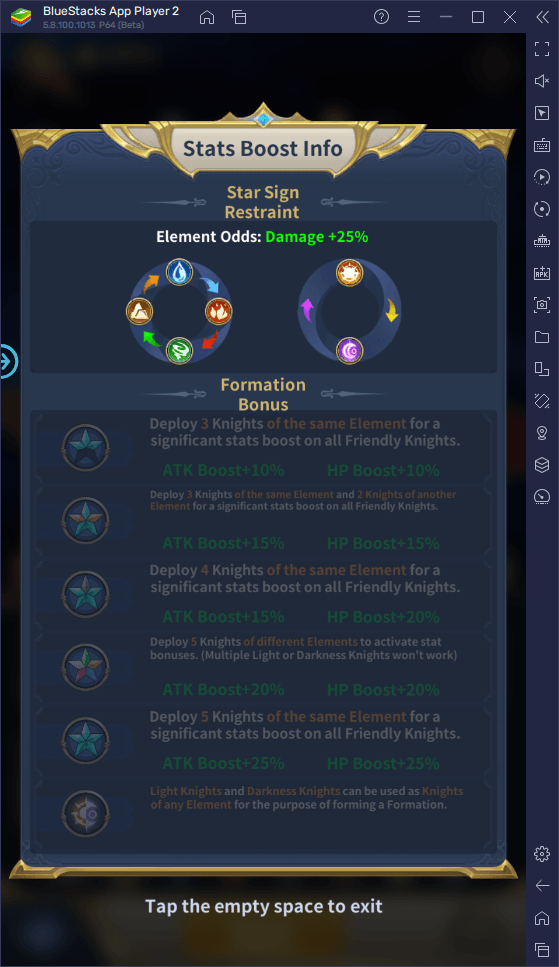 Aside from these elemental interactions, you can also activate certain buffs by creating teams with certain elemental combinations:
3 Knights of the same element:

ATK and HP +10%
3 Knights of the same element and two of another element:

ATK and HP +15%
4 Knights of the same element:

ATK +15% and HP +20%
5 Knights of different elements:

ATK and HP +20%
5 Knights of the same element:

ATK and HP +25%
It's worth mentioning here that Light and Dark elements can be used in any of the above combinations, except for the combination with 5 Knights of different elements, in which case you can only have a maximum 1 Light and 1 Dark character to activate this bonus.
Obtaining New Saints
As a game based on Saint Seiya, most of the roster is comprised of the vast variety of saints seen in the show: From the low ranking Bronze Knights, the more powerful Silver Knights, and to the mighty Gold Knights, all of which are surpassed by the only God character in the game as of this moment: Athena.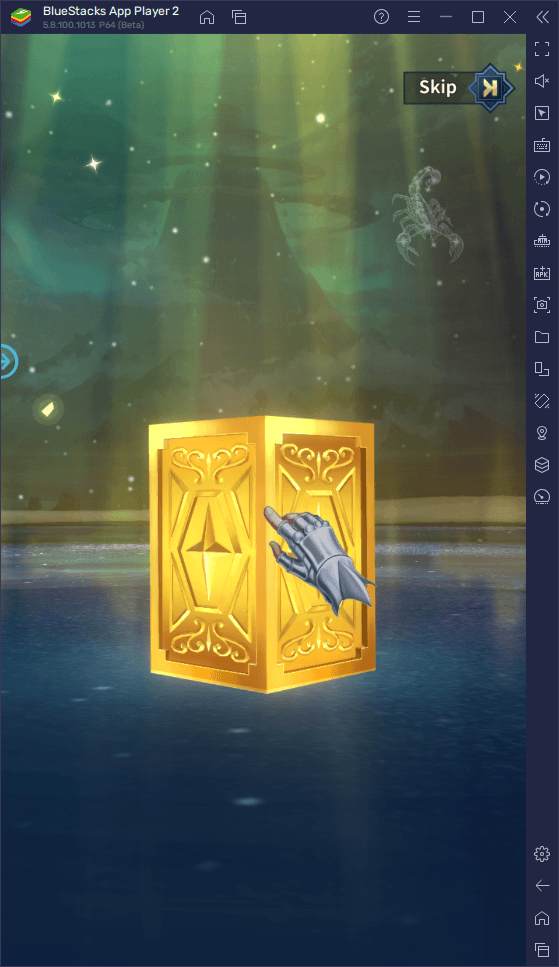 You can unlock all of these characters from the summoning system, which you can find in the Observatory building. In this place, you can pay 300 diamonds for a single summoning, or 2700 for a 10x summoning, which effectively gives you one for free. However, the odds of getting the best characters in the game are quite low, as the chances of recruiting 2-star and 3-star knights are 47.6% each, while the chances of getting 5-star knights are only 4.80%.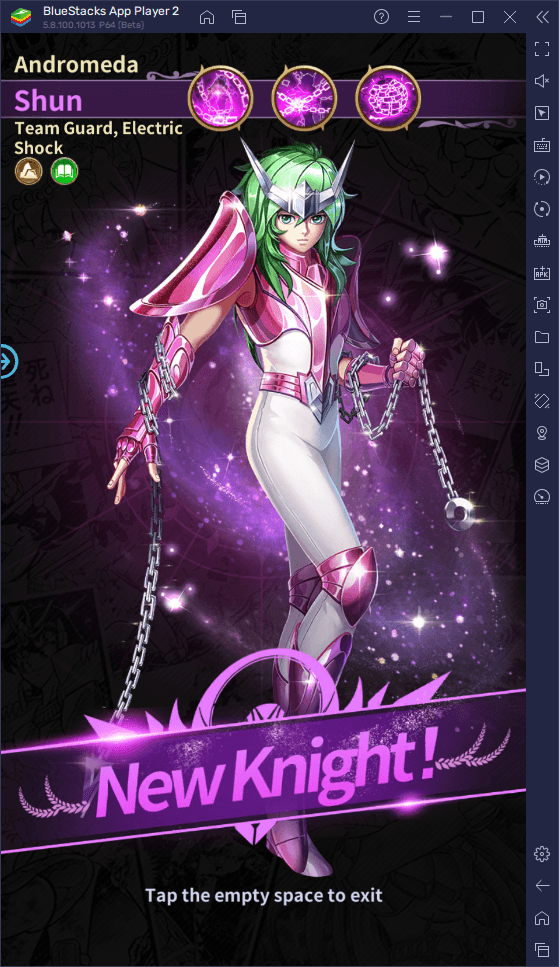 Luckily, players can access the first free summonings in the game relatively early, making Saint Seiya: Legend of Justice a prime candidate for rerolling, which brings us to our next point.
Reroll to Unlock the Best Characters From Early On
As an idle RPG, most of your success in this game will come from your luck in the gacha system. In other words, unlocking good characters will help to significantly improve your results in the battle stages. However, since the chances of getting good 5-star characters are slim, at best, it could be a while before you actually unlock one of these for yourself. Fortunately, you can significantly improve your odds of getting good characters by rerolling, a process that many people perform in gacha games in order to get a head start.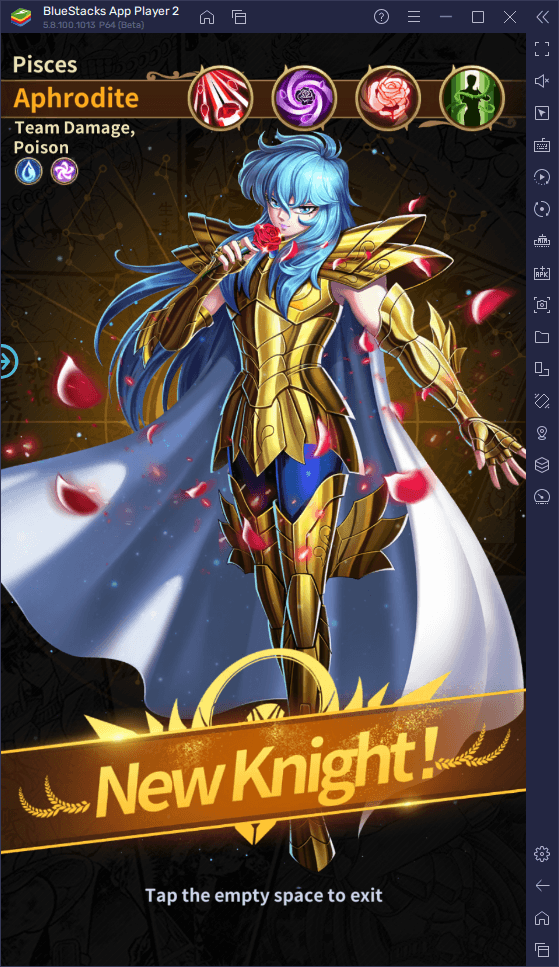 Rerolling, in a nutshell, is a process where users start a new game, use their free summonings, restart if they don't get what they want, and repeat the process as many times as necessary until they get their target characters. And in Saint Seiya: Legend of Justice, this process is very much the same. Because of this, we strongly suggest rerolling to get a few powerful characters early on, if you're serious about getting into this game.
Check out our reroll guide for Saint Seiya: Legend of Justice to learn more about how to go about this process.
Upgrading Your Best Characters
Once you have a few good characters, you'll notice that they're still quite weak, despite their rarity and star rank. After all, even the best knights are weak when they're at level 1. Luckily, upgrading your characters in Saint Seiya: Legend of Justice is quite easy and can be done with a few clicks, at least at the beginning.
The main ways to upgrade your characters at first, are through cultivation, and the accessory features. The former revolves around spending knight's experience and gold coins in order to level up the character and increase their stats permanently. However, you can only upgrade them up to certain level milestones, and you'll need to invest Magic Stones to help them perform breakthroughs, increasing their level caps and their maximum potential. Meanwhile, the latter is achieved by equipping your knights with a variety of accessories, which give them passive boosts for as long as they carry them equipped.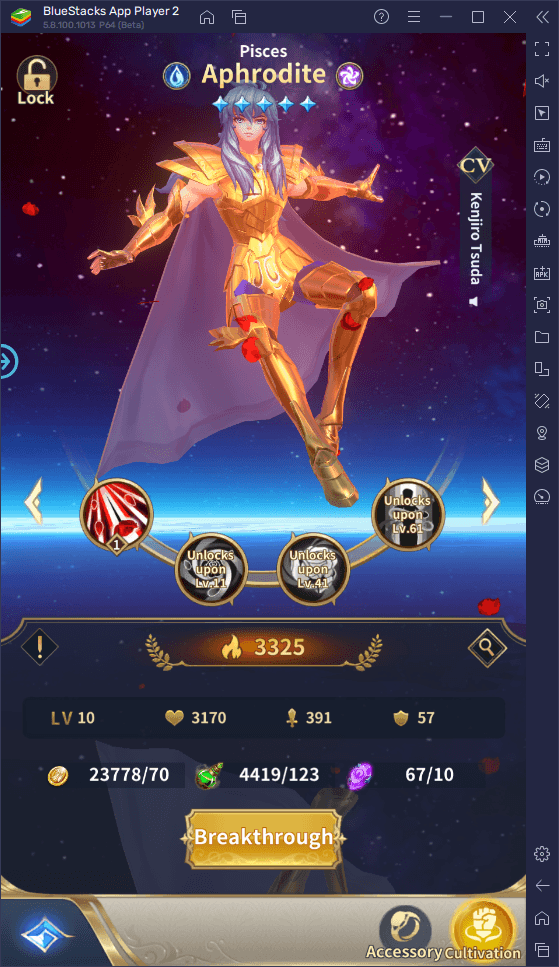 While you can equip and unequip accessories at any given moment, the leveling up and the breakthrough process is a bit more permanent. However, you can always reset a character's level back to 1 and have all the resources and items refunded, through the "Star Hill" building on the Home screen. This process is completely free, as long as the character in question is under level 70. Afterward, however, you'll need to pay a fee in diamonds in order to reset your characters.
In closing, you now know how to summon the best characters in Saint Seiya: Legend of Justice, as well as how to upgrade them to unleash their maximum potential, among other things. This should be all you need to know in order to get a good start in this new idle RPG