The name "Yoko Taro" may not sound familiar, but if we say "Nier Automata" and "Drakengard", you'll probably know who we're talking about: Taro is the director of both games and has been working for Square Enix  for a long time. SINoALICE is the latest game directed by him which was released in November 2017 in Japan. Since then, the game has achieved a huge audience: SINoALICE is truly an impressive game that combines classic gacha mechanics with its unique art style. Japanese players have been playing this game for about a year, and it is unclear when the global edition will be released for Western players: Even the most optimistic predictions say that this will not happen before Q3 2019. But this doesn't concern BlueStacks users because they don't have to wait for the global release: You can start playing SINoALICE in your own language right now, thanks to our instant translation feature. Let's explain how you can do this, shall we?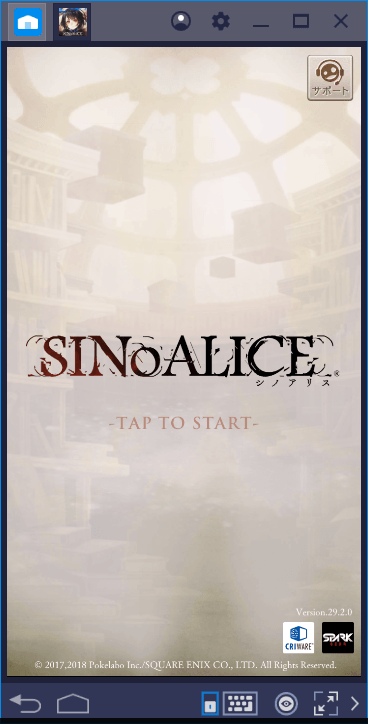 Installing SINoALICE On BlueStacks
To install this game, you have to find its APK file: If you don't live in Japan, you won't be able to complete the installation directly using BlueStacks due to geographical restrictions. You can easily find and download the APK file by searching for the name of the game on the internet – just remember to use reliable resources. Using our "Install APK" feature, just show the location of the downloaded file to BlueStacks.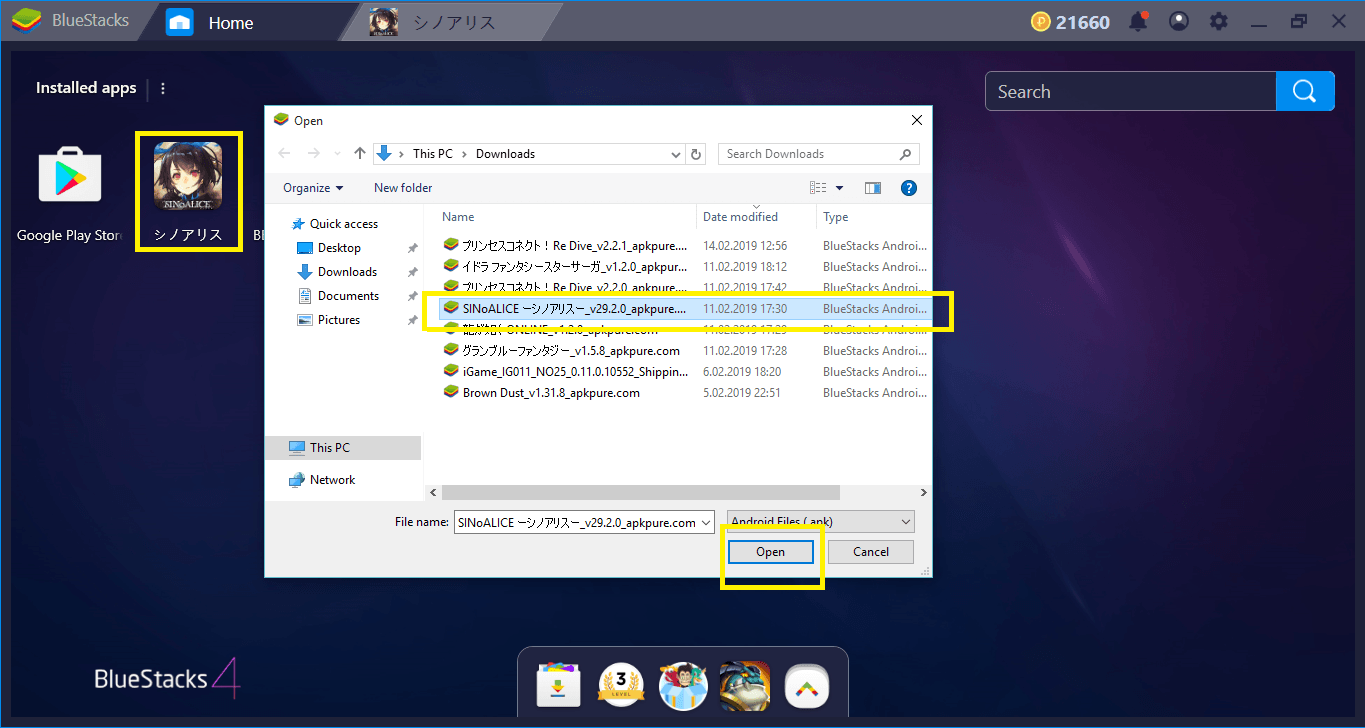 Click on the file, and then click the "open" button: BlueStacks will automatically take care of everything else. The size of the file is about 65 MB, but the game also downloads an additional 2 GB of data after the installation.
SINoALICE is a Japanese game as can be expected, but at any time you can press "Ctrl + Shift + L" to translate everything on the screen into your own language. The language settings of BlueStacks will determine the result of the translation. So, you can play the game in dozens of languages, including English.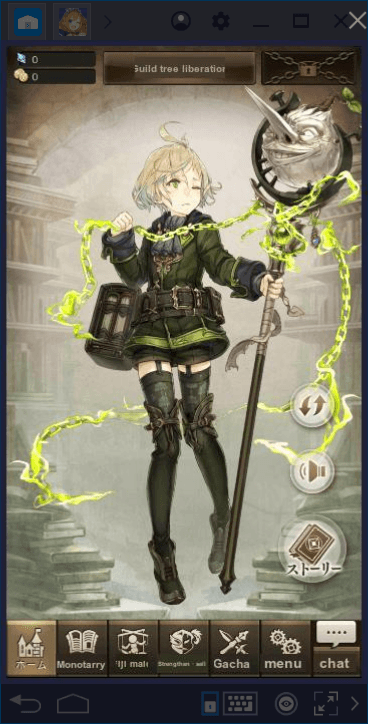 The translated main game screen – now we can understand which button is used for which function.
Configuring The Default Controls
SINoALICE is a game that can be played only with your mouse and the BlueStacks default control scheme does not include any keyboard keys. To be honest, you don't need them: Using your mouse will be more than enough to navigate between menus and fight against monsters. However, using our advanced visual keymap tool, you can still customize the controls of the game: This tool allows you to place a "visual shortcut" on the screen for any function.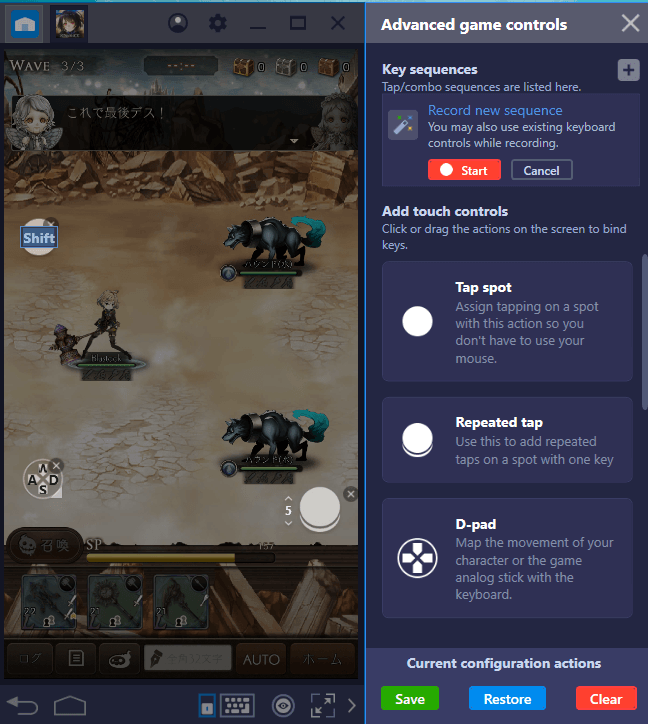 By creating "tap spots" on the screen, you can still use the keyboard keys and create shortcuts for any function you want. With the "Ctrl + Shift + L" buttons, you can also translate everything you see on this screen into your own language: This method will be especially useful for tracking debuffs during a battle.
Keep Calm And Continue To Reroll
SINoALICE doesn't have many characters to collect when compared to other gacha games, but each hero has really unique features. You may have to work for months to collect them all, and the game lets you get one of the 4 powerful characters for free at the start, to encourage you.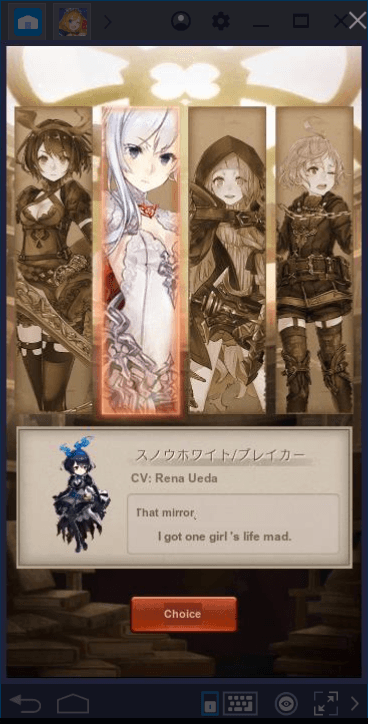 You can select only one of these four characters.
In addition, approximately 10 minutes after starting the game, you can make a free summoning. The results of this process are completely random – there is no way to know in advance what kind of character you will get.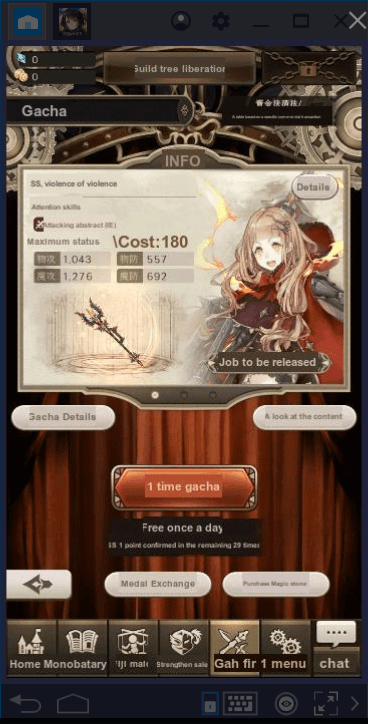 You can make one free summon every day.
BlueStacks users do not have to settle for what the game offers: Thanks to our Multi Instance feature, you can try out all 4 characters individually and continue to do free summoning as long as you want. In just one hour, you'll be able to retry your luck at least 6 times – you can continue playing through the instance where you get the best results.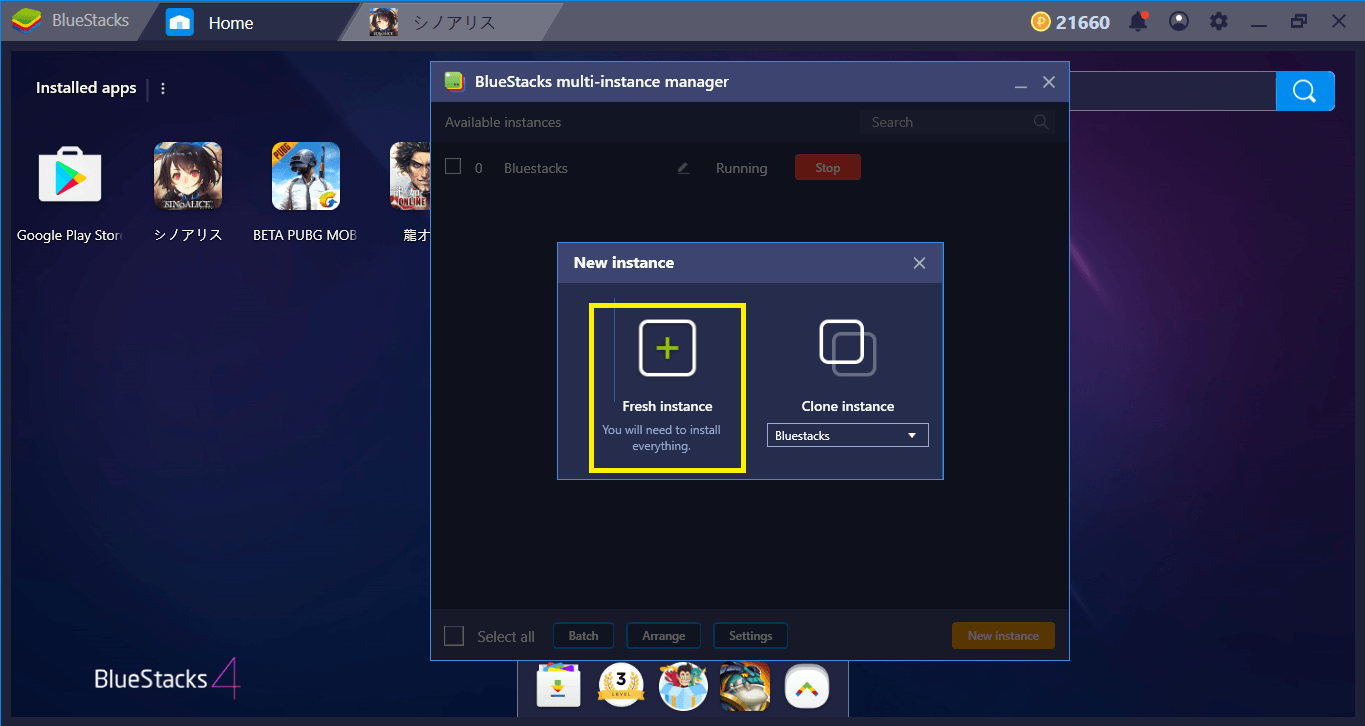 We can create as many instances as we want, and we can use the free summoning on each one – this process is called "rerolling". We also get a chance to try a different character each time.
Create Skill Combos And Repeat Them As Many Times As You Want
SINoALICE uses turn based combat mechanics like many other gacha games, but you have to determine the attack order and the skills your heroes will use. You can automate this process if you want, but this won't be ideal: The automation system almost always makes the worst choices. However, when the abilities of the heroes in your party are used to complement each other, they become much more effective – for example, if you repeat multiple AOE (area of effect) attacks in succession, you can clear large groups of enemies in a very short time. So, how about automating this process and creating a combo for the skills of your heroes?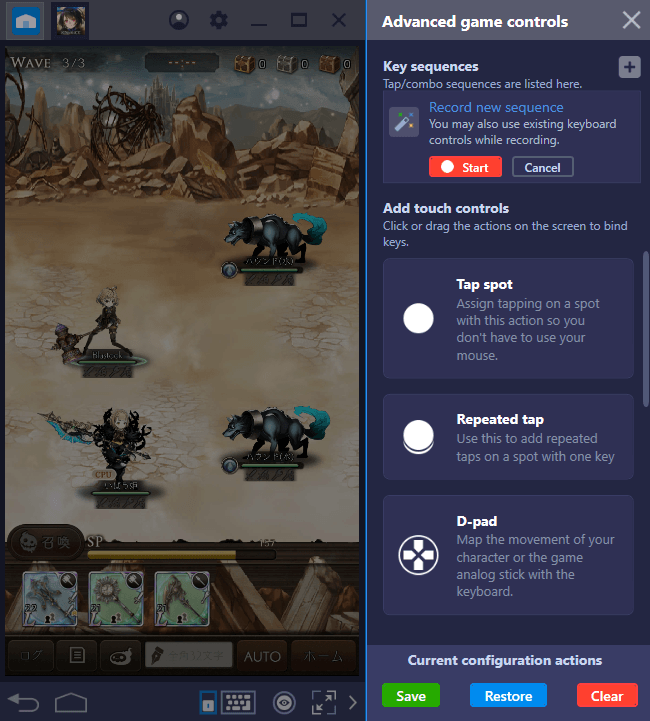 Start of the recording. The skills we can use are at the bottom of the screen – don't forget to activate our translator to get information about each one. Color codes will make it easier to make decisions: Generally, blue and green skills become more effective when used together.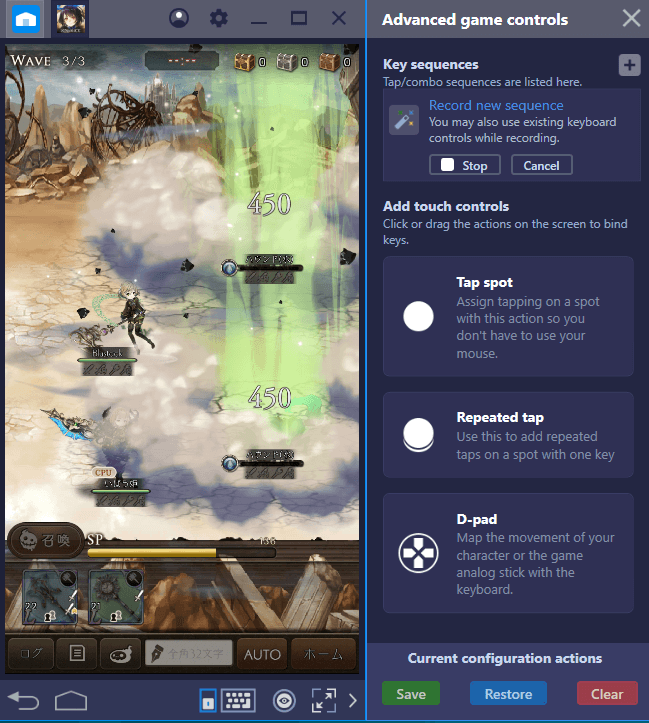 Once we decide which skills we're going to use in succession, we can start creating mayhem on the battlefield. In this example, we only used two skills – you can extend the combo chain as long as you wish.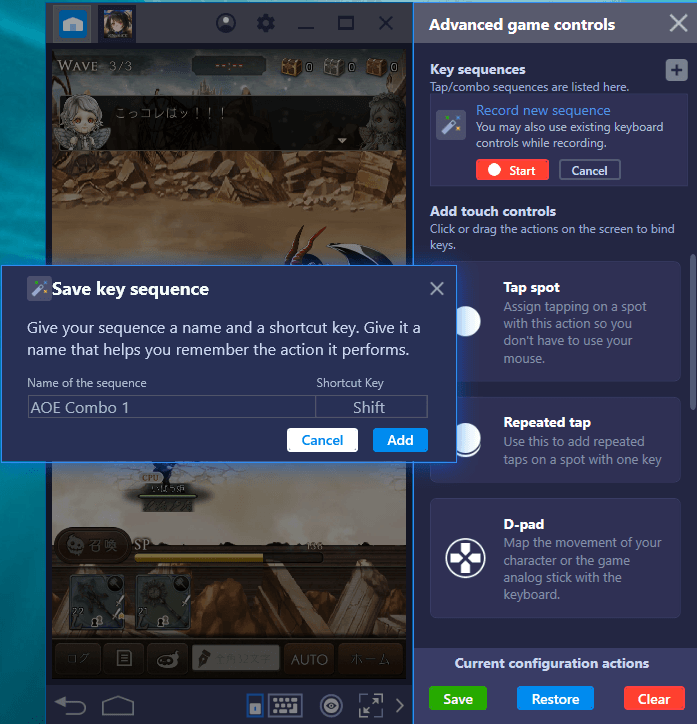 We give this combo a name and assign a key. In the future, our heroes will automatically repeat all the actions we have included in this combo when we press the assigned key, so you will be much more effective on the battlefield.
SINoALICE offers a lot of content that can keep you busy for months and its original art style makes the game even more interesting. You can now join Japanese players and start playing Yoko Taro's latest work: You can be sure that you will enjoy this experience. If you want to see more Japanese gacha games, don't forget to check out our other gacha game guides. The translator feature of BlueStacks allows you to get rid of all the limitations and play any game in any language!