Game Guides
How to Make Your Character Stronger in Soul Crush: Kongfu World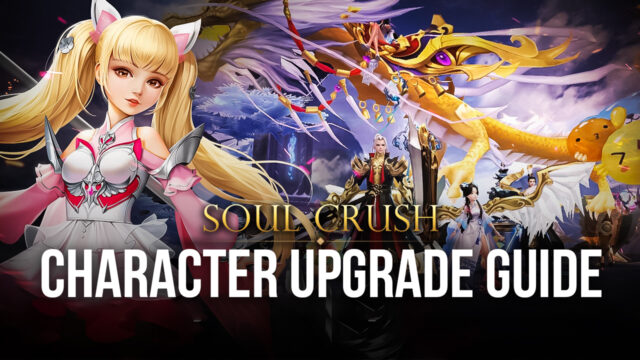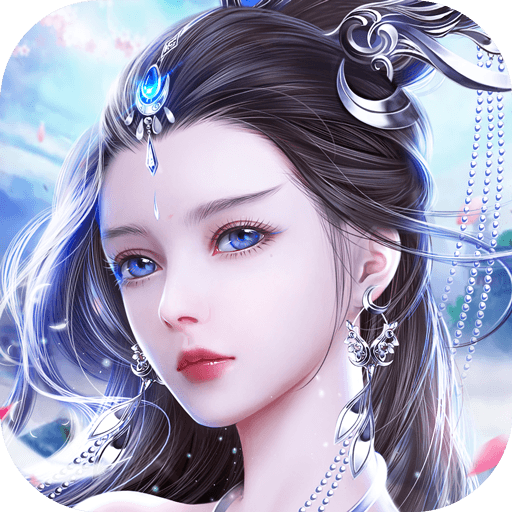 The ultimate end-goal of Soul Crush: Kong Fu World is to make your character as strong as possible. Fortunately enough, the game has an overwhelming amount of ways to upgrade your character. From the constant acquisition of EXP to the grinding for statistically stronger gear, the possibilities for upgrades are quite endless! In this guide, we'll show you some of the most efficient ways to upgrade your character so that your journey will have a huge head-start.
Play in A.F.K Mode
Let's start off with levelling up. Like all other RPGs, you can increase your character's basic stats – such as ATK, DEF, and HP – just by simply increasing their level.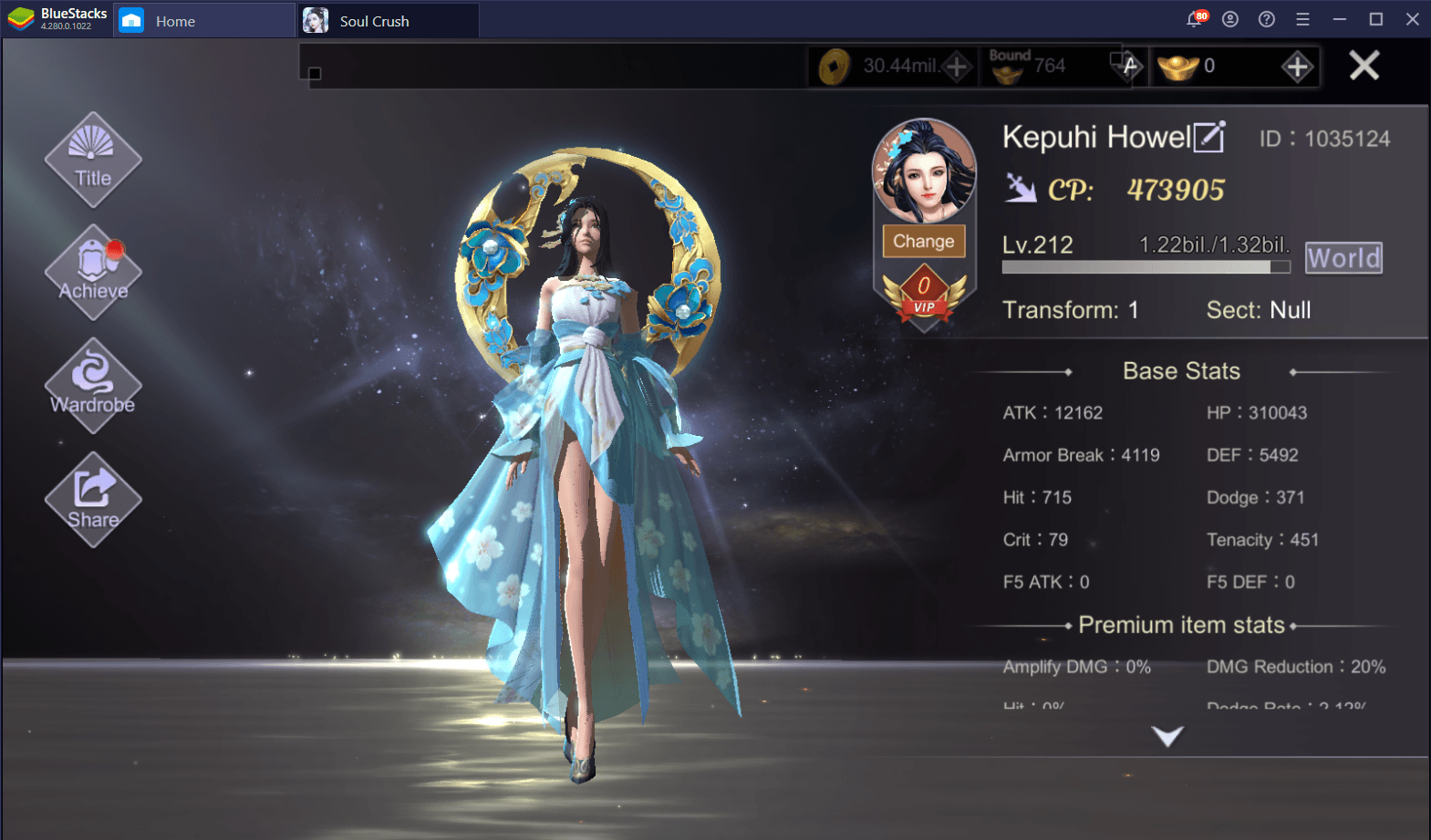 Levelling up requires plenty of EXP – in fact, you will need millions to billions of them once your character reaches the higher levels. The easiest and most efficient way to farm EXP in the game is by playing in A.F.K mode or simply known as idling. Essentially, your character continues fighting waves of enemies even if you are not manually controlling them nor even after you log out of the game. As a result, you can still reap a fortune of EXP and even gear without ever having to press a single button.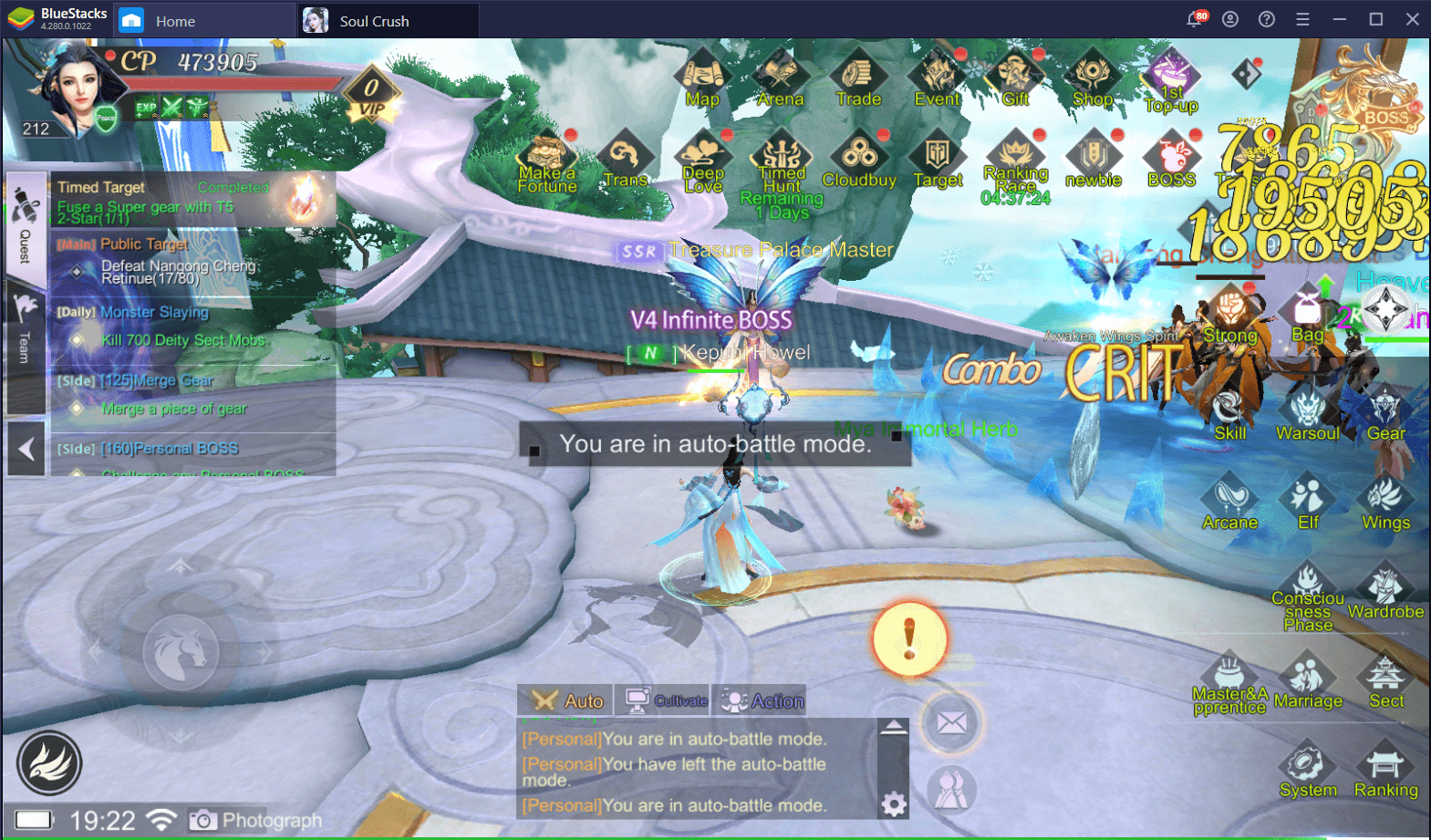 There are two ways to idle: first, you can just run the game in the background and let the game automatically control your character; second, you can log out of the game and then come back and be notified of the amount of EXP and the gear collected while you were offline. It is highly recommended to opt for the latter because you can utilize a feature called A.F.K Cultivation to your advantage.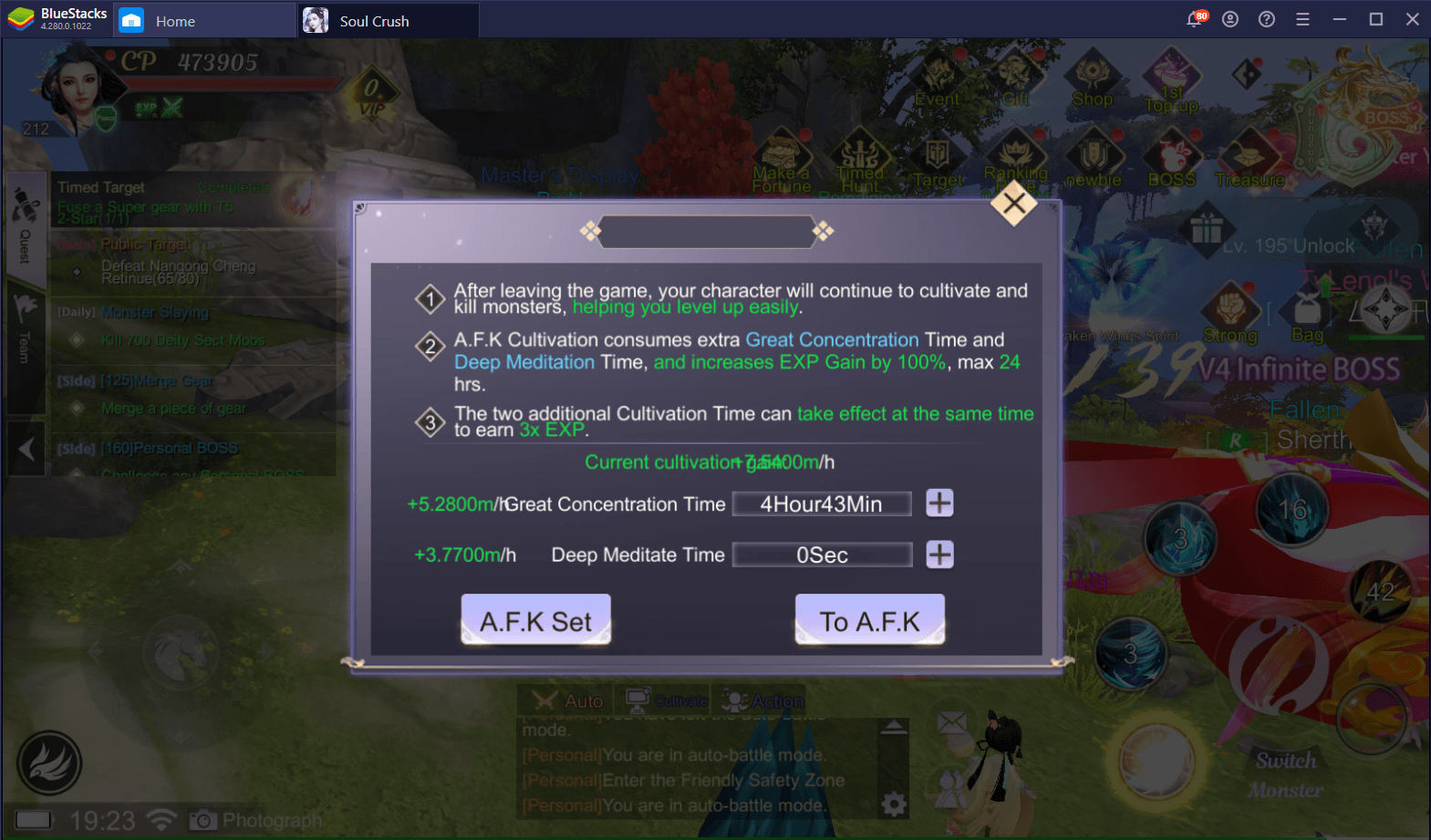 A.F.K Cultivation refer to two items called Great Concentration and Deep Meditation that boost your character's EXP gain while you are offline. These features are available once your character reaches Level 80 (but don't worry because reaching Level 80 is surprisingly fast when you first start out the game). Both Great Concentration and Deep Meditation multiply EXP gains by 100%. The only difference between them is the time by which they last. One usage of Great Concentration gives your five hours of EXP boosts; on the other hand, one usage of Deep Meditation gives you only one hour. But, the good news is that each usage can be stacked up to a maximum of 24 hours!
Cultivate Your Warsoul
Aside from levelling up, you can also increase your stats by cultivating your character's Warsoul. Warsoul pertains to a set of skills that your character can acquire that gives them passive combat boosts (i.e. additional damage).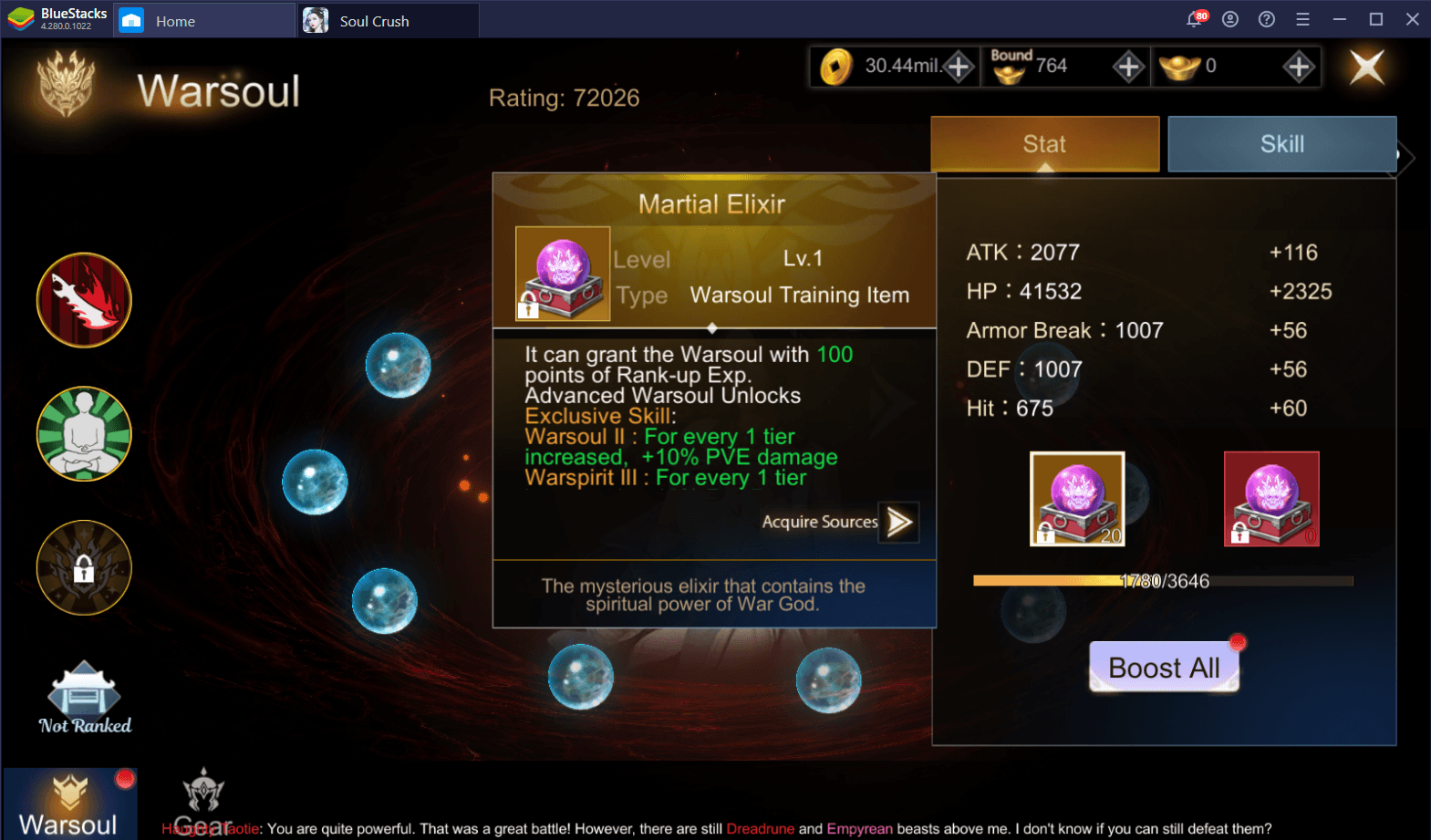 Martial Elixir is primarily used to add 100 points the Warsoul's level bar. Elixir can be acquired by completing the game's quests and also by completing certain challenges in the game's PvP Arena such as 1v1 PK, Altar, and Mob Treasure. Additionally, an item called SSSR1 Elixir can be used to add 300 points to the level bar; however, this item can only be accessed if you purchase the game's VIP Pack.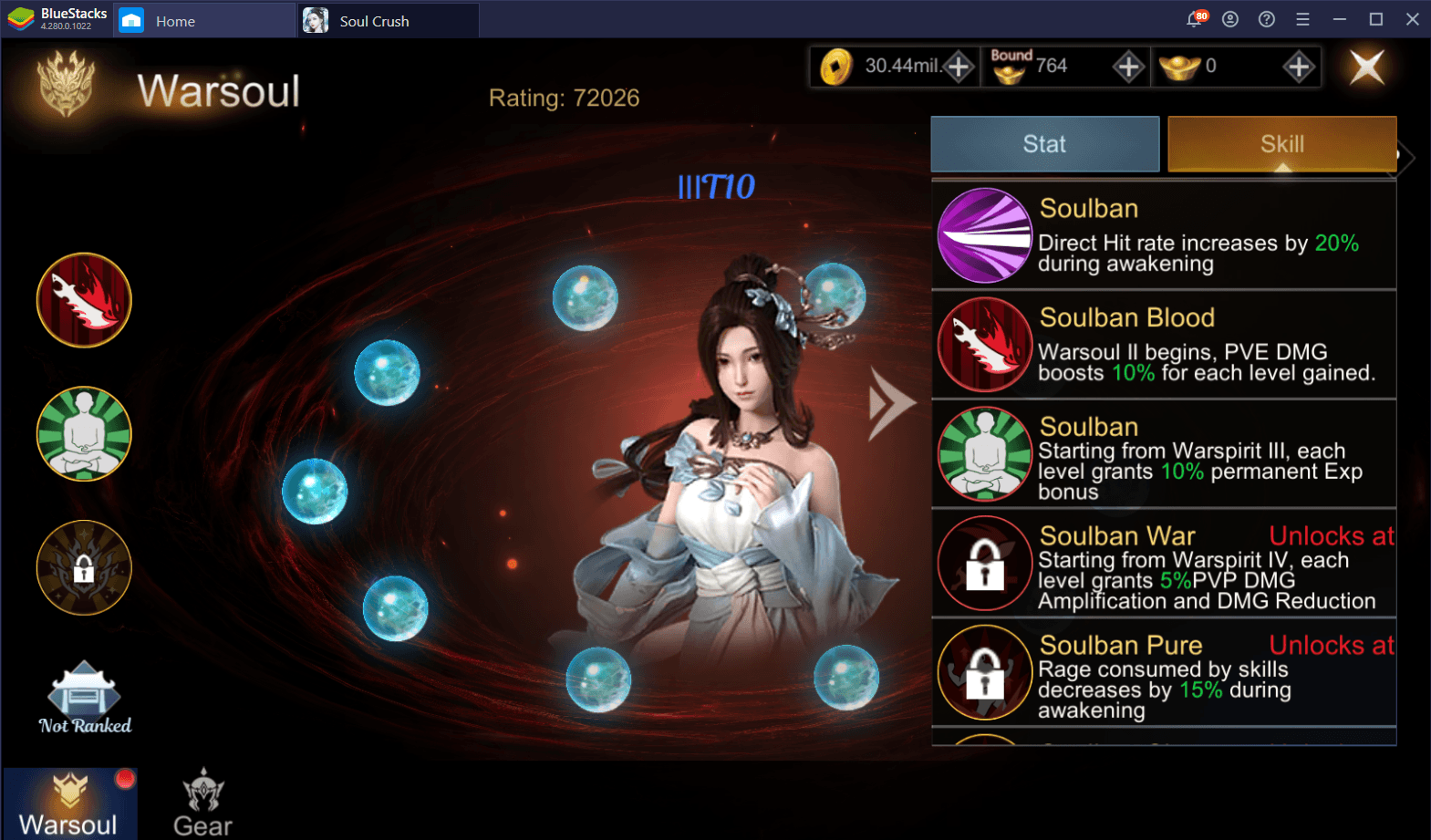 When you completely fill up the level bar, one tier is added (represented by orbs). Upon having a total of 10 tiers, your Warsoul Level advances to the next level. Every time you reach a new level, you unlock a new skill.
There are a total of eight Warsoul levels so that essentially means you need to reach 80 tiers to reach the maximum Warsoul level.
Equip Stronger Gear
As you keep playing the game, you unlock better gear. Gear adds bonuses to your stats depending on the gear. For instance, armor typically increases HP and DEF stats while accessories like rings boost ATK and Armor Break stats.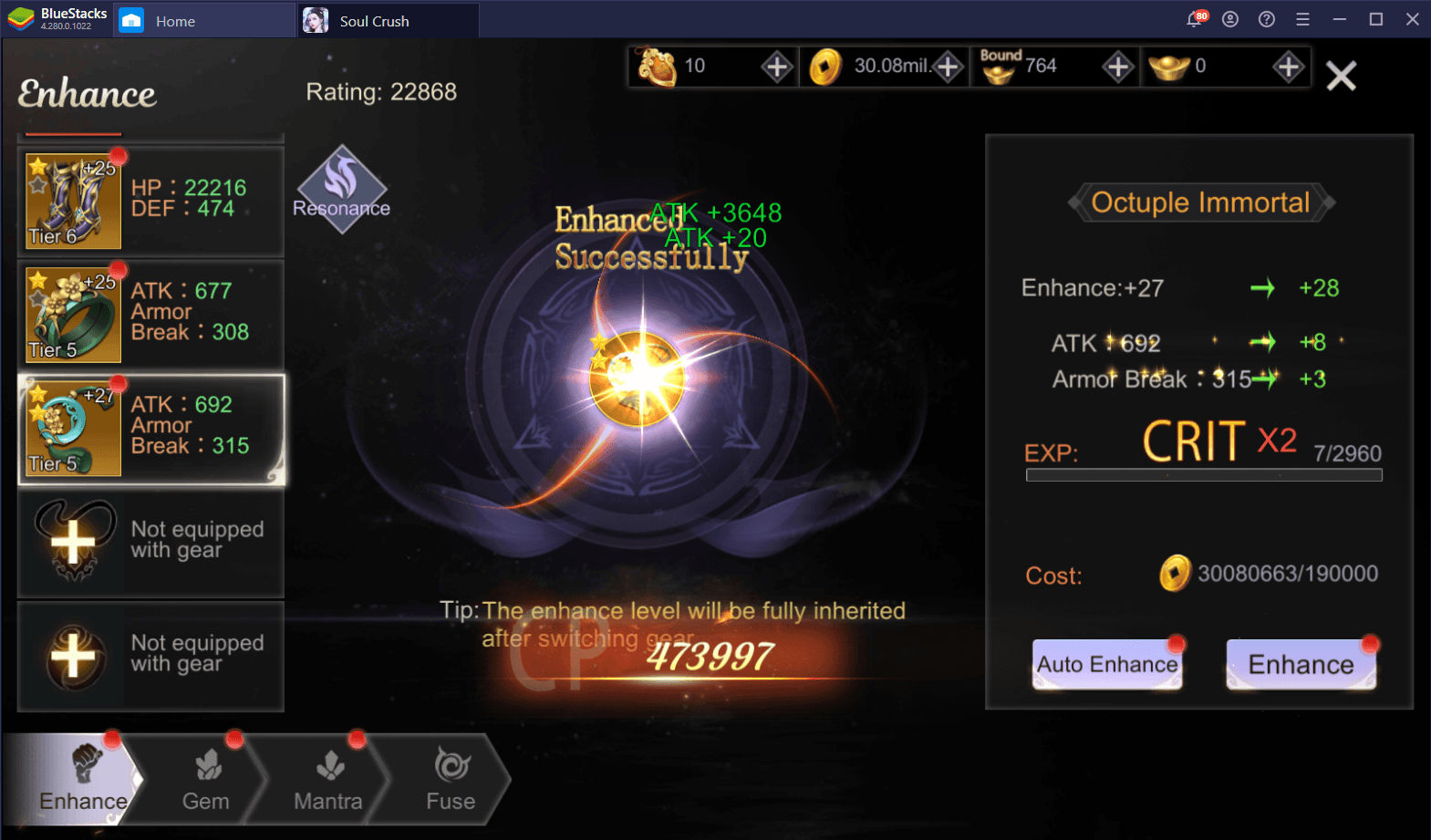 You can upgrade each individual gear by spending Copper. It gradually becomes more expensive as you keep upgrading. Moreover, you have the option to have the game automatically spend Copper for you or you can do it manually. Upgrading manually seems much better though simply because you have more feeling control than otherwise.
Train Your Wings
Wings give additional power to your character and can be upgraded in a similar manner as gear.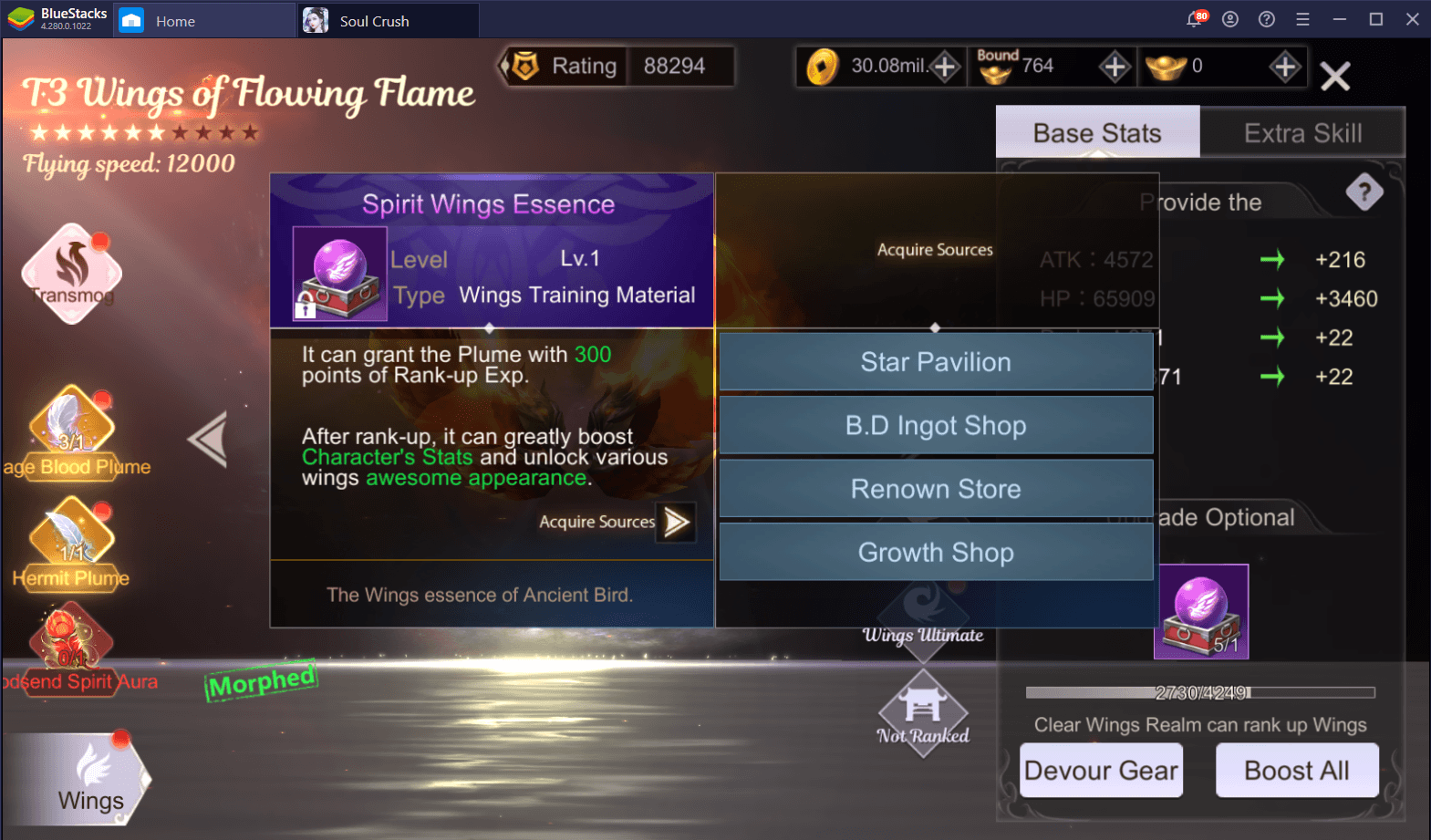 Spirit Wings Essence is used to fill-up the wing's level bar. Essence can be garnered by completing Star Pavilion dungeons. You can also purchase them from different shops that accept different currencies depending on the shop (i.e. B.D Ingot, Renown, and Growth).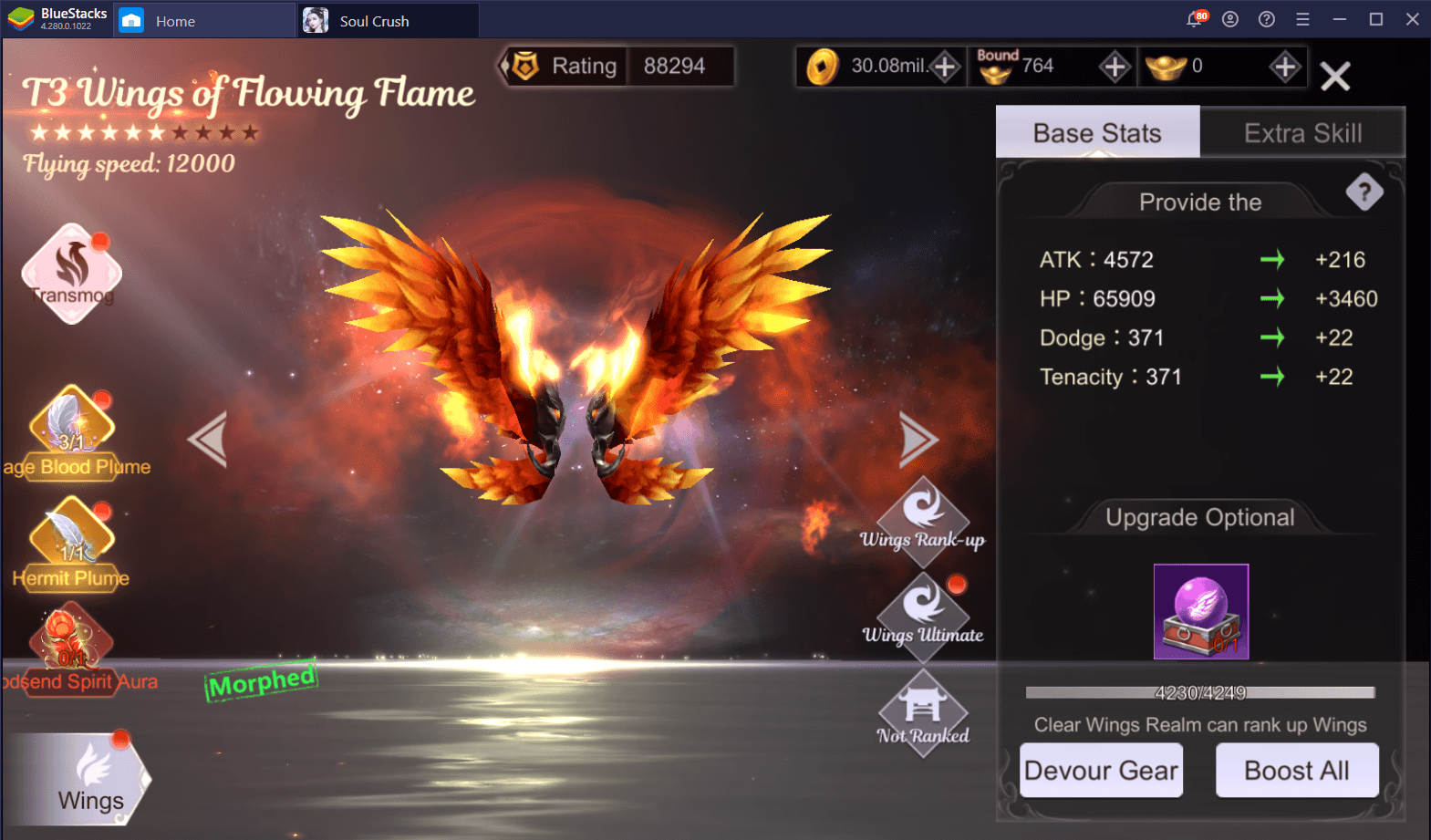 Similar to Warsoul cultivation, using up Essence adds points to the wing's level bar and completely filling up the bar adds one star. Upon reaching 10 stars, your wings advance to the next tier and you unlock a new skill. Like the skills from Warsoul cultivation, the skills from wings also give you passive skills (i.e. 35% chance of restoring 5% of HP after dodging).
Unlock More Skills
Your character can use up to a maximum of four moves during combat.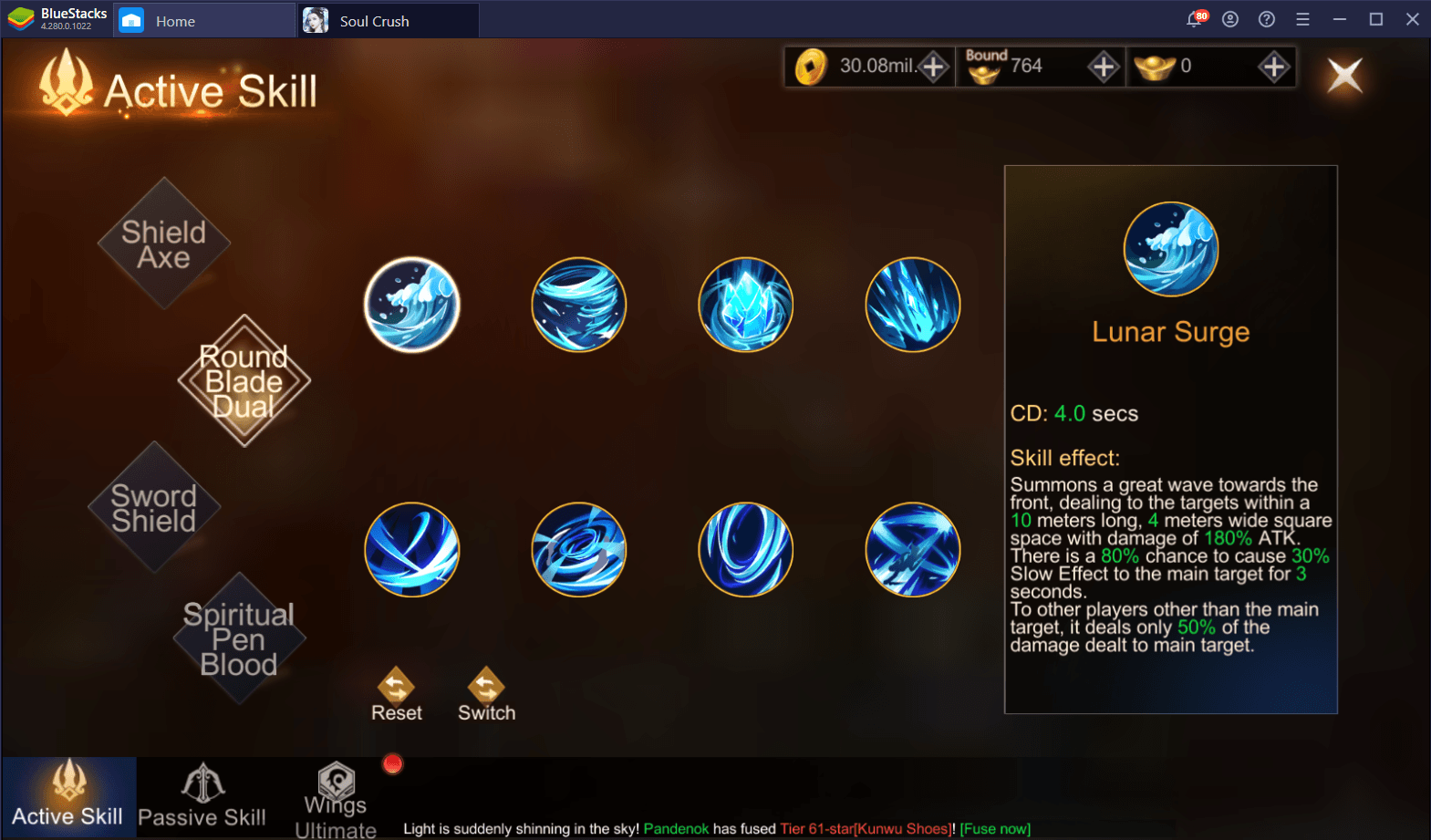 These combat moves are called Active Skills (not the same as the passive skills from Warsoul nor wings). Initially, you start out with just one skill when you start the game but will eventually unlock three more as you keep playing.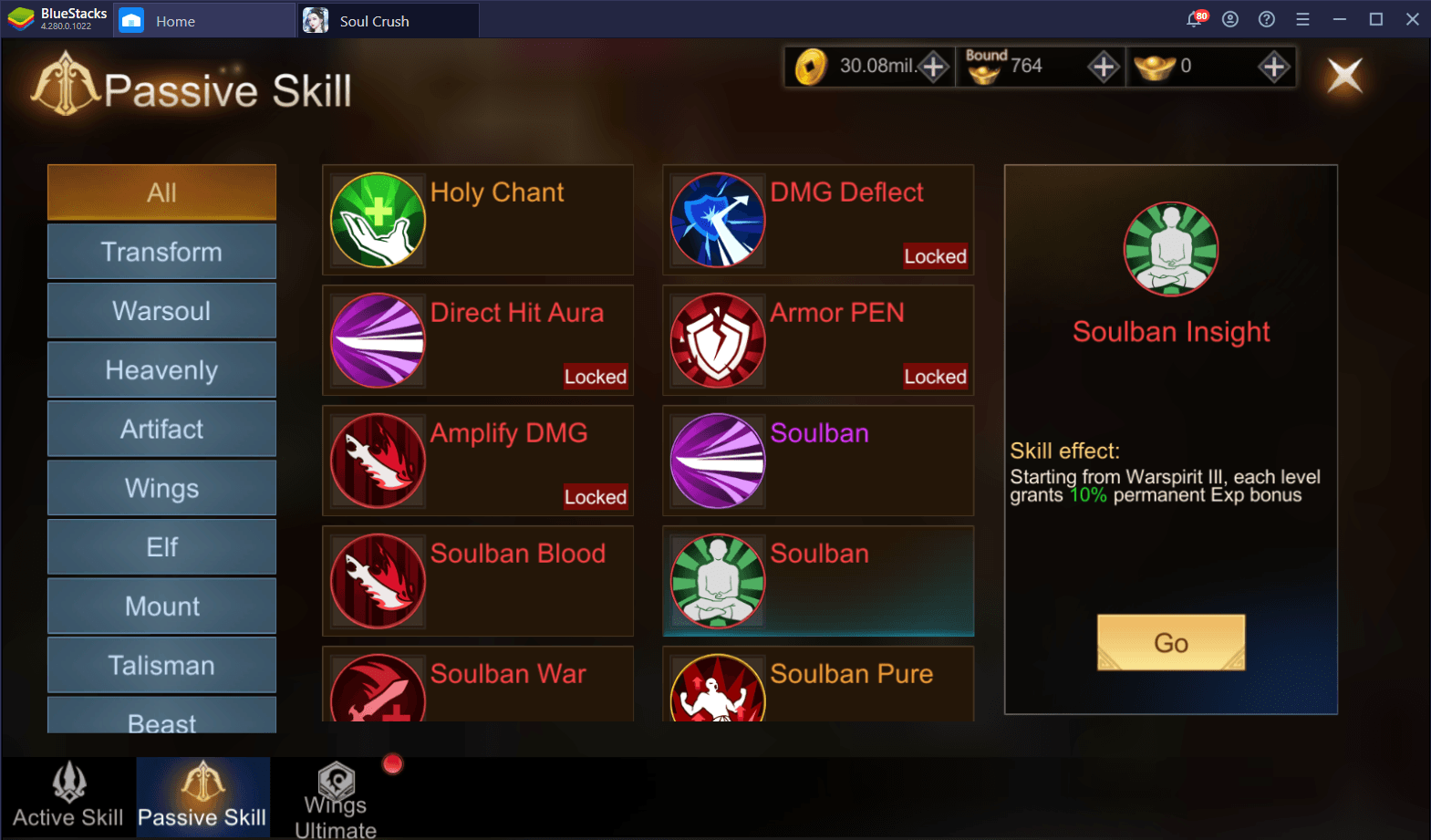 Aside from Active Skills, you can gain access to tons of passive skills by completing certain objectives in the game. These objectives include transforming to a certain tier, reaching a certain Warsoul level, and the like.
You can unlock more sets of Active Skills (called artifact types) after your character undergoes transformation.
Transformation
Transformation is an awesome way to transcend your character.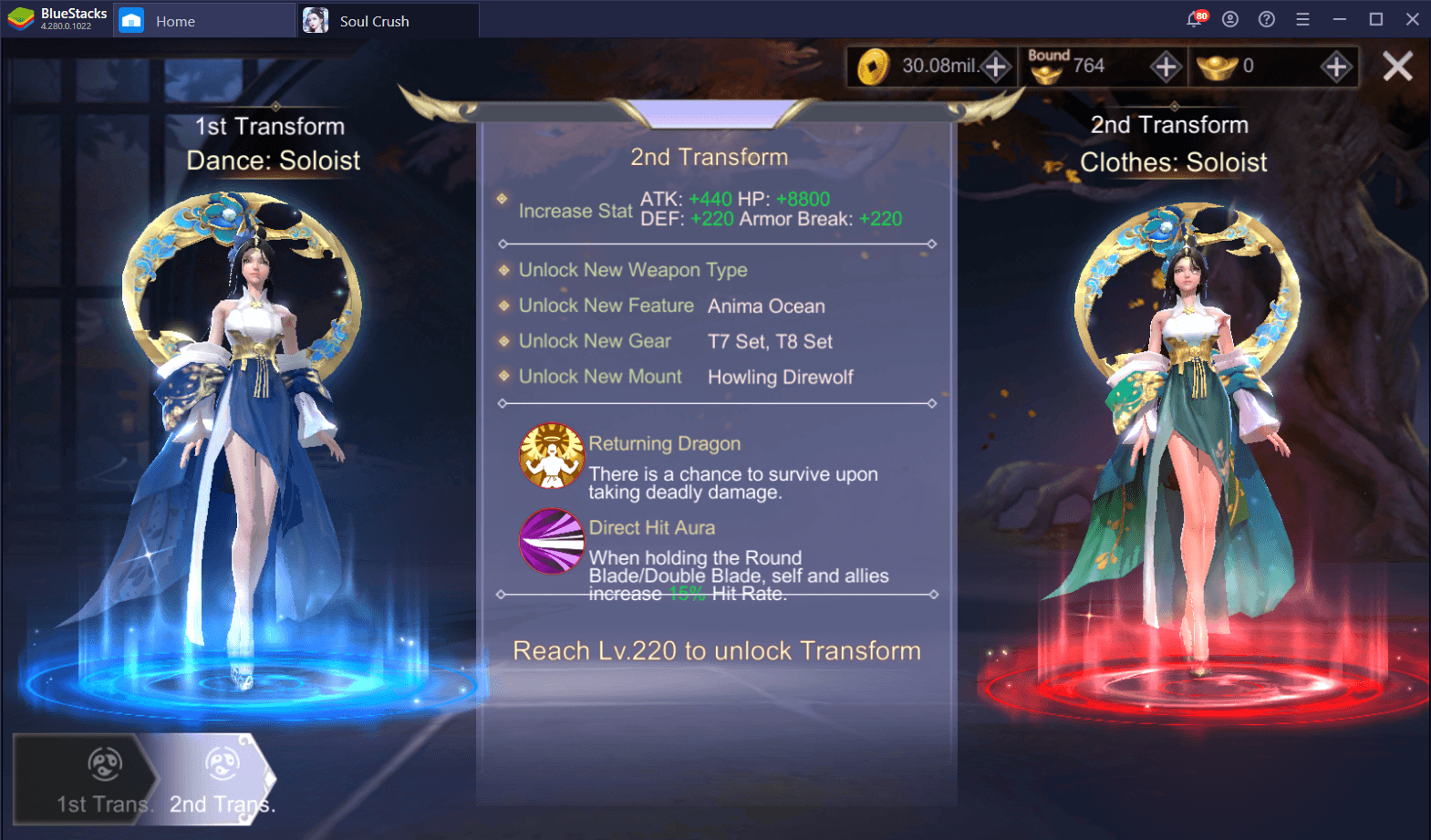 Transformation is done by completing a number of quests. After transformation, your character will gain access to plenty of new features and upgrades such as: increased base stats, new Active Skills, new gear, new appearance, and more!