Game Guides
Farming EXP, Copper, and Bound Ingots in Soul Crush: Kongfu World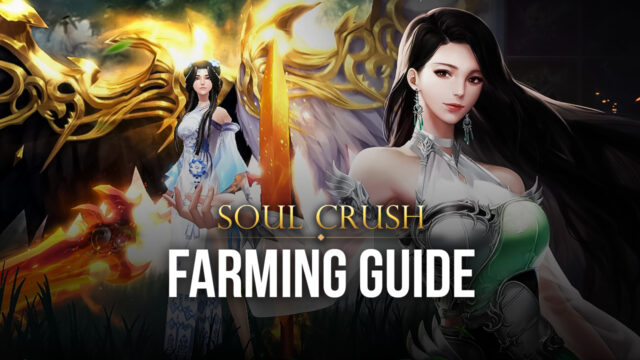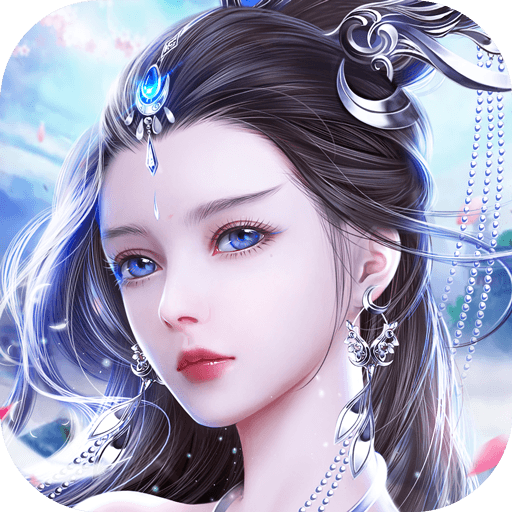 There are three important resources in Soul Crush: Kong Fu World that you will consume a lot throughout your entire journey. EXP is used to advance your character to the next level; Copper is primarily used to enhance your gear; and Bound Ingots (otherwise known as B.D Ingots) is used to buy premium resources such as Mysterious Spirit, which temporarily increases your EXP gain by 25 days.
You are going to need a lot of these resources in order to keep upgrading your character and this guide will discuss where and how you can farm these.
Keep Idling
When it comes to EXP, idling is the fastest and most efficient way to farm EXP simply because you don't have to do much – in fact, you practically don't even have to do anything at all.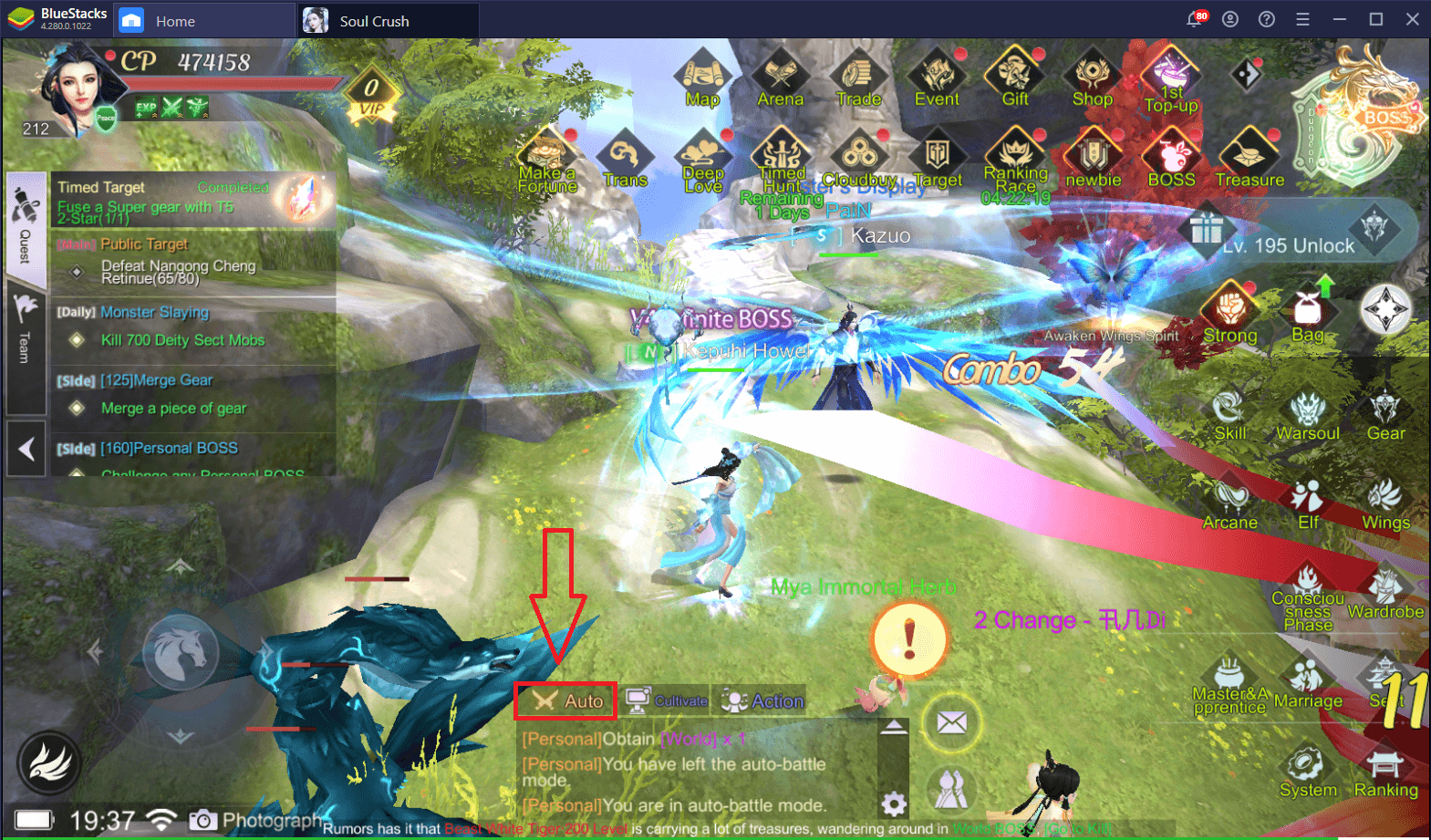 To start farming EXP, you can just turn on Auto-Battle and minimize the game's window. The beauty of this feature is that you can just let the game do all of the playing for you so that you can just keep reaping EXP and even new gear and items without doing anything.
You don't have to run the game in the background to start farming EXP. Alternatively, you can just log out of the game and even then, the game will still control your character for you. Once you come back, you will be notified about the amount of EXP earned as well as any new gear that was unlocked.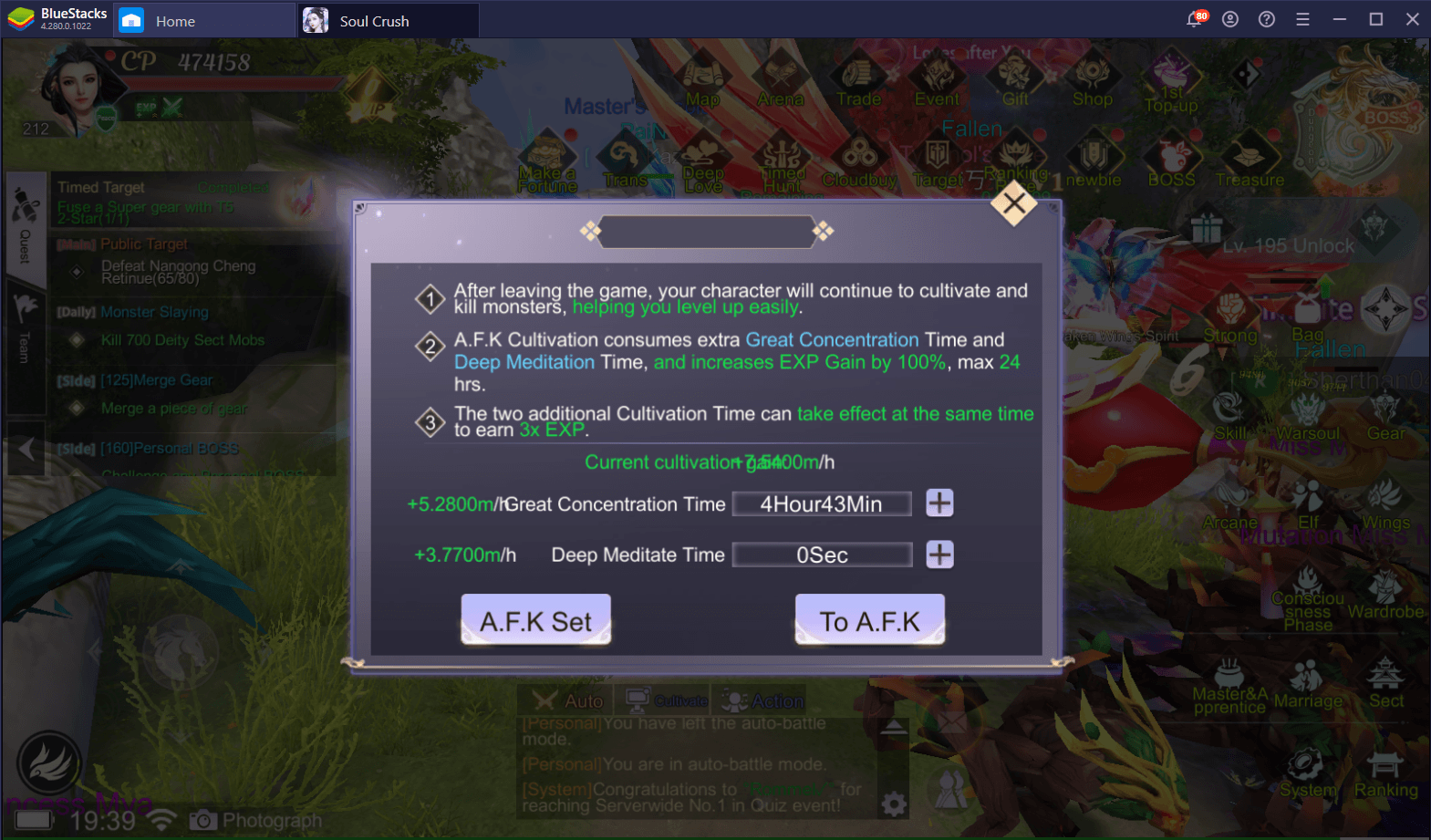 Before doing this, it is best to utilize A.F.K Cultivation features such as Great Concentration Elixir and Deep Meditation Elixir. You can do this by clicking on "Cultivate", which is near the auto-battle button. Both elixirs uplift EXP gain by 100% with the only difference being the former lasts for 5 hours while the latter lasts only 1 hour. However, the time limit of each feature can be stacked so if you use up two Great Concentration elixirs, you will end up with 10 hours of 100% EXP boost. You can keep stacking the time limits up to 24 hours.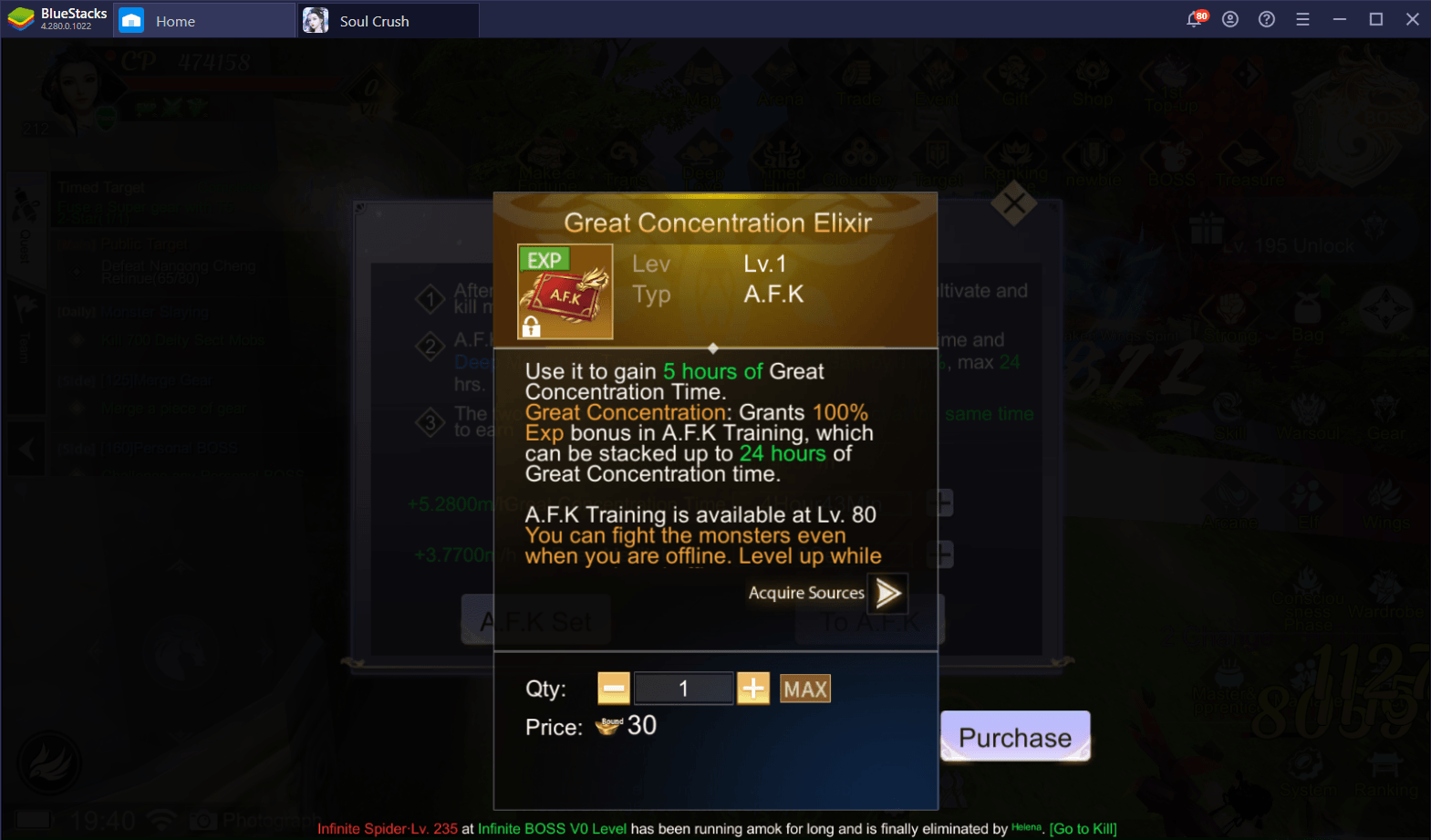 Another major difference between Great Concentration and Deep Meditation is where you can get them. The former can be acquired from Activity Rewards and be purchased from the B.D Shop and the Rare Treasure Store.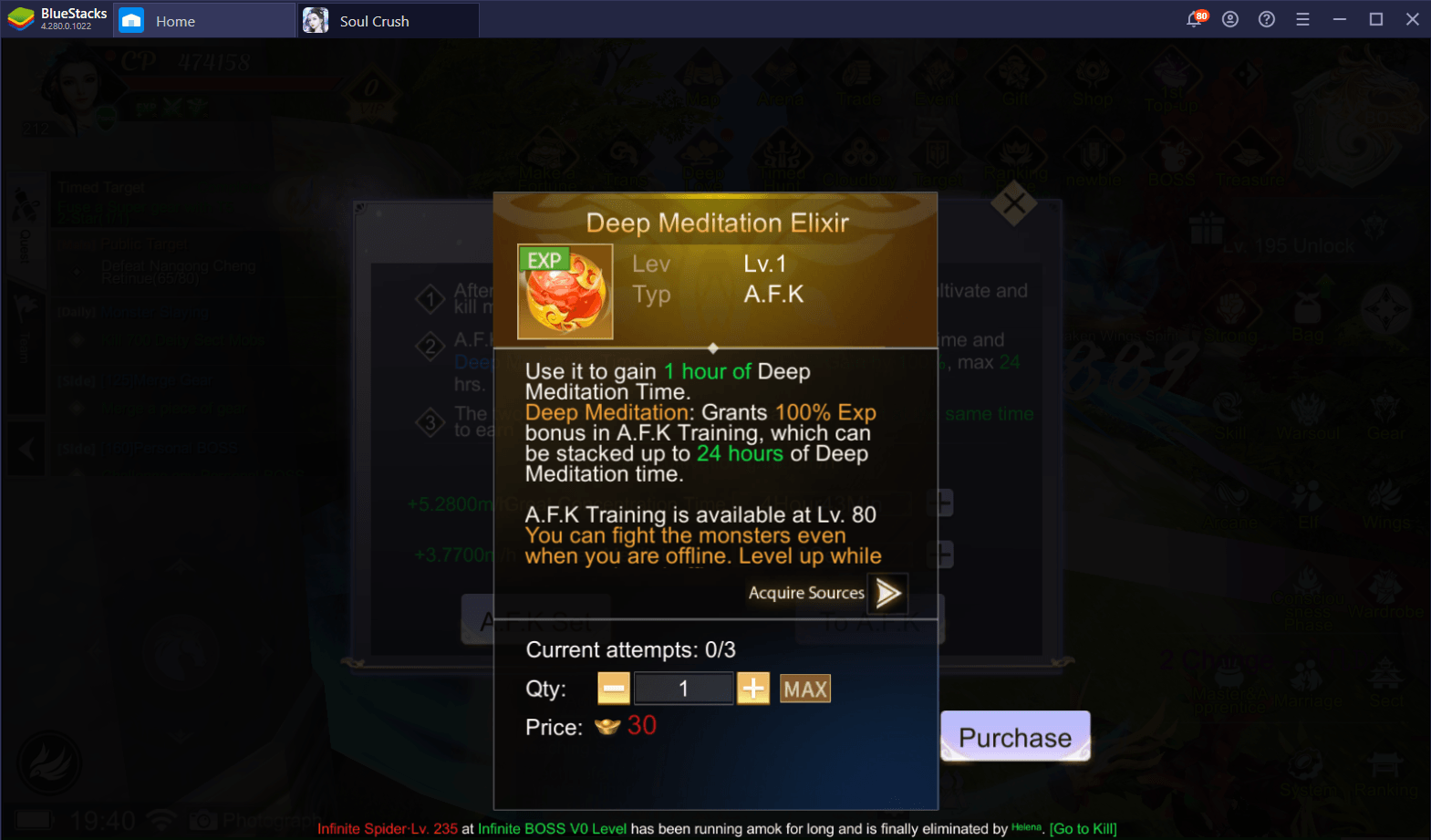 On the other hand, the latter can only be purchased with Ingots (keep in mind that these are different from B.D Ingots). Ingots without the B.D are premium resources that can typically only be acquired with real money.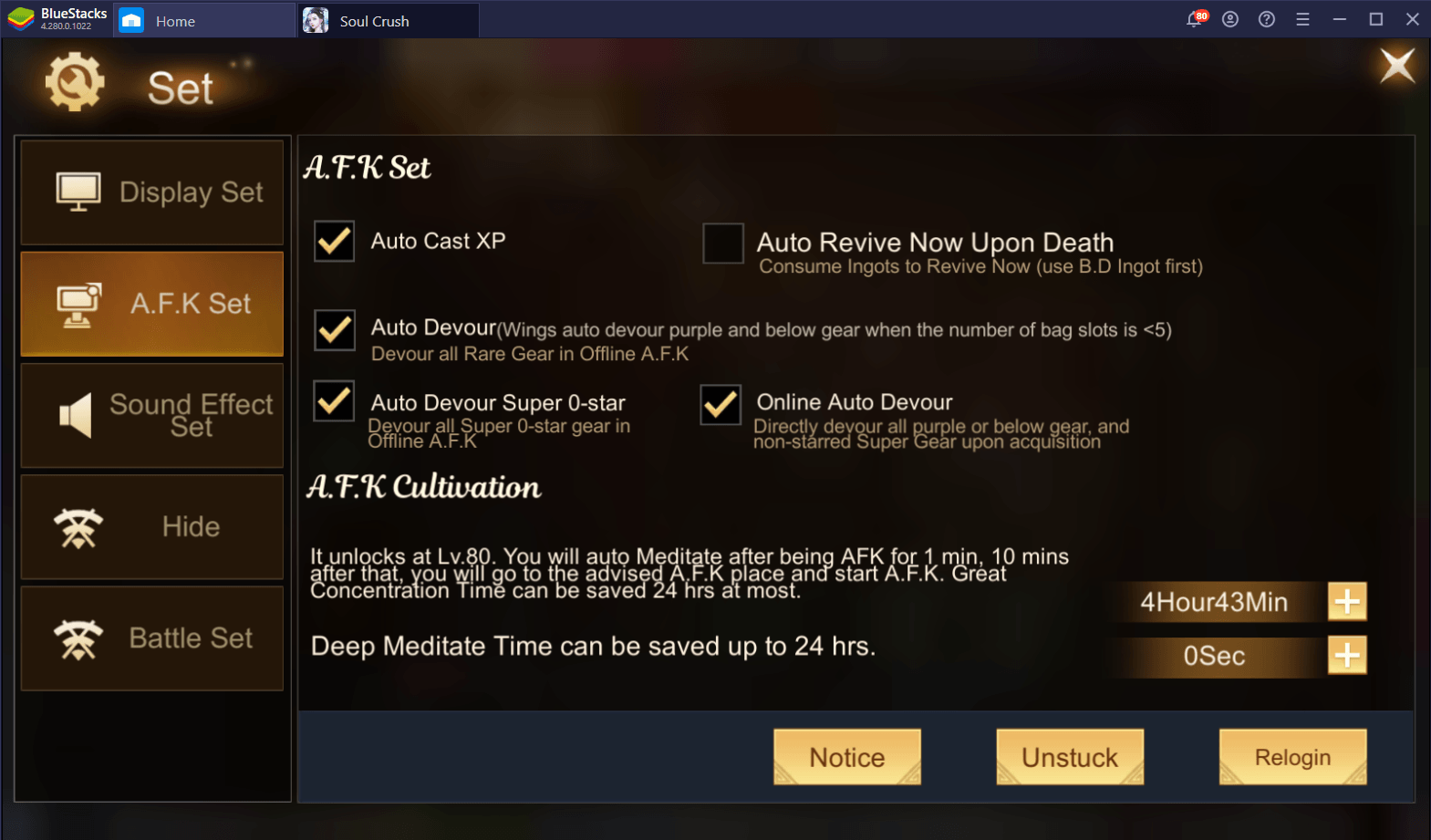 Once A.F.K Cultivation is enabled, you can even tweak some settings to control which resources you want to automatically collect and those that you want to ignore.
Play Dungeons
Dungeons are another neat source of EXP. There are plenty of dungeons in the game but the ones that are EXP-centric and also ones that can be accessed early are the Underworld Trial and the Primitive Sanctum.
Underworld Trial
The Underworld Trial is arguably the best place to farm EXP. Essentially, you are placed inside a room with infinitely respawning waves of enemies and must kill as many as you can within the time limit. It is possible to farm as much as a hundred million EXP just by playing the Underworld Trial (which is more crucial once you reach higher levels). You have three attempts to do the trial.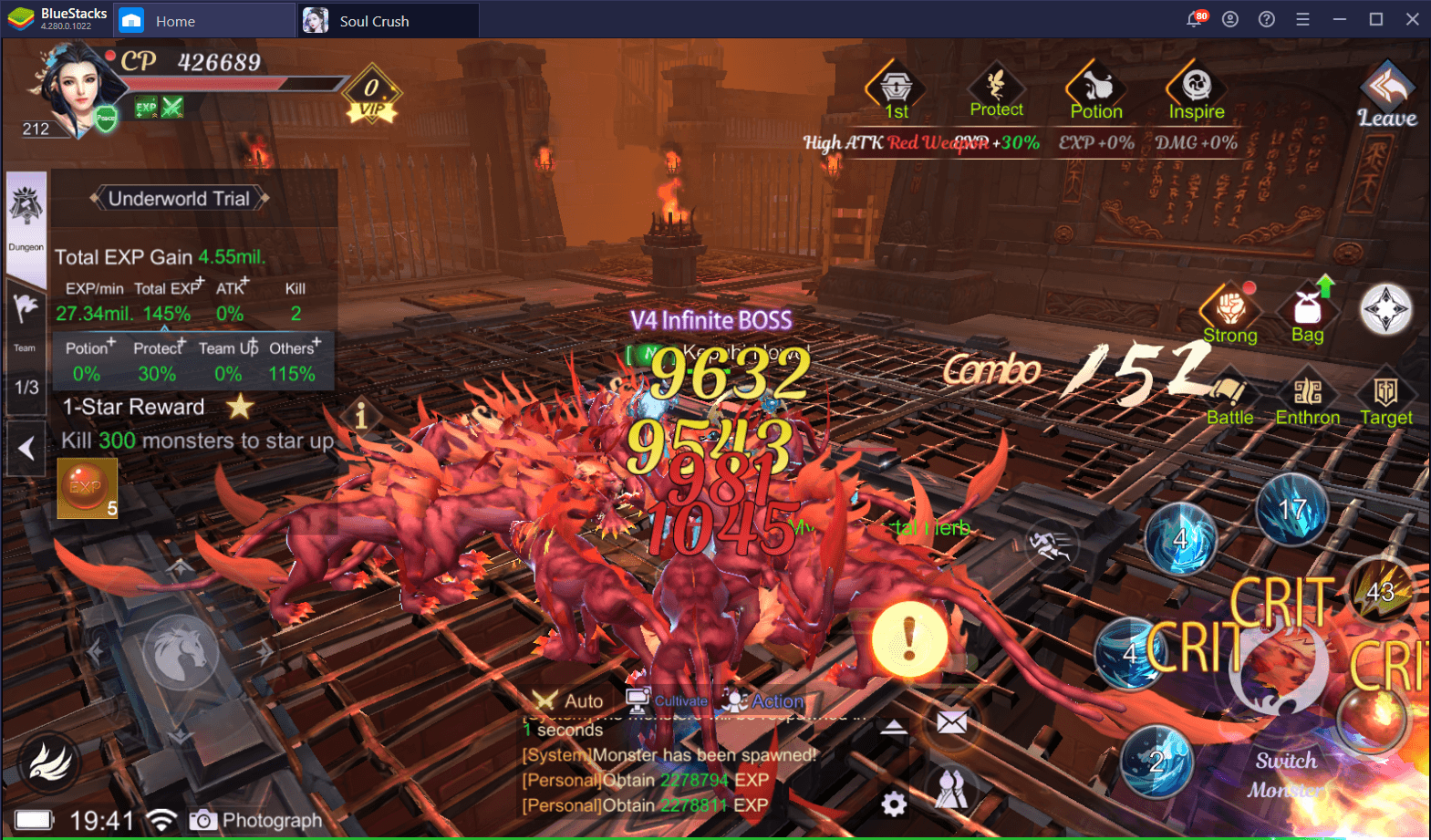 When playing Underworld Trial, you can enable up to four passive boosts to gain more EXP as well as to make farming much easier.
Inspire – spend Copper and B.D Ingots to increase your character's damage by 50% (stackable up to 100%) throughout the entire duration of the dungeon.

Potions – multiplies your EXP by a certain amount depending on the potion (50%, 100%, 200%).

Mysterious Spirit/Protect – grants you bonus stats and EXP boosts for as long as 25 days. Can be bought with 368 B.D Ingots

Top-up – additional EXP yield but you need to spend real money to gain access to it.
It is better to play Underworld Trial with other players because not only will killing the myriad of enemies be easier but each player will also be given better rewards.
Primitive Sanctum
In Primitive Sanctum, your character must kill waves of sand warriors and must also collect a certain amount of items that are occasionally dropped by the downed warriors.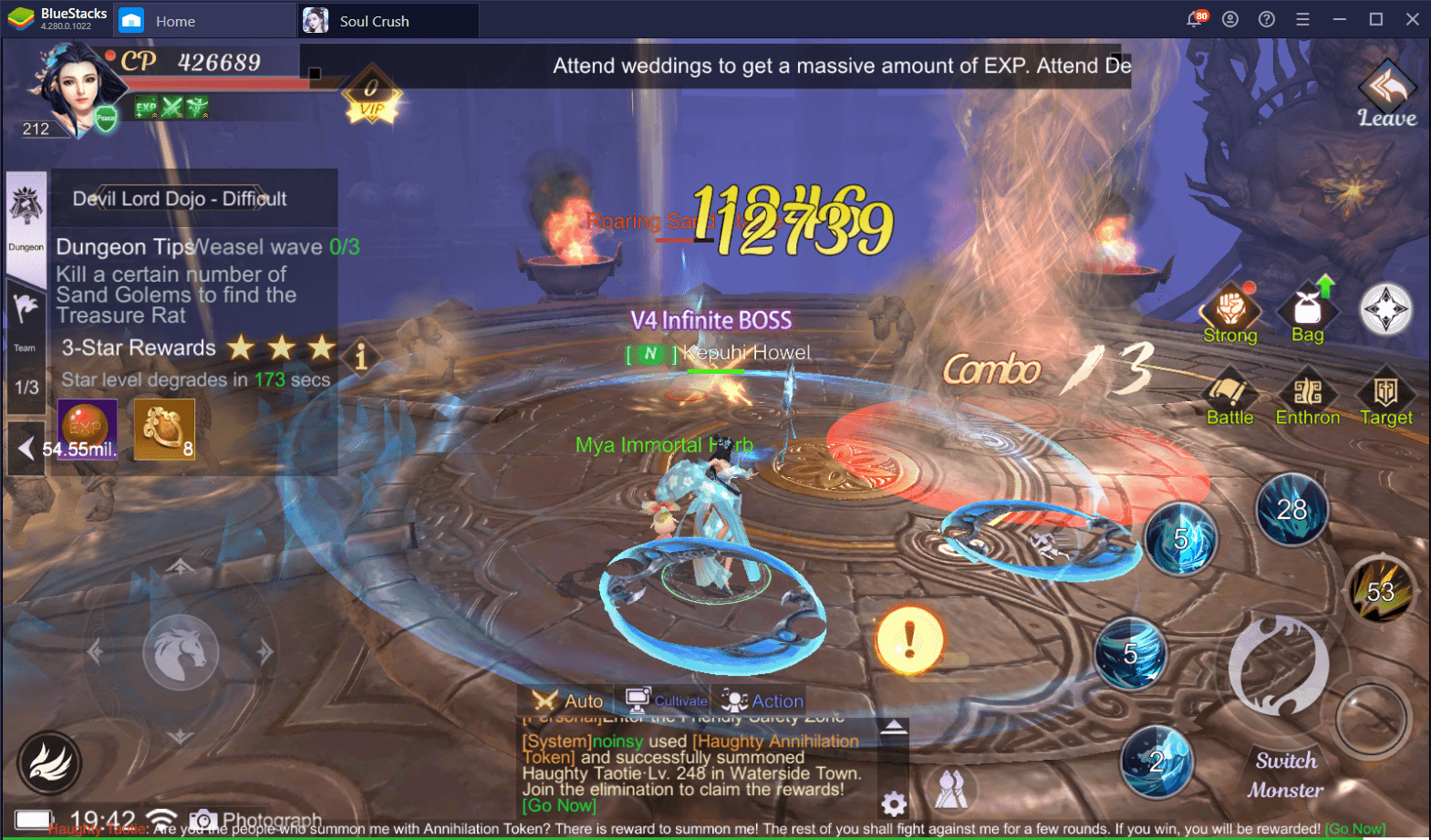 After doing so, you enter the finale in which you engage in a boss fight against a giant sand warrior and defeating him rewards you with not only EXP but also new gear. You are given two attempts to do the dungeon.
There are different difficulties per sanctum and you unlock a new difficulty every time you complete the previous sanctum. Like Underworld Trial, play Primitive Sanctum with other players to gain better rewards. More specifically, a Party Chest will give you more rewards than you would if you play the Sanctum alone.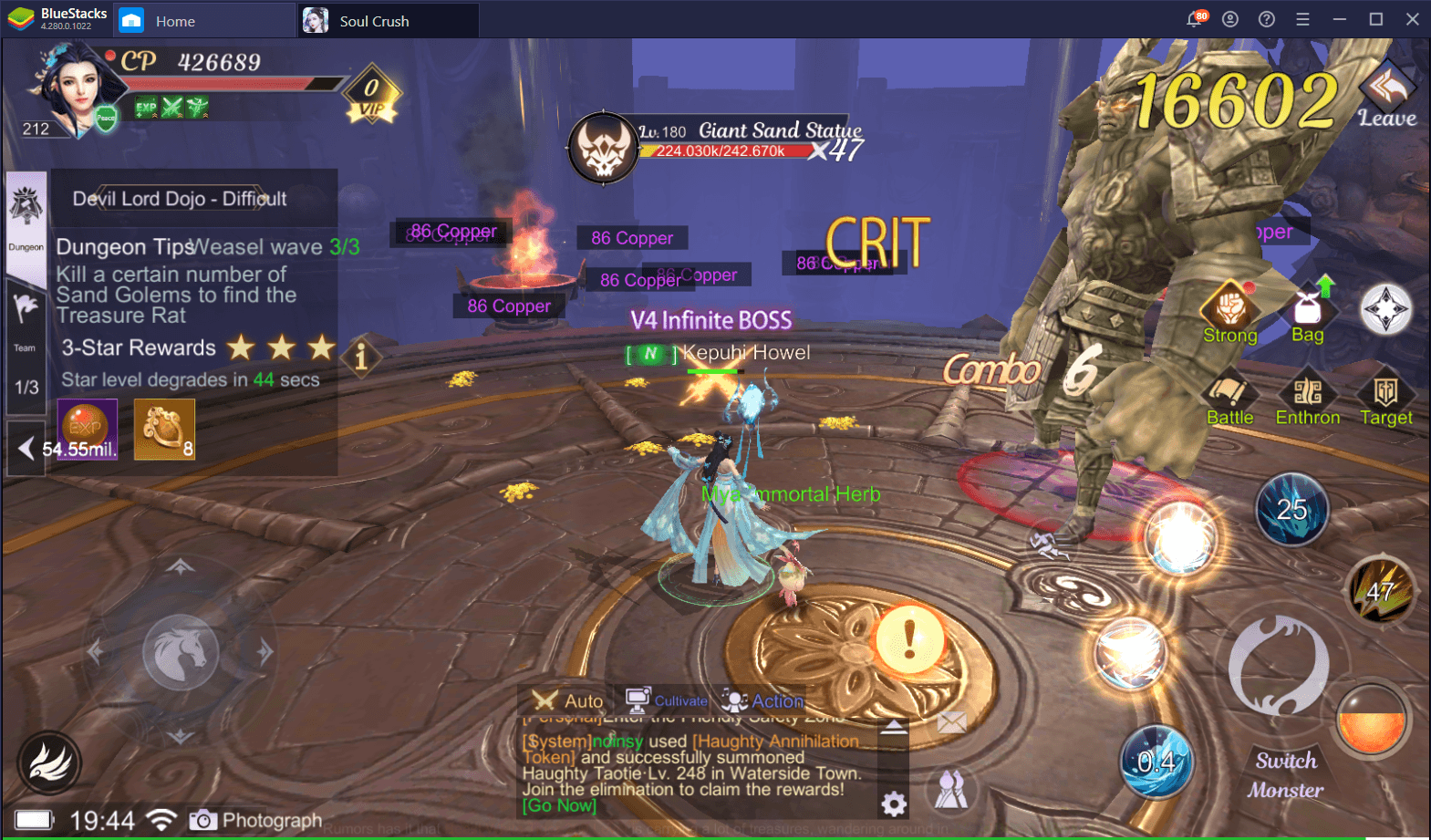 Redeem From the Benefit Hall
Daily Sign-in
You can win a lot of rewards just by playing the game consistently. Furthermore, you can win plenty of copper, elixirs, and other items that can be used to upgrade your character. If you happen to miss a day, you can redeem the reward that you were supposed to get on that day by spending 10 Ingots.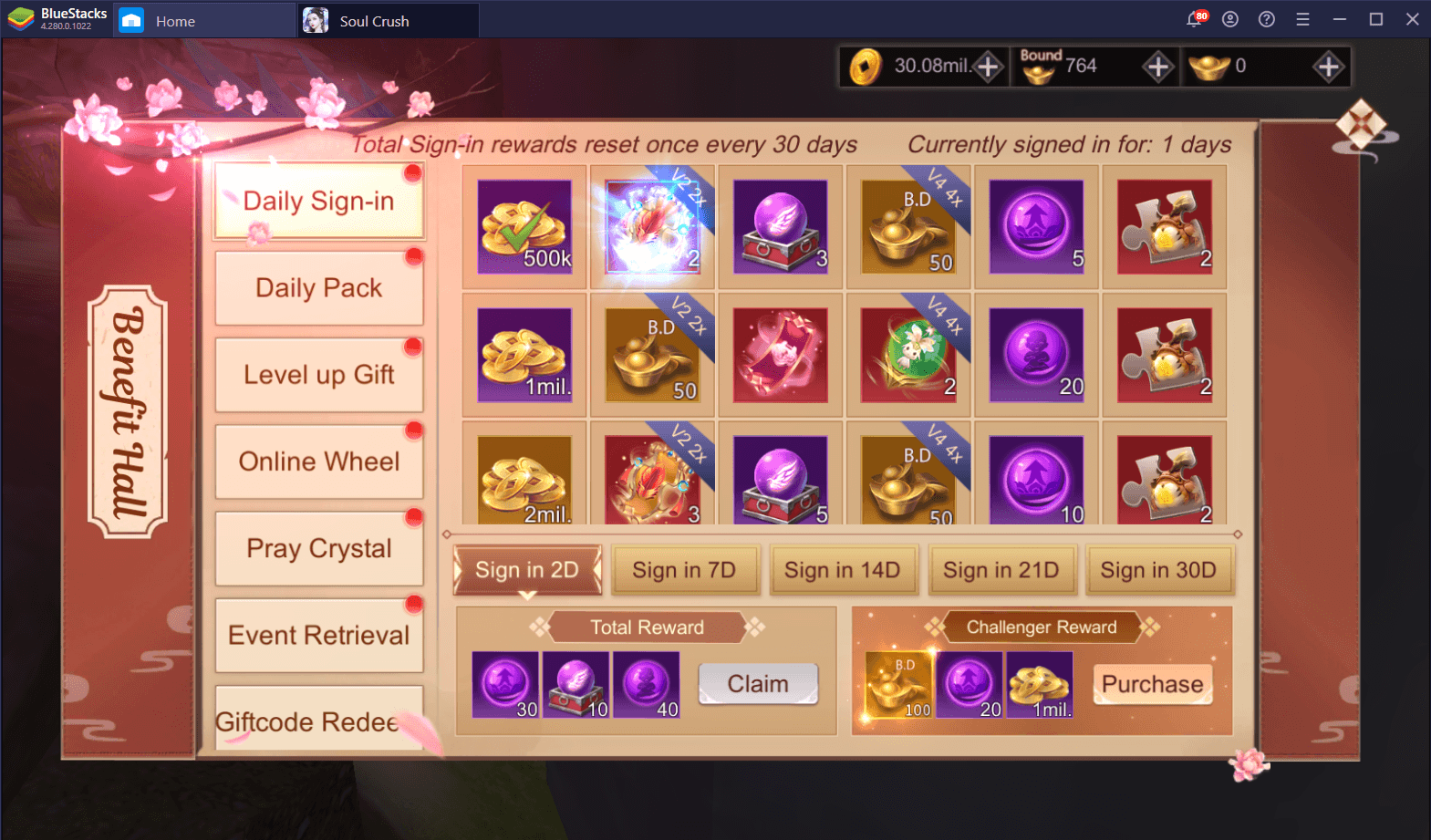 Level Up Gift
You can redeem Copper, EXP potions, elixir, and the like whenever your character reaches a certain level. If you have VIP privileges, you are in luck because you can get better rewards like gems that you can inlay in your gear.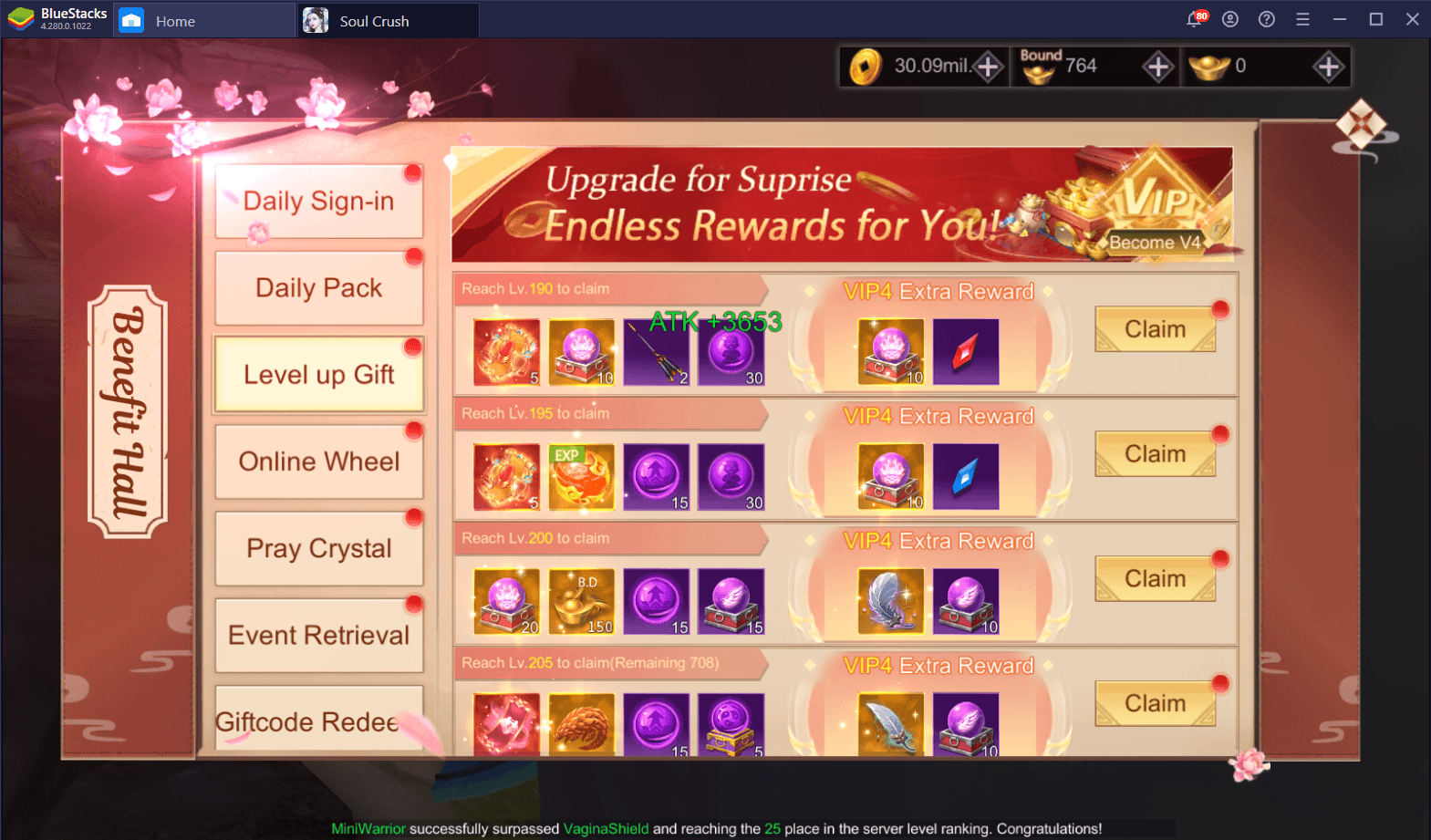 Online Wheel
Play a "spin the wheel" game to win one of many rewards from a large pool of them. The rewards range from B.D Ingots, Copper, gem packs, and the like. Note that you have a limited number of attempts. One more attempt can be gained whenever you are online for 10/20/40/60/90/120 minutes within a single day. For example, you will gain one attempt once you're online for 10 minutes, gain another one when you reach the 20 minute mark, another one once you reach 40 minutes, and so on.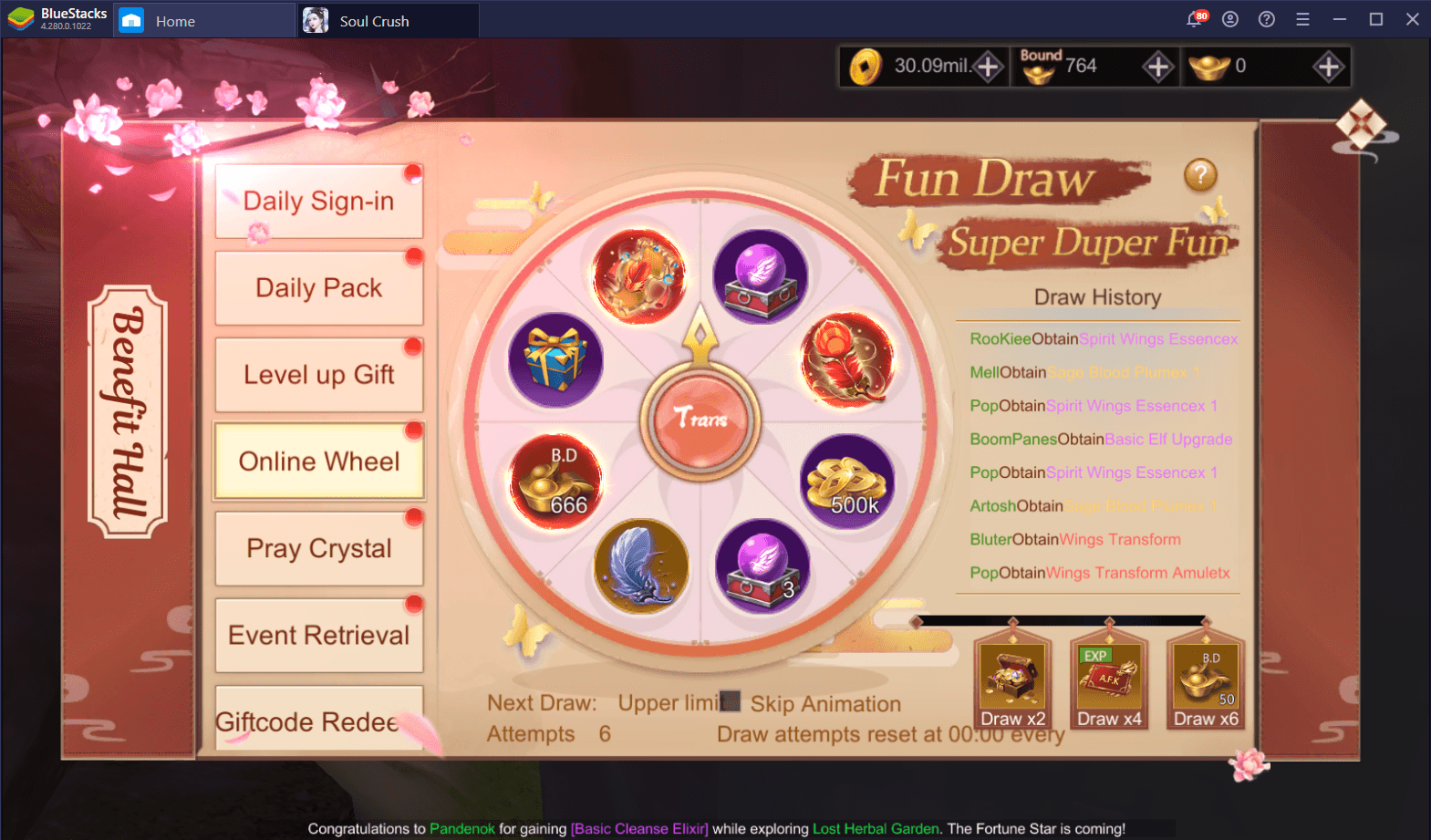 Compete in the Arena
The 1v1 PK Arena is a section of the game where you can fight the characters of other players to win rewards.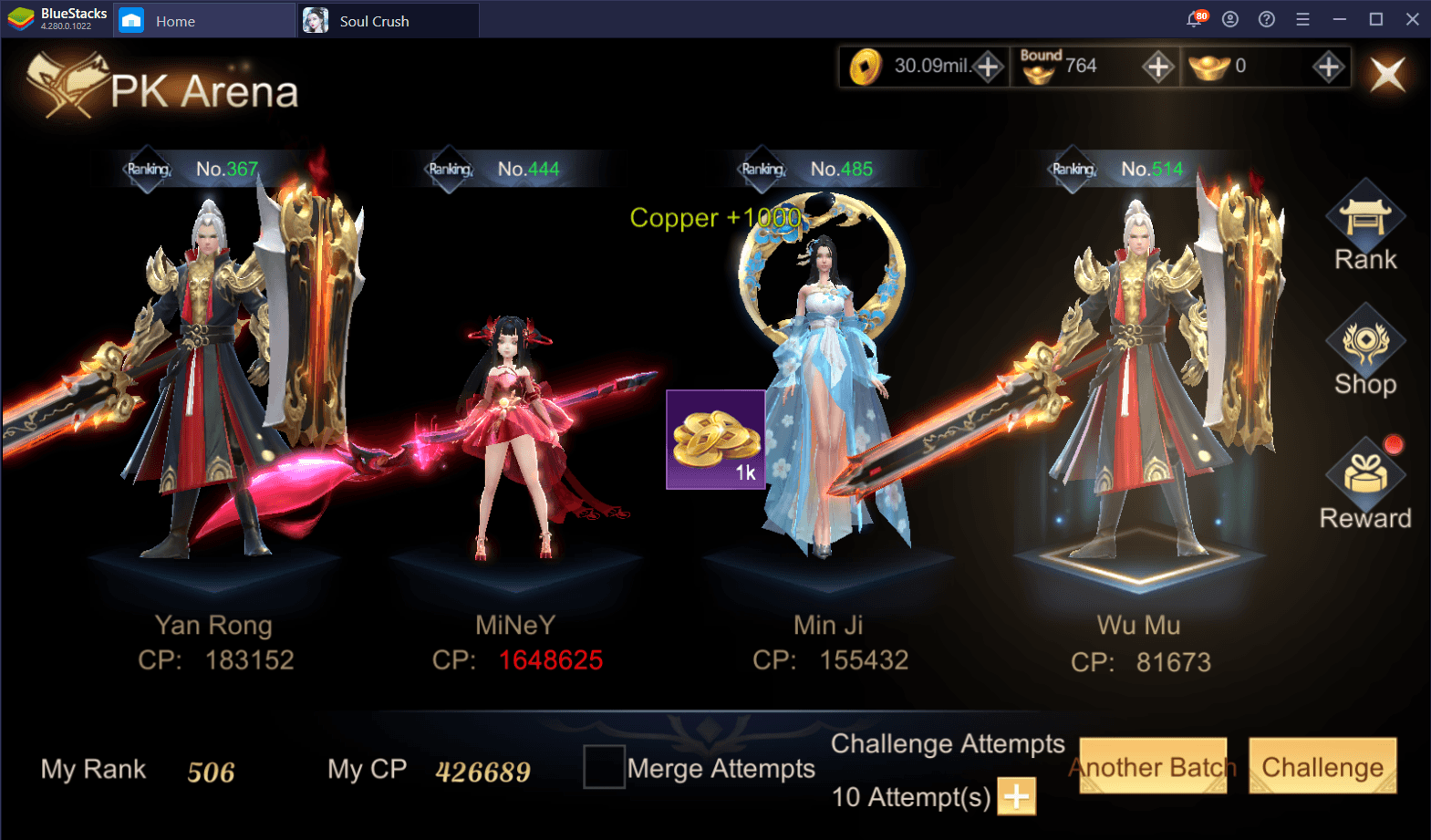 Each player's power is gauged with a unit called CP. As a general rule of thumb, fight the player with a CP that is not too low (because then the match will be too easy and you won't redeem that much rewards) nor too high (because your character will lose immediately). For example, if your CP is around 100,000, fight the player that has a CP of 70,000-90,000 but not the ones with a CP below 70,000 or above 100,000.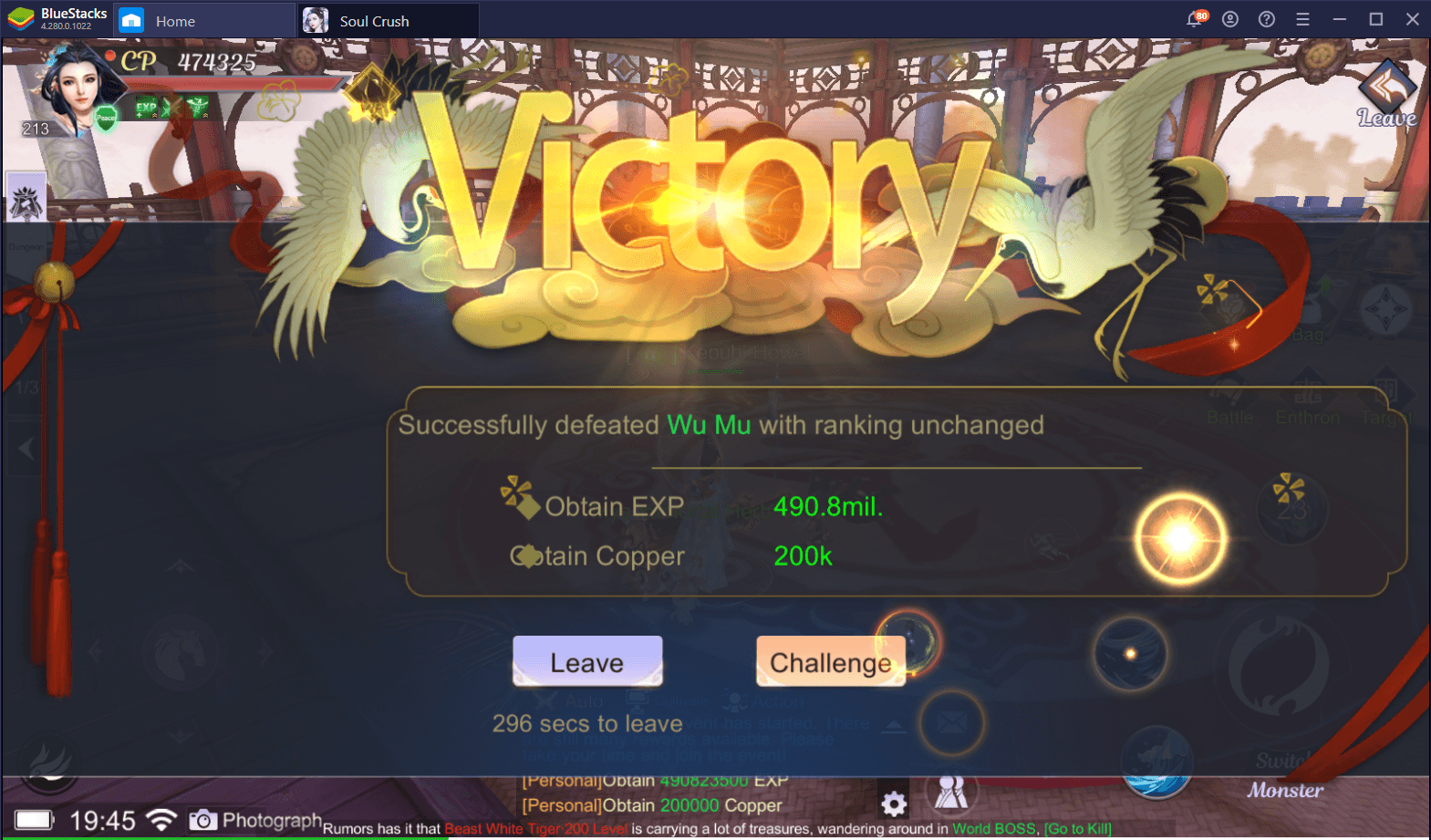 Defeating players will reward you with plenty of EXP and copper and also increases your PK Arena CP and ranking.