Game Guides
Soul Land Reloaded Beginner's Guide: Soul Masters, Combat, and More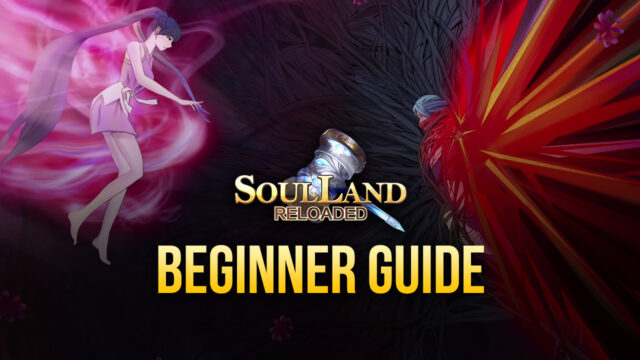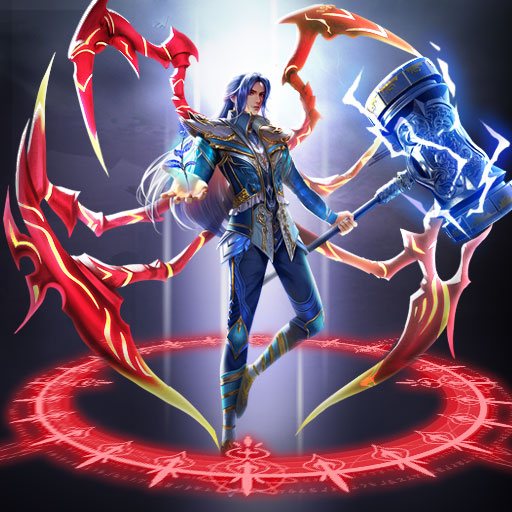 Soul Land Reloaded may look like a typical idle gacha RPG at first but you will be surprised as the game boasts interesting mechanics that make it different from other RPGs in the market.
In this beginner's guide, we'll help you familiarize yourself with the mechanics and gameplay of Soul Land Reloaded such as creating your team of Soul Heroes, progressing through story quests, as well as playing the game's interesting combat system. Additionally, we'll also give you a tutorial on the game's Arena Mode, a space where you can show off your Soul Master team's prowess.
Soul Masters and Attributes
Soul Masters are the characters who make up your four-man team. Each Soul Master has their own grade, type, level, equipment (that can be individually upgraded), skills, and attributes.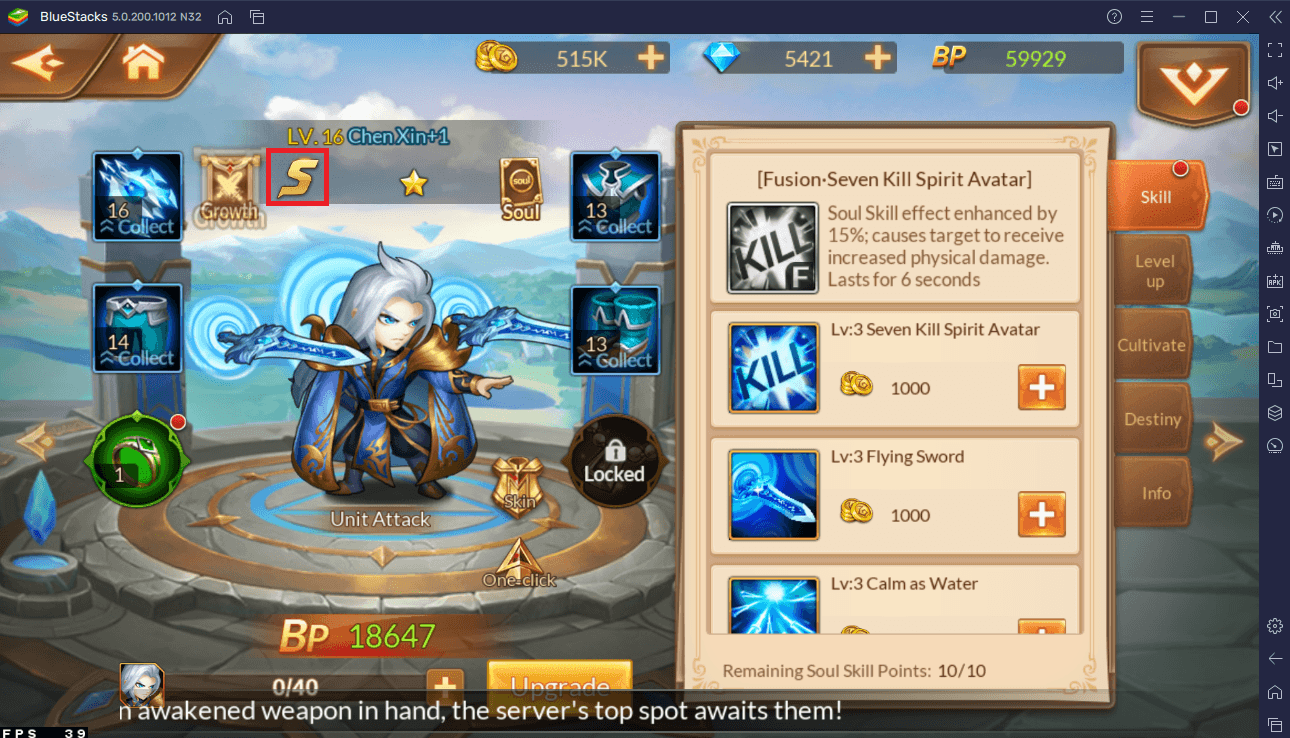 The grade of the Soul Master is synonymous to the word "rarity", It essentially tells you how valuable the Master is in terms of combat ability as well as cost. Additionally, higher-grade Masters are also harder to recruit to your team because of their rarity. The higher the grade of the Master, the better its base stats are. The order of Soul Master grades goes as follows:
B
->
A
->
A+
->
S
->
SS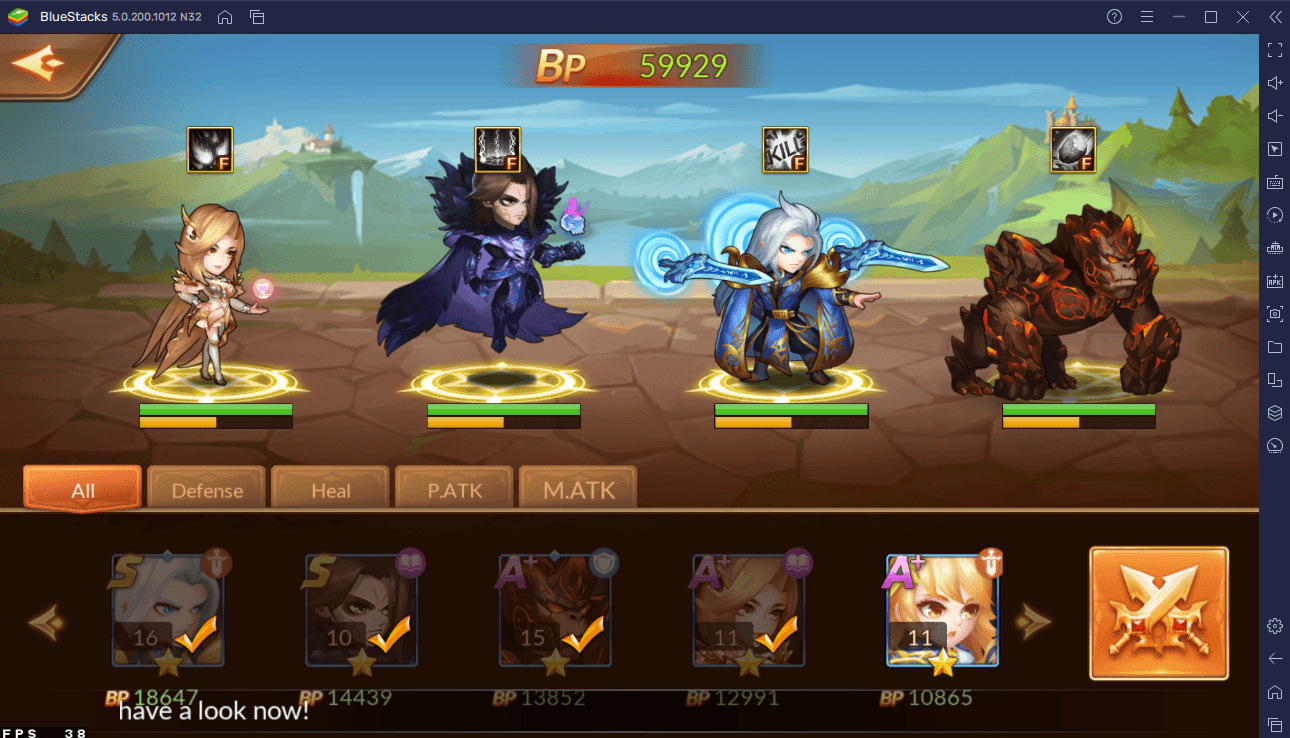 The type of the Soul Master informs you about their combat specialization. There are five types of Masters as of writing and these are:
Defense –

this type serves as a tank for the team whose role is to absorb damage from enemies to provide sufficient distraction while the offensive types (P.ATK and M.ATK) deal damage to said enemies. This type also specializes in crowd control which makes it easier for enemies to be damaged.

Heal –

this type is a support class Soul Master who is responsible for refilling the other heroes' health during combat. They are not as well-equipped to deal damage to enemies compared to the other types, which makes them quite vulnerable but nevertheless is still very important to sustain the team.

P.ATK –

this type deals damage to enemies via physical attacks (i.e., swords, spears, daggers).

M.ATK –

this type deals damage to enemies via magical attacks. They do not use material weapons to harm enemies.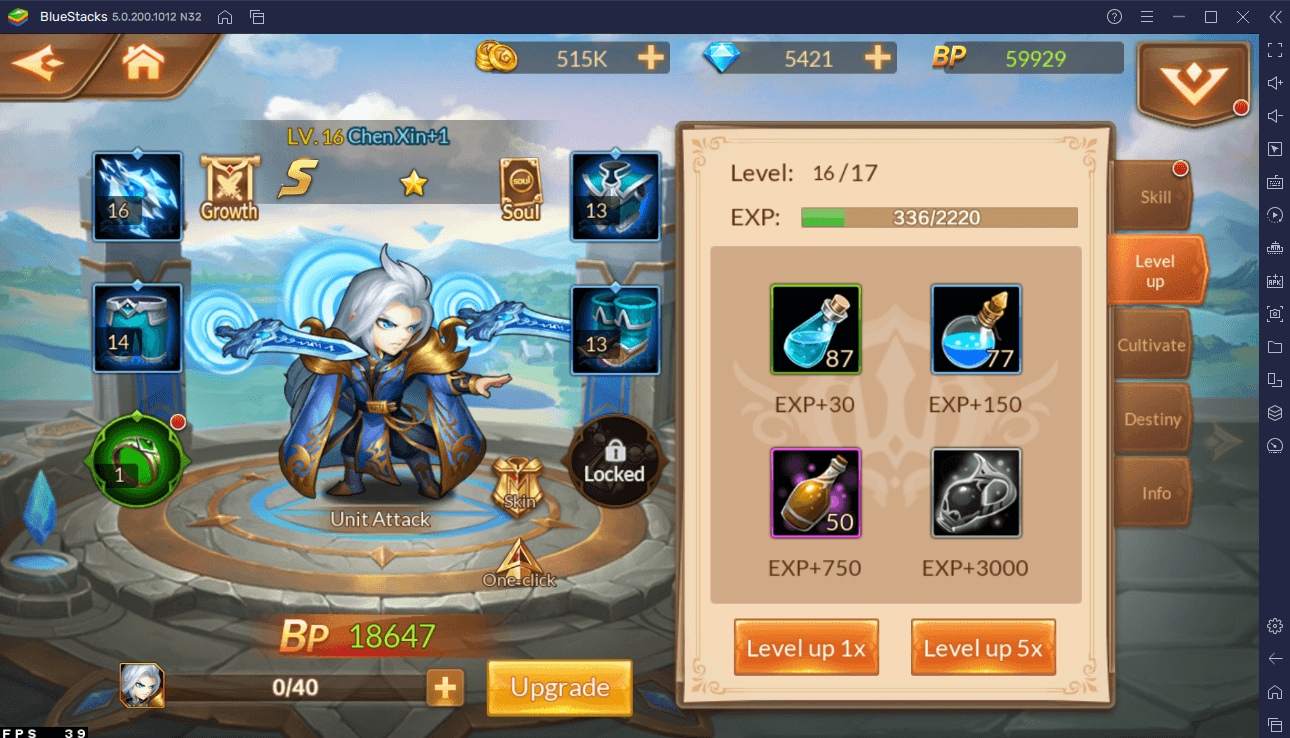 Each Soul Master has their own level which can be increased by consuming Soulforce Vials. The maximum level that the Masters can reach depends on your current level. A Master's basic attributes are slightly increased whenever they level up. Moreover, some upgrades for a particular Master, such as Equipment Breakthrough, require them to be at a specific level.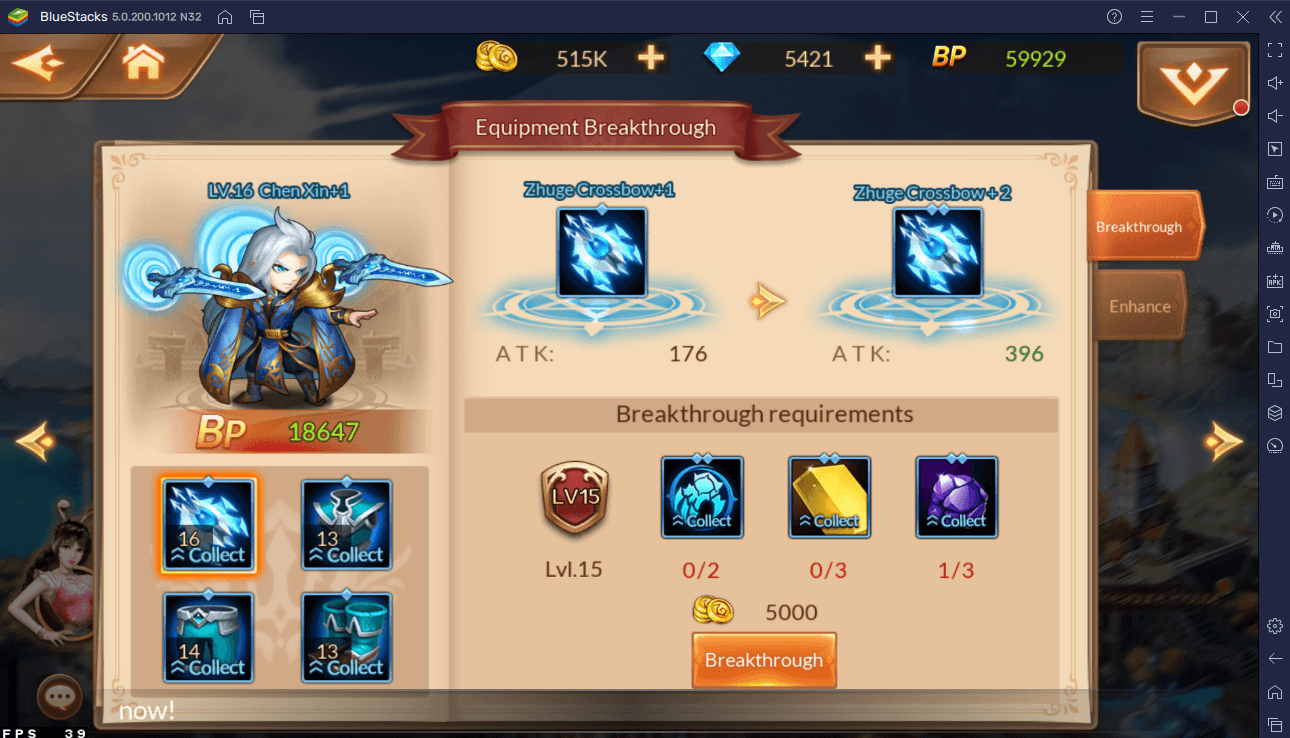 A Soul Master has four pieces of equipment with each equipment being associated to a base attribute. The weapon determines their attacking ability (ATK), their top determines their health points (HP), their bottom wear determines their resistance against physical attacks (P.DEF), and the footwear determines their resistance against magical attacks (M.ATK).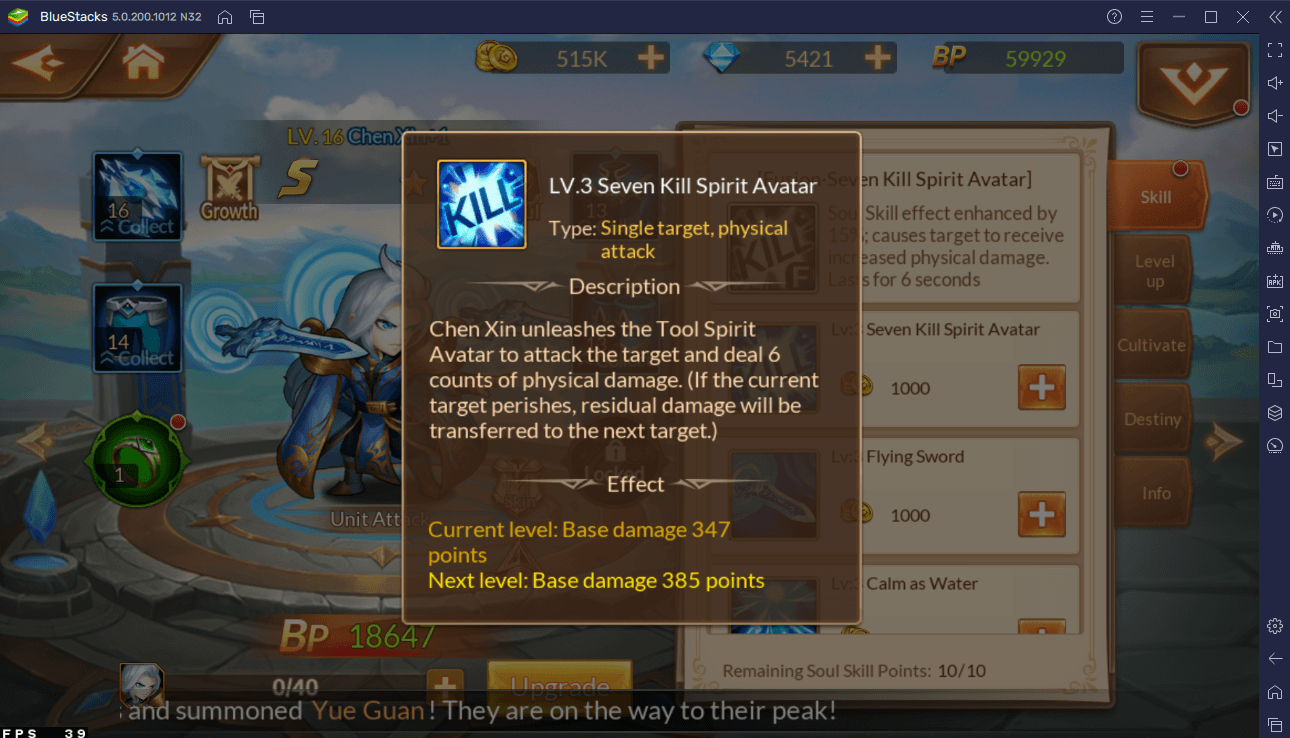 A Soul Master has several skills which are essentially their strongest abilities that they can use in combat. Activating these skills can deal grave amounts of damage to enemies or in the case of healer types, can refill large amounts of the other heroes' health in a short amount of time. Skills can also be individually upgraded by spending gold coins. More skills can be unlocked through Equipment Breakthroughs, which is a way of upgrading a Master's equipment. To know more about this as well as more information about how to upgrade your team's combat effectiveness, you can check this guide here.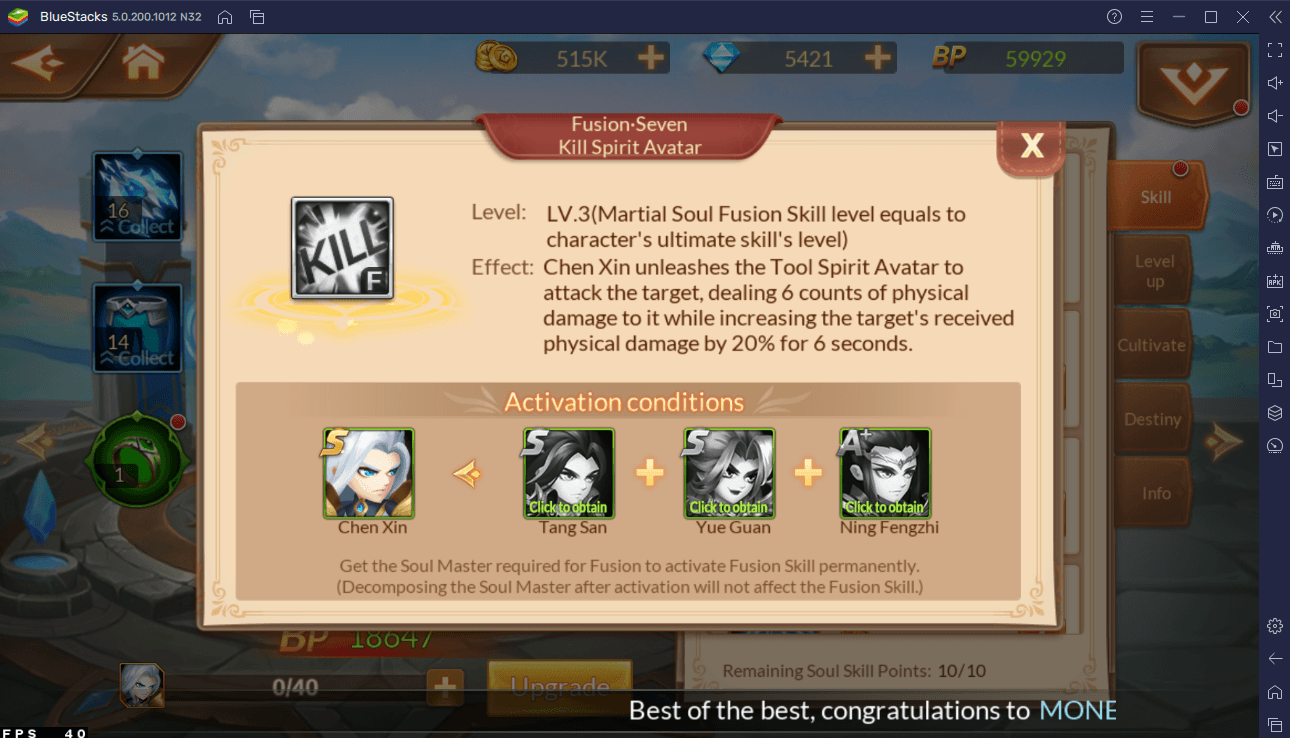 Masters also have special skills called Fusion Skills. These skills can be unlocked when you have several specific Masters in your roster.
Story Mode
There are five chapters in the story of Soul Land Reloaded and each chapter contains at least a dozen stages as well as several boss fights.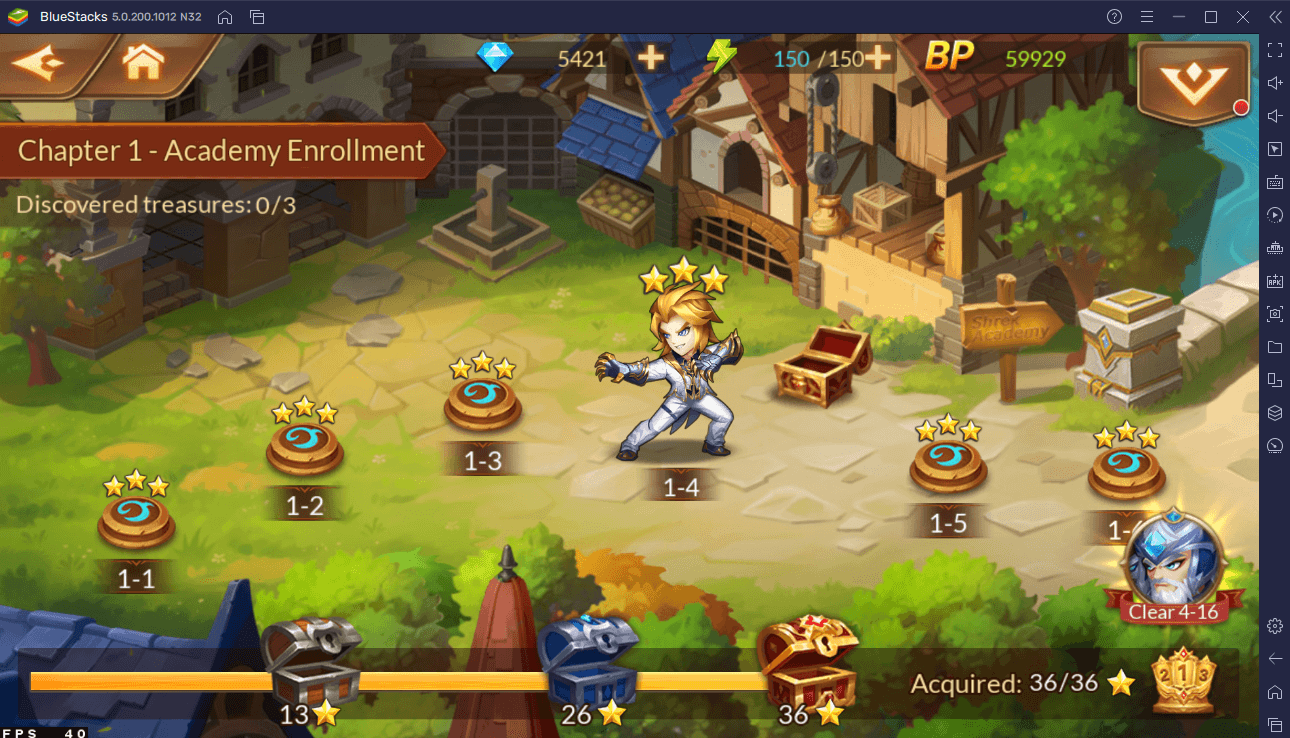 Playing a stage consumes six stamina points. Your stamina supply is fully refreshed every 5:00 server time but if you cannot wait any longer, you can buy 120 stamina in exchange for 100 diamonds (premium currency).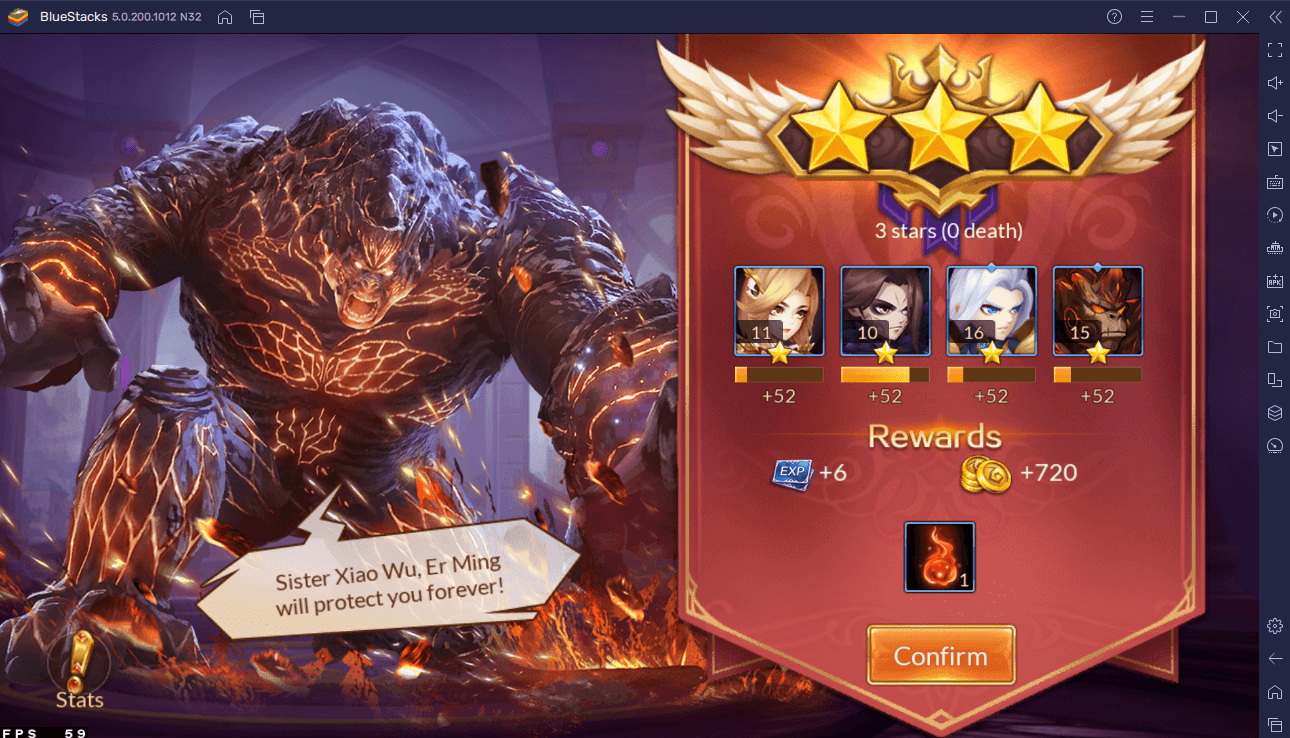 Completing a stage rewards you with items that can be used to upgrade your Masters' equipment. The specific item that will be rewarded is different per stage.
Additionally, you can also earn at most three stars upon completing a stage. The number of stars you earn depends on how many of your Soul Masters are left alive after the stage is completed. When one Master dies, one star is automatically deducted.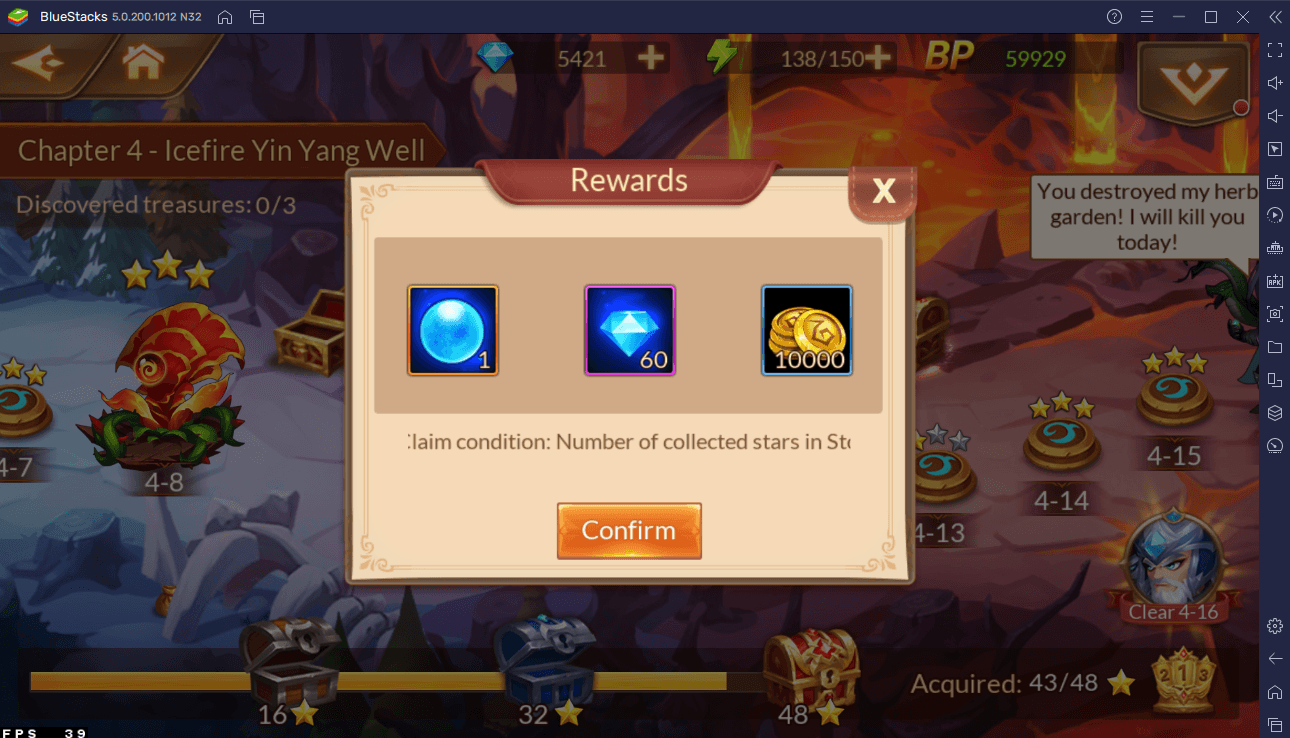 It is paramount to always aim for winning the three stars because the game gives you rewards chests when you attain a certain number of stars. These rewards chests contain useful resources such as gold, diamonds, Soulforce vials, and the like.
Defeating bosses also grants you a special rewards chest. This chest contains shards for a Soul Master, gold, Soul Stones (used to buy shards of other Masters), and Elder Decrees (used to do a normal summon in the Summon Hall).
Combat in Soul Land Reloaded
The combat in Soul Land Reloaded can be described as an idle action RPG but minus the 'idle' part. In this game, you can move your characters to any spot in the map mainly to dodge enemy attacks.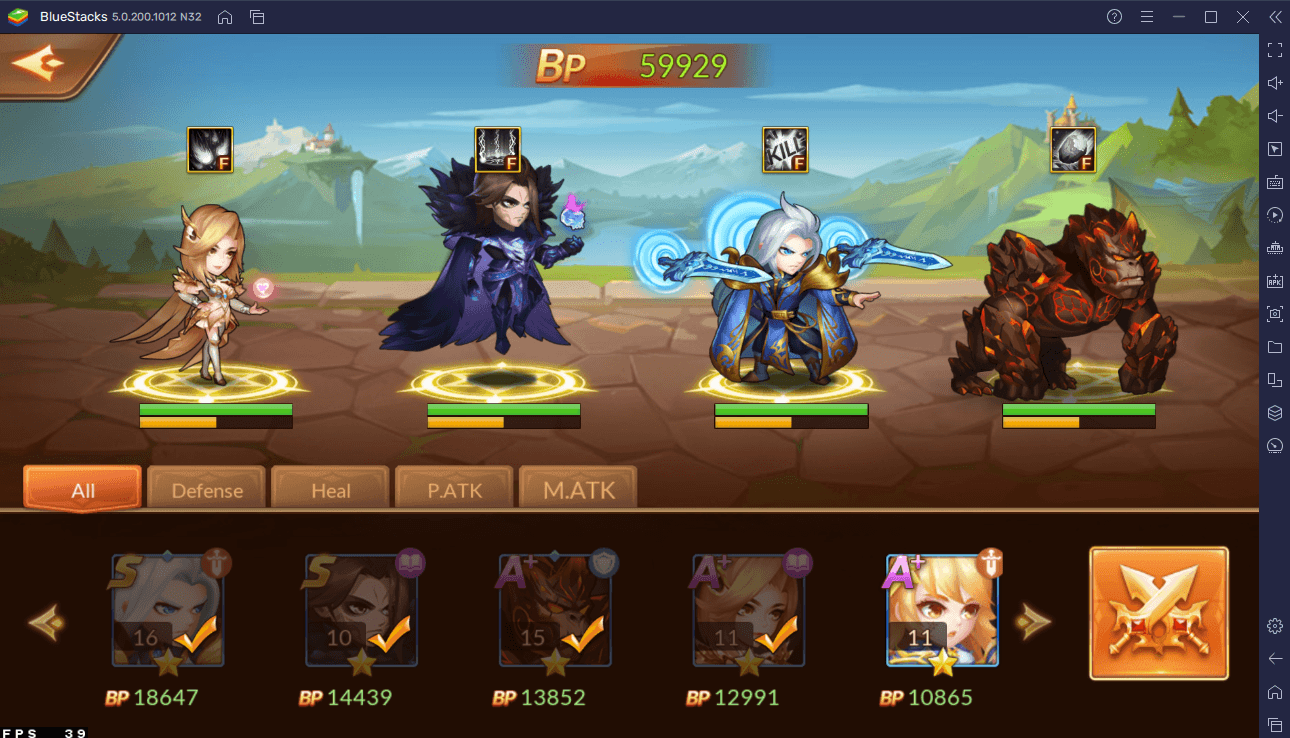 Before you start playing a stage, you must select at most four Soul Masters to be placed in the battlefield. When you begin the game, you will only be able to have a maximum of two Masters in your team. However, upon clearing Stage 1-9 and 2-10, you will unlock the third and fourth Soul Master slots respectively. Which heroes to use for battle will depend on you as well as the heroes that you currently have. Generally, we recommend having all for Master types occupy the four slots for a balanced lineup. This means having one Defense, one Heal, one P.ATK, and one M.ATK.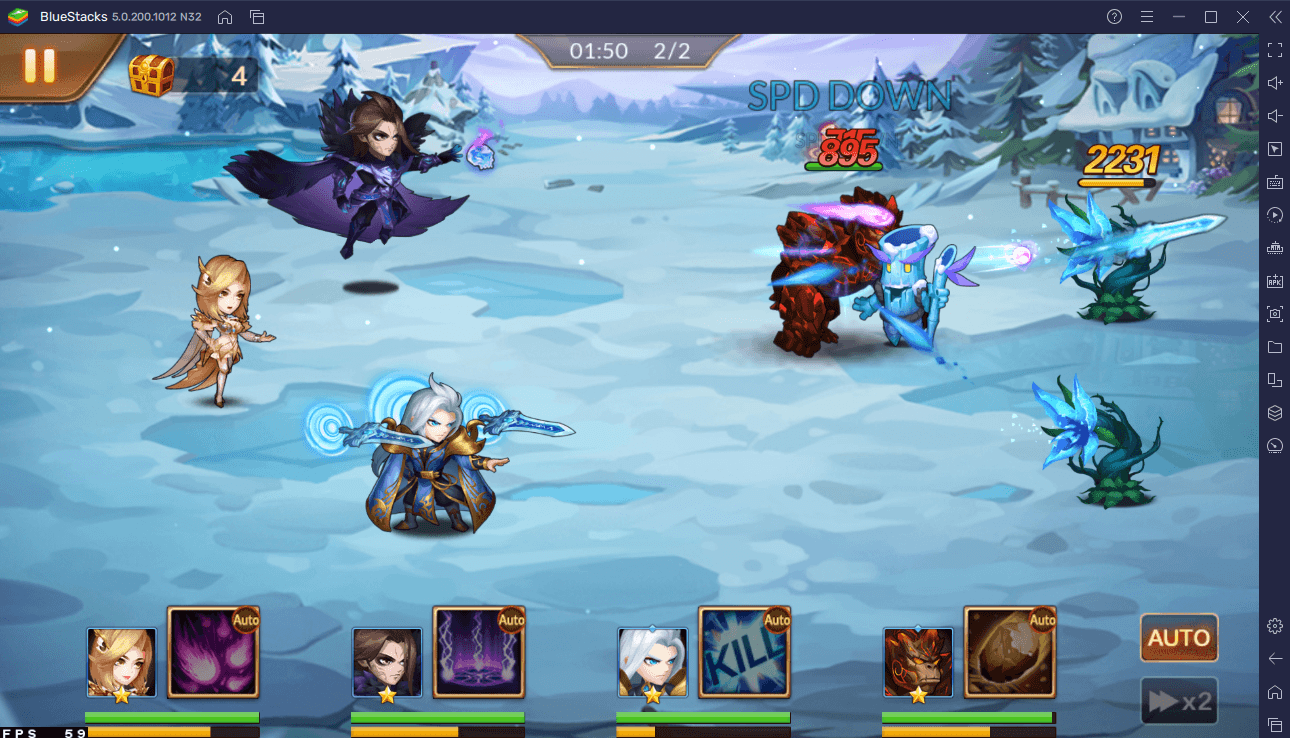 Each stage usually consists of two waves of enemies. In each wave, the Masters will automatically do their basic attacks or functions. Each Master has two bars: the green bar represents their HP and the yellow one represents the amount of points needed to activate their skill. If the green bar is completely depleted, the Master dies and you lose one star for that stage.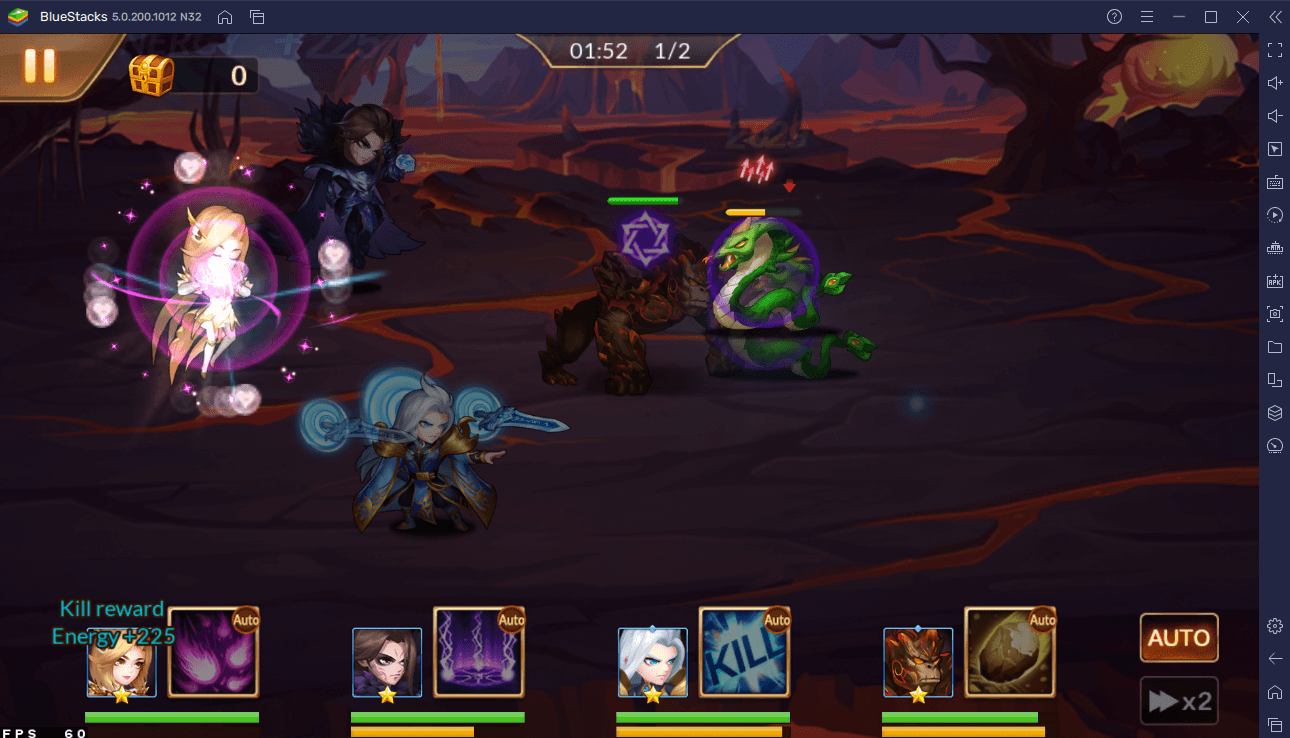 The yellow bar will constantly increase as your Master keeps dealing damage to enemies or healing other Masters (in the case of Heal types). Once the yellow bar turns red, that means their skill is ready for activation and you can activate it by clicking on the skill's icon or by pressing the 1,2,3,4 keys.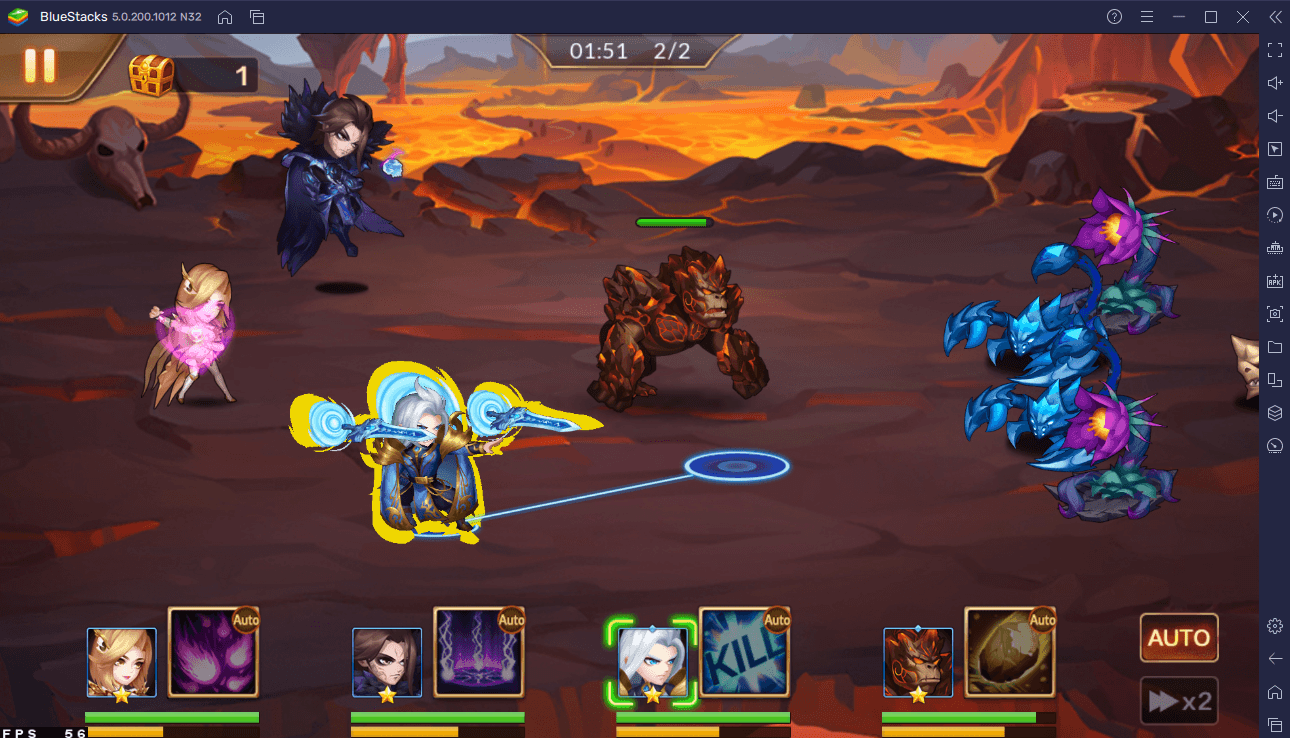 To move your Masters, simply click on them and drag your mouse to the spot that you want them to go to. Alternatively, you can also click on the Master's icon (beside their green and yellow bars) to select them and then move them. This alternative way is very useful for situations wherein your Masters are crowded together, which makes it harder to select a Master individually.
The dodging mechanic is important for when enemies are going to attack at a specific direction or spot. Their attack range is signified by a red bar or circle on the ground. If your Master is within that range, that means that they will be harmed and they must be moved elsewhere.