Game Guides
BlueStacks Usage Guide for Space Leaper: Cocoon - How to Fully Enhance Your Experience With Our Tools and Features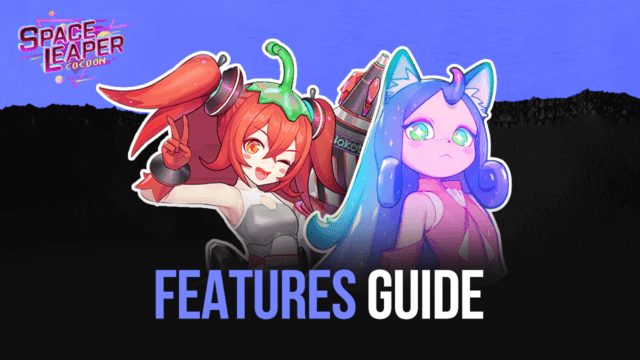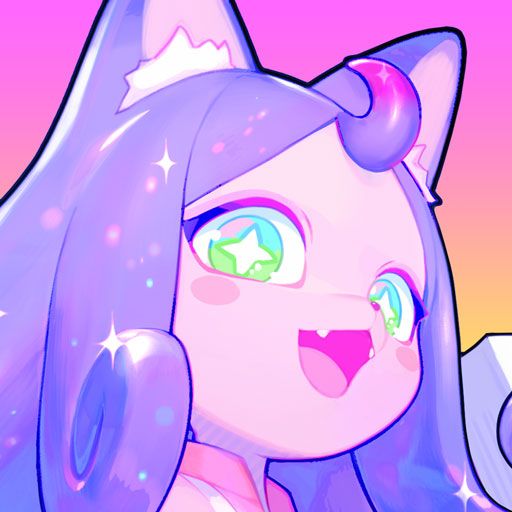 The new Space Leaper: Cocoon is blowing up in popularity as one of the most engaging roguelike gacha RPGs for mobiles to come out in recent times. And while the game is perfectly playable on your phone, those who want to get the best experience with it will definitely want to play Space Leaper: Cocoon on PC with BlueStacks, as our Android app player offers a whole suite of tools designed to improve your gameplay.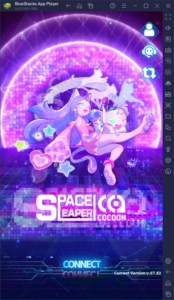 In this brief guide, we're going to give you an overview of some of the most useful BlueStacks features and tools for playing Space Leaper on PC, as well as how to configure and use them correctly.
Optimizing Your Performance With Just a Few Steps
Space Leaper: Cocoon, despite being a 2D game in almost its entirety, features customizable graphical settings, in the form of frame rate options. However, even with its hand-drawn graphics, the game might struggle to run optimally if your phone isn't powerful enough. And even if you have a good phone, playing on the highest frame rate settings will cause it to overheat and drain its batteries at an accelerated pace.
Luckily, by playing Space Leaper: Cocoon on BlueStacks, you can get the best possible performance, without having to worry about any of the issues of playing on your phone. However, in order to achieve this performance, you might need to adjust a few settings both in your emulator, as well as in-game. Here's a step-by-step breakdown of what you need to do: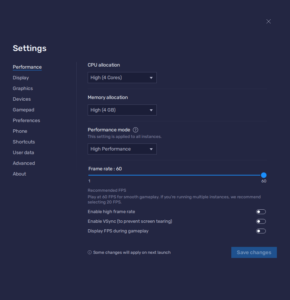 Go to your BlueStacks settings through the menu on the top right of your emulator window and navigate to the performance section.

Make sure that your BlueStacks has 4 CPU cores and 4 GB of RAM, and that its performance mode is set to "High performance". Afterward, check that the FPS slider below is set to 60 FPS, and then click on "Save changes".

Launch Space Leaper: Cocoon and go to the in-game settings by clicking on the gear icon on the rightmost tab of the main menu.

In the "FPS" setting, make sure that it's set to "High FPS".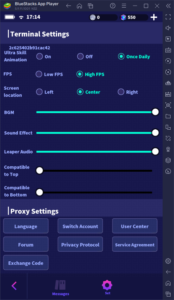 With these settings, your game will not only look great on your large PC monitor, but it will also run as smoothly as possible, without making your phone overheat or drain its batteries.
Improve Your Rerolling by Pulling on Multiple Accounts at the Same Time
While Space Leaper: Cocoon stands out with its roguelike gameplay and procedurally generated dungeons, it's still a gacha game at heart, which means that, by unlocking the best characters in the game, you can get a significant head start and breeze through the story missions without issues. However, considering the randomized design of the gacha system, unlocking good characters can take countless attempts, not to mention a long time. In fact, you could be nearing the endgame and still not have a top tier character unlocked!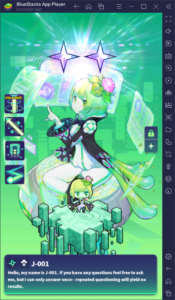 Because of these advantages, however, the most committed players might seek to reroll in Space Leaper: Cocoon, which is a process through which it's possible to unlock top tier characters from the very start. The exact process varies from game to game, and we've covered this extensively in our reroll guide, and you can find the step-by-step breakdown on how to go about rerolling in this game.
However, even with rerolling, it can take countless attempts before you actually get anything worth mentioning from the gacha. Luckily, if you're playing on BlueStacks, you can use the Instance Manager feature to reroll on several accounts at the same time, considerably expediting the time and number of attempts it might take before you get a top tier hero.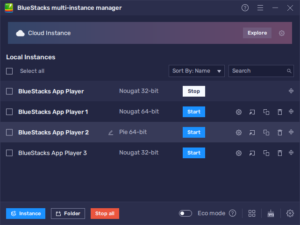 You can open the Instance Manager panel by pressing Ctrl + Shift + 8, which will open a list with all your existing instances. In this menu, you can launch and close instances, as well as modify their settings by clicking on the gear icon beside each of these, or delete them by clicking on their respective garbage bin icon. More importantly, however, you can click on the "+ Instance" button to create as many new instances as your PC can handle, keeping in mind that for each of these that you're running simultaneously you'll need to dedicate additional RAM and CPU resources.
Once you have all the instances that you need, you can download and install Space Leaper: Cocoon on each, and start rerolling on all of them at the same time. In this sense, while we can't inherently increase your odds of getting the best heroes from the gacha, the fact that you'll be multiplying the pulls you can do per cycle will potentially make the process go by much quicker.
Improve Your Controls Using Your Mouse and Keyboard
Most of the gameplay in Space Leaper: Cocoon, at least outside of battle, takes place through menus: There are menus for browsing your characters; menus for upgrading each character; menus for browsing through the different game modes; you get the idea. If you were playing on your phone, you'd need to tap and swipe on your screen constantly in order to navigate through all these menus and panels, which frankly can get quite tedious after a while. Even in combat, you have to manually tap all over the screen to activate your character's energy skills when they're charged up and ready!
With the BlueStacks Keymapping Tool, you can significantly streamline this menu navigation by creating an intuitive and comfortable control scheme using your mouse and keyboard. In this manner, you could play Space Leaper as if it were a proper PC game, with a ton of different shortcuts and key bindings.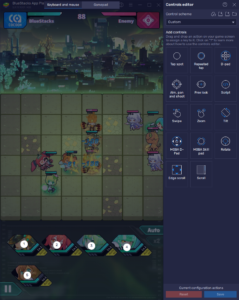 To open this feature, you only need to press Ctrl + Shift + A while in-game. This input will open the Advanced Editor, where you can view your current bindings, modify them, delete them, or even add new ones by dragging and dropping them from the rightmost panel. To modify your settings, you only need to click on the binding you wish to change, followed by the new key you wish to assign it. And once you're done tweaking your controls, you can finish by clicking on the "Save changes" button on the lower right.
Whether you're looking for the best controls, or for tools that would help you reroll and unlock the best characters in the game, or you're simply looking to get the best graphics and performance when playing Space Leaper: Cocoon on PC, BlueStacks has all the features that you can ever ask for in this game.