Game Guides
How To Play Starlight Isle On PC With BlueStacks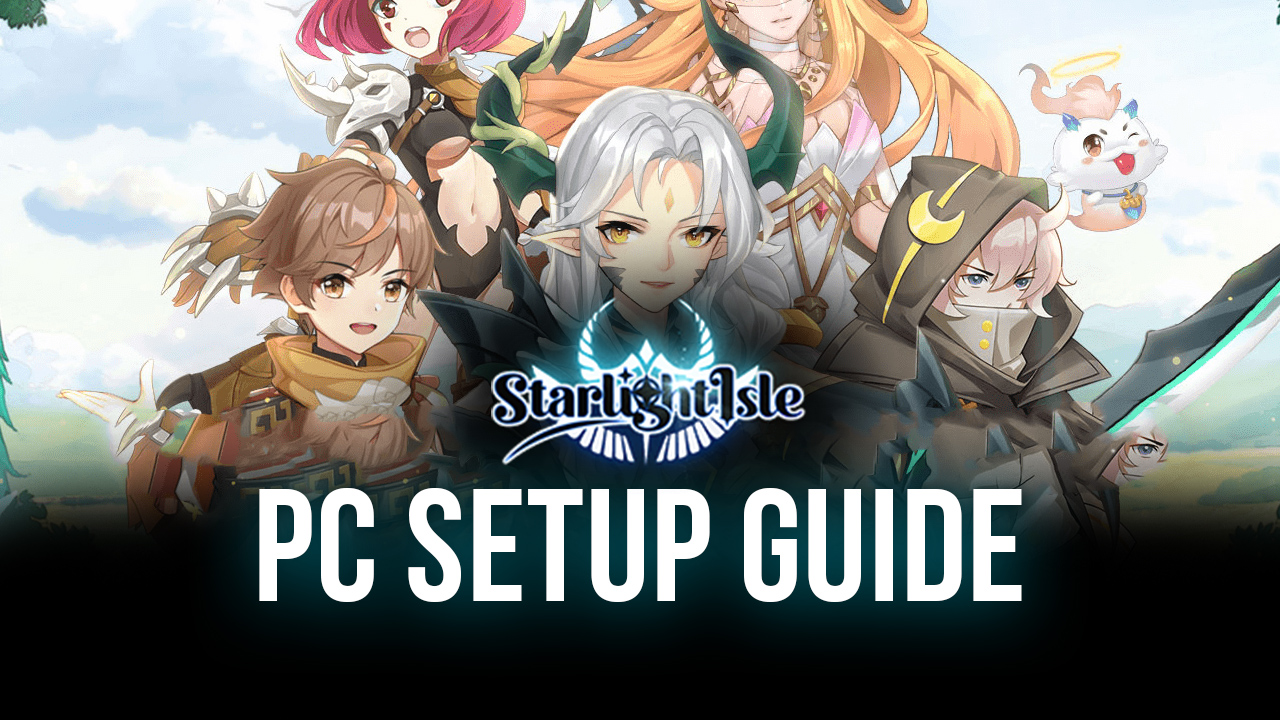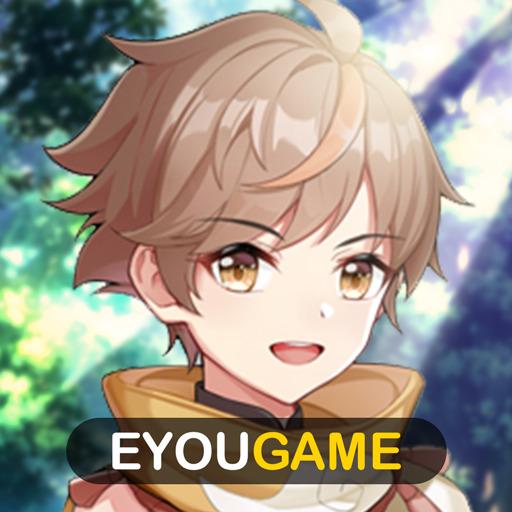 Starlight Isle is a traditional mobile MMORPG where you get to choose from four different classes; use them to their fullest potential, and defeat various monsters! The game is set in an open fantasy world that the player can freely explore to collect different items or farm mobs for experience. Make sure to snag some epic loot too, while you're at it! It features an auto-quest function that makes it easy for players to progress in the game by allowing them to level up without paying too much attention to the game.
Enjoy the full experience of playing an MMORPG by playing the game on your BlueStacks client on your PC. This gives players an entertaining distraction by always giving players goals to complete, such as upgrading their equipment or challenging powerful bosses. With a powerful and compelling storyline, players will find themselves fully immersed in this fantasy game. Upgrade your experience by playing on a more powerful platform like BlueStacks!
What is Starlight Isle About?
Starlight Isle is set in a fantasy world where monsters that were sealed for hundreds of years have suddenly appeared all over the world. As an adventurer, you are tasked with neutralizing this threat to save the kingdom. However, powerful and wise people around you have noticed that a power inside you is starting to unfold – the hidden power to save the world! Use this newfound power to defeat monsters that ordinary soldiers wouldn't be able to deal with themselves.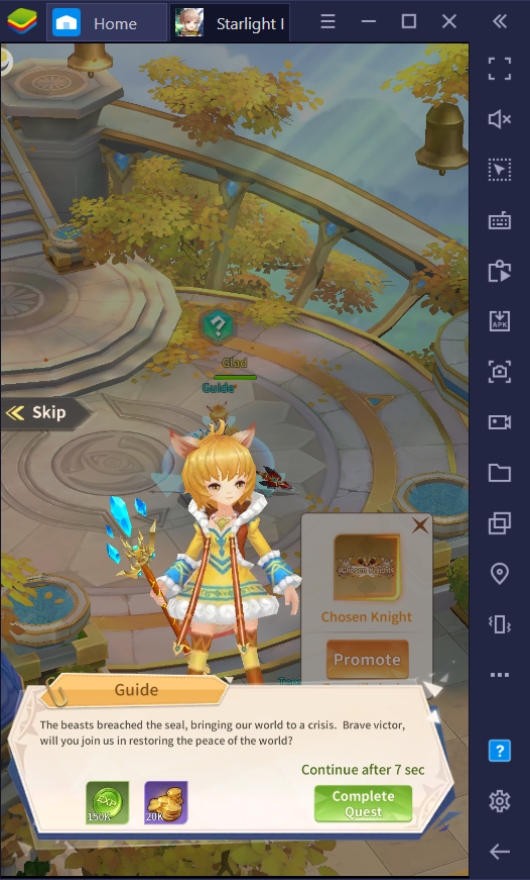 How to Set Up Starlight Isle on BlueStacks?
Want to get the full experience of playing Starlight Isle? Upgrade now by bringing your gameplay to the PC platform and start playing on BlueStacks! With multiple useful features that give you massive advantages, BlueStacks is the number one android emulator that you can use to help level up your characters. Millions of players use BlueStacks because of the convenience it brings when you're able to play on your PC. Here are a few simple steps to show you how you can play Starlight Isle on BlueStacks today.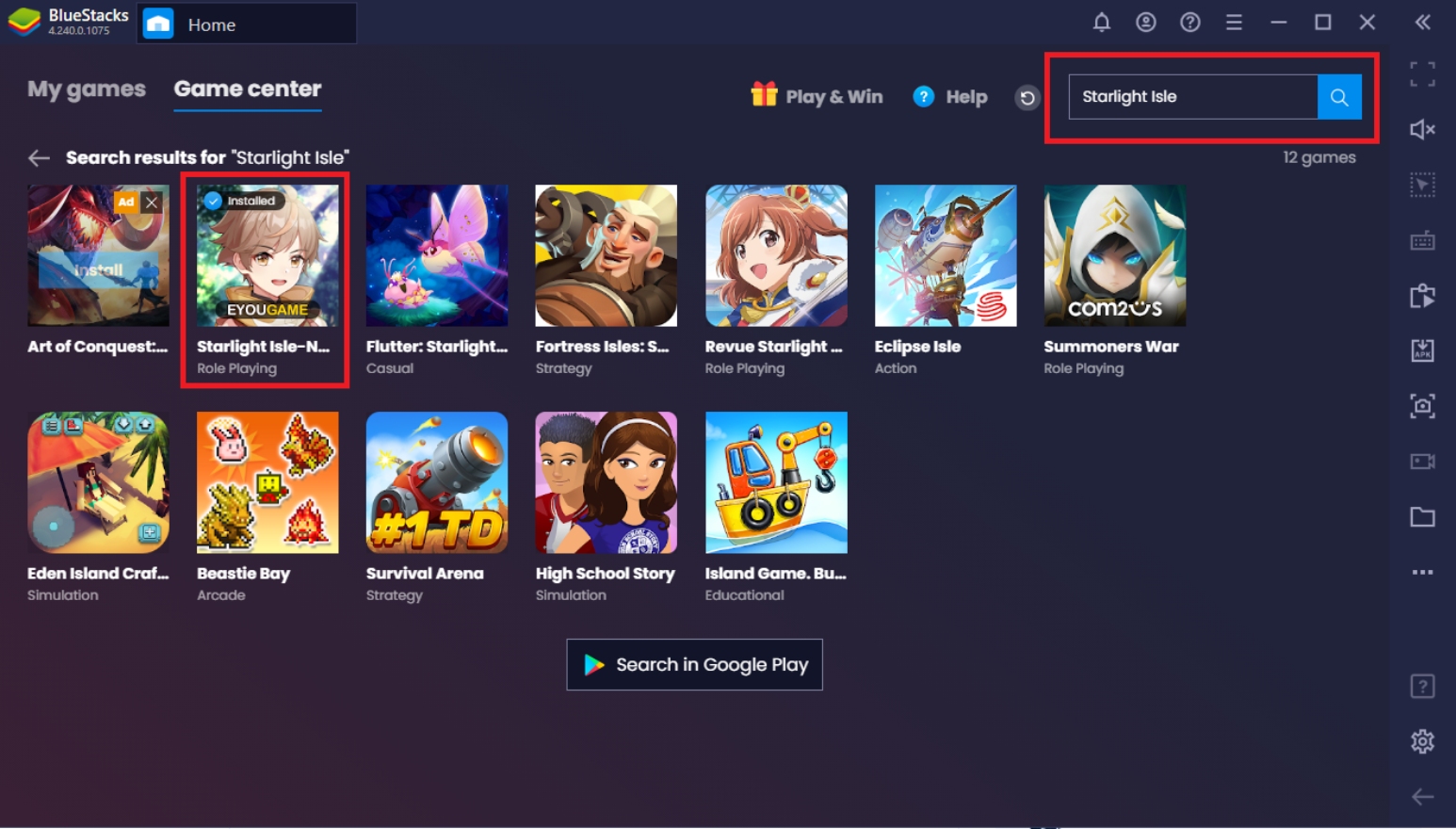 Download and set up the Bluestacks client on your PC.

Link your Google Account to the Play Store.

Use the Search Bar on the Upper-Right to look for Starlight Isle.

Download the game to your Bluestacks client.

Create your character and start exploring the vast open world!
Useful Features To Get You Started on Starlight Isle!
Finished setting up Starlight Isle on your BlueStacks client? Time to ramp up your experience playing this game with a wide array of features that you can use to help you make more progress in the game. BlueStacks contains different functions that allow the player to smoothly play the game on their PC by adding settings to make it feel more like a PC game rather than a simple mobile game emulated on your PC. Here are functions that you might want to take a look at before starting your game!
The BlueStacks Controls Editor function allows the player to map out keys to simulate the controls you would find on mobile. This allows a smoother transition from mobile to PC without the hassle of trying to use your mouse to click on the screen for every action you take. Keys such as the WASD Movement allows players to move around using traditional PC movement features. In addition, BlueStacks already pre-set the keymap so that you don't have to add them from scratch.

The Macro Function allows the player to save a set of commands for future use. This function makes it easier for players to execute chain actions – like those needed to complete daily dungeons – without constantly supervising the game. Even though the game features an auto-quest and auto-battle system, players will still need to click on the dungeons or actions they want to enter. Make the game fully autonomous by learning how to use the Macro Function for farming or finishing dailies with no sweat off your back.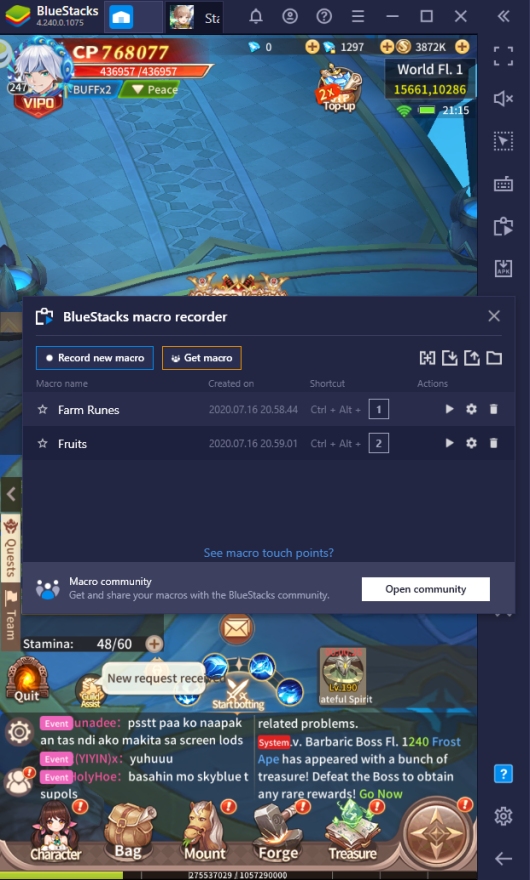 The Eco Mode is an AFK Gamer's best friend. This function allows the BlueStacks Instance to lower the performance usage to only focus on running by itself in the background. Since Starlight Isle has an auto-quest and auto-battle system, you can leave it in the background while you do your work or play other games without it taking too much of your computer's power. Take note, however, that this will make the game's graphics and FPS drop significantly.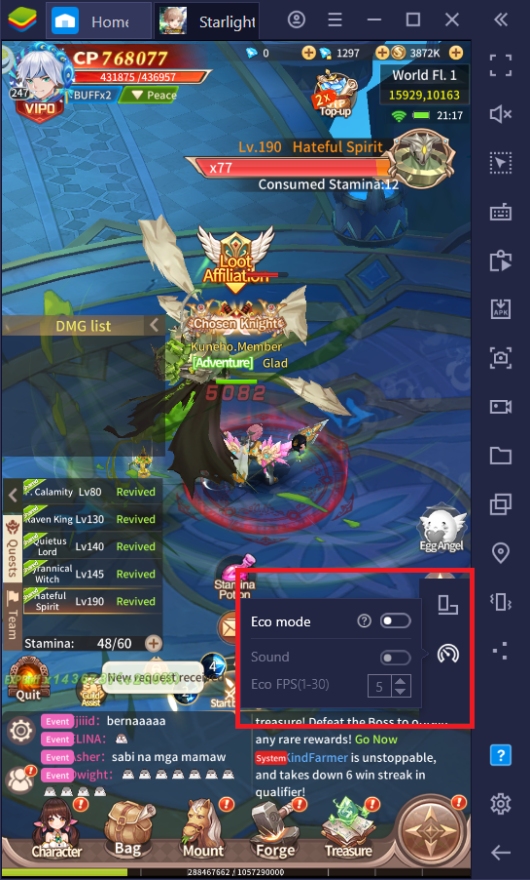 The Multi-Instance allows the player to open up different BlueStacks instances without interfering with each other's processes. This allows the player to set up and play multiple accounts in Starlight Isle at the same time. With the BlueStacks Synchronization, all active instances will follow the commands and outputs of the one you are actively controlling. You can also use the multi-instance function to play other games while you AFK farm in the background.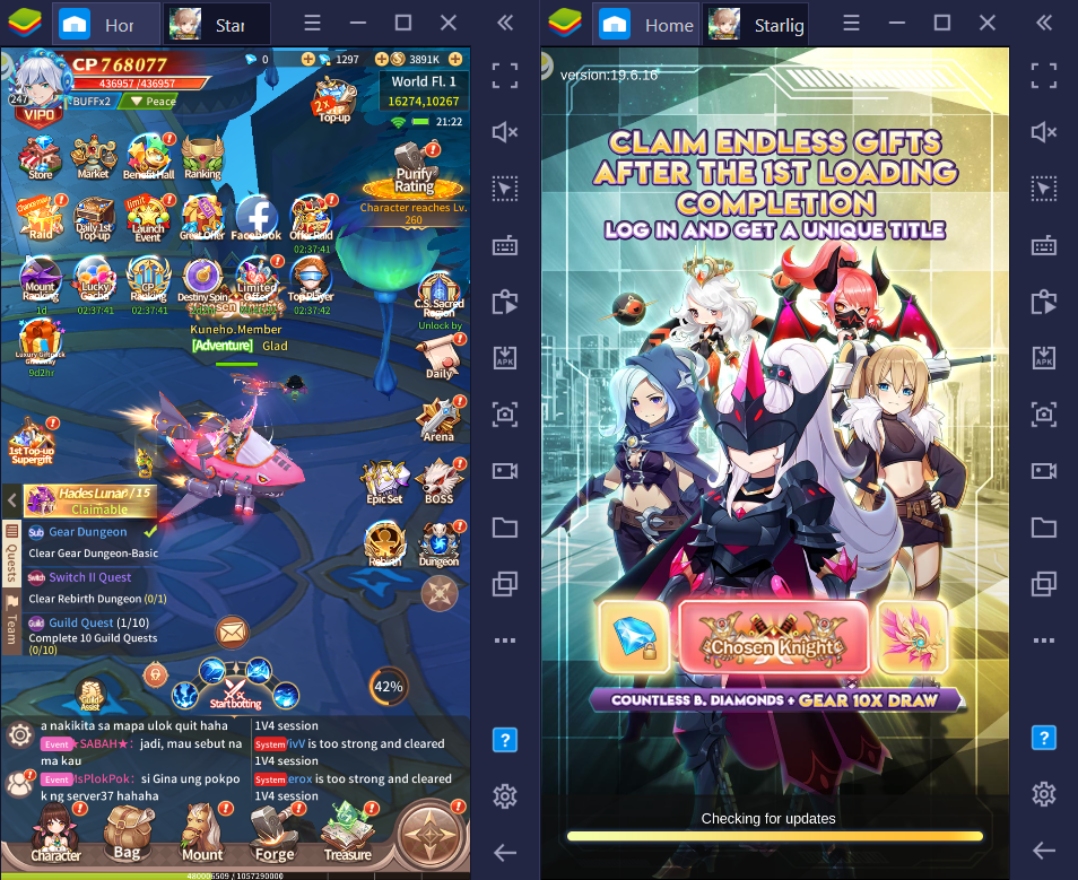 The Screen Recorder function allows players to share their gameplay videos online through forums, social media, or on streaming websites. This function imitates how the game would record if you were recording it on an ordinary smartphone, allowing a seamless transition that no one would suspect was recorded on your PC. Combining this with the Streaming Mode, you can share your gameplay live with your friends or to fans that follow you as you enjoy your games.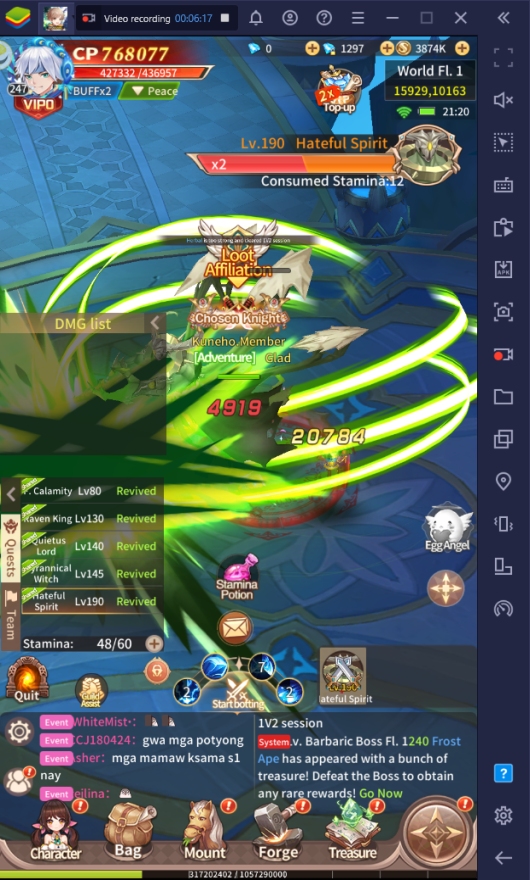 Take Control of Your Destiny!
Now that you are all set up to play Starlight Isle on PC with BlueStacks, it's time to challenge the different monsters, bosses, and dungeons that try to get in your way. MMORPG's are known for being a bit grindy, so make sure that you are ready to invest a bit of time in playing this game. Leveling up might seem easy in the first few minutes of playing the game, but it'll get significantly more demanding as you reach the later parts of the game. Get some reliable help by inviting your friends, or even better, letting BlueStacks help you achieve heights that you never thought possible!