Game Guides
State of Survival on : Using BlueStacks to Win in this Zombie Game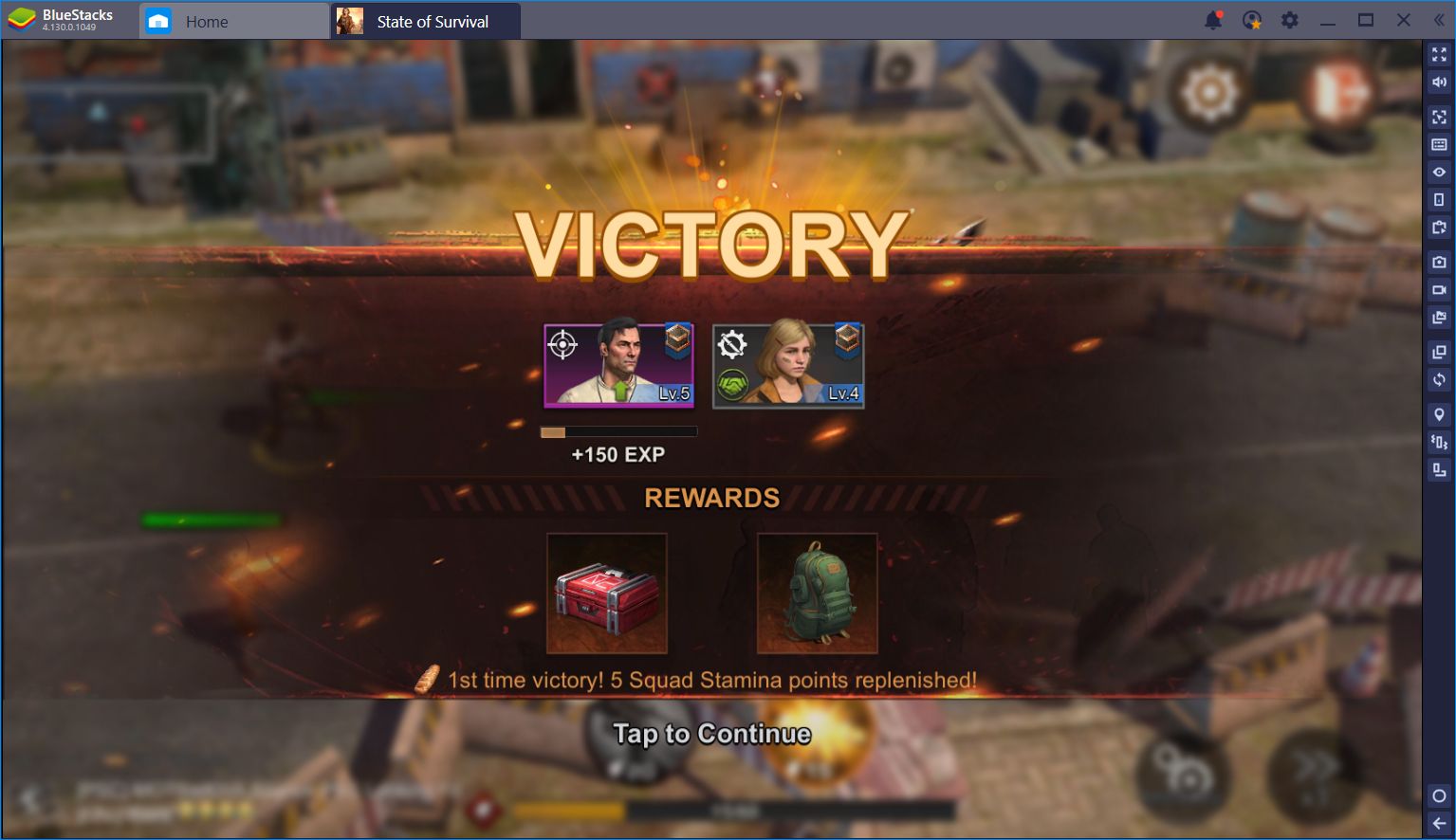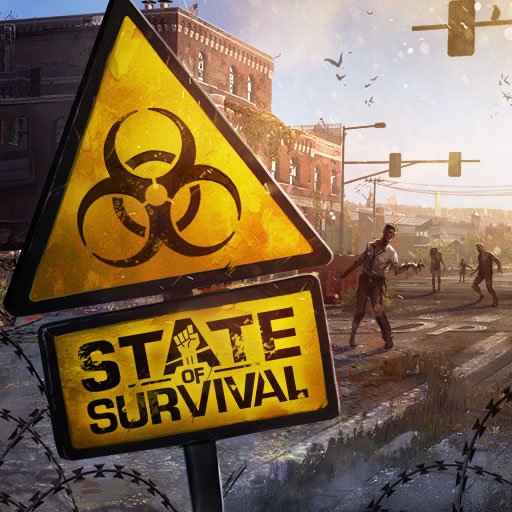 When it comes to mobile games, there are a vast number of titles that feature the very same mechanics but with a different skin. Especially when it comes to conquest titles, most of these games revolve around the same basic principles of gathering, building, upgrading, and attacking. However, there are rare occasions when a game offers an interesting take on the classic formula, and provides us with a different approach to conquest gameplay. State of Survival is one such game with a unique style, which combines the best features of a conquest game with the intricacies of an RTS title.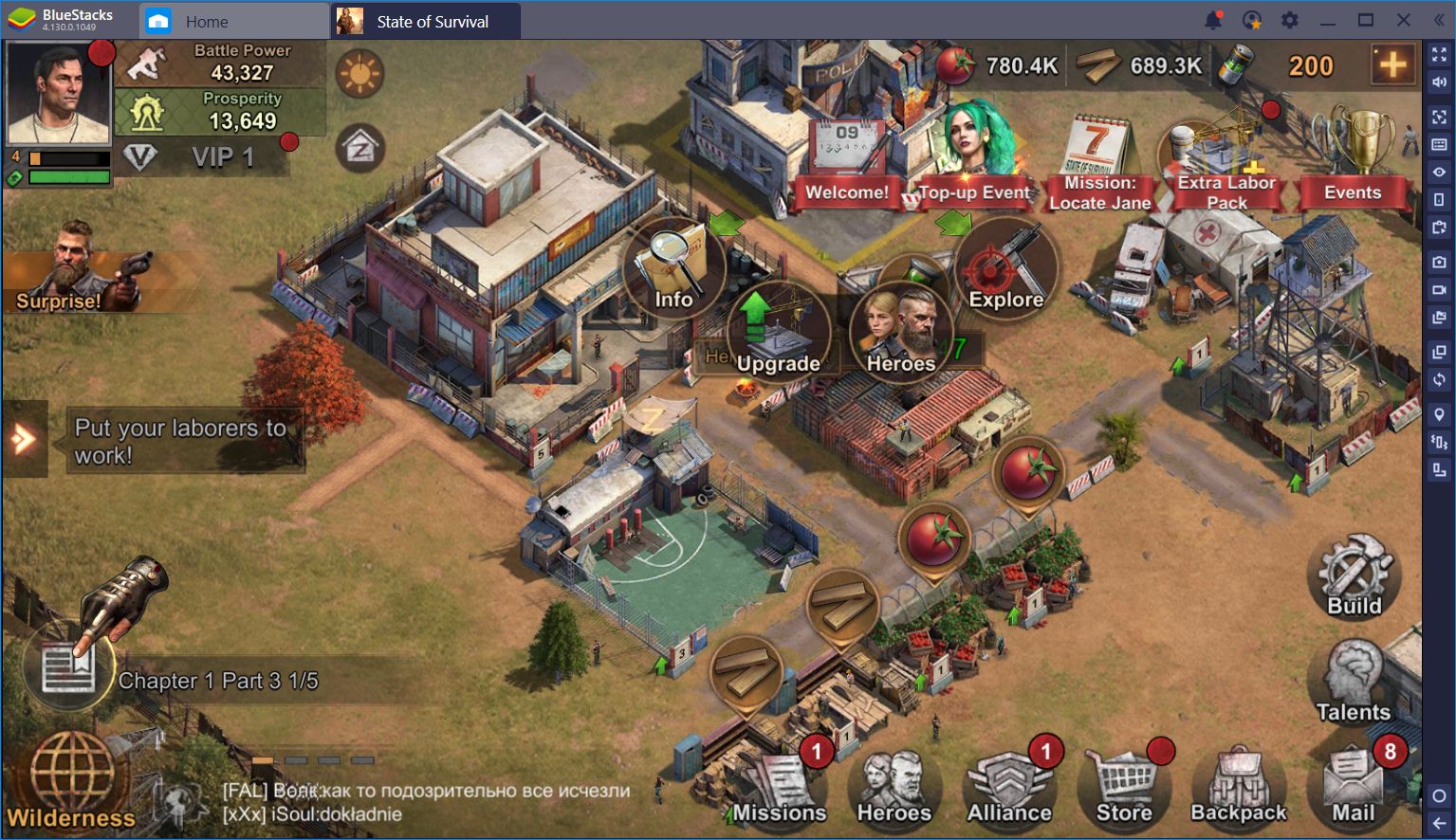 As we mentioned in our review, while you'll be spending most of your time in this game developing your settlement, researching new technologies, training troops, and conquering people on the world map, you'll also need to complete several singleplayer missions to advance your cause. These missions consist of expeditions to town where you'll have to defeat hordes of zombies to bring back certain prizes and items related to the main story and play like a regular strategy game with real-time combat.
It's this very combination of different gameplay mechanics that make State of Survival more than just your run-of-the-mill zombie game, but an amalgamation of some of the best elements that these styles have to offer. However, due to its unique design, you'll need to approach this game in a different way than you would any other conquest game. Luckily, BlueStacks has all the tools you'll ever need for this purpose, and we'll tell you why.
In this article, we'll go over all the things you can achieve in State of Survival using our powerful BlueStacks tools. Let's get your game setup first, though.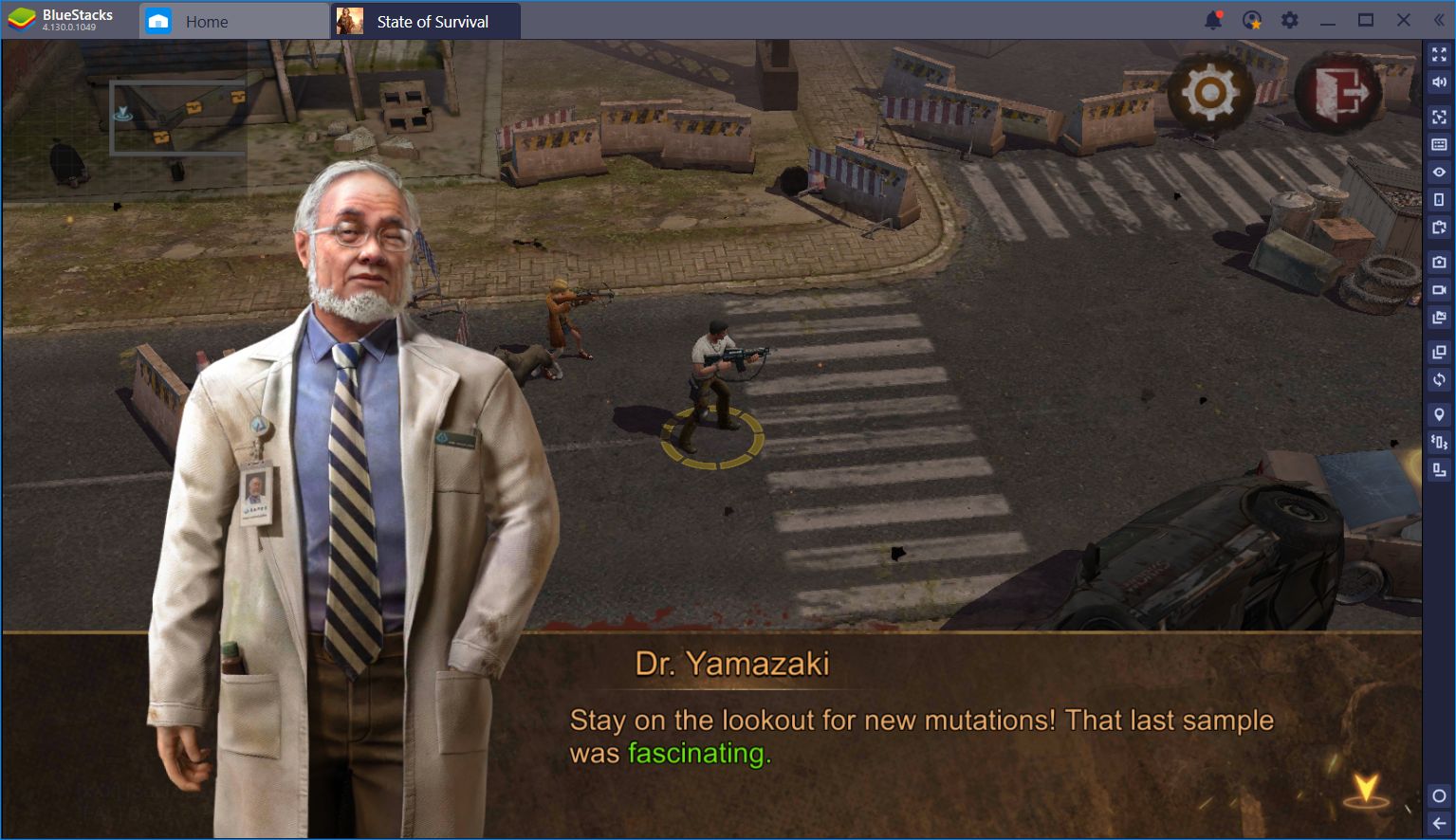 Download and Install State of Survival on BlueStacks
Download and install BlueStacks on your PC.
Complete Google Sign-in to access the Play Store, or do it later.

Look for State of Survival in the search bar at the top right corner.
Click to install State of Survival from the search results.

Complete Google Sign-in(if you skipped step 2) to install State of Survival.
Click the State of Survival icon on the home screen to start playing.
Surviving the Zombie Apocalypse With BlueStacks
BlueStacks, our powerful Android emulator can give you the edge when playing many types of games, especially in conquest titles. These types of games rely heavily on menu navigation to issue commands such as constructing buildings, training troops, or even simply for simply checking your city info. In these cases, you'll frequently need to click back and forth around your screen just to get access to all the relevant info in the game, something that can take a lot of time, especially if you're playing on your phone.
Instead of having to click everywhere on the screen just to build a simple structure, BlueStacks allows you to bind the most important functions of your settlement to your mouse and keyboard using the Keymapping Tool. With this powerful instrument, no longer will you have to click back and forth on the screen as you can simply bind your menus to your keyboard buttons.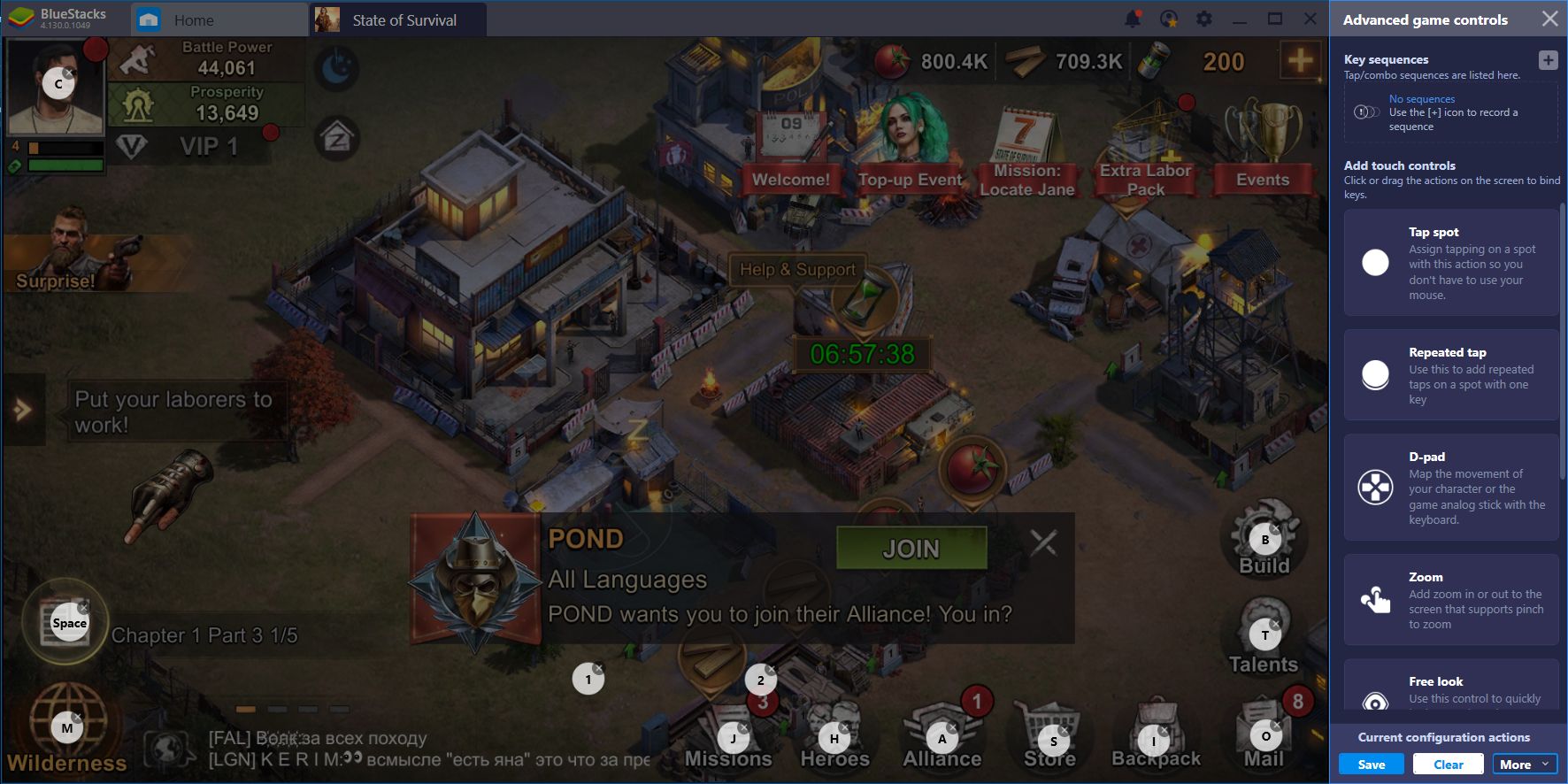 The way the Keymapping Tool works is that it allows you to set customized shortcuts to any part of the screen, which you can then link to any button on your mouse or keyboard. That way, every time you press a specific key, BlueStacks will automatically simulate a tap on the corresponding area of the screen, simplifying considerably the process of navigating through the game's menu.
In our current setup, we made it so that we can access many different menus using only our keyboard. This config includes the missions, heroes, alliance, world map, backpack, and mail screens, among many others. Furthermore, we also added several shortcuts for quick access to our skills during battle. And the best part about the Keymapping Tool is that it's 100% customizable so you can personalize it to your preferences at any time; just press Ctrl + Shift + H to access the Keymapping Tool menu, and then use the list on the right to drag any relevant shortcuts to your desired locations.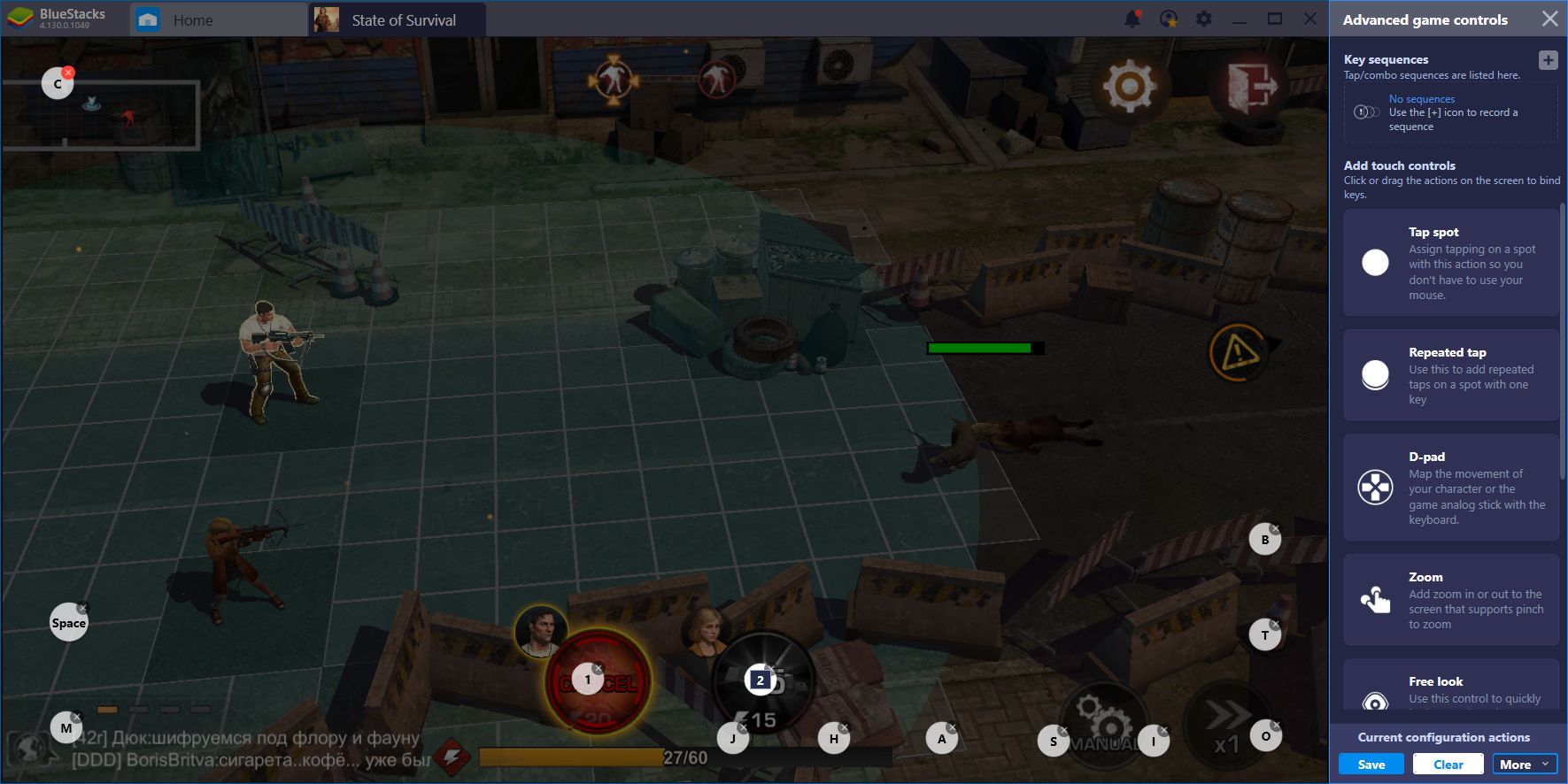 Become a One-Man Army With the Instance Manager
However, the Keymapping Tool is not the only thing BlueStacks has to offer for State of Survival as the Instance Manager is also a very useful tool for this zombie game. For slow-paced conquest games like this one, the Instance Manager allows you to build and develop several different towns simultaneously using multiple accounts. The slow and strategic design of the game means that you'll never have to complete any action segments, other than the singleplayer missions, which means that you can take your time and issue commands in multiple cities without losing a beat.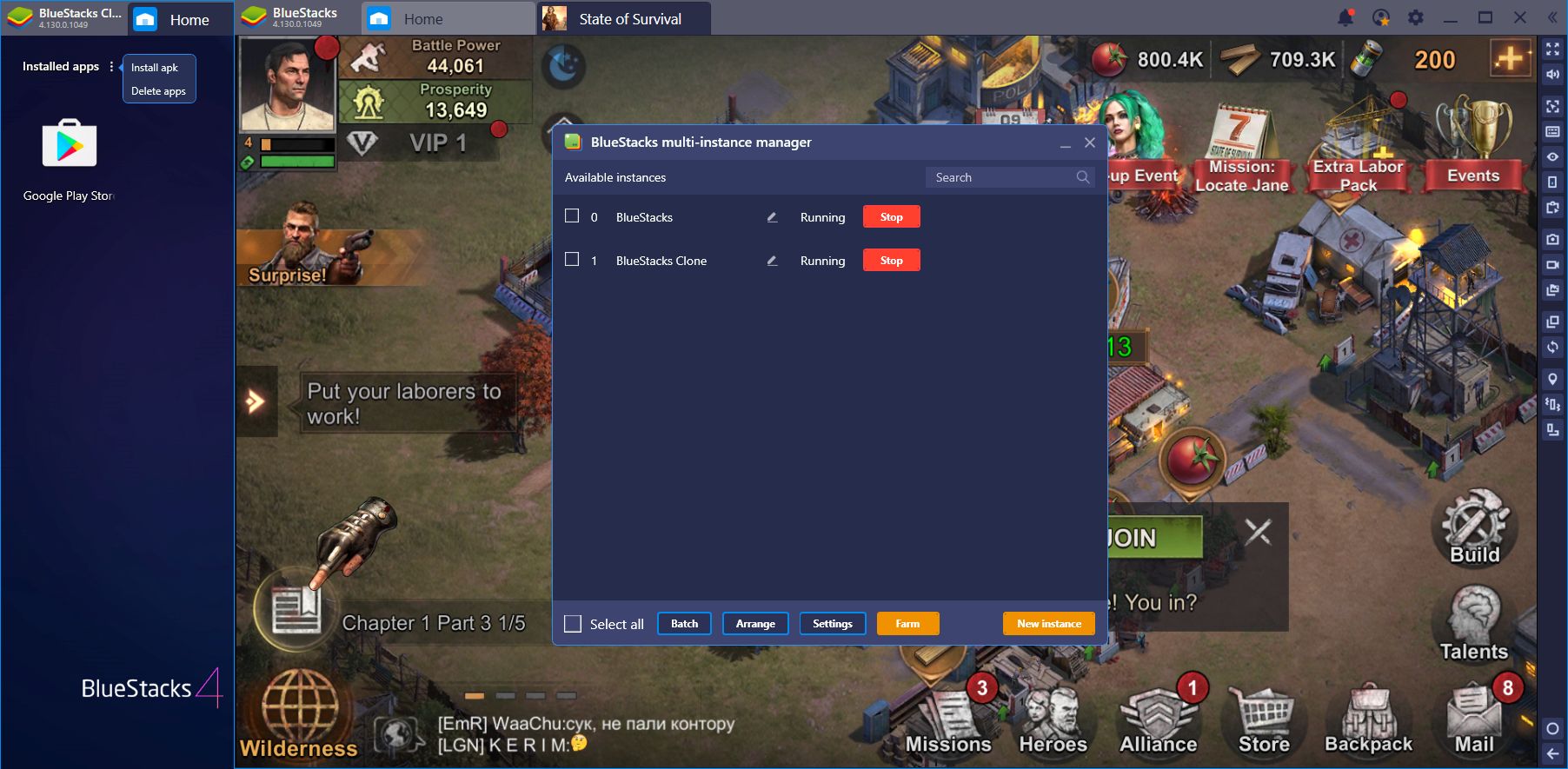 Using the Instance Manager is as simple as using the Keymapping Tool as it only requires you to access a menu, create a new instance, and then running the said instance. Afterward, you can play as you normally would, but on multiple simultaneous accounts. Keep in mind, however, that you'll need different Google accounts for every new instance you decide to run as these will allow you to access the game using different cities.
Streamline Your Efforts Using the Multi-Instance Sync Feature
When it comes to conquest games like State of Survival, specifically in the use of the Instance Manager however, we always recommend starting fresh with multiple accounts using the Multi-Instance Sync feature. This feature was an addition to the Instance Manager in BlueStacks version 4.130.0.1049, which allows users to synchronize their actions on one instance and replicate them on the rest. In other words, while you play on one instance, BlueStacks will automate gameplay in the other instances by replicating your actions.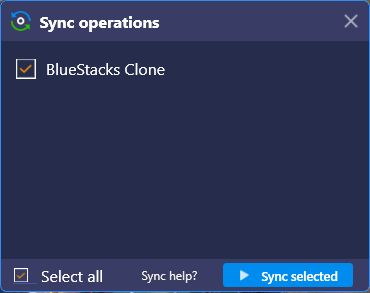 Evidently, the Multi-Instance Sync will simplify considerably the action of developing multiple simultaneous towns by allowing you to focus solely on one of your accounts, while BlueStacks handles the rest. However, the caveat here is that all your towns must have the exact same layout for this to work. Luckily, State of Survival is awesome in the fact that it allows you to modify the layout of your settlement at any time. This means that, even if you have multiple different towns with varying layouts, all you need to do is drag and drop your buildings so that all your cities match, and then you can start using the Sync feature effectively.
Being able to develop multiple cities cities is a huge boon in any conquest games like State of Survival, and is something you'll only find by playing on BlueStacks. With our powerful emulator, you can take all your settlements in this zombie game to the next level and become one of the most powerful survivors in the wasteland. What are you waiting for? Start building your cities with BlueStacks today!