Game Guides
Growth Strategies For Your Empire In Stellaris Galaxy Command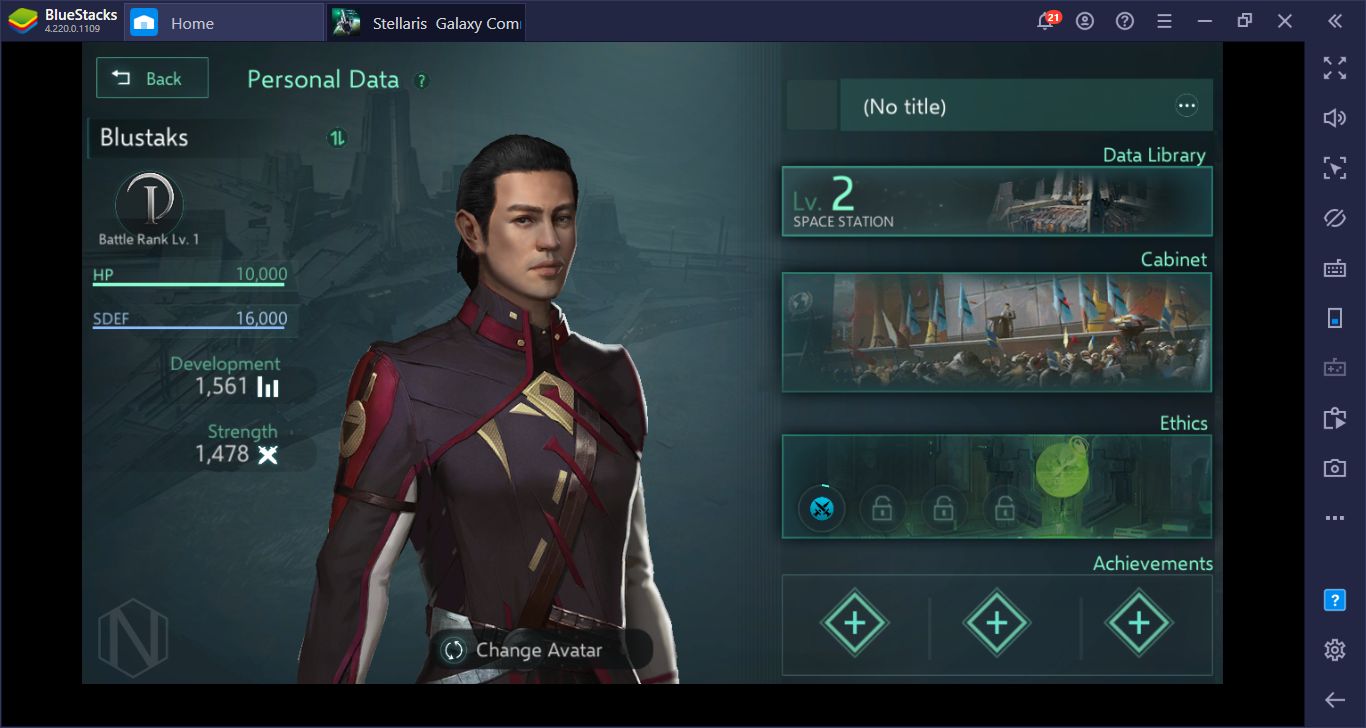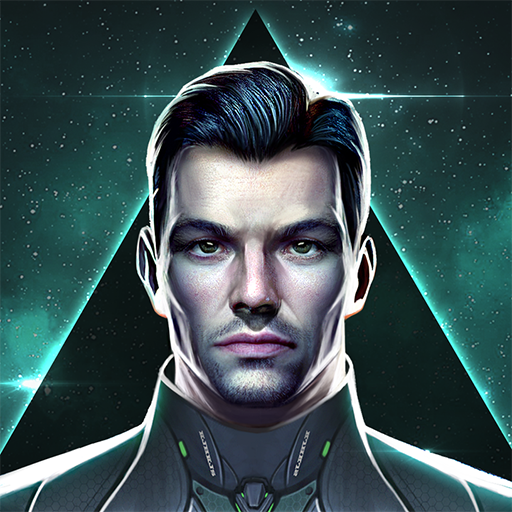 If you want to rule the whole universe, you have to take firm steps in the beginning. The secret to expanding your empire lies in using the right growth strategies. As mentioned in our review, Stellaris has deep gameplay mechanics and you need to do more than construct buildings to grow and develop your space base. For example, are you sure you have assigned the right governor to your cabinet? What about the ethic you chose? Is it the best option for your game style? If you want a big empire, you need to use the right growth strategies from the start. You can find detailed information about all these strategies in this guide and learn how to quickly become the most powerful being in the whole universe: Shall we start, my lord?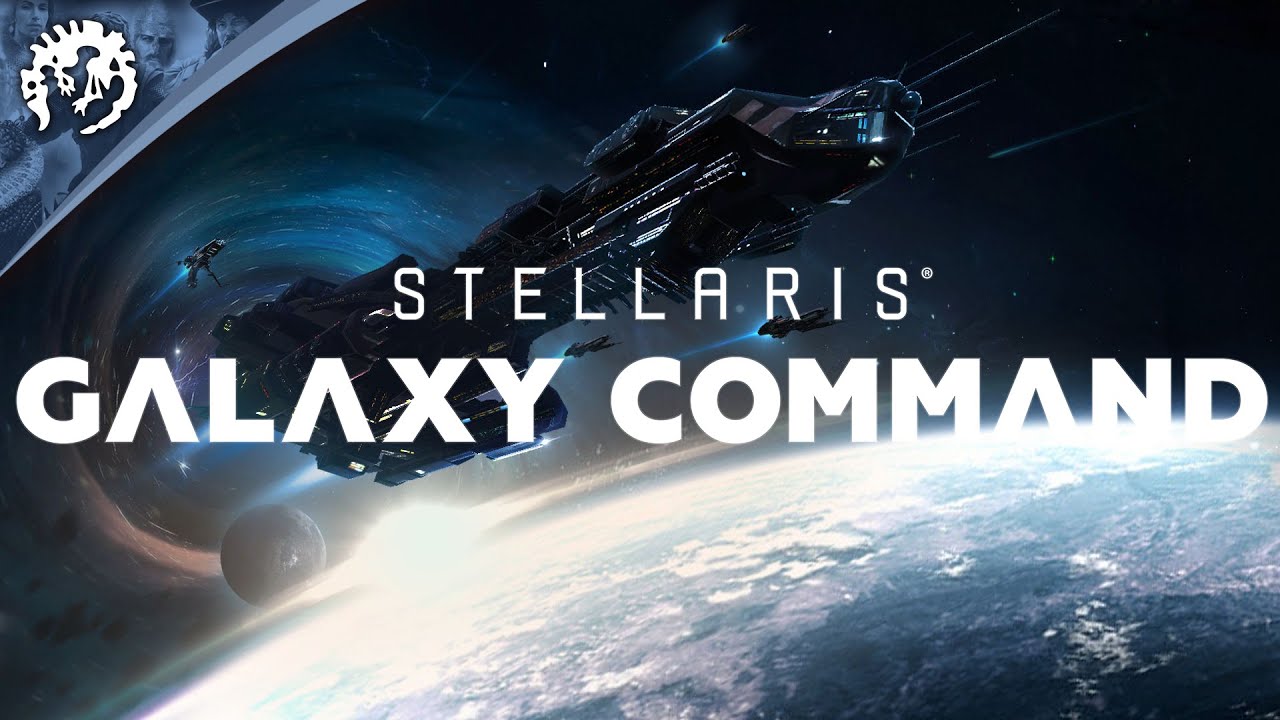 Choosing The Right Ethics: Everything You Need To Know
"Ethic" may be a misleading word but the game prefers this name. Basically, ethics means "politics" and we can compare it to the type of government you prefer in your empire. There are four groups of ethics and each one comes with an advantage and a disadvantage. Once you pick an ethic, you will get a perk for your station. However, choosing an ethic is not an "automatic bonus" button: Your actions should also be compatible with the ethic you choose. If you switch to "militarism", for example, you must stop trading with other players. As long as you stick to your ethic, you will gain more perks. If your actions are different from your ethic, you may both lose the benefits you gain and have to switch to a different ethic.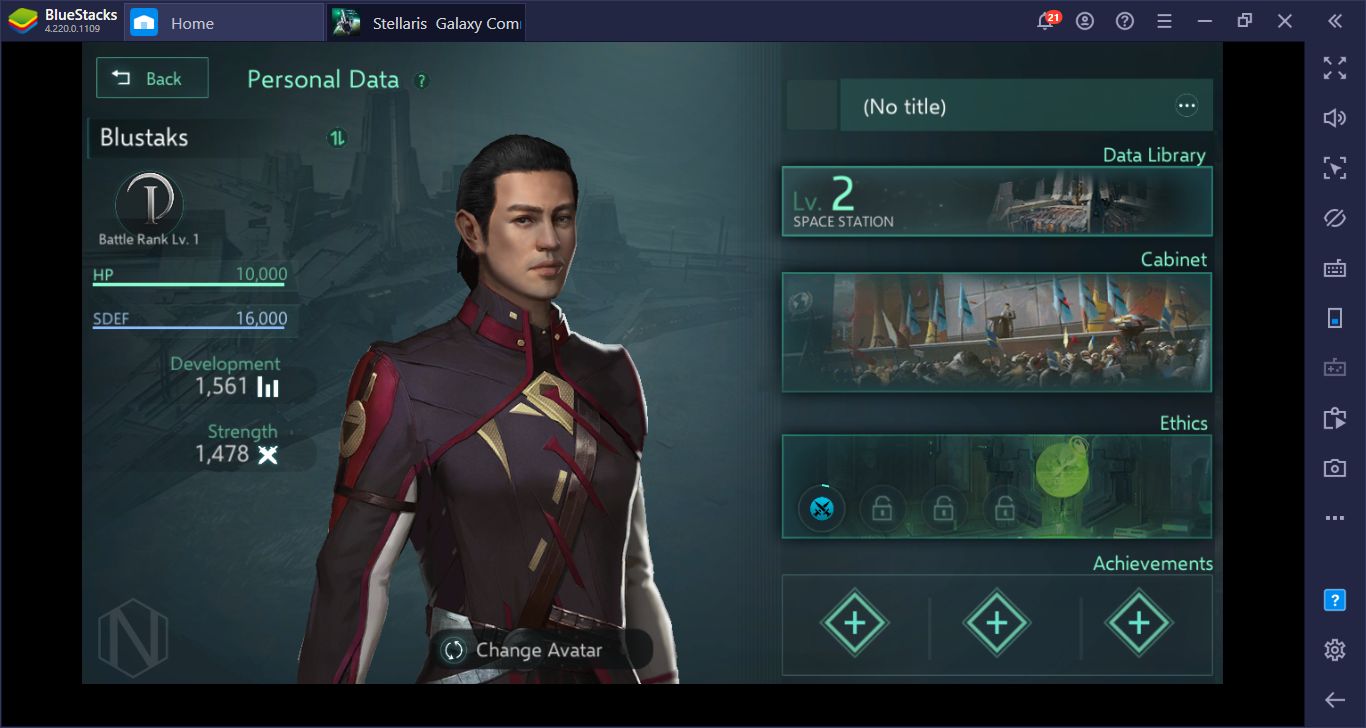 You can view and manage your ethic from this screen.
First, let's take a look at a list of all ethics and the perks they have.
| | |
| --- | --- |
| ETHIC NAME | PERKS |
| Militarism | Reduces fleet maintenance costs |
| Spiritualism | Increases the speed of acquiring XP |
| Authoritarianism | Grants leadership perks |
| Xenophobia | Increases shipbuilding speed |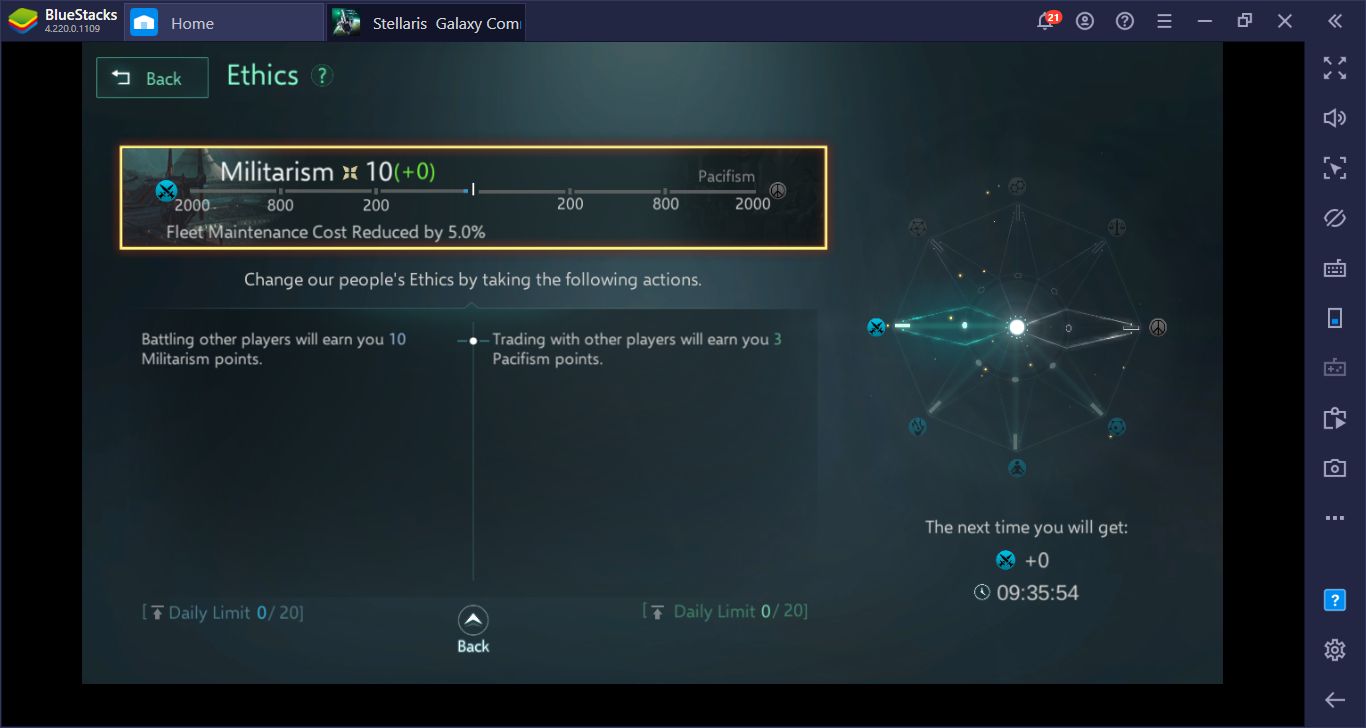 As mentioned above, if you act according to your ethic, you can win "ethic points" to upgrade the perks you get. Not acting according to your ethic, on the other hand, will cause you to lose points. In this case, you will win points for the opposite of your chosen ethic. And if you win enough points, you will automatically switch to that ethic. So, what are these "opposite" ethics and what do they do?
| | |
| --- | --- |
| ETHIC NAME | PERKS |
| Pacifism | Reduces population maintenance costs |
| Materialism | Increases research speed |
| Egalitarianism | Increases tax revenue |
| Xenophilia | Reduces losses from trade |
Your actions will define your ethics – if you keep doing research, for example, you can start winning more Spiritualism points. Being a lone wolf and not trading with other players will increase your Militarism points. Or, you can order your governor to make political speeches and win more Authoritarianism points. Once again, each one comes with a different advantage (and disadvantage).
In this context, we believe that using the "Spiritualism" ethic will be your best option in the beginning, as it allows you to get more XP. After reaching level 10 or so, you can switch to Militarism and Xenophobia to build your army. And after that, you must decide according to your needs: If you are lacking funds, using Egalitarianism will be a good idea. Ethics are not fixed things; you can switch to new ones according to the needs of your empire.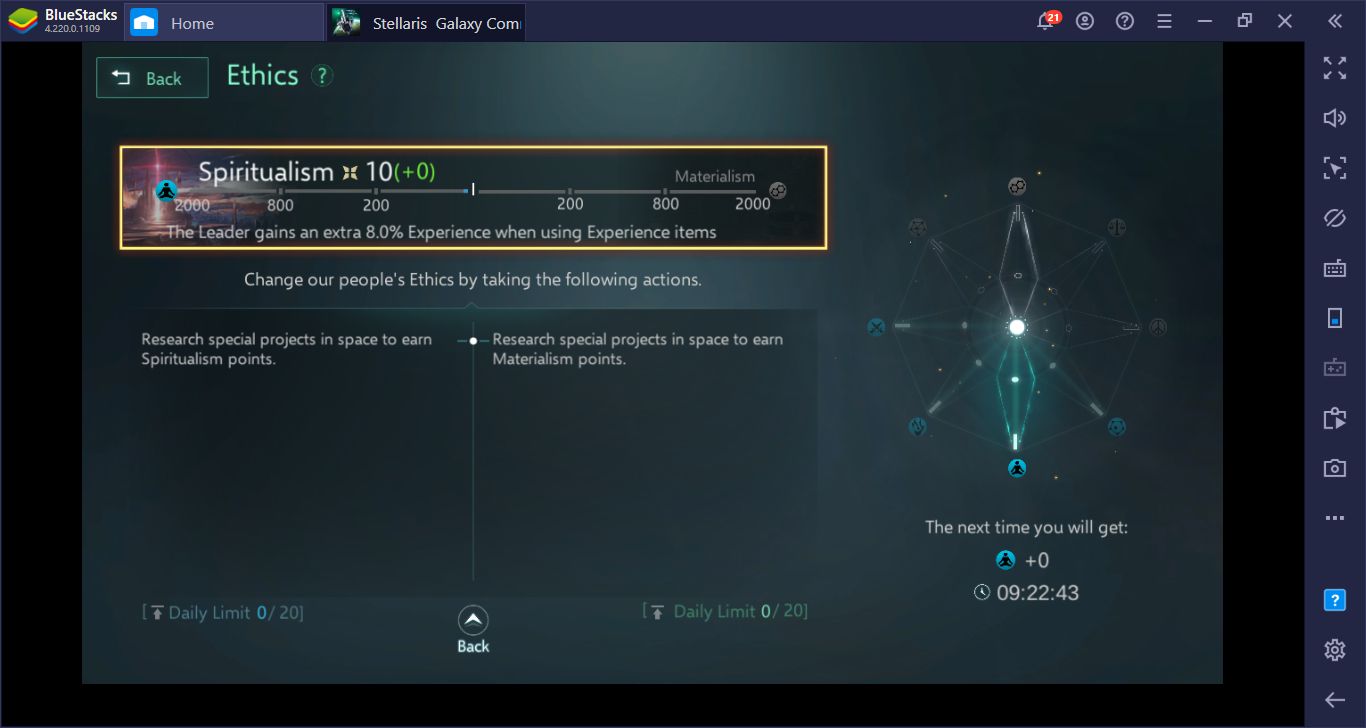 Choosing this ethic in the early game phase will give you an advantage – you will gain XP points much faster.
Choosing The Right Governor
You can start assigning leaders to various roles once you built Elite Academy. There are lots of leaders you can use, but the most important one is the "governor" and his/her ministers. You will lead the governor and he/she will earn ethic points for you. And by choosing the right ministers, you can gain various bonuses that will help you to expand your empire.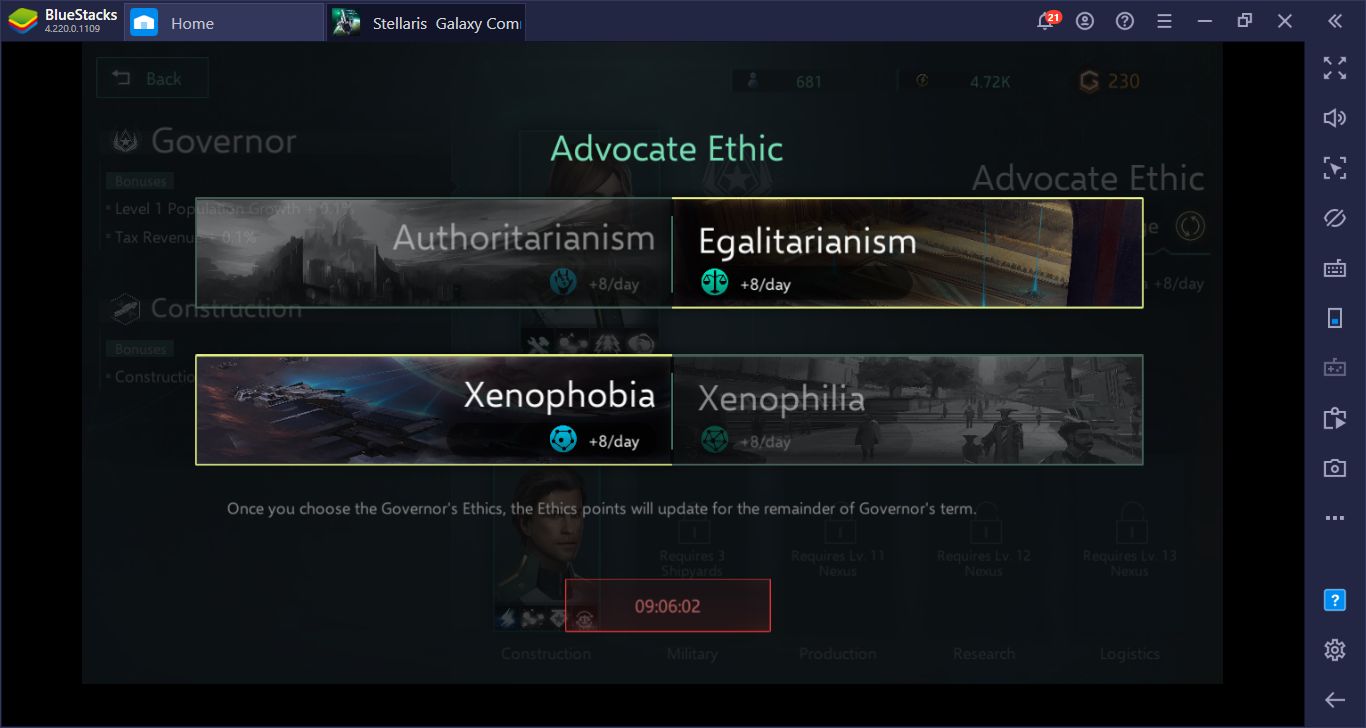 You can ask your governor to follow a certain ethic and win points for that ethic.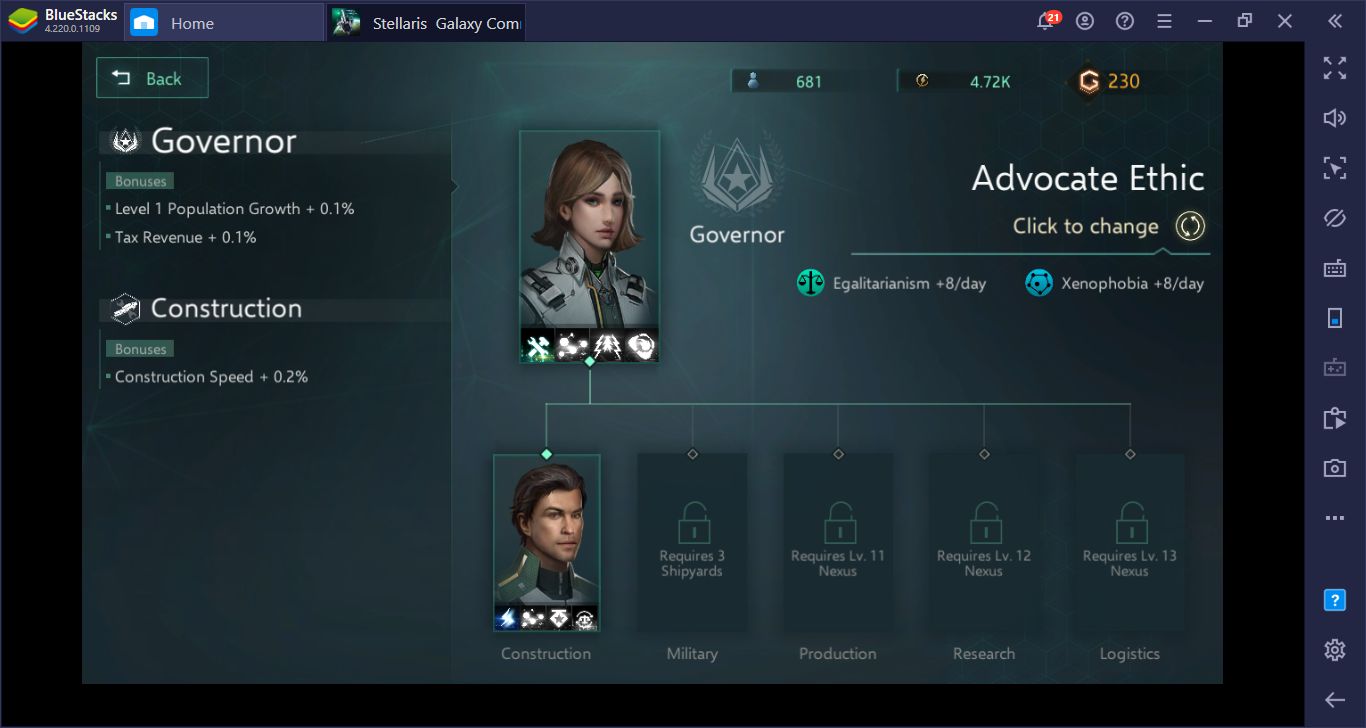 You have a single governor and five ministers. Each minister will give a different bonus to construction, military, etc.
As can be guessed, some leaders are more suitable for certain roles. At the moment, information about leaders is limited but we recommend using the following characters for the following roles:
Kaliyah is the best option to be your governor, at least until the mid-game phase. She offers a bonus to shipbuilding speed and when combined with the Xenophobia ethic, you can build ships much faster than other players.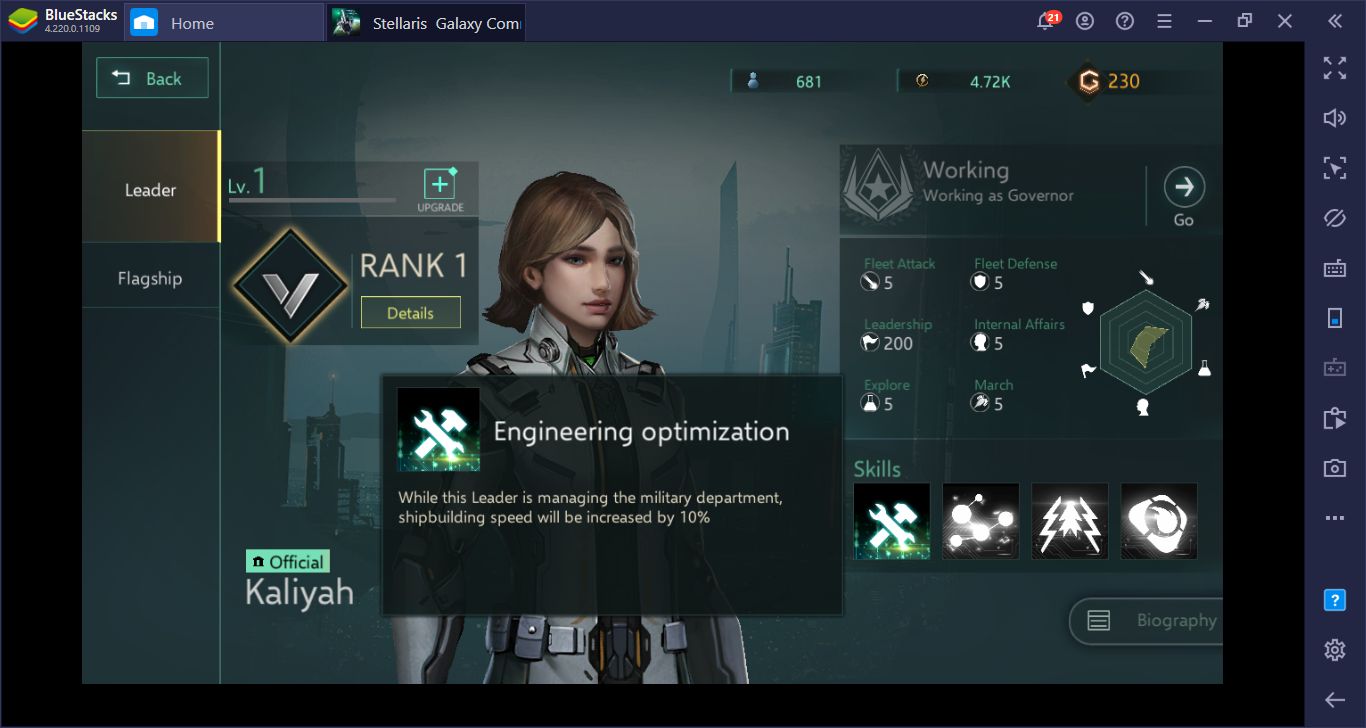 Sean should be your military minister. His bonus increases the fleet speed, which makes it easier to reach resources & planets on the galaxy map.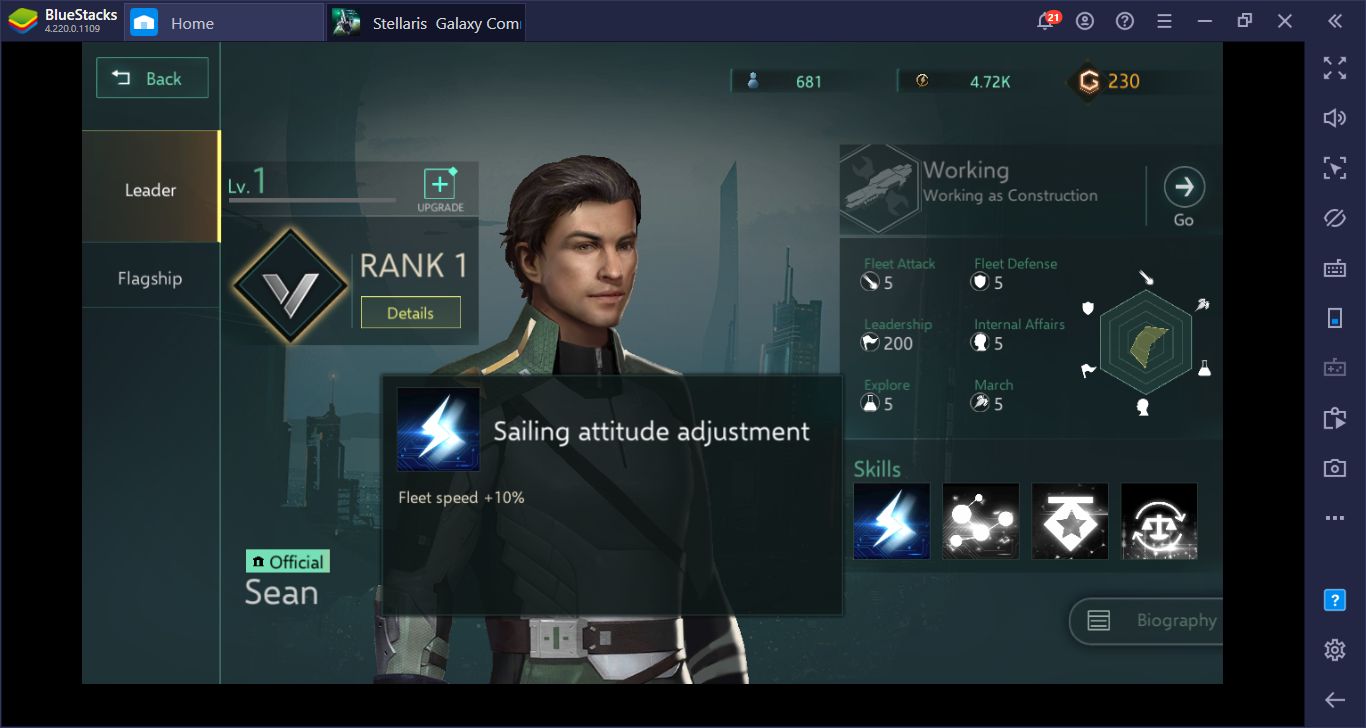 Lastly, assign Aadhya as your Science minister because she has a bonus that increases construction speed by 30%. She also offers several fleet bonuses.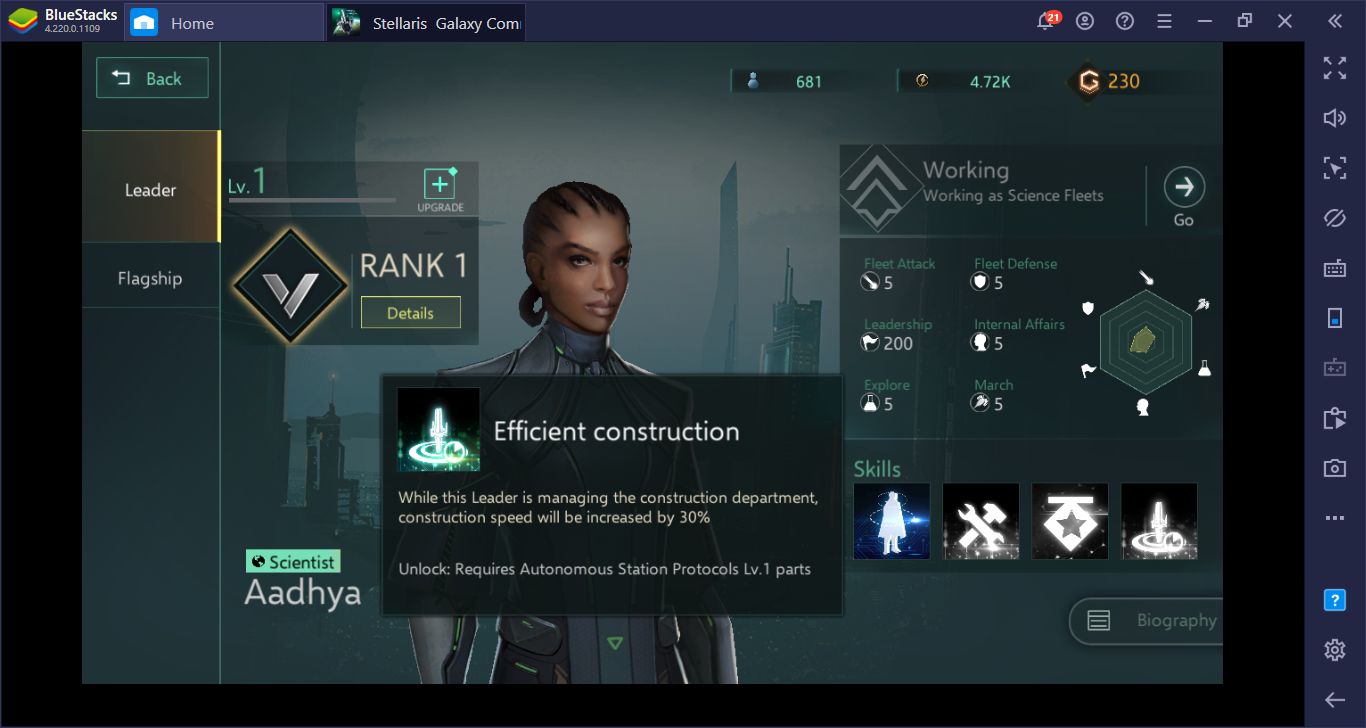 You will, of course, work with what you have: Check the abilities of leaders and assign them to the most relevant roles. Each one will help you to expand your empire. These are our growth tips for Stellaris Galaxy Command and we are sure that they will help you to become the proud owner of the strongest space base in the whole universe. Make sure to check our other Stellaris Galaxy Command articles too (link to any other SGC article), each one includes useful tips to help you further. Now if you excuse us, we have to go and fire our governor: She seems to be a pacifist.