Game Guides
Tales of Radiance on PC: Daily To-Do List for the Active Player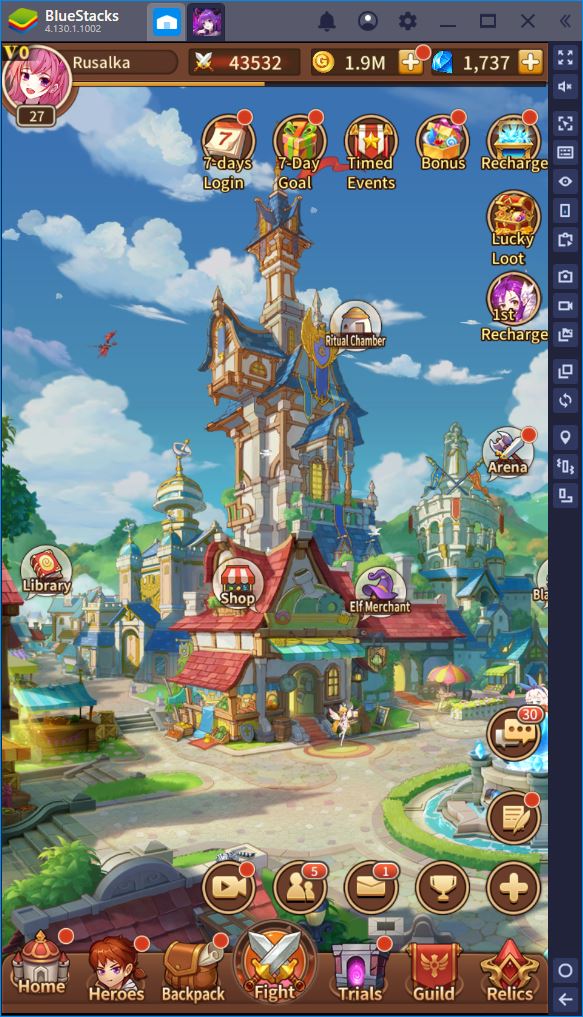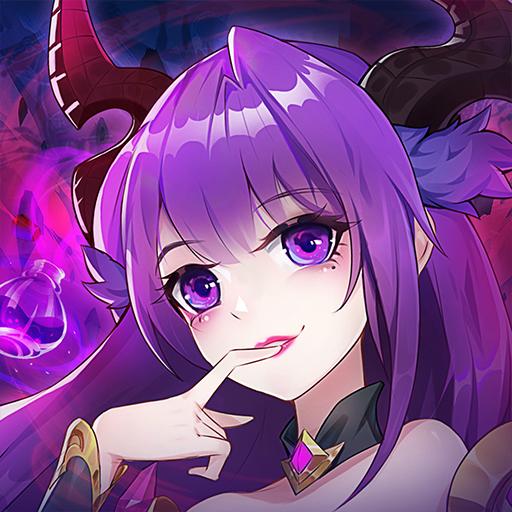 Some developers strive to make mobile games more accessible for F2P players, even in the case of Gacha releases. This is also the case with R2Games and their most recent Tales of Radiance, which rewards players not only for investing real currency, but also for investing time and effort. Granted, those who are willing to pay can progress through content at a much higher speed, but others can have just as much fun if they are dedicated enough.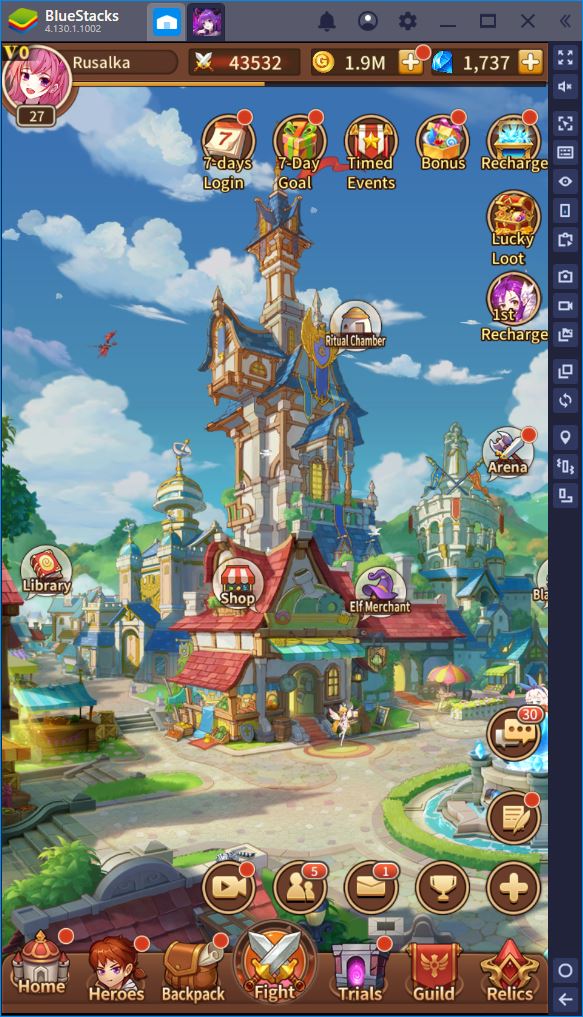 So what does it mean to be an active player in Tales of Radiance? When you log on each day, what activities should you take care of in order to maximize your rewards and hasten your progression? You'll find all the answers below.
Take Care of Your Friends
In Tales of Radiance, summoning scrolls come in three varieties: 1- to 3-star scrolls, which you can find during quests, 3- to 5-star grand scrolls that you can only purchase with Diamonds, and 2- to 5-star scrolls that you can obtain by trading friend hearts. The latter are a great way to get decent heroes for free, even if the chance for legendary pulls is fairly rare.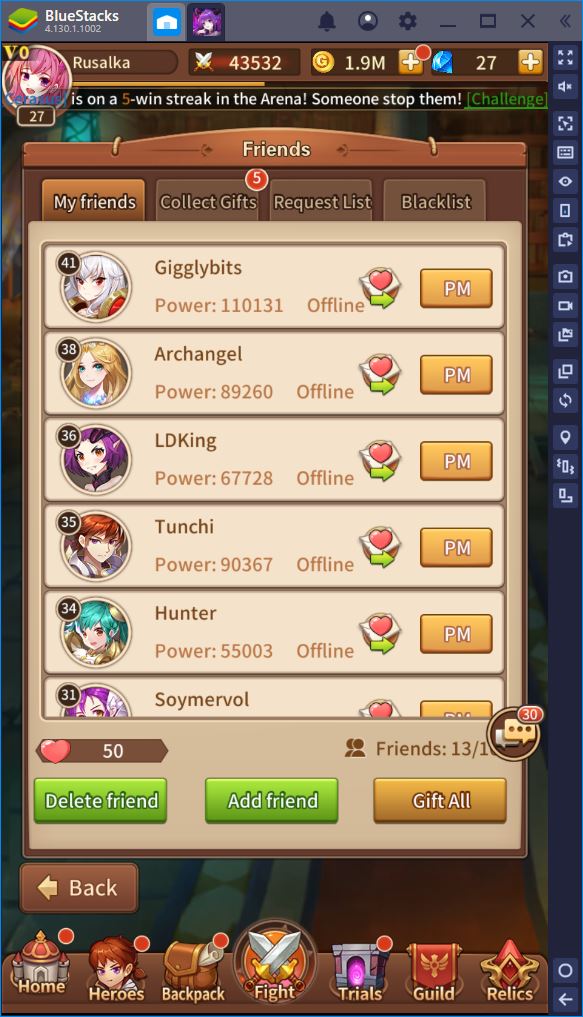 To get more friend hearts, you have to fill up your friends list and send them gifts each day. This can be done with a simple click in the Friends menu and will usually result in them sending you a gift in return!
Use All of Your Free Blitzes
Blitzes can mean two things in this game. There is a Blitz mode that allows you to collect the resources that you would otherwise gather in 2 hours of idling and there is also the Blitz option to instantly clear content you've done before.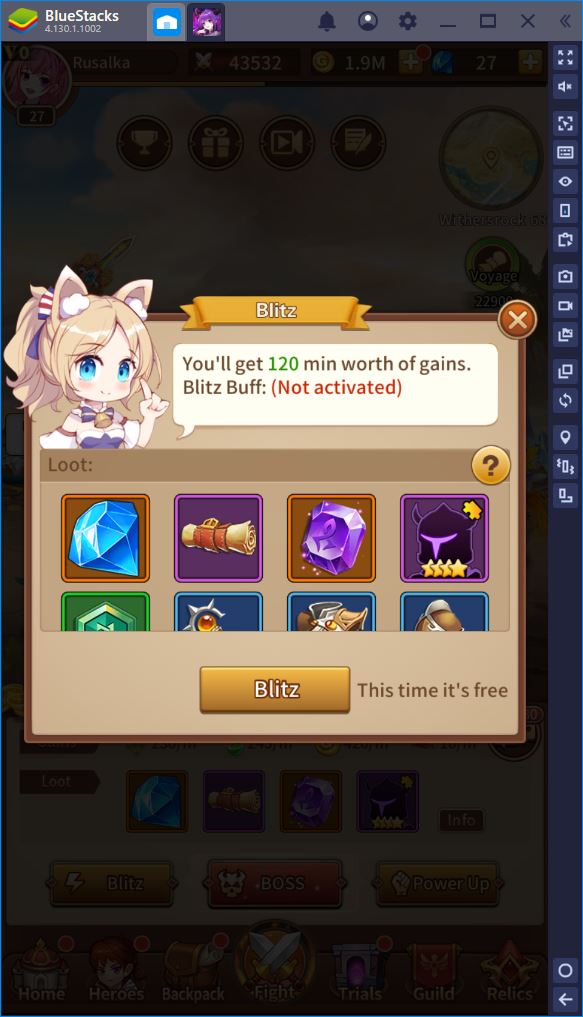 You can only use the first Blitz once per day for free, but the rewards are usually enough to push you through several levels. As for the other Blitz options, even if you don't care so much about the content itself, you should use them in order to complete the related daily mission and gain more activity points.
Grab All the Daily Login Rewards
This one seems fairly self-explanatory, but you'd be surprised at just how many menus you have to access in order to get all of your daily login rewards. As a new player, you have access to a free, 7-day gift package that includes legendary heroes, gear, and more, but you can also complete 7-day goals for extra goodies.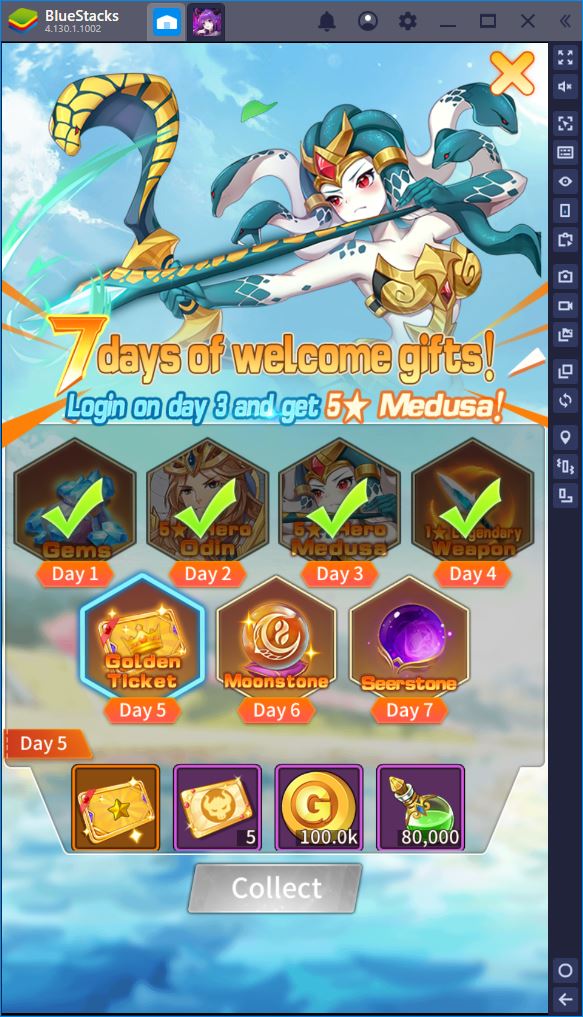 In addition, timed events will generally grant decent loot for simple activities such as completing new missions. Finally, the "Bonus" tab is largely dedicated to P2W players, but also features some free Diamonds for those who choose not to pay with real currency.
Send Out Voyages
Voyages can get you anything from Lucky Tickets (for the loot wheel) to Arena Tickets, hero shards, random hero summons, grand summoning scrolls, Diamonds, and more. Six different voyages are made available to you at a time and you can refresh the list twice per day for free.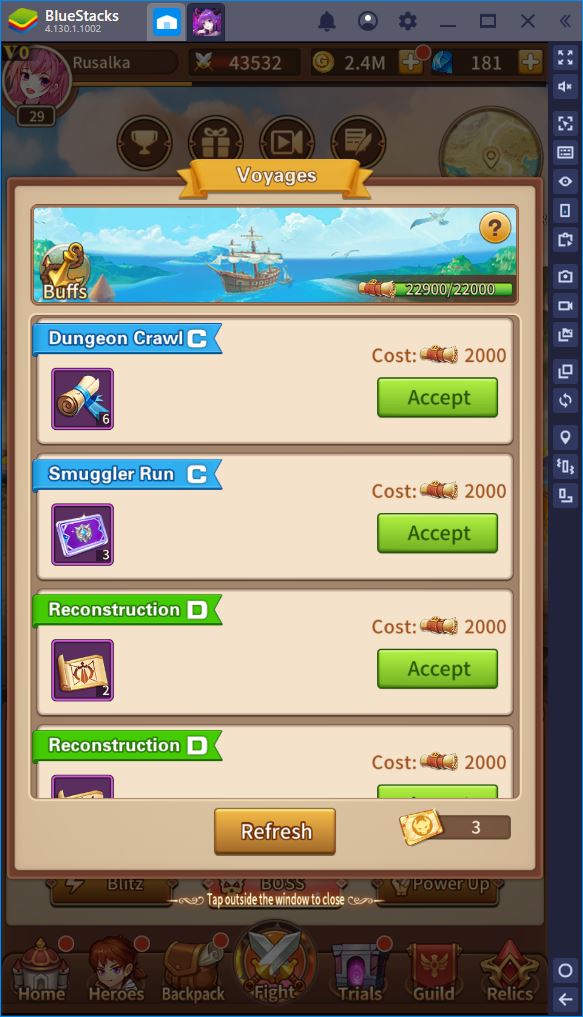 To complete a voyage, all you have to do is to select a number of 2-3 heroes that fulfill the basic conditions for that particular missions. Most voyages will ask you to use a 3- or 4-star hero, together with characters that have specific specializations.
Complete Daily Trials
Unlocked early in the game, daily trials are basic fights with specific rewards. As you progress to higher levels, you gain access to trials for gold, hero XP pots, hero shards, relic stones, and even runes.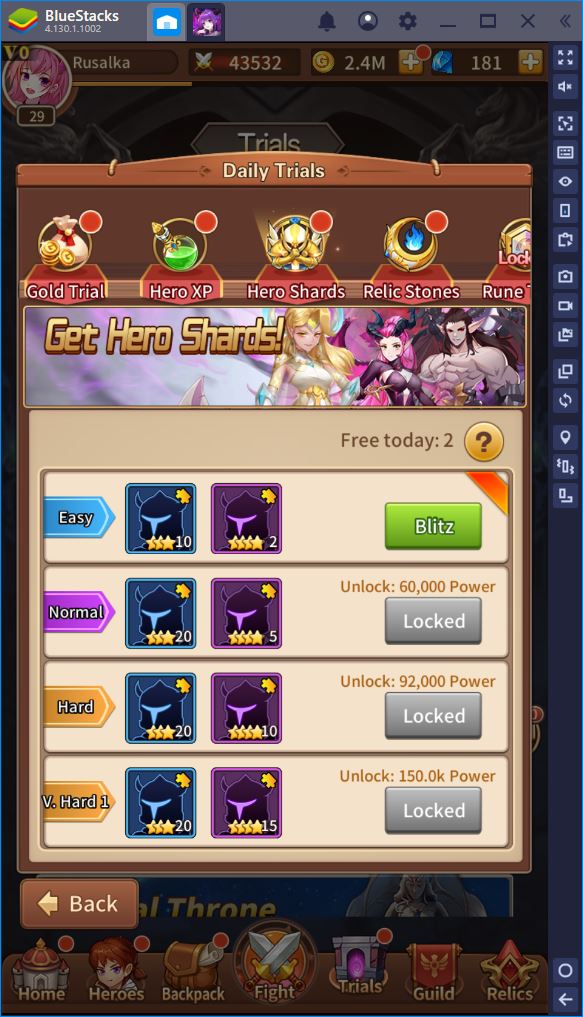 Every day, you can complete each type of trials two times for free. If you've done a particular trial before, you can gain its rewards instantly by using Blitz mode. To unlock higher difficulties and better rewards, improve the CP of your team of heroes.
Use Your Free Arena Attempts
Aside from being one of the most fun ways to test your team of gods, the Arena is a great source of Diamonds and other delicious prizes. The higher your rank, the better your daily rewards, so it's definitely worth the effort to patiently climb the ladder.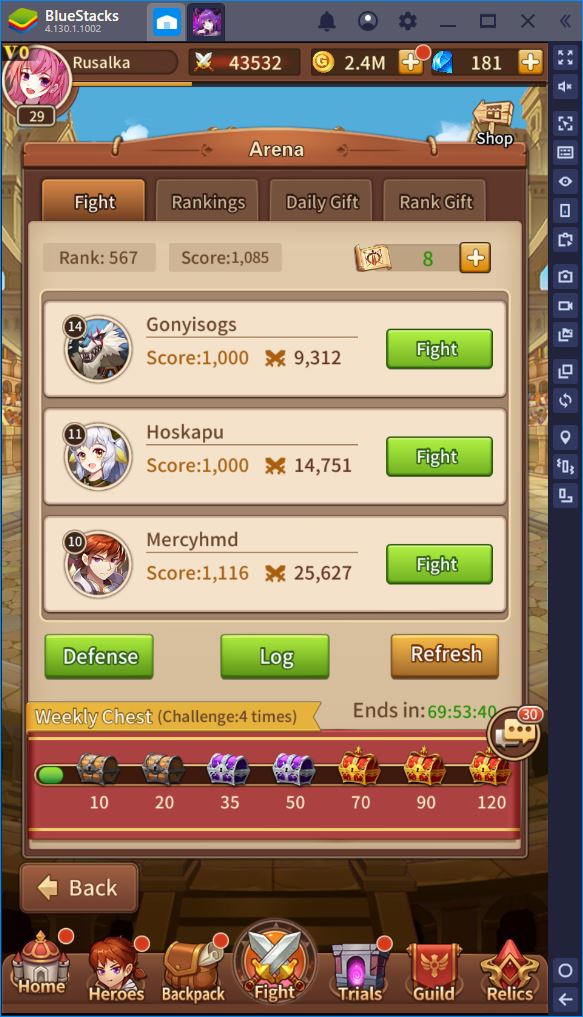 Unfortunately, you only have 3 free attempts at the Arena each day. This is a small number compared to what you would need to attain a top-tier rank, but it's better than nothing, right? You can also get more shots at PvP battles if you own any Arena Tickets, which you can obtain throughout the campaign and by completing achievements.
Get the Best Deals from the Elf Merchant
This merchant functions outside of the "official" shop and features all manners of great deals each day. Using nothing but gold, you can buy hero shards, XP pots, gear, and other goodies, while a few diamonds will get you Lucky Tickets, enhancement stones, and more.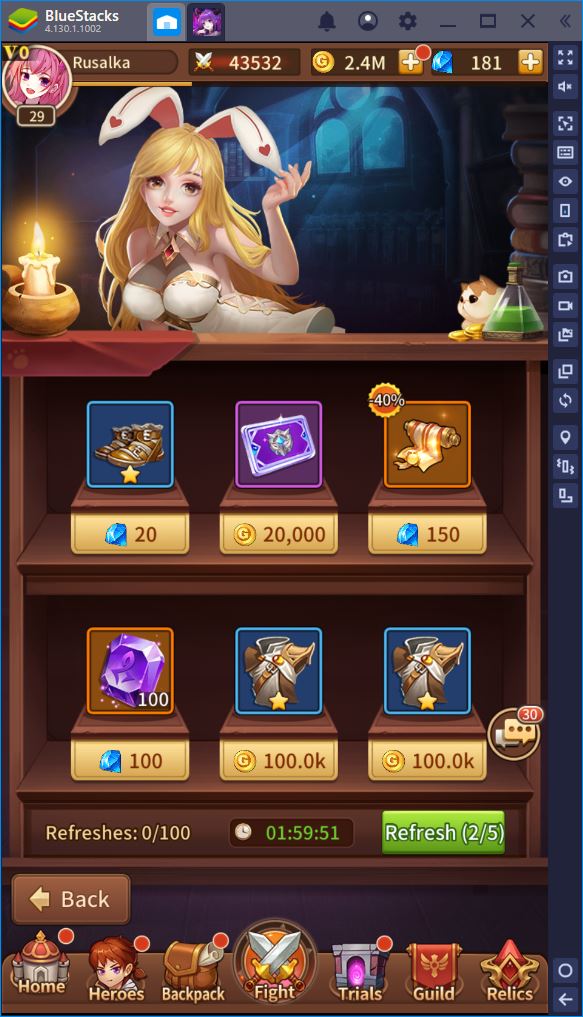 At times, the Elf Merchant will even sell you grand summoning scrolls for 150 Diamonds each, which is 40% cheaper than usual. The shop can be refreshed five times per day, which you should definitely do in order to make the best deals available.
Tackle Guild Bosses and Make Donations
To keep a good income of Diamonds rolling even after the early-game, join a guild and team up with other players to defeat guild bosses. Like in Raid: Shadow Legends, you won't be able to defeat these monsters on your own. You will, however, be able to bring them down little by little and, eventually, if enough people contribute, defeat the beasts for worthwhile rewards.
If you like the guild you're in, you should also consider making small donations each day. This will help the guild grow quicker, which will ultimately help you with better guild boss loot and higher odds of victory in PvP guild battles.
There are a few more miscellaneous activities that you can repeat each day in addition to the ones mentioned above, but, even if you only stick to the latter, you should be able to secure at least 10 pulls per day for yourself. That's not bad since you don't have to spend any real currency for it! Don't forget that many of these activities can be made even easier when you're playing Tales of Radiance on BlueStacks.