Game Guides
Save Mystia from Evil – How to play Tap Tap Heroes on PC with BlueStacks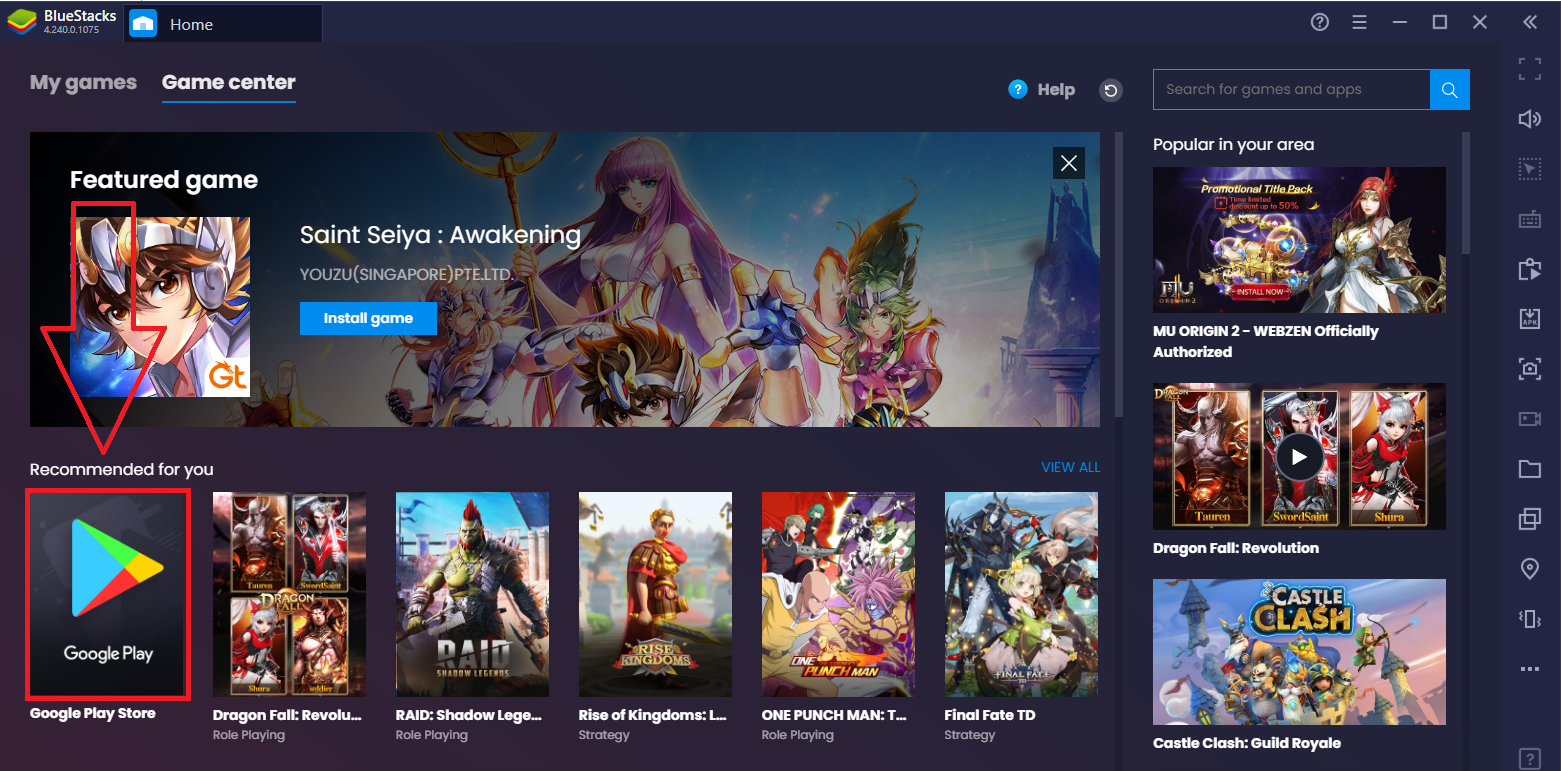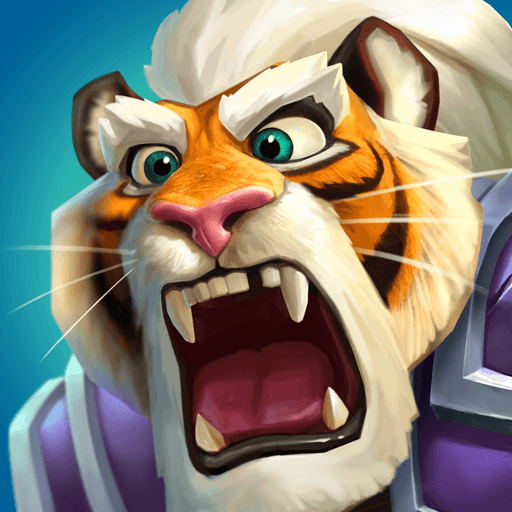 In any story, having the villain claim a powerful weapon to aid them in their malevolent quest for world domination is always the last thing that anyone wants. Unfortunately, this is exactly what's going to happen in the vast continent of Mystia as Freya – the evil queen of hell – discovers the existence of a sanctified sword that bears the power of creation. And she will not hesitate use this sword to conquer the world.
It is your duty now to stop Freya from acquiring the sword but you're definitely going to need some heavy support. Join the battle with over 200 playable heroes from several unique factions by playing Tap Tap Heroes now on your PC and Mac with BlueStacks. Not only can you save Mystia from the comfort of your PC or Mac but you can also take advantage of BlueStacks' exclusive feature such as Multi-instance maximize your gameplay experience by re-rolling.
In this article, we'll show you how to get started in becoming a Tap Tap Hero of the continent of Mystia. First, let's start with how to install the game.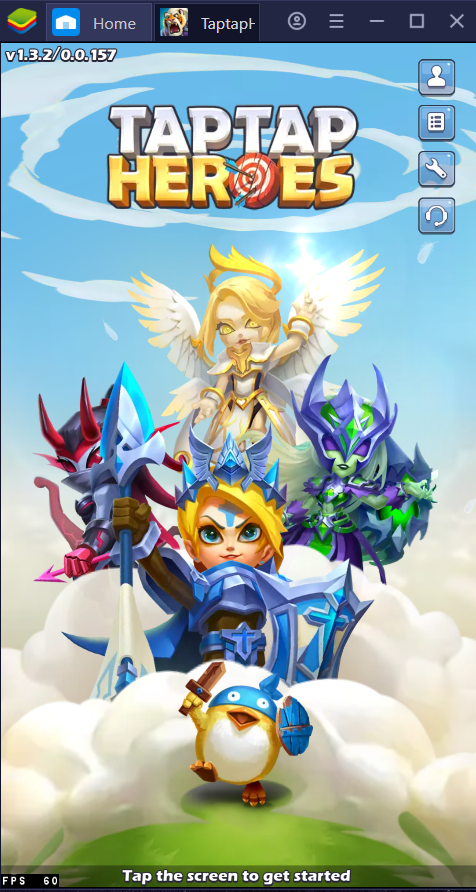 How to Download and Install Tap Tap Heroes
Download and install BlueStacks on your PC
Complete Google sign-in to access the Play Store, or do it later
Look for Taptap Heroes in the search bar at the top right corner
Click to install Taptap Heroes from the search results
Complete Google sign-in (if you skipped step 2) to install Taptap Heroes
Click the Taptap Heroes icon on the home screen to start playing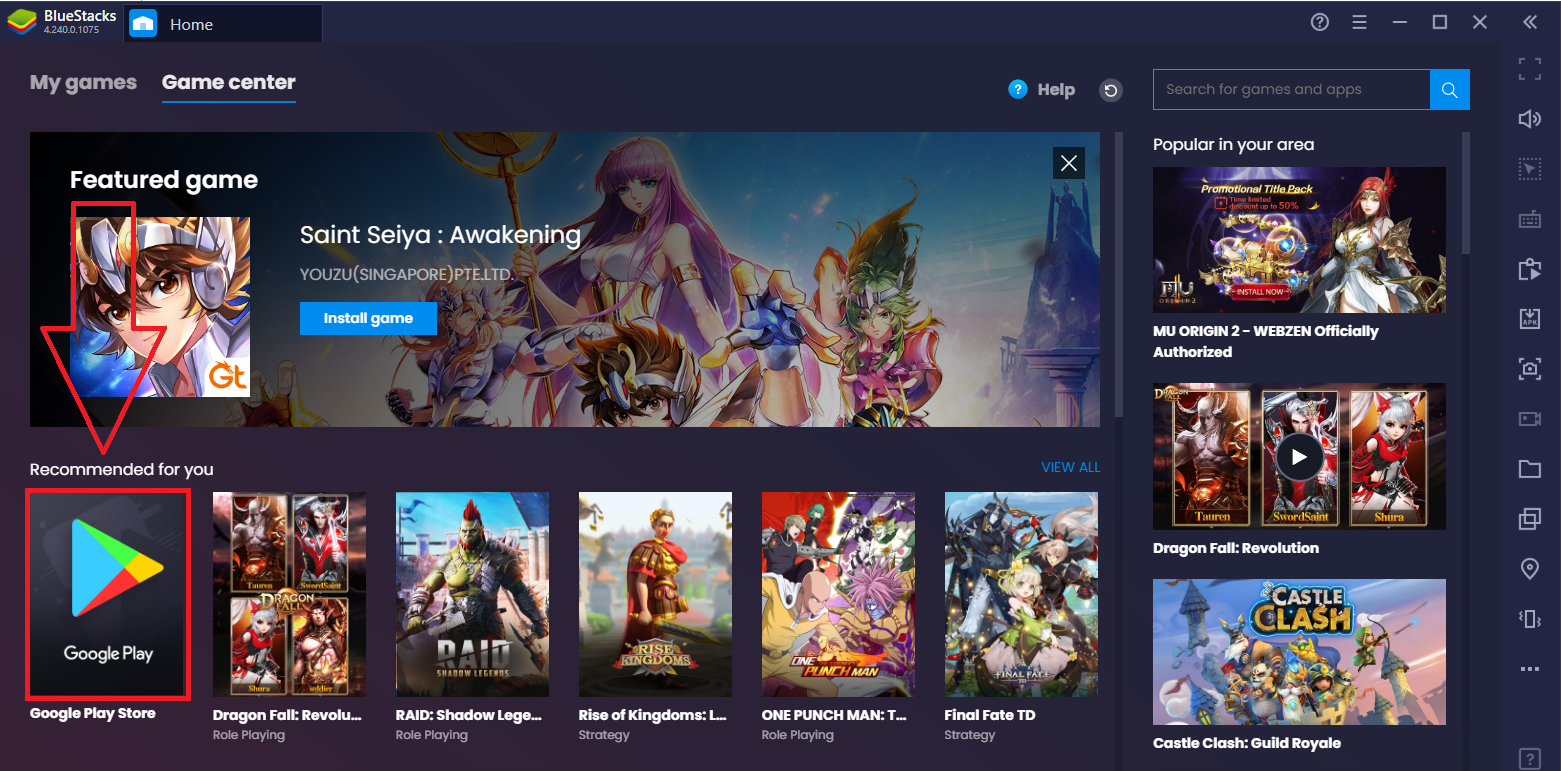 An Idle yet Heroic Adventure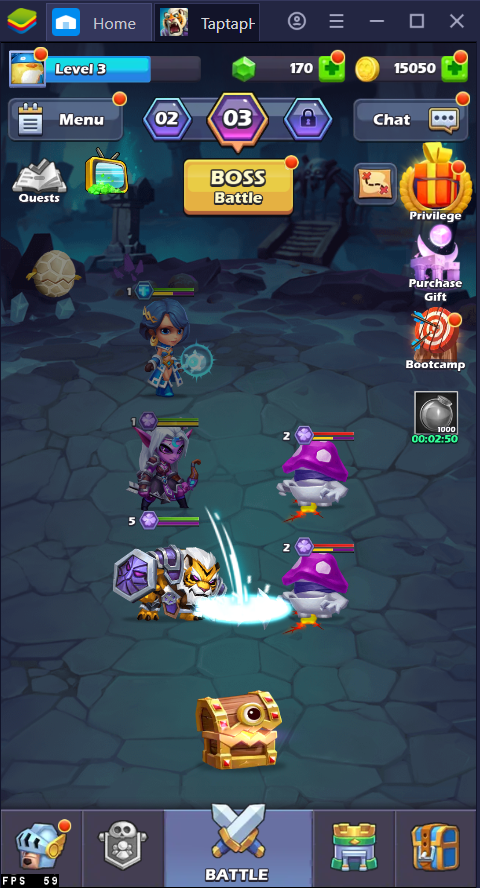 Tap Tap Heroes is categorized as an idle game. Idle games (otherwise known as incremental games) are games in which simple and repetitive actions such as tapping or clicking, and – as the name suggests – even staying idle throughout the entire game.
In this idle RPG, you deploy several heroes on the battlefield and said heroes will fight endless waves of Freya's minions. However, they don't attack all at once. Your heroes operate in a turn-based manner in which each hero will unleash either individual or multi-targets attacks on enemies until all enemies are defeated. The in-game enemies also follow this turn-based system.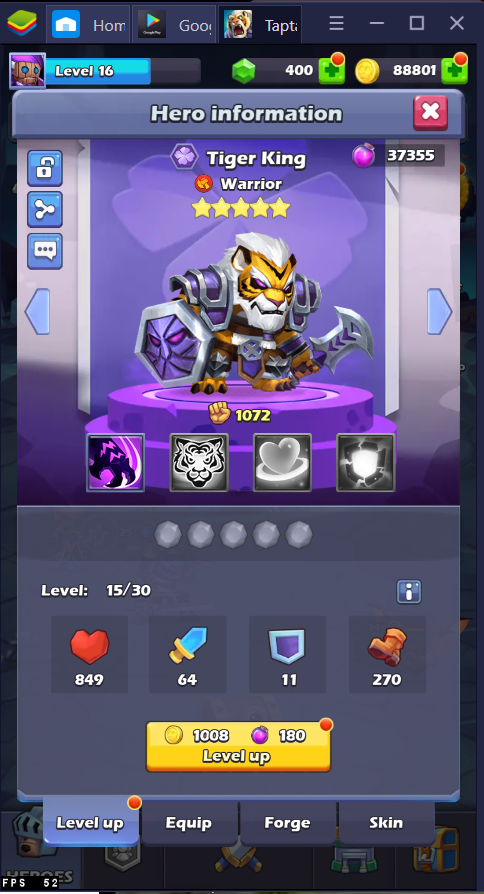 As your heroes perpetually go at war with enemies, gold is eventually accumulated for every enemy that they defeat. In Tap Tap Heroes, gold is one of the resources you can use to upgrade your heroes to become more powerful. You can also equip your heroes with certain equipment such as armor, swords, rings, and the like to improve their stats (i.e. HP, attack points).
With the endless turn-based system of the game, you can essentially just leave the game idle (as intended) and let your heroes fight for you and earn plenty of gold in the process. In fact, you can even close the game and your heroes will still be able to earn gold while offline and these can eventually be claimed after logging in again.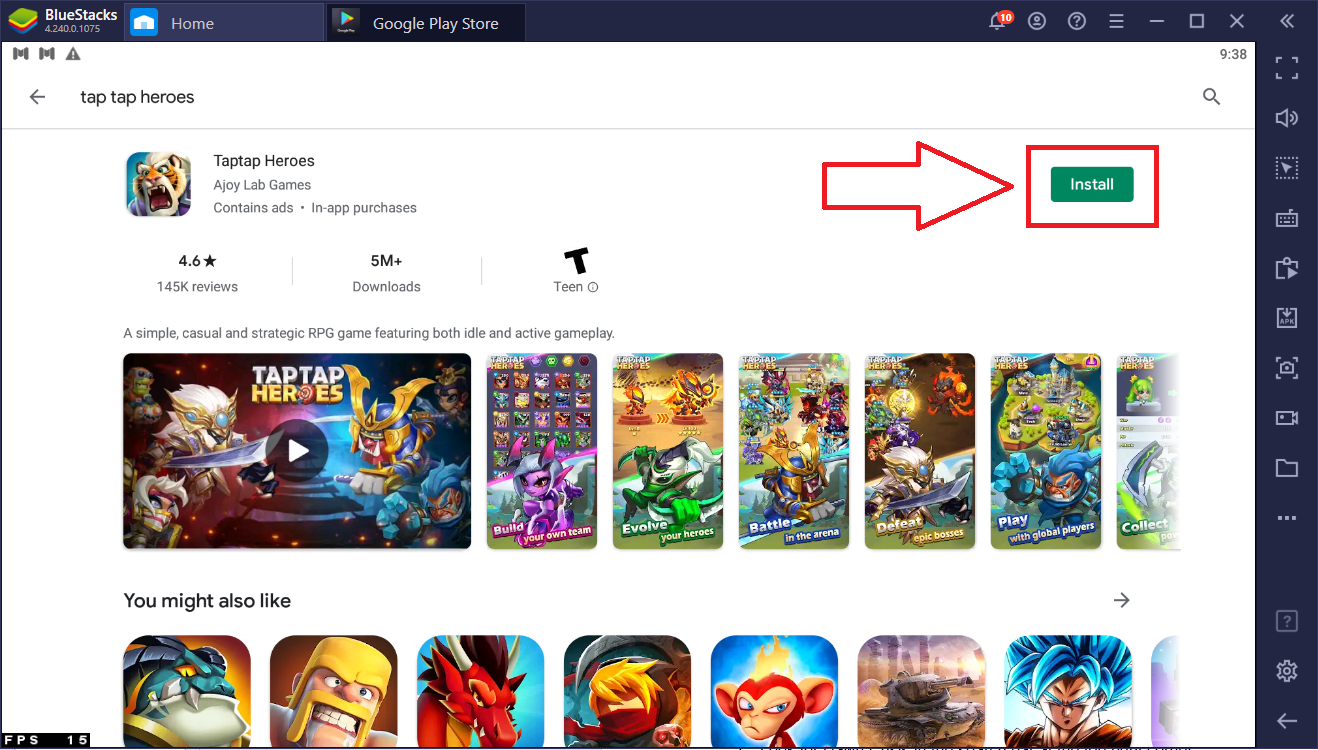 The game contains over 200 heroes whom you can individually upgrade. The myriad of heroes are categorized into six factions (insert URL of "A guide on the six factions in Tap Tap Heroes") that each have their own unique characteristics. With this huge diversity of heroes, possibilities are endless and you'll always have a reason to keep grinding for resources to upgrade them.
While idling is the core aspect of Tap Tap Heroes, you also have to monitor the battle every once in a while and either upgrade or replace some of your troops to ensure that they are not suddenly getting overpowered by stronger, higher-level enemies.
Tap Tap Heroes does not eliminate the possibility of player participation entirely. Alongside your heroes, you can also inflict damage to Freya's forces as well by clicking on them. Doing so, will release a projectile that deals a fair amount of damage. Albeit you can help you heroes in battle, it is still best to be idle and let them use their more powerful attacks against enemies.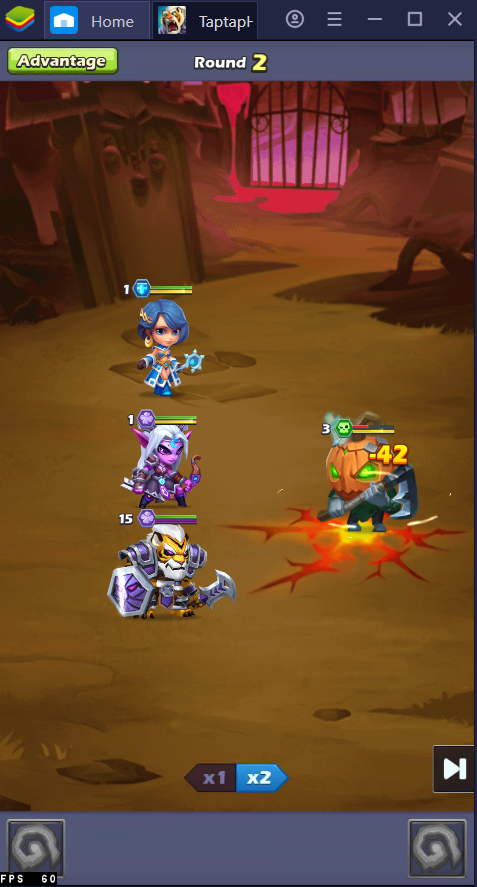 If you find yourself exhausted with staying idle, you can take things to the next level by entering a boss fight. In boss fights, you're not allowed to help your heroes so make sure to sufficiently upgrade them before letting them fight a boss. Boss fights yield a lot of rewards, such as plenty of experience points that are enough to bring you to the next level. With this, make sure to go back to the game every once in a while to enter a boss battle and claim all those rewards.
Use BlueStacks' Multi-Instance Feature to Play Through All Possibilities
With BlueStacks, you can easily re-roll – which means to start over a new game – in Tap Tap Heroes without the need to create another account nor another device to play on. You can do this with a built-in feature of BlueStacks called Multi-instance, which will allow you to create another Android engine in which you can reinstall and replay Tap Tap Heroes.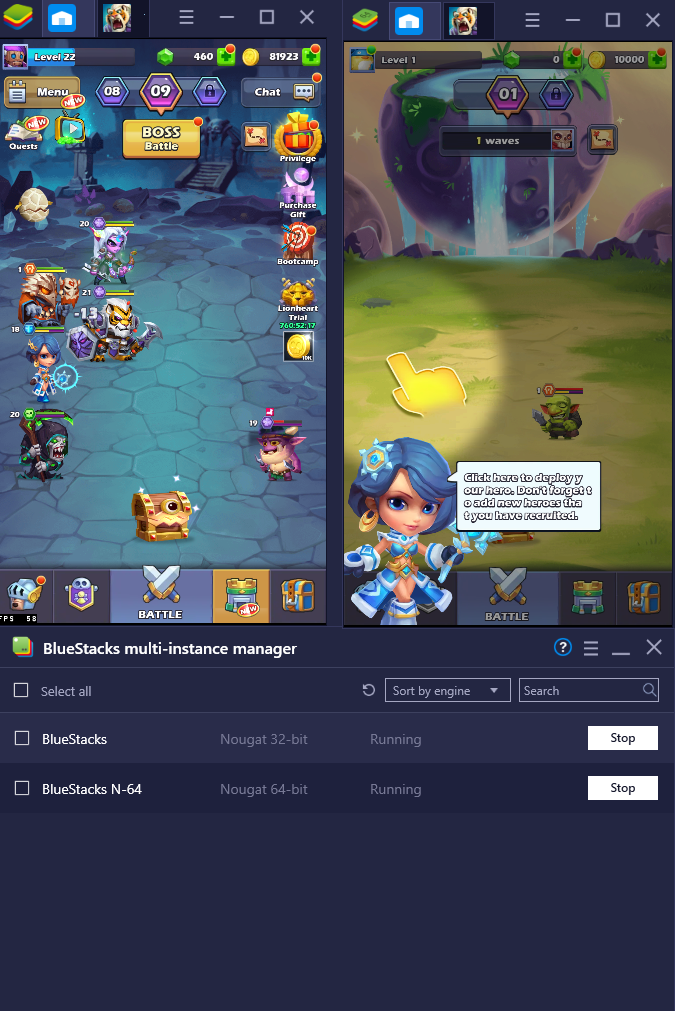 Aside from having an all new separate Android engine (or rather instance) to re-roll the game on, you can even run both of this new instance and your main one at the same time. If your computer's specs can handle more than one instance of Tap Tap Heroes running concurrently, then that means you can save a lot of time by being able to multi-task between two or even more accounts of the game.
By playing the game on BlueStacks, you'll never have to be stressed with re-rolling and this will allow you to experiment with different heroes and strategies without wasting too much precious time. You can learn now how to use Multi-instance here.
Build Your Army and Save Mystia Now with BlueStacks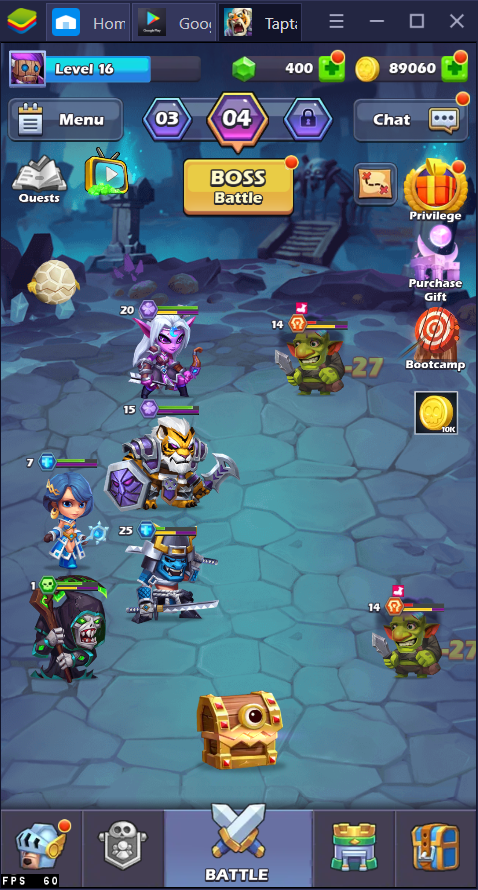 Tap Tap Heroes is an enjoyable idle RPG that technically does not even require you to play the game for it to become entertaining. The real fun does not come from actively eliminating enemies but instead it comes from letting your heroes fight the enemies for you and earn streams of gold while doing it. What further makes this game fun is watching your roster of armies grow and also upgrading your favorites to become insanely powerful troops that can annihilate enemies in an instant.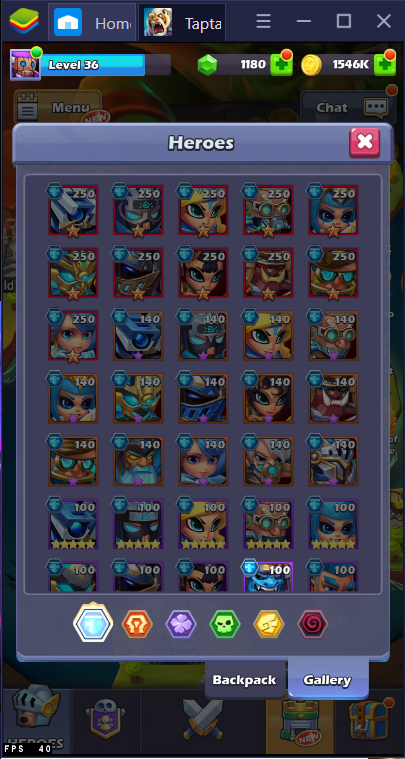 Build your army now and stop Freya from getting her chance to rule the world by playing TapTap Heroes on BlueStacks. And also don't forget to use the Multi-instance feature to enhance your gameplay experience.
Do you have a favorite hero so far in Tap Tap Heroes? Let us know in the comments section below.