Game Guides
Upgrade Guide – How to empower your favorite hero in Tap Tap Heroes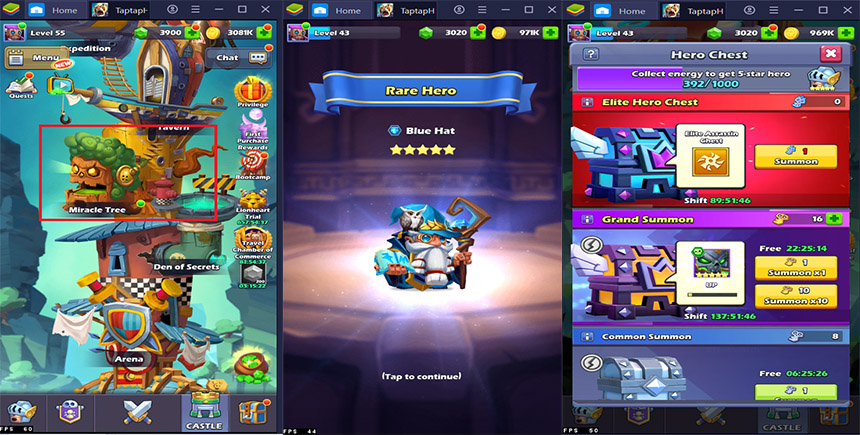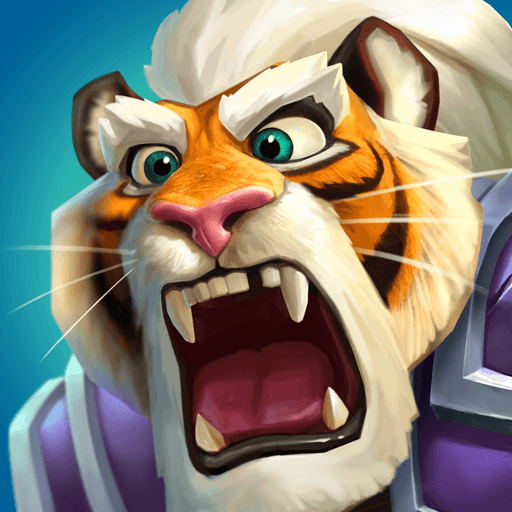 There are over 200 heroes from six factions available in Tap Tap Heroes. Out of the myriad of heroes, there is always one that is bound to be your most favorite. Fortunately, the game provides you with plenty of room for upgrading your favored hero. The customization in Tap Tap Heroes range from simply levelling up your hero to higher levels, equipping them with stat-boosting armor and weapons, and even elevating your hero to a higher tier by merging multiple heroes together.
In this article, we'll show you the several ways you can upgrade your favorite hero in order to maximize their combat potential. With this, they'll become the top fighter in your army of heroes.
Level Up Your Hero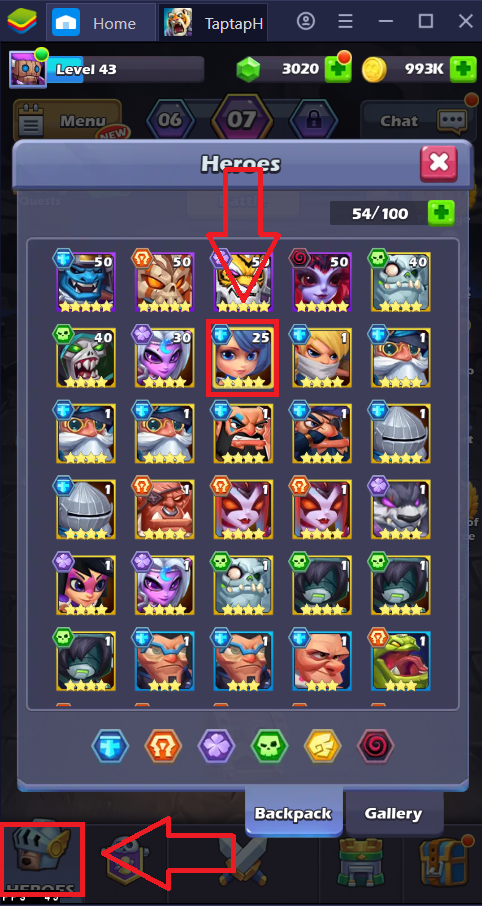 The fastest and easiest way to upgrade your hero is by simply levelling them up in your Heroes menu. To access this menu, all you need to do is click the Heroes icon located on the left-most side of the bottom of the screen. This will then bring up your entire roster of heroes. From here, select the image of the hero you want to upgrade and you will then be brought to a new menu specific to that hero.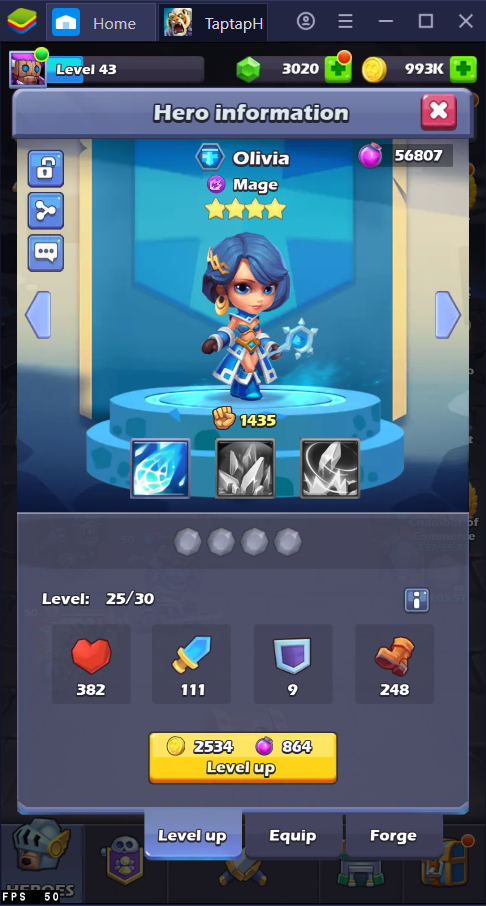 To upgrade your hero, click on the big yellow button to level them up at the cost of a gold and purple souls. Levelling up will increase their overall stats such as their HP, attack rate, speed (the game determines who attacks first based on the hero's speed), and the like.
Keep in mind that levelling up your hero will just progressively become more expensive as you keep doing it so ensure that you have enough gold and purple resources. Moreover, don't try to level up too fast since you may fail to notice that one of or both of your resources have already completely depleted.
You can only level up your hero up to Level 30. Once you're hero reaches this particular level, they will now transition to a tier-rating system, which will allow them to be further empowered.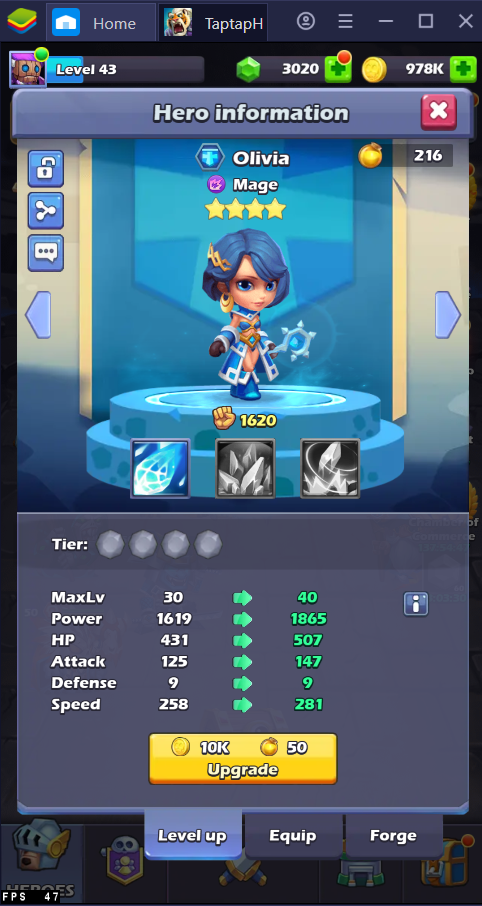 Elevating your hero's tier costs a lot of gold and gold souls – which are the much rarer counterpart of purple souls. After upgrading your hero's tier, their maximum level will be increased which will allow you to upgrade them with gold and purple souls like before. This will go on until you reach the current tier's level cap and you have to raise their tier level again.
Upgrading your hero entails investing a fortune so make sure that you farm plenty of gold and purple souls. The good news is that we have an in-depth guide for farming resources here.
Give Equipment to Your Hero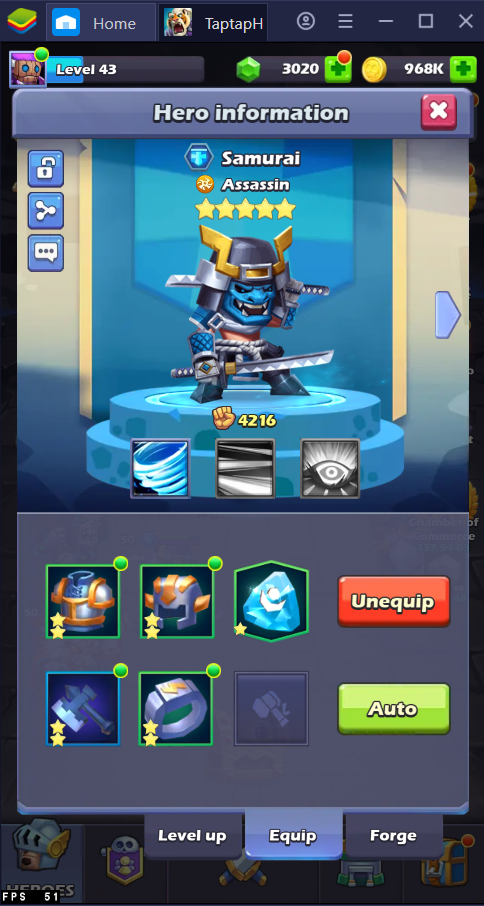 Aside from boosting your hero's stats by levelling up, you can also equip them with various items such as armor and swords to further increase their stats. In your hero's menu, click the Equip button located on the bottom. From there, you can either: let the game automatically equip items to your hero by clicking Auto or you can just manually do it by clicking either of the six boxes allotted for each item.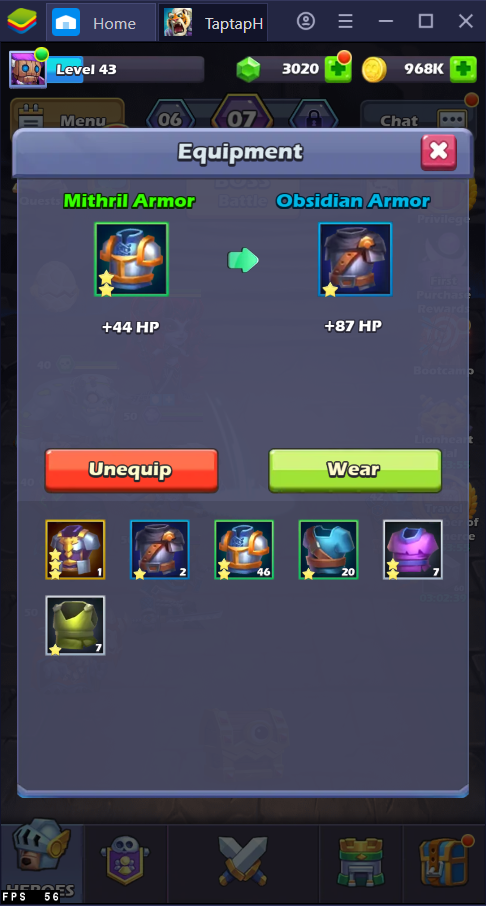 The six items you can equip your hero with are:
Armor and Helmet – increase your hero's total HP, allowing them to withstand more damage.
Weapon and Ring – increases the total amount of attack damage
Rune and Artifact – greatly increase any stat, depending on the item equipped. For instance, one rune will give substantially add more attack power and also more HP.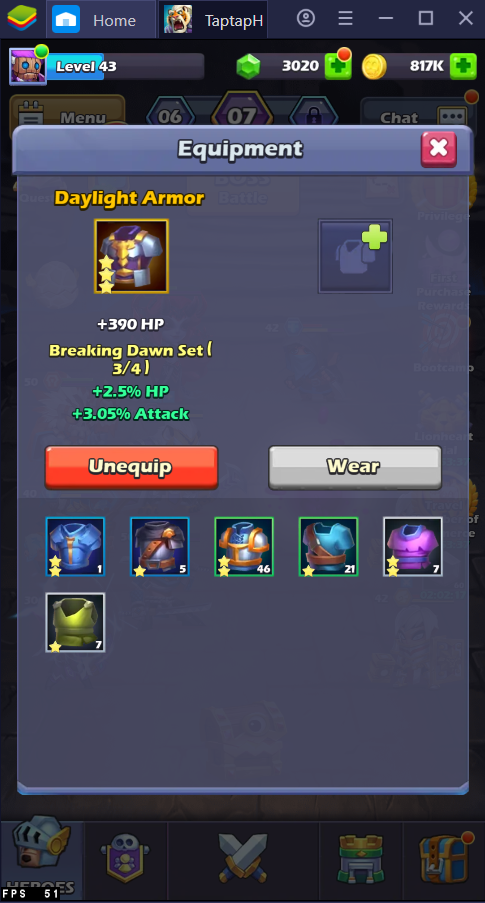 In Tap Tap Heroes, there are special pieces of equipment that comprise a full equipment set. Letting your character wear each of these special pieces will grant you additional stat boosts alongside the ones that the individual pieces already provide. For instance, one set in the game is the Breaking Dawn Set, shown in the image above. We managed to equip three out of four pieces of the set since the fourth is still missing, we're not able to benefit from the additional 2.5% HP and 3.05% attack that the set gives.
If you want to give your favorite hero the best equipment, then you should equip them with these special equipment sets and benefit from their huge stat boosts.
Use Hero Fusion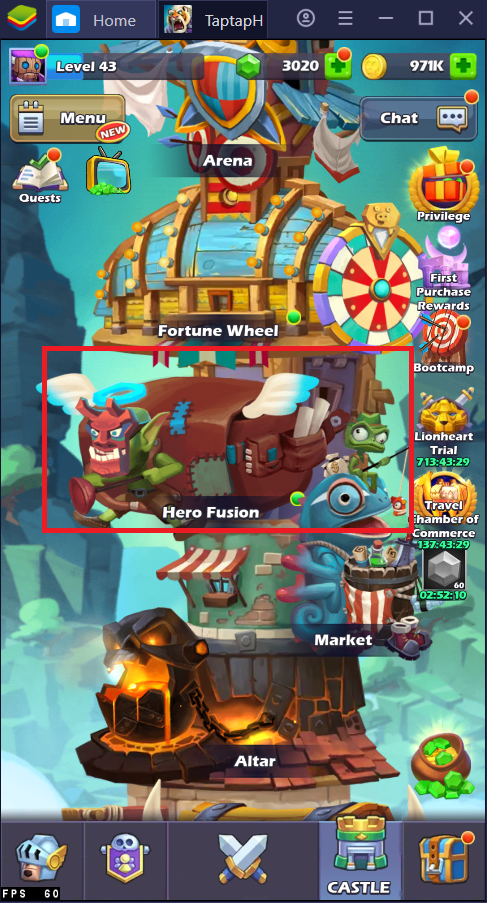 If you have a lot of duplicate and or excess heroes in your roster, you can use them to fuse your favorite hero to a stronger variant of itself. To fuse your hero, go to the Castle and select the Hero Fusion building.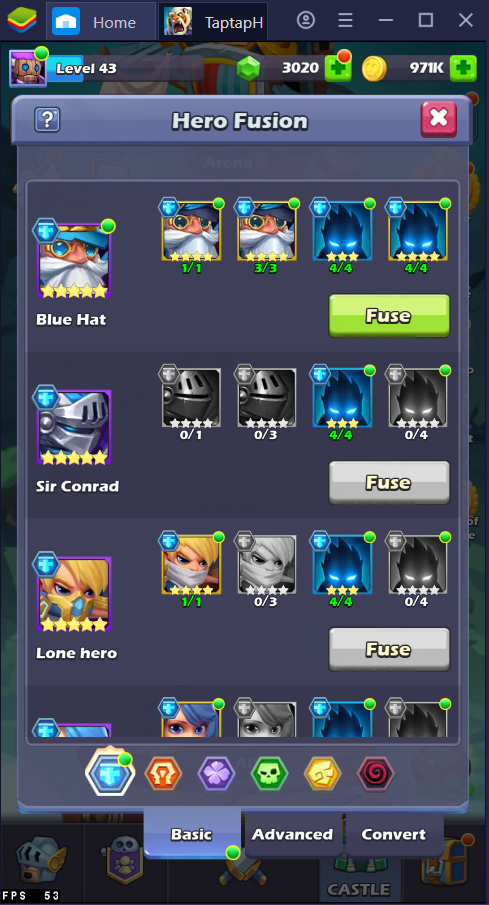 Once there, find your hero in the menu and select Fuse – if and only if you meet the requirements however. The requirements for fusing a hero are:
Four (4) four-starred (✰✰✰✰) copies of the specific hero that you want to fuse,
Four (4) three-starred (✰✰✰) heroes with the same faction as the hero you're going to fuse;
and lastly, four (4) four-starred (✰✰✰✰) heroes with the same faction as the hero you're going to fuse.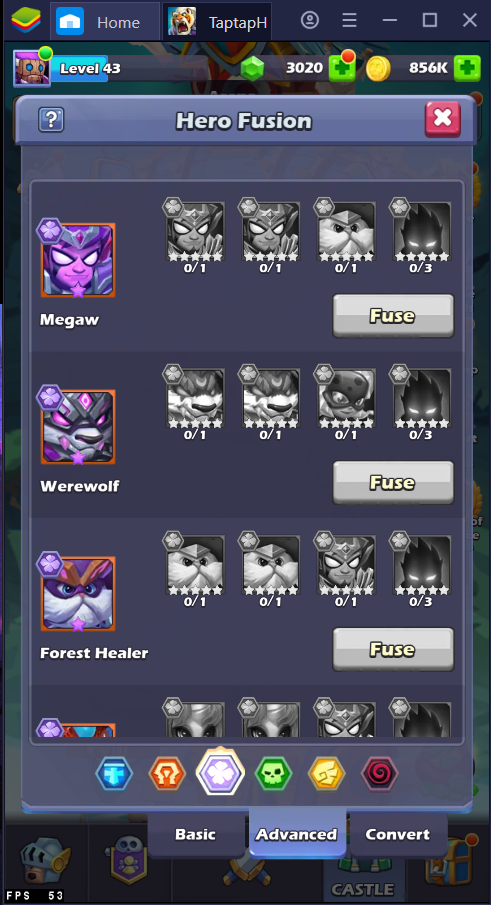 These are the requirements for "Basic" fusion. If you look below the menu, you'll find an "Advanced" button which will lead you to another menu where you fuse more advanced heroes. The requirements for fusing advanced heroes are more stringent and rarer than the basic ones and these are:
Two (2) five-starred (✰✰✰✰✰) copies of the specific hero that you want to fuse,
One (1) five-starred (✰✰✰✰✰) specified on the hero's page;
and lastly, three (3) five-starred (✰✰✰✰✰) heroes with the same faction as the hero you're going to fuse.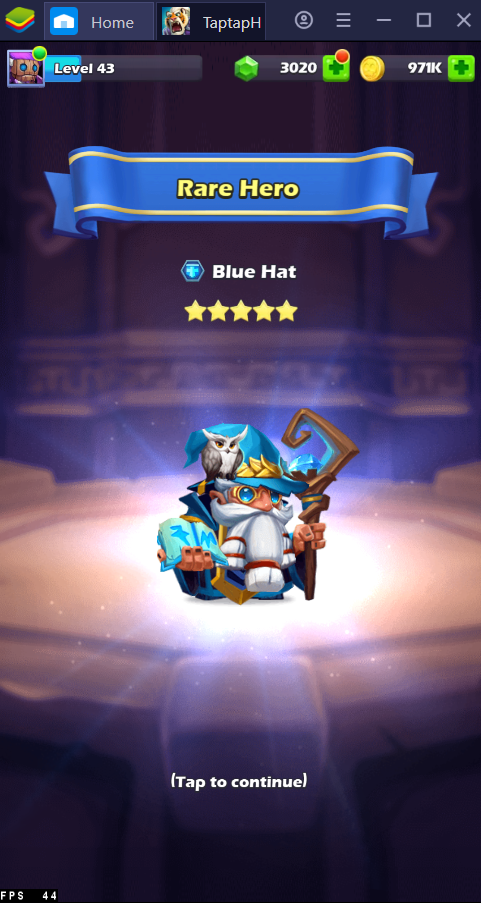 After meeting all the requirements and clicking on "Fuse", your hero will then transform into a stronger version of itself and will even change their appearance to further emphasize this. After fusing them, the game will give you gold and purple souls. The exact amount depends on what the level of the hero was when they were fused.
Gathering the requirements for fusing your favorite hero takes up quite a long time. Earning new heroes is not as easy as earning gold but fortunately, you don't have to look far to get new heroes since Tap Tap Heroes has special chests that will make "hero-farming" convenient.
Summon More Heroes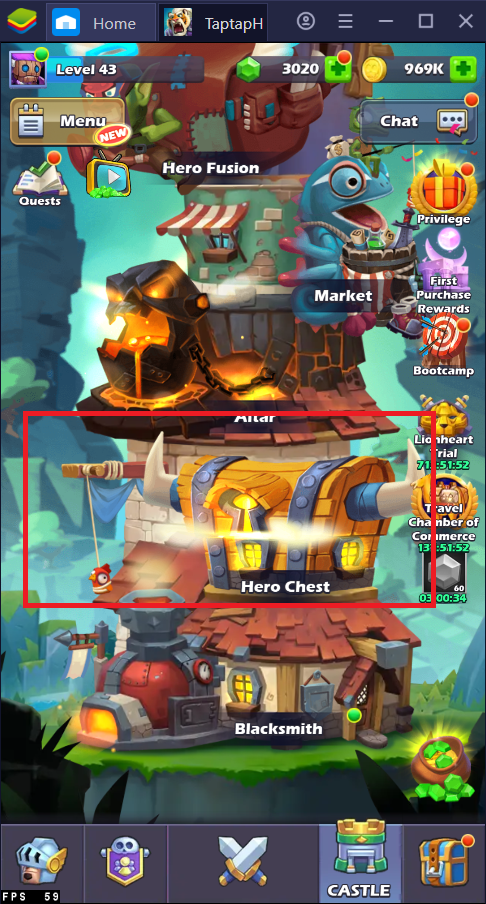 Opening Hero Chests is the quickest way that you can add more new heroes to your roster in Tap Tap Heroes. You can access hero chests by going to the Castle and selecting the huge treasure-chest-shaped building labelled Hero Chest.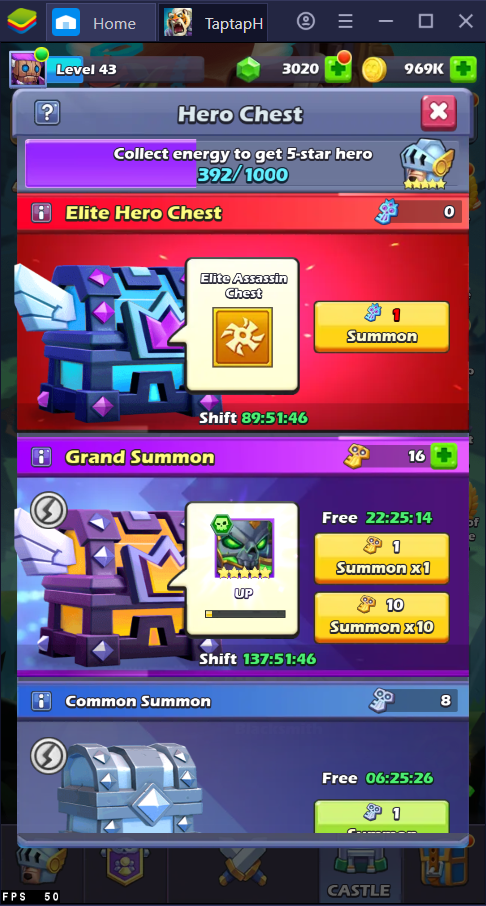 There are four hero chests to choose from and these are:
Elite Hero Chest – this chest only contains powerful 5-star heroes and can only be opened with a Diamond key, which can only be claimed through limited events or through packages (microtransactions)
Grand Summon – this chest can give either three-star heroes (60% chance), four-star heroes (35% chance), or even five-star heroes (5% chance) if you're lucky. Golden keys are needed to open this chest and these can be claimed through shops, quests, events, or packages.
Common Summon – this chest contains one-star heroes (15.6%), two-star heroes (15%), three-star heroes (65%), four-star heroes (4%), and five-star heroes (0.4%). It absolutely does not cost anything to open this chest; however, you need to wait 24 hours until you get to open another one.
Friendship Summon – this chest contains two-star heroes (32%), three-star heroes (55%), four-star heroes (12%), and five-star heroes (1%). This chest can only be opened with hearts, which you can receive from gifts given by your in-game friends or from playing co-op.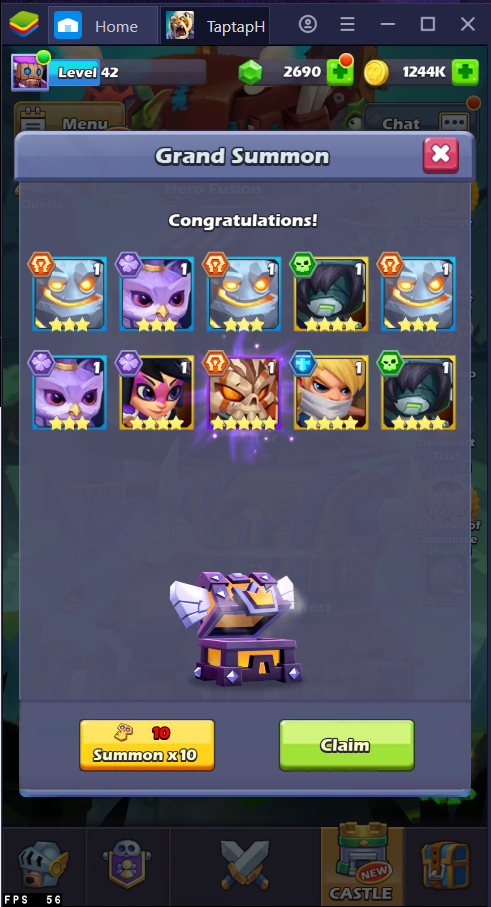 Out of the four chests, we liked the Grand Summon Chest the most since opening this chest is a fairly easy way to gather as much heroes – including five-star ones – in one instance. Moreover, golden keys are not that difficult to obtain in the game and this means that you can open the chest and claim more heroes more often than with the other chests.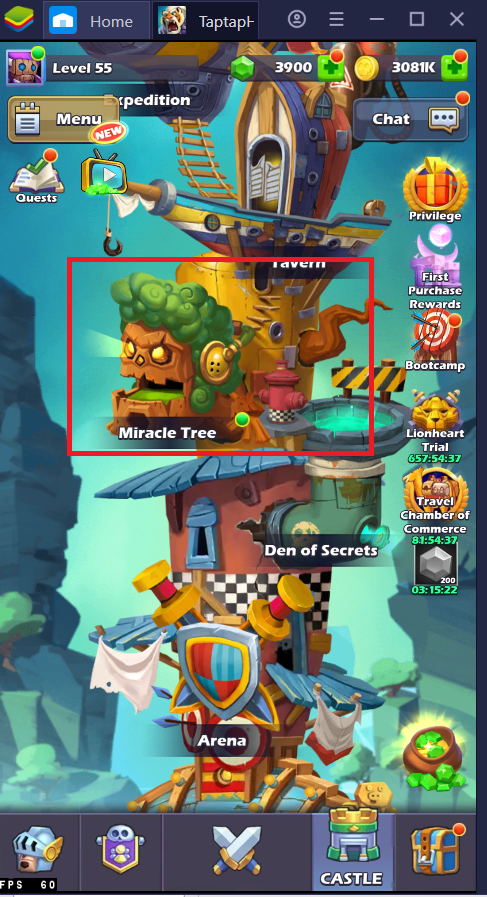 Additionally, if you want to summon a hero from a specific faction, you can do so by visiting the Miracle Tree found in the Castle.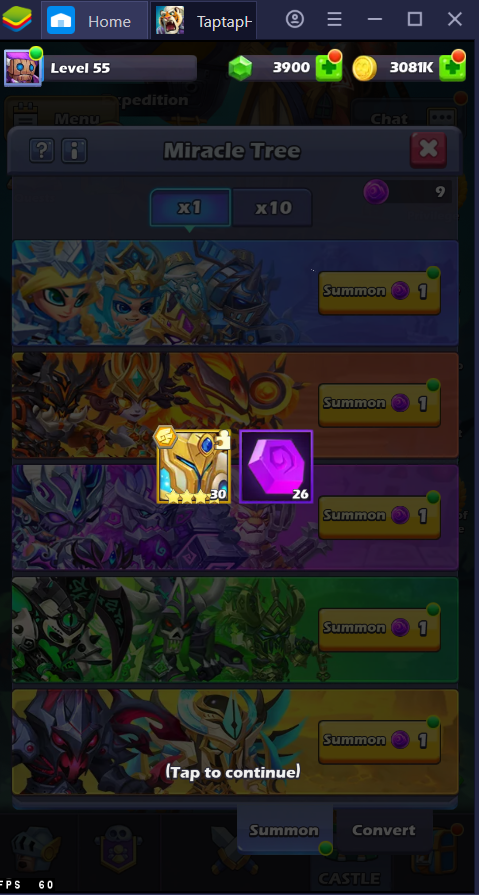 From here, you can select which faction to randomly summon a hero from. Claiming heroes from the Miracle Tree costs Miracle Summons, which can be obtained through Tavern Events, Events Redemptions, and Packages – all of which are found on the "Privilege" menu (marked with a gift box icon) located on the top-right of the main screen. Alternatively, you can also buy one Miracle Summon at the in-game shop in exchange for a pricy 500 gems.
Upgrade Heroes to Build your Army
Upgrading your heroes is part and parcel of strengthening your army of heroes since they are the very pieces that make up your army. Throughout your adventure in Tap Tap Heroes, always invest resources in hero enhancements, give equipment to your heroes, and also fuse heroes into stronger variants (summon more heroes to do so). Do this all the time and you'll have an unstoppable army in Tap Tap Heroes.