Game Guides
Where and How to Farm More Gold and Purple Souls in Tap Tap Heroes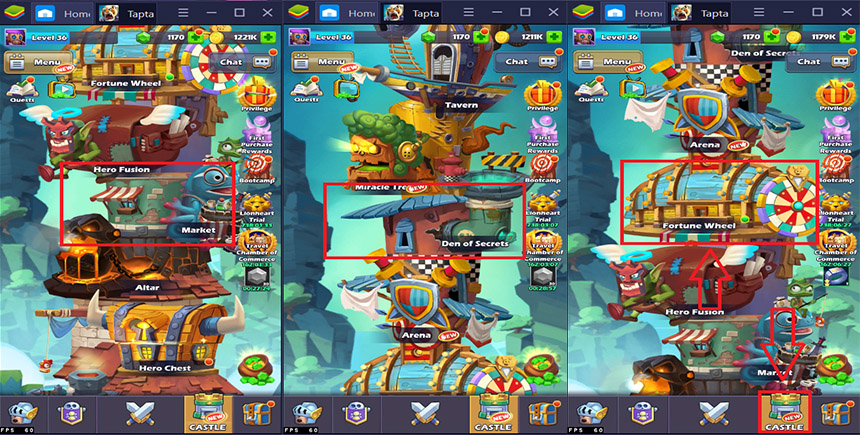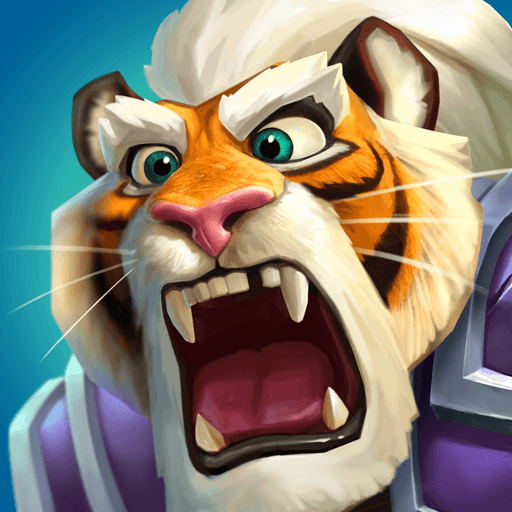 Tap Tap Heroes is all about building your army of heroes to prevent Freya – queen of hell – and her minions from acquiring a powerful sword that bears the power of creation. In order to strengthen your army, you're going to need two resources to do so: gold and purple souls. Fortunately, Ajoy Lab Games made sure to provide the players with a lot of ways to farm resources in this game.
In this article, we'll show you the several ways you can earn more gold and purple souls in Tap Tap Heroes. Moreover, we'll also share some tips and other things to keep in mind so that you'll always maximize the amount of resources you can get whenever you open the game on BlueStacks.
Idling is Key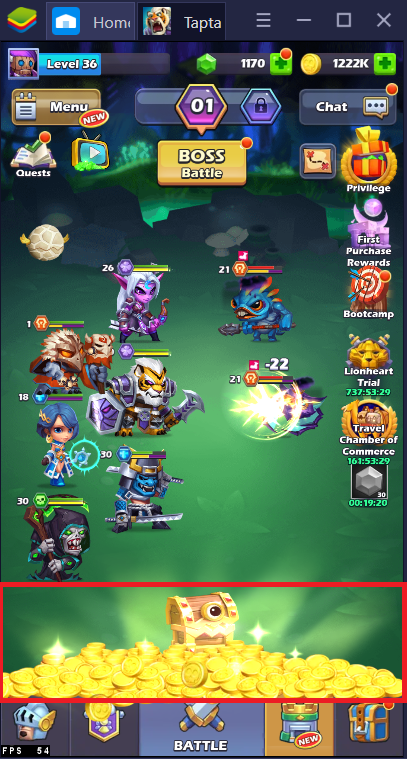 The entire game design of Tap Tap Heroes revolves around staying idle and just letting your heroes battle Freya's forces for you. As they fight, gold is earned and accumulated in the process. Once you stay idle long enough, all that gold will pile up beside a treasure chest on the bottom of the screen. The easiest way to earn gold, as well as purple resources, is to simply do nothing and just let the battle unfold in the background.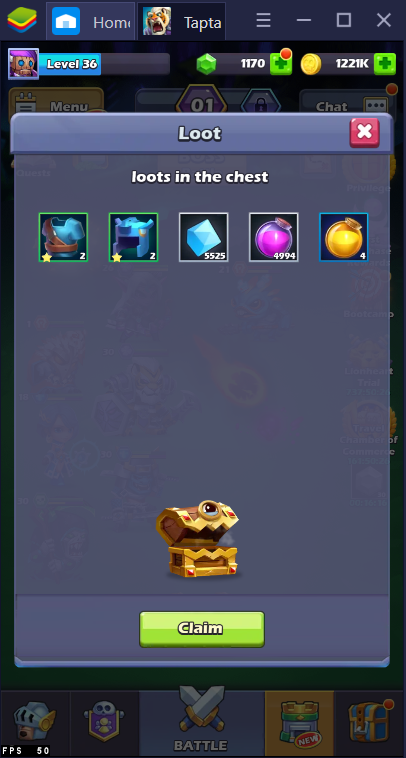 After collecting the huge pile of gold coins besides the chest, you can actually click the chest itself and it will give you not only purple souls but also equipment, diamonds, and gold souls – which are special souls used to further upgrade heroes who exceed Level 30. The longer you stay idle, the more you can get out of the chest; so, it's better to just wait longer so that opening the chest will feel more like hitting a jackpot.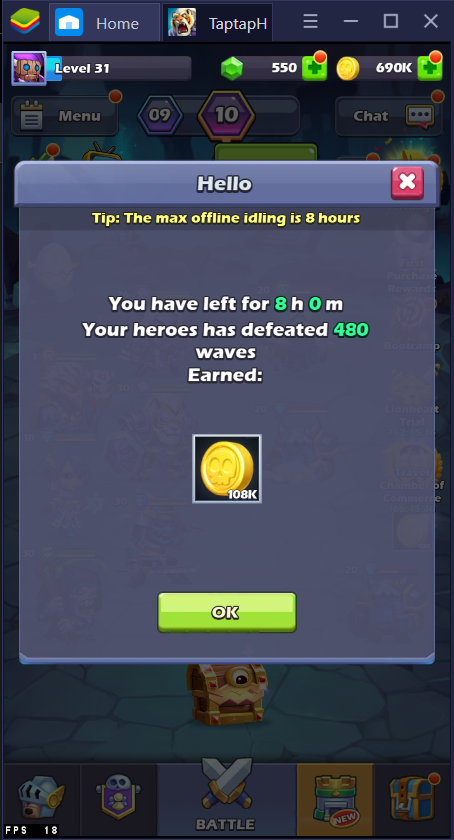 What's interesting in Tap Tap Heroes is that you don't even need to have the game open in order to maintain your earning of resources. Through a feature called offline idling, you can log-out the game and your heroes will still fight and earn gold for you in the background. When you log-in again, you can then claim the amount of gold your heroes got and this can range up to more than 100,000 gold. However, keep in mind that offline idling only lasts a maximum of eight hours. This means that you'll stop earning more resources if you've haven't logged-in the game for more than eight hours.
Look out for Events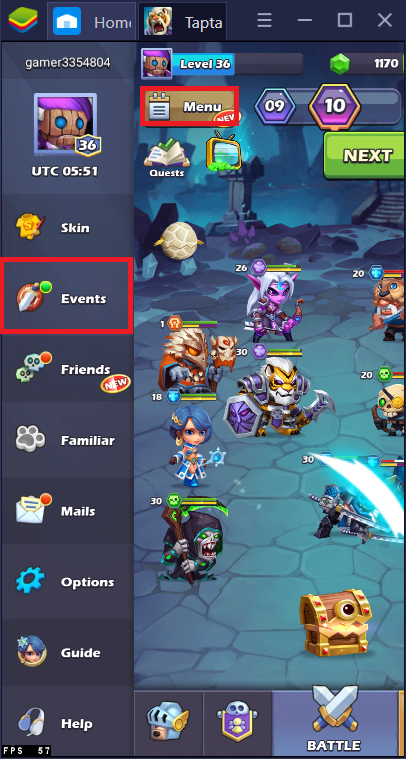 Aside from farming resources by idling, you can also periodically claim resources with Events. To access the Events, click the Menu button located on the top-left of your screen; and then click on Events.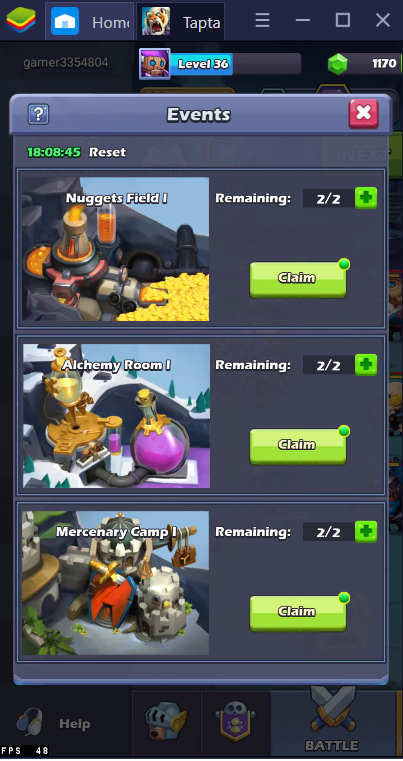 From here, you can claim gold and or purple souls through the Nuggets Field and Alchemy Room respectively. You can only claim each resource two times. After that, you need to wait exactly 24 hours until you can claim again.
Moreover, the Nugget Field and Alchemy Room will generate more of their respective resources as you level up in the game so make sure to level up if you really want to farm plenty of gold and purple souls.
Daily and Weekly Quests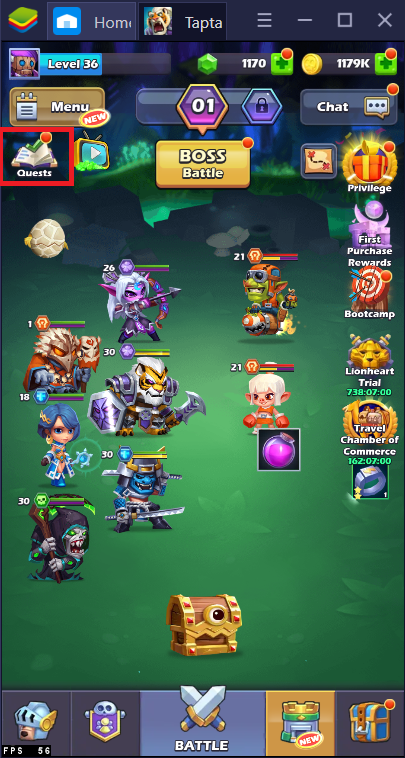 Like all other RPGs, Tap Tap Heroes also has a quest system that frequently provides tasks for its players. To access the list of quests, click on the Quests icon on the top-left of the screen. It's located right below the Menu button.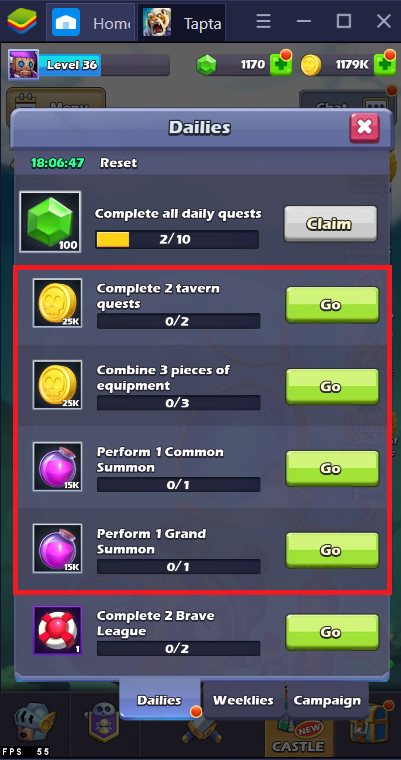 Through quests, you can earn pretty much anything such as gems – the game's premium currency – and most especially gold and purple souls. All you need to do is accomplish the specified tasks and claim your reward. The tasks themselves are not difficult and are very mundane tasks which you can do as you manage your army of heroes.
Spin the Fortune Wheel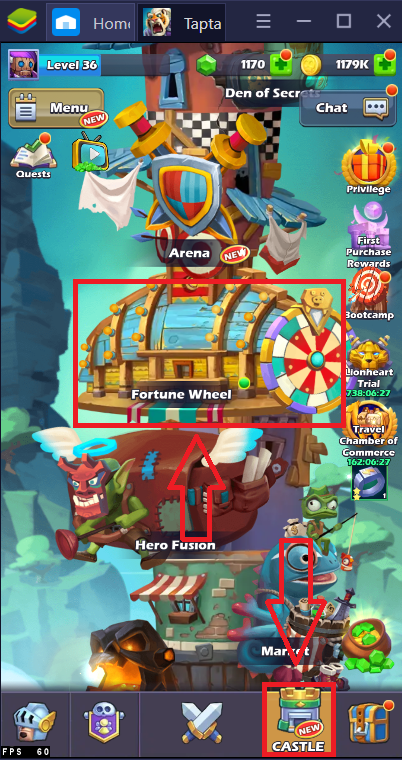 If you're the type of player that likes testing their luck and taking risks, then you may want to play the Fortune Wheel game in Tap Tap Heroes to have a chance to win big rewards. You can access the mini-game by clicking on the Castle icon located on the bottom of the screen and this will lead you to a tall tower with multiple distinct structures. Keep scrolling until you find the Fortune Wheel building.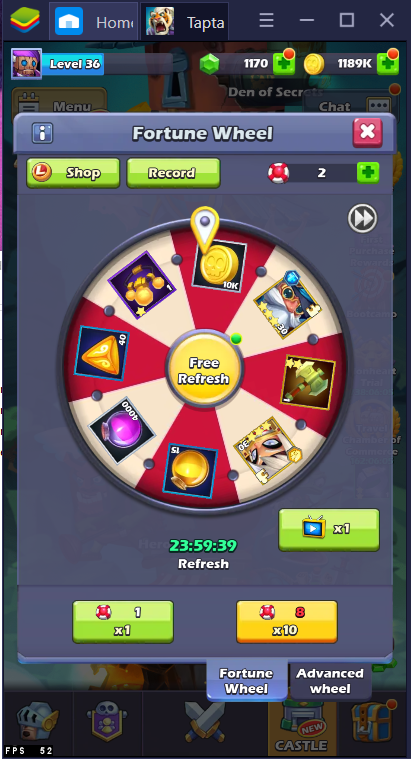 The rules of the Fortune Wheel are elementary. You spin the wheel and hope that the arrow lands on either gold or purple souls. If you're really lucky though, you may even win a new hero to add to your roster. Keep in mind that you're limited to only several spins and once you run out, you either: wait 24 hours to get a new spin or watch a short advertisement to get a free spin in just about half a minute.
Are you lucky enough to be the winner of the Fortune Wheel?
Get Free Gold from Alchemy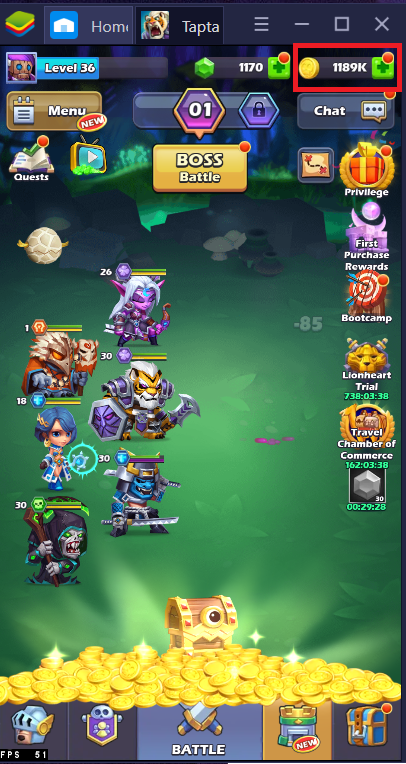 What makes Tap Tap Heroes a great idle RPG is its kind generosity towards its players. This generosity is exhibited through Alchemy – which is where the game just gives out a fair amount of gold for free. To claim the free gold, simply click on the "+" icon inside the bar containing the current amount of gold you have.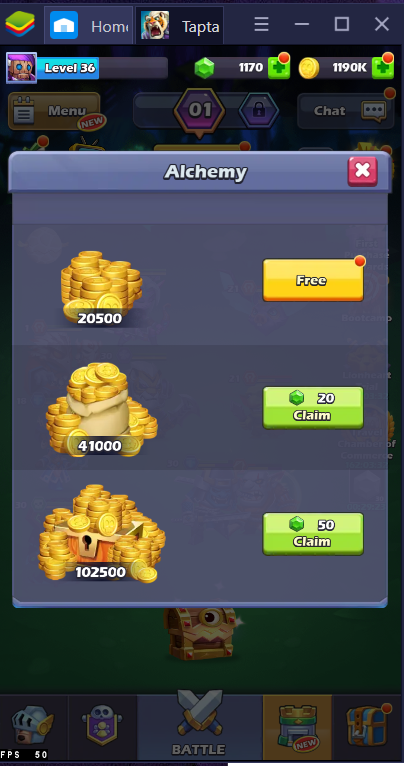 From here, all you need to do is just claim the free gold and optionally, you can also claim more additional gold but at the cost of gems. We suggest earning gems through quests so that you can have enough to purchase the additional gold. After claiming the free gold, Alchemy will refresh and you need to wait 8 hours until you can redeem said free gold again. This also applies to the gold purchasable with gems.
Enter the Den of Secrets and Earn Gold by Defeating Special Enemies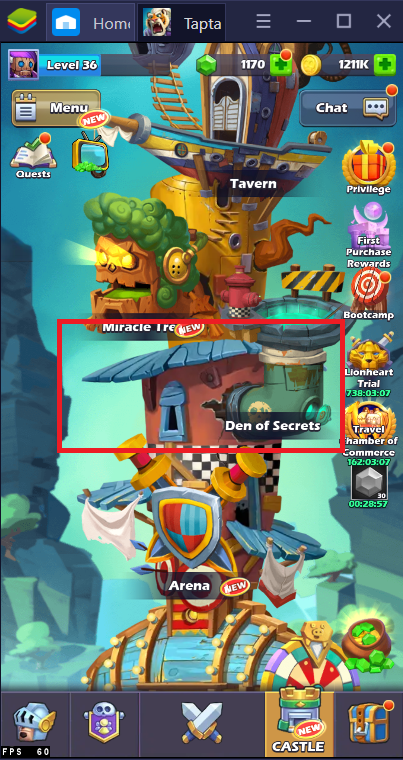 You can also earn resources in Tap Tap Heroes by defeating particular enemies found in the Den of Secrets. Go to your Castle again and this time scroll until you find the Den of Secrets building.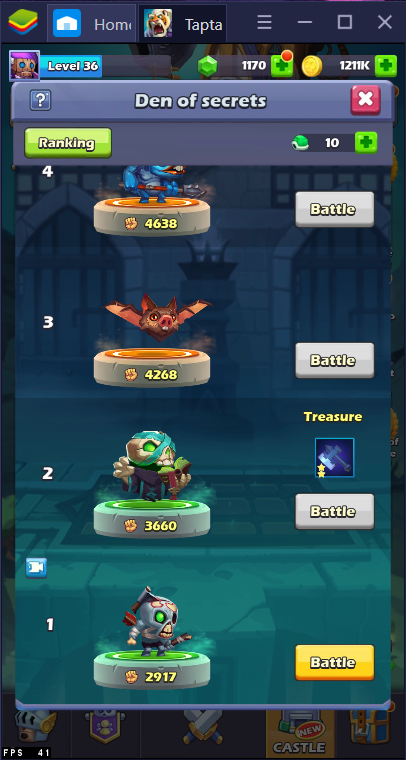 The Den of Secrets features mini-bosses with their respective ranking. After you defeat one mini-boss, you earn the prize and proceed to the next one. The reward will only keep getting bigger as you progress through the ranks but the difficulty will also keep increasing as well. Make sure that you're hero army is well-equipped and well-strengthened to be able to conquer the Den of Secrets.
Buy Resources with Gems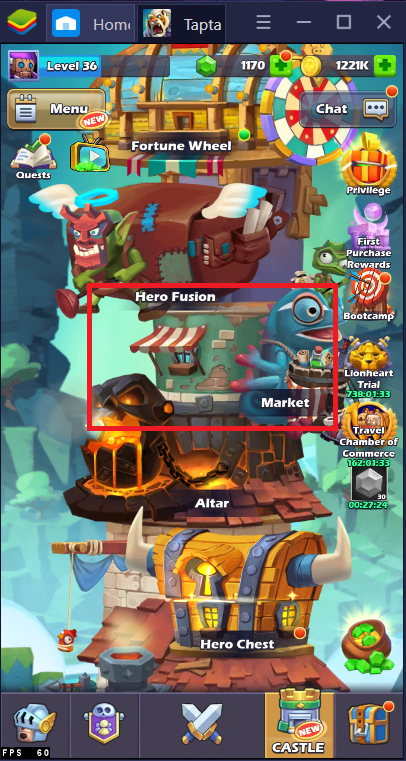 If you find yourself lacking in purple souls but having a disproportionately larger amount of gold, then you can buy lump sums of purple souls in the game's Market. To go to the market, go to the Castle and select the Market building.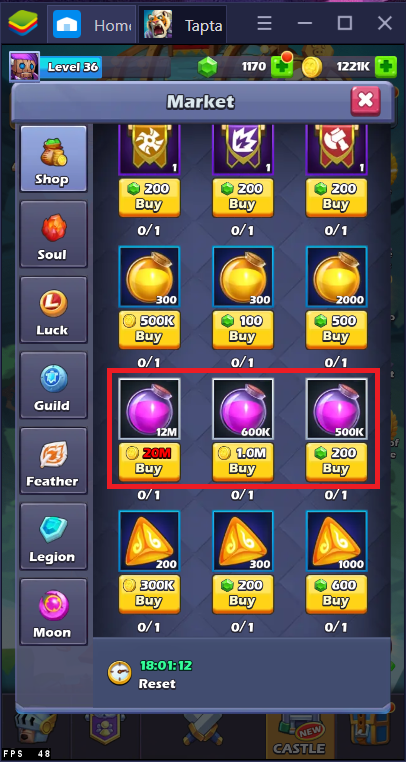 Select the Shop and from there, you can spend either 20 million or 1 million gold or even 200 gems to buy a huge amount of purple souls. It is very costly and that's why we recommend only buying purple souls from the Market if you have too much gold in your inventory or if you have an emergency need for purple souls.
Sell Excess Heroes on the Altar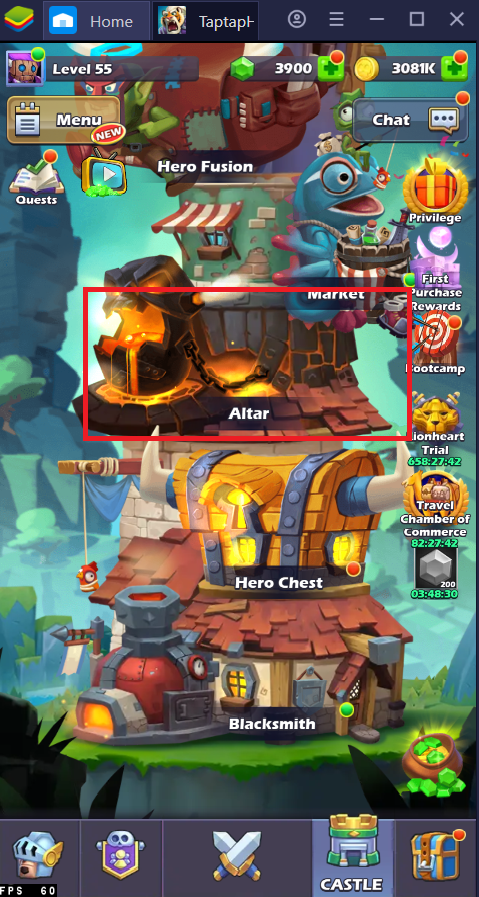 If you're roster is full of low-star heroes that you're not planning on using, you can "break them down" with the Altar for quick purple and gold souls. You can access the Altar in the Castle menu.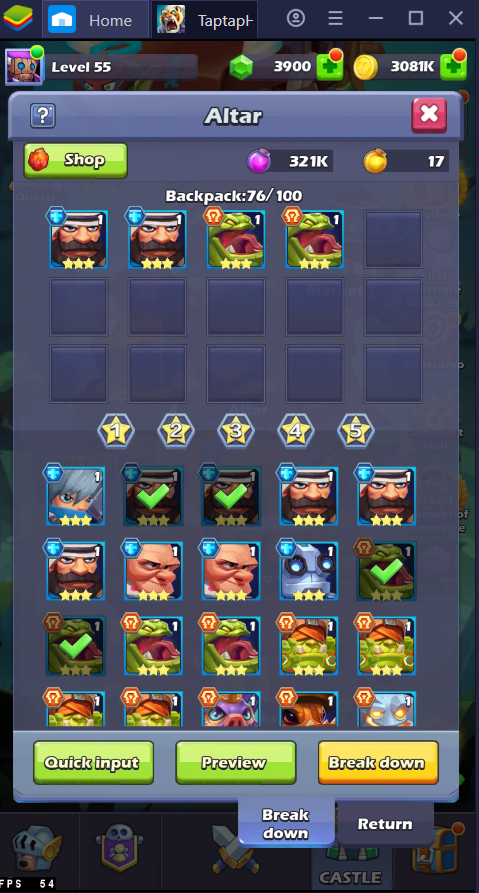 Once there, select the heroes that you want to break down. Alternatively, you can also let the game pick which heroes to sell by clicking "Quick input" but we still recommend to do the selection yourself. Interestingly, you can preview the amount of resources you'll get by clicking "Preview". Once you're satisfied with your selection, click "Break down" to finally sell the selected heroes.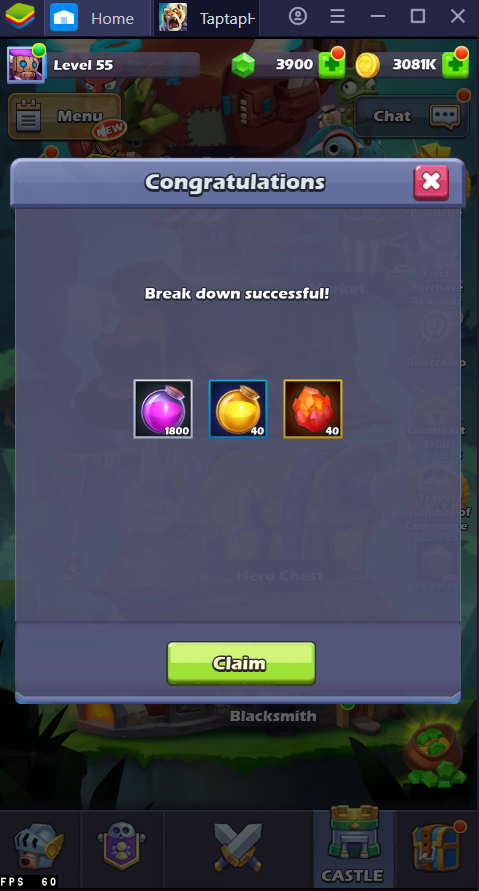 The exact amount of rewards you'll get depends on amount of stars that the hero had. Obviously, heroes with five stars will give a lot of souls but we suggest keeping high-star heroes since they will be valuable assets in battle.
Farm to Win in Tap Tap Heroes
In order to build a powerful army in Tap Tap Heroes, it is imperative to acquire as many resources needed to accomplish this. Fortunately, the game provides plenty of opportunities to earn resources in this game such as simply idling, Alchemy, defeating enemies in the Den of secrets, buying with gems, events, quests, spinning the fortune wheel, and lastly, selling heroes on the altar.