Game Guides
The Best Tekken 7 Brawlers in King of Fighters ALLSTAR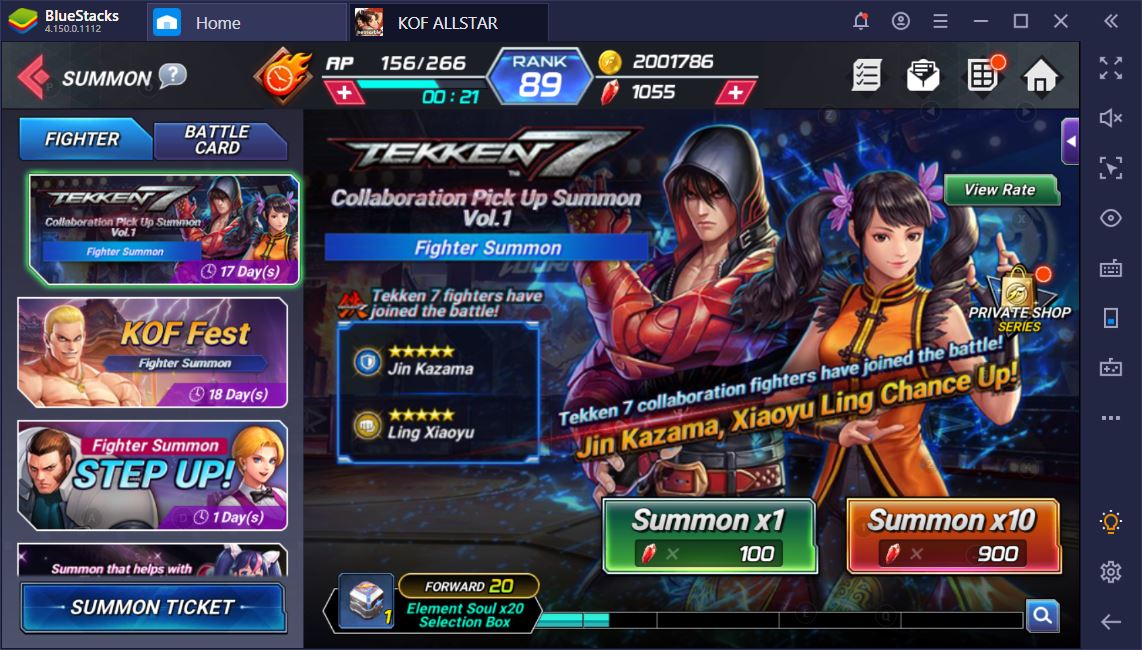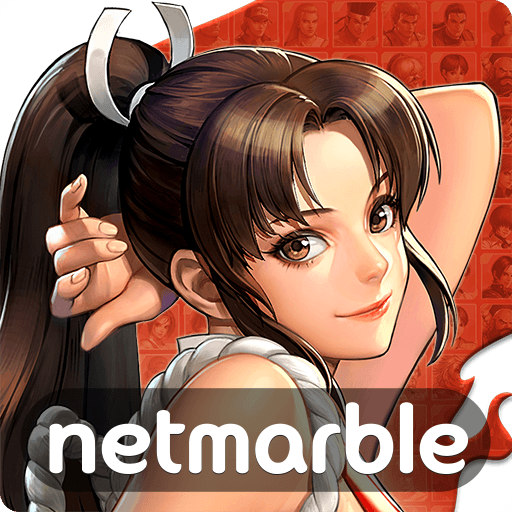 If you didn't hear yet, the King of Fighters ALLSTAR collaboration event with Tekken 7 is giving away thousands of Rubies to all of its players. Sure, this is an awesome opportunity to see some of the legendary fighters of the two franchises go toe to toe in every game mode possible. Yet, we're more impressed by the sheer amount of premium currency you can get by doing regular stuff in the game.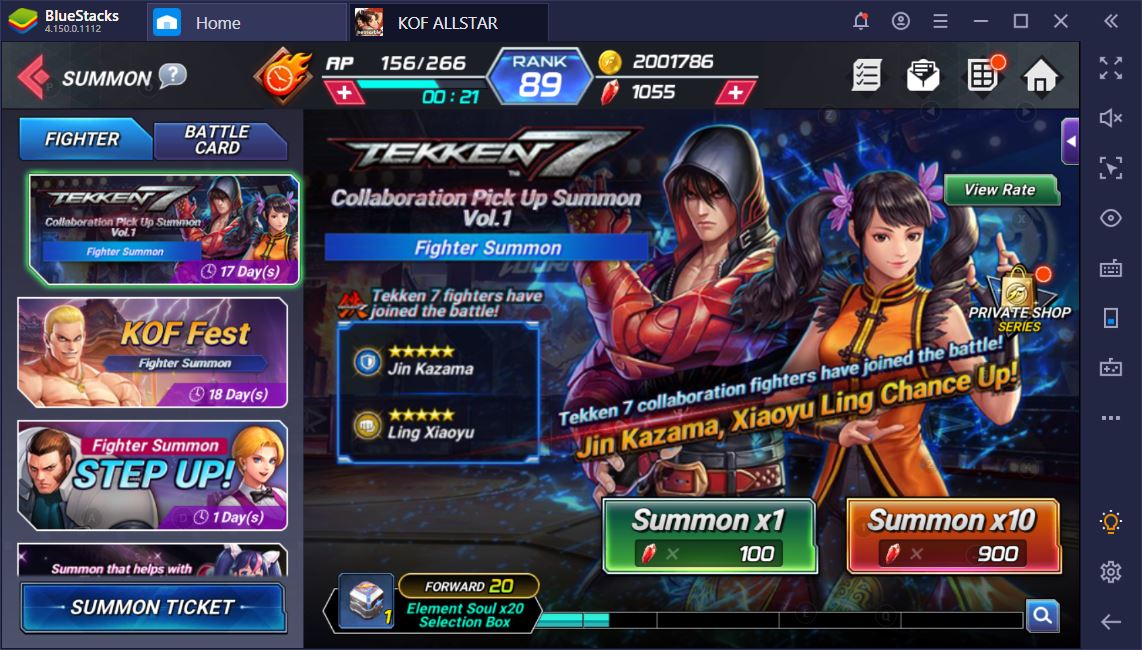 We don't know whether this generosity on Netmarble's part is planned or not, but the community took notice and even the harshest of critics have softened up. If this wasn't enough, we have some awesome Tekken fighters included in the KOFA line-up, some of which we already said were going to disrupt the current meta. If you didn't get Orochi Iori or Leona, this is definitely going to make up for it.
For the sake of clarity, we'll discuss the new fighters starting with the best ones and then work our way down to the rest.
A Close Race for the Pole Position
As much as we wanted to see Geese Howard be the absolute powerhouse of the bunch, the truth is that the race is an incredibly close one. It all comes down to how much you can get out of them when they're fully levelled. So far, Tekken 7 Jin Kazama, Geese, and Kazuya Mishima seem to be competing for the title. These bunch are actually comparable to the Iori brothers, while their gacha rate is more generous.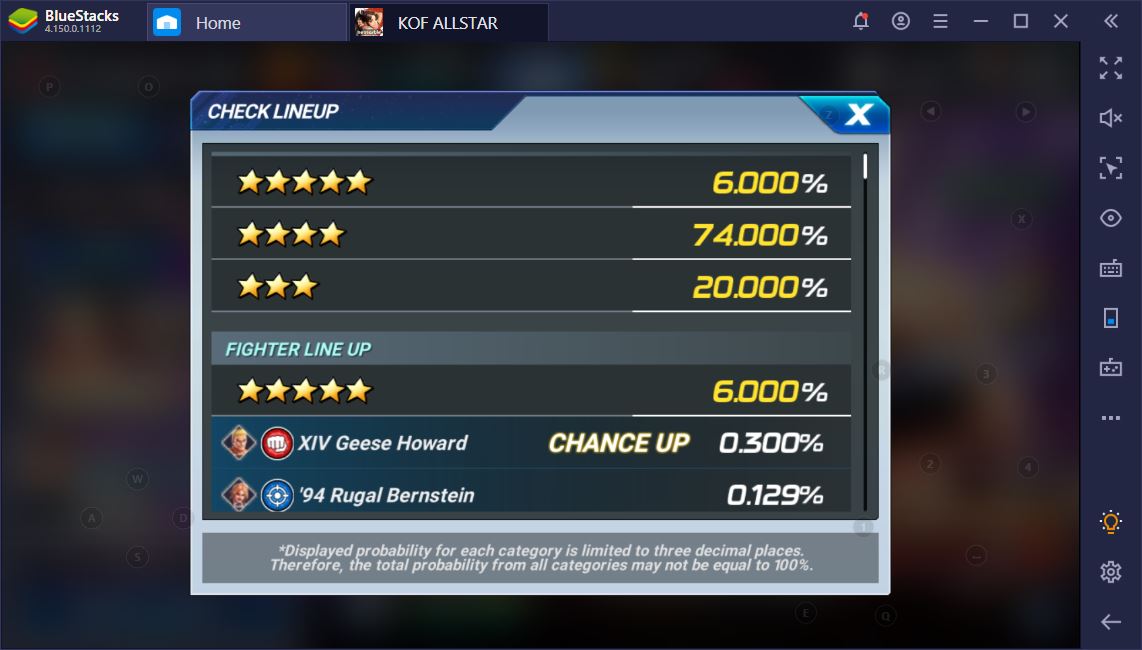 T7 Jin
This Blue Defense is head and shoulders above all other defense brawlers. He has excellent juggling potential thanks to his 3-second super armor on his off the ground attacks. If you hit will all of his skills, you get a staggering 30% attack and defense buff, 7% attack debuff for your enemy, as well as -5% power gauge. He has great PvP potential due to the Savage Sword Combo that gives you a 20% chance to stun your opponent. Against another team, this guarantees extended combos and a lightning-fast perfect K.O.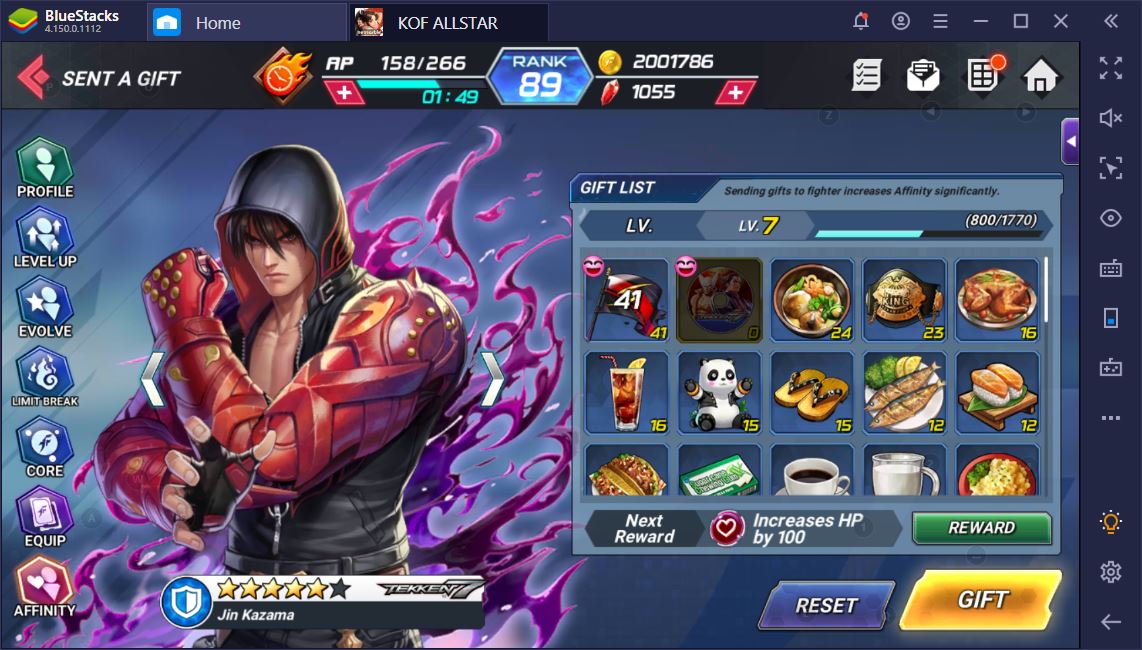 Kazuya Mishima
This Yellow Balanced fighter will soon be introduced with the second summoning banner. From what we gather, his skills are actually insane. In PvP, he has a core passive that grants him 4 seconds of immunity when he is ticked below 35% HP. You can try to juggle him around, but his health will stand still. Now imagine that you do get into this situation. Given how rage works for him, you'll easily turn the tide of a battle in a matter of seconds.
Geese Howard XIV
Even if we believe Jin and Kazuya to be slightly better than Geese, this hero still packs a serious punch. You can't really fathom how good he is until you see his blast-damage, super armor combination of the Double Reppuken and Shippuuken EX. Basically, he will get super armor the moment he lands a blast skill. From here onward, it's a fast ride to stun, more super armor, and invincibility at the same time with the help of his Fudoken EX. He might not be part of the Tekken 7 bunch, but he's sure worth having.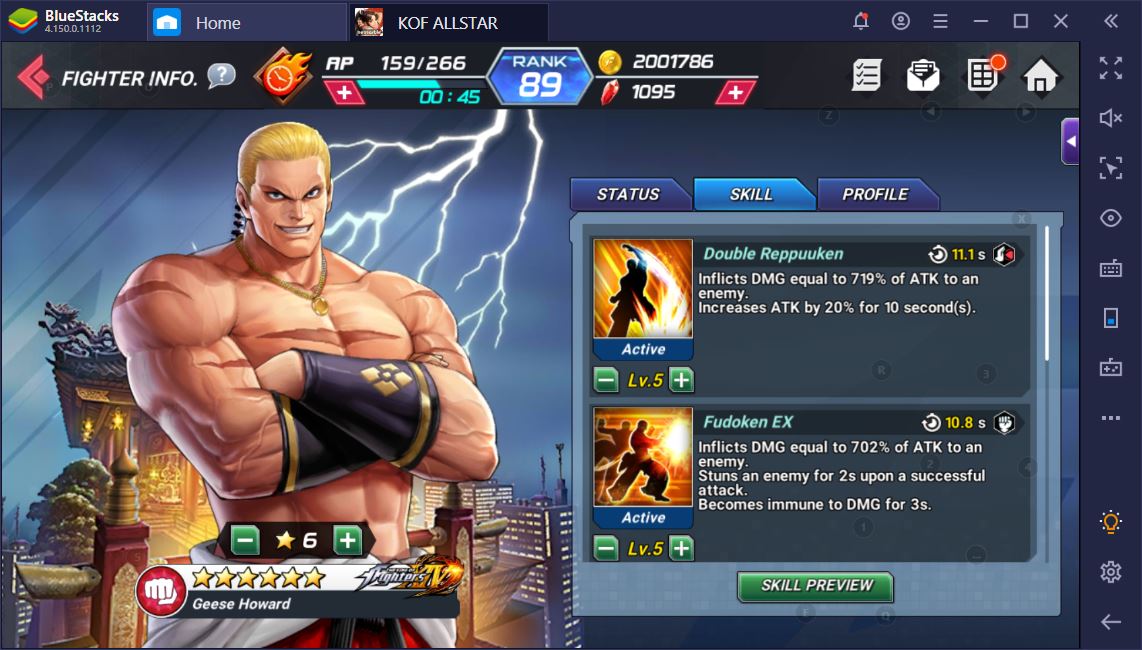 Quality of Life Brawlers
Aside from these immense powerhouses, there are several fighters that you'll still want to get during the Tekken 7 event. Paul is definitely at the top of this list.
Paul Phoenix
For once, we get a good Green Attack combination. As you probably noticed, you can get a whole bunch of his souls from the roulette (whether you want to or not). The question here is whether he's worth the investment of 150 Rubies per day for 10x tickets until you get him. The short answer is: YES!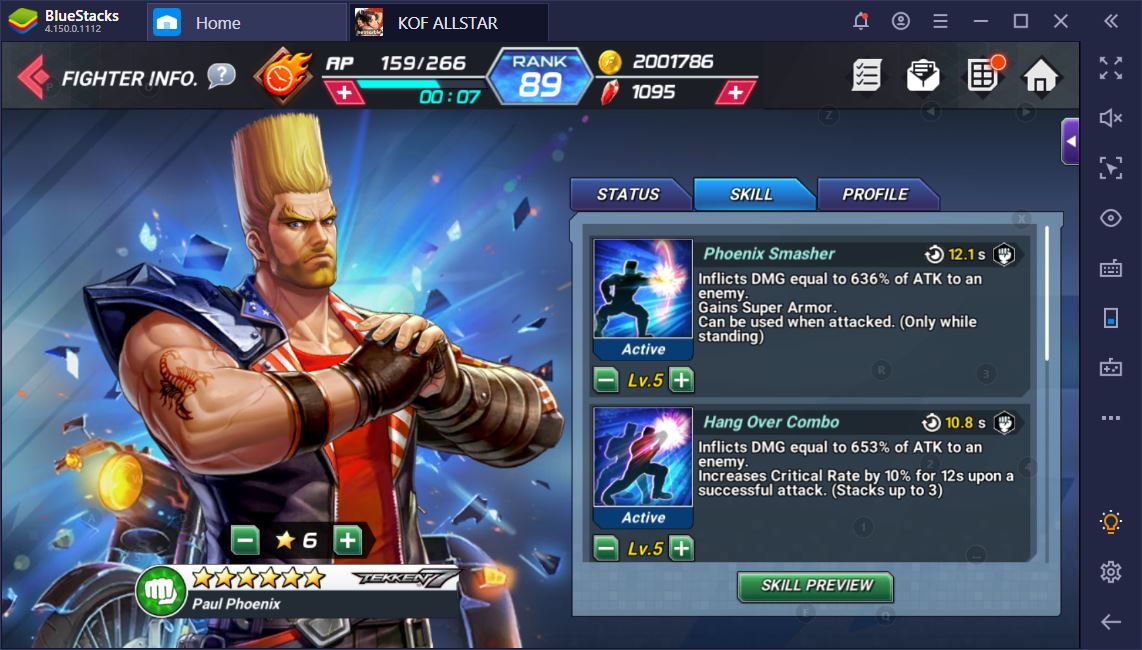 His leader skill is the same as O. Iori's 60% Attack increase to all offensive characters, with the minor modification that they now lose 10% Health, rather than defense. His first skill, Phoenix Smasher can be used while he's attacked and grants him super armor. In addition, his Rapid Fire will ignore and disable your target's Guard. His core unlocks a variety of CC resistance, which makes him excellent in fights where Freeze, Petrify, or Stun are abundant.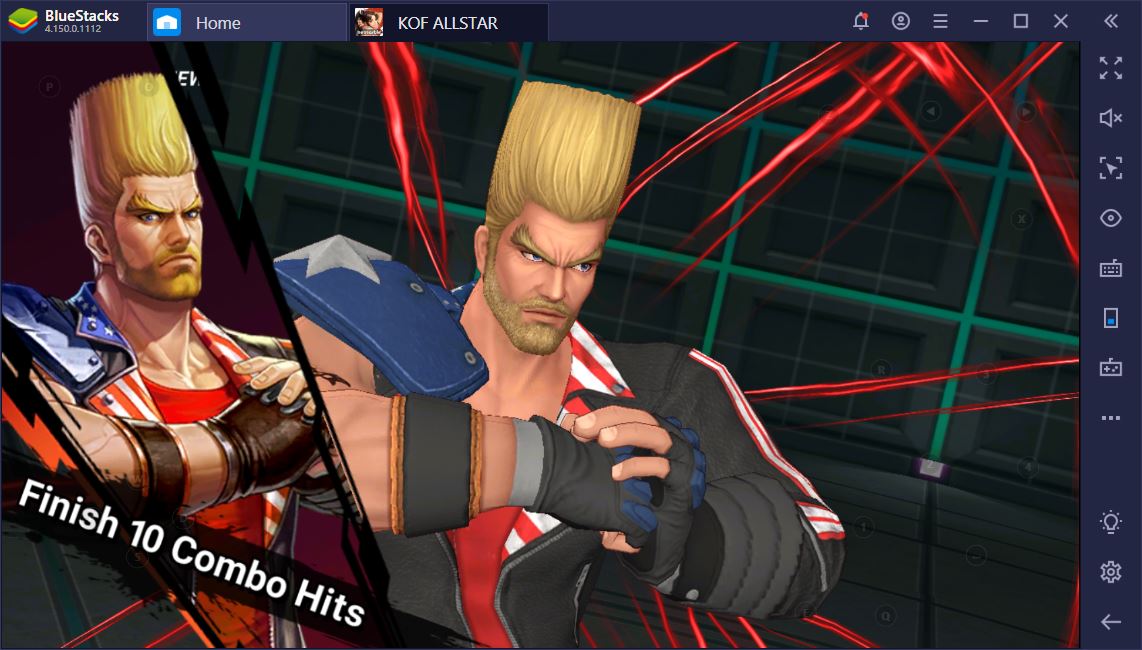 Ling Xiaoyu
This Yellow Element fighter may not be someone you waste rubies on, but she's definitely worth keeping. If you get Jin, pairing Lin as his striker will give him 10% of his Defense as Attack, as well as +300 to his penetration. The school-uniform Ling is definitely not worth it, even if you're one of those people who spends money in KOFA.
She's what the community would call a jack of all trades, master of none. She can buff your party and provide a bit of health recovery, as well as a stun, but not much else.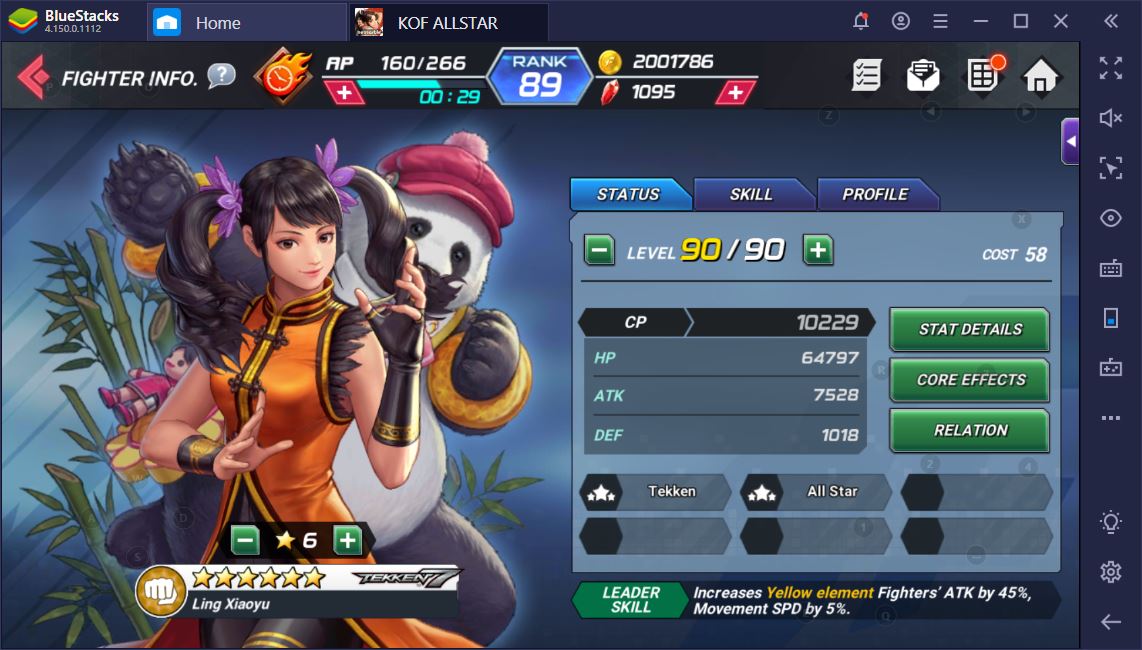 Armor King
This Red Defense is in last place because you can easily get him with Tekken Coins in the event Exchange Shop. He's not that effective in PvE since all his skills are essentially Grab or Strike. From what we can tell, he's quite effective in PvP and will put a dent in many compositions, but he won't really carry you to the top. It might not actually be worth spending anything on him and going all in on the Capsules and Affinity Boxes.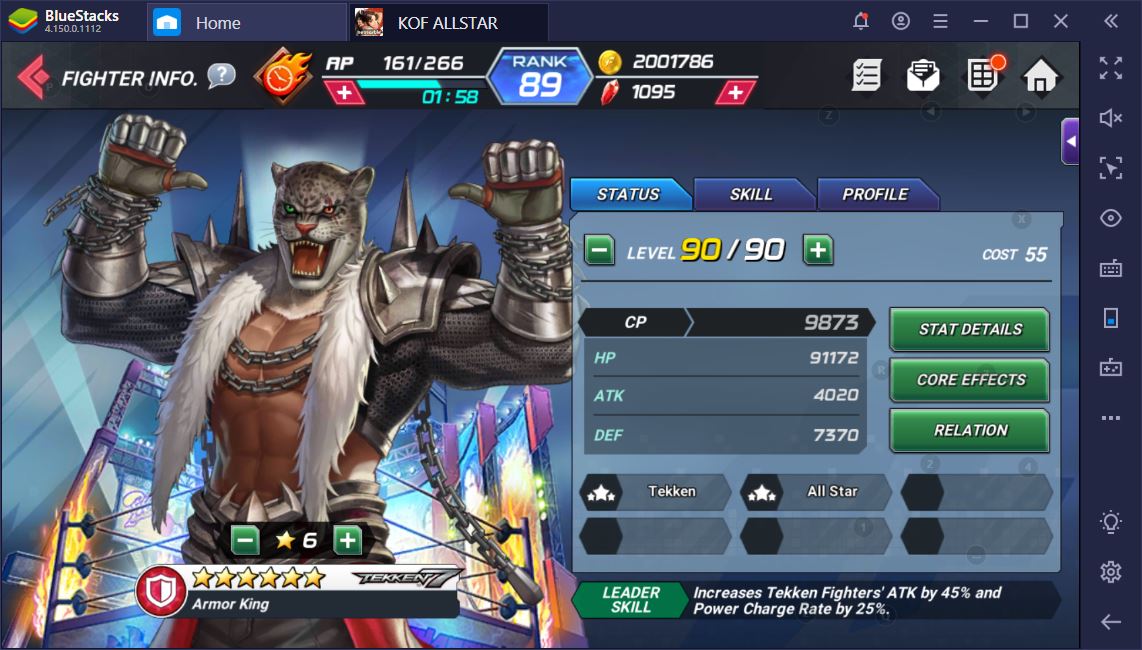 An Event for the History Books
KOFA hasn't released such strong characters in quite some time. You can forget all about Zero and go for T7 Jin, Kazuya or Geese. The developers have a record of great collaborations, but this seems to be the most successful one yet. You shouldn't underestimate the banners under any circumstance – they all have great drop rates, and, if we consider the strength of the fighters, immense value. Playing consistently throughout this Tekken event gives players so many rewards that there is absolutely no need to invest money in the game.
We don't know how or if Netmarble will ever be able to top this off, but, for now, we're thoroughly enjoying it while it lasts. If you'll excuse us, we have some roulette tickets to farm.