Game Guides
How to Optimize Your Experience with Ragnarok: Labyrinth on PC with BlueStacks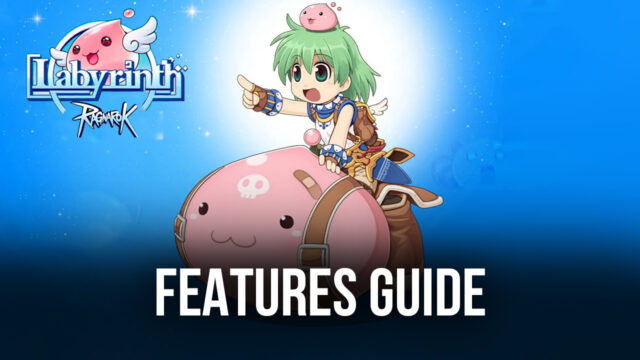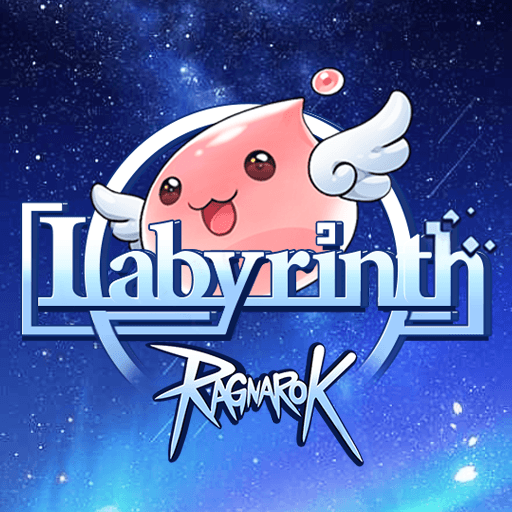 Ragnarok: Labyrinth is a casual title and one of the most recent entries in the Ragnarok franchise of MMORPGs, developed by the team at Gravity themselves, the same creators behind the original hit MMO of the early 2000s. However, this game is designed to be a more lighthearted approach to the genre, taking some of the same elements of its predecessor, like multiple classes, the liberty to create varied builds, and tons of different maps and dungeons to explore and monsters to fight, but combined them with some more casual mechanics like idle farming, auto-combat, and a more simplistic approach to exploration.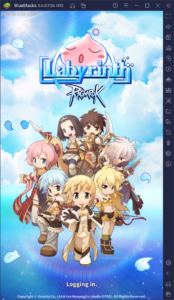 In short, Ragnarok: Labyrinth is the game you'd play if you want to play old Ragnarok, but simply don't have the hundreds of hours to sink into the game. Still, this doesn't make the latest entry in the Ragnarok franchise any less fun, especially if you play Ragnarok: Labyrinth on PC with BlueStacks. With our Android app player, you'll not only enjoy the classic MMO goodness from the comfort of your gaming chair, but also on your large computer monitor, with the best graphics and performance, and with a bunch of different tools and features to significantly improve your experience.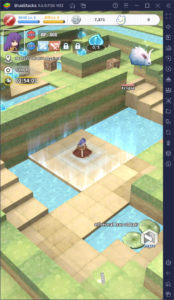 In this brief overview, we're going to show you how to set up your BlueStacks to get the best graphics and frame rate in Ragnarok: Labyrinth on PC, as well as how to use our tools and features to enhance and optimize your experience in this game.
Achieving the Best Visual Fidelity and Frame Rate
While the original Ragnarok Online had a sprite-based art style for all its players and most of the monsters, Ragnarok: Labyrinth has a full 3D design for everything but the floating damage numbers. This makes it quite different from its original counterpart, at least in terms of visuals, but at the same time its graphics are much more scalable. And particularly if you play it on BlueStacks, you can get the absolute best visuals, with virtually no performance cost, essentially letting you play with awesome graphics and frame rate. And the best part is that you won't even need to buy a good phone in order to run the game with this level of quality.
While Ragnarok: Labyrinth should run quite well right out of the box for all users, it's possible that you might need to make a few adjustments both to your emulator, as well as in-game. This is quite easy and can be done in a few quick steps: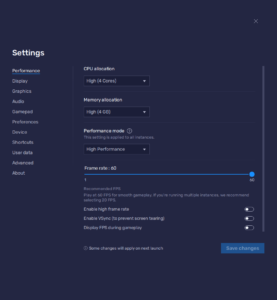 Head over to your BlueStacks settings by clicking on the burger menu on the top right, and go to the Performance section.

Assign 4GB of RAM and 4 CPU cores to your emulator, and set the Performance Mode to "High Performance". Finish by setting the FPS slider to at least 60 and click on "Save changes".

Run Ragnarok: Labyrinth and go to the in-game settings by clicking on the burger icon on the bottom left.

Click on the "System" tab and adjust the Graphics Settings to "High".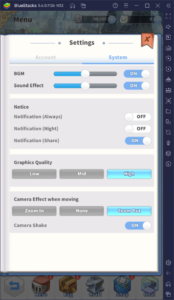 With these adjustments, your game should be running at a silky smooth 60 FPS, and should look as good as possible, without any type of lag or slowdown, and not to mention without any overheating or battery drainage issues, unlike if you were playing on your phone.
Get the Best Controls With the Keymapping Tool
Even with all the auto-combat and auto-grinding features in the game, many game modes in Ragnarok: Labyrinth require you to play manually. This includes the labyrinth exploration that you'll be doing a lot in this game. In these cases, you'll definitely want the best controls that will let you play comfortably, which is something you won't get from playing the game on your phone with its awkward touchscreen buttons.
By playing on BlueStacks, you can find the Keymapping Tool, a powerful and versatile feature through which you can create highly-customizable control schemes for any game, including Ragnarok: Labyrinth. With this feature, you can control all the action with your mouse and keyboard, which will make it much easier when trying to navigate through the different labyrinths while avoiding all the enemies in your path.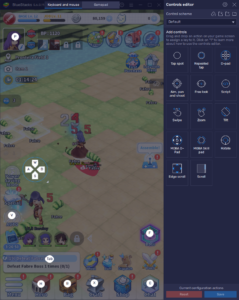 To access the Keymapping Tool, simply press Ctrl + Shift + A. In this new screen, you will be able to visualize your current bindings, modify them by clicking on them, and even add new shortcuts by dragging and dropping them from the panel on the right. This feature essentially lets you tweak and fine-tune your controls to your exact requirements. And once you're done, you simply need to click on "Save changes" on the bottom right to implement your changes.
Automate the Grind With the Macro Recorder
While it's easy enough to automate part of the grinding with the in-game automation features available to all players, BlueStacks takes this convenience to the next level with the Macro Recorder. This feature lets players record themselves completing certain tasks, and then automate it on subsequent occasions.
To access the Macro Recorder, simply press Ctrl + Shift + 7. In this new screen, you press the "Record new macro" button to start recording. With the recorder running, you can perform the task you wish to automate as you normally would, and then stop the recorder. On every subsequent occasion, you can press the button corresponding to your new macro, and BlueStacks will completely automate this task for you. This is great in Ragnarok: Labyrinth for automating certain tasks like progressing through the main story, or grinding certain monsters and MVPs to farm for materials and experience, among others.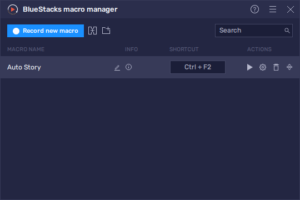 Remember that you can also click on the gear icon beside your new macro to modify its behavior. This is useful for when you want a macro to repeat a set number of times, or for when you want to customize other aspects of its usage.
BlueStacks is the best Android app player for enjoying Ragnarok: Labyrinth on PC. Feel free to leave us a comment in the section below if you have any thoughts or questions.