Updates
A Guide to AFK Arena's Midwinter Festivities 2020 Event by BlueStacks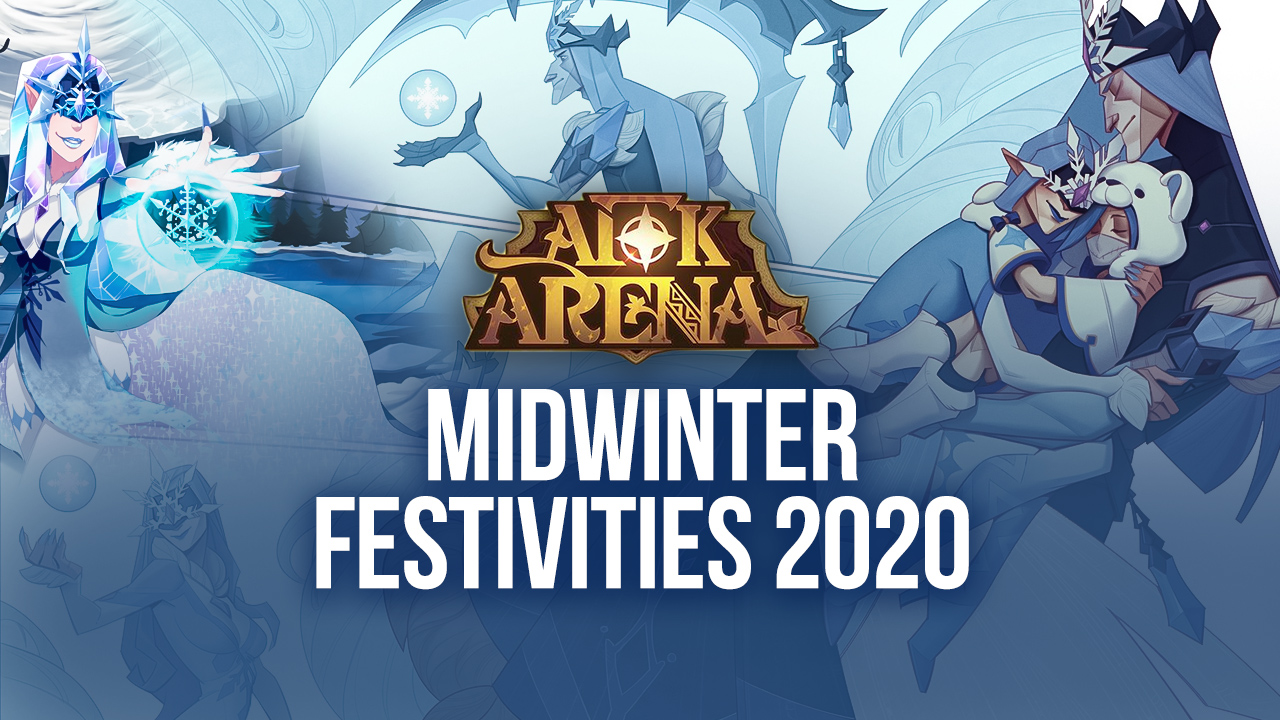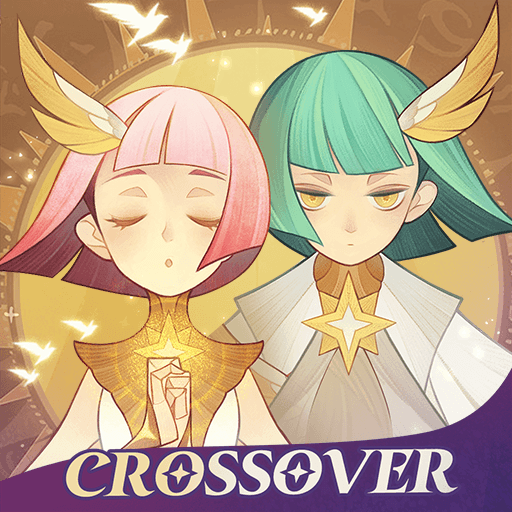 The holidays are finally here! It's time to get your best cup of hot cocoa, wear your ugly sweater, and play your favorite video games this Christmas break!
What kind of game titles are you playing this holiday break? If you have nothing pending on your backlog, you should check out our list of the best games to play on BlueStacks! Did your favorites make it to our list?
With the holiday comes the arrival of new winter events for players of AFK Arena, a game that plays itself developed by Lilith Games. The event is officially called the Midwinter Festivities and it brings exciting rewards and quests for all players. We're also getting a brand new login screen, featuring the new hero Alna, the Frozen Mother.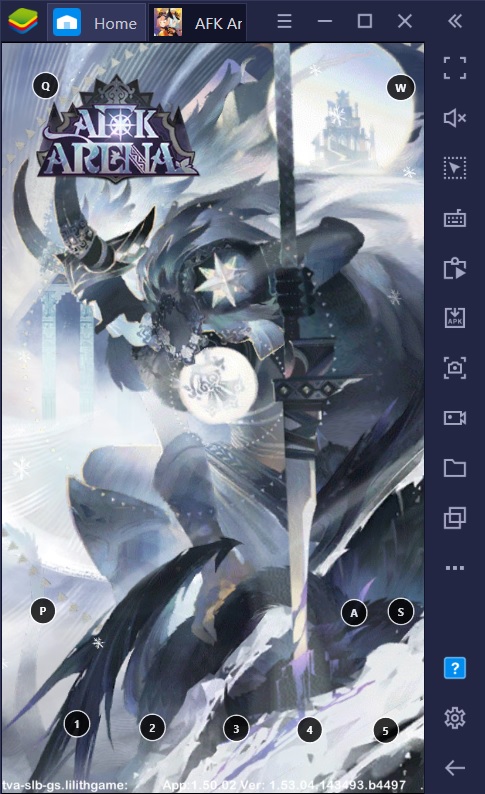 When does AFK Arena's Midwinter Festivities start?
AFK Arena's Midwinter Festivities starts on December 23, 2020 and ends on January 5, 2021 at 11:59 p.m. UTC. That's almost two weeks of event time!
What rewards can I get on AFK Arena's Midwinter Festivities?
There are plenty of good rewards to reap from the Midwinter Festivities event, including winter skins for Shemira, Daimon, and Niru! These three heroes have been dressed up in snowflake and snow-themed clothing in white and blue color palettes. Our favorite is Shemira's seasonal look!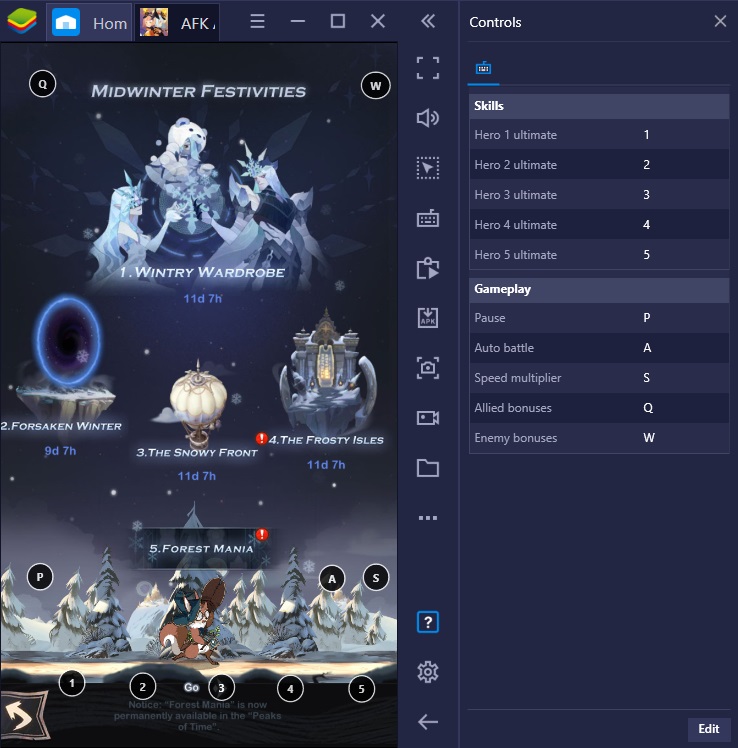 Shemira looks like an absolute winter goddess in her winter skin, replacing her vile mask with half of a huge snowflake. Her hair is also glistening and will certainly remind players of powdery snow during this season.
Players can also get Glacial Keys which can be used to open treasures at The Frosty Isles and The Snowy Front.
Where can I find the Midwinter Festivities tab in AFK Arena?
This holiday event is so special, has its own section! Simply click on the left drop down button, select "Midwinter Festivities," and the game will show you an overview of its five mini-events.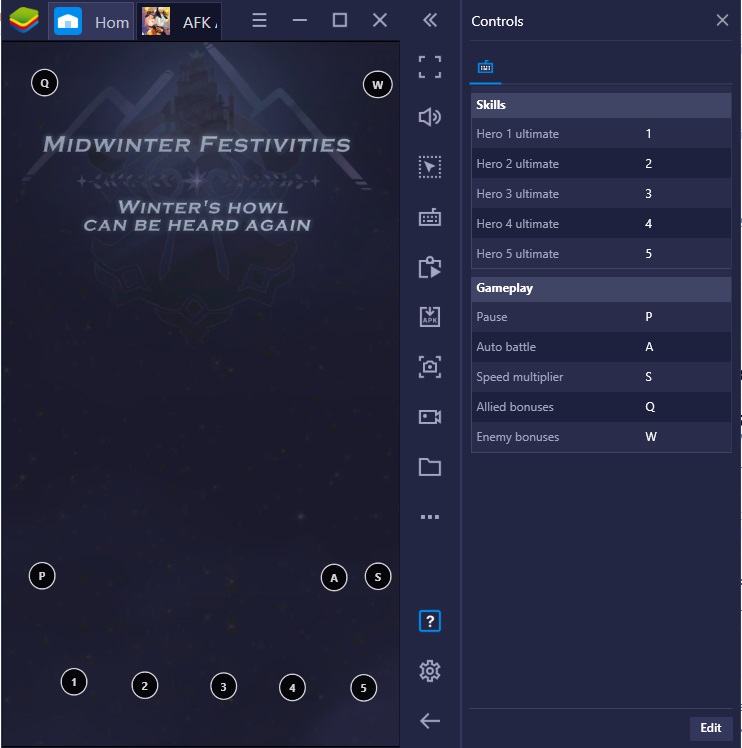 Note that you need to complete stage 3-36 to participate in Wintry Wardrobe, Forsaken Winter, and The Frosty Isles events. The Snowy Front event requires the completion of stage 6-20, while the Forest Mania does not have a level requirement and is open to new players.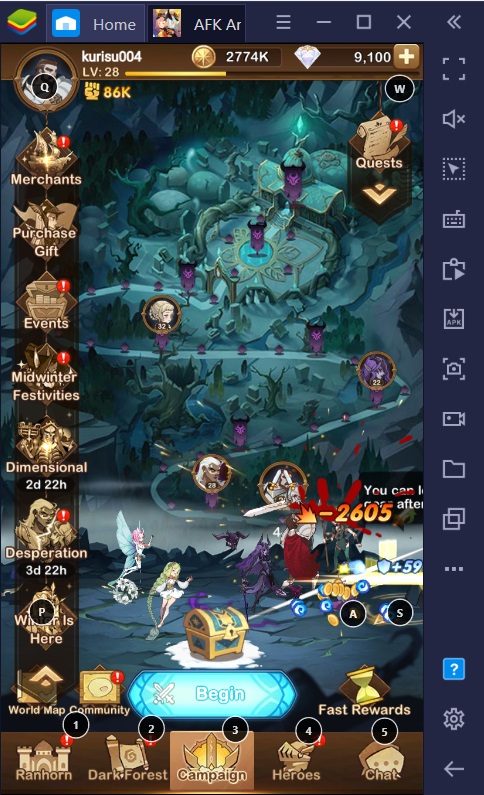 Additionally, Forest Mania is now permanently available in the "Peaks of Time" puzzle mode.
Wintry Wardrobe
We're getting three skins this year featuring heroes Shemira, Daimon, and Niru for AFK Arena's Midwinter Festivities event.
If you care a lot about visuals and cosmetics, then we can pretty much say that getting all three is a priority for you!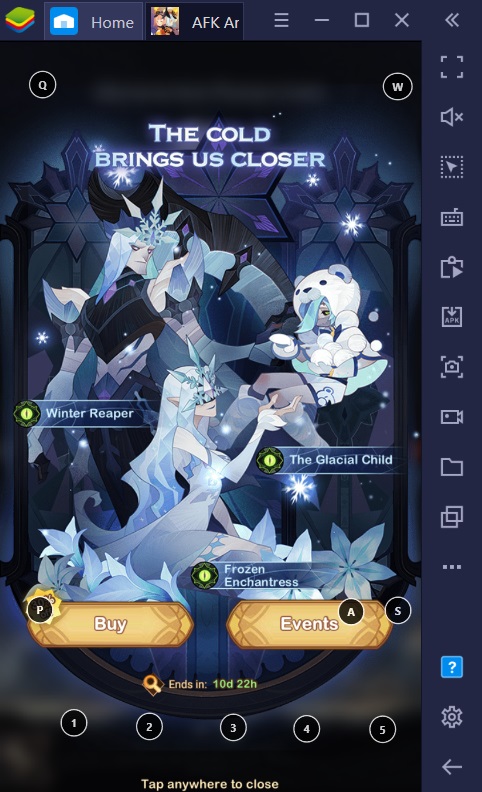 There are two ways to acquire the skins, by purchasing them or through resource acquisition. If you choose the latter, you will be redirected to The Frosty Isles event.
The Frosty Isles
The goal of Frosty Isles is to have you ascend as many floors as possible, reaping your desired Ultimate Reward every ten floors. With this event, you can claim either the Shemira or Daimon winter skins for free!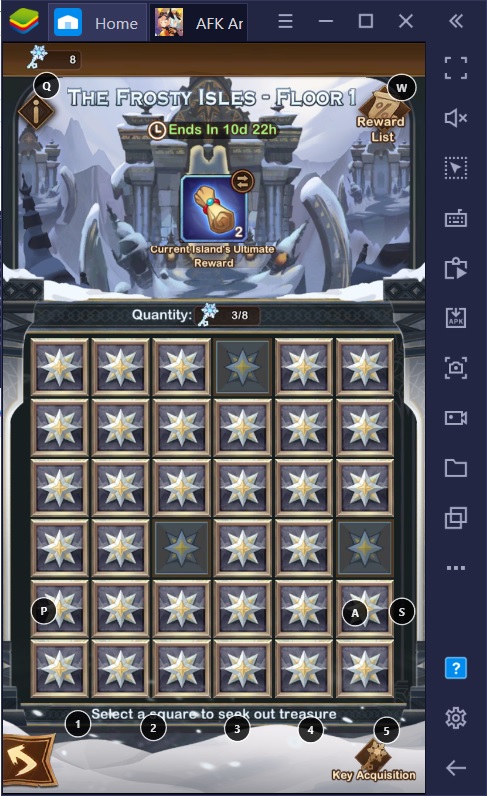 Of course, to progress in the Frosty Isles you'll be needing Glacial Keys which can be acquired from the Forsaken Winter event.
Forsaken Winter Bosses
On this mini-event, players will have the chance to face off Shemira, Daimon, and Niru once per day to acquire Glacial Keys for the Frosty Isles event.
You can choose who you want to face and then try to last in the battle within the set timer to claim Glacial Keys. You can challenge these three bosses once a day to obtain five Glacial Keys for the Frosty Isles mini-event.
This would be a good time to try out Alna, the Frozen Mother in your team composition! She is free for trial for a limited time and you can include her in your battle comp.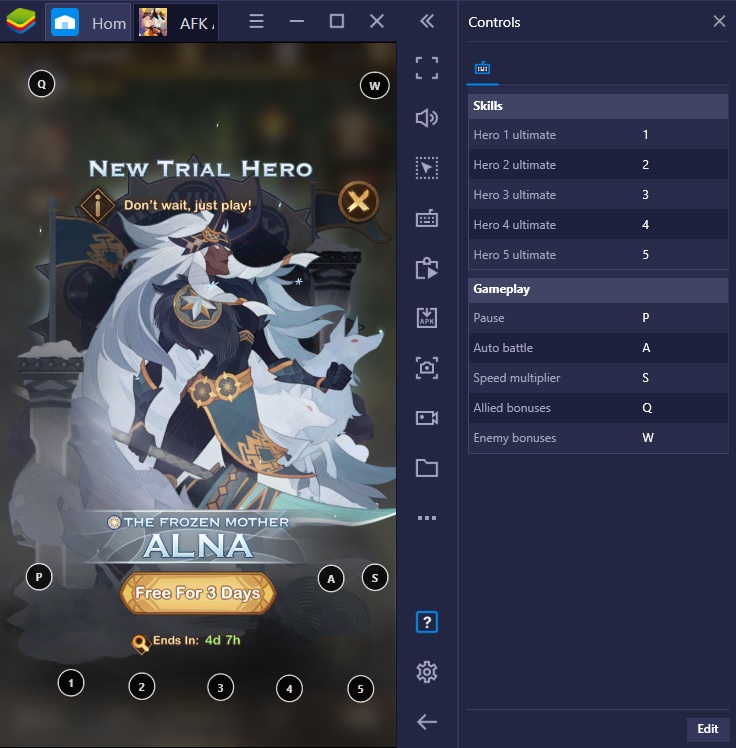 Forsaken Winter ends earlier than the rest of the Midwinter Festivities on January 3, 2021 at 11:59 p.m. UTC.
Forest Mania
This game mode is pretty simple and can be enjoyed peacefully since it is a match-three game. Fill in the gauge and try to pair at least three similar shapes either horizontally or vertically.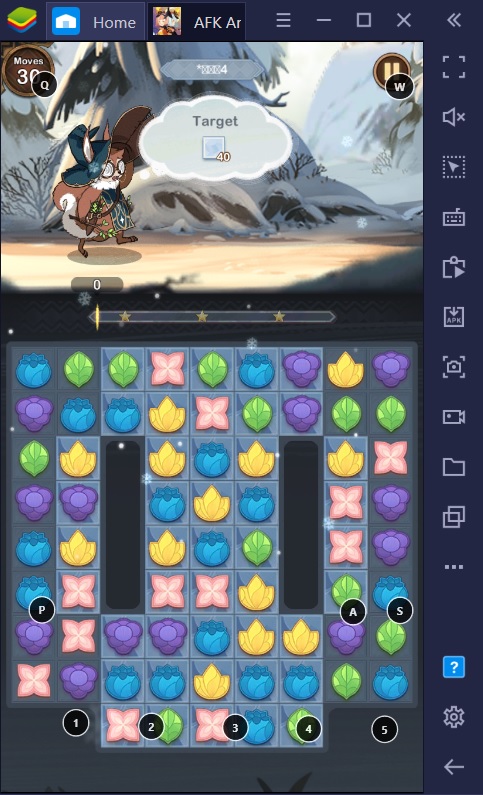 There is no time limit on AFK Arena's Forest Mania, but try to do your best to finish each puzzle below the move limit. The levels get harder as you go along and additional shapes and challenges get added on later levels. It's like Candy Crush, but inside AFK Arena!
The Snowy Front
Go on an adventure at the Snowy Front event at the Peaks of Time tab! You can also gain Glacial Keys in this mini-event to be used at the Frosty Isles challenge, and then later on claim your Winter skin of choice.
The Snowy Front is only available for players who have completed stage 6-20.
How can I participate in the Midwinter Festivities event?
You can play on mobile or any other compatible devices, but we believe it's best to play on PC using BlueStacks for free!
Install BlueStacks and play AFK Arena on your desktop or laptop by following these instructions, absolutely free! You can play better with its Multi-Instance feature, ideal for summoning your desired heroes in AFK Arena. Playing on PC with BlueStacks can also improve your game's graphics with its High FPS feature.
To participate in all of the Midwinter Festivities, make sure you have completed stage 6-20. Go to the left drop down menu and click on the "Midwinter Festivities" button to join the event.
With only a few days left till the event ends, we all wish you the best of luck in completing the Midwinter Festivities and a happy holiday from all of us here at BlueStacks!