Updates
Epic Seven: April Patch – Guilty Gear Hero Changes, Bomb Model Kanna, Guild War Skyward Season, and more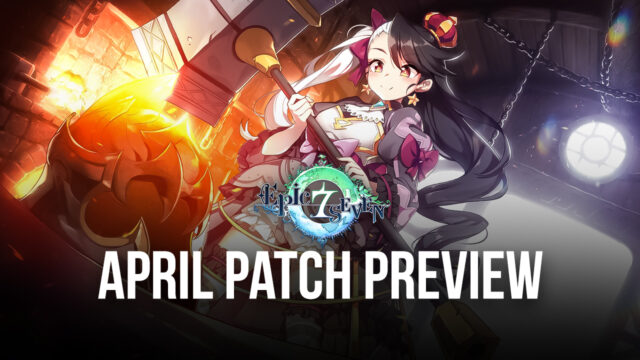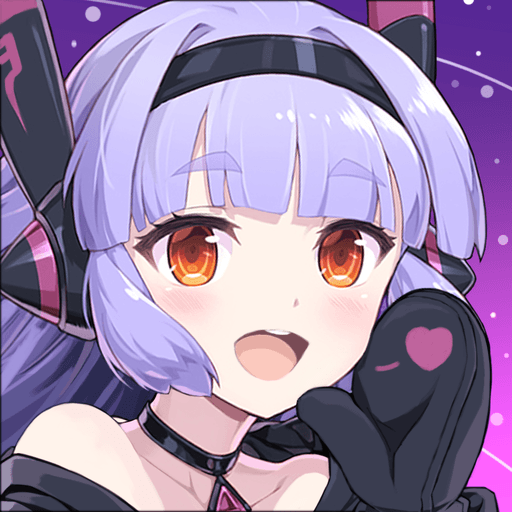 This Wednesday brings another Patch Preview Live stream of the popular turn-based RPG Epic Seven presented by Smilegate and hosted by community managers Mashuu and Nue on their official YouTube channel.
This Patch is scheduled to be live from April 1st, 2021! The Guilty Gear Group Summon will go live with this Patch as well, along with the Guilty Gear Special Side-Story Brawl! Revelator!' New hero Bomb Model Kanna is a 5-Star Fire Ranger available from connections! The new guild war skyward season also starts from April 4th and some major QOL changes/optimizations. Let's take a brief look at the patch.
Bomb Model Kanna
We were teased about an upcoming new 5-Star hero who was going to be available to everyone through connections just days before the Patch preview live stream. This is the 1st time Smilegate has added a new hero to the connections list. Mashuu and Nue revealed the silhouette which was teased to be of Bomb Model Kanna, a 5-Star Fire Elemental Ranger unit that players previously saw in Chapter 2 of Lefundos/Episode 3 in the main storyline. Bomb Model Kanna is a unit that specializes in dealing massive AOE and increasing her allies Attack Speed. Her 3rd skill Full Fire! Deals damage to all enemies and dispels one buff each from them before increasing her Attack power and allies Attack Speed. This skill is on a very short cooldown of 3 (skilled up) and can be soul burned to extend the buffs of Attack Speed and self Attack by another turn. Her passive Stance Shift is also dependent on her 3rd skill and she can switch her stances depending on the availability of Full Fire. She goes into Shelling stance when Full Fire! is on cooldown and Striking stance when it is off cooldown. Her Effectiveness is increased by 40% if she is in a shelling stance. Her Attack speed and Dual Attack chance are increased by 5% if she is in a Striking stance.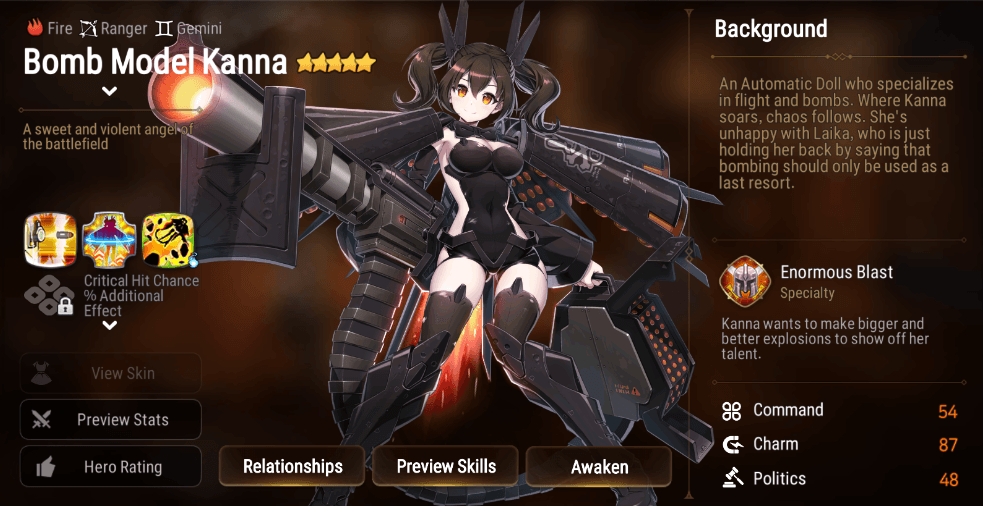 As we can see from her skills, she is heavily focused on giving attack speed buffs and dealing massive damage. Well, her first skill Quick Fire greatly benefits from it because she deals more damage the more Attack speed she has. Take a look at her skills in detail:
Quick Fire – Rapidly fires to attack two enemies. Damage dealt increases proportional to the caster's Speed.
Stance Shift – When Full Fire! is available at the start of the turn, takes a Shelling Stance. When Full Fire! is unavailable at the start of the turn, takes a Striking Stance. Can only take one stance at a time.
Shelling Stance: Increases Effectiveness by 40%.
Striking Stance: Increases Speed and Dual Attack chance by 5%.
Cooldown: Passive
Full Fire – Boosts firepower to attack all enemies, with a 90% chance to dispel one buff, before increasing the speed of all allies for 2 turns and increasing Attack of the caster for 2 turns
Cooldown: 4 Turns
Bomb Model Kanna Connection Missions
As already discussed, Bomb Model Kanna is going to be a connection hero just like Cartuja, Yuna, Crozet, Furious, etc. Although she is going to be a "free" unit, players can still summon for her on Kanna's official banner along with her artifact Air-To-Surface Missile: MISHA from 4/8 to 4/22. Her artifact increases the user's Hit Chance and Critical Damage by 20% and 30% respectively. Let's take a look at the connection missions required to complete to obtain Kanna:-
Clear Stage 2-8 Falsehood Fork in Episode 3.

Awaken a hero to 5-Star a single time.

Reach Friendly trust level in Politia.

Gift 3 Fused Nerve epic tier catalysts.

Eliminate 800 Floating type Machinery.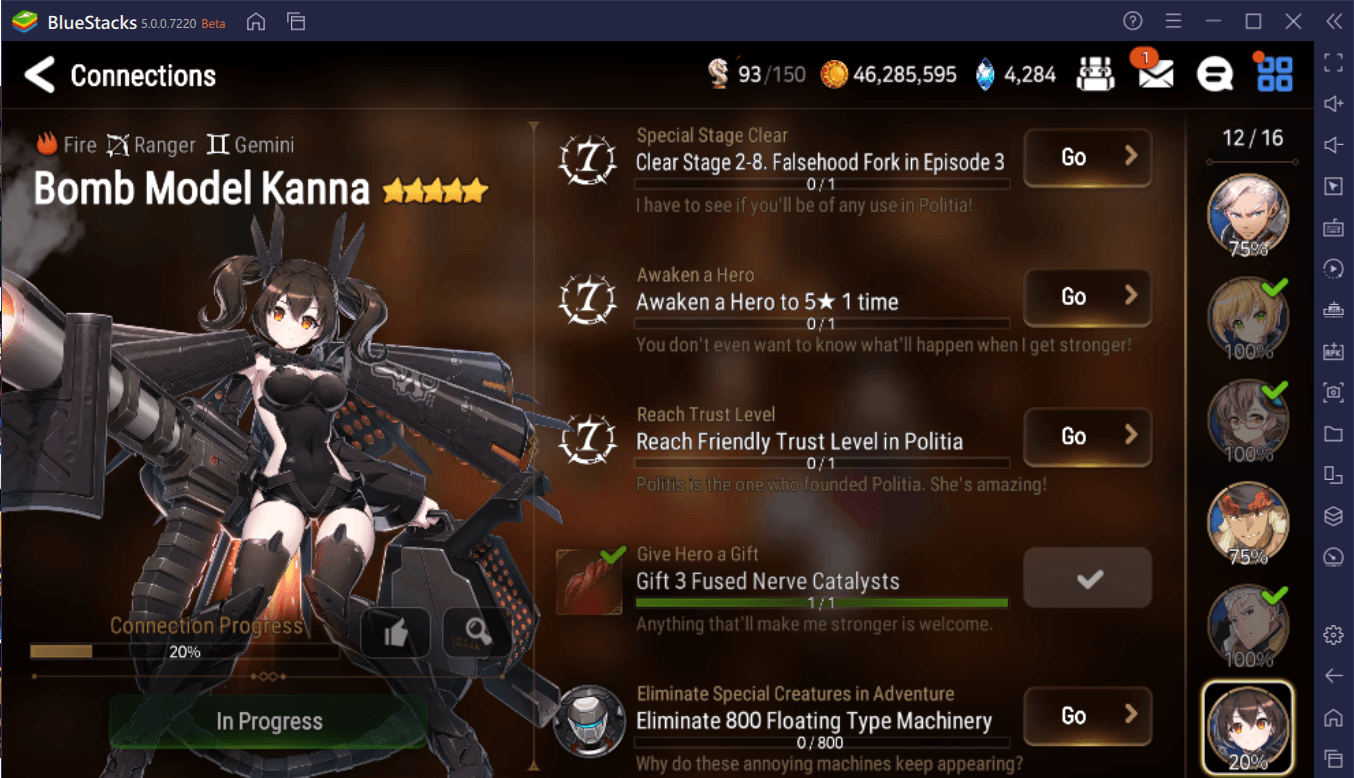 This connection is fairly easy and can be completed by players within a week if farming efficiently for the Floating type machinery. We recommend farming 2-8 Eureka Labyrinth stage. It provides 9 kills for 10 energy and is the most efficient way of completing the goal. However, you will have to grind it manually since labyrinth stages cannot be auto farmed. If players want to auto farm, we recommend 6-2 Eureka which gives 6 kills for 8 energy.
Super Maid Queen's Super Event
Smilegate just revealed, probably the best event no matter in which stage of the game you are. Super Maid Queens Super event is a crafting event where players can choose their equipment completely. By this, we mean players can choose the set, type, main stat, and substat as well. Not only that but every piece of equipment will be a guaranteed legendary grade with 4 substats levels 85. This is perfect for players as gear is a big issue and getting a godly piece of gear you made yourself will allow players to actively engage more with the event. Smilegate is trying harder to increase player retention and provide high input/high output type events apart from their usual web events.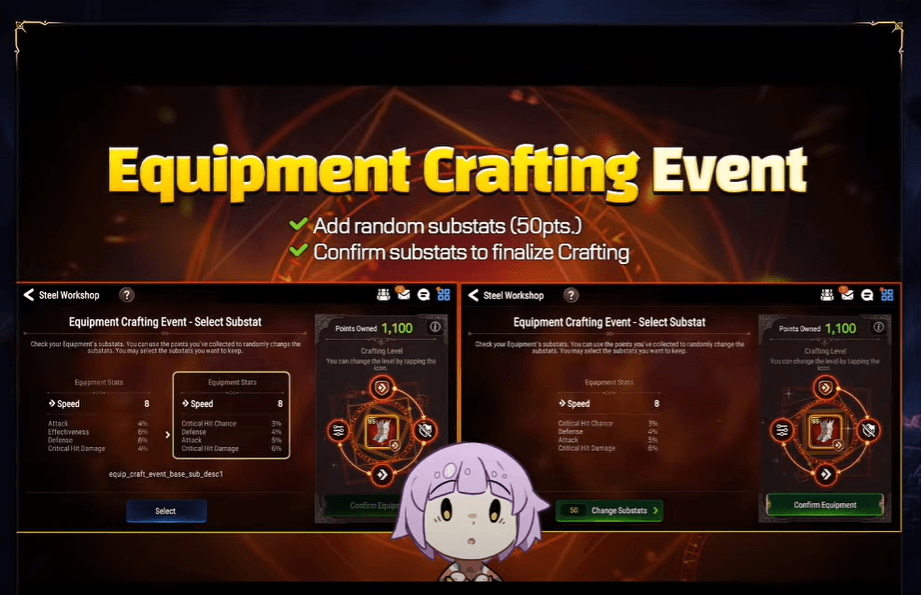 Overall, the players are extremely delighted and positive reviews are already pouring in! Let's take a look into how you can get your godly self made piece of gear:
Players will earn event points according to the energy spent. 1 energy is equal to 1 Point. These points can only be used in the Event in Steel Workshop.

Players will need to spend 500 points to select the set for their equipment.

Players will need to spend 400 points to select the type of equipment.

Players will need to spend 300 points to select the main stat of the equipment.

Players can use 50 points every time to change all the 4 existing substats.
Guild War Skyward Season
The new ranked season for Guild Wars is going to begin after 4/4/21. This is also the time when the current Ardor season. An exclusive frame will be sent to every guild according to their rank during the Ardor season. This frame is guild exclusive and not awarded to players individually. Hall of Fame will also be updated with the top 3 Guilds of Ardor season embedded forever in history.

Some of the new changes coming with the Skyward season are as follows:
Players can view their Season Log which will contain details like Heroes used and battle results.

Players can access previous season records by going to a

Previous Season

tab which will be added.

Players can acquire a new 5-Star artifact

War Horn

from the Guild Members shop. This new artifact increases all ally's attacks by 10% and increases the combat readiness of the caster by 20% every 3 turns. Players can get a maximum of 6 copies from the guild shop.
Rate-Up Banners for April 2021
Guilty Gear 3-way Limited Summon Banner: 3/31/21 – 4/15/21

Ken with Samsara Prayer Beads: 3/31/21 – 4/8/21

Bomb Model Kanna with Air-To-Surface Missile:MISHA: 4/8/21 – 4/22/21

Solitaria of the Snow and Troublemaker Crozet (Mystic Banner Summon): 4/15/21 – 5/6/21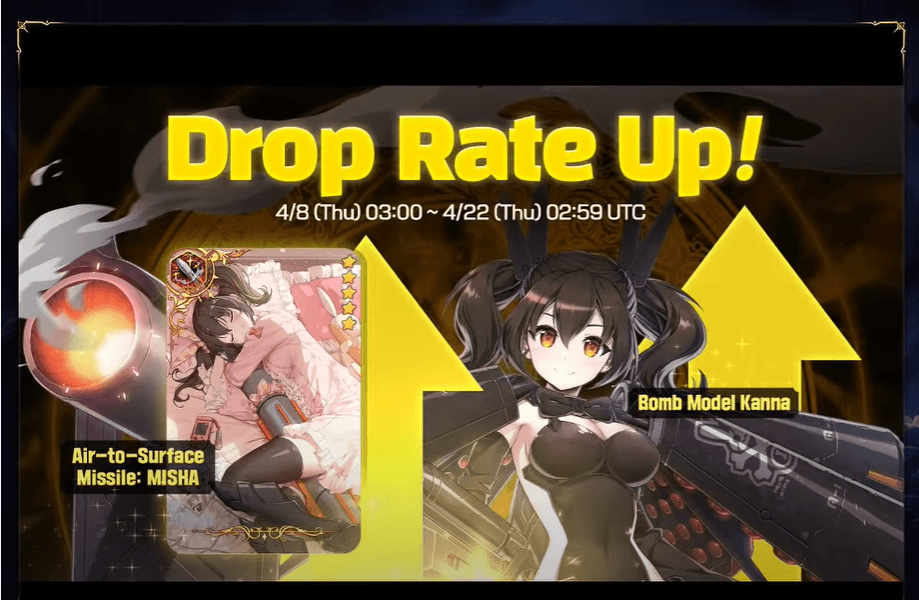 Expedition Improvements
Starting from 4/1/21, Expedition energy cost will be lowered by 2 energy for every level. Hence, the Level 1 expedition will cost 14 energy, Level 2/16 energy, and Level 3/18 energy. This will certainly help the players long term and will give a reason to farm expedition. Apart from reducing energy cost, Smilegate also reduced the number of expedition point requirements from 2100 to 2000 for the final reward at the Depot. Smilegate also added 2 new levels for rewards, increasing the total to 13 from 11. Players will now get a Greater Modification Gem Selection Chest at Level 11 of the Depot.
Hero Balance Changes
Buffs for Sol and Elphelt which were previously teased are now disclosed. The buffs are significant and players are overall happy with the changes. Let's take a look at some of them:-
Sol (5-Star Fire Elemental Warrior)
Base health increased from 5340 to 5542 (6 Star Maxed)

His first skill

Gunflame

will now give 20 fighting spirit no matter critical hit or not. A new mechanic also added where he will activate Roman Cancel when the fighting spirit is at 100. Roman Cancel extends the duration of all active buffs on Sol and grants him another turn.

Volcanic Viper

will now increase the combat readiness of Sol by 20% and give 20 fighting spirits. It will also now target the enemy who does the AOE damage if the enemy uses an AOE skill. Roman Cancel mechanics is now removed from this skill.

His 3

rd

skill

Tyrant Wave Version Beta

will now do additional damage after the attack irrespective of the attack hitting or not. Smilegate hasn't provided the multiplier or scaling of this additional damage.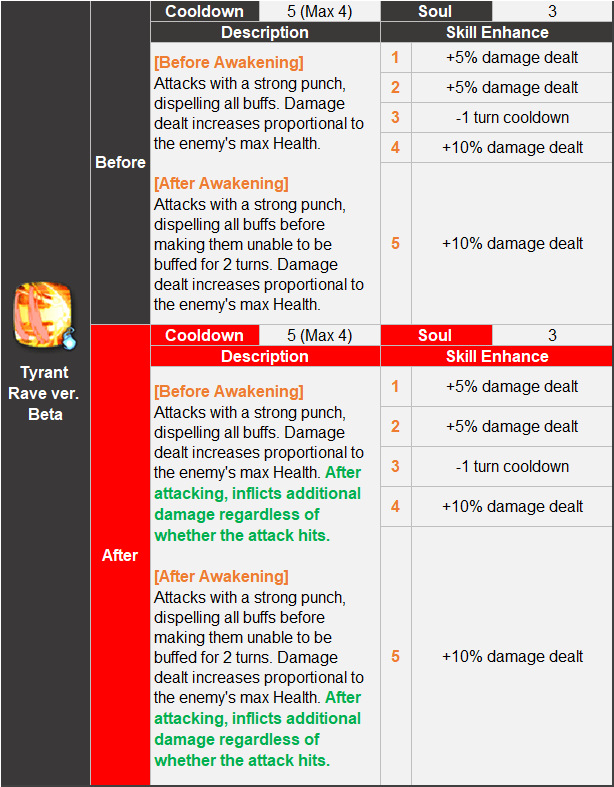 Elphelt (5-Star Fire Elemental Ranger)
Elphelt's skill

Judge Better Half

will now increase the Attack of allies for 2 turns instead of a Critical Hit Rate. It will also reduce the defense of all enemies for 2 turns if the target is asleep instead of the previous condition of the target being defeated.

Elphelt's skill

Magnum Wedding

will now apply an additional decrease defense debuff for 2 turns along with the Sleep.

Elphelt's basic skill

Barrage damage

is increased.
4-Star Purrgis Recall
Smilegate recently changed Purrgis skill descriptions which caused many players to complain. Certain mechanics of his counterattack were not working. Hence, Smilegate just announced the recall for Purrgis.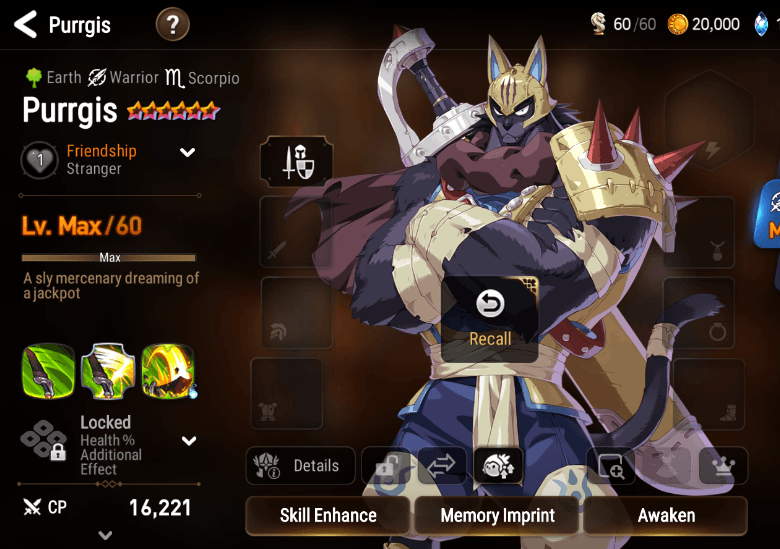 The requirement for recalling purrgis is to have at least 5-Star Level 50 or above Purrgis. Players will be provided with all the materials used on the hero in the form of Giga and Mega Phantasma, Penguins of different grades, Gold, Catalysts, and Awakening runes. Players cannot get back their Purrgis once recalled and it will be reverted to 4-Star Level 1 not awakened state in the player's hero box. Ego fragments and Memory imprints will also be returned to the player in their item storage and hero box respectively. Only Friendship level will remain the same even after being recalled.
Other Improvements and Adjustments
The Equipment Inventory has been expanded by 50 slots to a total of 500 slots now. Each slot upgrade will cost 5 skystones.

Some artifacts were not working according to their skill description and now are fixed.

In the training mode, ally dummies will also spawn for players to test heroes who use skills that are dependent on allies.

The issue of Pavel and Celine's exclusive equipment not working is now fixed.

Some skills translations of heroes in the Abyss, Expedition, and Labyrinth and Story stages were fixed to accurately say whether an attack is a single target or targets all allies.

Issue of World Arena not showing Pre-bans sometimes is being looked upon and going to be fixed in the next patch.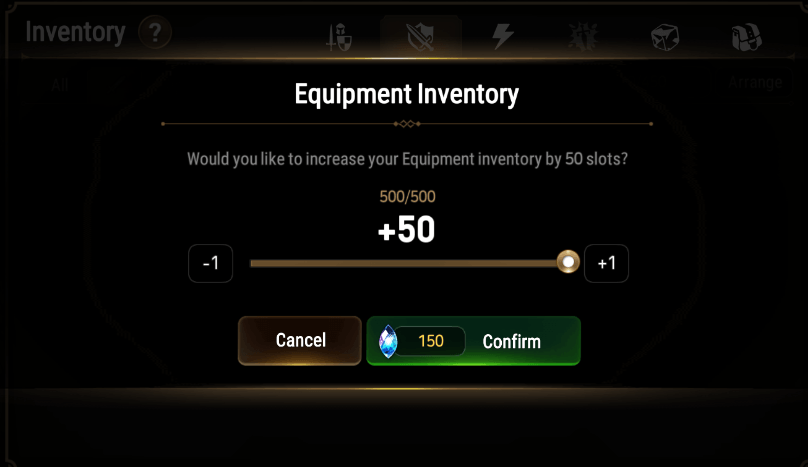 So, that is all for this Patch Preview. A lot of exciting events and changes coming for Epic Seven along with new heroes! Feel free to read the official patch notes. Share your thoughts with us in the comments below!
We highly recommend playing Epic Seven on PC with BlueStacks using a keyboard and mouse.