Updates
Idle Heroes October Update: New Hero Xiaohu, Happy Vacation Card, and More!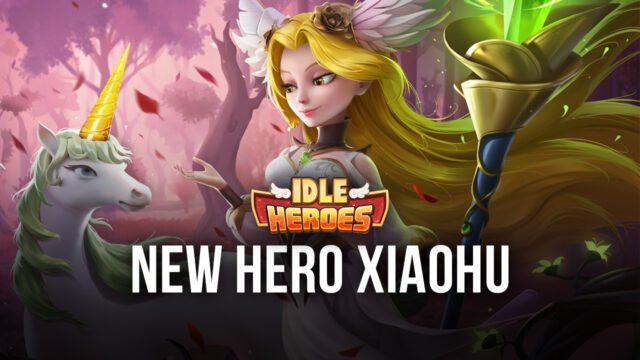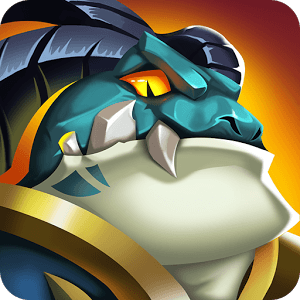 As we turn a new leaf in our calendars, so does the game Idle Heroes. The popular gacha game is introducing a new update this month featuring a new hero, several events, and a ton of freebies for all players.
Players previously saw the release of Fairy Queen Vesa in the game. She is a Forest Priest, tasked to heal and protect anyone who needs sustaining. Vesa and her magical unicorn will guide players in their journey and adventures in the game.
Now, let us check out what the latest idle Heroes patch has in store for us.
New hero Xiaohu
The loyal Forest Warrior is now at your command! Xiaohu is the game's newest hero. He is basically a panda who can destroy opponents with his giant sword.
His abilities are as follows:
Irresistible Momentum

Unexpected Attack

Ferocious Raid

Impeccable Strike
Xiahou is a general of an ancient tribe. The devs wanted to pursue a kind of the Orient artistic style, therefore they chose Panda, who is both charming and fierce.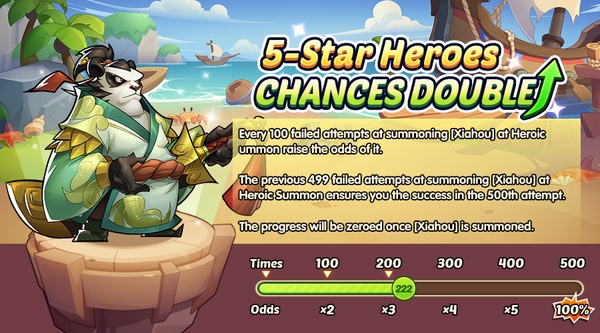 Every time you reach 100 attempts at getting Xiaohu, the summon odds will be raised. So at 200 attempts the odds will be tripled (x3), at 300 attempts the odds will be quadrupled (x4), and so on. Basically, here are all the odds:
100 times – x2 odds

200 times – x3 odds

300 times – x4 odds

400 times – x5 odds

500 times – 100% odds
Note that if you already have 499 failed attempts at summoning Xiaohu at Heroic Summon, the 500th attempt will (finally) guarantee you this Light hero. The progress meter will reset or return to zero as soon as you get Xiaohu.
The following heroes will also be available for exchange at the Soul Stone Store:
Onkirimaru

Carrie

Russell
You can get Onkirimaru for as low as 6,000 Soul Stones while both Carrie and Russell are priced at 6,500 Soul Stones.
Ultimately, Onkirimaru now can be acquired from the Glorious Temple, Elite 5-Star Hero Shards, and Compass of the Transcended.
Leisure Vacation events
The month of October is the perfect time to relax and spend a worthwhile vacation. Idle Heroes is introducing a series of mini events called the Leisure Vacation. There are three mini events under this major event, namely the Vacation Travel, Vacation Party, and the Happy Vacation Card.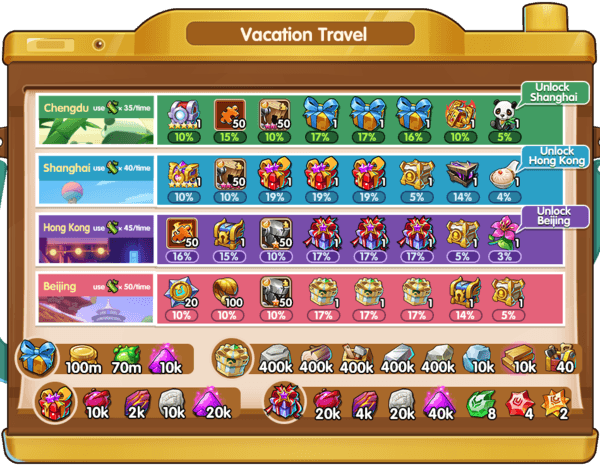 In the Vacation Travel event, players need to feed the panda a lot of Bamboos to make it travel. Different travel destinations consume different amounts of Bamboos. There are a total of four cities that the panda can travel to. Each time the panda sets out, you can get rewards and special items which can be used to unlock a new city for traveling. Go ahead and unlock Shanghai, Hong Kong, or Beijing — the choice is yours.
Meanwhile, in the Vacation Party event, players can complete the designated tasks to gain points. Collect the designated number of points to get rich rewards!
Here are the tasks and corresponding points for Vacation Party:
Use ten Heroic Summon Scrolls – 400 points

Obtain one 5-star Hero – 200 points

Start one 4-star or above Tavern quest – 100 points

Consume 100 Gems – 100 points
As for pay-to-play players, the Happy Vacation Card is waiting for you where you can acquire designated rewards for seven days in a row like Gems and Coins.
New Idle Heroes code
If you have not yet claimed the code for this month, now is your chance:
IHOCT2021
This code will give ten Heroic Scrolls and 1,000 Gems, valid until October 31.