Updates
Idle Heroes: Welcome to the Spring Assembly Update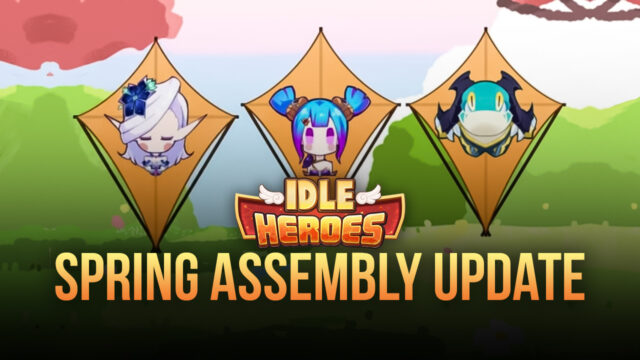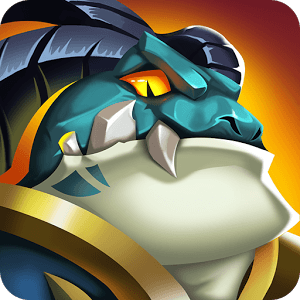 The month is still young, and there's still so much left to see and do at Idle Heroes!
Last time we had fun with the game's weekly event update which included a Chinese restaurant theme. This week, we are celebrating and joining the Spring Assembly to make way for the blossoming of a new season.
New events
Idle Heroes players are painting the town green with the arrival of a new event update focused on the Spring Assembly.
The Spring Assembly has a total of five quests you can accomplish, namely:
Obtain a five-star forest hero

Light up a five-star forest hero's avatar

Light up a six-star forest hero's avatar

Light up a ten-star forest hero's avatar

Complete Prophet Summon once
Completing these quests would grant you Tulips and Hyacinths that you can use and plant at the Spring Blossoms event.
The Spring Blossoms event is basically a place where you can plant your acquired Tulips and Hyacinths. For every 20 flowers you plant, you will obtain a random five-star Forest hero.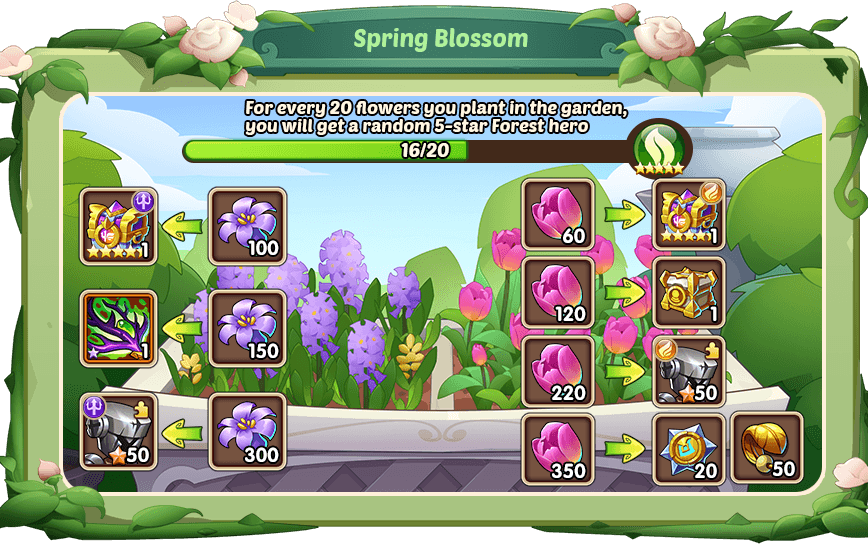 The following are Idle Heroes' five-stars:
Demon Hunter

Dragon Slayer

Faceless

Rosa

Starlight

Groo

Eddga

Vesa

Malassa

Wind Walker

Chief

Ent Elder

Headstriker

Thale

Kargath

The Grey-eyed

Zekkis

Heart Watcher
A total of 18 heroes can be obtained in the Spring Blossoms. Will the RNG gods bless you with some good ones?
The Shelter Mission is also back, featuring the six different faction auras dark, light, forest, fortress, shadow, and abyss which produces a variety of rewards for all participating players.
The Gray Dwarf's Blessing is here too, where you can strengthen your overall fighting stats by upgrading your existing 4-star equipment through the Gray Dwarf's Blessing.
You can upgrade 4-star or above Orange Suits and even create Exclusive Class Suits! Check out this chart: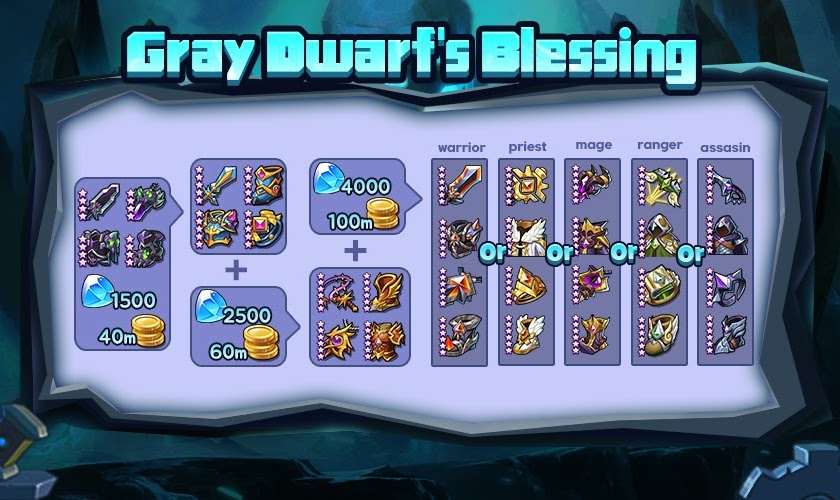 New rewards
Meanwhile, the Imp's Adventure is back and it offers huge rewards for players participating and risking their chances to roll their dice.
The biggest prize you can get are ten Hyacinths and a nine-star puppet selection chest. The worst you can get? Ten Hyacinths and ten summon scrolls. Not bad, right?
Should you decide to participate in this event, unused dice will be automatically converted into stars in the ratio of 1:2.
So where can you get the dice to participate in Imp's Adventure? By logging in daily, you can get 4 Dice and 150x Gems which you can use at Imp's Adventure.
New packages
Developers DroidHang Games also prepared special packages according to the event.
The Spring Equinox Package contains Dice, Tulips, Hyacinths, Gems, and a Luxury Five-Star Selection Chest.
Four different tiers of Value packages are also available this week.
New optimizations
The new hero Eloise is now enlisted to the Prophet Tree and Super Wishing Fountain.
Meanwhile, the limited skins of the shadow hero Ithaqua have been added to the game. Choose from Silent Crescent, Glorious Temple, and Skin Fusion to add to your collection.
Lastly, if you have a lot of quantities left from the previous events like Cherry Pudding, Propitious Coin, Bamboo Liquor, or Steamed Bun, you can sell them at the Bag.