Updates
Punishing Gray Raven Adds Two New Characters, Story in Frozen Darkness Update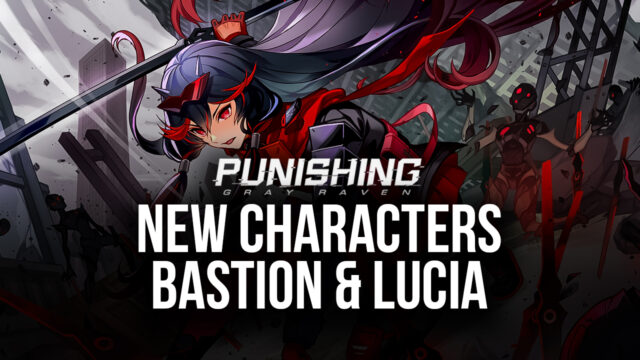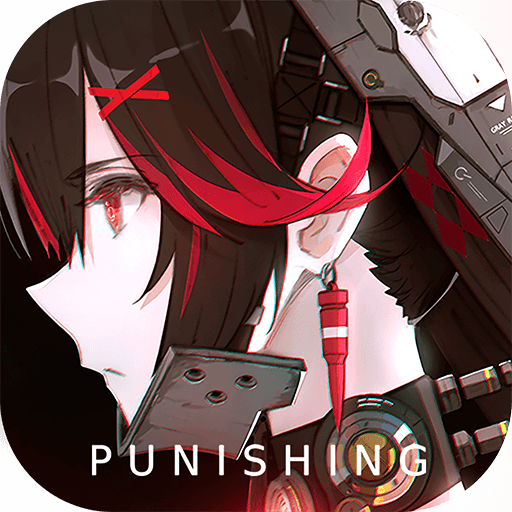 Punishing Gray Raven is a mobile action Role-Playing Game developed and published by Kuro Game. The game's plot is set in a post-apocalyptic world overrun by corrupted cybernetic enemies caused by the Punishing Virus, with the remainder of mankind having taken refuge in Babylonia. The player takes on the role of the Commandant of an elite squad of Constructs known as Gray Raven and will control a squad of up to 3 characters and lead the fight to retake the planet from the cybernetic enemies. Punishing: Gray Raven is available on both Android and iOS devices.
The latest update titled Frozen Darkness welcomes two new characters known as Lucia: Crimson Abyss and Kamui: Bastion along with an entirely new story arc known as Arctic Route Union. Commandants can access the storyline once they reach level 40 and can try out Lucia: Crimson Abyss in certain stages.
Lucia: Crimson Abyss
With a psychological age of 17, Lucia is an Attacker with an ultimate move called Abyssal Slash that allows the character to slash targets ahead, dealing physical damage in the process. Her basic attack is Iaido Will, which allows her to deal physical damage by attacking the target five swords style. The core passive sees her enter Blade Will mode after any 3-ping that succeeds a Blue 3-ping. After entering the Blade Will mode, Signal Orbs are converted into Blade Will Orbs to unleash sword waves that deal physical damage while also granting Lucia Super Armor. There are 3 orbs attached to the Lucia skill barrier – Red Orb, Blue Orb and Yellow Orb, with all of them dealing physical damage through Crimson Abyss while equipping Lucia with another skill. Red Orb is a Flickering Strike that adds Super Armor to Lucia, Blue Orb equips Lucia with bonus movement speed while the Yellow Orb allows her to charge forward towards enemies.
New Events
A new co-op mission is available for commandments above level 50, with new Boss Forest Guard – Rosetta joining in the co-op, which will be available in 4 difficulties.
The Arctic Night has two difficulty modes – Normal and Challenge. Normal Mode drops only Rageant He-4 as rewards for completion while the Challenge mode also drops Memories on completion of certain stages.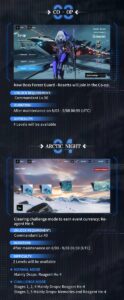 Azure Scar warrants commandments at and over level 40 to fight against new Boss Rosetta with their own group of constructs, with 5 difficulty levels available. Completing missions during the Frozen Darkness event series will allow players to receive rewards up to the 8th of September when the event ends. An Arctic Shop will also be available to the players till the 8th of September with new content like A-Rank Construct Inver-Shard Bastion, 6 star Memory set Patton, Enhance Materials, Gift Boxes, and more available in the shop.

New Stories for Lucia and Bastion will be made available for players to play throughout the event, with players required to complete the prerequisites to play these stories after the event period.
Miscellaneous Updates
A new chapter of Golden Vortex and Chapters 1 to 4 of Stronghold will be available in story mode for players to complete after the update.

New Event Limited packs and Permanent Packs have been released ranging from 28 Rainbow Cards to a maximum of 119 Rainbow Cards.

A Serum Daily Supply Plan pack is available for free and is redeemable once per day.

Added a "Quick Unequip" button for equipment.

Revamped Daily Mission and Daily Challenge Mission content.

Fixed certain descriptions of Golden Vortex stages.

Added Construct Gifts buyable with Dorm Coins to the Dorm Coin Shop (New Dorm Coin Shop lineup: Coating Sketch, Gift Box, and Residence Permit).

Added "Total Control" Dormitory Mission.

Added a new Chibi Portrait – Kamui: Bastion

Revamped Hanna and Aife Memory set effects. They no longer trigger from the attack that comes with character swap, but will only enter Matrix state on an actual 3-Ping.

Fixed bug of Sirius constantly triggering on death effect.

Added more detailed descriptions to the CD time of Heisen's 4-piece set lightning chain effect.

Optimized the description of Karenina: Ember activate skill – Pressure Unleashed. (Only description optimization, no change in the skill numerical value)

Optimized the description of Kamui: Tenebrion QTE skill – Chain Spin. (Only description optimization, no change in the skill numerical value)

New Coatings for the two new characters – Bastion and Lucia – are available at a discount of 30% until September 8, 2021.

New 6 star Weapons namely Sakura and Big Kamui, exclusive to Lucia and Bastion respectively have been added into the Basic Weapon Research after the update, with an 80% drop rate up available in Target Weapon Research.