Updates
Summoners War: The Hall of Heroes Event Brings New Characters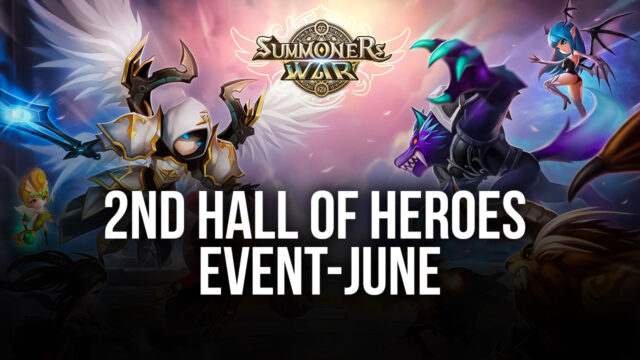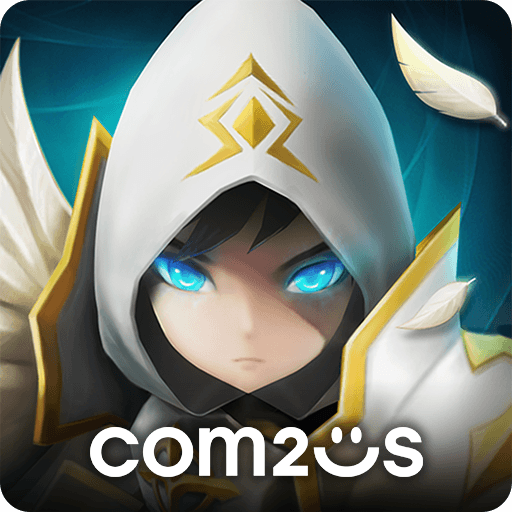 We are always excited to read "Greetings from Com2Us!" whenever Summoners War releases a brand new blog post. From updates, patch notes, to their 7th anniversary celebration (which include seven different events by the way), there is always something exciting for every player.
In case you missed it, Summoners Wars' 7 Amazing Events includes the following:
7 Days of Check In Event

Rune Power-Up Support Event

Doubled Burning Time Event

Additional Glory Point Event

Free Energy Event

Double Essence Drop Event

Double Rift Dungeon Crystal Event
You can read more about each of these events on our previous blog post here.
The Hall of Heroes
Still a part of Summoners War's 7th Anniversary Celebration, a total of 10 Hall of Heroes Monsters will return to the Cairos Dungeon.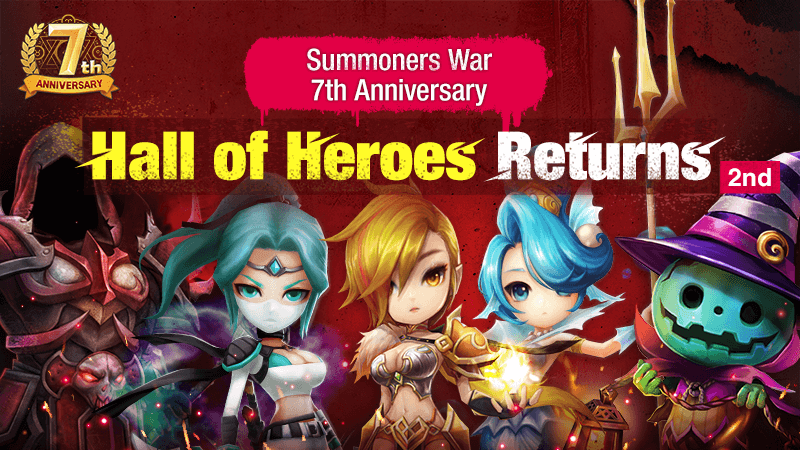 This is actually the second part of the Hall of Heroes event, the first of which occurred last month during May. This time around, the 2nd Hall of Heroes will run from June 18th, 12:00 p.m. to June 25th at 11:59 am, server time.
The following heroes will be featured in the event:
Fire Death Knight

Water Mermaid

Wind Magic Knight

Light Assassin

Dark Jack-o'-lantern
The 1st Hall of Heroes featured Fire Pierret, Water Barbaric King, Wind Sylph, Light Undine, and Dark Neostone Fighter.
You can only select one of these five current monsters from each session so be sure to pick wisely.
To participate in this event, enter the Hall of Heroes by going to Battle, then picking Cairos Dungeon and finally the Hall of Heroes. It consists of ten stages.
In order to clear the event, you will need a total of 250 Summoning Pieces for the entirety which are 10 stages. The Energy amount will be the same for all 10 stages and 25 Summoning Pieces will be given as a reward for clearing each stage.
You won't be able to re-enter the stage once you clear it.
You also need to summon the Monster but first you need to collect Summoning Pieces and go to the Summonhenge. Then, you can summon the Monster when you have 50 Summoning Pieces.
If you need a mighty companion that will help you more in Summoners War, BlueStacks is the one you are looking for! Its Multi-Instance feature is perfect for multitaskers as it lets you open multiple instances and play the same game from different accounts. Read our previous blog post on how to play Summoners War on BlueStacks.
Are you excited for this new Summoners War event and the ongoing Anniversary Events?