BlueStacks Exclusives
Everything You Need to Know About BlueStacks 4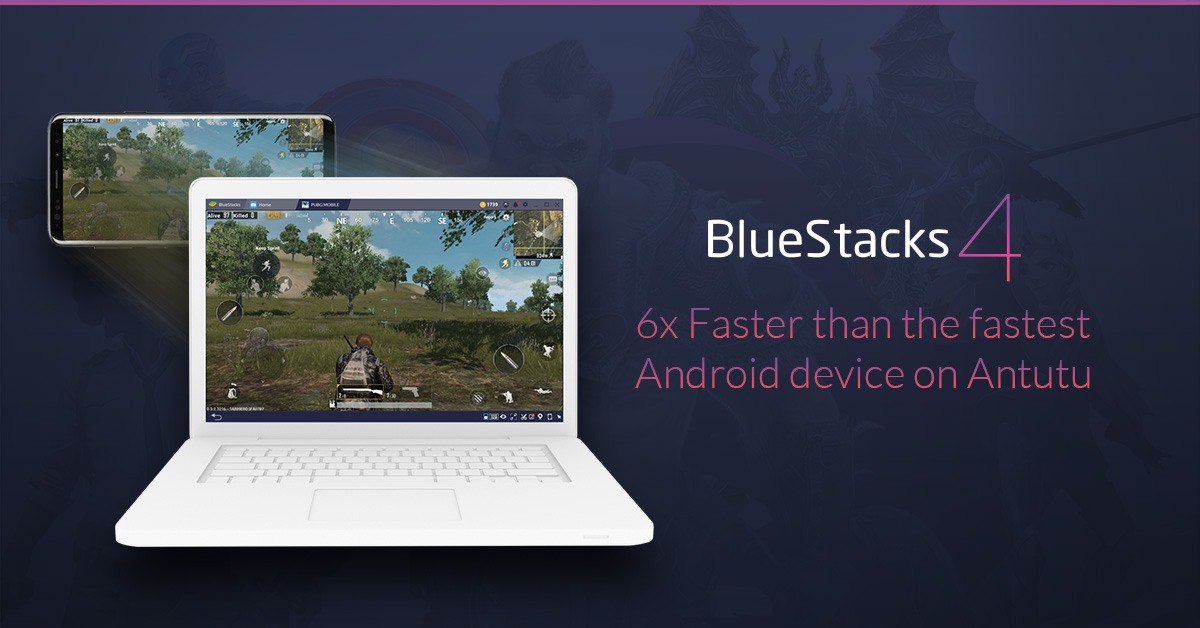 Whether we're talking PUBG Mobile, Lineage II Revolution, or Raid: Shadow Legends, well-designed gameplay and stunning graphics have become a staple in the latest, most successful mobile games. The problem, as we see it, is that mobile devices are not the ideal platform when it comes to gaming. Smartphones might do if you're just trying to collect some resources or keep your army away from harm, but they usually fall short from providing a truly satisfactory gaming session.
Fortunately, you can enjoy an immersive gameplay experience with the help of BlueStacks 4, an Android emulator that makes it possible to play your favorite mobile games on PC. Ever since its launch back in 2018, BlueStacks 4 has only gotten better. It boasts a host of features and tools that will not only help you fully automatize repetitive actions, but also give you a chance to play on your own terms.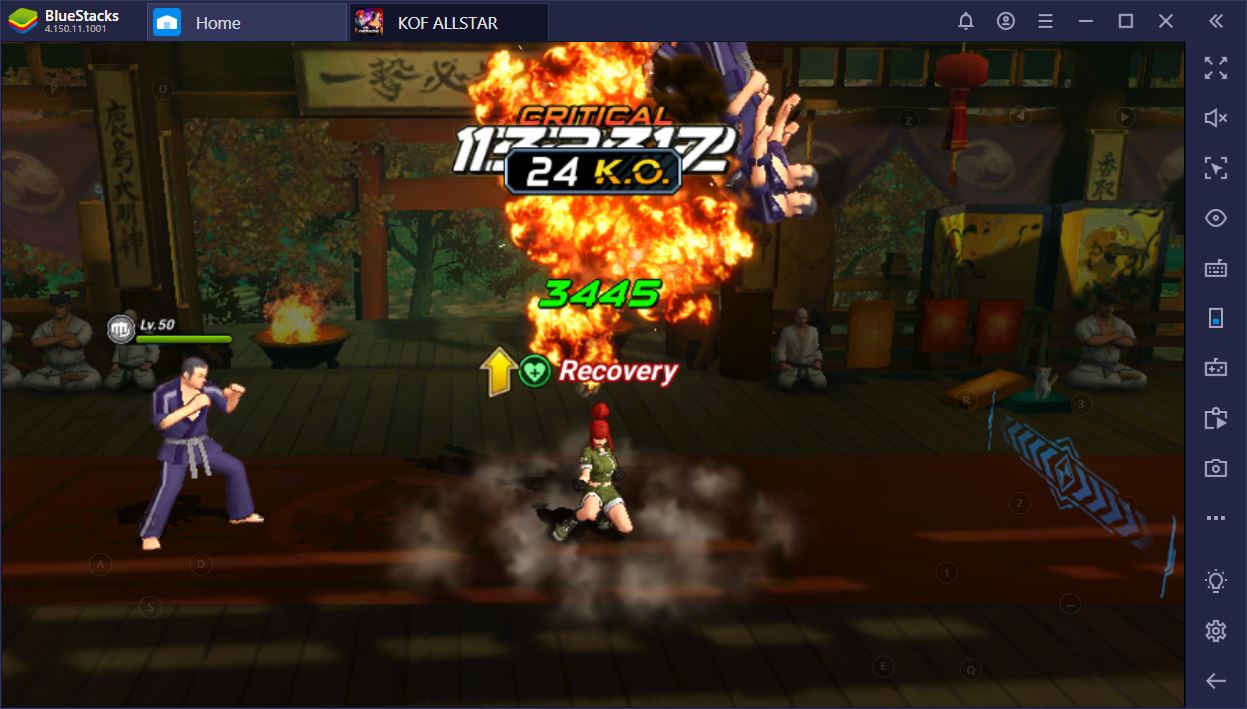 Sleek Look, Powerful Engine
We can't skip over the fact that BlueStacks 4 looks fresh. Entirely designed to make players' life easier, the emulator offers intuitive access to any feature you might need. The home screen is where you'll find all of your installed applications. At the bottom, the Camera, Browser, Android Settings, Media Manager and Help sections are neatly grouped under the More Apps button. You can even edit the skin and wallpaper to something that reflects your personality.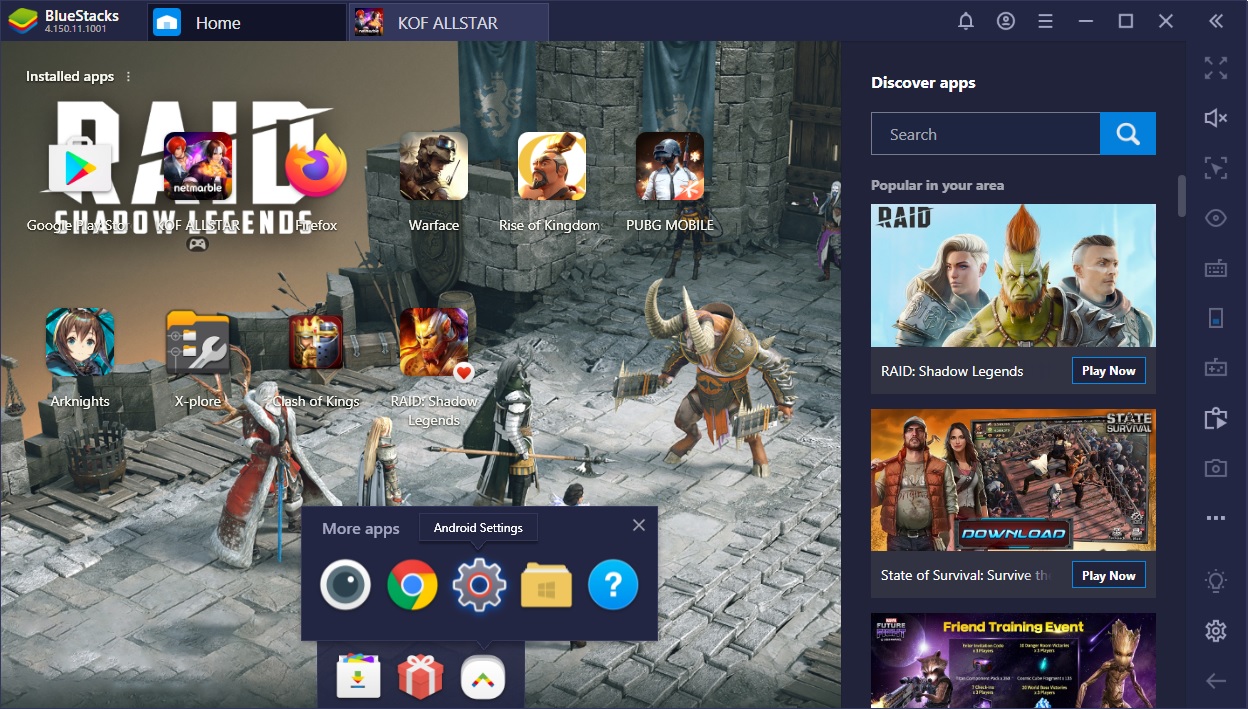 Eye candy aside, can BlueStacks 4 handle the full load of the most resource-demanding mobile games? You bet it can. And then some. Aside from being the best performing emulator on the market, the application will surpass the performance of many flagship smartphones. This is not just your average alternative to the premium prices of the mobile devices released by major brands – BlueStacks is completely free, which makes it the perfect substitute.
Given the wide range of tools that BlueStacks puts at your disposal in addition to a smooth experience, we argue that this is a much better way to play mobile games.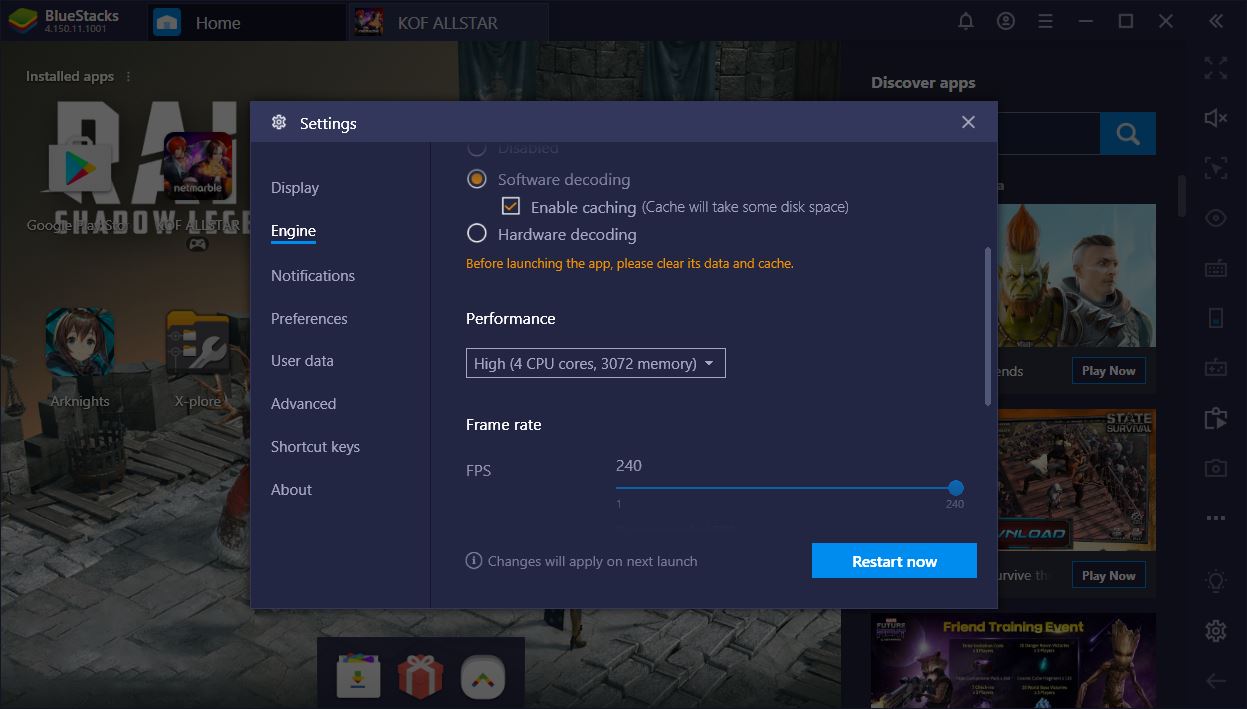 Play Your Way with Game Controls
One of the biggest improvements you'll experience when you switch from a mobile device to BlueStacks 4 is unrivalled mastery of your in-game character. This is facilitated by the Game Controls feature which makes it possible to bind specific actions to both keyboard and mouse buttons. Do you prefer a gamepad instead? No problem. Just plug it in and play. Each game has a default control scheme that will appear on your Game Guidance panel as soon as you start it up.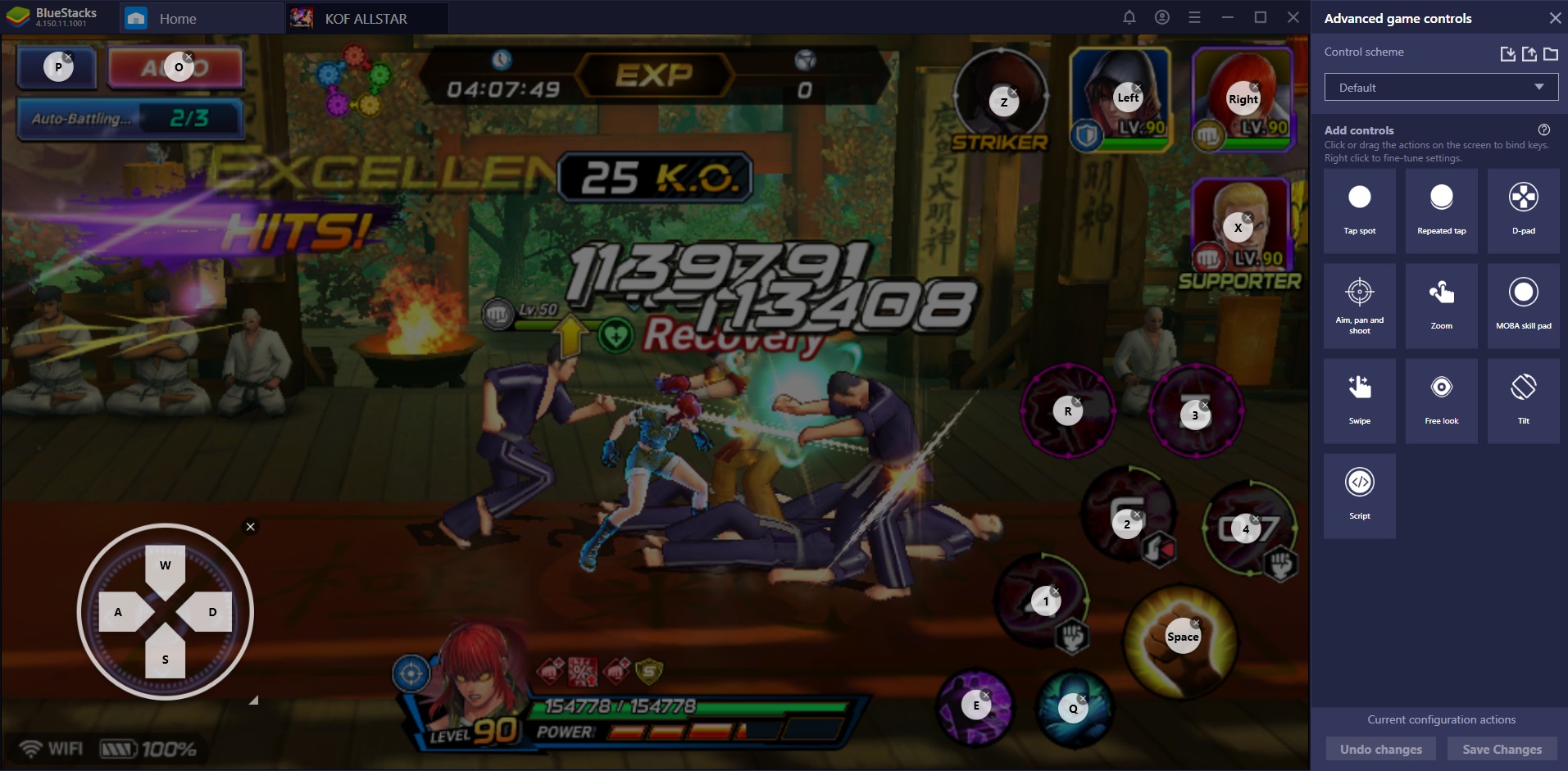 Alternatively, you can easily modify any of the current settings to suit your needs or, even better, make some shortcuts yourself. To do this, open the advanced game controls and have at it. You can register simple taps, repeated ones, swipes, zooms, and even add the possibility to look around with your mouse. Anything you need to render your gaming experience more intuitive and pleasurable is right here.
For games where more complex series of actions are required, the script function is there to help you automatize boring tasks. Need to auto-combat in an RPG, farm multiple chapters in a gacha, or switch all your gun mods from the primary slot to the secondary one? With BlueStacks' script feature you can create your very own algorithm that does exactly what you want it to do. Alternatively, you can turn on the MOBA mode to dominate battle arenas and move around in an isometric manner just like a pro.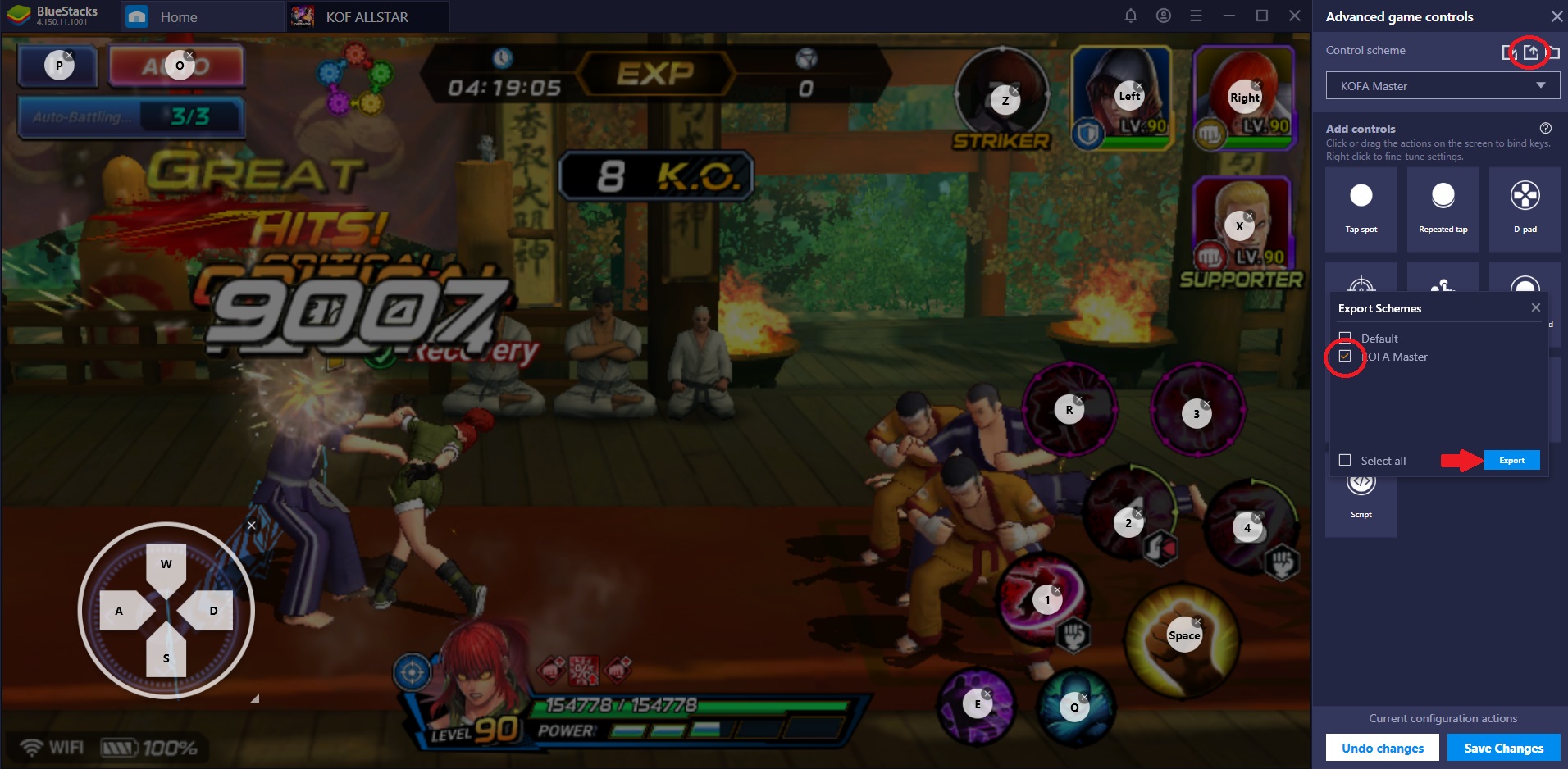 When you're done with the configuration, you can export it on your hard drive in the form of a text document. Just a few KB in size, you can take this file with you everywhere you go or share it with friends, fans, or other pros.
Never Miss a Kill with Shooting Mode
Since we mentioned the pros, who doesn't want to become as good as their favorite competitive player or streamer? Who knows, maybe one day you could get your very own in-game skin. Throughout the past year, the devs behind this amazing emulator have been hard at work in terms of improving the FPS experience. In the advanced controls section, the "aim, pan, and shoot" option makes it possible to easily swap between using your cursor and shooting mode in any FPS game.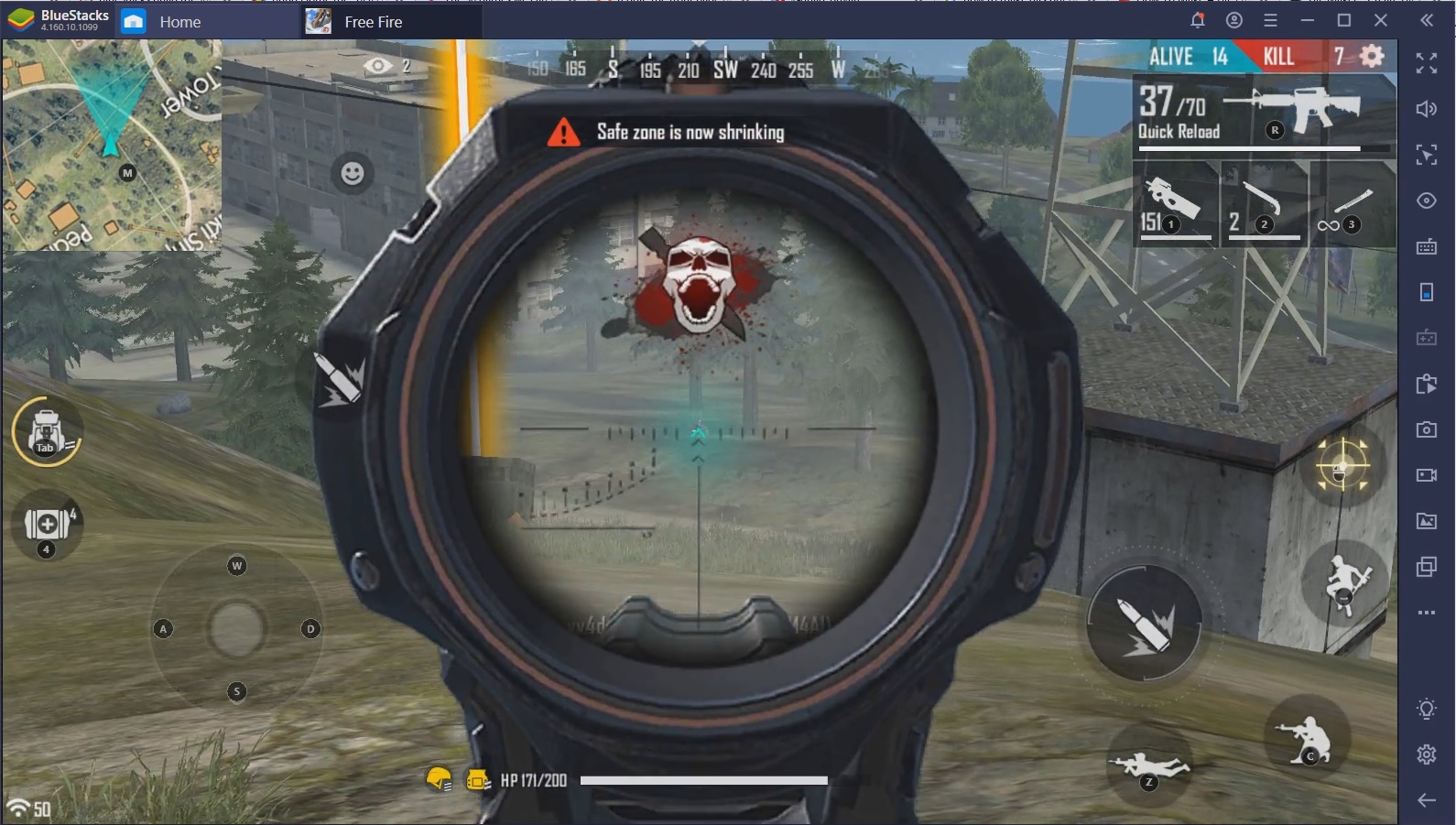 When you're playing a fast-paced shooter, this feature can literally save your match, as it did for us countless times. We press F11 and the mouse comes up. In a matter of seconds, we can drag anything from the loot box or air drop into our inventory or switch any mods from one weapon to the other. When we're done, we close everything and activate shooting mode with F11 once more. The less time you spend not aiming down your crosshair, the fewer the chances for you to get picked off in your favorite FPS.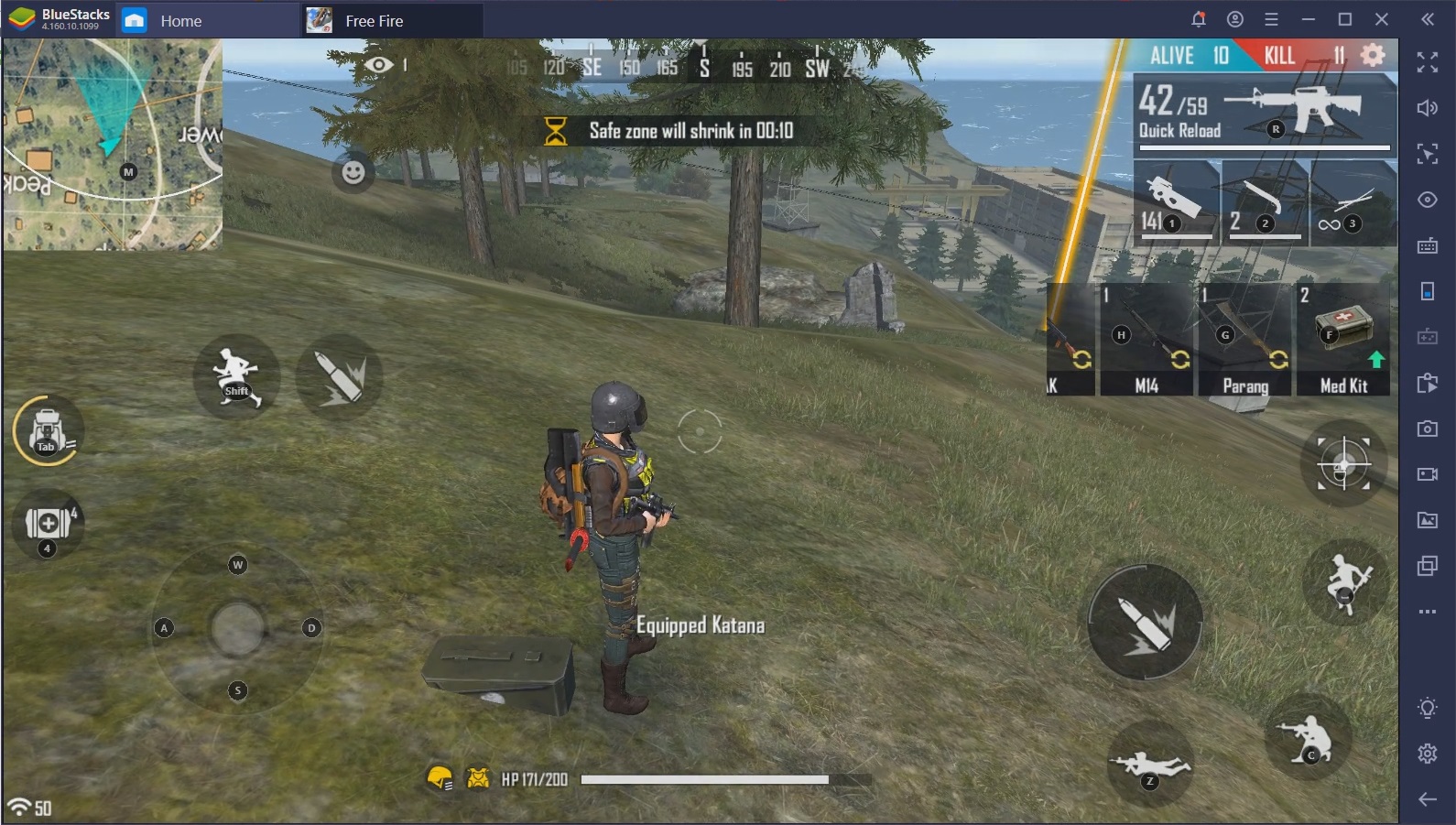 In Free Fire and CoD: Mobile, the devs took things to a whole new level with Smart Controls. Aside from enabling and/or disabling your cursor depending on what you're doing in-game, the latter also modifies your overlay in a way that enables your gameplay even further. For instance, just one button will appear on your screen in the beginning of your battle royale matches: the eject button. Everything else is hidden so you can see better how many players jump and where.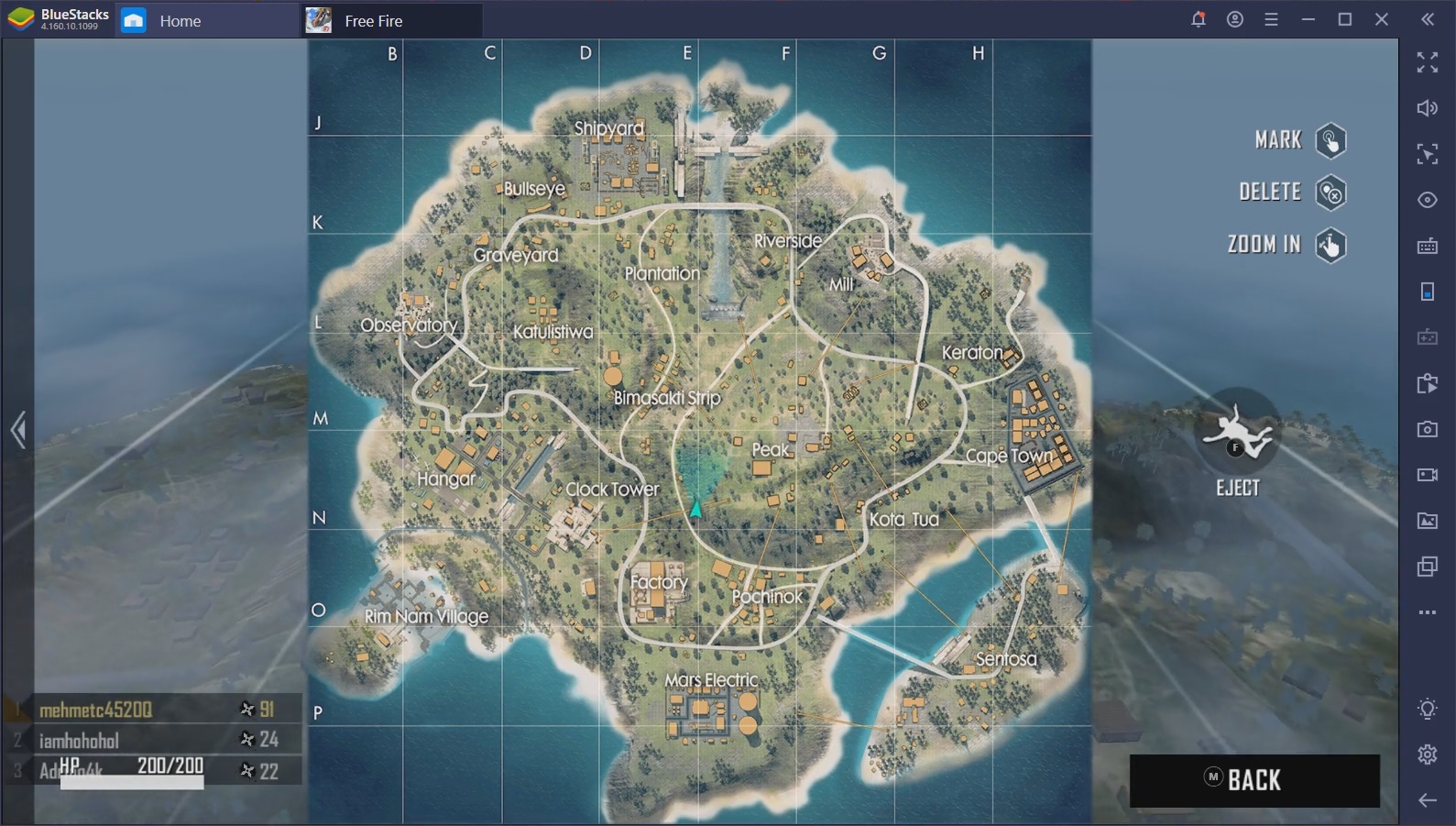 Similarly, when you open your map, Smart Controls intelligently assesses that you might need the cursor (to place a rally point, for instance) and instantly enables it. When you stop for a loot box, additional buttons become available so that you can either switch weapons or grab anything you might need without wasting any time.
Say Goodbye to Boring Activities
If scripts look too complicated to get into, the macro recorder can help you automate repetitive tasks in a matter of seconds. You can have Bluestacks record the actions you perform and that's it! Now, you can press one button (the key assigned to the macro) and have all of your skills upgraded, your resources collected, or your troops in the training grounds. For MOBAs and MMORPGS, this means you can register more complex series of attacks and trigger them with just one button. Instant execution, machine precision.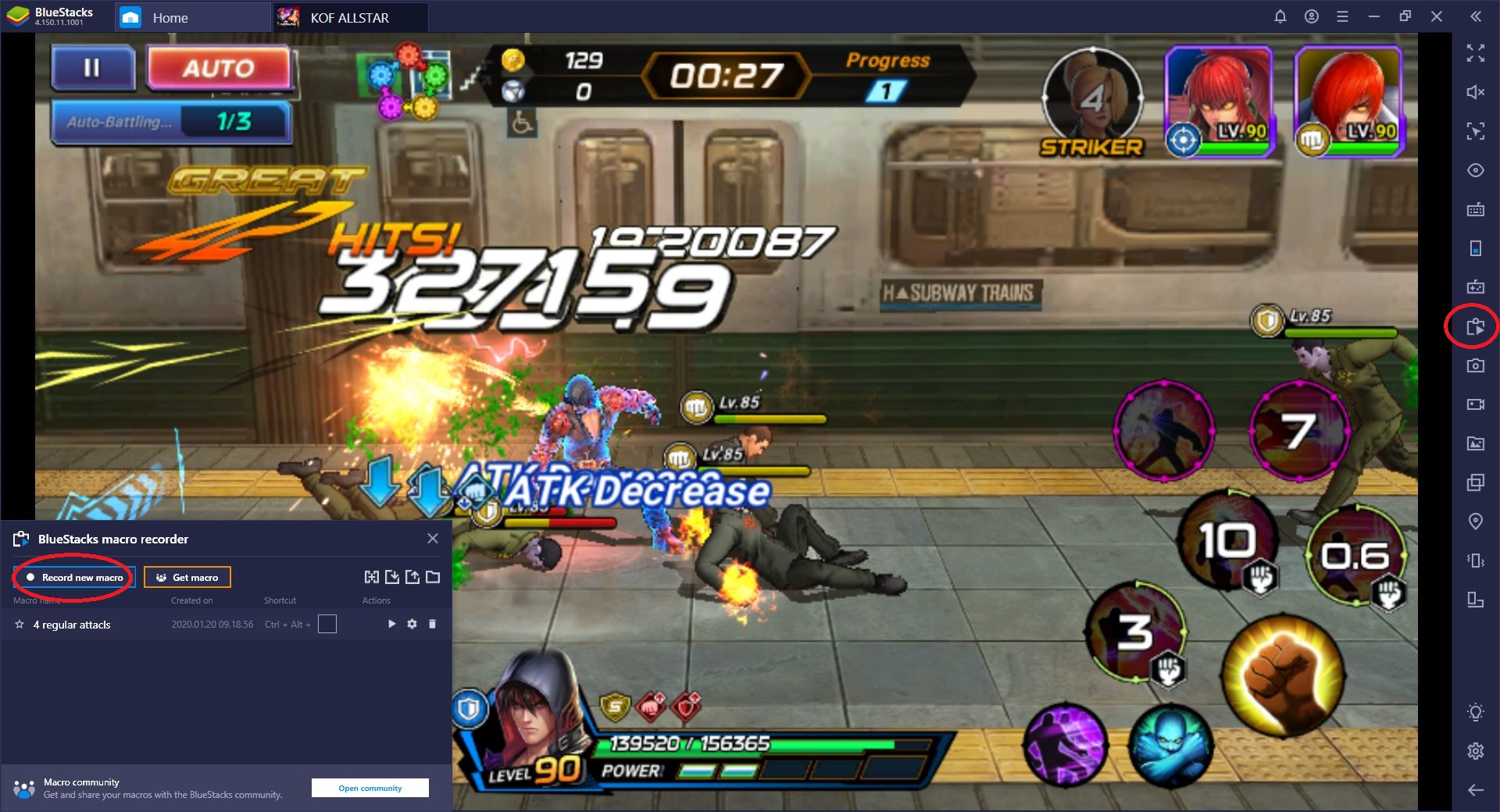 The macros can then be customized as per your needs. You can have them run on an infinite loop (for auto-combat), trigger them at regular intervals (e.g. collecting resources), but also adjust the speed of execution and the total number of times the macros will run. The possibilities are endless and you are the one controlling each and every option.
Furthermore, the Multi-Instance Manager unravels new ways to play your favorite RTS or gacha games. Tired of spending 30+ minutes re-rolling your account in KOFA? Fire up the Multi-Instance Manager and save precious hours of your day by completing the tutorial just once on as many separate accounts as your machine can run.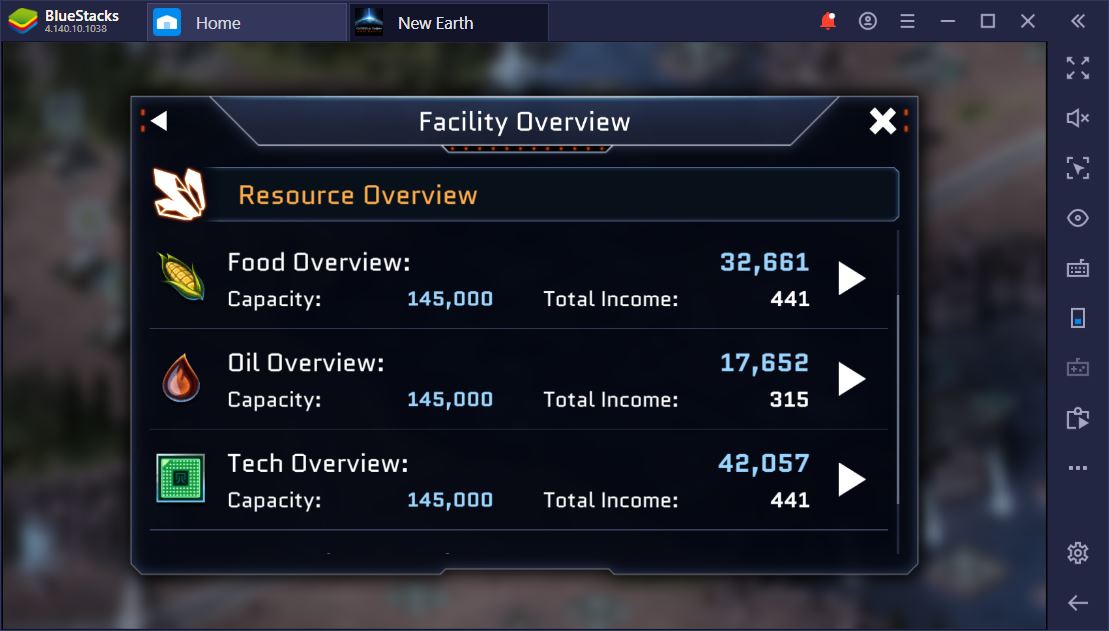 To make things even easier, the sync feature ensures that all BlueStacks instances follow your lead. You play on one of the instances and the others execute your instructions to the dot. After the tutorial is done, you can make your pick out of 3, 4, or more accounts, rather than just one.
Similarly, in strategy games, the MIM streamlines the creation of farm accounts. Given the marketing-heavy freemium tactics of mobile RTS games, it's increasingly difficult to stay F2P if you don't have a little outside help. With BlueStacks, you can help yourself and keep your money. It's one of the best feelings in the world.
Unreal Graphics
A decade ago, we might not have cared that much about the FPS or visual quality of a game. Nowadays, however, we find it impossible to enjoy anything that doesn't reach 60 FPS. When we're in a PUBG Mobile match, anything less than this will cause us to miss our shot. The fluid gameplay we experience on BlueStacks delivers a visual clarity you can only achieve when playing your favorite game on the PC. During high-rank matches, a millisecond of hesitation due to low-FPS blur can often mean that you miss your shot and give away your position. None of that with BlueStacks.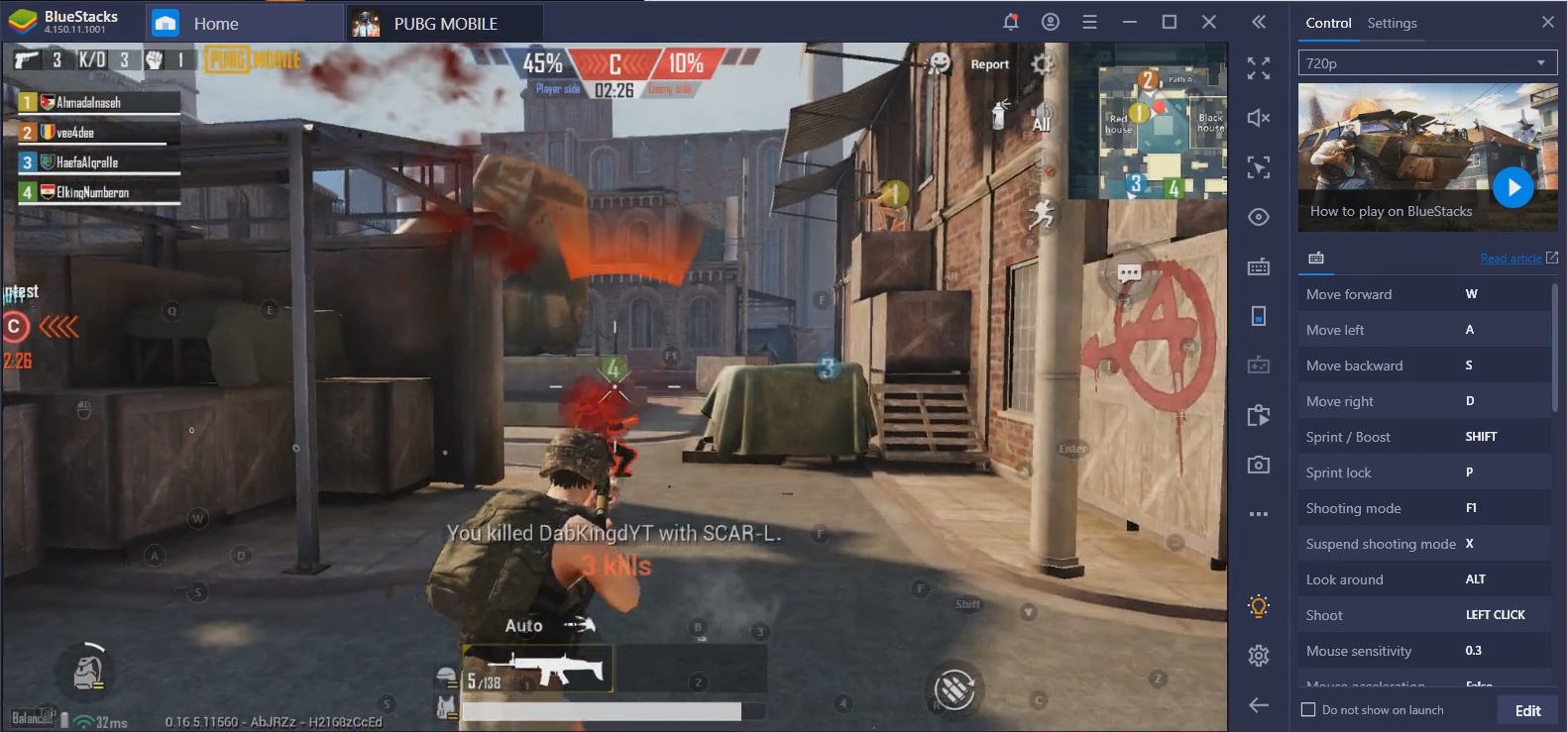 Moreover, the crisp image quality you get with BlueStacks' full HD, QHD, and UHD options (available in games such as CoD Mobile or PUBG Mobile) means that you can see more details on your screen. As we tested these high-definition graphics out, we were consistently able to see our opponents way before they spotted us. Consequently, we could shoot before them and, more often than not, survive crucial encounters.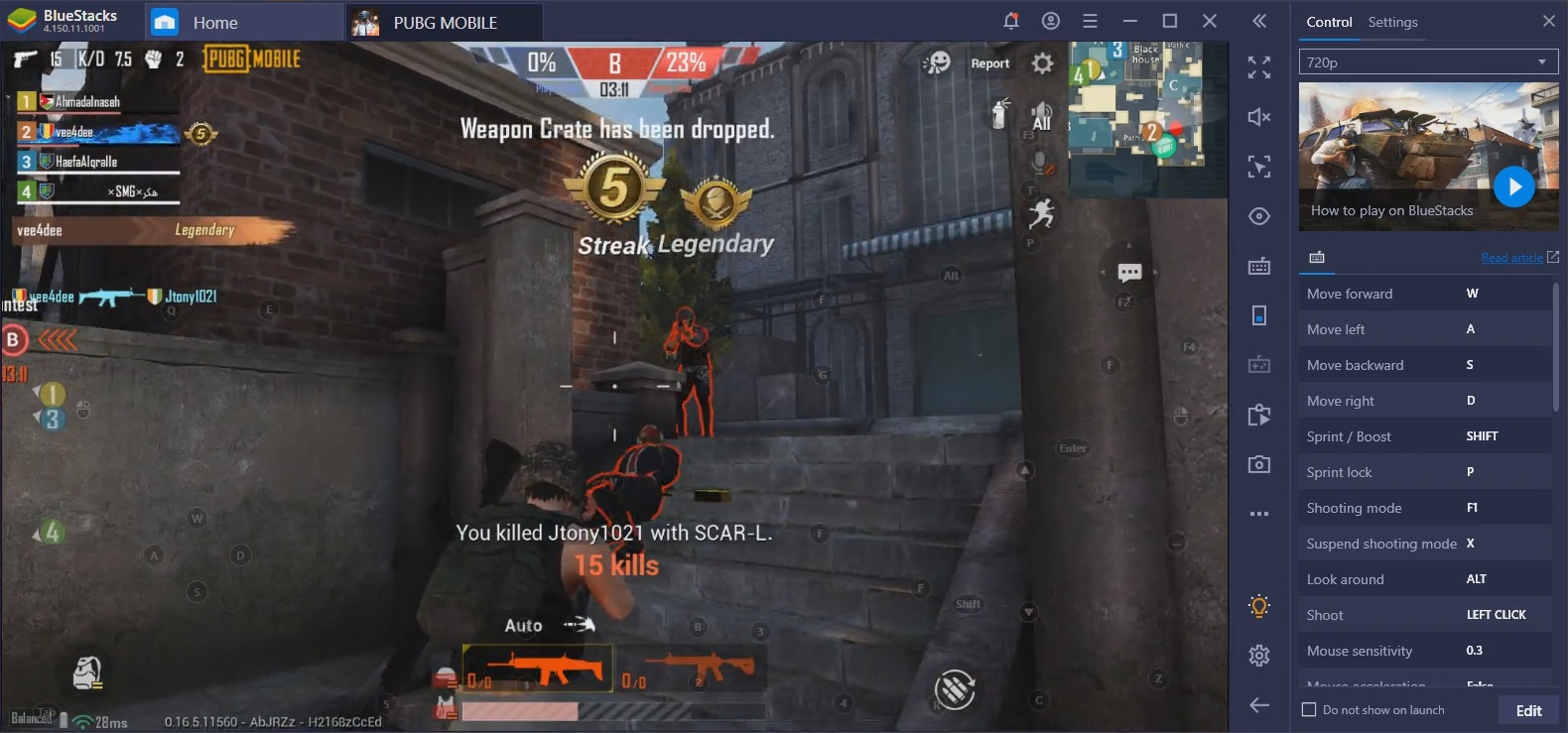 Every week, BlueStacks devs are hard at work improving everything from graphics, performance, and in-game features. If you have any questions or inquiries, you can usually reach them through their official mail or subreddit. They are always willing and ready to provide assistance.
There's a reason why BlueStacks is one of the most popular emulators on the market and the full range of tools it gives players certainly contributes to it. Although they don't give you a complete picture of all the features you can tweak when you play your favorite mobile game on PC with BlueStacks, these tools are certainly some of the most impactful ones that can change your experience for the better.