BlueStacks Roundups
Top 10 Android Games for Couples in 2022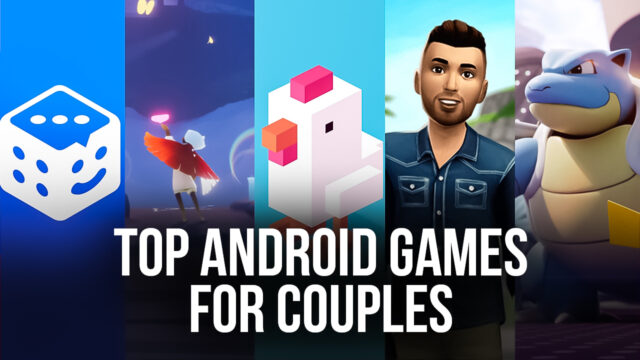 Playing video games with your significant other is unquestionably on a gamer's wish list. Every success feels greater with your partner by your side, whether it's exploring new worlds, triumphing against evil, or demonstrating true teamwork. If it's a co-op experience or a war against each other, the final aim is the same: having fun. Co-op games offer some of the greatest gaming moments, and competing against one another strengthens the relationship significantly. With the explosion of Android applications, the gaming approach is as simple as installing the game on your mobile device and inviting friends straight in-game. Whether your companion is new to gaming or a seasoned pro, we took all the aspects into account while listing the best android games for couples to play.
1. Crossy Road [Free]
Crossy Road is a retro-styled game that has over 1 billion downloads and a 4.6-star rating in the Google Play store.
Crossy Road is an endlessly tough game with over 150 retro-styled / pop art-influenced characters, inspired by Temple Run and Flappy Bird with a multiplayer twist. With Crossroads, railroad tracks, and waterways The goal of the game is straightforward: avoid traffic in a sugar wonderland with the android robot. The game keeps things basic with simple controls. The terrain is split into an imagined grid, and your character may only travel one spot at a time.
Crossy Road is played with your friends on a single device. The controls are straightforward, uncomplicated, yet entirely novel. Despite being one of the oldest games on this list, it offers one of the most enjoyable multiplayer experiences available. Try playing Crossy Road on PC.
2. Words With Friends 2 [Free]
Words with Friends 2 is a word guessing game that has over 10 million downloads and a 3.9-star rating on Google Play.
Words with Friends 2 is a multiplayer word game in which you must unscramble letters, exercise your brain, and play a variety of word board games and crossword puzzles in order to conquer the word chaos. The game allows you to compete against other online gamers or challenge your pals who enjoy scrambling crossword puzzle games. There are several modes to pick from, including customizations for word selection, which alters the difficulty level based on the player.
The key to keeping up with the game is vocabulary, and if you prefer playing multiplayer board games with your friend, Words with Friends 2 is the one to join.
3. Sims Mobile [Free]
The Sims Mobile is the mobile version of the popular Sims game, which has over 100 million downloads and a star rating of 4.1 on Google Play.
In this game, you live a simulated life of up to four people (Sims) at a time, bringing up a family or deciding to evolve; it is up to you to decide how to keep the home running. Give them distinct personalities, and design their world with greater detail as they pursue occupations, socialize with friends, or fall in love. The game may also be played with other people via an internet server, where you can even move in with them.
The Sims is an immensely addictive game with a big and fascinating environment, but if you prefer grinding, it could be the one for you and your companion. So, play The Sims Mobile on PC and have a fun time with your gaming buddies using BlueStacks.
4. Ludo King [Free]
Ludo King breathes a sense of nostalgia into your atmosphere and is one of the most played classic board games among friends and family, with over 5 billion downloads.
It's a multiplatform multiplayer game that works on desktops, Android, iOS, and Windows mobile devices. The game also has an offline option that allows players to play against the computer or in local multiplayer (pass and play mode). It allows you to communicate, utilize emoticons, and compete with Facebook friends.
It may be played with up to 6 players in offline mode or by digitally adding them into the game. If numerous couples are involved, it may wind up being like a hand and brain game. The game was created to have the feel of a traditional board game, and it has proven to be a lot of fun to play with our loved ones. You can also play Ludo King on PC with BlueStacks.
5. Chain Reaction [Free]
Chain Reaction is a strategy game for up to 8 players that has received over 10 million downloads and a 4.3-star rating on the Google Play store.
You begin by placing a single-colored orb on the grid, and each time you connect two orbs, they begin a chain reaction and eventually multiply themselves. The primary goal is to fill the entire grid with your own orbs or to cover up as many orbs as possible in the entire space. Players take turns placing their orbs in a cell, and if a player loses all of their orbs, they are out of the game. You may also change the color and sound of the orbs, giving you a more artistic experience.
The game's major goal is obvious, straightforward, and easy to master controls, making it the greatest alternative for beginning gamers.
6. Pokémon Unite [Free]
With over 10 million downloads and a 4.6-star rating on Google Play, Pokémon Unite is unlike any predecessor of the Pokémon franchise.
The MOBA experience has finally arrived in the Pokemon universe, with players able to combat each other in 5-on-5 game modes among others, with goal being to score as many points as possible within the allotted time of the game.
There are a number of household Pokemons combined with new-age ones, with the gameplay enabling every Pokemon lover's dream to control their respective pokemons in an unregulated PvP environment.
This Pokémon-themed game is definitely a lot of fun to play with your pals now that Nintendo Switch cross-play is available. With a simple click, you may add your Nintendo buddies and play.
The game is a must-play for MOBA lovers and if you want to expose your partner to the strategic genre, with a focus on Pokémon fanatics. If not both, Pokémon Unite is an excellent opportunity to fall in love with one or the other. Enjoy Pokémon Unite on your Computer.
7. Sky: Children of the Light [Free]
Sky: Children of Light has over 10 million downloads and a 4.7-star rating on Google Play. Sky: Children of Light is one of the most ambitious indie open-world social games, featuring stunning visuals and a captivating plot.
It's a three-hour exploration adventure game that's pure and beautiful. The game's music and images totally immerse you in it. The adventure is an awe-inspiring experience that will have you questioning if you're really playing a game on your phone. The game was released in 2019, but it wasn't until a few upgrades and enhancements that everyone realized what a jewel of an experience it is.
The game may be played with a partner (on another device) as a co-op experience, in which case you will both be pleased as you glide through the air, carried by the wind, while gorgeous music plays.
It is without a doubt a one-of-a-kind game that will leave you and your companion speechless during the epic trip, and we strongly advise you to give it a try. So, have a fun gaming time while playing Sky: Children of Light on PC with BlueStacks.
8. Plato – Games & Group Chats [Free]
Plato is an entertaining software that allows you to communicate and play hundreds of games with your friends. The game presently has over 10 million downloads and a 4.6-star rating on the Google Play store.
Plato offers over 45 free multiplayer games, including the well-known UNO, Pool, Table Soccer, Chess Basketball, Minesweeper, and more. You may also create a group chat with your friend and ask them to play the game of your choice with you.
The most popular games do not use any pay-to-win gimmicks and have a fair play mechanism that improves the atmosphere for the players. If you want to look for players online, the app also features a matching mechanism.
Plato is a fantastic application for trying out new games and having a good time. Enjoy Plato on your PC with BlueStacks.
9. Chef Wars – Cooking Battle Game [Free]
Chef Wars – Cooking Battle Game is a one-of-a-kind cooking game on the market, with over 500k downloads and an average rating of 4.4 stars.
Chef Wars – Cooking Battle is a food discovery RPG game in which you play as Sylvie, a young girl whose father has recently died and has left a secret recipe somewhere in the world. Your main aim is to combat the bad who are attempting to replicate the formula in order to take over the world. However, this is only how the story mode proceeds.
The game also has a PvP option in which you may face other players for rewards and events, although these need a higher level. However, the notion of producing new dishes and competing against other chefs is a pretty excellent one, and it is complemented with beautiful visuals.
This game might be a fun way to improve your teamwork with a companion.
10. Mario Kart Tour [Free]
Mario Kart Tour is a mobile arcade version of Nintendo's popular Mario Kart game. The game has received over 100 million downloads and a 4.2 rating on Google Play.
Mario Kart Tour is a one-finger racing game, but it stays true to the Mario universe. Before each race, you'll be able to select a driver, kart, and glider, and this is where the main modifications come into play. The race circuits are directly from the Mario universe, which adds to the game's appeal.
The game has a well-polished multiplayer option in which you may compete with your partner on numerous courses without sacrificing the racing excitement. The game also has easy-to-understand controls, which make driving a lot easier for players. You can also enjoy Mario Kart Tour on your PC.
Also: Read our curated list of the top 10 multiplayer games