BlueStacks Roundups
Top 10 Retro-Art Games for Android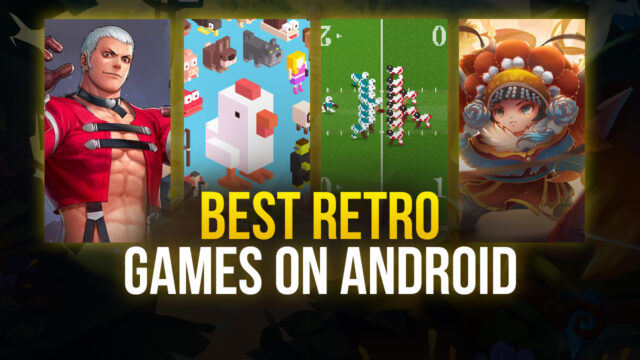 Video games have been around for decades now, with each year bringing in new games with bigger budgets and of higher quality. Given this fact, it is no surprise that the video game industry is as big as it is now and that studios spend as much money on game development as they do. The global video game industry is a multi-billion dollar network, with the US market alone bringing in around $40 billion in revenue in the year 2019. We can attribute this success to the powerful consoles sold by giants such as Microsoft and Sony and the intricately designed games these consoles can handle.
However, one of the fastest-growing sections of the video game industry, the Retro-Art genre, does not depend on next-gen graphics and big budgets. It's the exact opposite. These games are so popular because they're old-school and rough around the edges. We're talking about retro-art games. Pixels have become cool again, with retrogaming gaining popularity over the last few years. Many opt to buy older consoles such as the early PlayStations and Nintendos or installing emulators on their modern devices to run games that were popular decades ago. This, however, isn't surprising at all. Games such as Mortal Kombat, Fantasy Zone, and other arcade games have pioneered the way for modern gaming, and these titles are just as fun to play today as they were then. One caveat, however, is the unavailability of such games on multiple platforms. Although retro games such as Tetris and Super Mario are available on Android devices, other, more exclusive games are not. It is to curb this issue that we have compiled this list.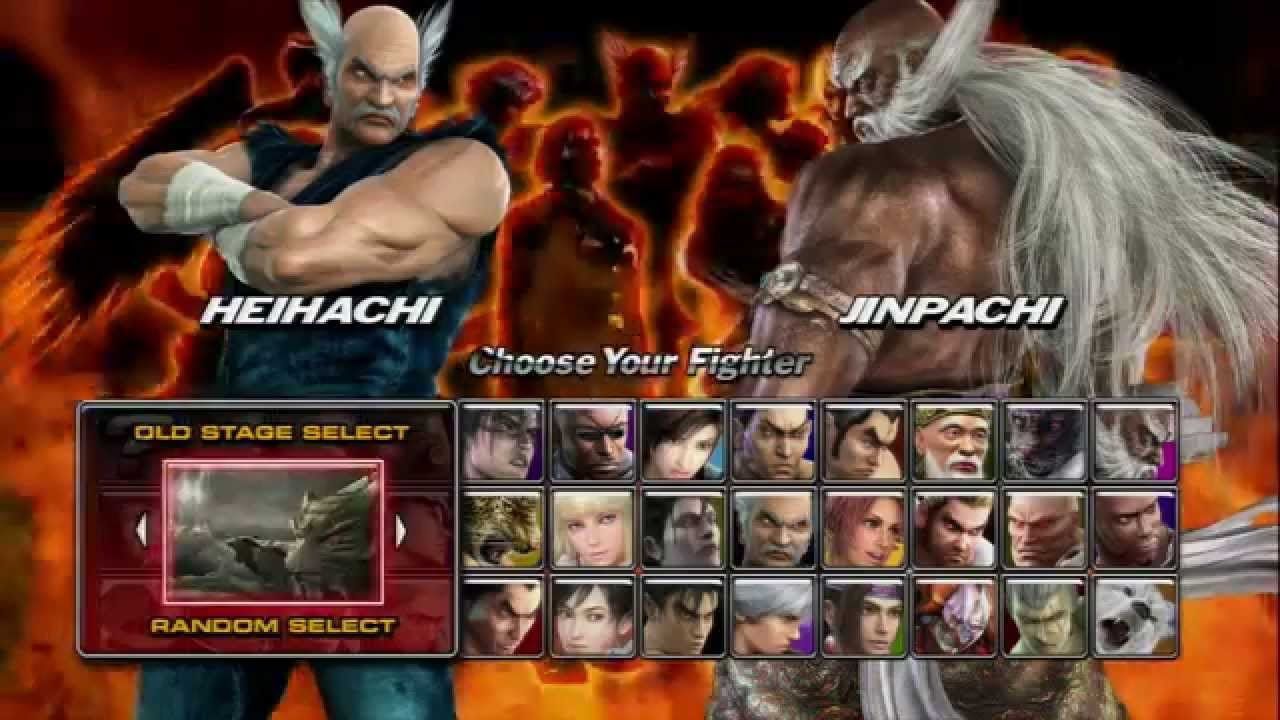 In this article, we'll be listing out the ten best retro-art games available for Android devices, and what it is that makes them so unique. If you're looking for new games inspired by old ones, this list is for you.
1. Soul Knight (Free)
First on our list is Soul Knight. ChillyRoom developed this game in 2017, and it has seen massive success ever since, garnering over 50 million downloads over four years. The game's backstory is extremely simple. Aliens have stolen the magical stone that maintains the Soul Knight world's balance, and it is up to you, the main character, to retrieve this stone and restore balance to the world.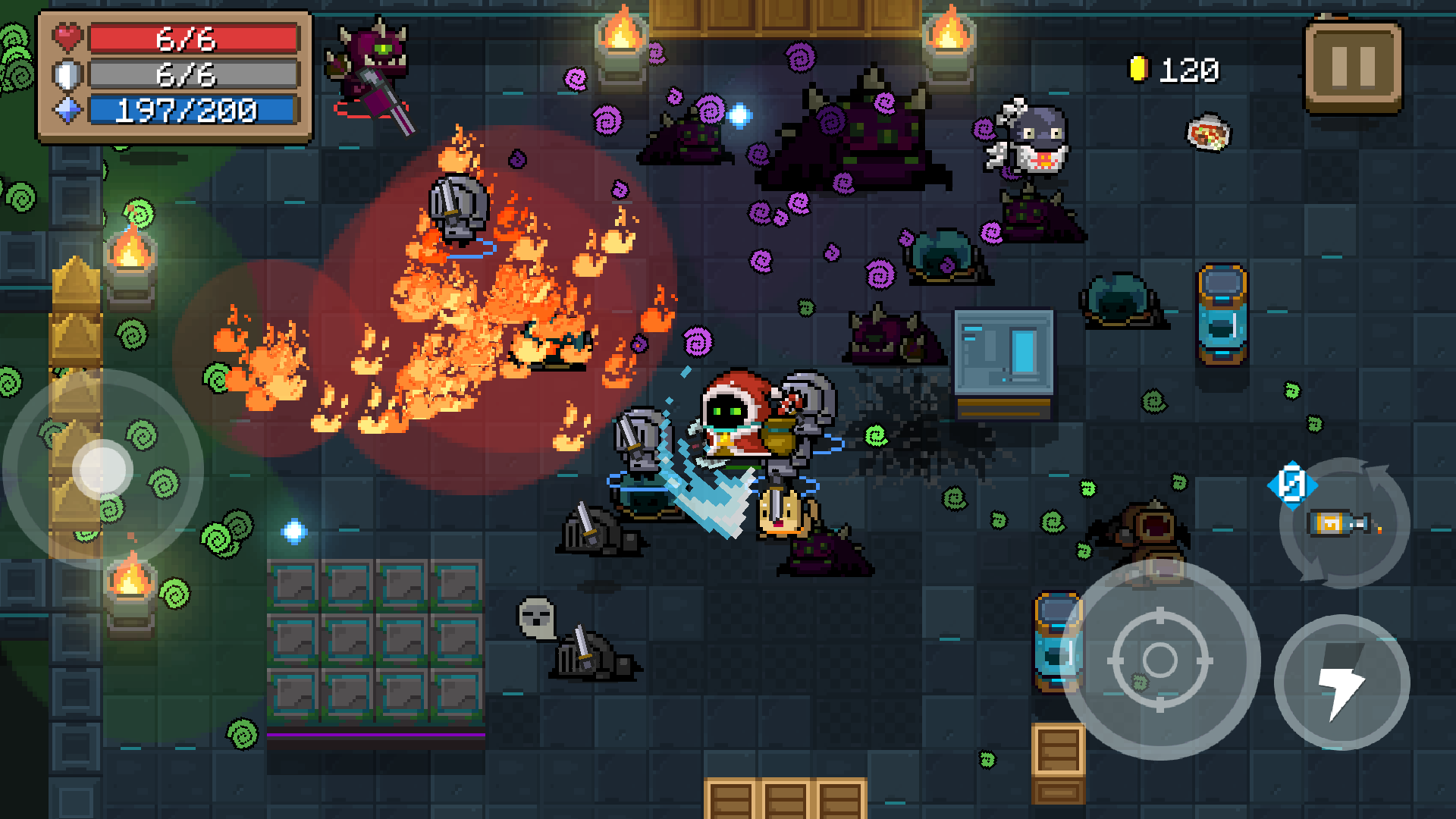 Soul Knight on PC is a classic, retro shoot-em-up, with various characters to choose from and many different levels to play through. There is also a variety of weapons to choose from. Within the first five minutes of playing, you already encounter four different (all extremely cool) weapons, including the likes of the machete and the good old blaster. The game includes 17 different playable characters, with each character boasting a particular set of skills, stats, and starter weapons. The game also contains more than 270 weapons, all of which can be unlocked and used by the player. Another interesting aspect of this game is that the dungeon in which one plays is random and changes every time you run the game, making the game much more interesting and fun to play.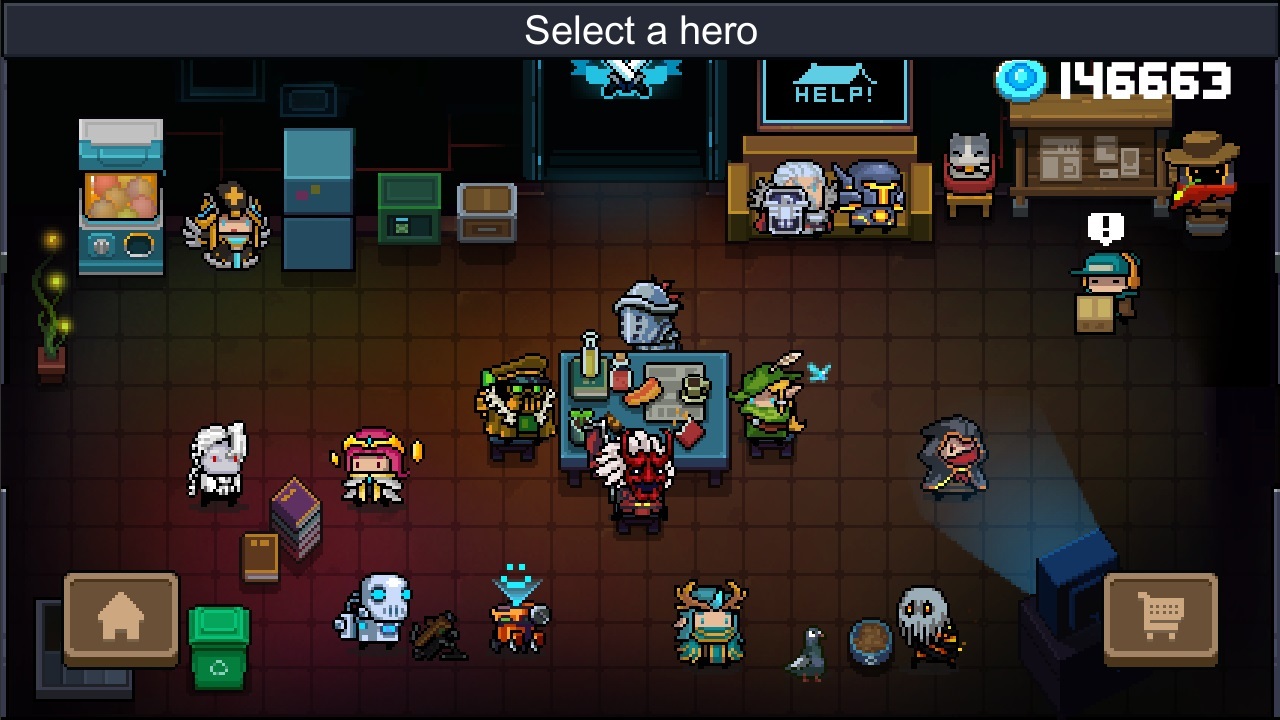 2. Crossy Road (Free)
Next up on our retro-art games list is Crossy Road, which is inspired by the hugely popular arcade game Frogger. The game's objective is pretty simple. You play as a character- a chicken by default- and avoid obstacles for as long as possible. Hipster Whale developed the game in 2011 and it is a play on the joke "Why did the chicken cross the road?". While Frogger had a designated ending, Crossy Road on PC is endless and can go on for as long as the player can avoid obstacles.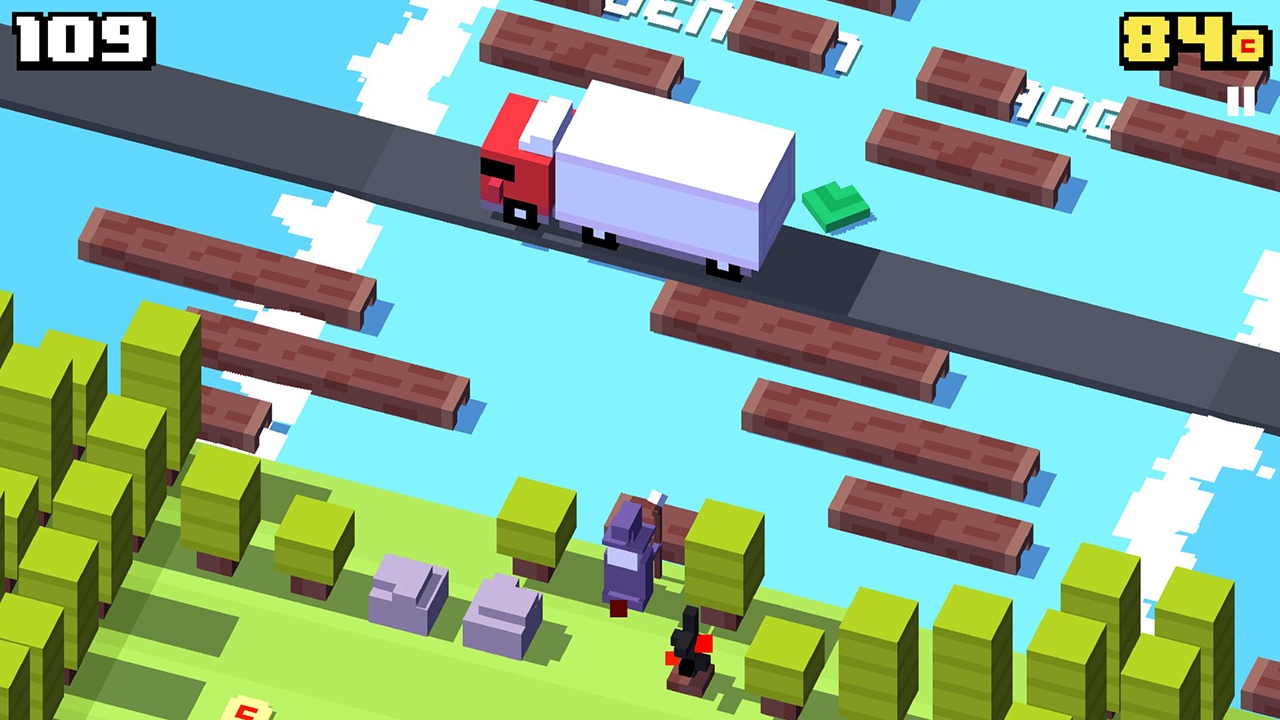 The gameplay is quite simple too, tapping on the top or bottom of the screen to go up or down, respectively, and swiping left or right to move in either direction. The player faces a range of obstacles, including cars, rivers, and trains. If you take too much time to move your character, you get snatched by a bald eagle, ending the game. The game includes a host of different characters, ranging from Chicken to the Android Logo.
There are about 204 characters that can be unlocked through coins and another 12 characters that can only be unlocked through green tokens, which are earned by watching ads or getting on the leaderboard. Everything from the graphics to the sound effects takes you back to the good old days of arcade gaming, which is why it is so wildly popular, garnering over 50 million downloads within only three months of its release.
3. Pixel Starships (Free)
Pixel Starships is one of the top-rated retro-art games available for Android right now. Released in 2016, the game has over a million downloads so far. Although not as popular as some of the other games on this list, Pixel Starships on PC is very fun to play and can keep you engaged for hours. The game's objective is to be the best Starship Captain you can by creating and maintaining your personalized Starship and winning as many battles against other Starships as you possibly can.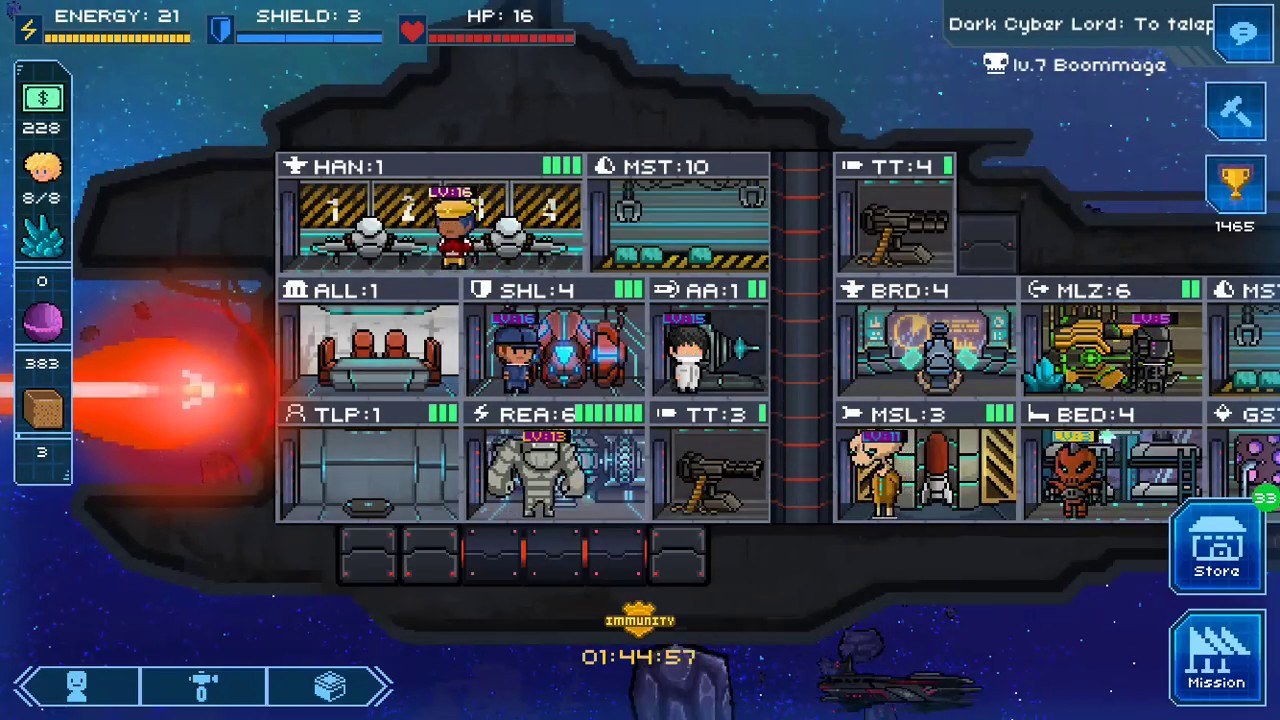 Although it may not sound too interesting, especially since it is more a strategy game than an action game, many players have said that it made them sweat due to how intense it is, how much they enjoyed playing this game, and how addictive it is. There exist five different factions, each with its unique ship design. You also get to choose your crew among a range of options: Common Crew, Unique Crew, Elite Crew, etc.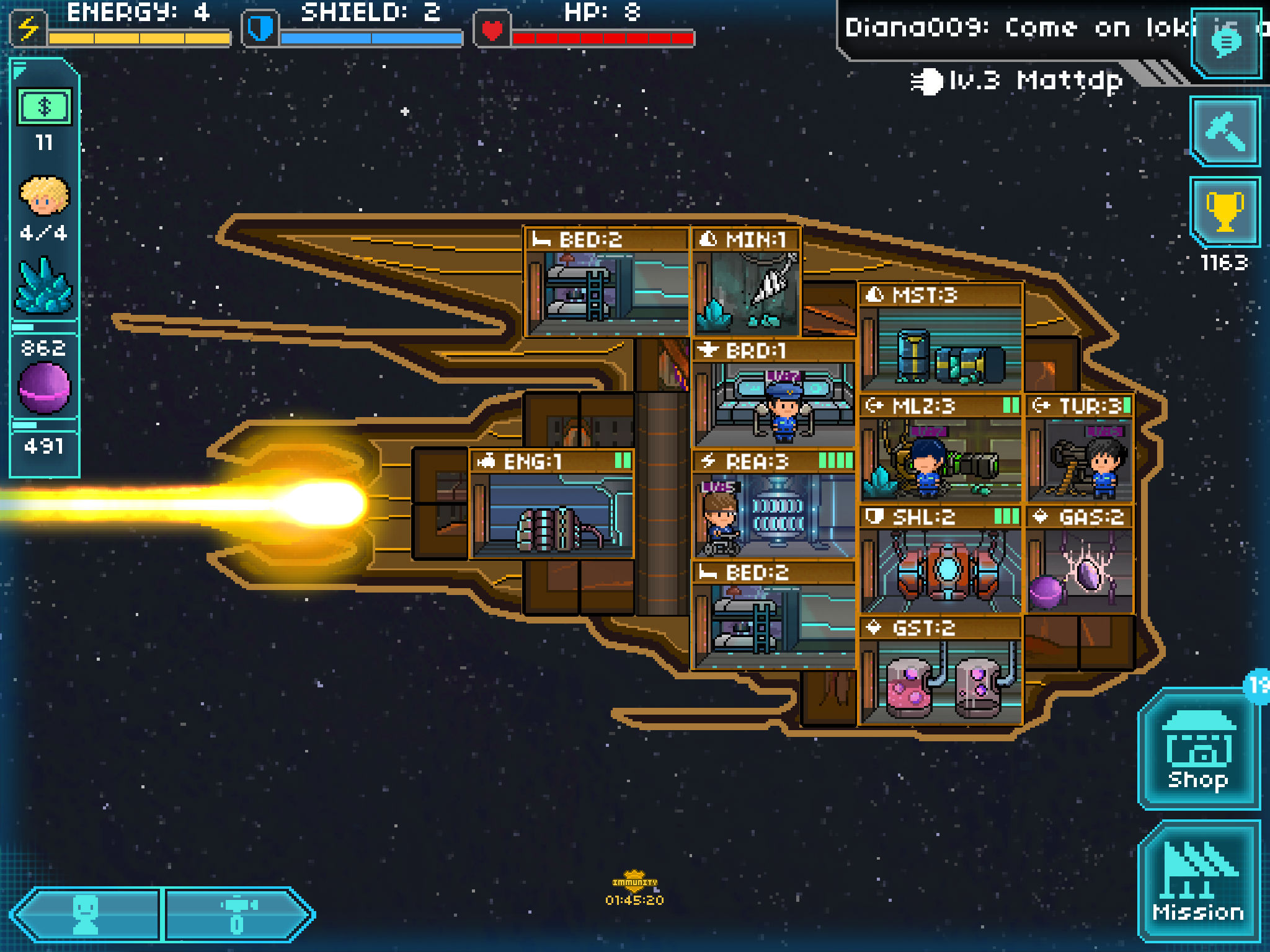 4. Bit Heroes (Free)
If action-packed RPG shooters are too much for you and you want to experience something a little more strategic, then Bit Heroes is the game for you. Developed by Kongregate games, with over 5 million downloads, Bit Heroes is one of the fastest-growing retro-art games.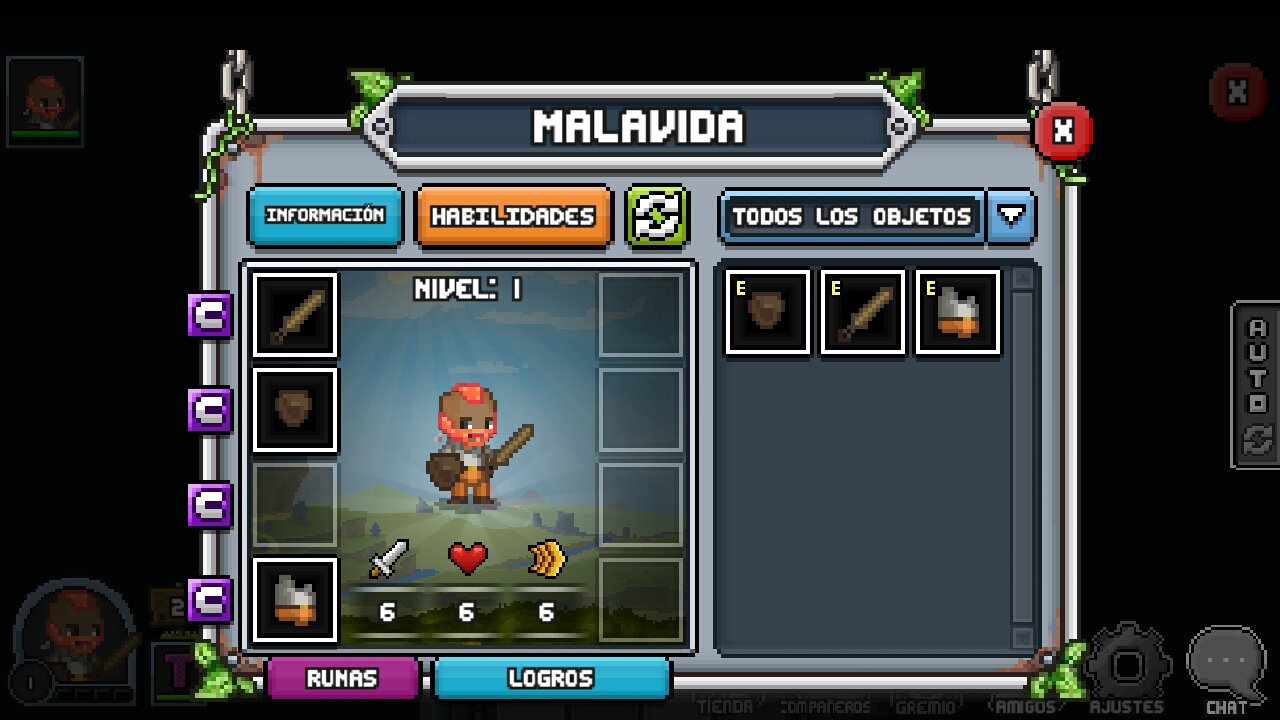 Bit Heroes on PC allows you to explore areas such as dungeons, kill monsters, and accumulate loot. You also get to encounter different characters, many of which are playable. Along with this, you also get to choose different weapons and skills to defeat your opponents. It is quite a simple game, but the game design, gameplay, sound design, and the variety of characters and weapons make it very fun to play, alone or with friends.
5. Retro Bowl (Free)
One of the most interesting specimens of the success of retro-art games, Retro Bowl, was developed by New Star Games and has over a million downloads, although we believe it deserves millions more. In a world dominated by big-budget sports games, it is rare to find a game that focuses only on the gameplay and not any other fancy aspects such as graphics, career modes, etc. Retro Bowl on PC is extremely simple to play. You hold the reins to a particular team as its manager (and quarterback during gameplay), and you must win as many games in the regular season as you can by either dazzling your fans during the match, making trades to strengthen your team or both. You get to sign ten players under your designated salary cap and play for three championships, the AFC Bowl, NFC Bowl, and the Retro Bowl.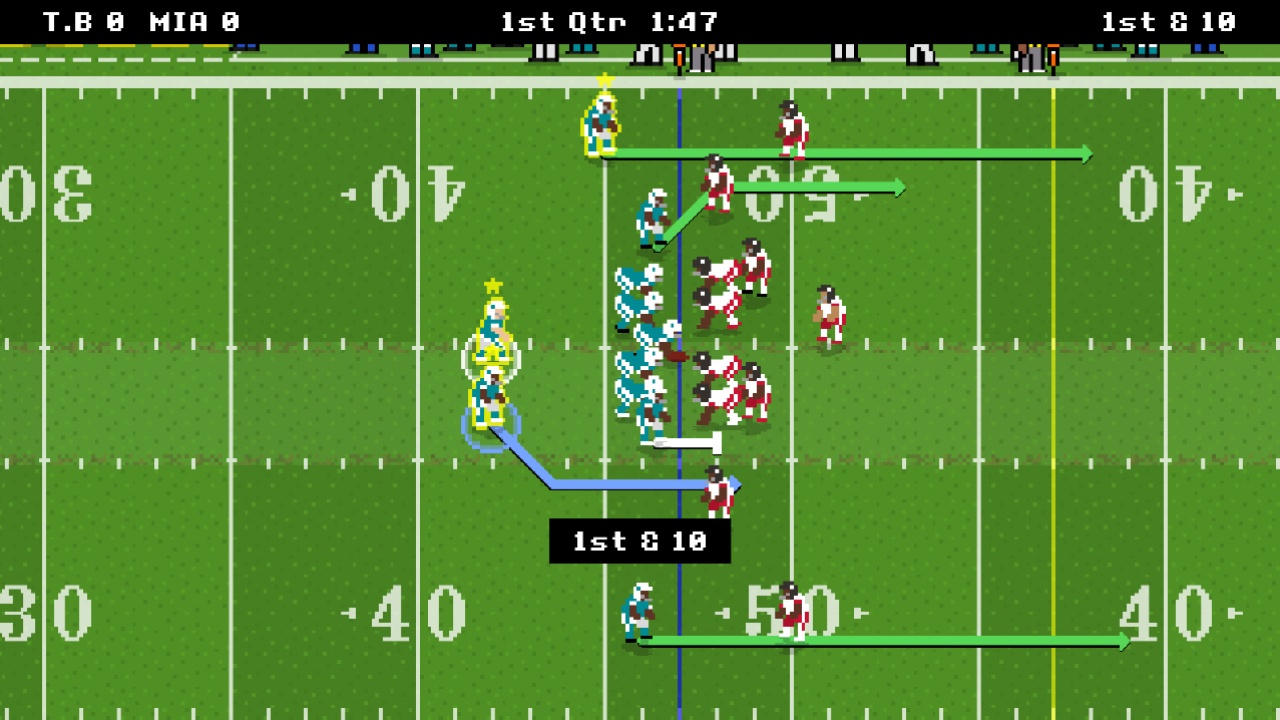 Over time, as your status as a manager increases, more and more teams become interested in recruiting you as the team manager. You can also be instated into the Hall Of Fame by accomplishing a list of tasks over the course of your career as a manager/coach. Although this game is free to play, it does offer in-app purchases, which allow you to unlock things such as the Player Hall Of Fame, different weather settings, and an increased roster capacity. The pixelated graphics and old-school soundtrack only add to the overall experience of playing this game and can keep you engrossed for hours on end.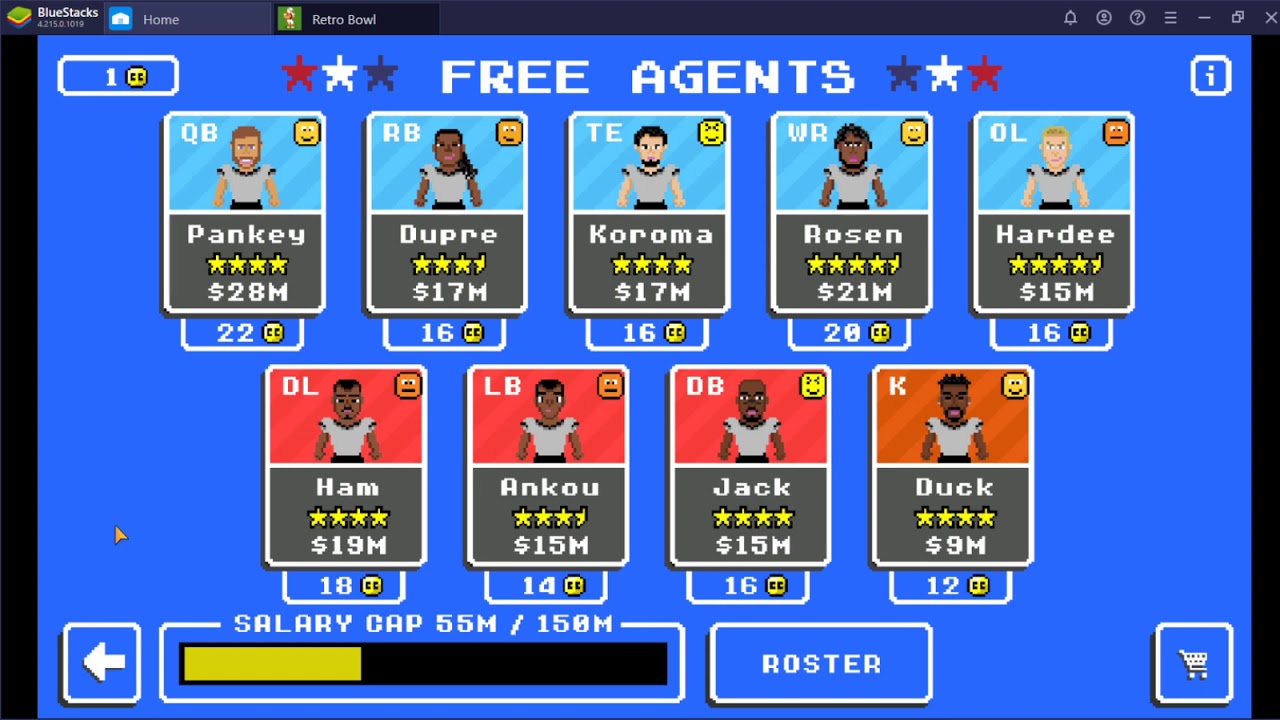 6. Metal Slug Infinity (Free)
Next on our list is Metal Slug Infinity, an idle RPG game developed by Ekkorr Inc. with over one million downloads so far on Android alone. As mentioned, this is an idle RPG game that essentially plays itself, but the on-screen action is so fast-paced and fun to watch that you can't help but be entertained by it for long periods of time. You get to pick different fighters who have their designated set of skills, and different vehicles, which also have their special abilities. The player has to manage the troops, which can be done by clicking on the icons present at the bottom of the screen.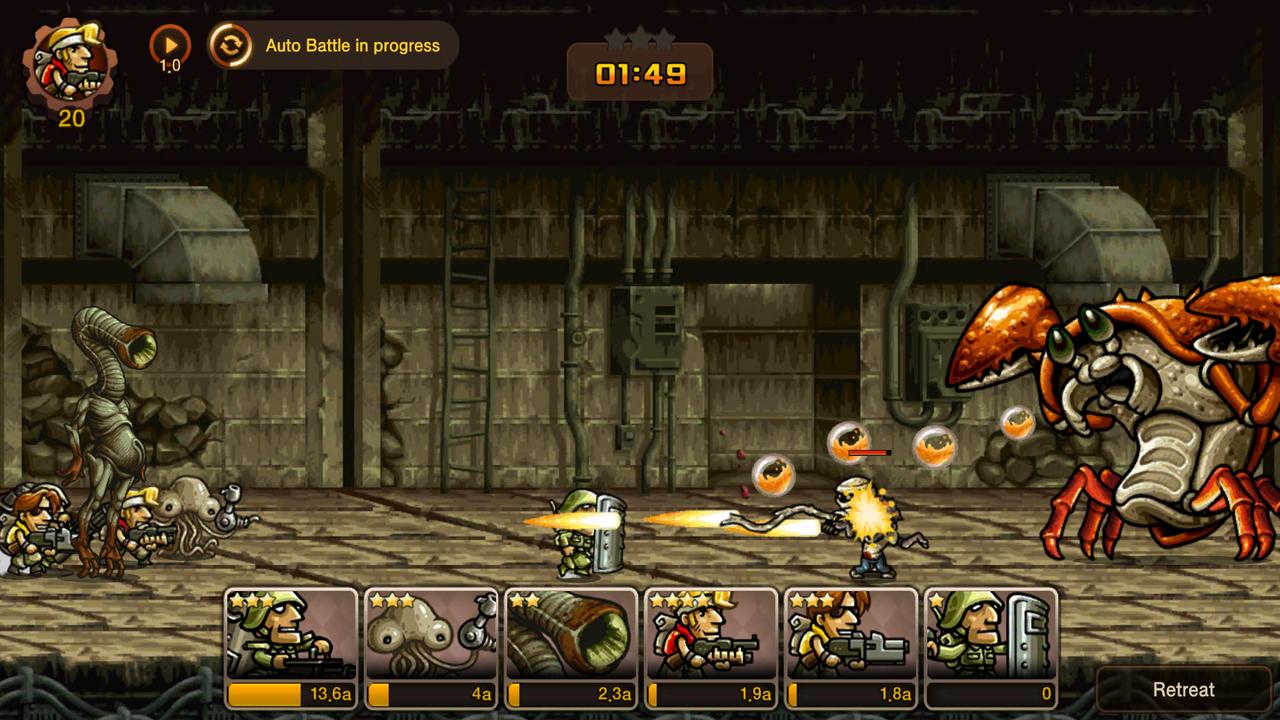 Every time you win a battle, you move on to a newer, more difficult map, and if you lose, you regress to an older map. Although the first few battles are quite easy, as you progress, the matches get harder. Metal Slug Infinity on PC requires you to be smart when allocating your resources and build a strategy that helps you win as many battles as possible with as little loss of troops as you can manage.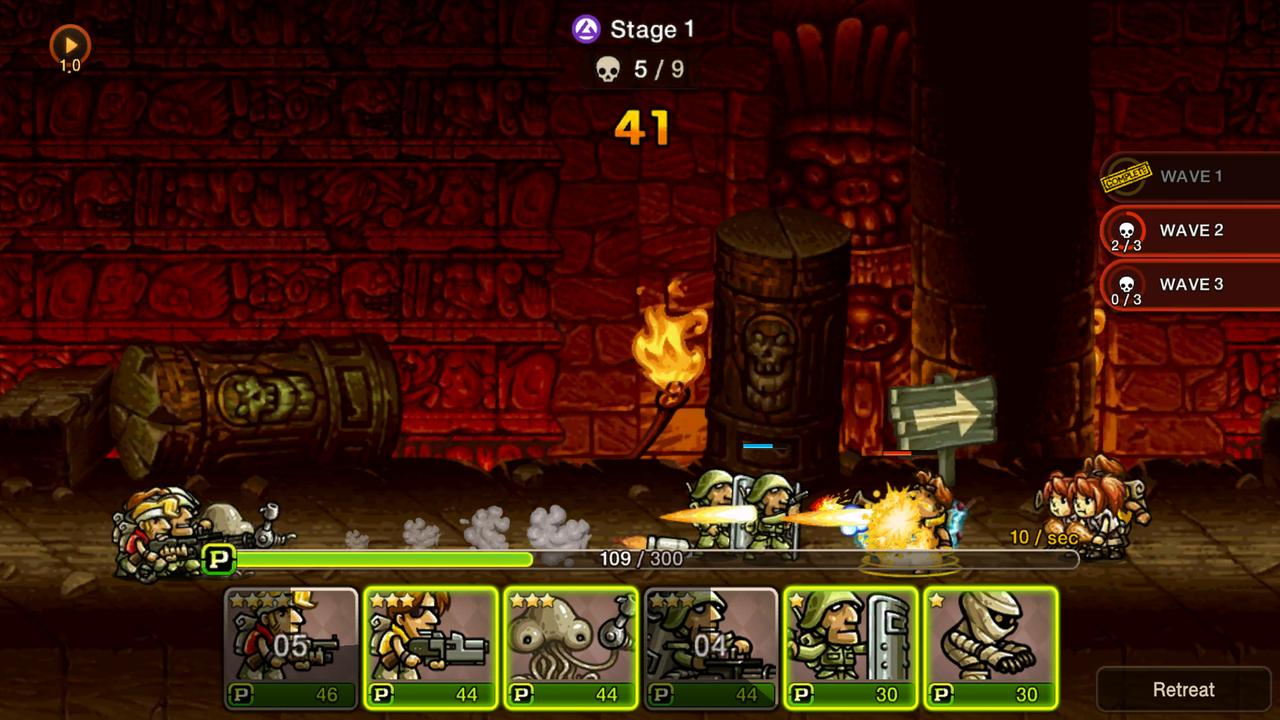 7. Cubed Craft: Survival (Free)
Cubed Craft: Survival is a block-based game, very similar to Minecraft. While Minecraft for Android is a paid game, Cubed Craft: Survival on PC is free and has very similar game mechanics and functions. Various types of materials can be mined and used to make different items, with rare ores such as copper, gold, diamonds, etc. Although rough around the edges and not a "perfect" game, PocketJoy has crafted a good game that relies on basic gameplay, opting to let go of anything unnecessary. This commitment to staying true to the basics has led to the game being downloaded over 10 million times.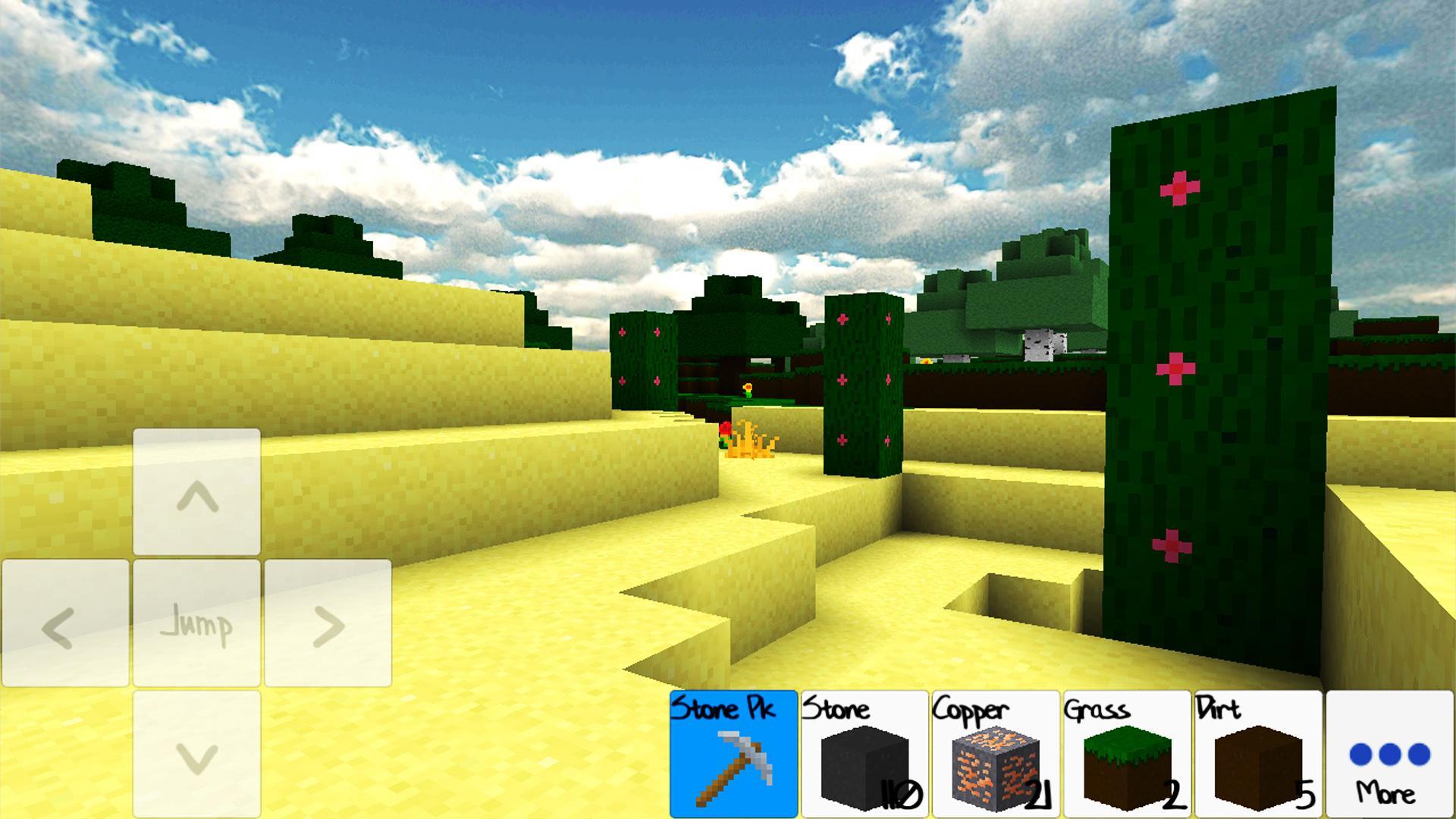 8. The King of Fighters ALLSTAR (Free)
What can be more retro than a King of Fighters game? Starting in the 90s, King Of Fighters is a game series that has been immensely popular ever since its inception. Played back then on arcade consoles, the King Of Fighters game's new editions can be played on your Android device. Although there are several editions available on Android, such as The King Of Fighters '96 and '97, we believe that The King Of Fighters ALLSTAR is the one most worth your time. This is because of the host of beloved characters that make an appearance in this game and the solid gameplay that makes one nostalgic for the bygone era of arcade gaming.
The game's concept hasn't changed at all; it is still a Beat-'Em-Up RPG game that allows you to fight different opponents using various characters, each with unique skills and powers. Here is a list of the game's best characters.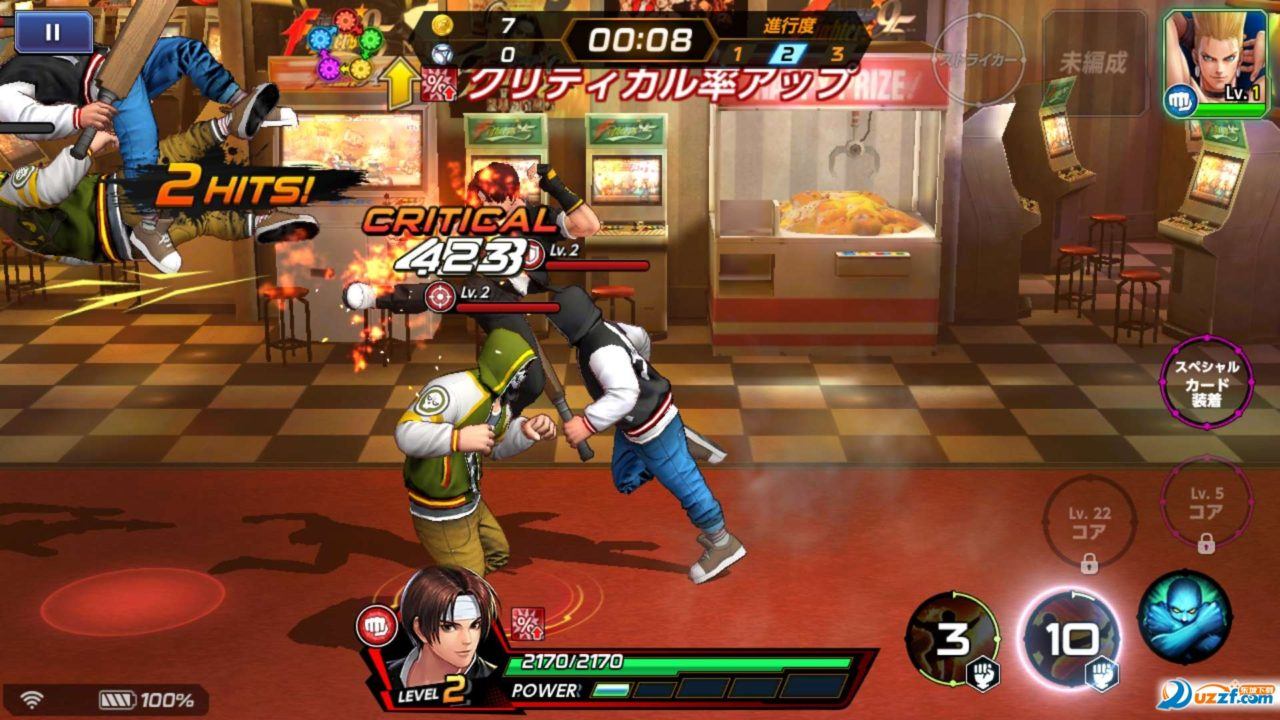 King of Fighters ALLSTAR on PC has been developed by Netmarble and published by SNK and has over 10 million downloads on Android ever since its release in July of 2018. Since then, the game developers have also collaborated with other action games such as Tekken, Gin Tama, WWE, etc., to give the players an even wider range of characters to fight with.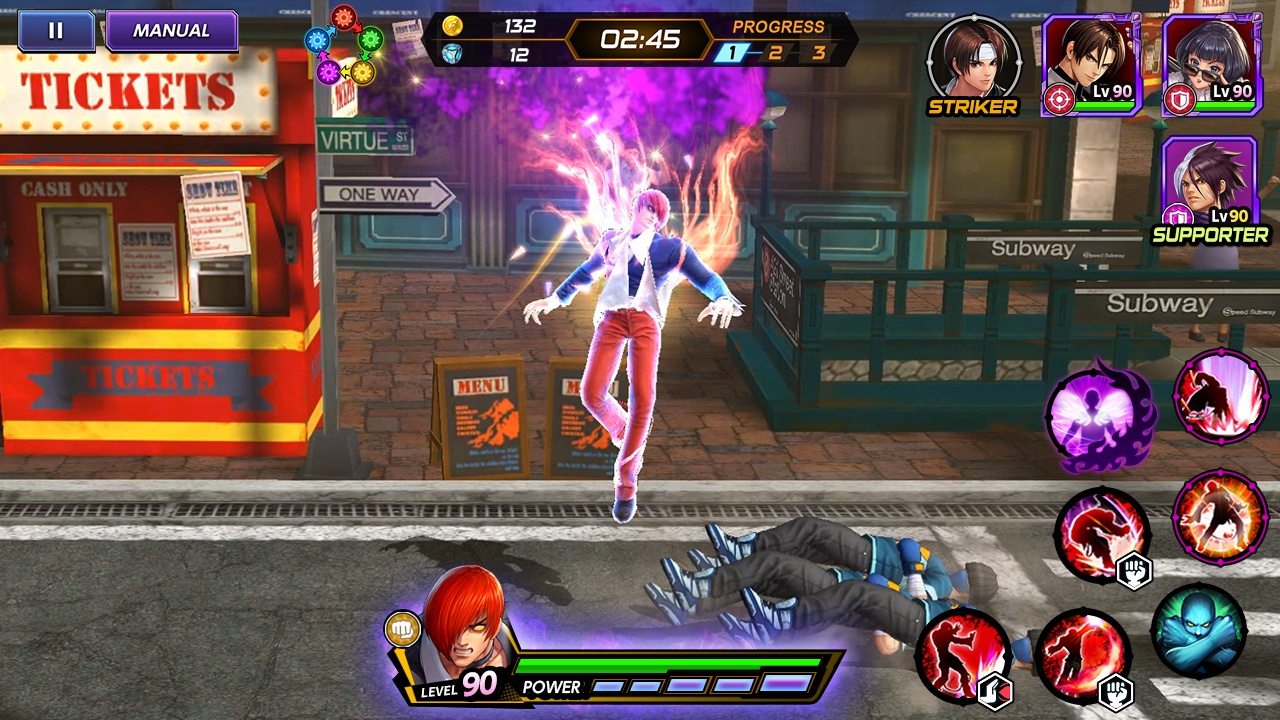 9. Knights of Pen and Paper +1 ($4.49)
The first paid game on our list, Knights of Pen and Paper +1 has only racked up over 100,000 downloads so far but is quickly becoming more and more popular amongst Android gamers. The game was developed by Behold Studios and published by Paradox interactive in 2012 and costs $4.49 on the Google Play Store. Heavily inspired by Dungeons & Dragons, the game is quite meta since the entirety of the game exists within a few D&D players' imagination. This allows the player to have control over their character and the dungeon master, which ultimately allows them to control which battles they want to fight. Knights of Pen and Paper on PC is a turn-based RPG, which you are likely to enjoy if you are a fan of either strategy games, retro-art games, or both.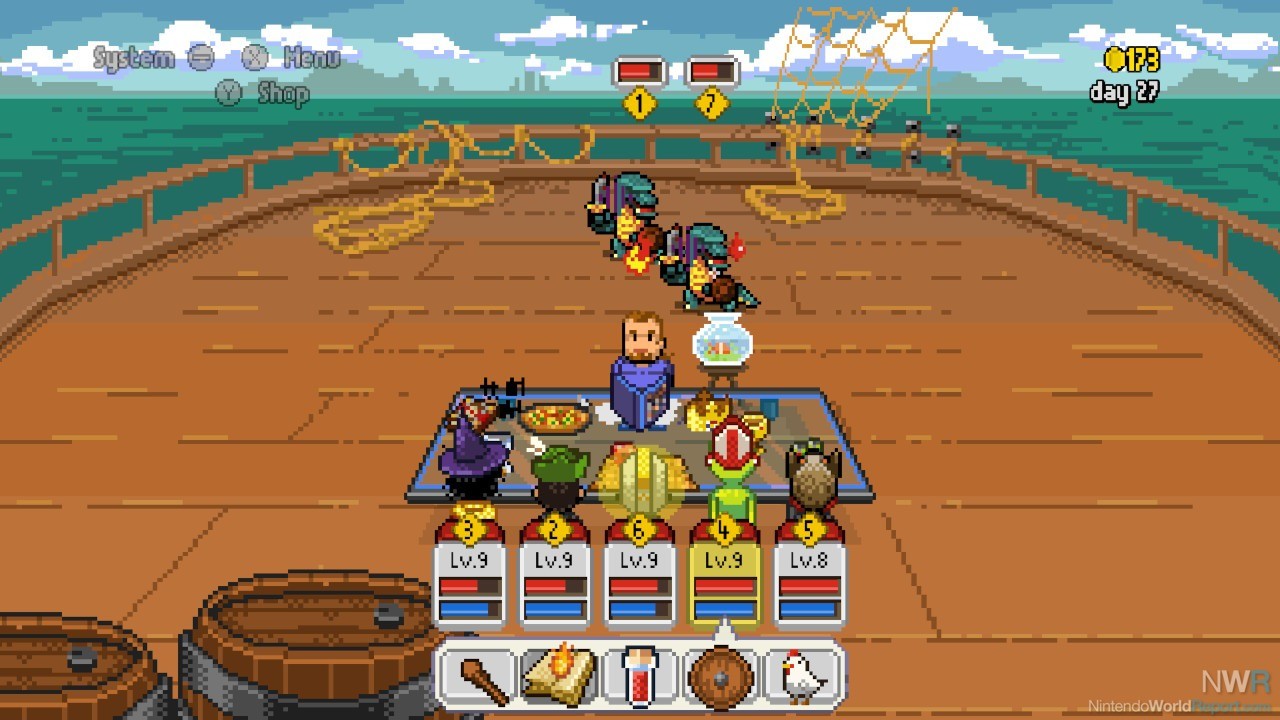 10. Dead Cells ($8.99)
Last but not least, on our list of the ten best retro-art games is Dead Cells, which was developed and published by Motion Twin in 2018, with the Android version released in 2020. The game costs $8.99 on Google Play Store, which seems a little pricey for a smartphone game, but is worth every penny. The game is characterized as a "roguevania" game since it has elements of both roguelike games and Metroidvania games.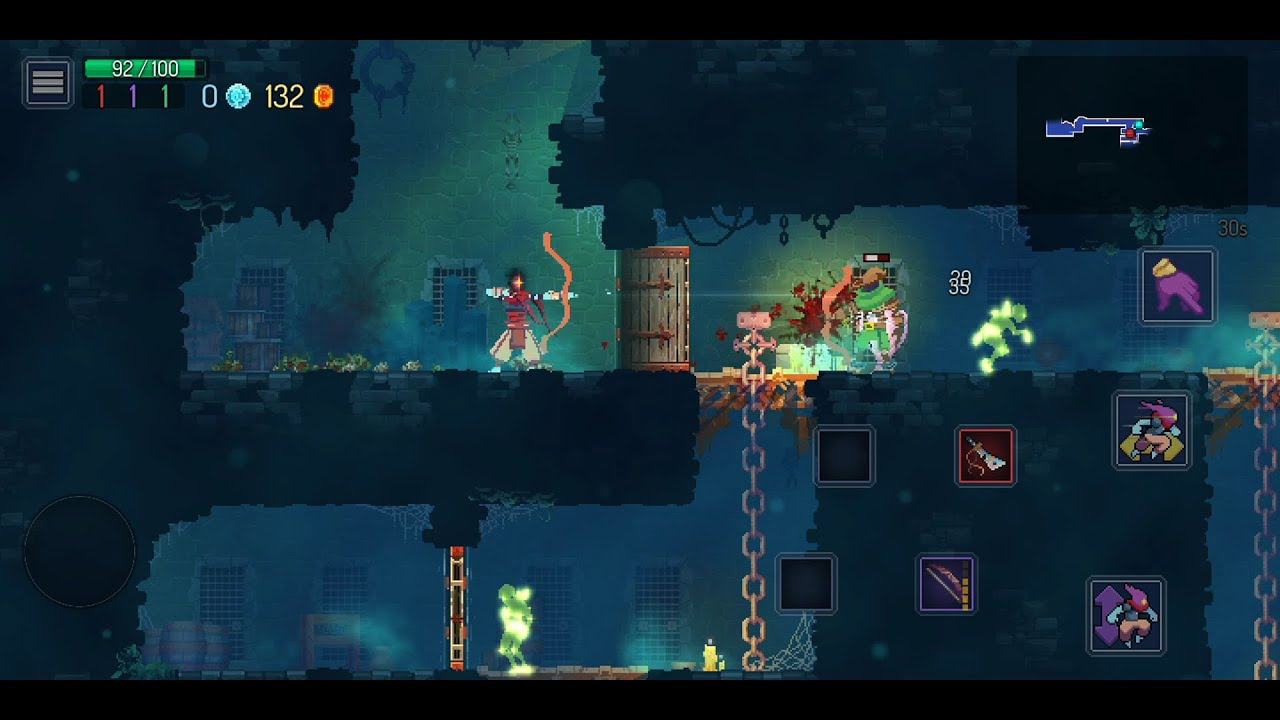 Dead Cells' premise involves a mass of cells that take control of a dead prisoner in a dungeon. This creature is what the player must control and use to fight their way out of the dungeon and into the light. When enemies are defeated, this creature can take on their cells which can then be spent at the end of a particular dungeon. If, however, before getting to the end of the dungeon the player dies, these cells are lost. These cells can be used to buy power-ups and health potions, and as the player progresses through the game, they come across different weapons, skins, and gems, all of which can be used and/or spent.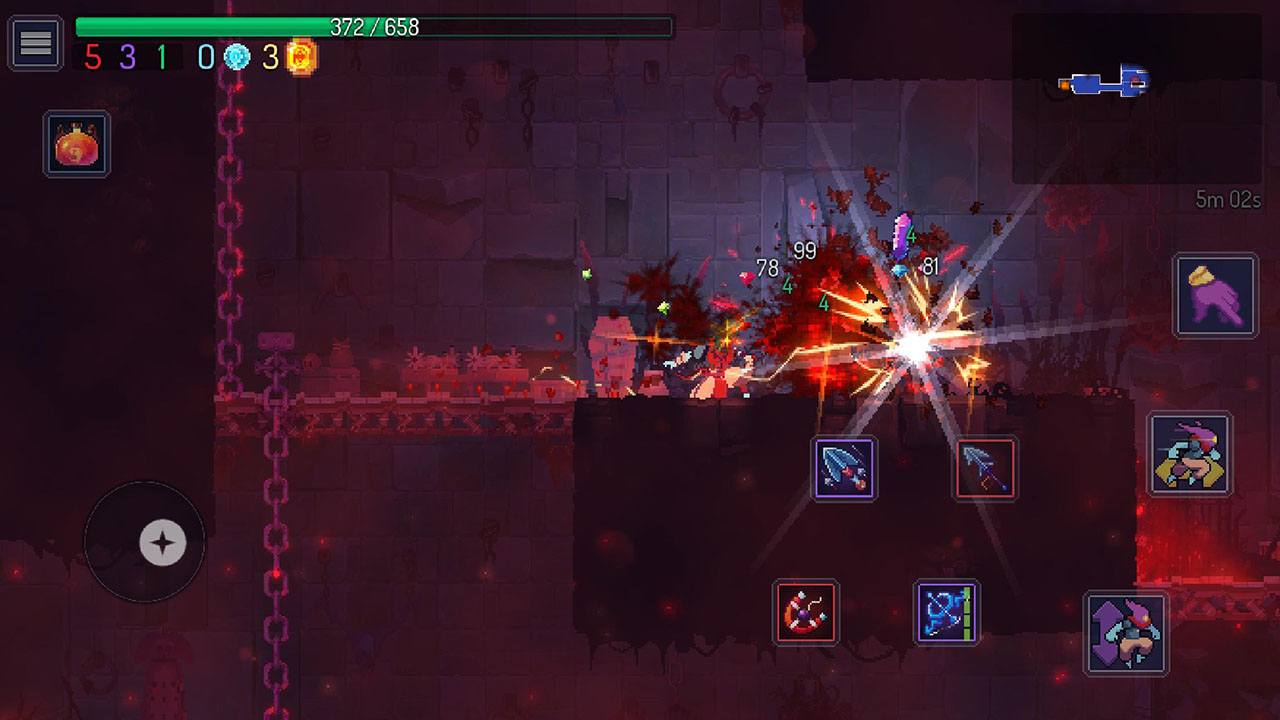 The gameplay has been compared to the Souls series, which is notorious for incredibly tough action, so if you were expecting a cakewalk of a game, you're in for a surprise. Dead Cells on PC has over 100,000 downloads on the Google Play Store and is amongst the best retro-art games for Android that you can play.