Game Guides
The Best Characters in The King of Fighters ALLSTAR on PC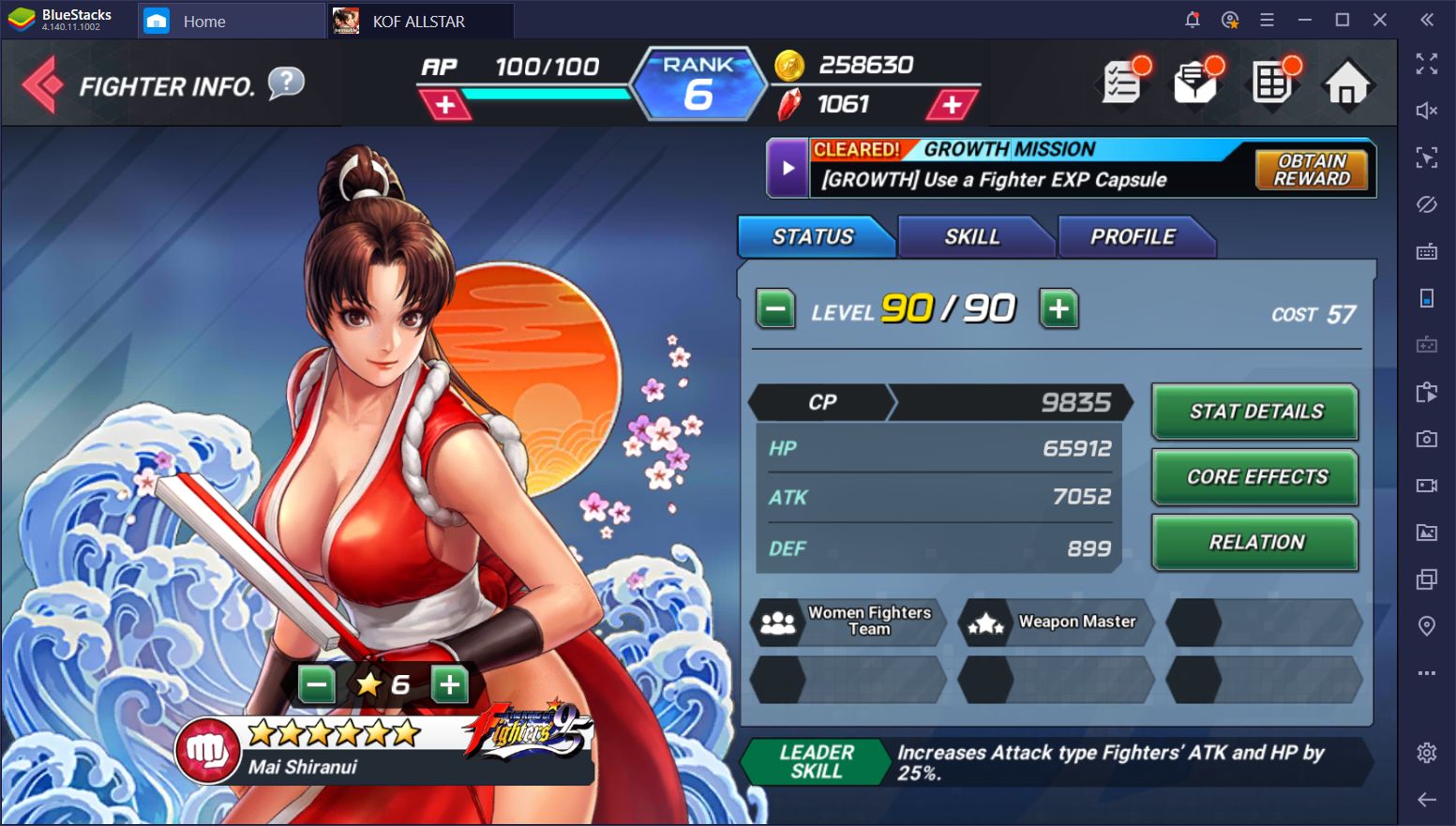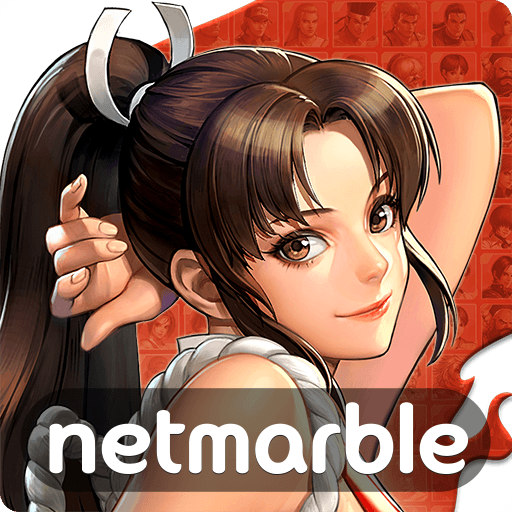 The King of Fighters ALLSTAR is the beat 'em up game that allows you to unlock your favorite characters from the popular franchise, and take to the streets to punch and kick your way through hordes of bad guys. The best part about this is that, if you play KoF on your PC using BlueStacks, you can get access to much better graphics, an intuitive control scheme, and many other features to improve your experience.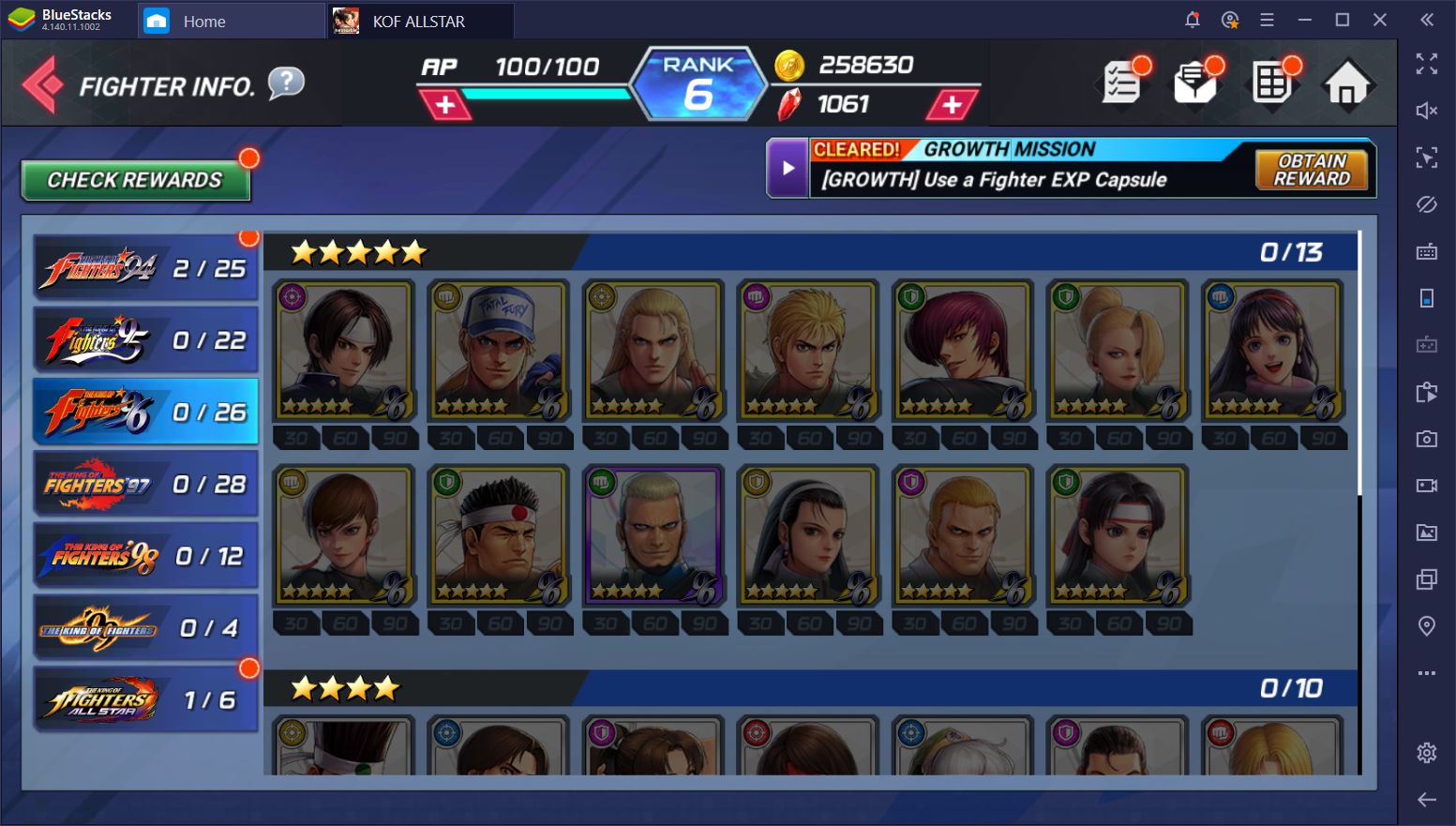 As a mobile gacha game, KoF is pretty straightforward as the combat system is fairly simple to pick up and play. Nevertheless, it still has a learning curve that requires a bit of getting used to, especially during the 1v1 battles. Furthermore, it also has a skill ceiling that rewards players who go the extra mile to learn the intricacies of combat, but without punishing the more casual players too much. In other words, it's a great game with tons of fun content to unlock and enjoy.
However, those who are looking to sink countless hours into KoF would benefit from getting familiar with the characters in this game, as well as striving to unlock the most powerful fighters. With a handful of good heroes in their roster, it's so much easier to complete the main story missions, and it will save you lots of time when doing your daily missions. Unfortunately, as is the case with these gacha games, King of Fighters has over a hundred characters to unlock and use.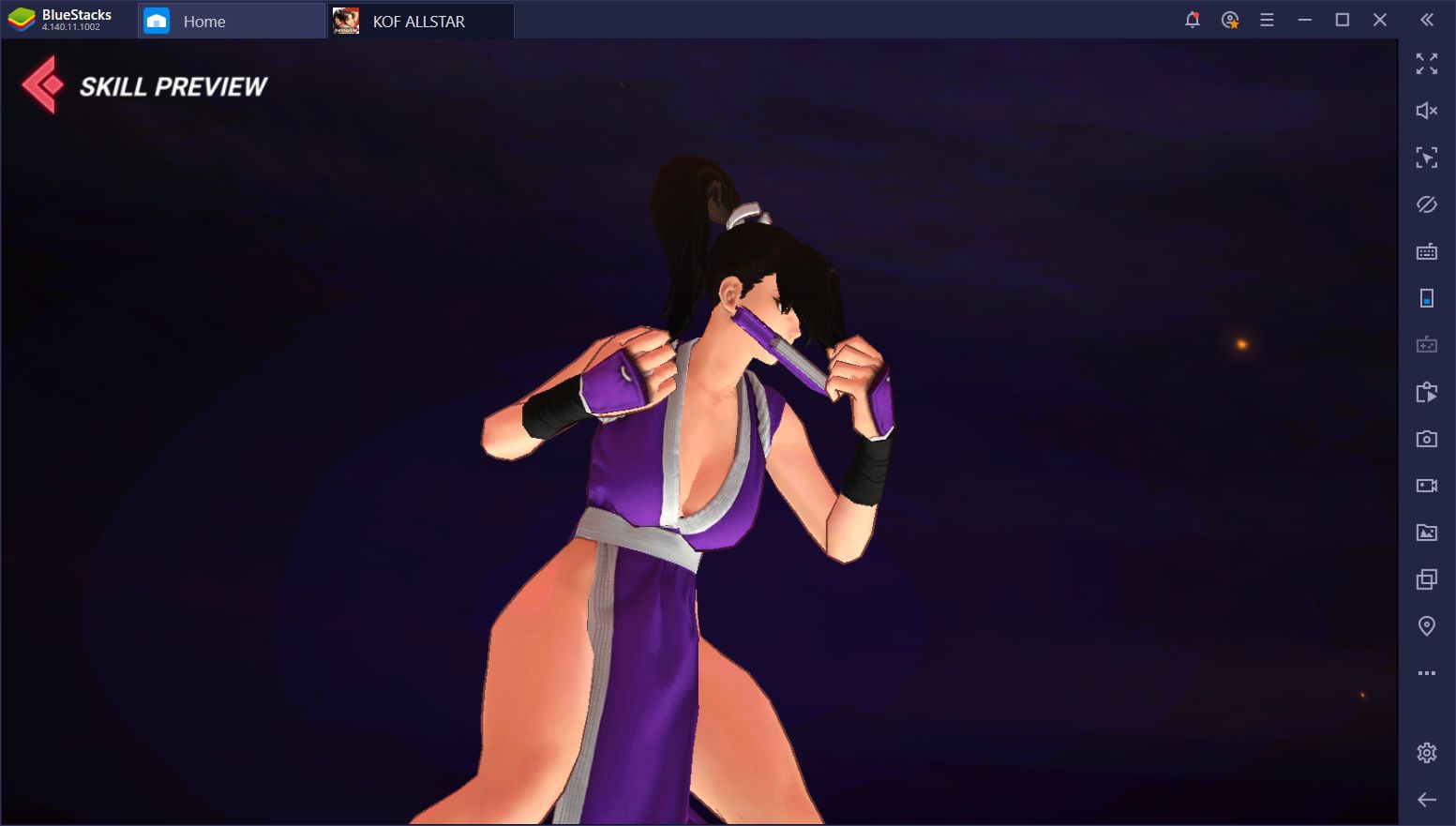 Luckily for you, since we love making things easier for our readers, we decided to share a list of the top characters in The King of Fighters ALLSTAR. If you plan on rerolling, or simply want to know which characters you should be trying to pull in this game, then look no further than this list.
Shermie ('97)
Starting off with an unusual choice, given that she's not actually one of the strongest in terms of stats and damage. However, Shermie is a great option as a defensive fighter, given that a few of her attacks are grabs that go through the enemy guard. For those pesky foes that block too much, Shermie can simply grab and slam them on the ground with no effort.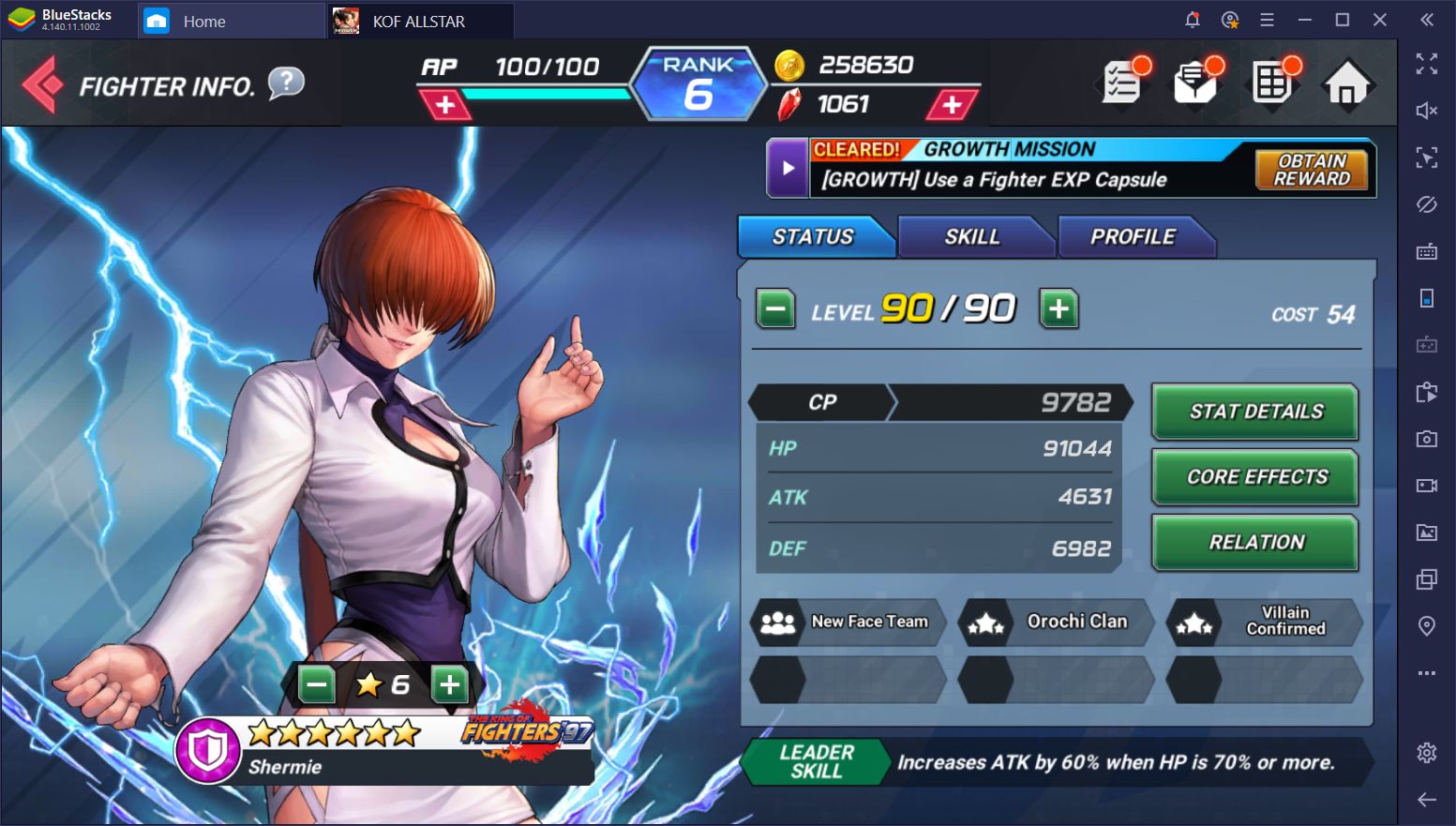 Her strengths don't end there, however, as Shermie also has an insanely strong leader skill: She increases the attack of your team by 60% as long as the characters are above 70% health. While other fighters increase the attack of a certain color element, Shermie buffs your entire group, so long as they stay healthy. In this sense, Shermie is a bit of a veteran character as her leader skill depends on the player being able to avoid enemy attacks and staying above 70% health. Nevertheless, this passive makes her one of the strongest characters in The King of Fighters ALLSTAR.
Kyo Kusanagi ('98 and '95)
Considered by many players to be the strongest character in the game, Kyo is a powerhouse that can make short work of most weaker foes, and give the other, stronger characters, a run for their money. In KoF ALLSTAR, '98 Kyo is a Balance-type character that has strong defenses, while also offering better-than-average offensive stats, as well as many skills that can burst most foes with their raw damage. And as if that wasn't enough, Kyo's leader skill helps other Balance-type characters deal 125% additional burn damage, which is an insanely awesome boon on any occasion.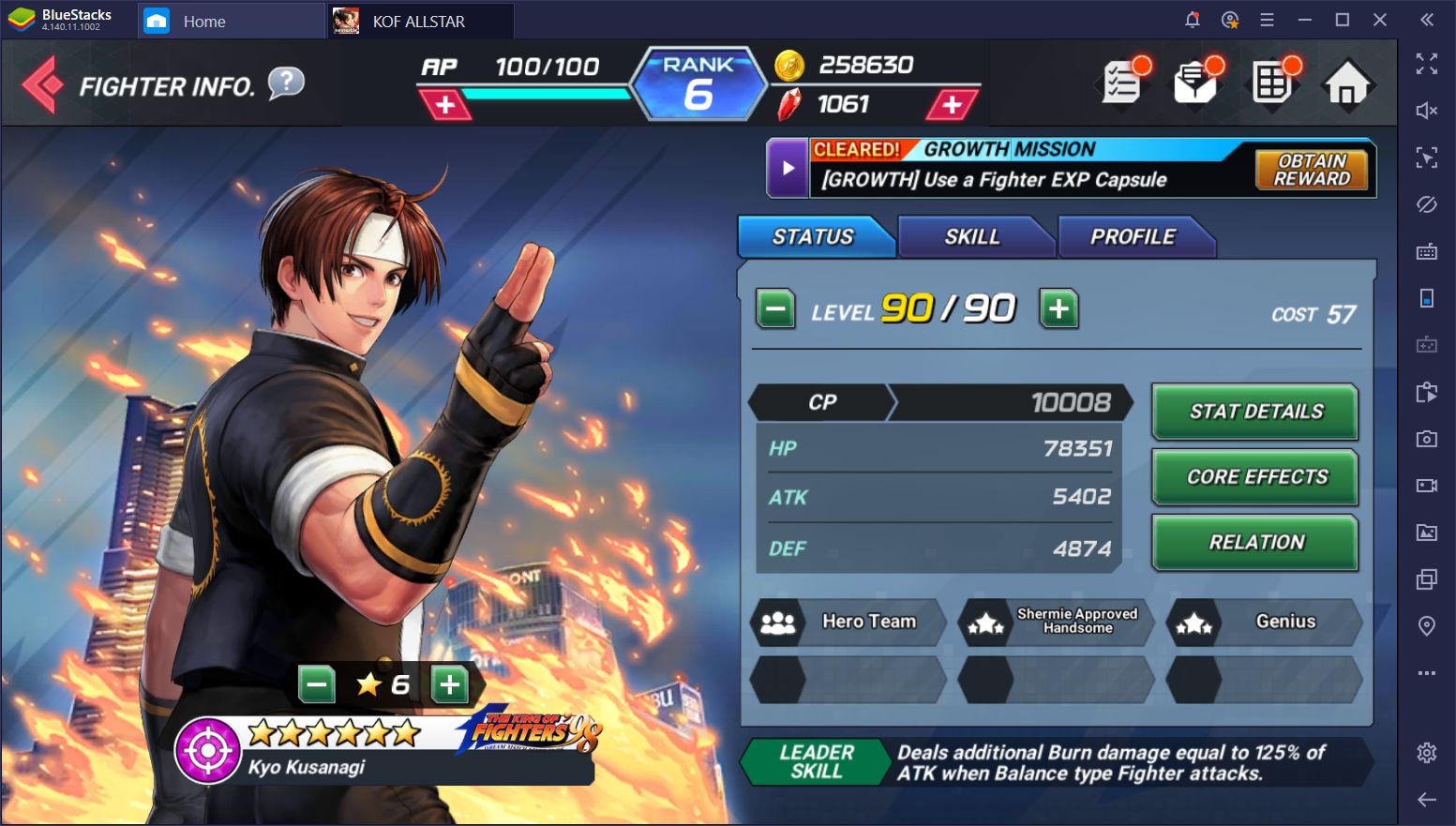 However, for those who are looking for more damage in exchange for lower defense, '95 Kyo is the way to go. This version of Kyo is a Striker-type, which means that he has a much higher ATK attribute and can do much more damage with every single punch. While his skill set is similar to '98 Kyo's, his leader skill is much worse as it only increases the ATK of allies with the same element type (Blue). Considering that you almost always want to keep a varied team, this skill is somewhat wasted.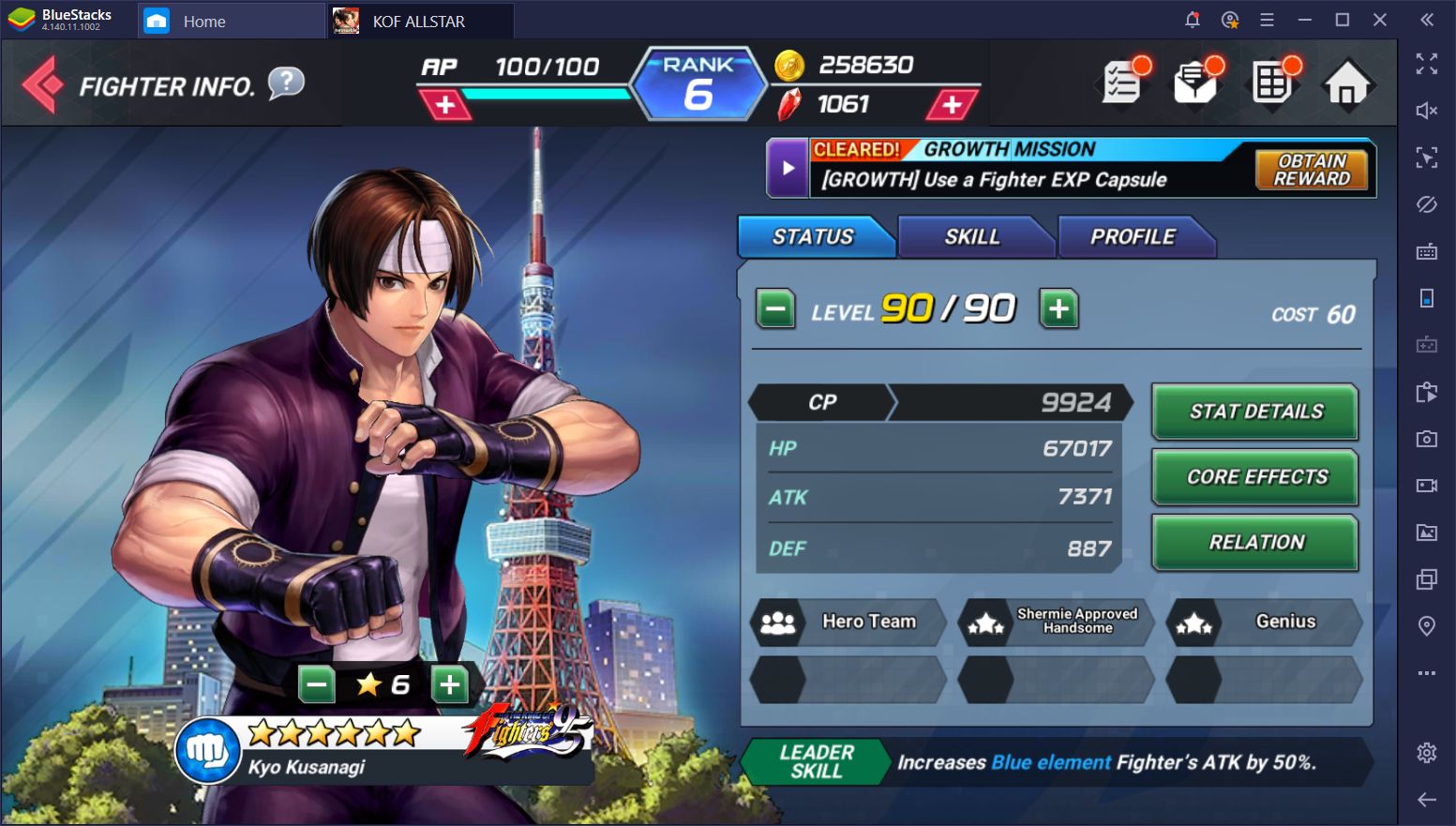 King ('94)
Another Balance-type characters makes her way into the list, this time not only because of her great stats, but thanks to her skill set that allows for long, sprawling combos. King is a strong character, there's no doubt about it, but she shines when it comes to juggling enemies in the air with her multi-hit and launching techniques, as well as powerful ranged projectile skills. Her Venom Strike, in particular, throws a fireball that deals decent damage to the enemy from a safe distance.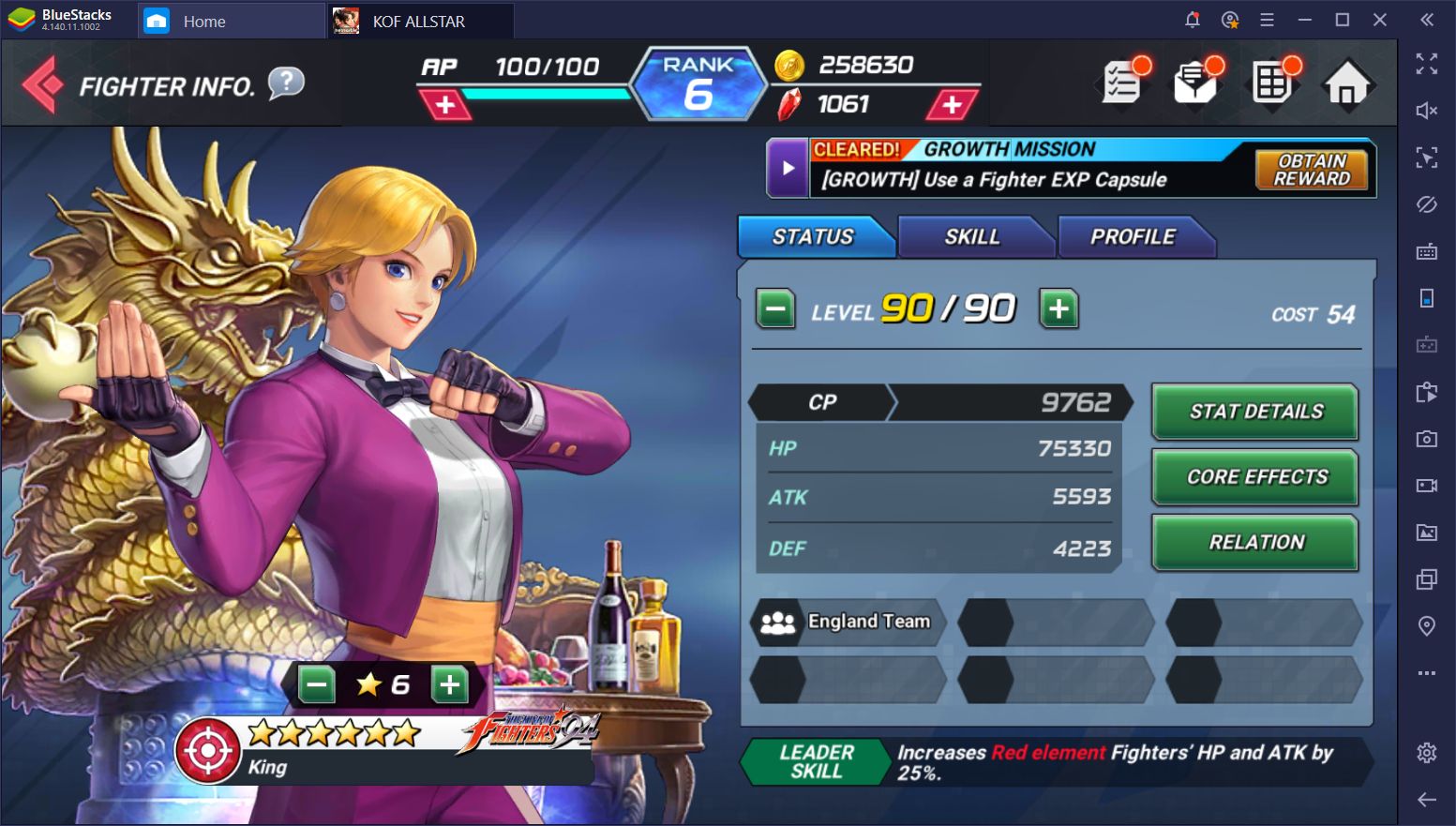 When set as a striker, King can be summoned to unleash an attack that deals average damage the enemy, while also stunning them for 3 seconds. If, for some reason, you decide to assign this character as a striker, instead of a usable hero, then she's also useful for keeping foes stunlocked and helpless, which is something not many characters in King of Fighters can achieve. Nevertheless, we recommend always using her as part of your main three.
Mai Shiranui ('95 and '96)
This Striker-type character is a safe bet for any team, mostly due to her leader skill that combines a good defense with a great offense. Mai is a good universal leader considering that, just like Shermie, she can improve the stats of all party members, instead of the ones of the same type or element color. Other than that, her skills are pretty much par for the course; she can deal lots of damage, especially once you unlock her finisher.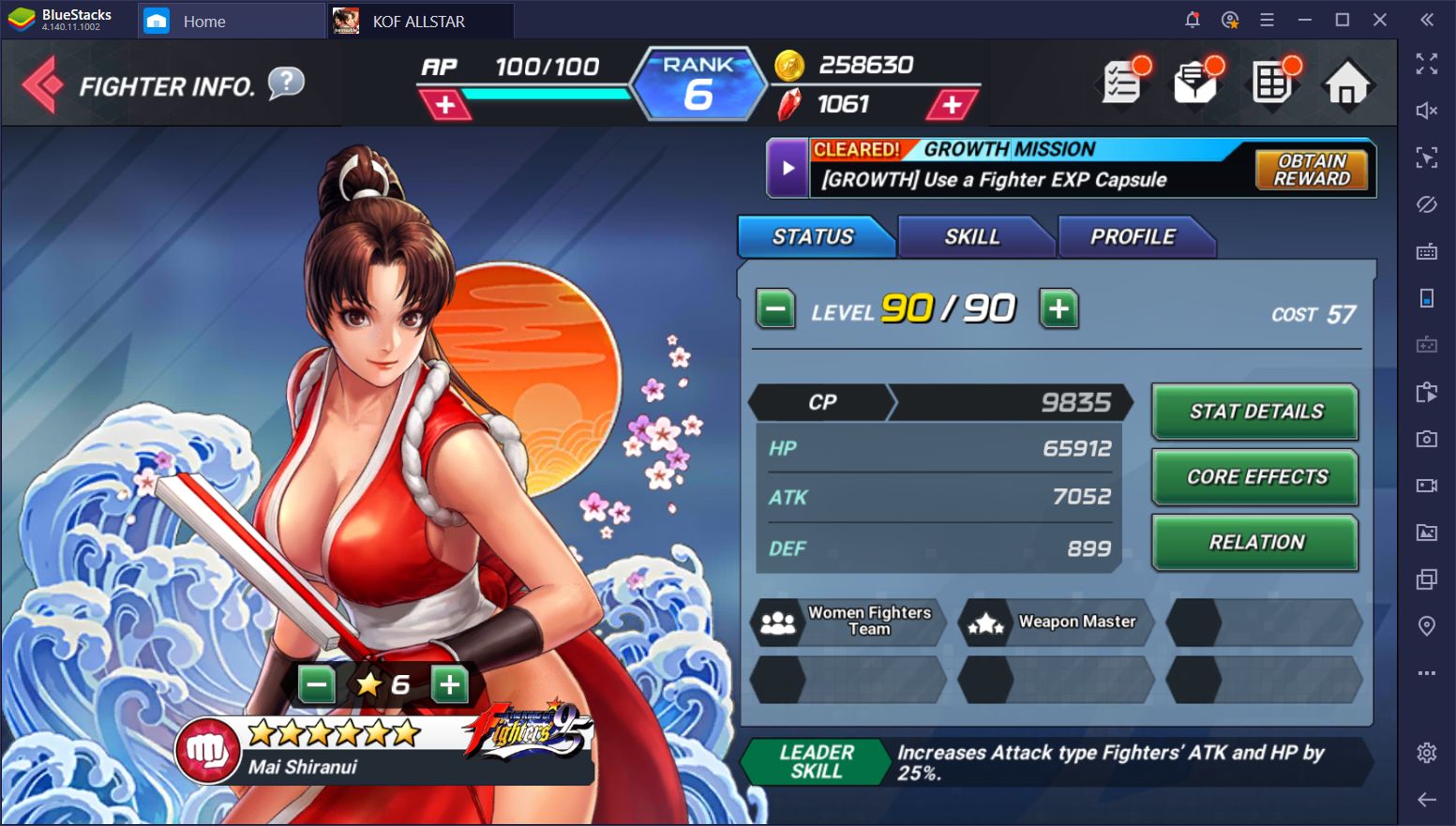 As a side note, Mai goes well with Shermie if you set the latter as leader. She can extend the duration of the ATK boost by increasing your character's maximum HP, especially at later levels where avoiding getting hit is much more difficult. However, while not very strong comparatively speaking, '96 Mai is also a great candidate for this purpose as her striker skill heals the character she's equipped to. If you don't want to waste a slot on '95 Mai, but would still like to benefit the most from Shermie's leader skill, then you could get '96 Mai and have her keep your characters healed up.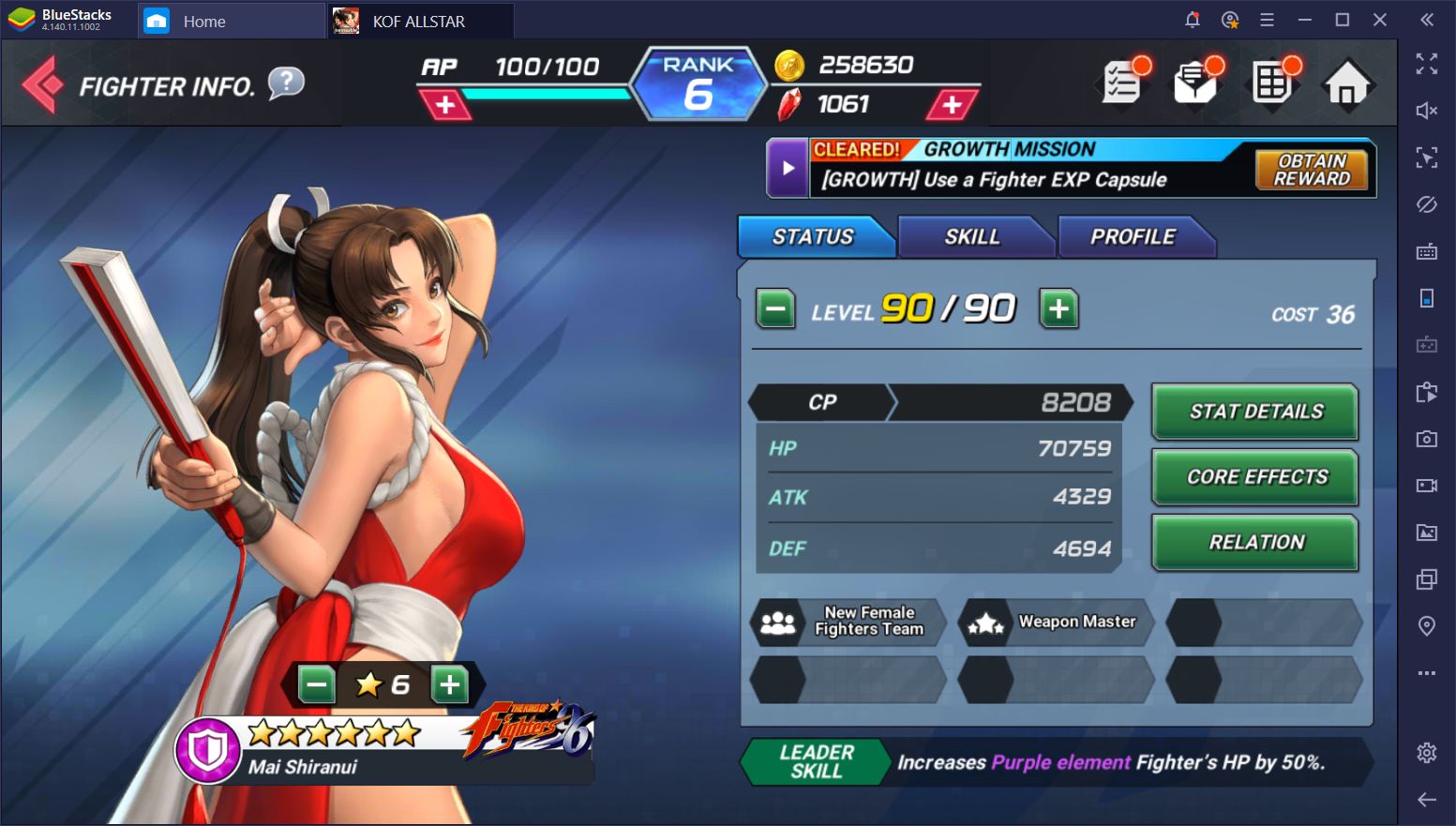 With the exception of Kyo, who is one of the strongest characters in the game, all the characters that we've mentioned on this article have a purpose to fulfill. Whether it's boosting the stats of your entire team, or crushing the defenses of foes who rely on blocking too much, you'd do well to keep an eye on the characters we listed if you want to win at The King of Fighters ALLSTAR.