Game Guides
Badlanders Tips and Tricks – The Best Strategies for Winning Every Match and Scoring Awesome Loot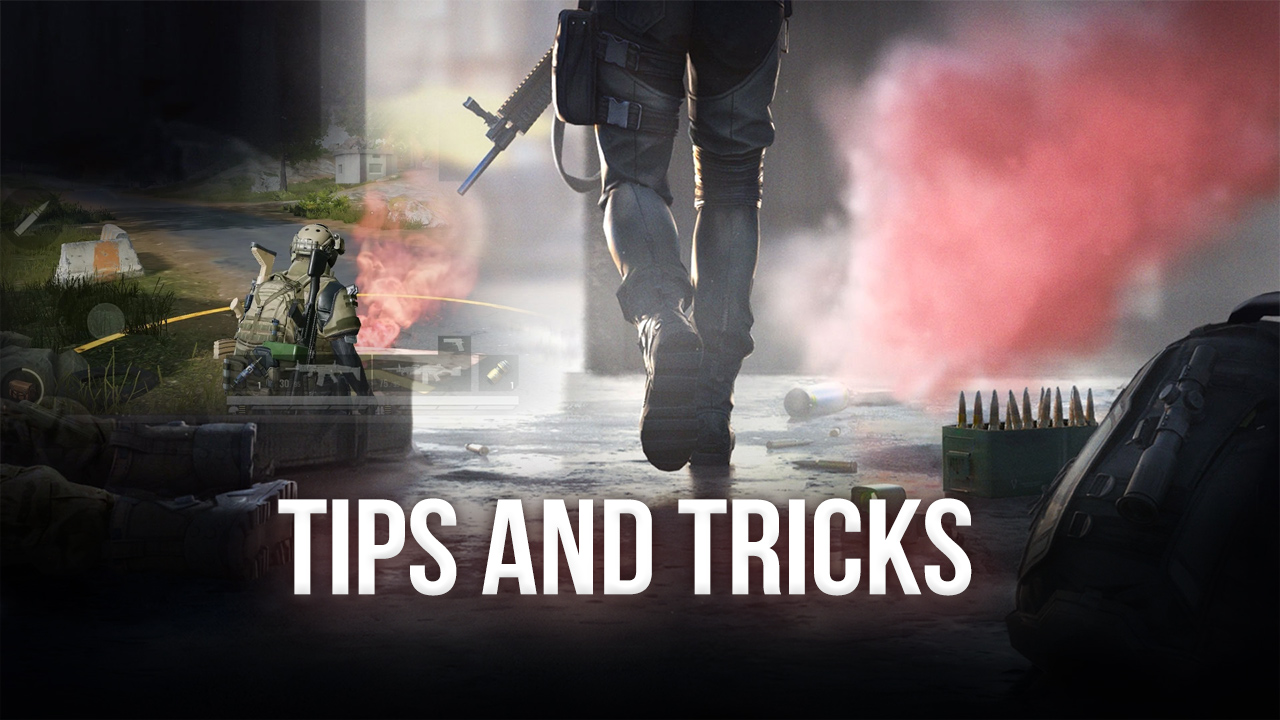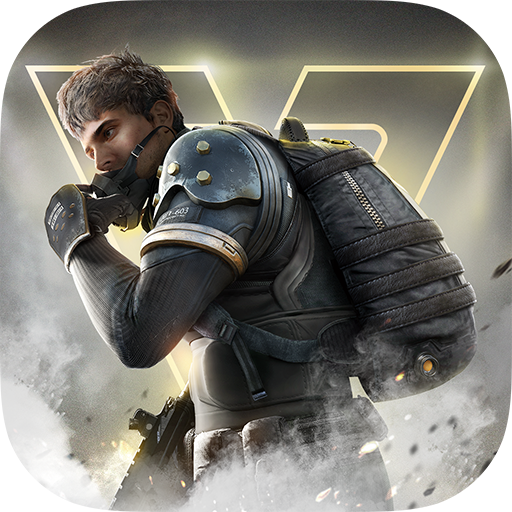 Badlanders offers a brand new perspective in mobile battle royales as it's the first big game to introduce different types of victory conditions in this platform. In this sense, while players can run around the map and kill each other until there's only one person standing, some might opt to lay low, hide, and win matches via escaping from the map when the extraction points start opening up.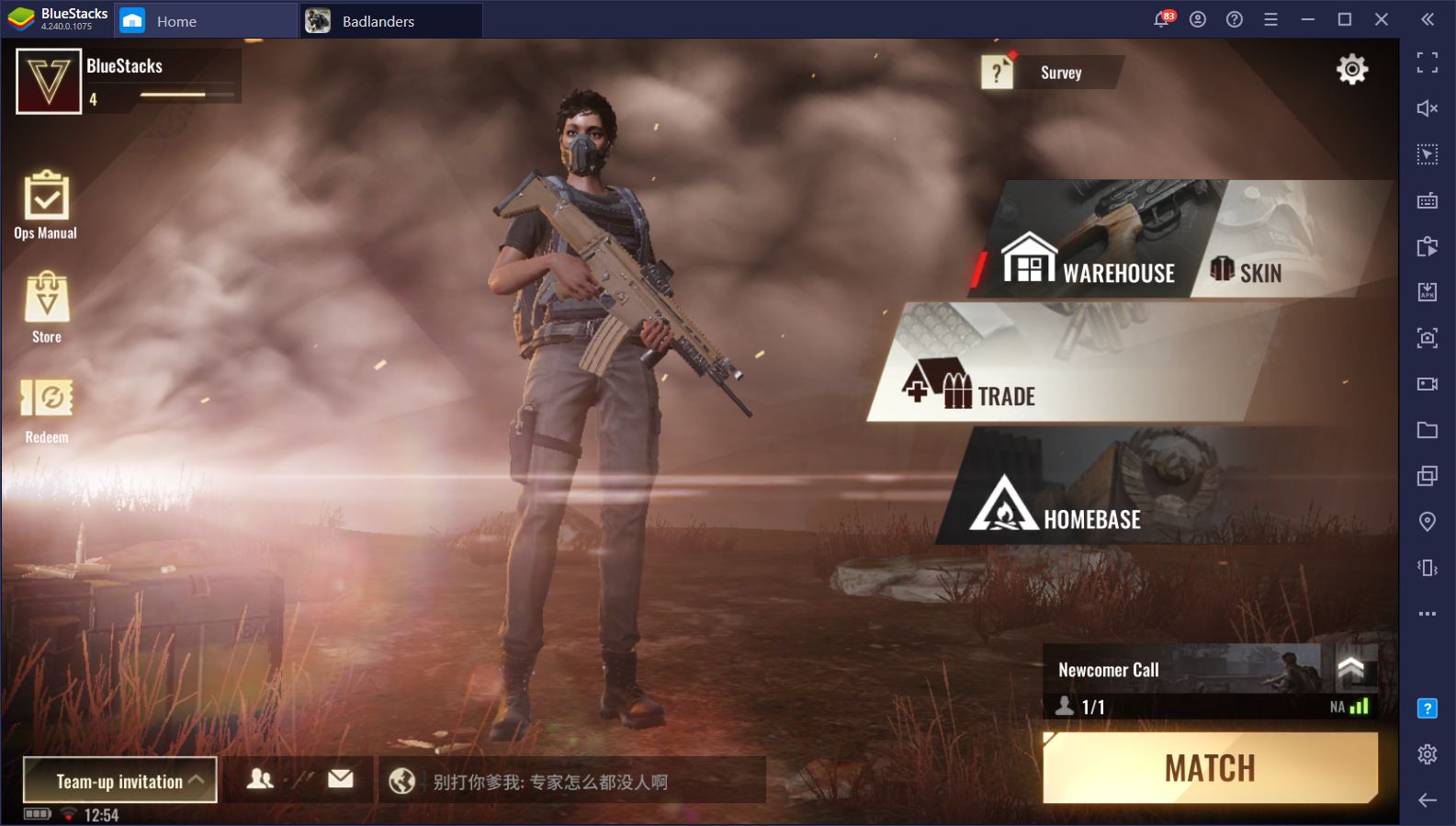 This game is also quite different in its focus, in the sense that it doesn't revolve entirely around the matches themselves, but also offers an intricate gearing and crafting system, as well as an interesting marketplace where players can buy and sell their customized weapons, attachments, and other useful items. We've dubbed this aspect of the game the "Gun Economy" as it's essentially looting materials to upgrade your guns, and then either using them on the field or selling them on the market for profit.
In this sense, looting is a crucial part of Badlanders, and players will often have to go out of their way to collect materials, weapons, gear, and attachments in order to participate in the Gun Economy. For this reason, Badlanders might be a bit confusing to some newbies, especially if they come from traditional BRs like Free Fire or PUBG Mobile. We recommend checking out our beginner's guide if you want to read more about how Badlanders works.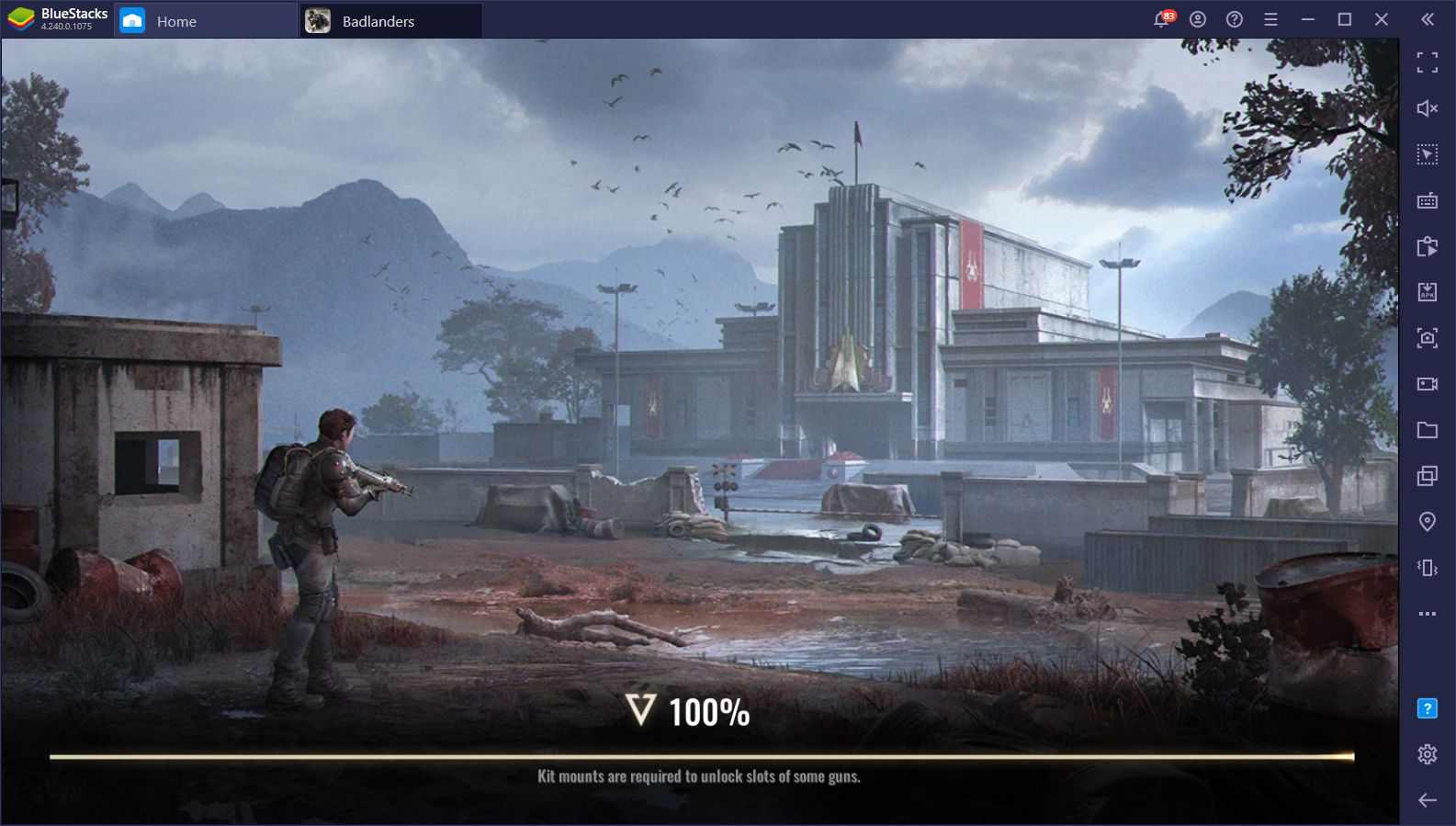 With that being said, we decided to create an article with the best tips, tricks, and strategies to speed up your progress and help you win matches.
The Loot Might be Limitless, But Your Warehouse Capacity Isn't
As a game that revolves around looting materials and customizing weapons, it's only natural that you'd want to pick up everything that you find in your matches, and you'd be right to do so, at least in the beginning. However, while looting is an essential aspect of growing your reserves of crafting materials, you always need to be mindful of your storage capacity as your warehouse is very small at the start.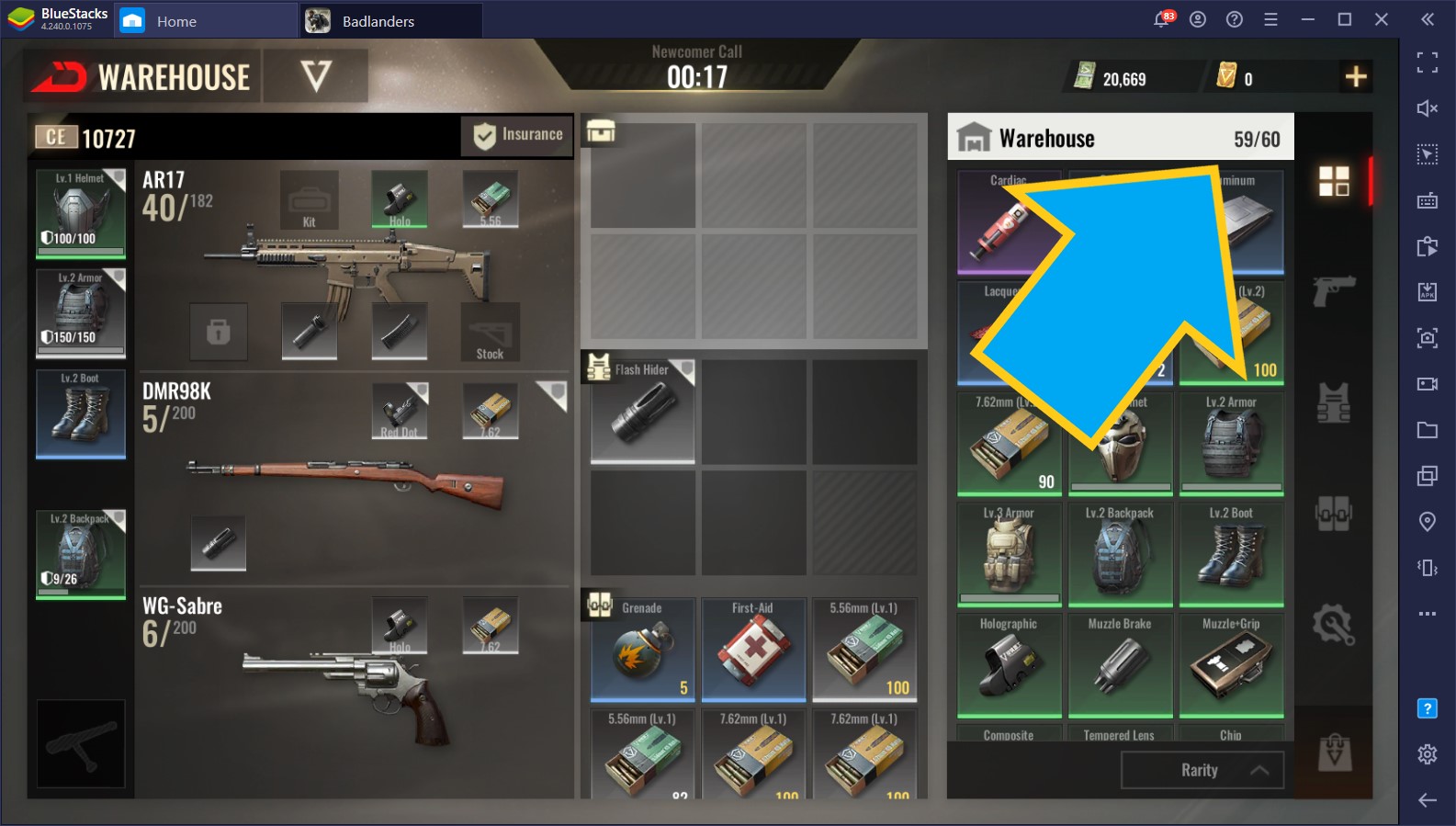 When you first start off, your warehouse can only accommodate 60 different items, after which you'll need to sell some surplus gear and materials in order to make space for better loot. In this sense, after you've increased your supplies somewhat, try to be more selective about the gear you pick up in your matches from that point onward. Or, at the very least, if you still want to pick up everything, consider selling your weakest gear to make space for better materials and accessories.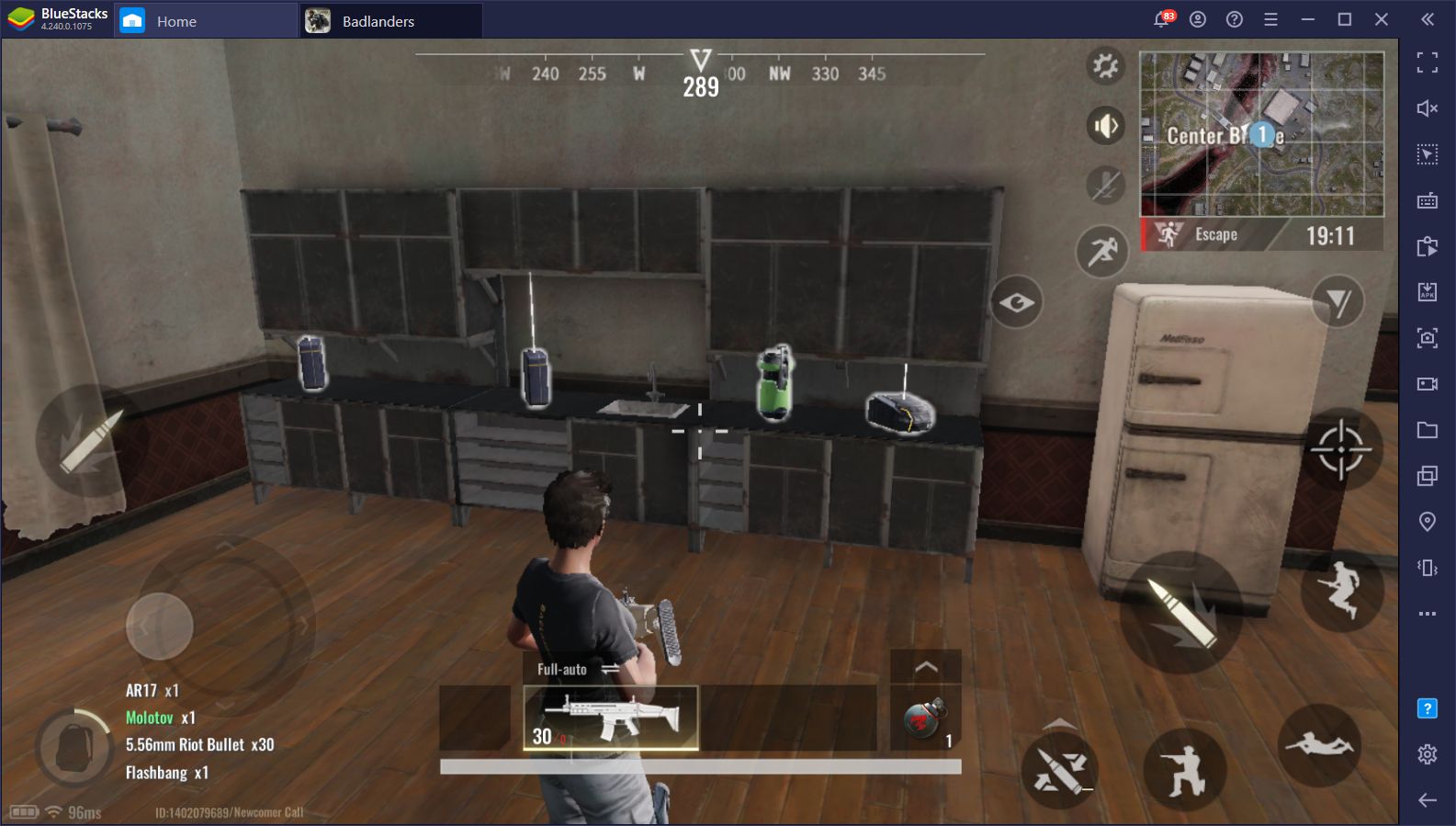 Complete Missions to Level Up and Unlock New Features
Luckily, your warehouse won't be restricted to 60 slots forever. As you level up, you'll unlock different features, including upgrade kits for your warehouse and safe. While the former is self-explanatory, the safe is an important feature for safeguarding the best materials you pick up in your matches.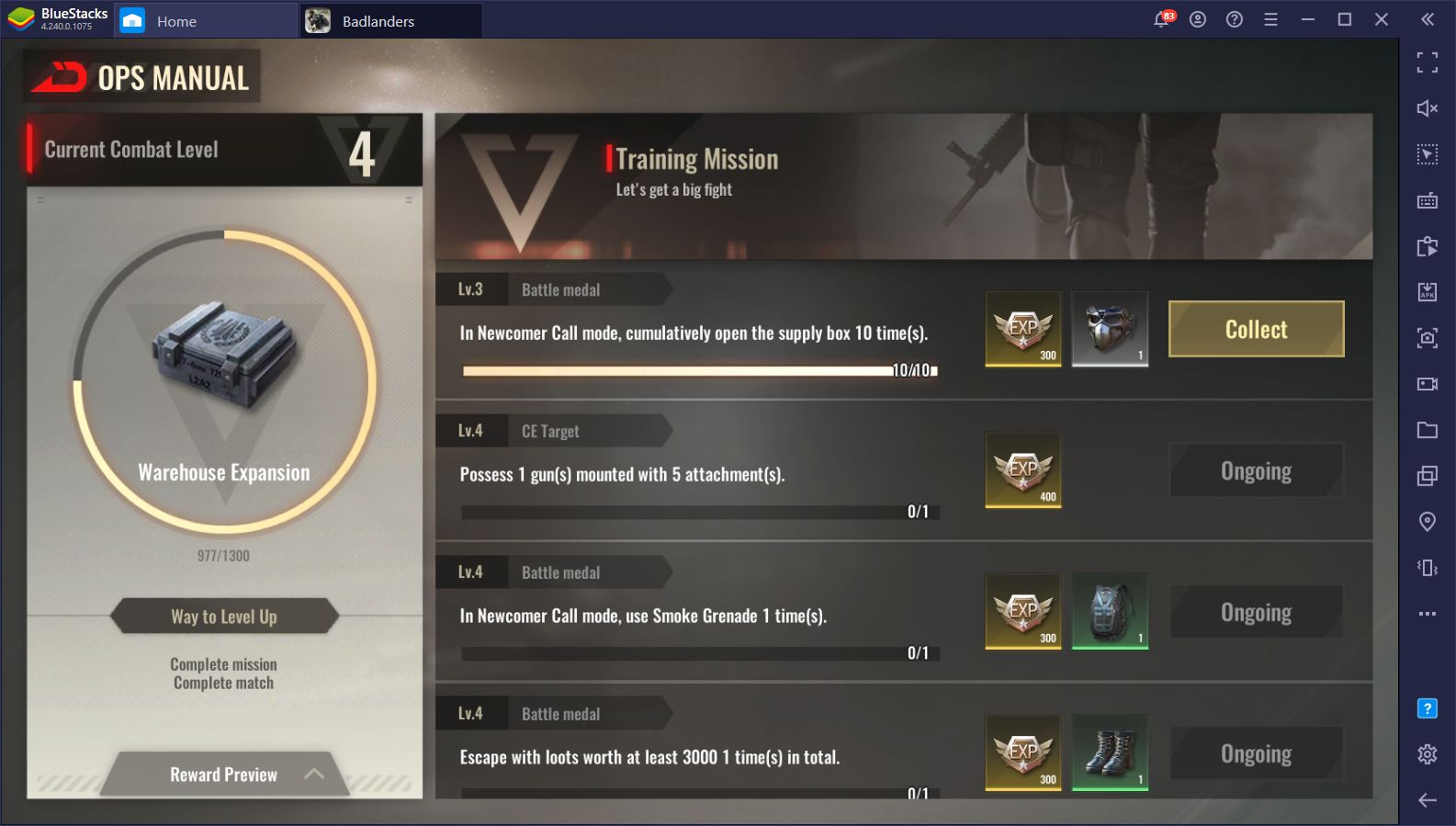 The safe in Badlanders is where you can put the items that you don't want to lose if you die. You only have a single slot available in the beginning, which significantly limits its utility. However, if you manage to score a rare piece of loot, you could stick it in there and, even if you get killed, you won't drop it.
Upgrading your safe will let you protect different pieces of gear. For instance, weapons require 3 slots in your safe in order to store them. In this sense, until you upgrade this feature a bit, you won't be able to protect your favorite guns.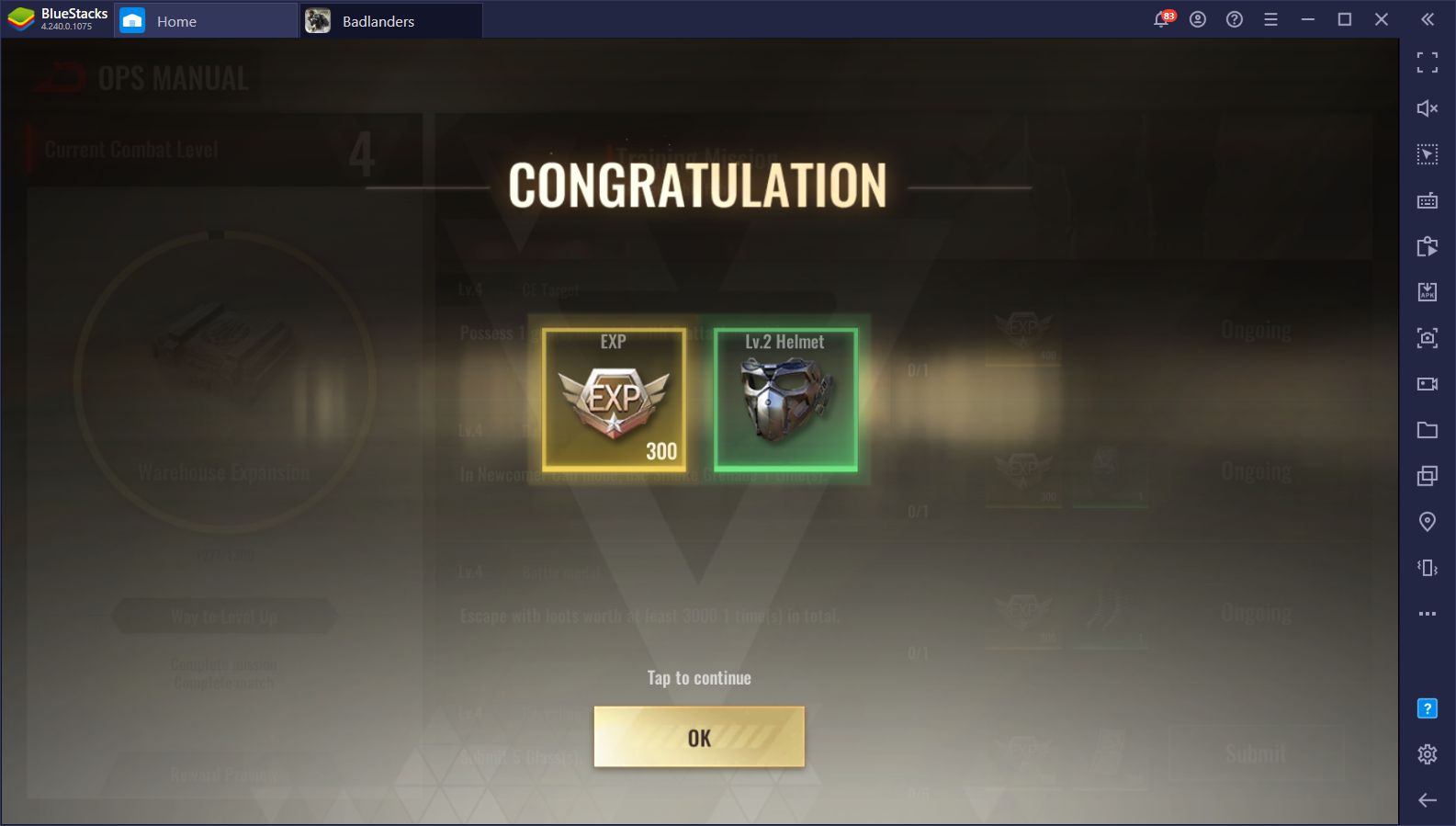 Use or Sell?
This is one of the most important questions you can ask in Badlanders. Since you can freely pick up loot and guns, and then sell them on the market, you can choose to play the game in different styles.
For those of you who just want to jump in and start getting kills, you really won't have much use for storing weapons and participating in the market. In this case, just take your best guns with you on every match and try your best to not get killed. Luckily, while your best guns will definitely make it easier for you to fight other players, they are not mandatory for winning. Even if your weapon is of the lowest quality and with no attachments, it'd only take a few well-placed shots to take down a fully-geared player.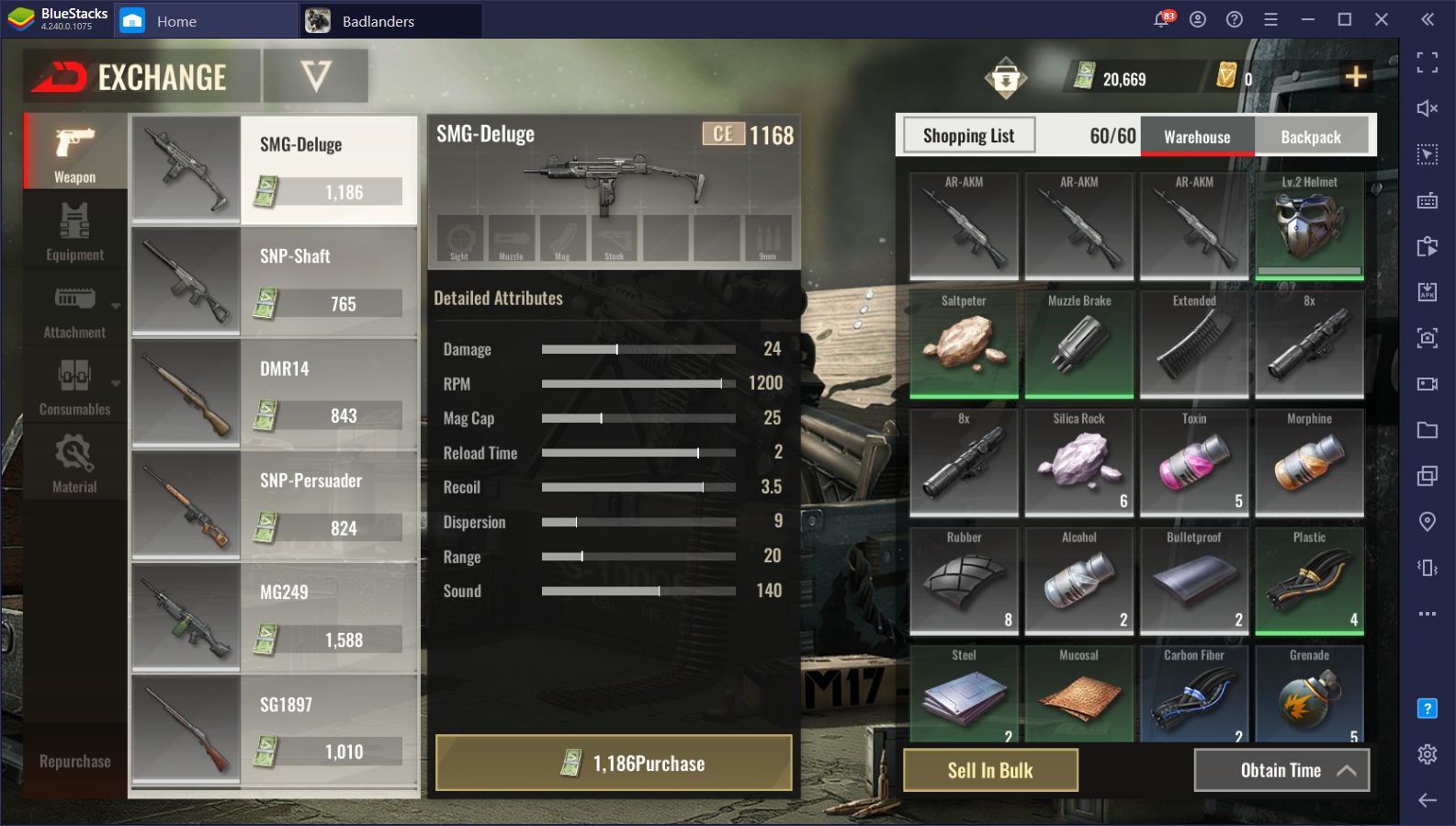 However, if you want to play the market, your best bet will be to play carefully and avoid unnecessary combat in order to avoid potential deaths and take as much loot with you as possible when you escape via the extraction point. Afterward, you can use your materials to customize your guns and sell these firearms in the Auction for a tidy sum.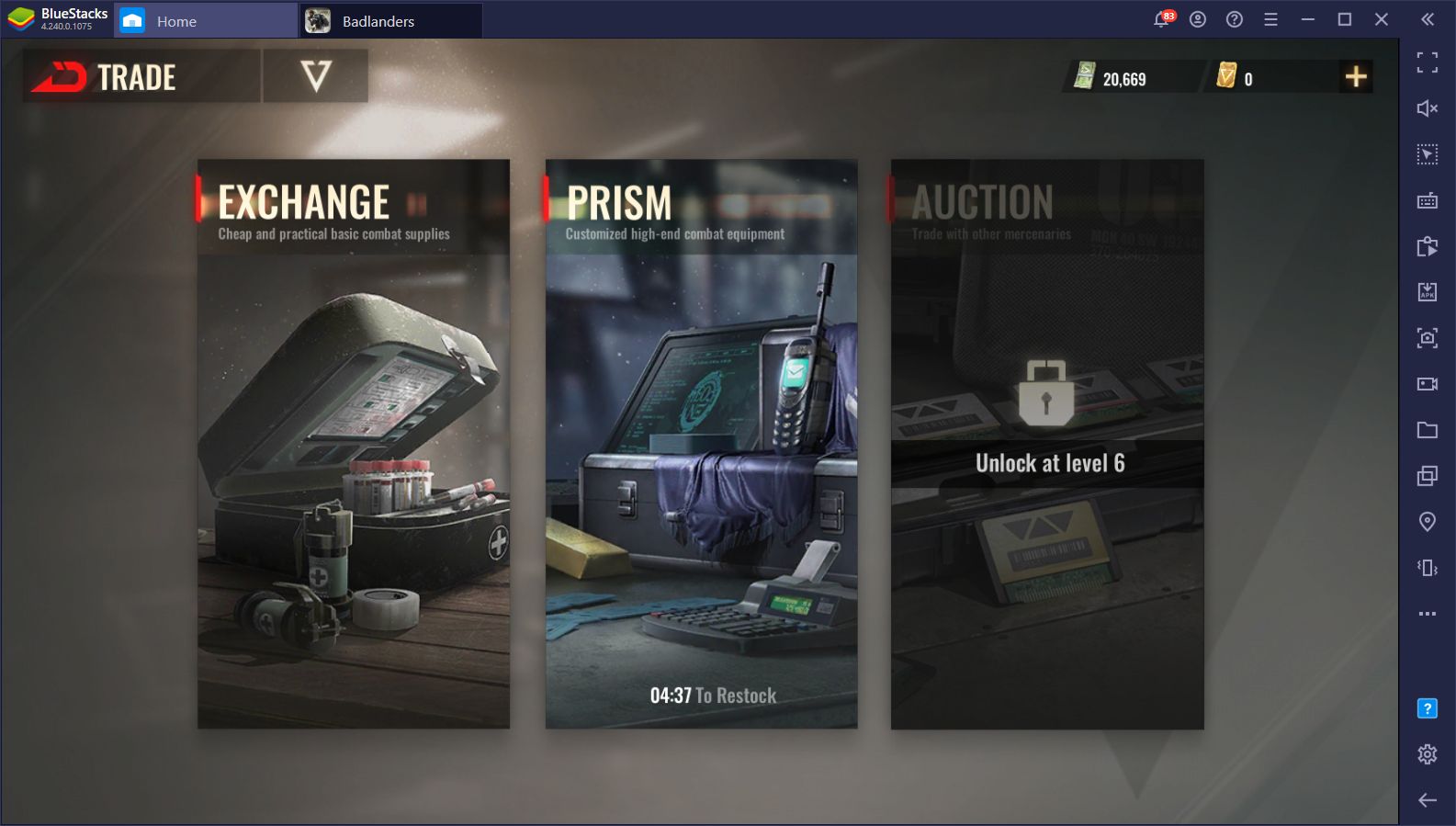 Go Empty-handed if You Want to Make Cash
While players can equip gear and weapons prior to entering matches, the best way to make money is by dropping into the map unarmed and without gear. In this manner, you can pick up a full set of gear from the map, and simply sell off everything once you win the match. By going in with an empty inventory, you maximize the items you can pick up from every match, increasing your profits considerably.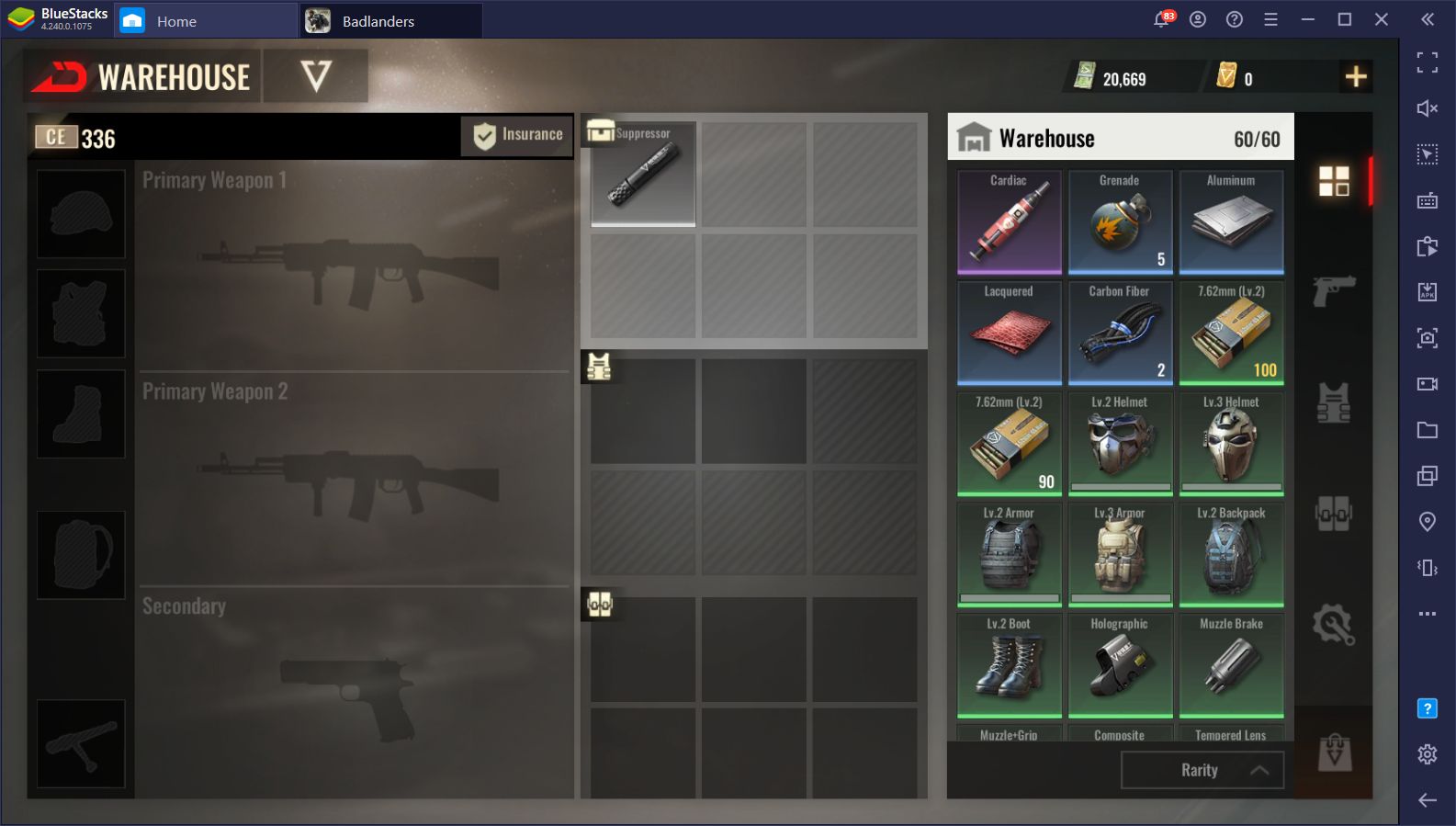 If anything, you could choose to equip your best backpack beforehand, but try not to die, or else you'll lose it. Alternatively, you could also choose to insure it and get it back if the enemy doesn't loot your corpse if you die.
The Minimap is Your Best Friend
Since Badlanders is not necessarily about combat, and players can win even without taking a single shot, you can expect to find lots of campers who are simply waiting for the timers to count down so they can make their daring escapes via extraction points. Though most of them will likely be hesitant to engage you, it doesn't change the fact that they WILL shoot you if you get careless and stand around for too long.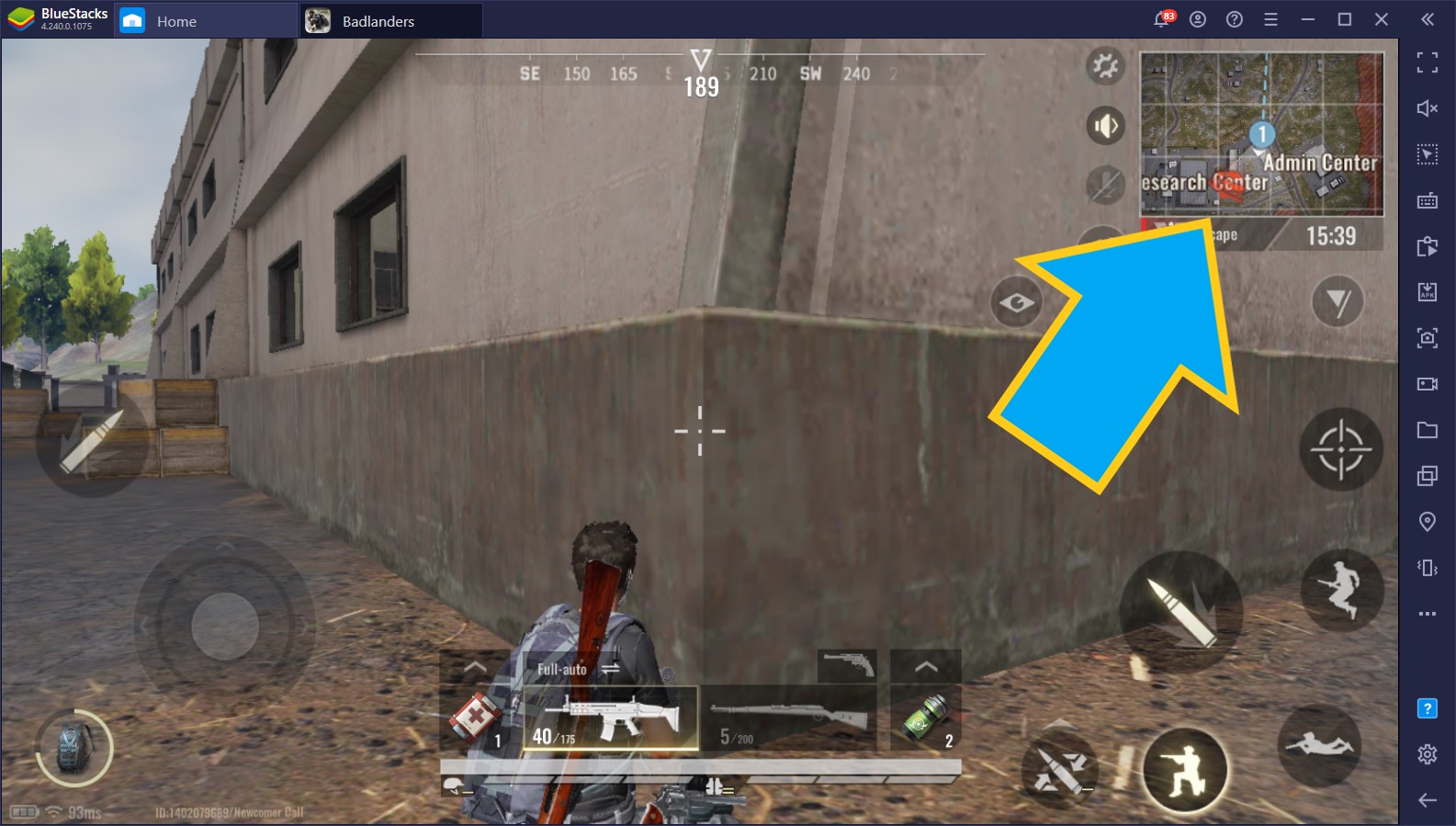 In these cases, your minimap will come in handy since it tells you if there are enemies running around nearby, as well as point you in the direction of a fight if people are shooting close to your location. The minimap will also help you to avoid ambushes by indicating if enemies are running out from behind cover and may open fire at any moment.
The threat indicators on your minimap can have either footsteps or bullet icons. The former indicates there's an enemy running around in the approximate direction the indicator is pointing towards, while the latter shows that someone has fired a gun in the direction of the indicator. Both icons give you a clue of where the enemies might be coming from. However, in the case of the footsteps icon, it means that the enemy is very close by, so keep your eyes peeled if you ever see this threat indicator on your minimap.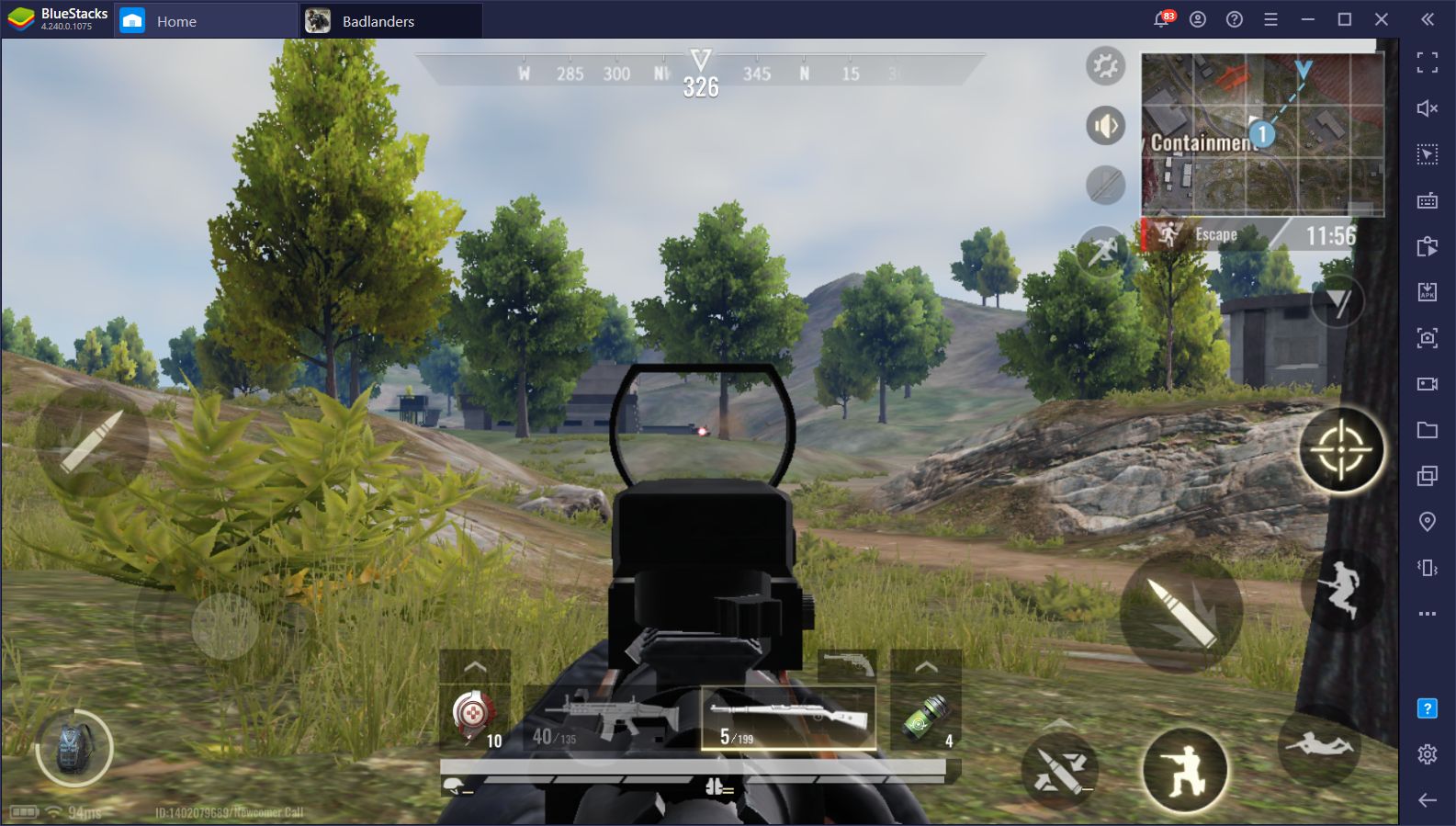 For more Badlanders guides with tips and tricks, feel free to check out our blog. If you have any other useful pointers, feel free to share them in the comments below!