Game Guides
Cyber Hunter – The BlueStacks Guide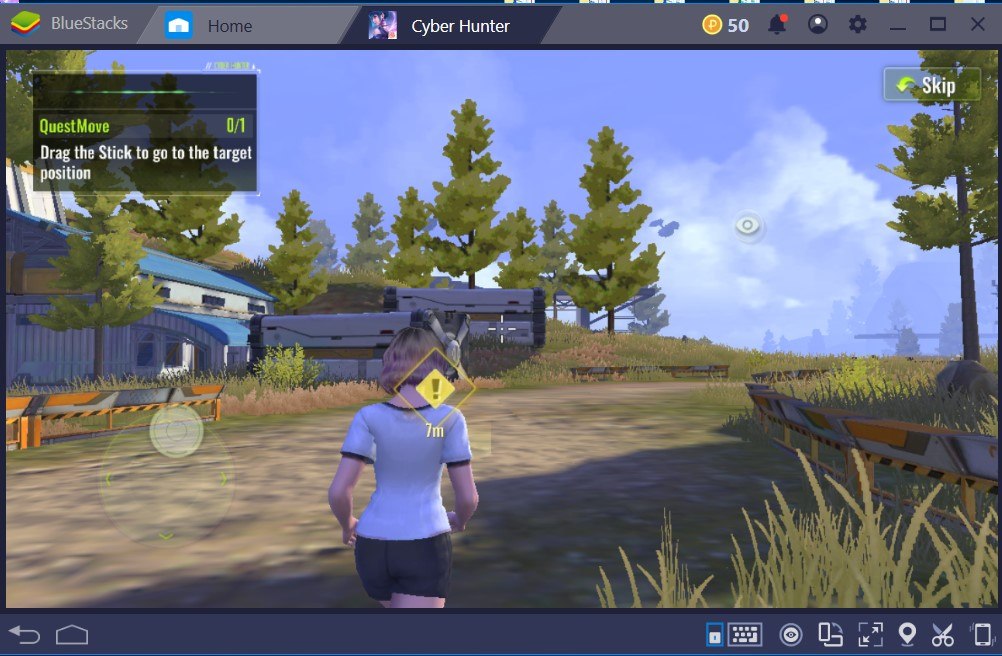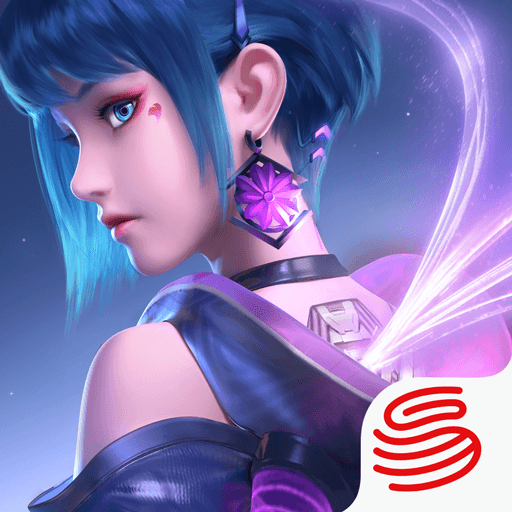 Cyber Hunter is currently one of the most played Battle Royale games out there. Saying the root of this interest is the 'Battle Royale' genre being the trend right now, would short-sell this very-well done game. There are many new additions to Cyber Hunter that differentiate it from other members of the genre.
We will provide a lot of informative articles telling you about these additions in a way suited for beginners and people who are already familiar with the genre. However, this article will be mainly about how to install the game on BlueStacks and modify your controls for the best experience possible. We will also show you why it's the best choice to play Cyber Hunter on BlueStacks.
Why Play Cyber Hunter on BlueStacks?
Before getting to installing the part, we want to give a couple of reasons why you should play Cyber Hunter or any kind of shooter game on BlueStacks.
First of all, aiming is the most important part of any kind of shooting game. When you play a shooter game on a mobile phone, especially if it's a competitive/online shooter game, the chances of you having a cozy experience is pretty slim. It is really cumbersome to aim and shoot using touch controls. However, with BlueStacks, you can use your mouse to aim seamlessly and have a colossal advantage.
Secondly, moving around is very hard when you play a shooter game on a mobile phone. It's not precise and it's cumbersome. Another amazing feature of BlueStacks lets you assign a "D-Pad" to move your character with your keyboard buttons. You will learn how in this article…
Finally, think about all the different actions required when playing a shooter game. ADS, jump, crouch, switch weapons, heal, check out your inventory, and many others unique to Cyber Hunter. Instead of performing all these actions by clicking on them one by one, you can assign buttons to all of them on BlueStacks and use them effortlessly.
These are some of the many advantages you can have when playing a shooter game on BlueStacks. It's convenient and effortless to play. Now, let's learn how to install Cyber Hunter on BlueStacks.
Installing Cyber Hunter on BlueStacks
First, use the BlueStacks "Search Bar" and type in "Cyber Hunter".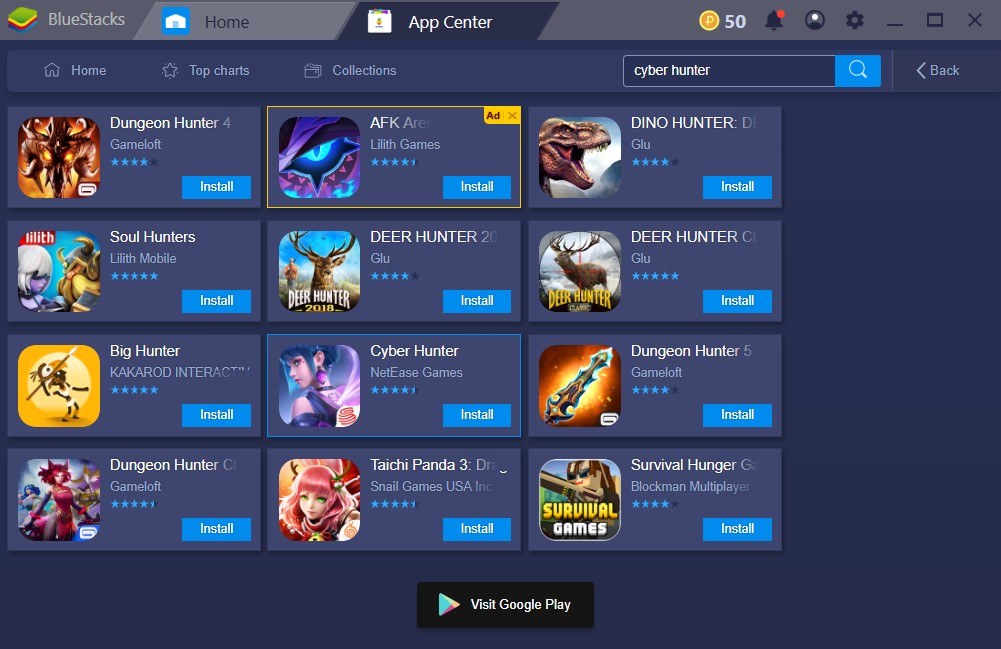 The game icon should pop out after you hit "enter". Just click on Cyber Hunter and it will lead you to the download page on the Google Play app.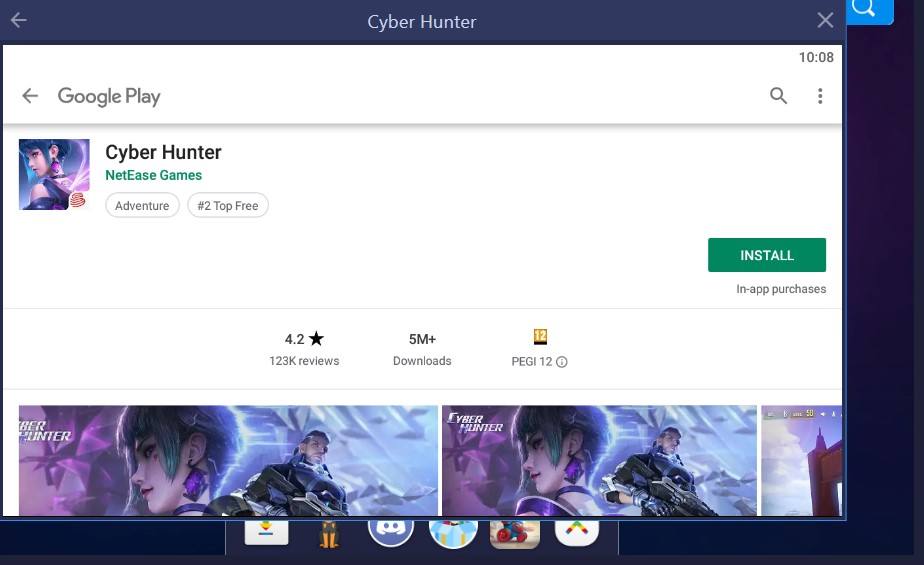 On the Google Play App, just click on 'Install' and BlueStacks will start downloading the app.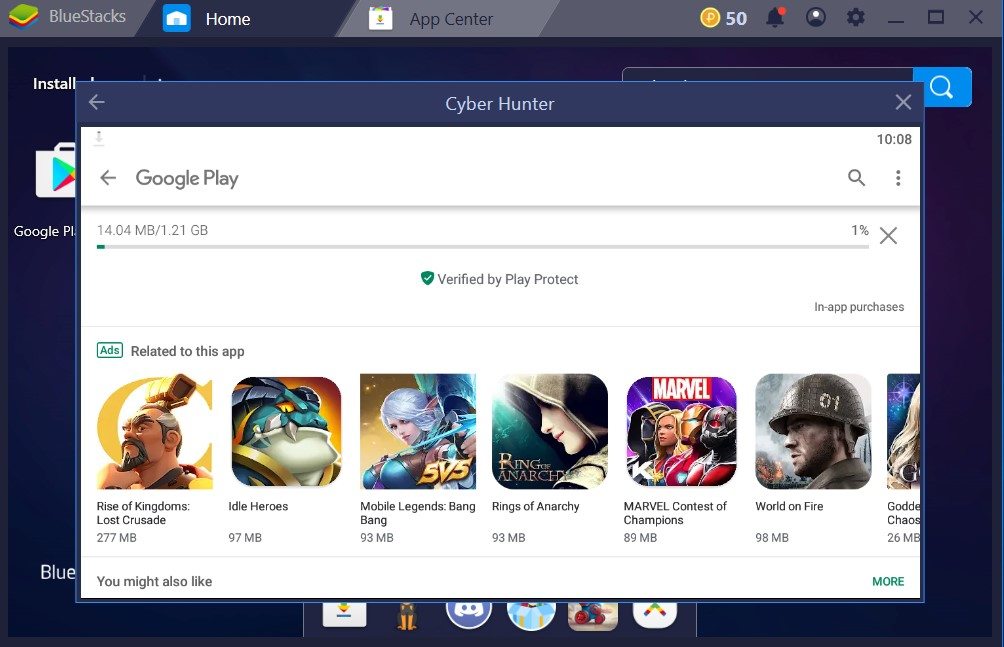 Cyber Hunter is a big game. You are going to need to download a total of 1.21 GB of game data. The overall download might take some time. When the download is finished, BlueStacks will automatically install the game.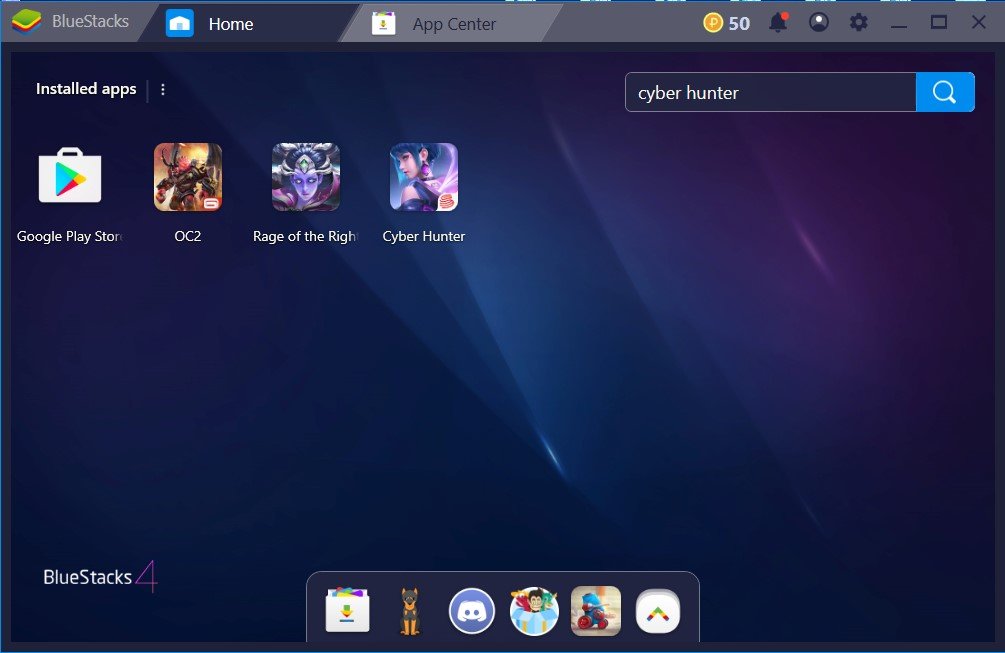 After the installation progress is complete, the game icon should appear as shown on the image above. As you can see, downloading and installing Cyber Hunter is very easy to do. Just search the game and click on install. The game will download and install automatically.
Launching Cyber Hunter on BlueStacks and the Tutorial Mode
When you launch Cyber Hunter for the first time, the game will ask you to attend "Tutorial Mode". Even if you are already familiar with the genre, you should say "yes" and see it through to learn what's different in Cyber Hunter.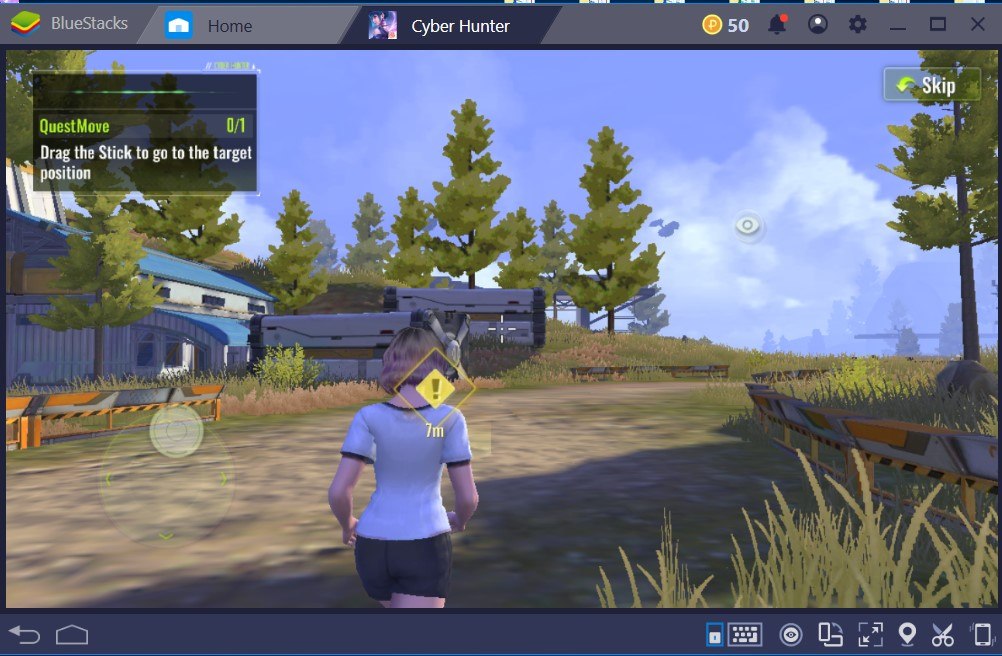 The tutorial mode of Cyber Hunter doesn't take much time and it's very insightful. It demonstrates the gameplay mechanics unique to Cyber Hunter and makes you ready for your first survival battle.
After we are done with the tutorial mode, it's time to modify our controls.
Modifying Your Controls for Cyber Hunter on BlueStacks
With the advanced BlueStacks controls feature; you can modify your controls and have convenient gaming experience.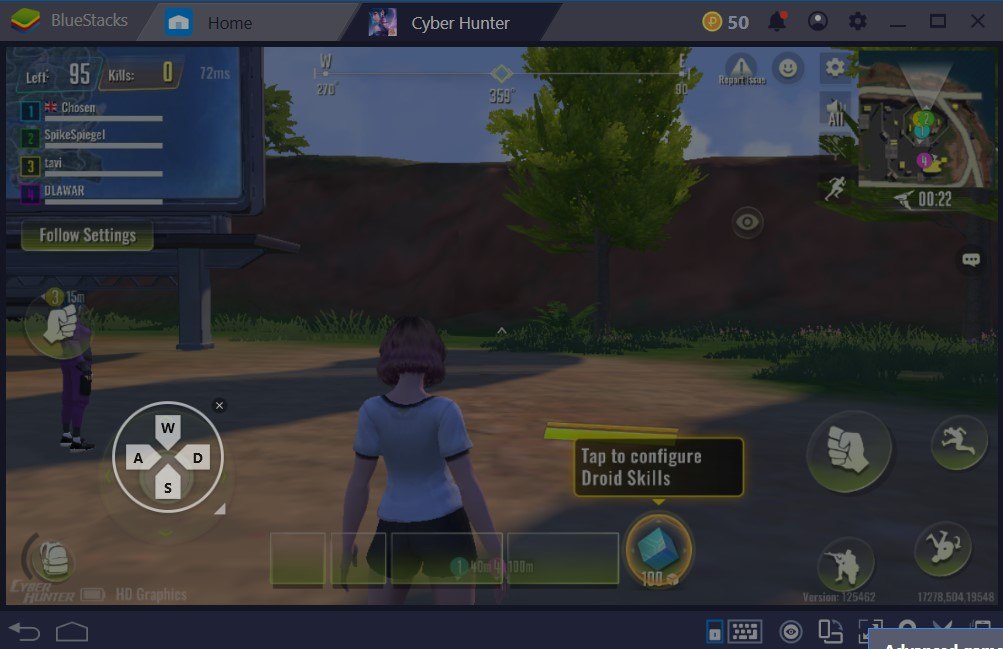 To assign buttons for any action, open the "Advanced Controls" located on the bottom right-hand side of the BlueStacks launcher.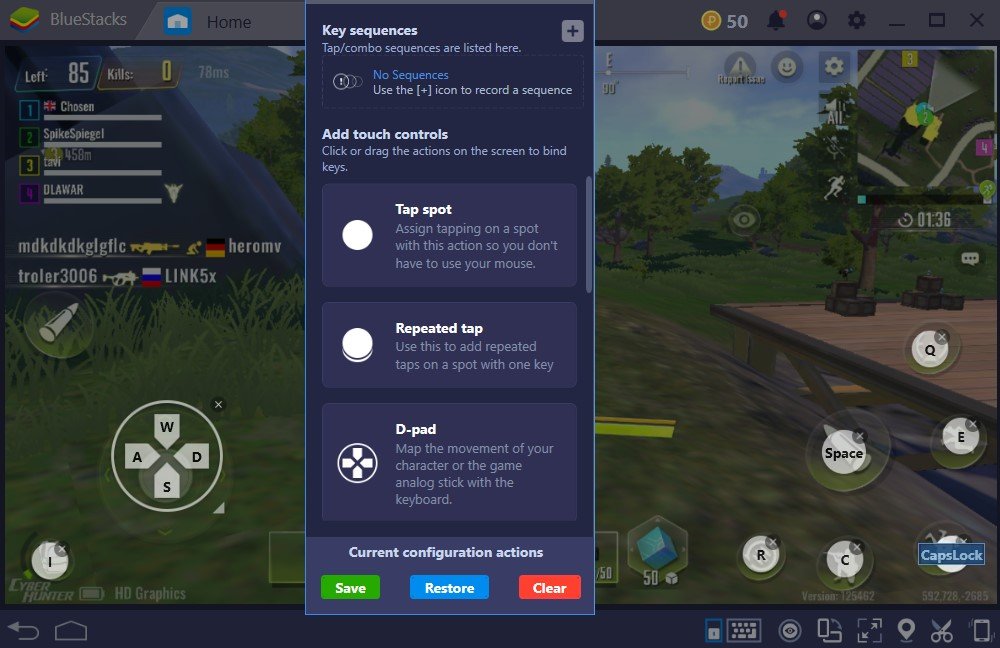 From here, you can assign anything to any kind of action the game features. We talked about the advantages of playing a shooter on BlueStacks, remember? Now, we will show you how to modify your controls accordingly so that you could have these advantages on your side.
For instance, the first thing you can do is solely assign the 'D-Pad' for a more precise movement experience. Just hold and drag the D-Pad icon to the left side of the game screen as shown in the image. When you do this, you can easily move your character around by using 'W, A, S, and D' buttons.
Secondly, you can add the strafing function to use your mouse for aiming. When you do this, you can take advantage of your mouse and aim with pinpoint accuracy. Other great BlueStacks feature on our side!
Finally, after setting up the controls for the movement and aiming, you can assign buttons for swapping weapons, opening your inventory, and for many other actions. You can assign the classic '1, 2, 3, and 4' buttons for a regular Fortnite like Battle Royale Experience and equip your weapons by pressing these. If this setup is not for you, just freestyle and assign which button, you demand.
After you complete modifying your controls, there is nothing else to do but start playing. You have precise and movement, pinpoint aiming, and effortless weapon switching on your side to get that victory. Follow the tutorial and install Cyber Hunter on BlueStacks. Modify your controls and have an amazing Battle Royale experience.
Meta Description: Install Cyber Hunter on BlueStacks to have many advantages on your side. Use the key mechanics of Cyber Hunter effortlessly and find out why BlueStacks is the best place to play a shooter.