Game Guides
Cyber Hunter Weapons Guide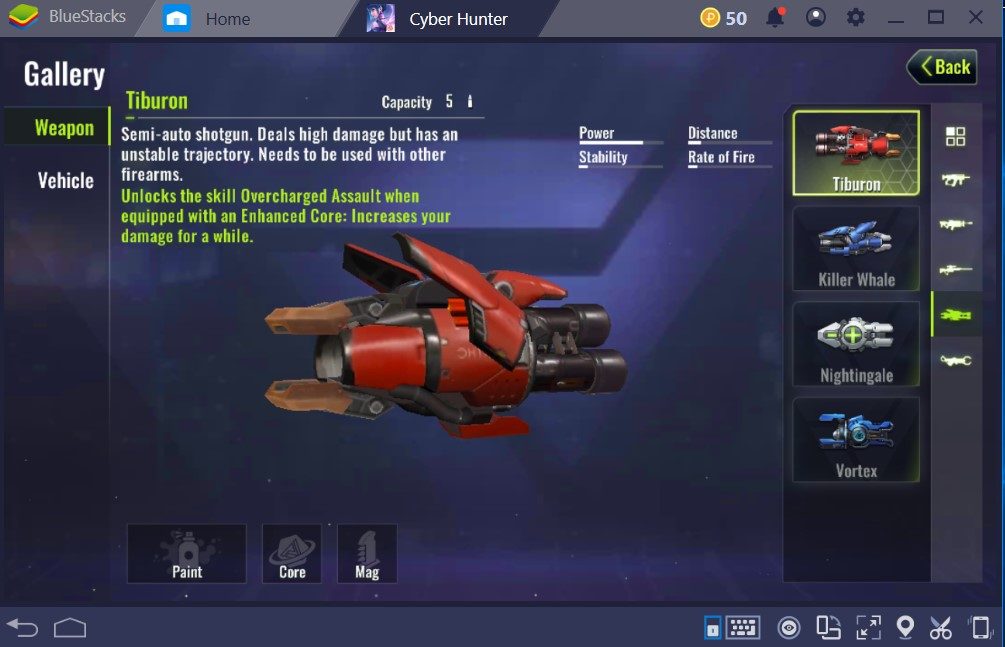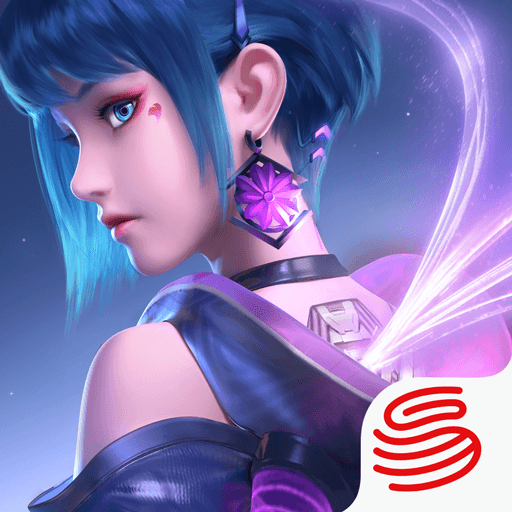 Cyber Hunter has a big package of things to offer to its players. If you are a fan of the Battle Royale genre, there is a lot here that will get your attention. One of the first things that you will notice is the fine tuning made to the combat system. Some newly added mechanics enhance the combat style typical to the Battle Royale Genre and take it to a whole new level with mechanics such as climbing. These mechanics use an energy bar to perform. It's not easy to get that 'chicken dinner' without mastering these. Another important addition is the Droid Skills. There are many different skills that change the momentum of firefights. You can equip up to three of these different skills and deploy them if you have enough resources. In addition to mechanical additions that spice up things in terms of gameplay, Cyber Hunter also does a good job at customization part of things. A traditional season pass is also present in Cyber Hunter. It's packed with many amazing rewards and items for you to earn. All you have to do is play the game and earn season pass experience points (you can always buy the season pass if you want).
What about the guns? Sure, these new additions seem fun but the pith of Battle Royale games is the shooting. If the gun variety is not big enough, the shooting does not feel good, and there isn't much gun customization it wouldn't attract many players. Well, Cyber Hunter does a great job in terms of gunplay. It has a big arsenal with many different guns and more than enough customization options for these amazing weapons. In this article, we will try to give information about some of the most useful and easy to use weapons. The article won't contain all the weapons in the game since some of them being very hard to find in the battlefield.
Cyber Hunter – Best Assault Rifles
Assault Rifles are usually the stars of many shooter games. They are easy to use and dependable in almost every situation. This isn't an exception in Cyber Hunter. Assault Rifles are great and you should keep one in your inventory if you can.
Liberty Alpha
Liberty Alpha is the most basic and balanced assault rifle in the game.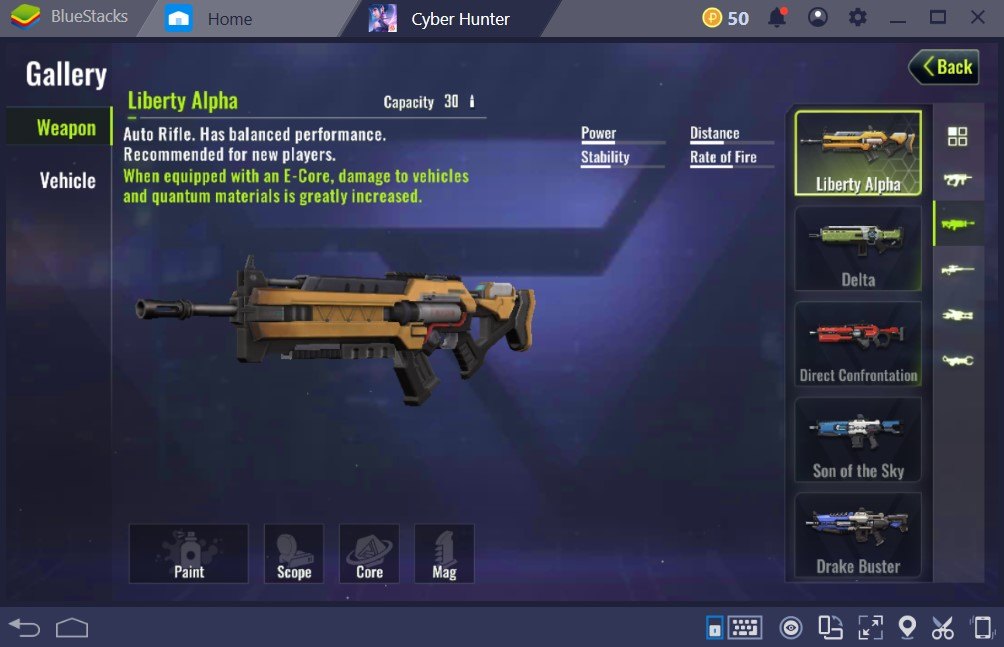 You can come across this weapon almost anywhere in the map. It has low damage but very low recoil, making it a great choice for beginners.
Son of Sky
If you love dealing tons of damage, then Son of Sky is the weapon for you.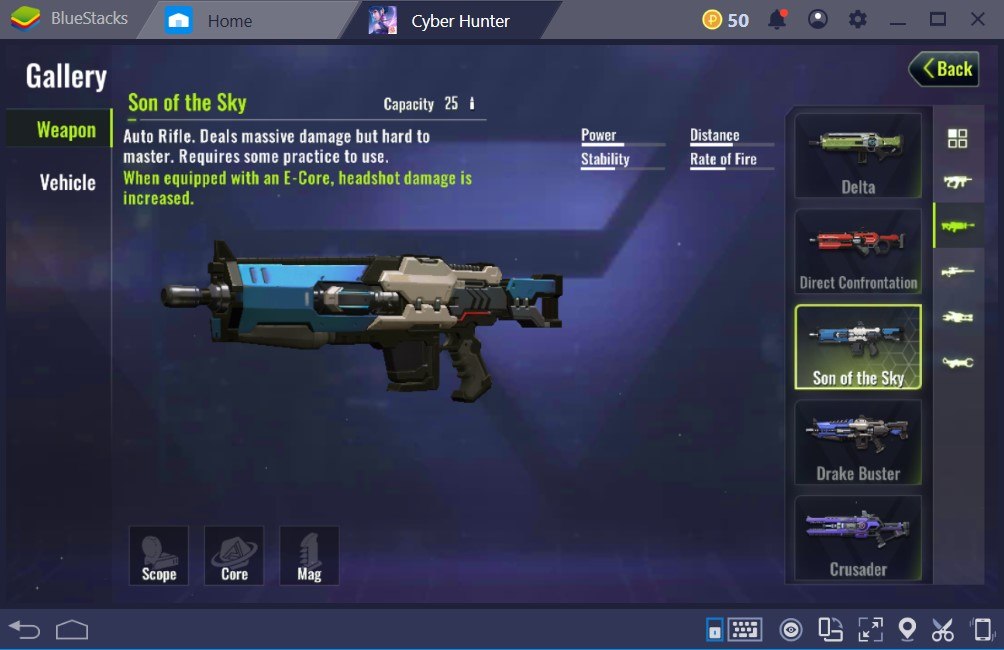 This assault rifle deals very high damage, however, in terms of accuracy, it doesn't perform very well. If you know how to handle your weapon, then this is probably the best weapon for you. You can find it quite regularly while wandering around the map. It might take a couple of games to get used to, but when you manage to tame it, you will drop your enemies in a matter of seconds.
Crusader
The last assault rifle on our list is the Crusader.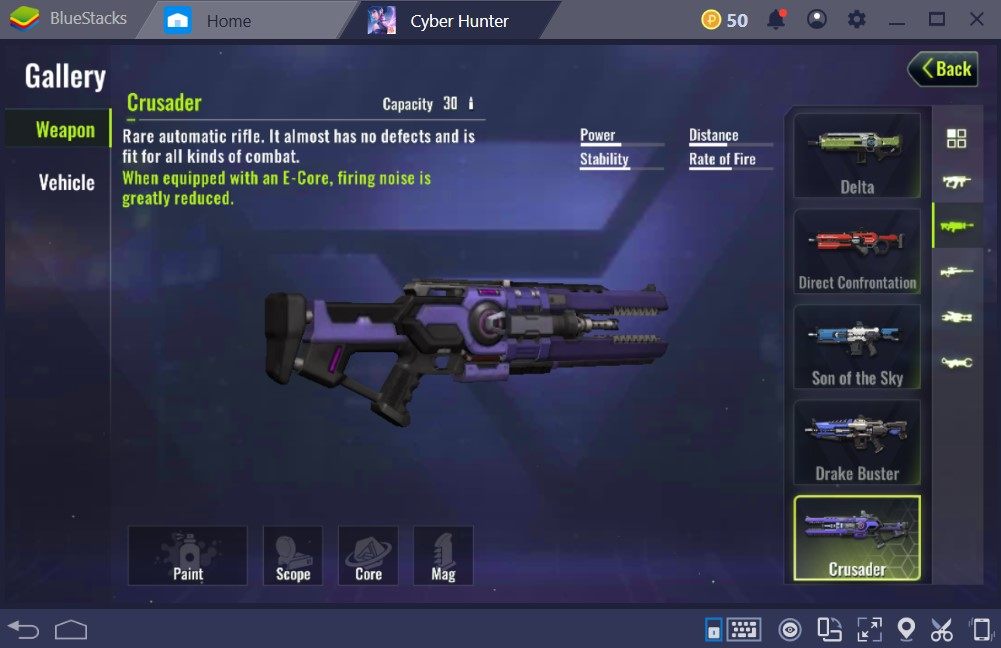 Crusader is the perfect weapon in the game. It has high damage, low recoil, and a big clip. It can be used in long-range and short-range with ease. If you have this weapon and know to aim at least a little bit, then the chances of you getting that 'chicken dinner' is pretty high. Crusader is a very rare weapon. The chances of finding it during a match are very slim. However, if you are lucky enough to get your hands on a weapon like this, make sure to annihilate everyone.
Cyber Hunter – Best Sub Machine Guns
Sub Machine Guns are the pioneers of close-ranged combat. They have a very high fire rate and can melt down enemies in the blink of an eye if you are close enough. Cyber Hunter has a small pool of these guns; however, they all work great.
Omega
Omega is the most common weapon in Cyber Hunter. You can find it almost anywhere when you make your initial landing.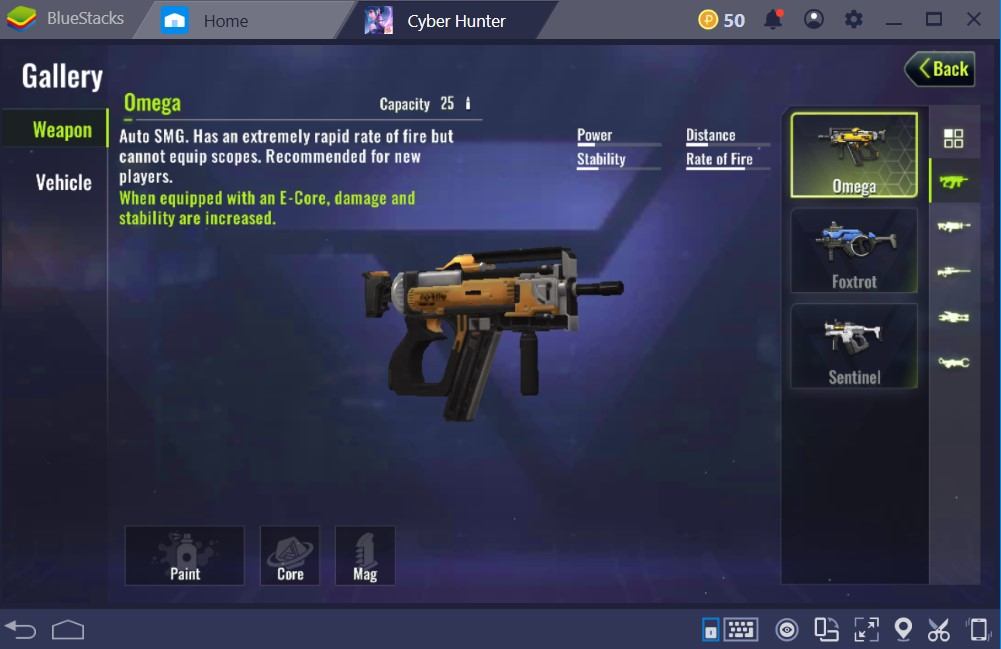 It has low recoil and a small clip with very high accuracy. The damage drop is very apparent when you are far from your target.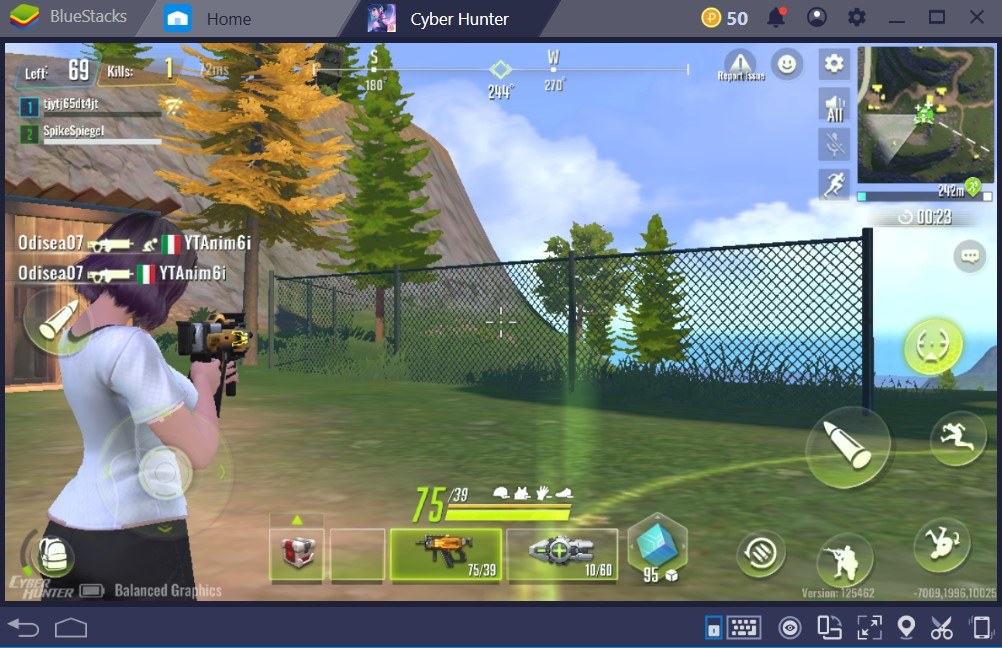 To summarize Omega, we can say "The perfect beginners weapon". Check out the Beginner's Guide for Cyber Hunter to see detailed strategies.
Sentinel
Sentinel is a rarer weapon compared to Omega.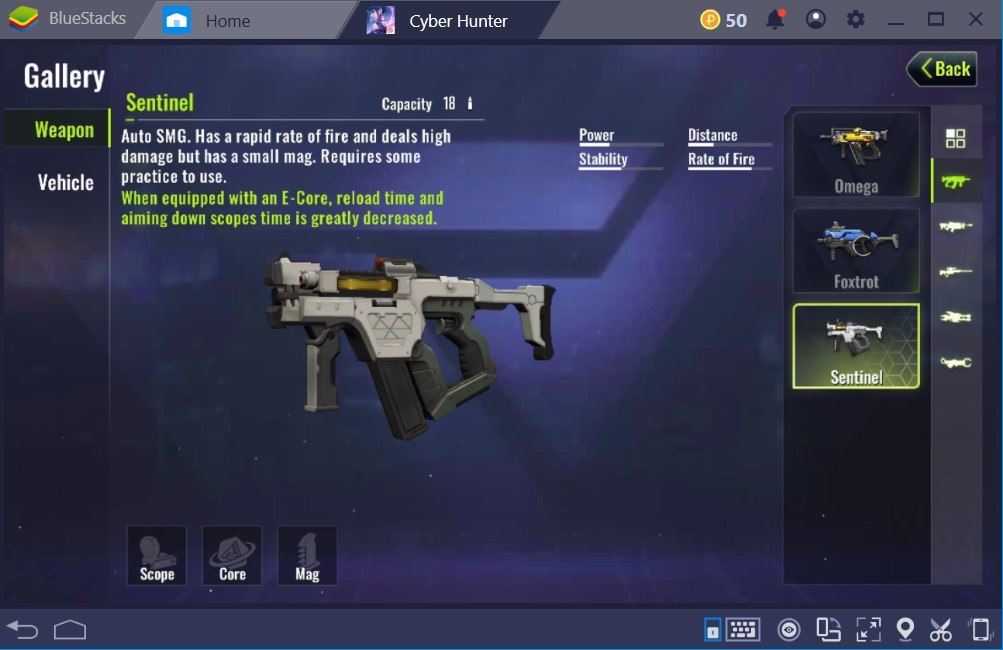 This weapon is almost perfect for many situations. The biggest handicap is its small magazine, which can be increased by picking up the necessary parts. Sentinel deals very high damage and fires very fast. The recoil is a lot higher compared to Omega, however, with a little practice, you can easily master this amazing weapon.
Cyber Hunter – Best Shotguns
Shotguns are the kings of very close-ranged combat. They have low fire-rate but high damage. So, if your accuracy is on point, you should have no problems.
Killer Whale
Killer Whale is the most common and arguably the easiest shotgun to use in Cyber Hunter.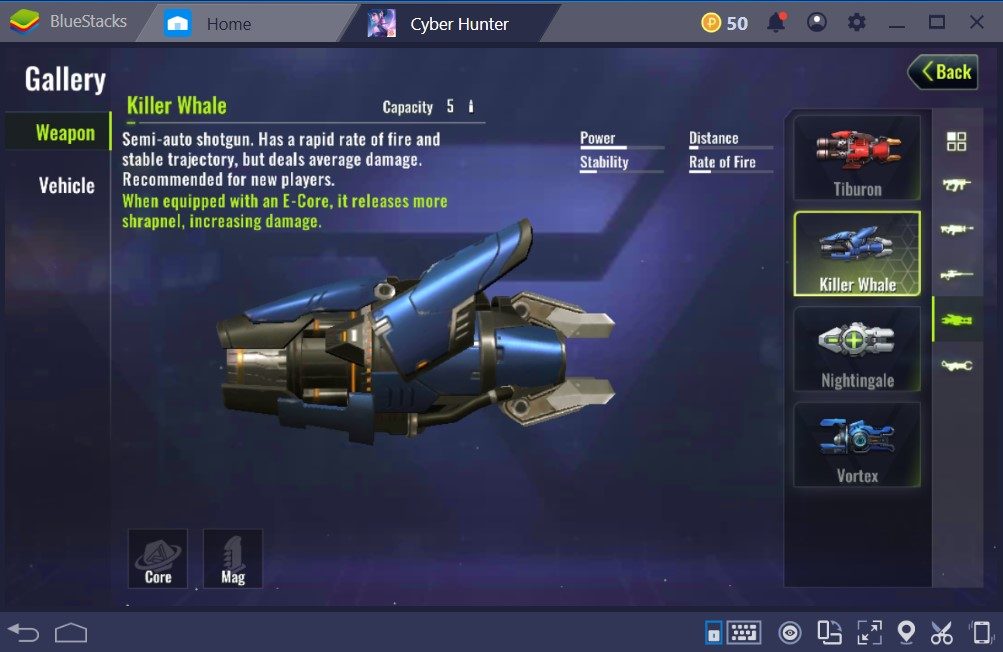 It is a semi-auto shotgun with stable recoil. You can bring down your enemies in very close range with ease. There are three other shotguns present in Cyber Hunter. However, after trying them for some time, we did not see many differences. Therefore, if you are a shotgun fan, you should try out Killer Whale.
Cyber Hunter – Special Weapons
Special Weapons have found a place for themselves in many Battle Royale games in the recent past. Cyber Hunter also has its fair share of special weapons.
Absolute Zero
As you can understand from its name, this special weapon freezes the target.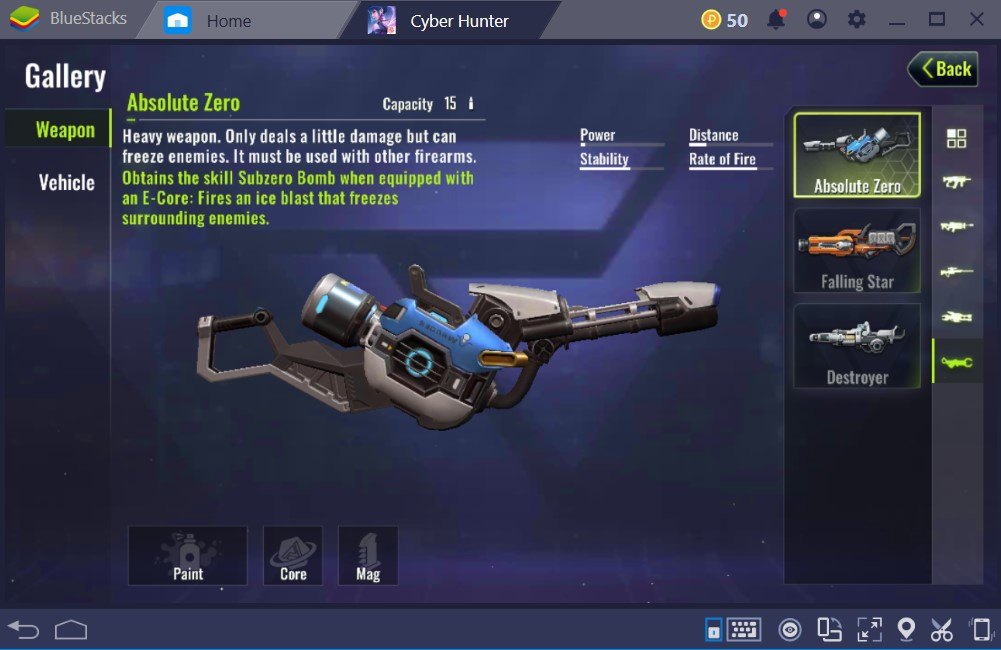 This is a rare weapon so the chances of finding one on the battlefield are very slim. However, if you find one, you should take advantage of it. Freeze your enemy in a matter of seconds and then switch to another weapon and finish them off. There are two other special weapons in Cyber Hunter. However, they are pretty much the same.
Cyber Hunter has a big enough arsenal of weapons. If you were not sure about how to fill up your inventory before, after reading this article, you should have some firm ideas.