Game Guides
Marvel Future Fight : How to Choose the Best Starter Heroes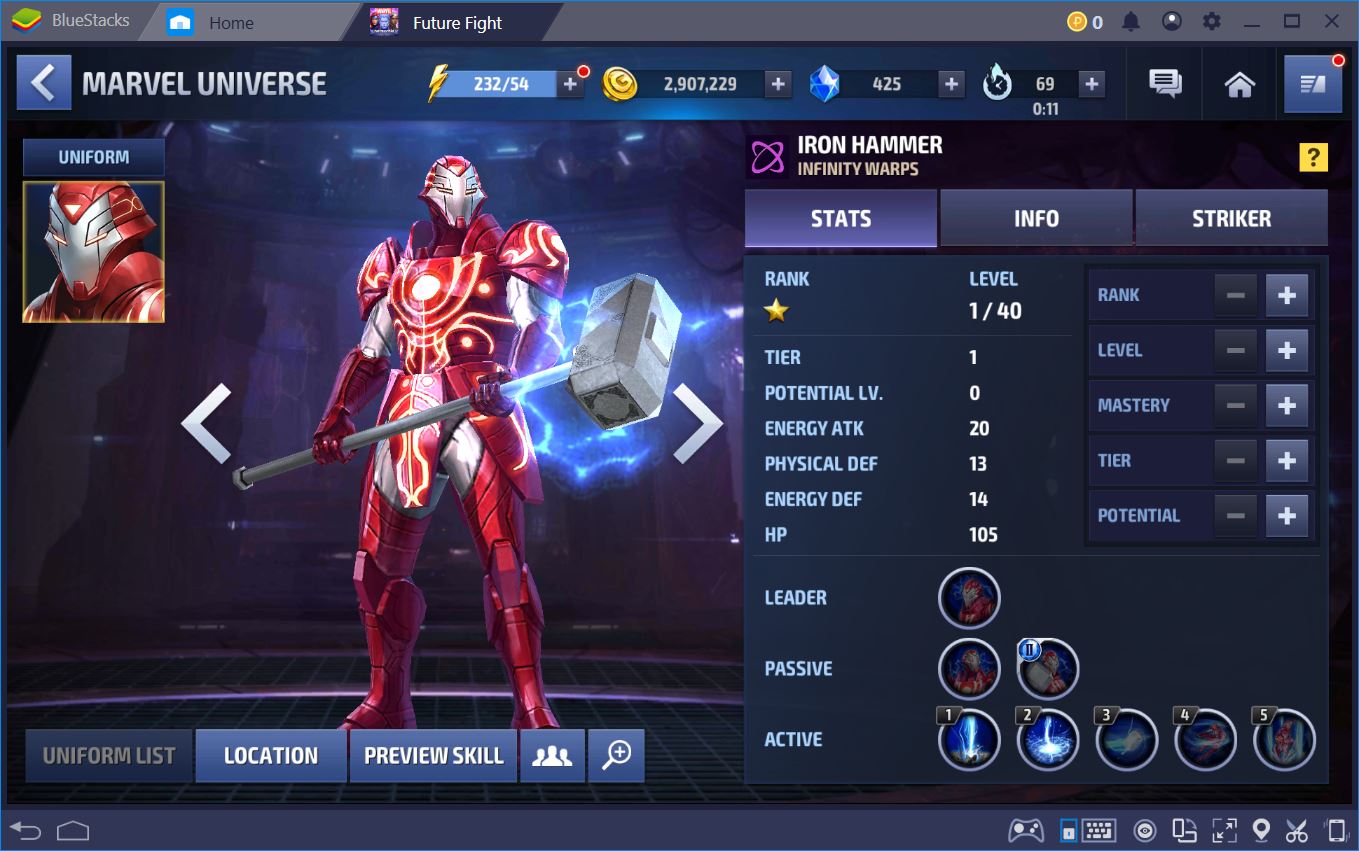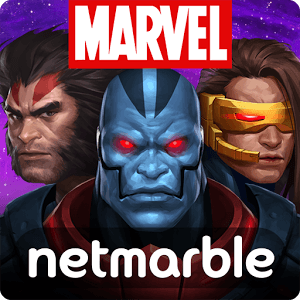 Regardless of whether or not you're a fan of the Marvel Universe (But who are we kidding? Everyone's a fan), Marvel Future Fight is an exceptionally-made action role-playing mobile game with surprises for everyone. Once you get accustomed to the game mechanics, there's plenty to do to keep you busy for hours each day, while the competition between players is more alive than ever.
Of course, there is a Pay to Win aspect to MFF, but this is not to say that F2P players don't stand a chance to compete. In fact, the game gives you plenty of chances to catch up with others, especially during your first 28 days. Provided that you log in on a daily basis, you can earn a bunch of Character Selectors and pick between top-notch heroes to add to your team.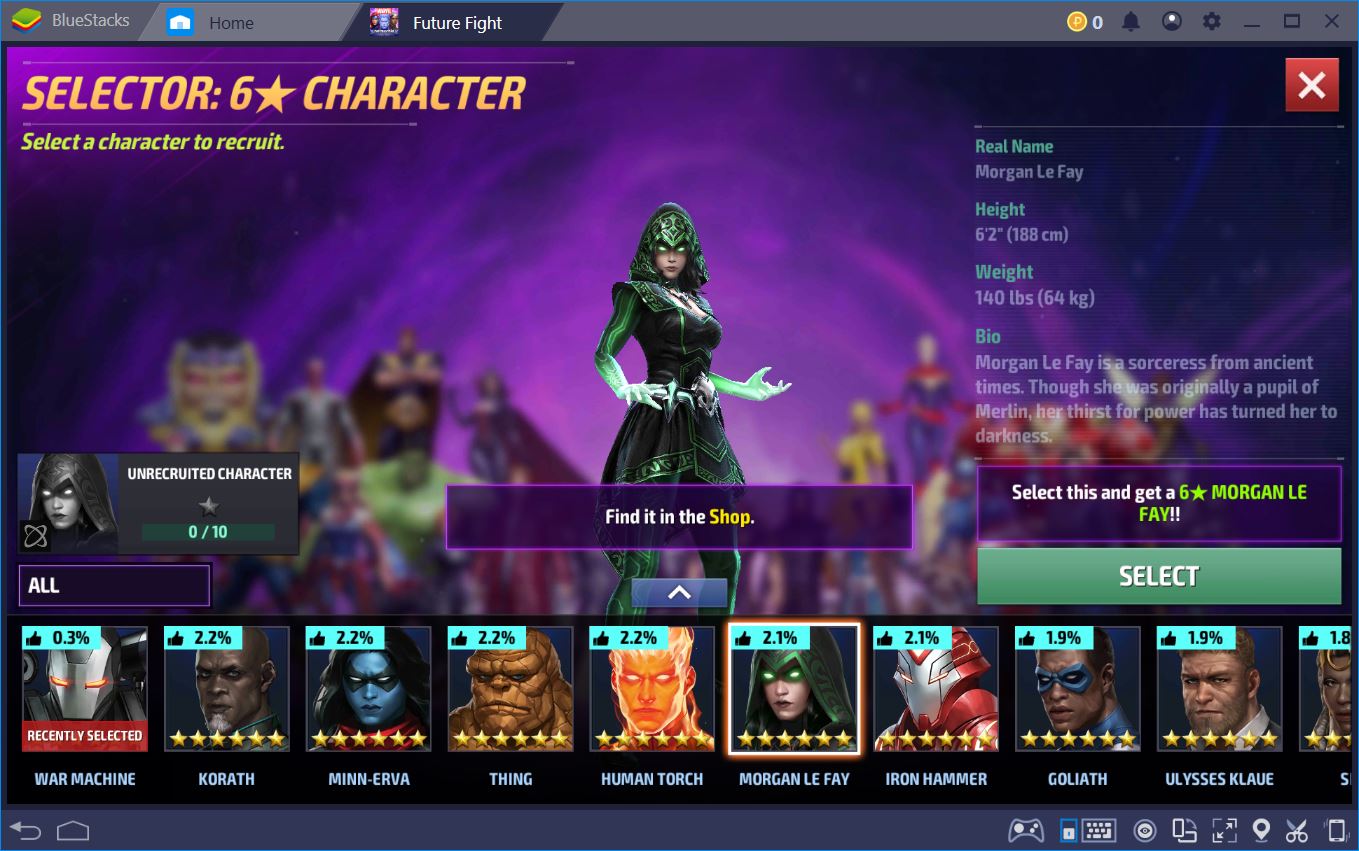 This is where the decision-making starts – as early as the first 10 minutes of the game. Which heroes do you choose for your first and subsequent Selectors?
Best Heroes to Unlock with "Selector 6* Character"
We've already covered the best heroes in Marvel Future Fight in a different article, but these are not always available with the Selectors you earn from login bonuses. In addition, some of them can be obtained fully upgraded by different means, which is something we discuss in our guide to getting more good heroes for free.
As such, the heroes we present below are the best possible picks for your four "Selector *6 Character" (one for every full week you log in) that cannot be obtained elsewhere. By choosing them, you're giving yourself the opportunity to complete more missions, earn more resources, and win more Timeline Battles.
Morgan Le Fay – A Universal hero with tremendous damage potential, Morgan Le Fay can make your life much easier as you progress through the tutorial missions and acquire additional good characters. We recommend you choose her for your first "Selector 6* Character," which will make her join your team at Rank 6, Level 1. Her "Back in Time" passive is already activated at this point, so she is revived with 50% total HP on each first death during a mission. Meanwhile, some of her active abilities – like Magic Strike or Meteor Rain – simply melt any opponents that stand in your path.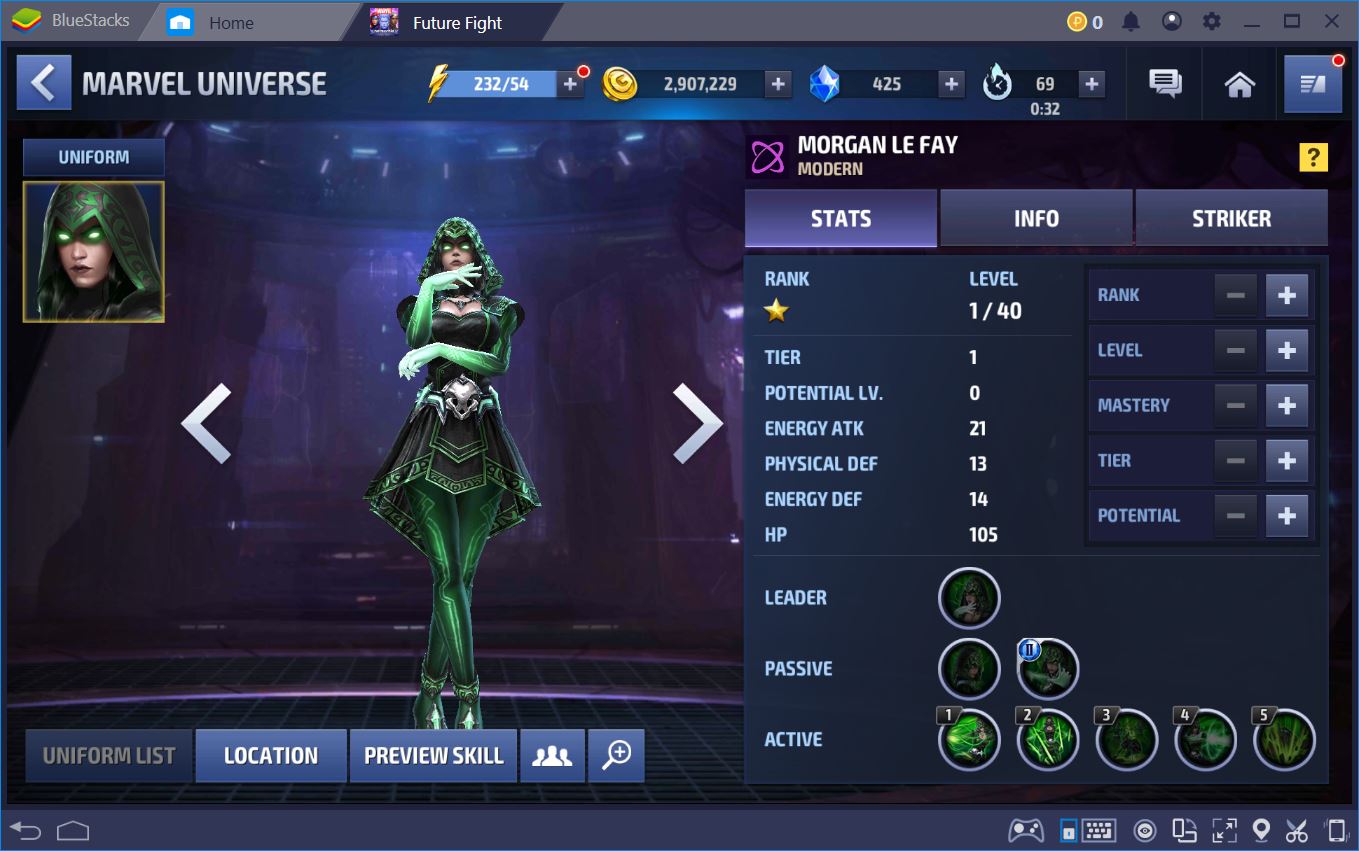 Iron Hammer – Another bad-ass Universal Hero and great pick for your first Selector, Iron Hammer will strike down most of your enemies before they even know what hit them. Not only does he pack a massive punch individually, but he also has a fantastic Leadership bonus, which decreases skill cooldown by 24%, increases energy attacks by 15%, and boosts lightning damage by 15% for all allied units. Yum!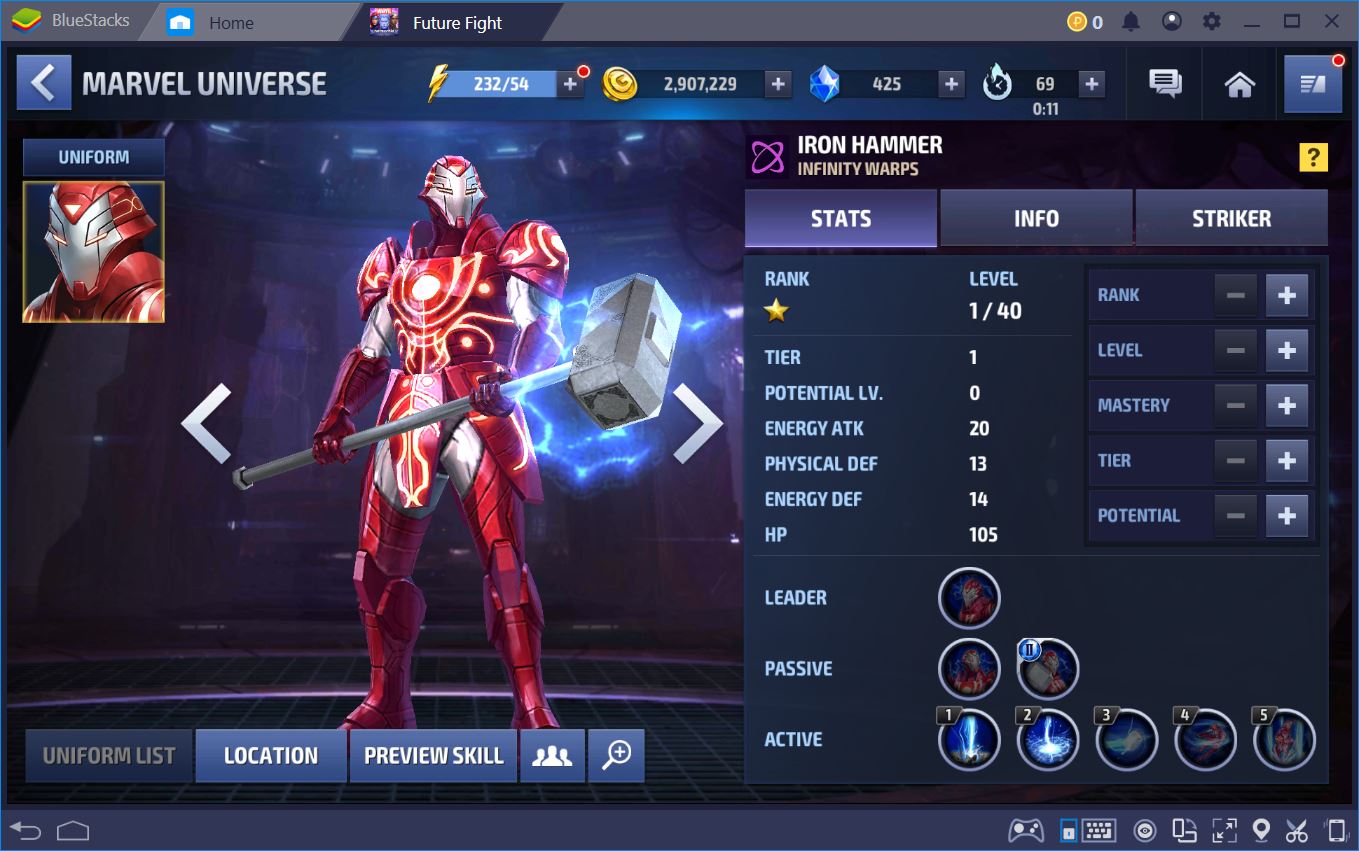 Human Torch – A Blast type of hero, Human Torch boosts his party's fire damage and is very sustainable thanks to his innately high dodge rating. Although he is one of the best characters in Marvel Future Fight and part of the Epic Quest "First Family," we would save him for the second or third Selector, following Morgan Le Fay and Iron Hammer. Once you do add him to your team, though, he will significantly boost your damage and frequently stun enemy units.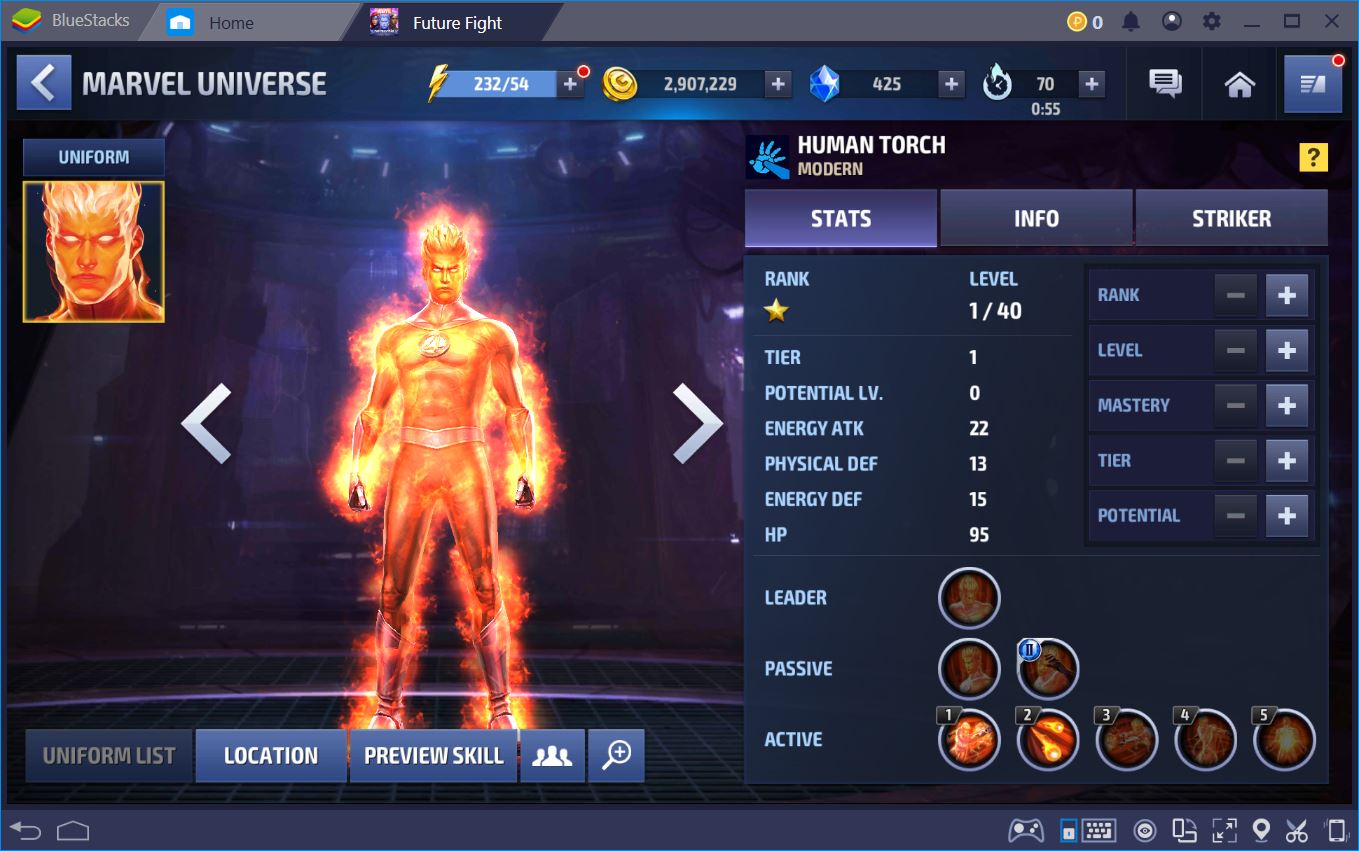 Minn-Erva – One of the best Combat-type heroes in the game, Minn-Erva makes a perfect early pick to complete your team. Like Human Torch, she has a passive ability that increases her dodge rate and, thus, her sustainability, while most of her active attacks focus on physical damage. In addition to biting off chunks of your enemies' health, Minn-Erva constantly buffs herself with more damage, crit rate, and speed, which ultimately turns her into a beast by the time you reach the stage boss.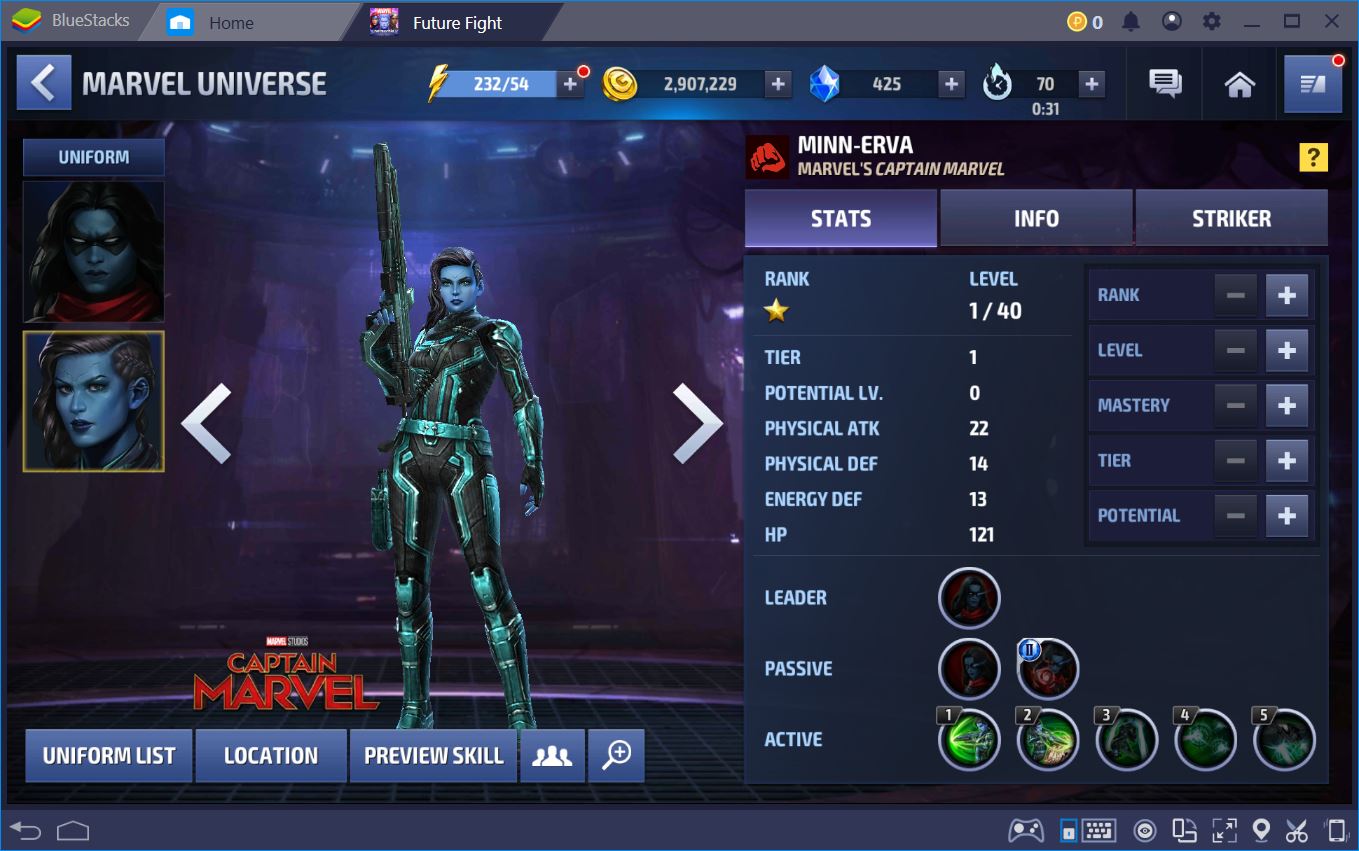 Sharon Rogers: Now from the S.H.I.E.L.D. Academy
Captain America (Sharon Rogers) is arguably one of the best heroes in Marvel Future Fight, even when judged against characters that can only be bought with real currency! Especially if you can obtain the Starlight Armor uniform for her, she becomes unstoppable during missions. This shouldn't be too difficult to do, provided that you don't spend your Crystals on other purchases. In addition, if you buy Starlight Armor before any other uniform, you can get it for as little as 500 Crystals.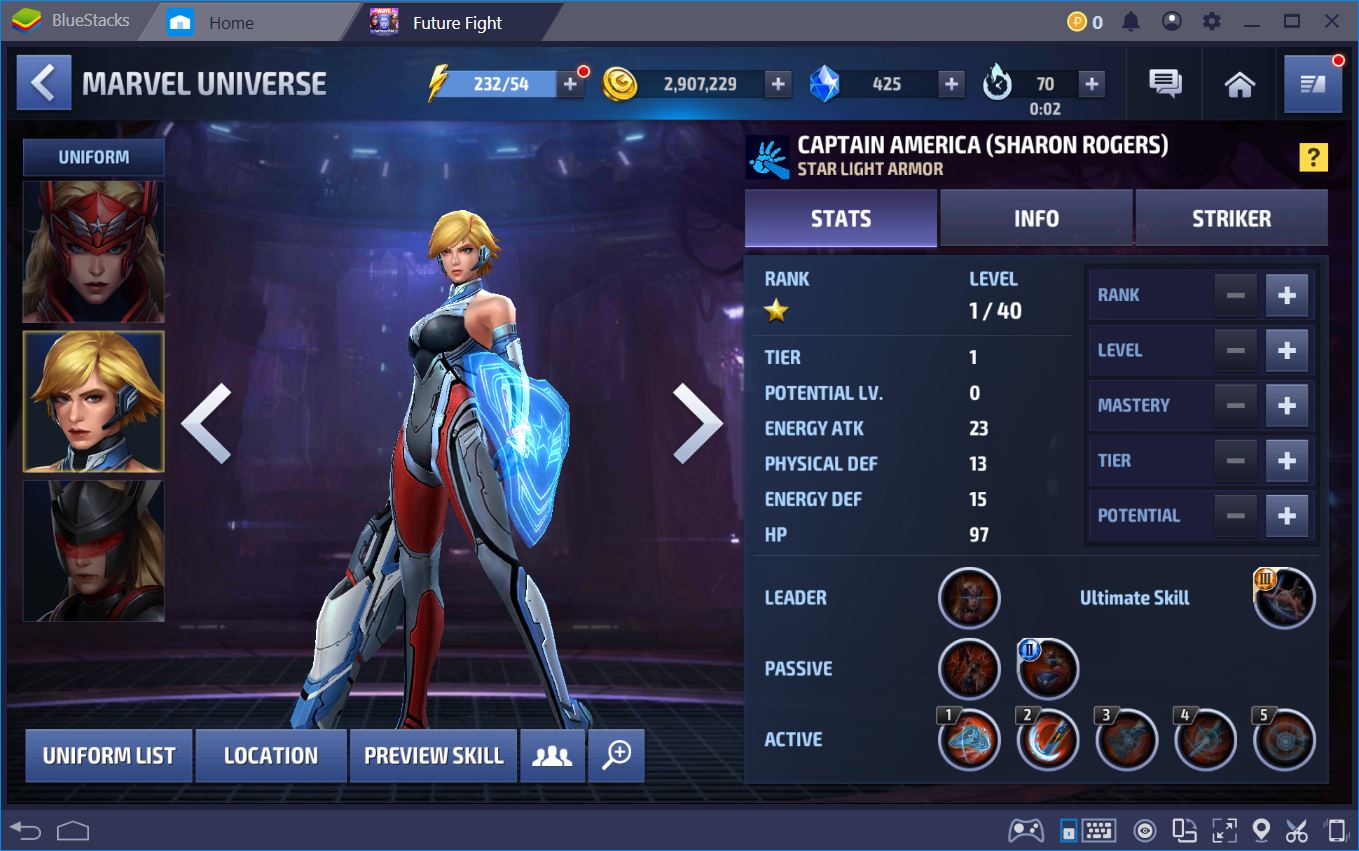 Normally, we would recommend that you obtain Sharon Rogers with one of your Selectors, but this is actually not necessary. You get her at Rank 6, Mastery 6, Level 60 just by completing the first 5 stages of the S.H.I.E.L.D. Academy quests. No more than a couple of hours in the game, you can parade your gorgeous (and deadly) Captain America through story stages, special missions, and epic quests.
Shuri: Best Character for "Selector Tier-2 Character"
Shuri is a decent Speed-type unit with good survivability and DPS, which helps her compete against other characters in the game. However, the real reason you absolutely must have this hero is due to her Tier-2 passive skill, "Panther God's Protection," which decreases the damage taken from Super Villain characters by 25% and increases damage dealt to the latter by 35% for all allies.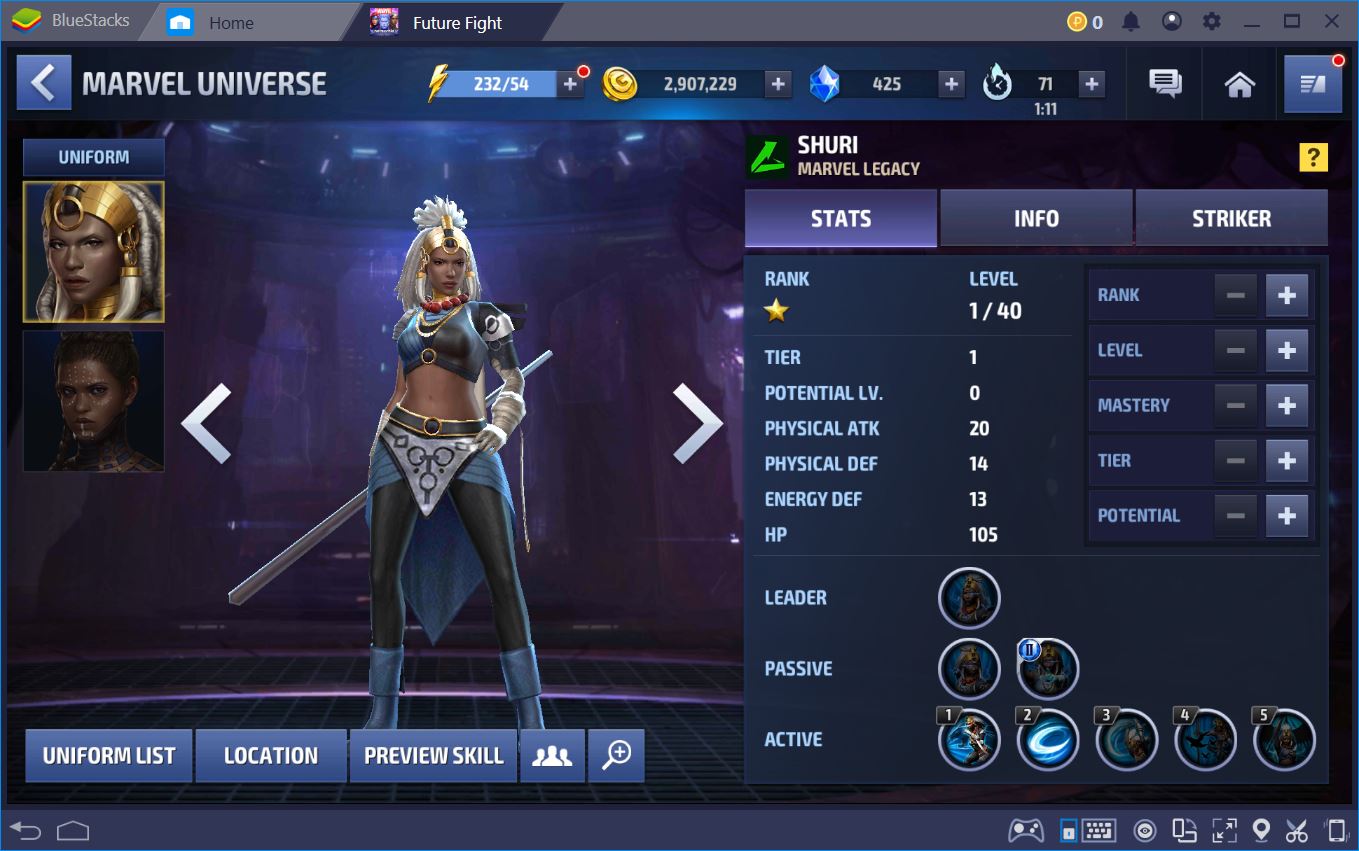 This is also the reason why we recommend you abstain from picking Shuri for one of your four "Selector 6* Character." Instead, you should save her for the "Selector: Tier-2 Character" you get on your 28th consecutive daily login bonus. This will spare you all the resources you would otherwise have to spend in order to complete her Hero Advancement (from Tier-1 to Tier-2).
Luna Snow: Best Character for "Selector 6* Premium Character"
Ask any player who's spent a couple of weeks on Marvel Future Fight and they will all tell you the same thing: Luna Snow is an OP character. When you get your "Selector: 6* Premium Character" on day 7 from starting the account, there is no better way to use it than on this hero. Not only is Luna Snow super powerful, but to get her at 6* directly – for free – is an offer no one should pass on. In fact, it's a great idea to save the 6* Mega Mastery Ticket you get on day 6 for her, as well. You'll never regret this use of resources, especially once you get to see her in action.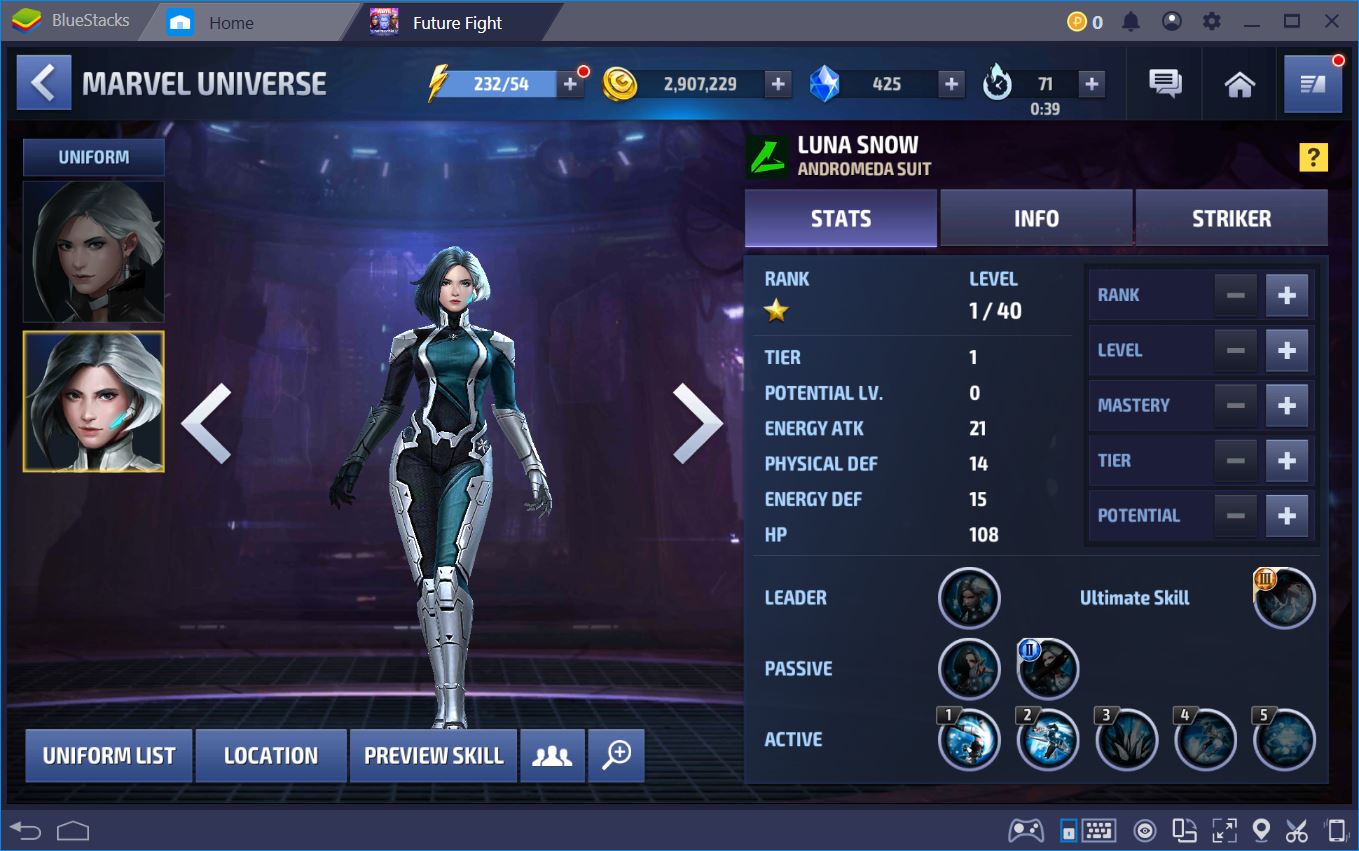 Luna Snow is a Speed-type character with pretty good DPS capabilities and – get this! – a 2% to 5% lifesteal on every basic attack. Need we add any more? She has insane sustainability, which helps her outlast even the toughest bosses. Match her up with Shuri and Sharon Rogers/Morgan Le Fay/Iron Hammer (as the situation demands) and you've got yourself an unbeatable combo.
Once you get these characters to join your team, don't forget to check out our guide to upgrading and leveling heroes quickly, so that you can put them to good use during missions and quests right away. When your squad is complete, sit back, relax, and enjoy the fireworks as they make their way through villain after villain. Better yet, bring it all to your PC by using BlueStacks so that you can really enjoy those movie-like captions of your heroes beating the butter out of their enemies.