Game Guides
Marvel Super War PC – How to Play Marvel's Mobile MOBA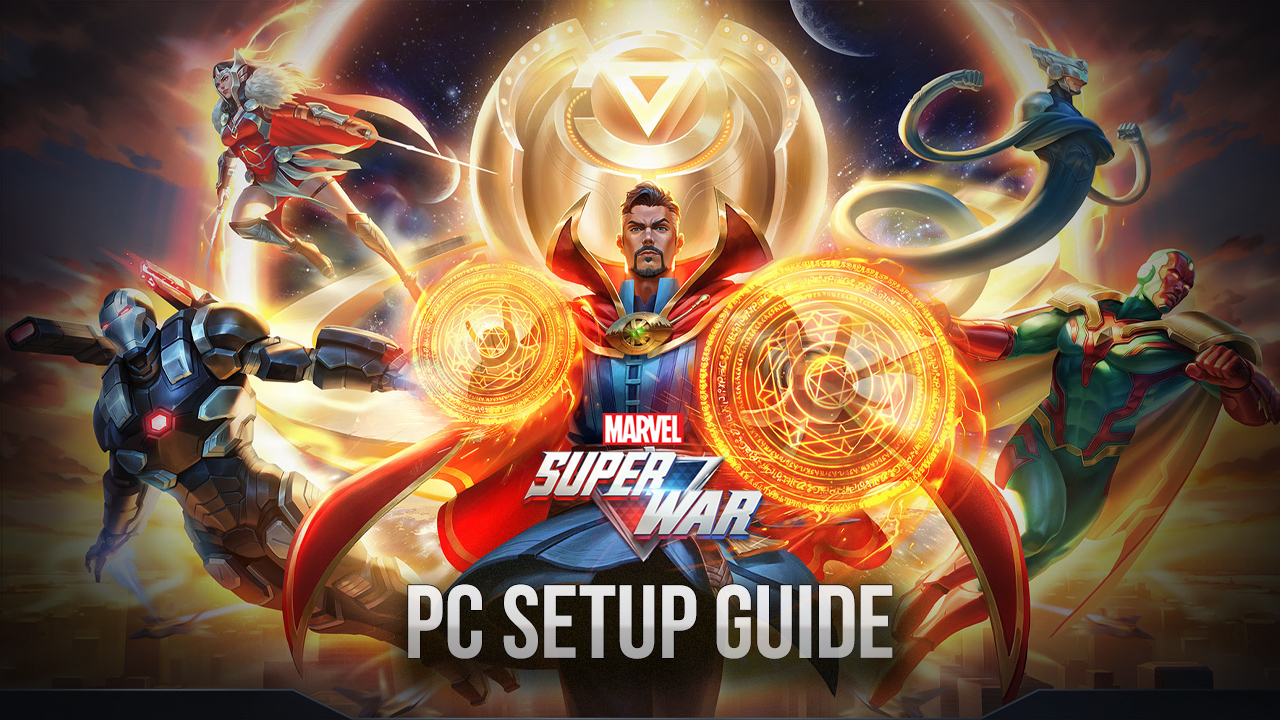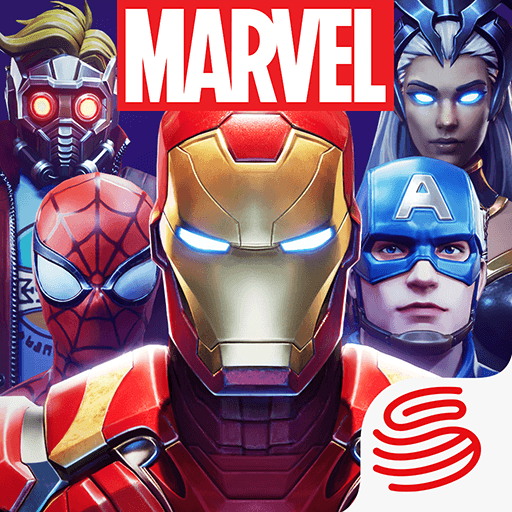 With the popularity that the Marvel movies garnered during over a decade of films in the MCU, it's no wonder that we're getting tons of games based on the Marvel universe. In the past, we've had Marvel Future Fight, Marvel Realm of Champions, Marvel Battle Lines, Marvel Strike Force, and many, many more. These games span a wide variety of genres, from standard beat 'em ups and CCGs, to pinball games and gacha RPGs. Marvel has touched most of the popular genres in the mobile gaming platform except one: MOBAs.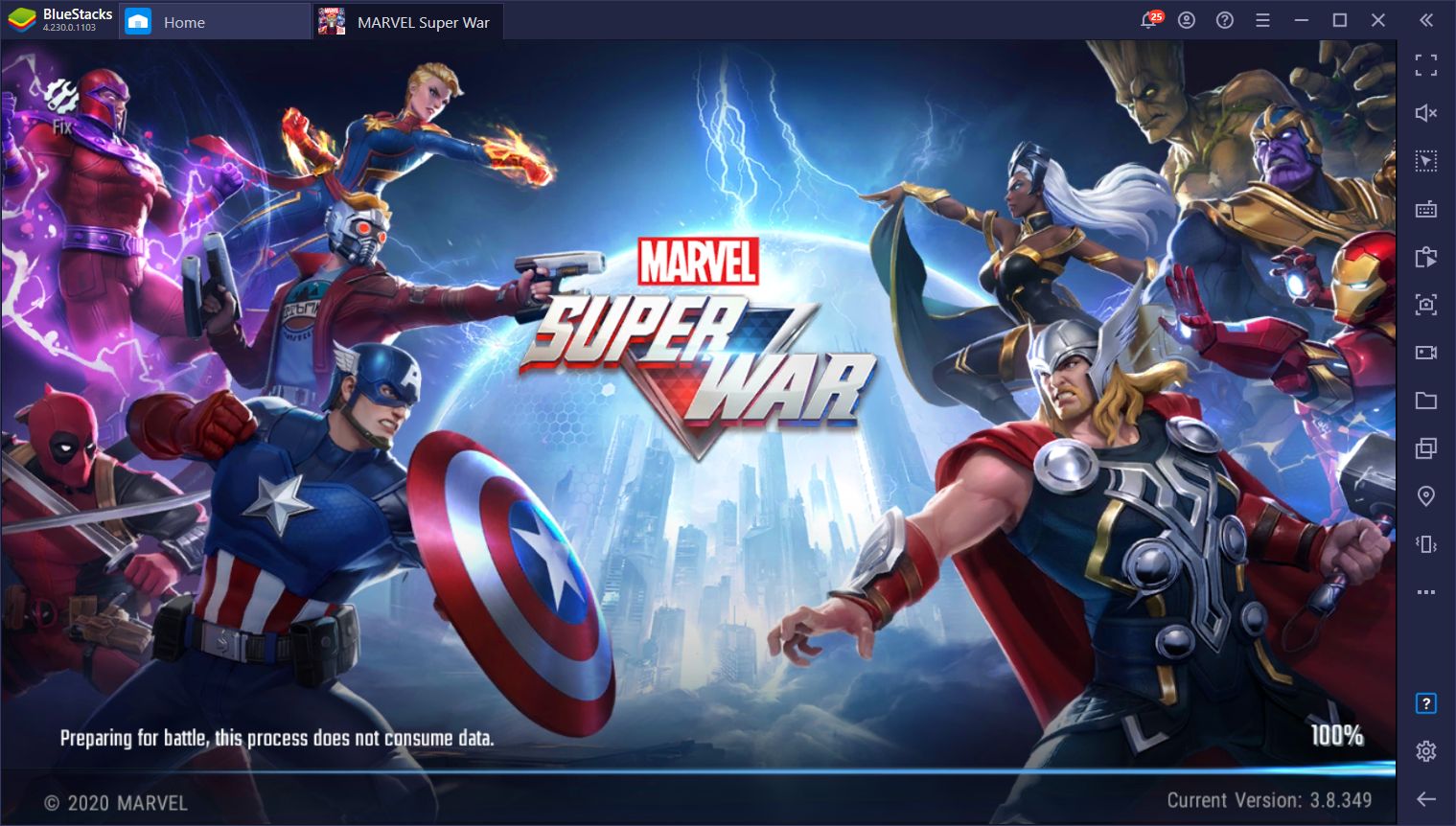 Marvel Super War is the most recent entry in the lineup of Marvel mobile games. Inspired by titles like League of Legends and Dota 2, Super War is a MOBA where the players get to choose from over 50 different heroes from the Marvel universe and duke it out against the enemy team in real-time, intense action combat. The game is very satisfying to play, especially once you get used to the controls and learn what each hero can do. It also looks very, very good, featuring some of the best graphics and performance we've seen in the genre so far.
However, in order to truly enjoy everything that Super War has to offer, you'd need to play it on a good, expensive phone in which you can crank up the graphics to the limit—or you could just play it on PC with BlueStacks with superior performance and controls.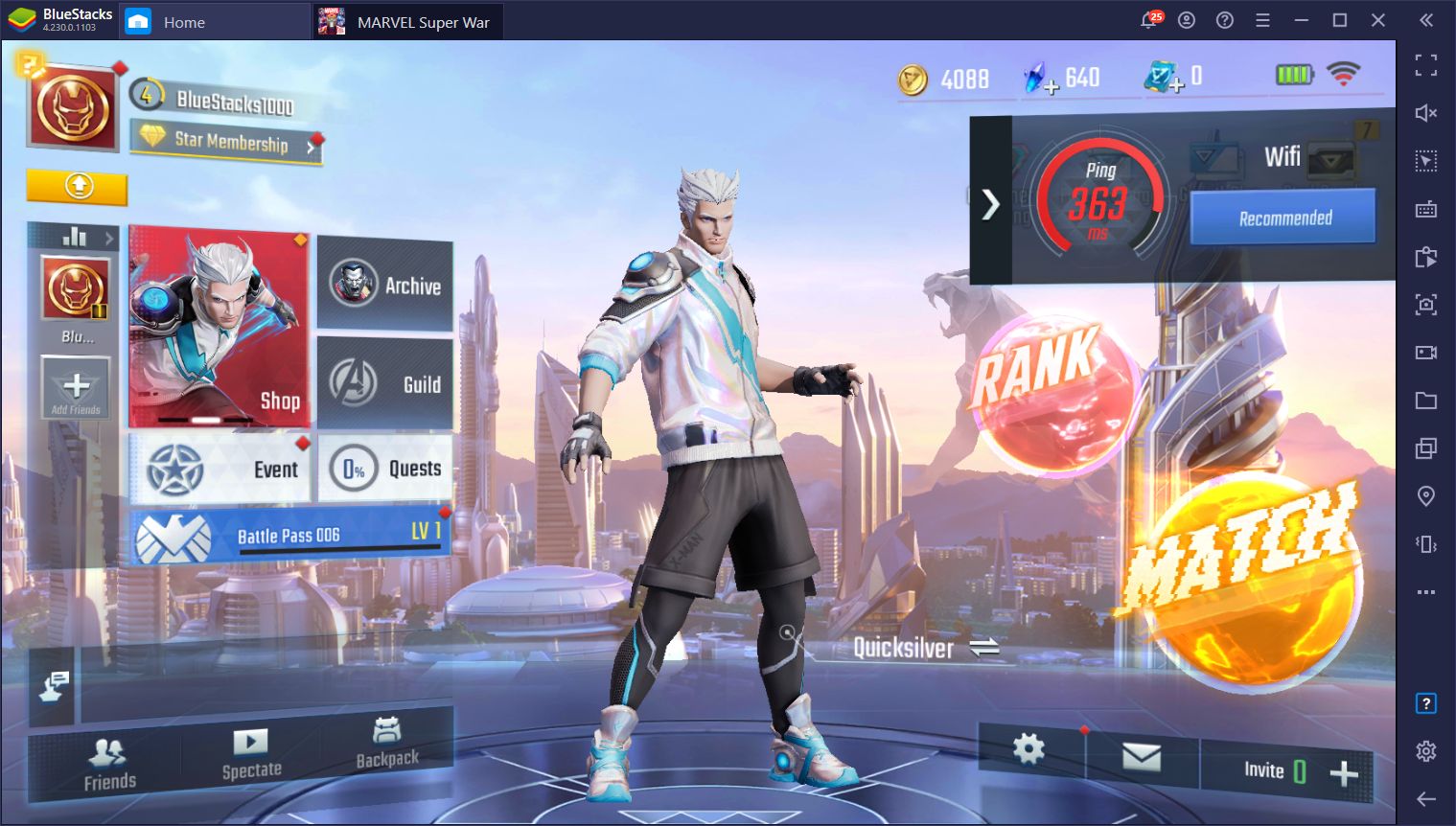 Installing and Playing Marvel Super War on PC
Downloading and installing games on BlueStacks is very simple and takes just a few moments. All it takes is just a few steps:
Go to our website and download the latest version of BlueStacks. Run the installer and the emulator will launch automatically when it's finished.
Once on the BlueStacks home screen, use the search bar to look for Marvel Super War in the App Center.
Click on the game's portrait in the search results to install it.
Once finished, click on the new icon in the home screen to launch the game and start playing.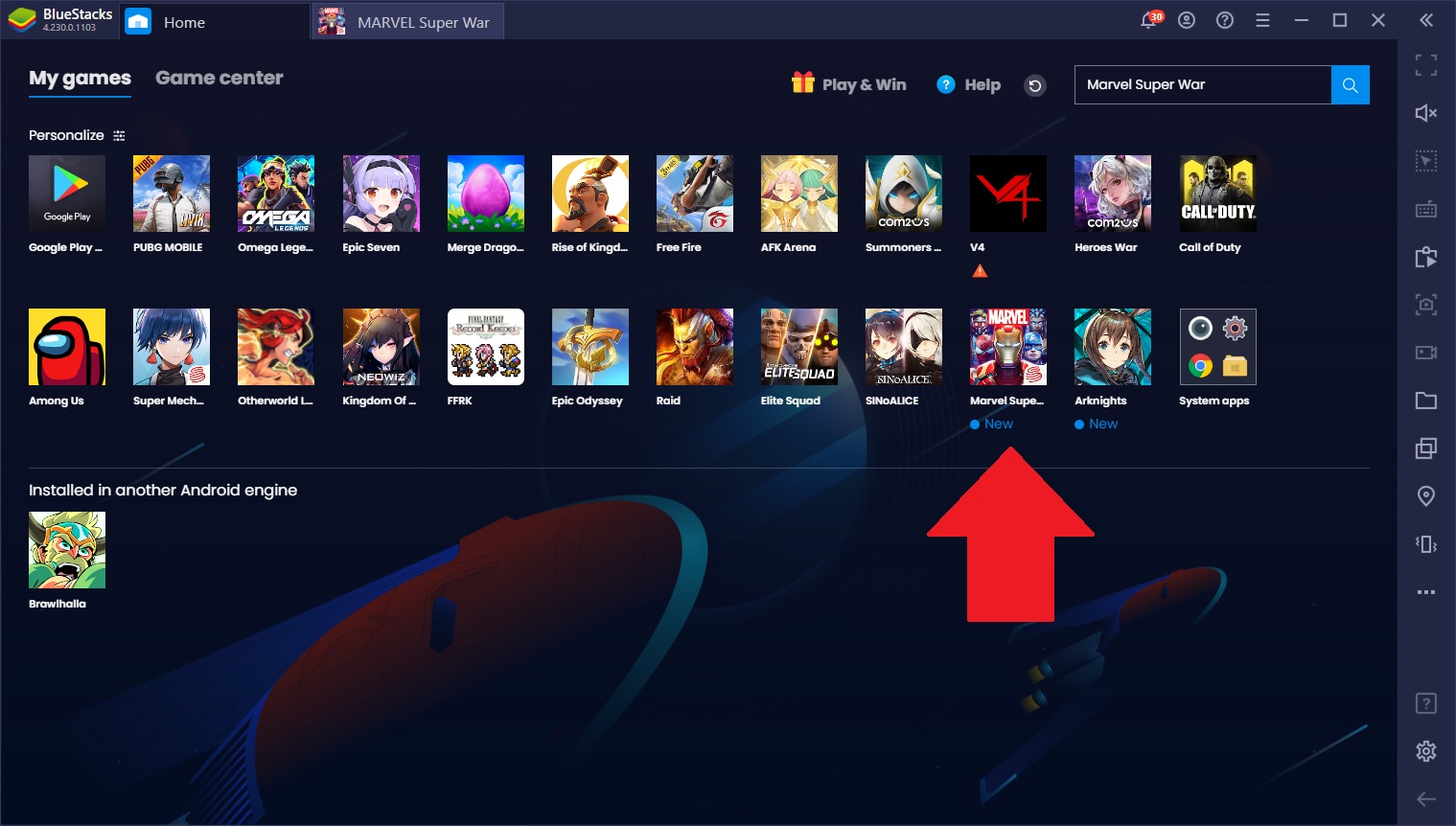 The whole process takes about 5 minutes, depending on your internet speed. Regardless, it'll only take a few clicks as BlueStacks will do much of the hard work for you.
Alternative Download Method
If you're getting any errors, such as the dreaded "The game is not available in your country", or maybe even "This app is incompatible with all your devices", don't fret. You can easily sidestep these issues by performing a manual install via an APK file.
Download the game's APK from a trustworthy site. A quick Google search will suffice here.
On the BlueStacks home screen, click on the three dots beside "Personalize" and then on "Install APK".
Browse to where you downloaded the APK and select it to install the game on BlueStacks.
After a few moments, your game will be installed and you can launch it by clicking its icon in the home screen.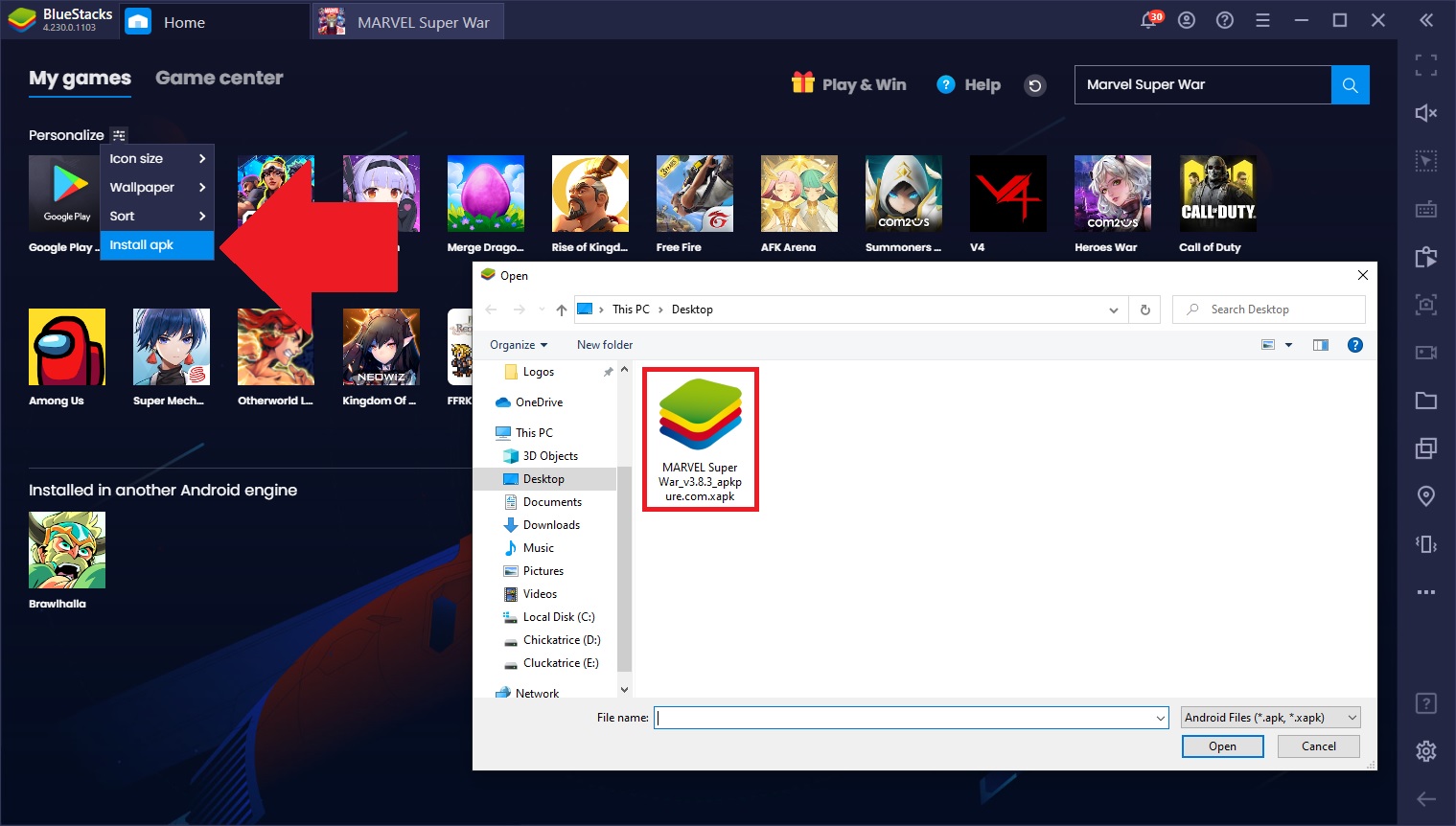 While Marvel Super War has released globally, you might find that it's not available in your specific region. By following these simple steps, you can bypass this problem and enjoy this awesome MOBA regardless of where you live.
Enjoy the Best Graphics and Performance With BlueStacks
We already mentioned how Marvel Super War looks absolutely stunning. This game is definitely up to standard when it comes to the graphics. However, it not only looks good, but it runs spectacularly, as well, especially if you play it on PC with BlueStacks.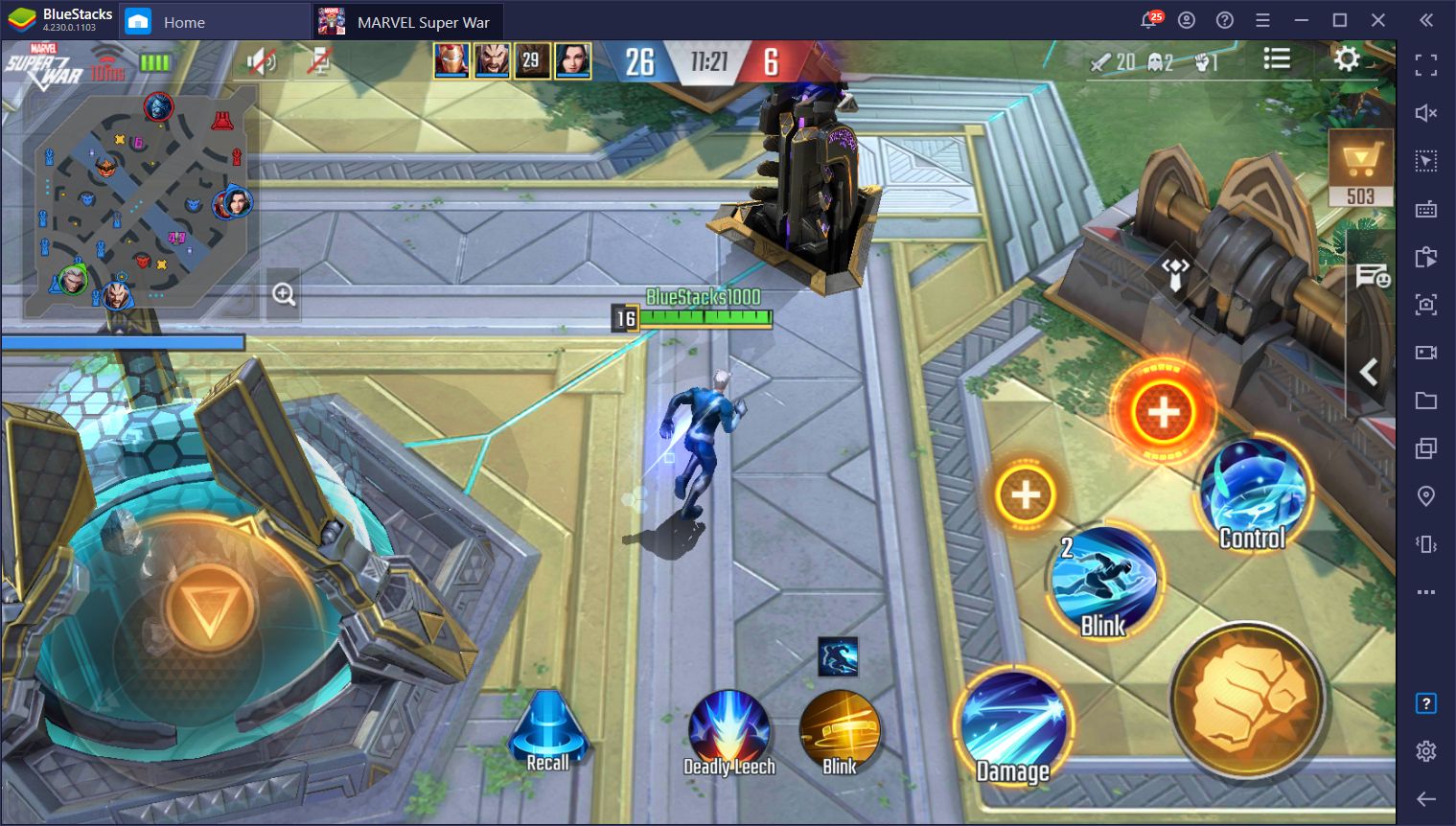 By gaming on our Android app player, you can easily set the graphics and framerate to the maximum settings without having to worry about lag, slowdown, overheating, or other performance issues. BlueStacks is over 6 times stronger than the best phones on the market, and one glance at Super War on the highest settings is all the proof you'll ever need.
Choose From Multiple Versatile Control Schemes With the Keymapping Tool
MOBAs are often very demanding titles that players have to study and practice with in order to get good, and Super War is no exception. One of the biggest hurdles you'll have to overcome here is the controls. Specifically, the mobile controls are a bit awkward at first, especially if you come from playing regular PC MOBAs like League of Legends or Dota 2. However, if this is the case, then you might not need to adapt at all since BlueStacks allows you to play Super War with a similar control scheme to other PC games.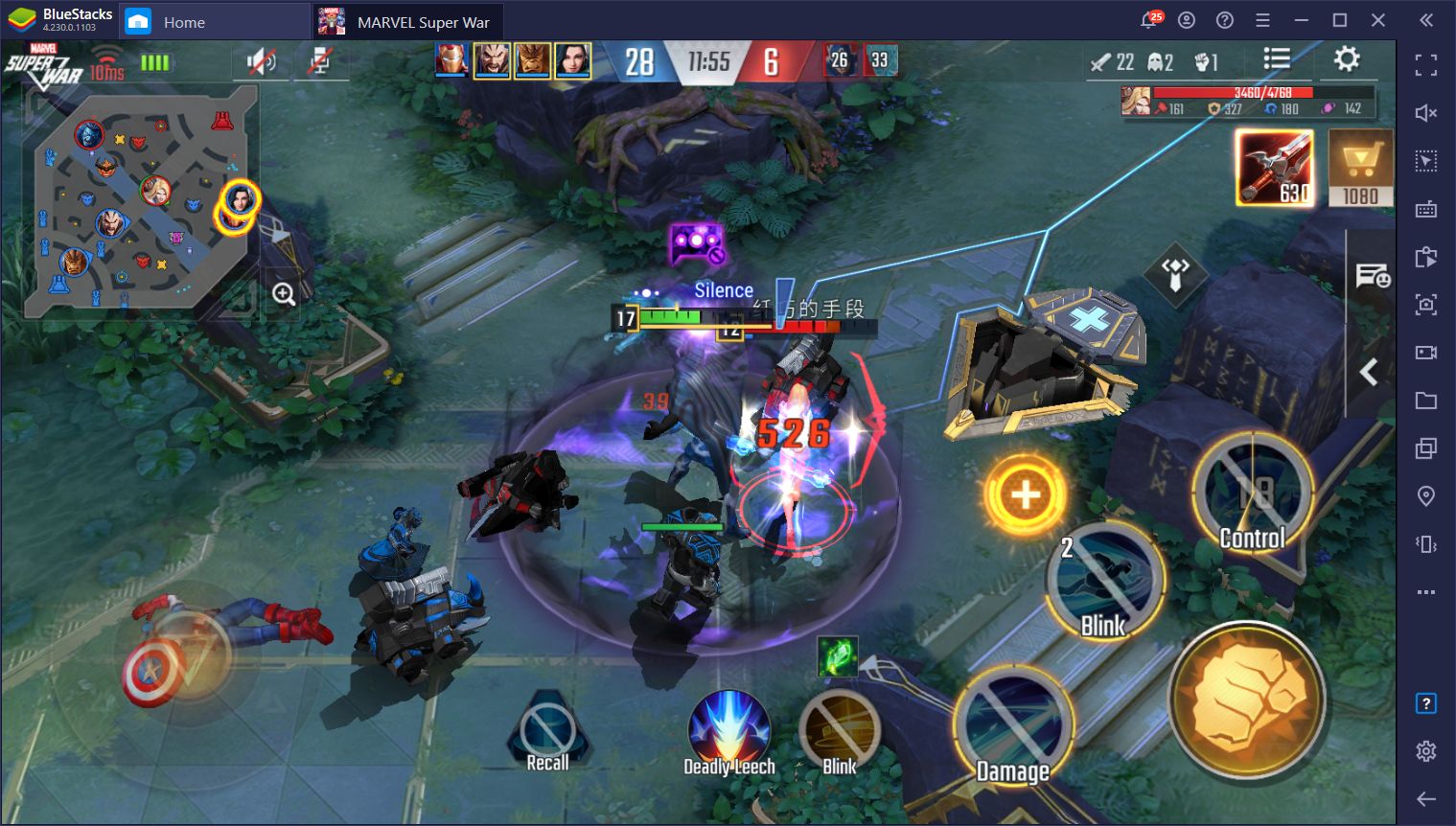 With the Keymapping Tool, you can create customized control schemes for any game, including Super War.
Usually, you'd have to create your own control schemes and spend some time configuring everything to your preferences. However, for this game, we've created several control schemes for you, which are specially designed for multiple play styles. You can easily switch between the different schemes in the Game Guide (Ctrl + Shift + H) by selecting from the dropdown menu at the top.
There are two main control schemes for Marvel Super War: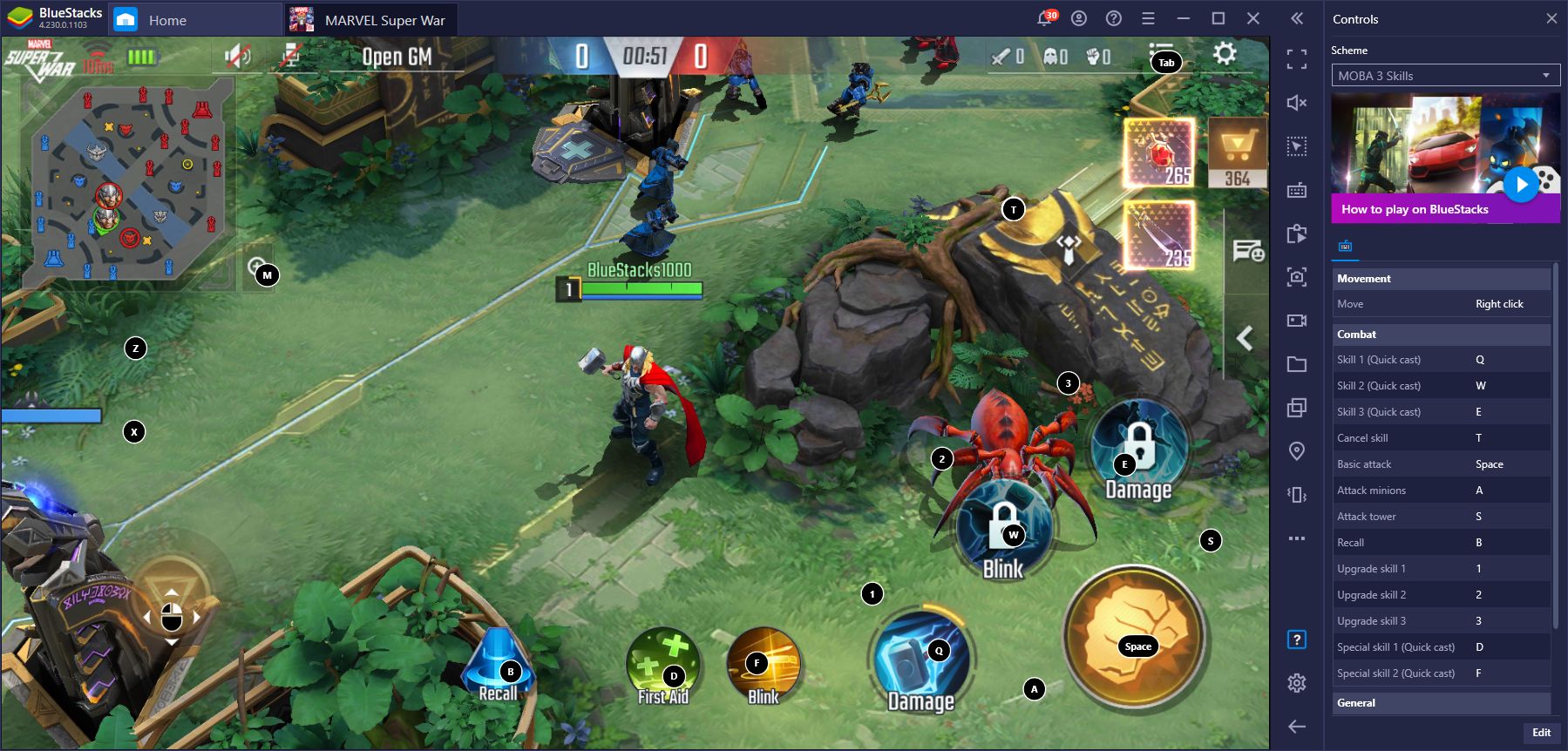 MOBA 3 Skills: Move your character holding down the right click in the direction you want to go, and use your skills with the QWE buttons.
WASD 3 Skills: Move your character with the WASD keys, and use your skills with the HJK buttons.
Both schemes are quite serviceable, but very different. The MOBA scheme is more akin to its PC counterparts as it combines the mouse and keyboard to create a seamless experience. The latter, on the other hand, is for those who want to play using only their keyboard, without ever touching the mouse. The "MOBA 4 Skills" and "WASD 4 Skills" variants are for heroes who have 4 skills instead of the usual 3, such as Black Panther or Black Widow.

Playing Marvel Super War exclusively on your phone is wasted potential, especially if your phone is old and slow. Why suffer through that experience when you could play it on PC with BlueStacks and enjoy the best possible performance and graphics? If you're chilling at home anyway, you might as well use the best tools for the job, right?
Let us know if you have any questions about setting this game up on BlueStacks and we'll get back to you ASAP.