Game Guides
How to Play POP! Slots Vegas Casino Games on PC with BlueStacks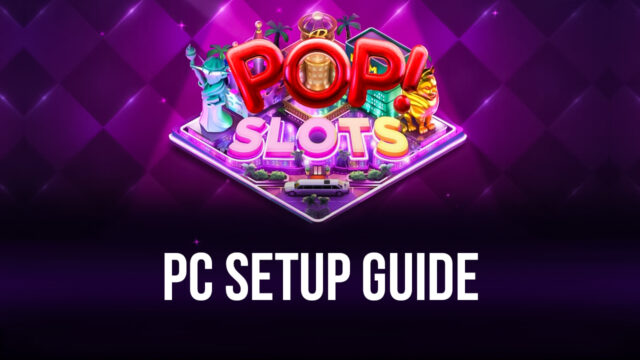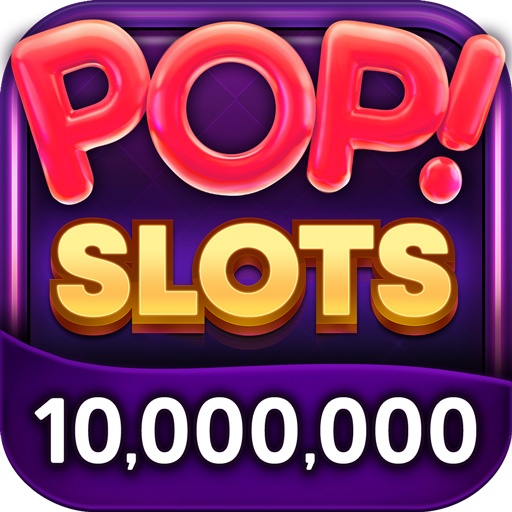 POP! Slots Vegas Casino Games redesigns the wonderful experience of Casino Games into a world you can interact with, allowing fans to relive somewhat the joys of playing in an actual casino. Unlike other slot machine games on the Play store today, POP! Slots Vegas Casino Games incorporate more traditional and familiar formats of the casino into the game. Players who want to incorporate some excitement in their lives might want to take a break by trying out these games in order to spice things up once in a while.
Games like POP! Slots Vegas Casino Games has a way of triggering the thrill-seeker in every one of us. There's something that really gets your heart racing while watching the slots match up into a winning combination to reward you with a ton of chips, even if only to watch your winnings slowly disappear on the following spins. Save your phone from getting thrown across the room out of frustration by instead playing this game on your computer with the BlueStacks platform to help you out!
How To Set Up POP! Slots Vegas Casino Games on BlueStacks
POP! Slots Vegas Casino Games is a great game to play on the side, but there aren't really that many actions that you can carry out when watching the slots roll. Instead of slowly draining the battery on your phone playing this game, why do you try out playing this game on your computer instead? Leave it running in the background without the constant distraction of having to pick up your phone just to check your progress.
Download and Install BlueStacks

on your PC.

Complete Google Sign-in to access the Play Store, or do it later.

Look for POP! Slots Vegas Casino Games in the search bar at the top-right corner.

Click to Install POP! Slots Vegas Casino Games from the search results.

Complete Google Sign-in (if you skipped step 2) to Install POP! Slots Vegas Casino Games Casino.

Click the POP! Slots Vegas Casino Games icon on the home screen to start playing.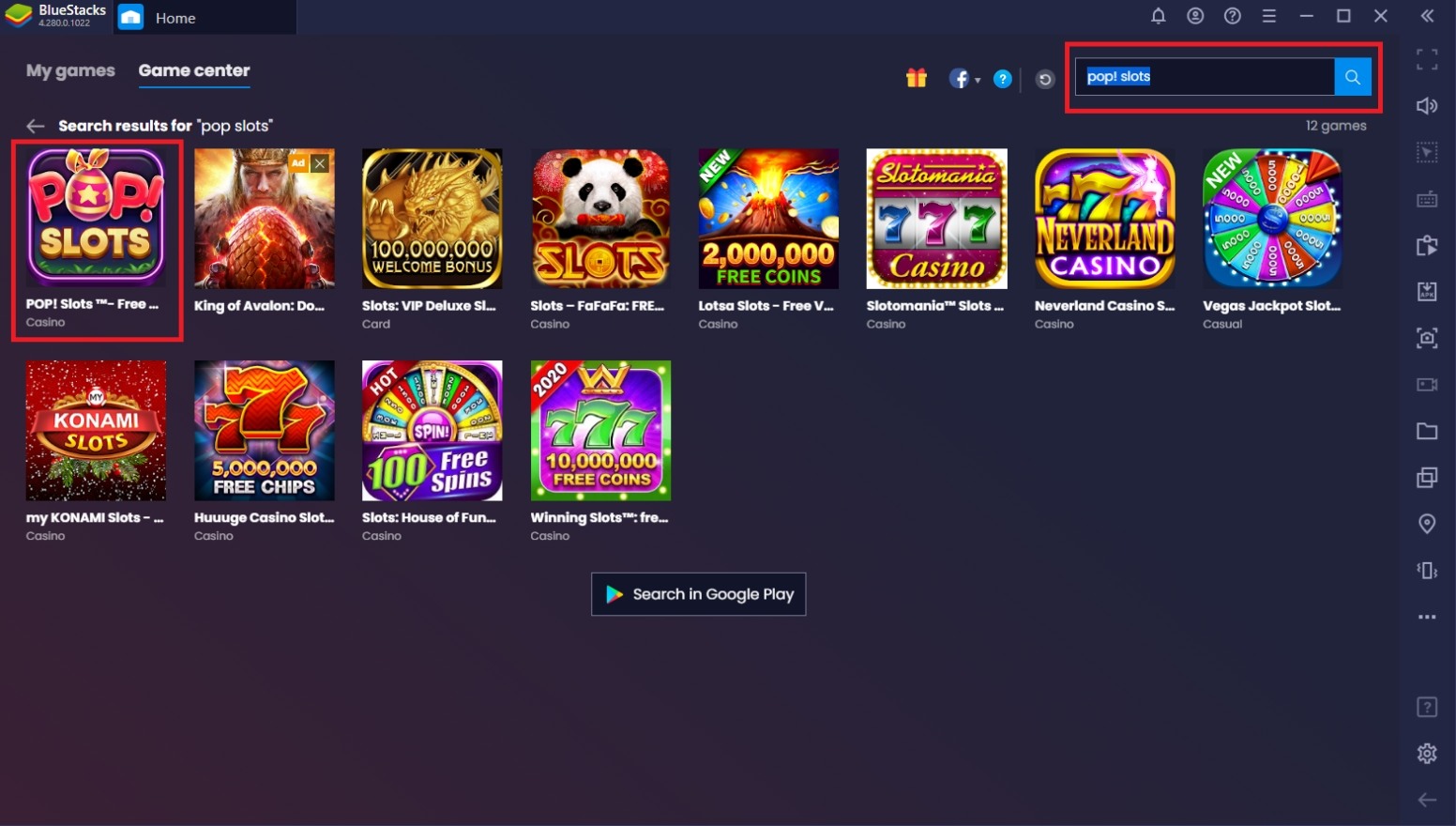 Useful Features When Playing POP! Slots Vegas Casino Games on BlueStacks
BlueStacks and POP! Slots Vegas Casino Games should now both be installed on your computer. Before you start playing your new game on your PC, let's introduce some features that BlueStacks has developed to give players the best experience when utilizing this platform. These features are guaranteed to help you maximize your potential in playing games like these as well as any other games that you may want to play in the future. Once you taste the magic of using this platform first-hand, you might not want to go back.
The Multi-Instance Function is a great way to maximize your mobile gameplay experience in general. As you know, POP! Slots Vegas Casino Games has an auto-play function that allows the player to minimize the attention requirement to play this game. If this were your smartphone, you'd have no choice but to leave this game open on your screen with very little else left for you to accomplish other tasks unless you're willing to try split-screen, which significantly reduces your viewing room.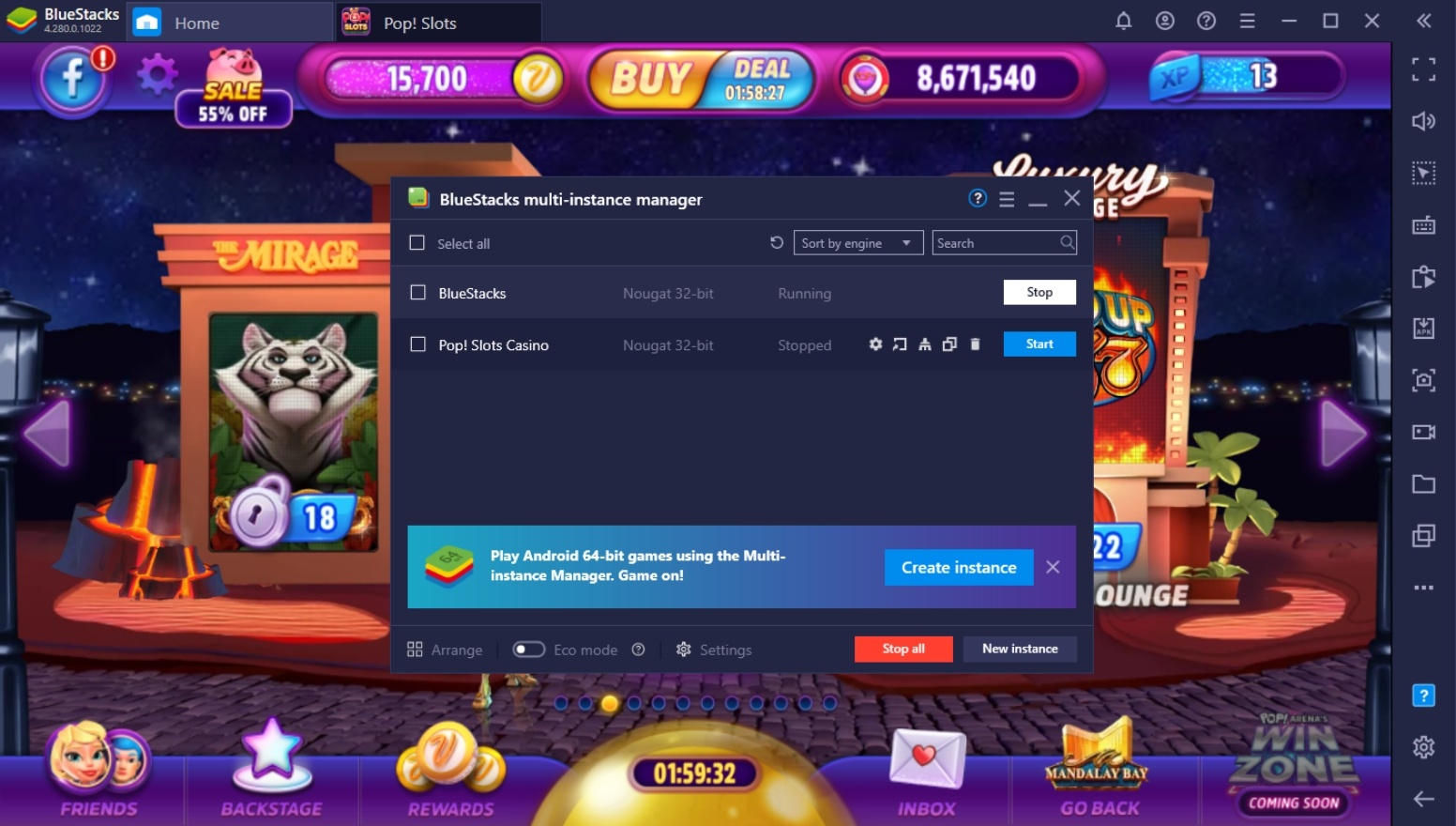 On BlueStacks, players have the option to open as many "devices" at the same time through iterations, called "instances." The Multi-Instance Manager allows you to create new instances or clone existing ones so that you don't have to re-download all the apps that you want to play. You can play two or more games at the same time actively without sacrificing your progress on the other. You can even fit as many instances on your screen as your monitor allows.
The Eco Mode is a highly-used function for players that like to spam idle games. Even games that don't need you to do anything at all still use up a lot of your computer's processing power if you leave it open in the background. By activating the Eco Mode, you can still keep the option of having your game open so that you can continue farming the stuff you need while saving more processing space on your RAM to make way for other games or important stuff at work.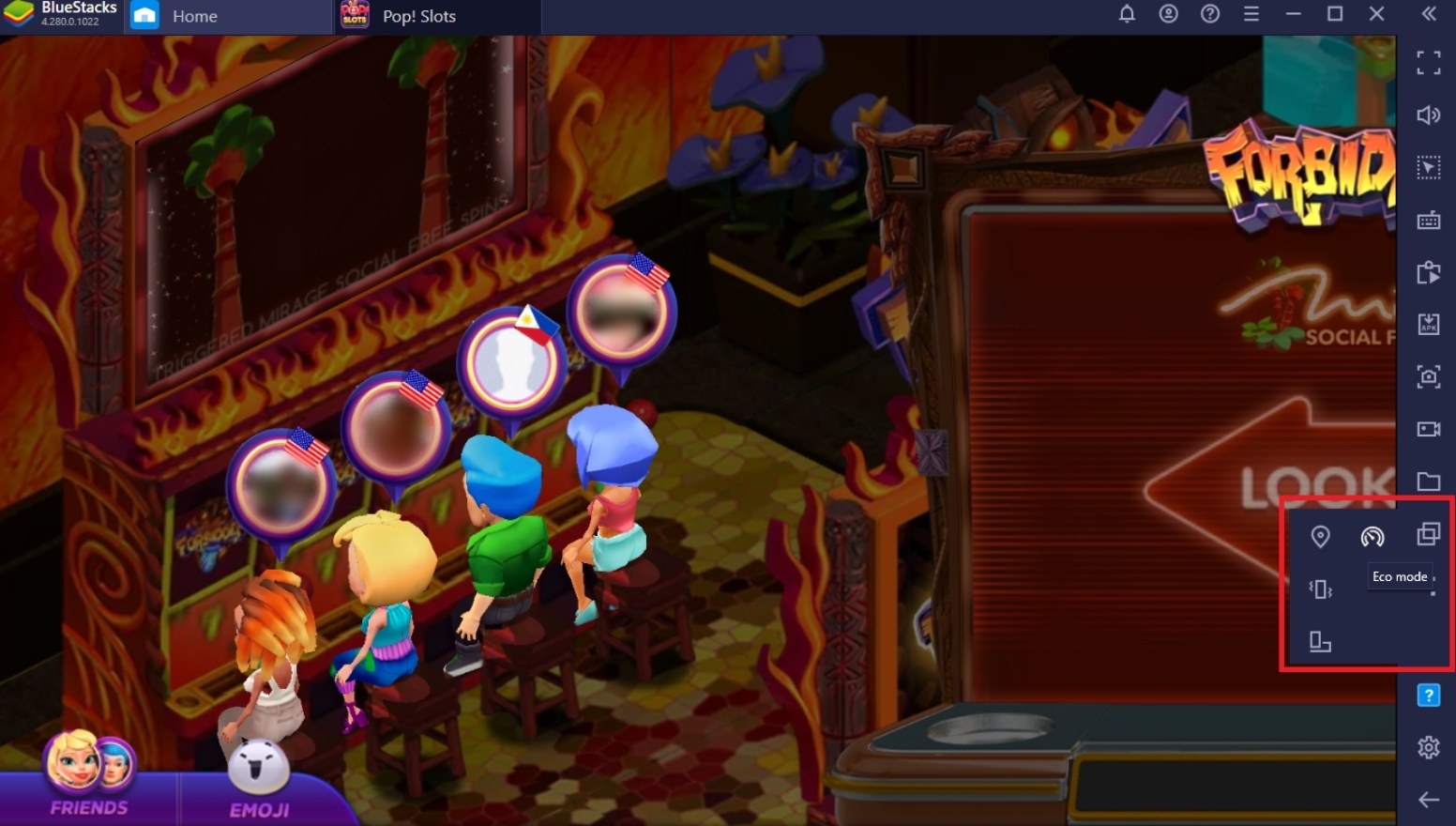 The Eco Mode basically cuts down the processing power needed to run a game since it "downgrades" all of the main features like graphics. This doesn't necessarily shut down the game since it still runs idly in the background, but it prevents the user from actively engaging with the instance. It will appear as if the instance is lagging tremendously, but behind all of those low FPS transitions, your game is running without any issues at all.
The Screen Recorder is another great feature that the BlueStacks platform can perform better than the standard smart device. The biggest problem with smartphones and screen recording is that the phone often can't keep up with running both the game and the screen recorder at the same time, which causes the device to lag and heat up very quickly. Not to mention, there's also the problem that phones have very low memory storage and recorded videos are kept as large files.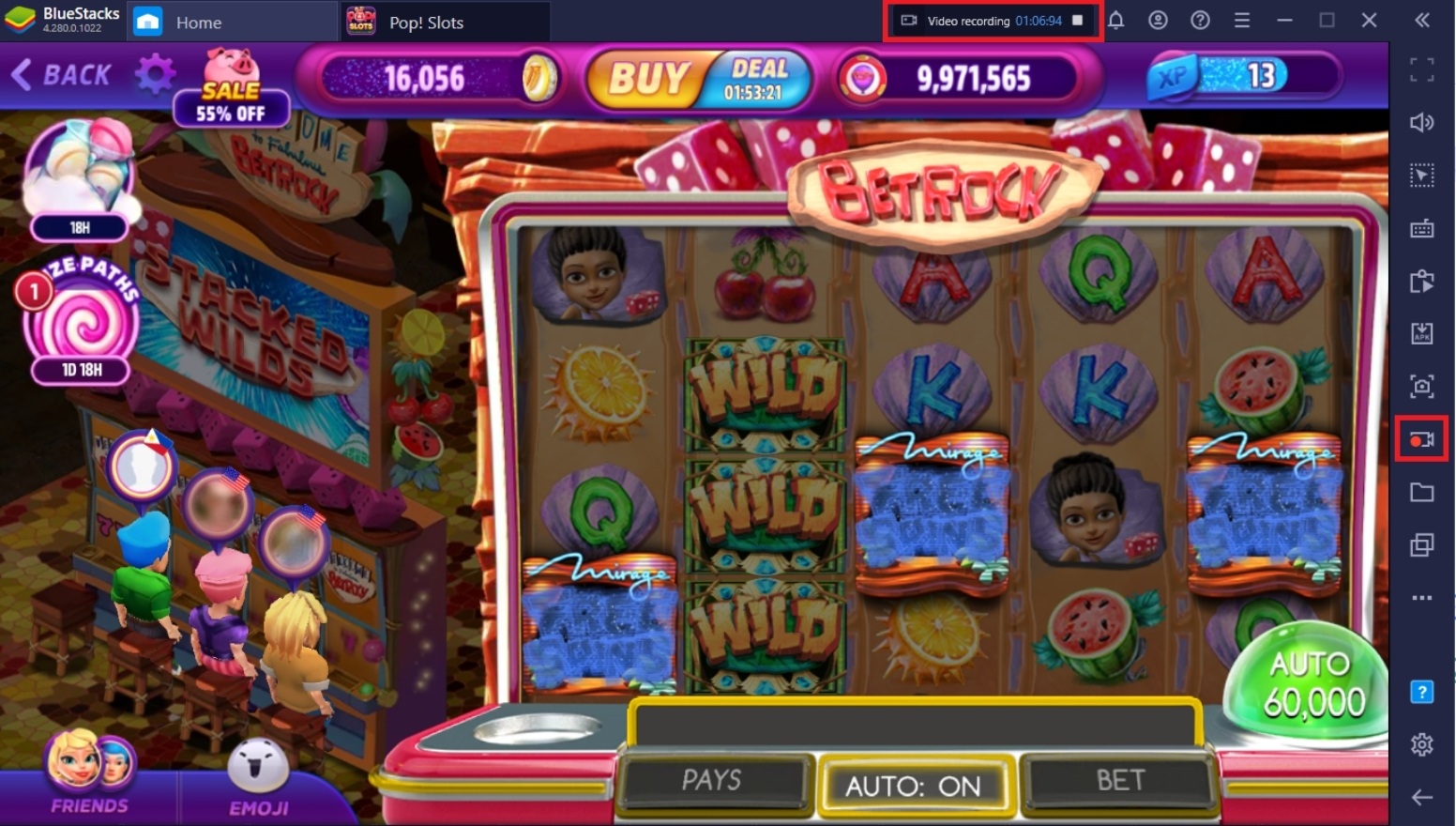 Using your computer's powerful CPU, BlueStacks allows the user to record their gameplay smoothly. Depending on how powerful your computer is, you can guarantee that you'll have no issues recording your game on this platform. You can even go to Streaming Mode to stream all your games live!
Hit The Jackpot in POP! Slots Vegas Casino Games
Now that you have everything you need to become a successful casino player in POP! Slots Vegas Casino Games, it's time to open up your BlueStacks platform and play the game for real. Once you get the hang of playing this game on your computer, you'll never see mobile gaming the same way again!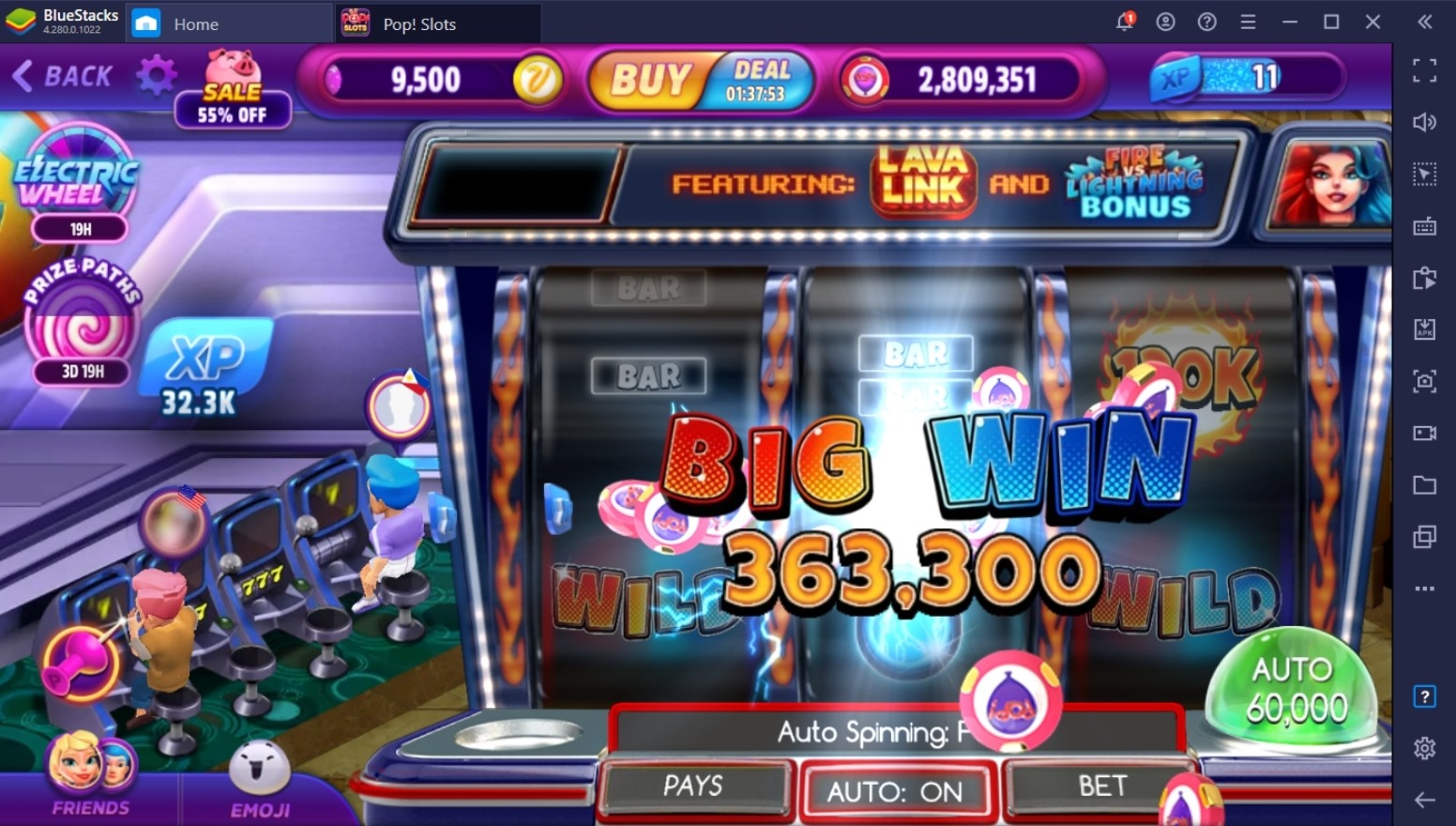 The jackpot awaits players that are willing to take the gamble of betting their chips on high-stakes slot machines. Add a little spice to your life by trying out this amazing game available on the Play store today. There's no time to waste! Your peers are already winning millions worth of chips at the casino while you're still here deciding if you should even play this game or not.