Game Guides
'Cold Brew Gaming' Recommends These BlueStacks 5 Tools for Enhancing Your RAID: Shadow Legends Gameplay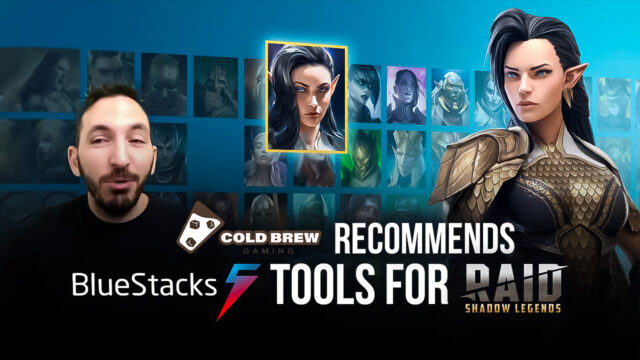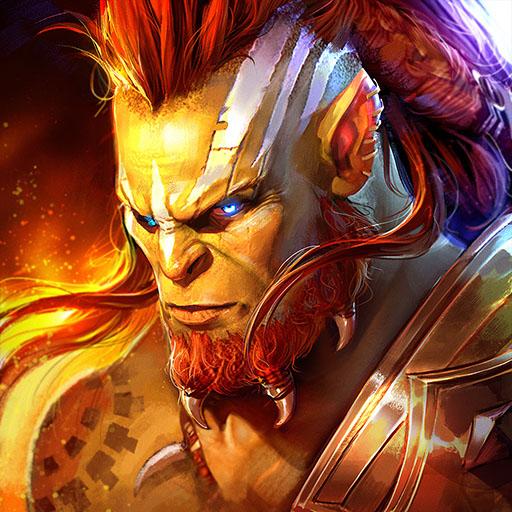 BlueStacks is an Android emulator that lets you enjoy your favorite mobile games on your PC, and while it's been the best product in its category for the past few years, at least compared to other emulators, the new BlueStacks 5 blows all of them out of the water with its superior performance, reduced resource consumption, and optimizations. In other words, BlueStacks 5 is all about not only allowing you to play Android games on your computer, but also to do so with access to the best features and experience.
And speaking of features, the popular Youtuber Cold Brew Gaming found that BlueStacks 5 has several interesting aspects under the hood that are designed to give you an edge in any game. But for RAID: Shadow Legends, there are two important tools that you should definitely be using.
Here's the video explanation of the features he mentions. Even though the video says "One Tool", he actually talks about two important features, so watch it till the end!
And in case you can't watch the video, we'll be showing exactly what these tools are, and how to use them, in this article.
Upgrade Your Best Pieces of Gear In Record Time
We've all been there: There's an upgrade event and you're looking to invest in getting your best pieces of gear to +16 and maximize its stat boosts. However, this process is both arduous AND expensive, setting you back hundreds of thousands of Silver and wasting your time whenever the process fails.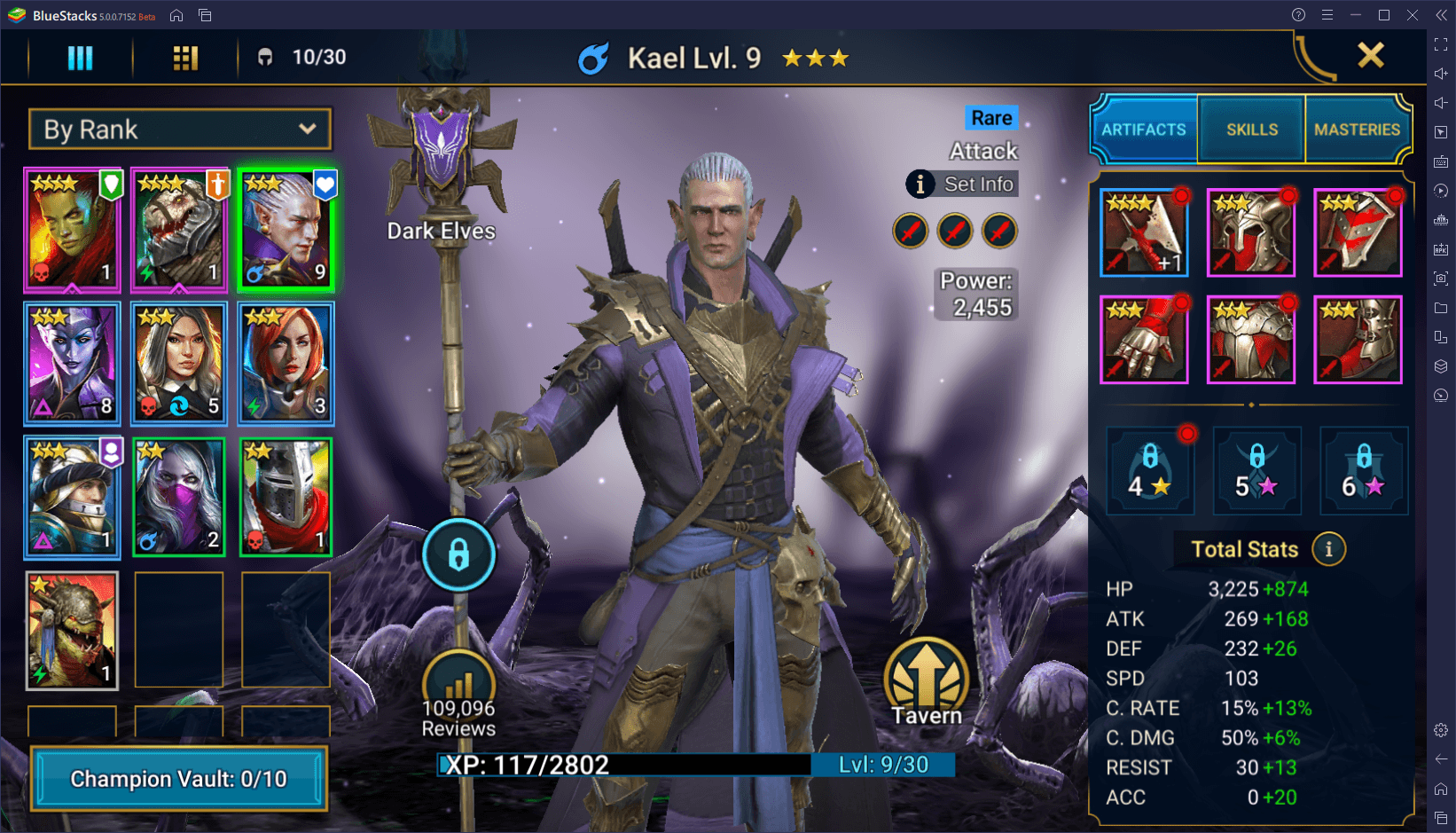 In RAID, upgrading is easy; it only takes a couple of clicks. And the first few levels are guaranteed success, which means that you can earn them in just a few seconds. After +4 however, there's a chance to fail every upgrade attempt; and trust us, you'll fail, A LOT. This can make what would usually take 20 seconds, take entire minutes, and you have to do this for every single item you have equipped, at least if you want to max out their stat boosts, that is.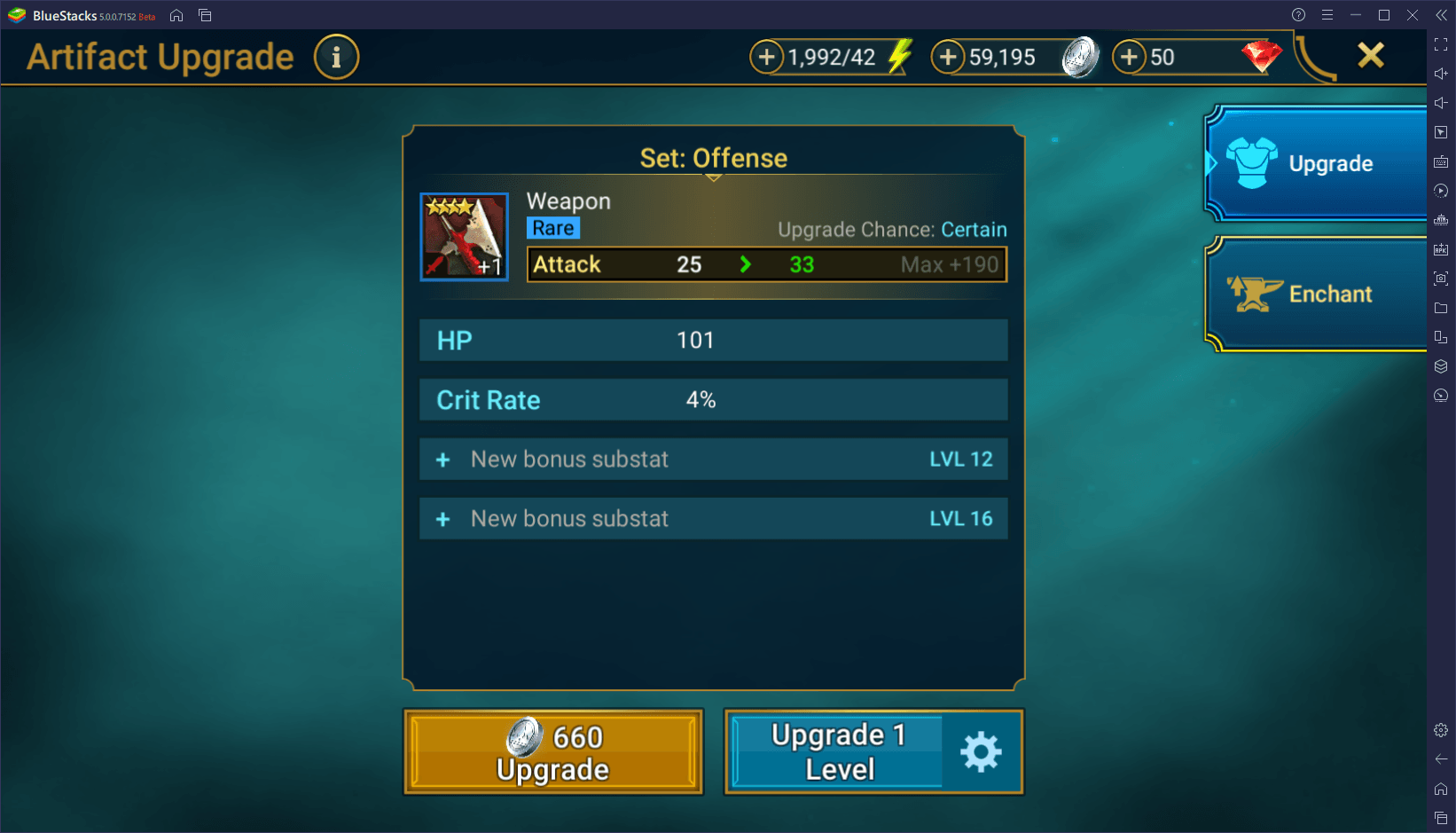 This delay isn't helped by the fact that the progress bar for upgrading past +4 has a long animation that plays out before you know if the process is going to fail or succeed. This is meant to build tension, but once you've done it thousands of times, it only becomes a burden. In most cases, you'd just set the item to upgrade to +16 and put your phone away while the game does its thing. However, if you're playing RAID: Shadow Legends on PC with BlueStacks, there's one very important tool that you can use when upgrading that will significantly speed up the artifact upgrade process.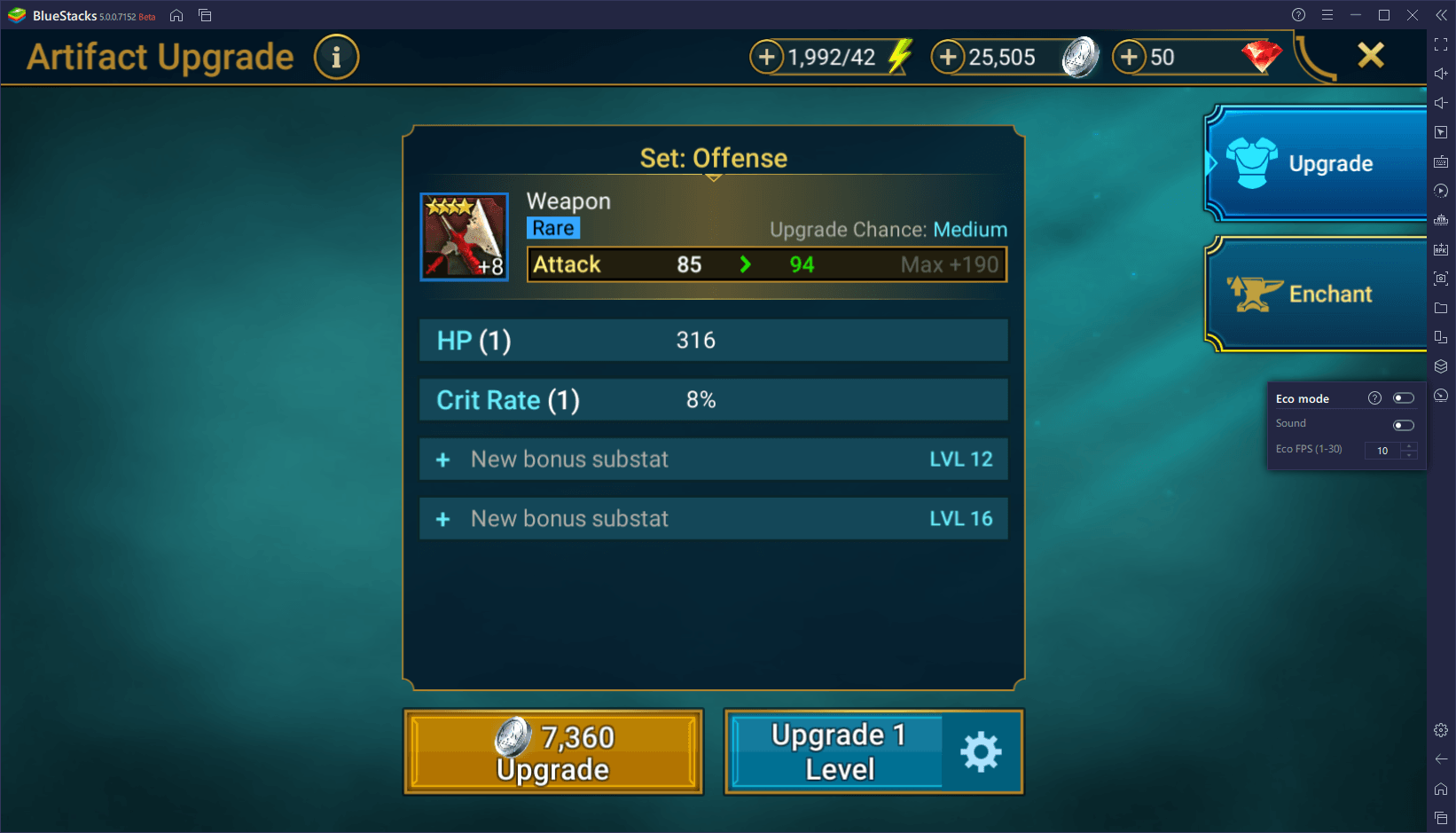 Eco Mode is a feature included in our emulator that allows you to control the FPS of your game in order to lower resource consumption. In other words, by activating Eco Mode, you'll limit the frame rate of your game, and it will occupy fewer CPU resources. However, limiting your FPS has an interesting side effect when upgrading artifacts in RAID. Specifically, if you activate Eco Mode during the upgrade process, and limit your performance to 10-15 FPS, the game will automatically skip the upgrade animation and dramatically decrease the time it takes to get an item to +16 to about 20 seconds.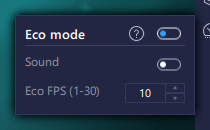 To activate Eco Mode, simply click on its button on the rightmost BlueStacks panel, and switch it on. You can then adjust your target FPS from 1 to 30 frames by using the arrow buttons. As we mentioned just now, you should set it to around 10 FPS for this trick to work in RSL.
Automate the Fodder Grind
Another basic process that you'll be doing in RAID is leveling up weaker champions that are meant to be used as fodder for your stronger units. In order to get the best results when sacrificing these weak units, you need to first level them up to their limit. For 3-star champions, the max level is 30, which will require around 30 or so runs of popular farming stages.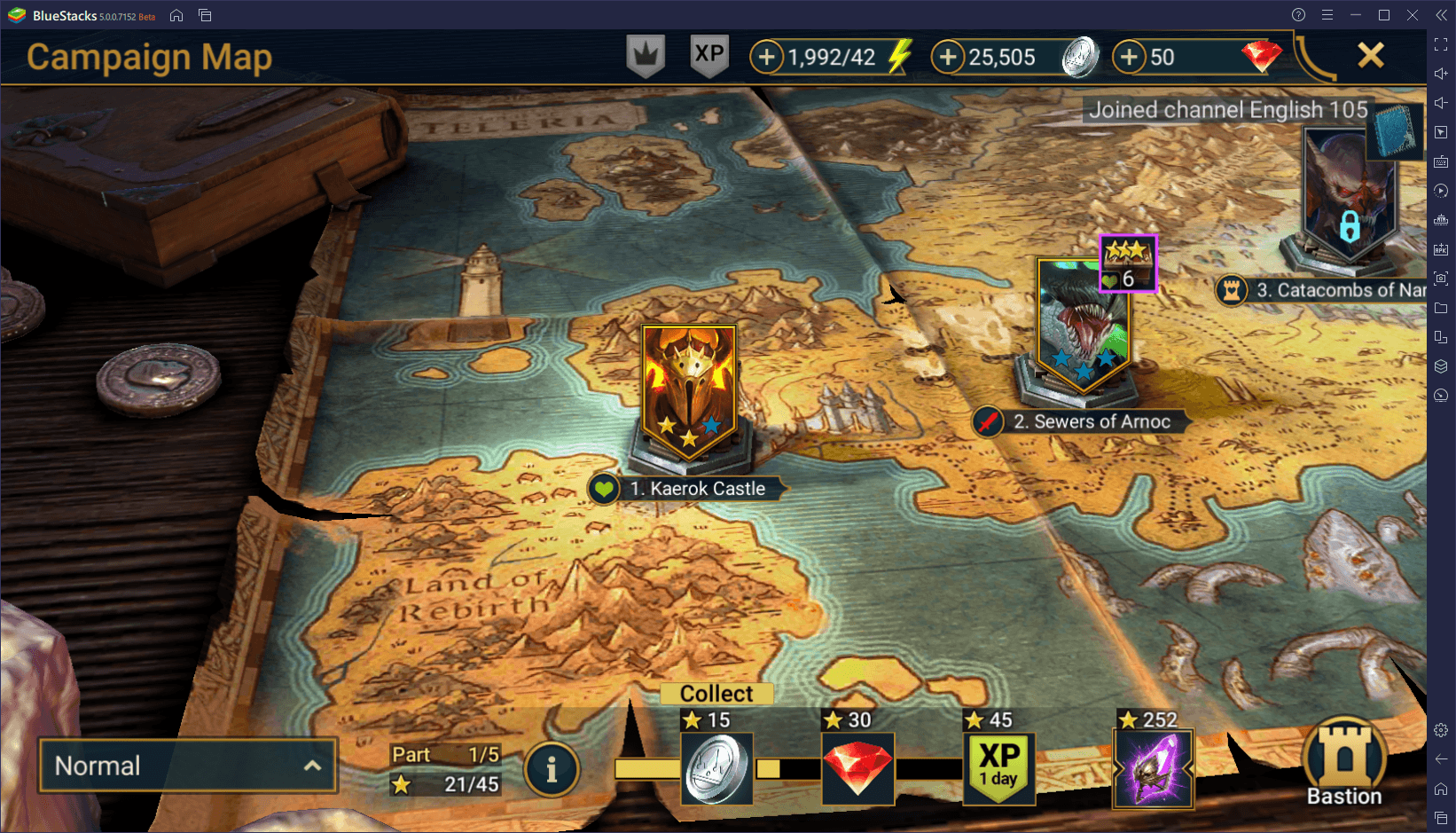 With a good unit that can carry your team, you can easily clear any of these stages in less than 10 seconds, which can quickly get any character to level 30. However, even though you may be able to clear a stage quickly with auto-battle, you'll still have to manually click on the "Replay" button to exit the battle and run it again. This process is not difficult at all, but it requires constant monitoring because your game will just stay in the results screen until you click on something.
With the BlueStacks Macro Recorder, you can easily and quickly automate the grinding by using a well-placed macro. This feature allows you to record all your clicks, swipes, and other actions, and then reproduce them with the press of a button. For RAID: Shadow Legends, this means that we can record ourselves clicking on "Replay" after completing a level, and setting the macro to repeat at regular intervals, in order to automate the grind.
Here's a step-by-step rundown of how to create this specific macro: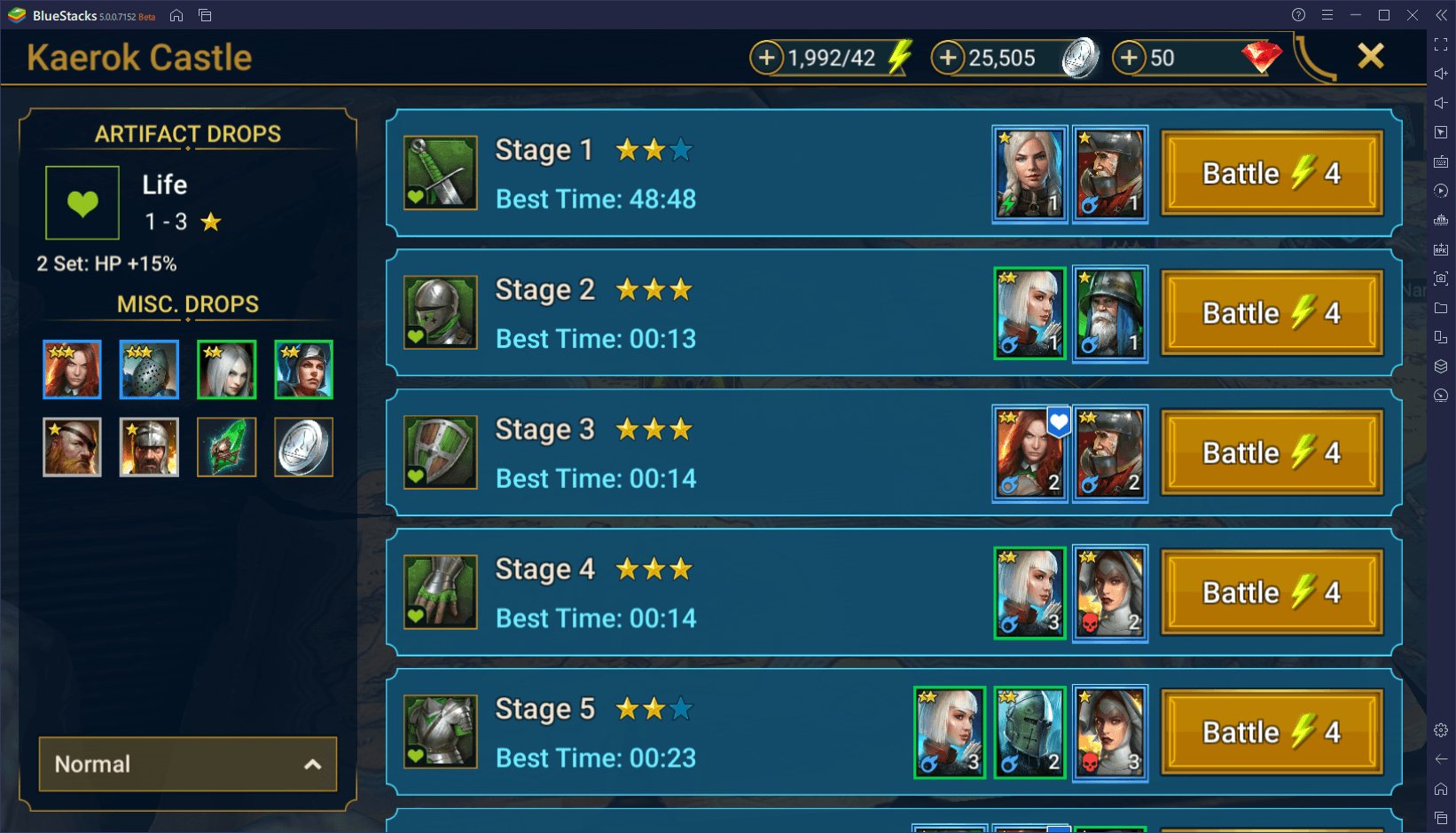 Find the stage you want to farm and take note of the average time (in seconds) it takes per attempt.

Clear the stage once and stop when you reach the results screen.

Open the Macro Recorder and start recording a new macro.

With the recorder running, click on "Replay" and immediately stop the recording.

Give your macro a name, and then click on the gear icon beside it to customize its behavior.

In the macro settings menu, check the "Infinitely until stopped" box, and set the macro to repeat every X number of seconds, with "X" being the time it takes you to complete the desired stage. To guarantee that the macro works, we suggest setting the repeat interval to about 10 or 20 seconds more than what would take you to complete the stage.

From that moment, whenever you want to farm a stage, simply complete it once, and activate your new macro when you're in the results screen.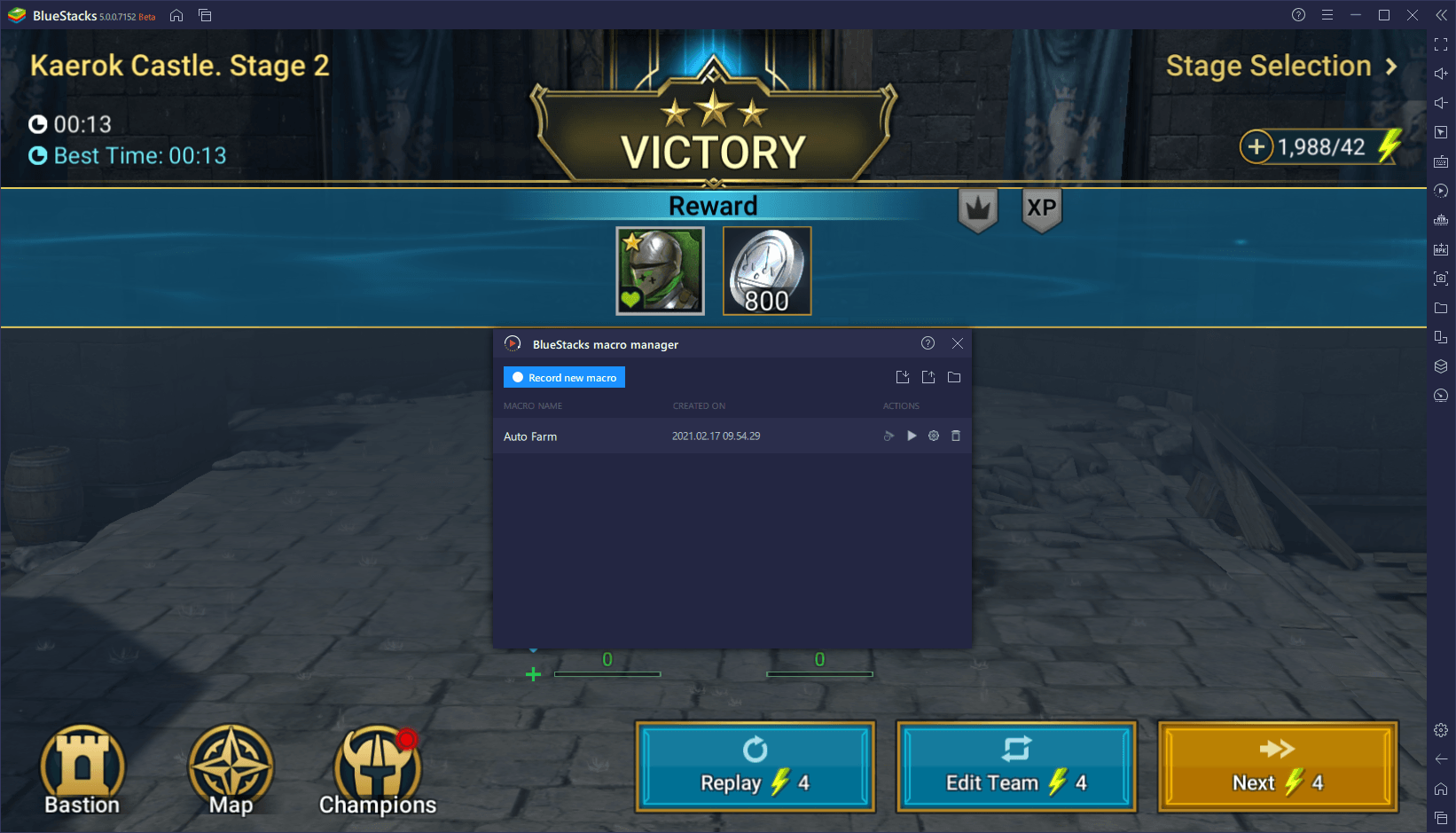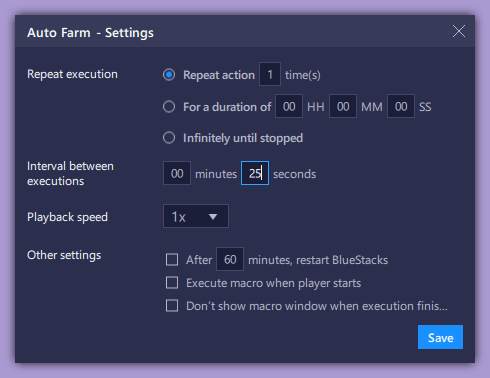 With this macro, you won't ever have to worry about grinding your fodder manually in RAID: Shadow Legends. Just remember to update it whenever you swap to a new team as it might take you longer to clear the stage if you change your setup.
Playing RAID on BlueStacks is definitely the way to go. Not only do you get the best performance at up to a maximum of 240 FPS, but you'll also have access to the best tools and features to help reduce the grind and monotony that usually comes with playing even the best gacha RPGs.