Game Guides
State of Survival x DC Comics Collaboration: How to Get Joker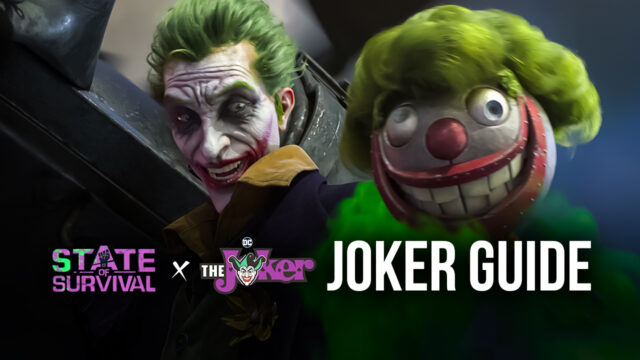 In a special collaboration, Warner Brothers, DC Comics, and State of Survival have teamed up to bring the villain Joker to the zombie game. Here are his abilities, story, and a little bit more about the Joker Showdown event.
Who is Joker?
The Joker is one of the most recognizable supervillains from DC Comics He is the main antagonist to Batman. Almost every time that Batman is being adapted into a movie or series, the Joker will almost always be there.
The Joker even got his own movie adaptation, where the character was played by Joaquin Phoenix. You can read more about his teasers on our previous blog post.
What is the State of Survival x DC Comics event?
The State of Survival x DC Comics event is every player's chance to finally get a free character — one of the most recognizable villains in the DC universe, Joker.
KingsGroup Holdings has always been committed to making the world of State of Survival more realistic and rich. Intellectual property collaboration is one of the ways they have chosen to bring familiar characters to the world of SoS, so that players like you can have all kinds of adventures in the world of State of Survival.
The developers started talking with Warner Bros. last summer, and they expected to bring a surprise collaboration after The Walking Dead linkage ends.
This spring, they finalized the collaboration with WB and DC – as expected, The Joker will take over from The Walking Dead in November. After nearly a year of preparation, the devs have worked with WB and DC to bring a unique and exclusive SoS Joker.
Due to the agreement with WB and DC, they needed to keep the surprise for the players until the last moment, even though they had already confirmed the collaboration – so in mid-November, they finally announced the news of this collaboration to all players.
This time they have customized the event with a very deep plot and more interesting gameplay, with Joker at the helm.
Joker abilities
Joker is a homicidal artist and an agent of chaos. No name strikes terror into the hearts of Gotham's citizens quite like the Joker. In a city overrun with larger-than-life criminals, the always-laughing villain stands alone. He is a complete psychopath with no moral compass whatsoever. His real name and identity also remain completely unknown. Joker is characterized by his chalk-white skin, green hair, and a permanent rictus grin stretched across his face. But there isn't a single thing funny about this particular clown, who only finds humor in the suffering of others.
The Joker's psychosis causes his personality to shift between goofy prankster and mass murderer on a dime, making it impossible to predict his next move. It's this unpredictability that makes him such a dangerous opponent.
Explorer – Throws a Joke-In-the-Box at the designated location, which attracts nearby infected and explodes in four seconds, releasing laughing gas. Those affected by the laughing gas will enter a state of confusion and attack the closest unit indiscriminately.
Military – Every six turns, the Joker releases a Joke-in-the-Box on the target of his attack. The no.1 Joke-In-the-Box will cause a stun effect that lasts (1) turns, after which the skill effect will switch between Stun, Silence, and Disarm in that order every three times it's released.
Explorer – The Joke-In-the-box explodes and gets the party going! Increases the Attack of all units on the battlefield by 100.0% for four seconds.
Military – Every time a Joke-In-the-Box is released, it increases the damage dealt of all friendly units by 10.00%.
Explorer – When attacking, there is a chance of throwing various food items at the target, which explode when hit, dealing 56.40 damage and reducing the target's movement speed by 30.0%.
Military – Joker causes disruption to all enemy units each then, increasing the damage taken of enemy Infantry by 5.00% for 1 turns.
How to get Joker in State of Survival — Joker's Showdown
You need to collect Joker Chips in order to join the Joker's Showdown event in State of Survival. Each time you draw a card to get a reward, you will use one Joker Chip.
To obtain Joker Chips, you can buy the Clown Prince Bundle or participate in the Arena of Doom event. After the event, unused Joker Chips will be transformed into equivalent Biocaps.
Players will receive one free draw every day. There will be a 24-hour cooldown after using it.
As for single draws, it uses one Joker Chip. Each Single Draw will bring you one reward.
Ten draws require the use of ten Joker Chips. For every ten draws, you will get an additional reward for a total of eleven rewards. This means that if you complete ten draws, you will definitely get Legendary Heroes or Legendary Hero Fragments.
You will receive great rewards according to the total number of Joker Chips you used. The fee draws will not be counted and the rewards you have claimed by the end of this event will be issued through the Reward Center.
Players can participate from November 24 to December 8 in the Joker Showdown event in State of Survival.
Joker Showdown Rewards List
Aside from Joker and Joker (fragments), there are plenty of other rewards you can get in the Joker Showdown.
Here ar the Common Rewards you can get in the event:
100 Biocaps

1,000 Biocaps

8h Speedup

3h Speedup

1h Speedup

1h Construction Speedup

1h Training Speedup

1h Healing Speedup

1h Research Speedup

Epic Hero Badge

Legendary Hero Badge

Epic Skill Book

Legendary Skill Book

Combat Manual II

Combat Manual III

100,000 Food

1,000,000 Food

100,000 Wood

1,000,000 Wood

10,000 Metal

100,000 Metal

10,000 Gas

100,000 Gas
With all the grinding that you will be doing, you will be needing all the help and advantage you can get. Good thing you can play State of Survival on PC for free with the use of BlueStacks. BlueStacks offers multiple features to help you kill zombies and build the best empire ruled by humans. BlueStacks can easily let you zoom in or zoom out of your headquarters, and you can also tap on to things with just a few keys and clicks.
This emulator also offers enhancements made especially for desktop gamers. For one, BlueStacks has a Macro feature that you can use for achieving your daily tasks in State of Survival. Simply record a sequence of commands and execute them whenever you want. BlueStacks' Scripting feature is really powerful as well since you can bind selected actions into any key of your choice and perform actions with a press of a button. It's that simple!
For more zombie-slaying tips, read up on our State of Survival game guides.