Game Guides
How to Play War Paradise: Lost Z Empire on PC with BlueStacks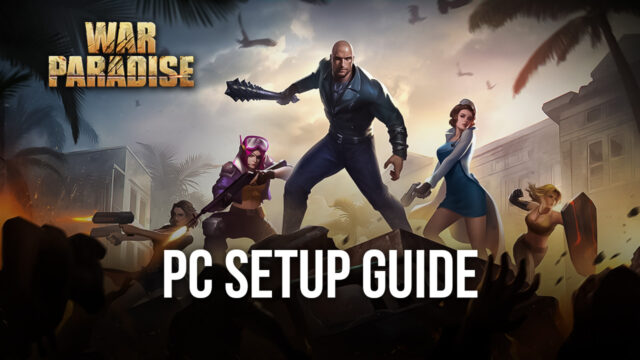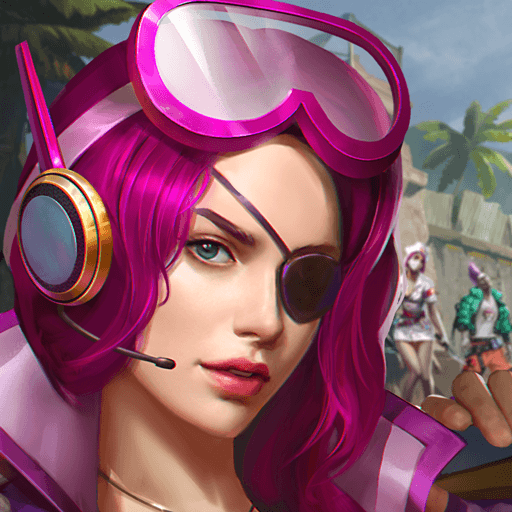 War Paradise: Lost Z Empire is a management-based, real-time strategy game built upon a post-apocalyptic world filled with the infected. The game makes use of standard base-building mechanics and countdown timers for players to successfully create the ultimate empire in the realm. Battle with other players, collect resources around the map, and expand your influence using your powerful army and economically stable city to outwit your opponents in this riveting game.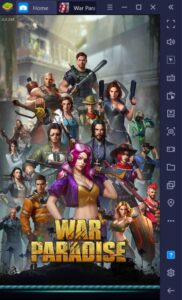 Real-time strategy games are usually overlooked because they often make use of similar mechanics. Even worse, the wait time might kill any first-time players' interest in the game. Using BlueStacks various features and flexibility, every kind of player will be able to enjoy War Paradise: Lost Z Empire, among other games, when they move their favorite mobile games to the PC platform. It's time to challenge some of the most strategically intelligent players in the world by declaring war on the realm.
How To Set Up War Paradise: Lost Z Empire on BlueStacks
There are games that are simply more enjoyable on a computer. More and more hardcore games around the world are building powerful PCs that can run even the most demanding AAA games on the market. When it comes to gaming, players shouldn't settle for less; they should switch to the best gaming platform. Even mobile games like War Paradise can be played on your PC instead of a smartphone just by downloading and installing on the BlueStacks platform. Here's how!
Download and Install BlueStacks

on your PC.

Complete Google Sign-in to access the Play Store, or do it later.

Look for War Paradise in the search bar at the top-right corner.

Click to install War Paradise from the search results.

Complete Google Sign-in (if you skipped step 2) to install War Paradise.

Click the War Paradise icon on the home screen to start playing.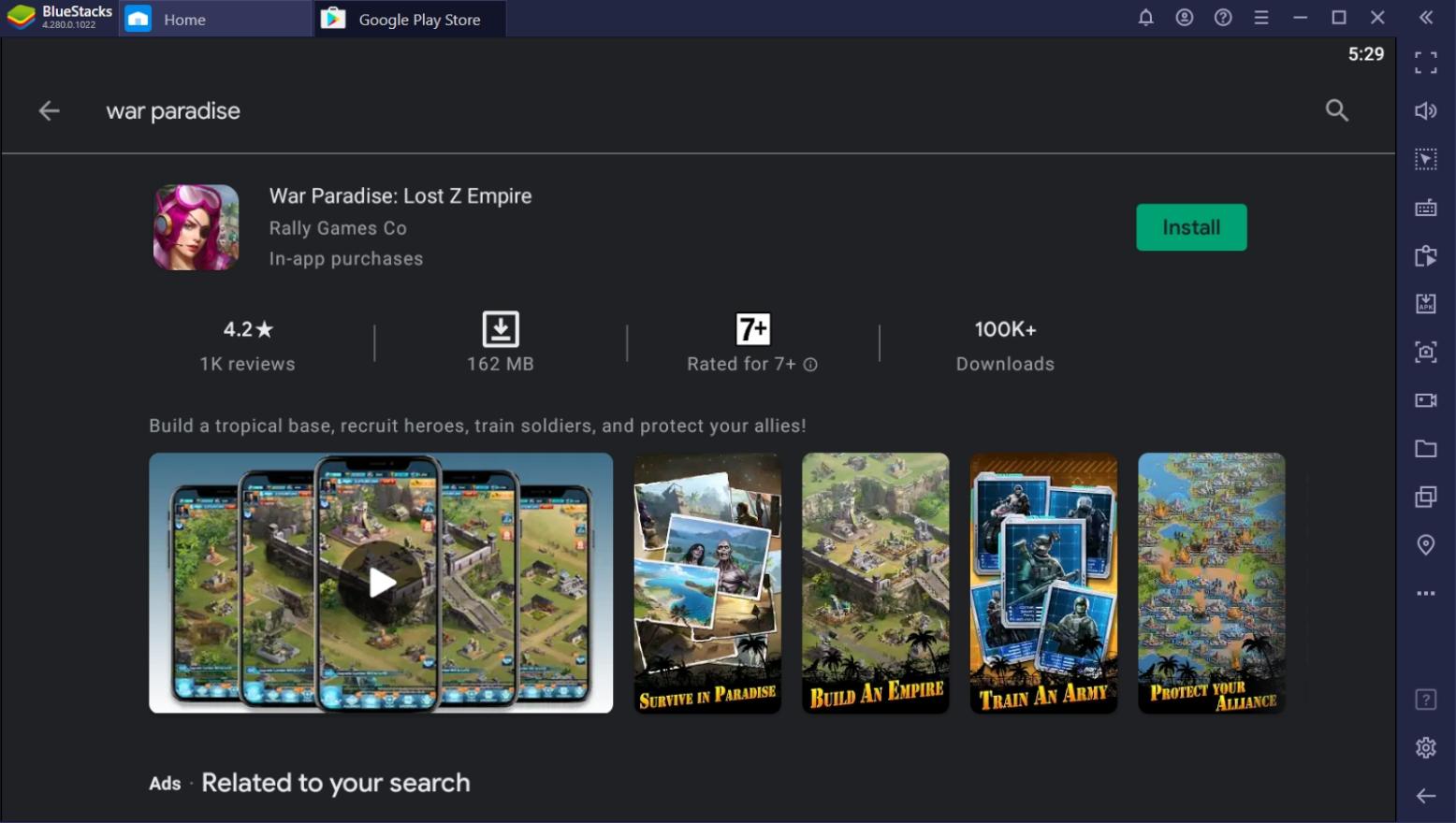 Useful Features You Can Use When Playing On BlueStacks
BlueStacks has got some of the best features that mobile gamers can only dream of having on their smartphones. While the average smart device already has a ton of useful tools to help you in everyday life, gaming is a whole different beast, as it has its own appetite for functionality. Let's take a look at some of the best features that players can take advantage of when playing War Paradise: Lost Z Empire on their PCs simply by switching to BlueStacks.
War Paradise: Lost Z Empire isn't meant to be played as an active game that the average player has to keep an eye on 24/7. Most of the time, War Paradise players only play this as a side game so that they can switch out either when they get bored or run out of things to do on their other mobile games. The worst part about playing this game on the mobile phone is that switching tabs can be a pain, especially if the device forces you to reload the game every time you shuffle between apps.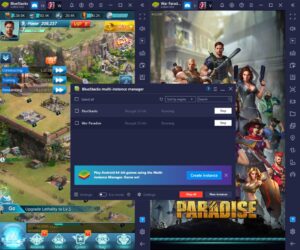 The Multi-Instance Function is the gamer's solution to the terrible tab switching; it allows your computer to open two or more separate BlueStacks instances at the same time. This means that you'll have two or more games open simultaneously, running side-by-side as you actively play one game while monitoring any others. You can also use this function to create multiple accounts in War Paradise so that you can make your own personal mini-guild that you can manage yourself.
The Macro Feature is a way for players to automate their routine actions so that they don't have to repeat executing the same commands over and over. The way it works is that the client records all of the clickable and movable commands so that you can replay the sequence later when the same command is due again. You can even control the number of times you want to repeat this action and set the amount of time you want in-between Macro intervals to maximize your in-game efficiency.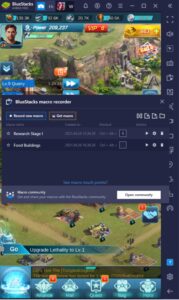 The most practical usage of this feature when playing War Paradise: Lost Z Empire is to use a macro to attack inactive players during set times so that you can farm their resources. This will save so much time waiting for resources to pop up or waiting for your troops to collect from a specific research node. You can even use the Macro System to automatically train troops every time the Barracks completes a batch every other hour or so.
The Screen Recorder function is a simple tool that pretty much everyone is familiar with, but the BlueStacks version of this function is better than its mobile counterpart in every way. The BlueStacks Screen Recorder uses the power of your PC so that you don't have to experience lag or your device heating up. These are common problems that the average mobile gamer experiences on their smart device simply because even your smartphone isn't made to multi-task such demanding apps at the same time.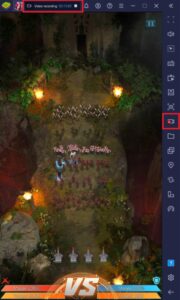 Record your gameplay on War Paradise: Lost Z Empire so that you can show your other gamer friends the progress that you're making in such a competitive game. Since it uses emulated elements, it will look almost exactly like how it would if you were recording the clip from your Android device.
Survive and Conquer the Lost Z Empire!!!
War Paradise: Lost Z Empire is an extremely competitive strategy game that will pit you against some bloodthirsty opponents. The game won't give you any mercy when an enemy player starts sending their troops to war, marching towards your city. Prove to the world that you can be one of the most effective generals; rise to the challenge and be the #1 player in the rankings by decimating the competition and developing your empire.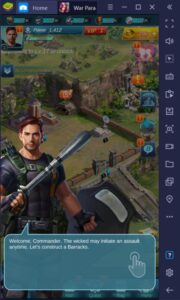 The zombie-themed strategy game has a lot of features that the average beginner will have difficulties mastering. If it's your first time playing this game, tune in to more BlueStacks Guides to help you get through some of the most difficult parts of the game until you can handle your own, even against veterans of this game genre. What are you waiting for? Start building your own empire and beat the opposition!