Game Guides
How to Play XCOM Legends on PC with BlueStacks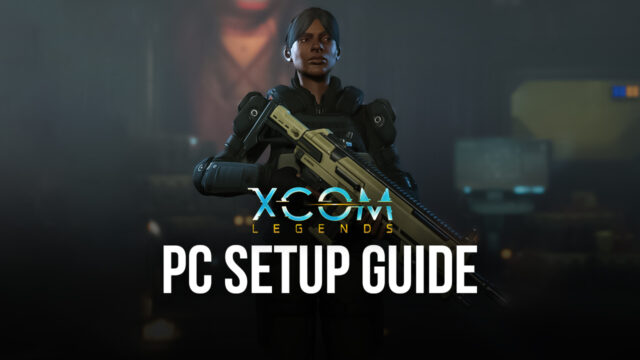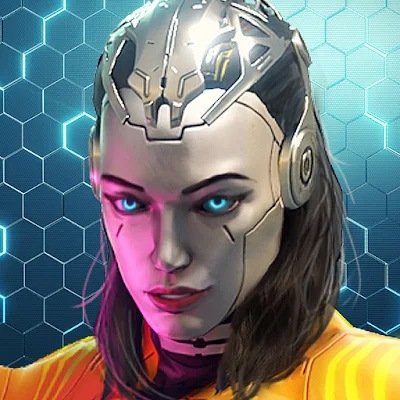 XCOM Legends is a turn-based strategy RPG that utilizes a traditional combat style and is set in a futuristic setting. The game revolves around trying to use collectible agents in fights against PvE creatures in the form of aliens and cosmic anomalies. Having a sci-fi setting can be refreshing, especially if you're used to playing games that are associated with medieval fantasy elements or eastern-style themes that have been prominent in recent times, thanks to the rise of anime-inspired games.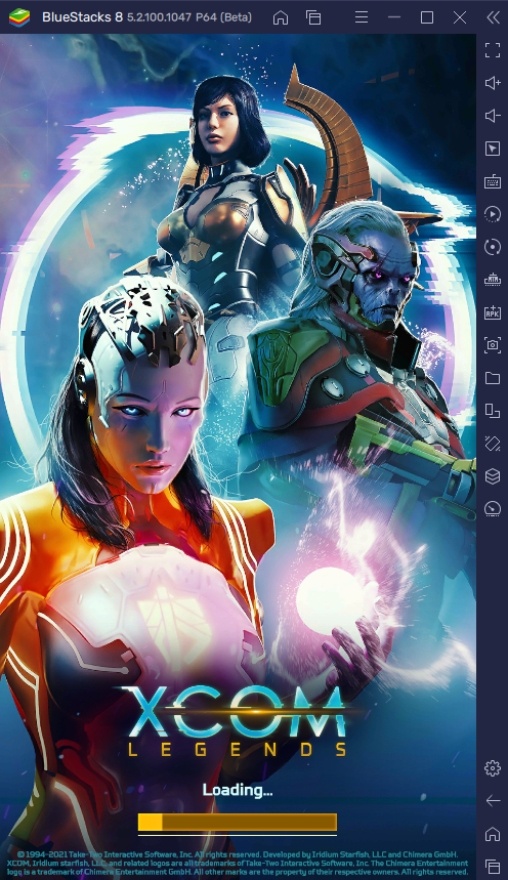 Turn-based RPGs are probably one of the oldest genres in gaming, but have always remained fun to play because it combines racking your brain to think about the best strategies with mild, but enjoyable action gameplay without the stress of button mashing. The best part about this game is that it combines some incredible storytelling that lore appreciators will surely enjoy once they start playing the game. The best part about this game is that you can play it on BlueStacks today!
How To Set Up XCOM Legends on BlueStacks
XCOM Legends is a great game to play on your smartphone, but the experience is enhanced when you play it on your PC with BlueStacks! The game features some targeting and positioning that can get tedious if you're playing on a small screen using something as clunky as your thumbs to target where you want to go, only to accidentally click the wrong thing. If that's the case for you, it's time to take your game to BlueStacks by following these simple steps to help you start out!
Download and install BlueStacks

on your PC.

Complete Google Sign-in to access the Play Store, or do it later.

Look for XCOM Legends in the search bar at the top-right corner.

Click to install XCOM Legends from the search results.

Complete Google Sign-in (if you skipped step 2) to install XCOM Legends.

Click the XCOM Legends icon on the home screen to start playing.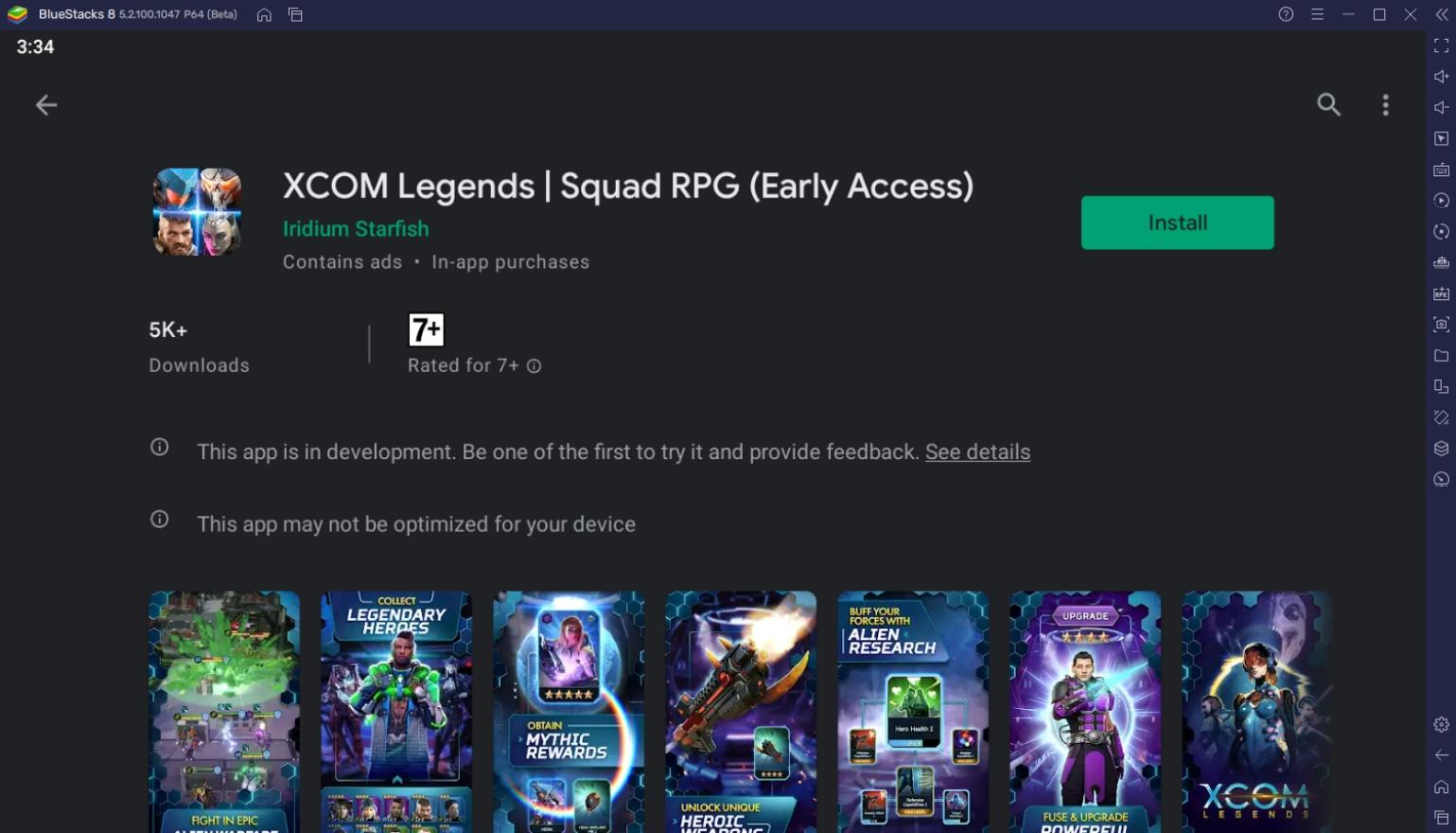 NOTE: Make sure that you're running this game on Android 9 Pie or higher at 64-bit!
How To Run Android 9 in BlueStacks 5
If you're running an older version of BlueStacks, we suggest you update to BlueStacks 5 so that you can run the latest games on the Android market. For those that are already on BlueStacks 5, here is a step-by-step guide on how to create an Android 9 Pie instance.
Download BlueStacks' Android 9 version here.

Install the software to update your existing BlueStacks 5 file. (Note that you might need to turn off your Firewall, Antivirus, or any Anti-cheat engine on your computer while installing this software)

Once the update has been finished, open the BlueStacks 5 Multi-Instance Manager and click on "New Instance".

Select the Pie 64-bit on the Android Version and enjoy all the new games that you can play from now on!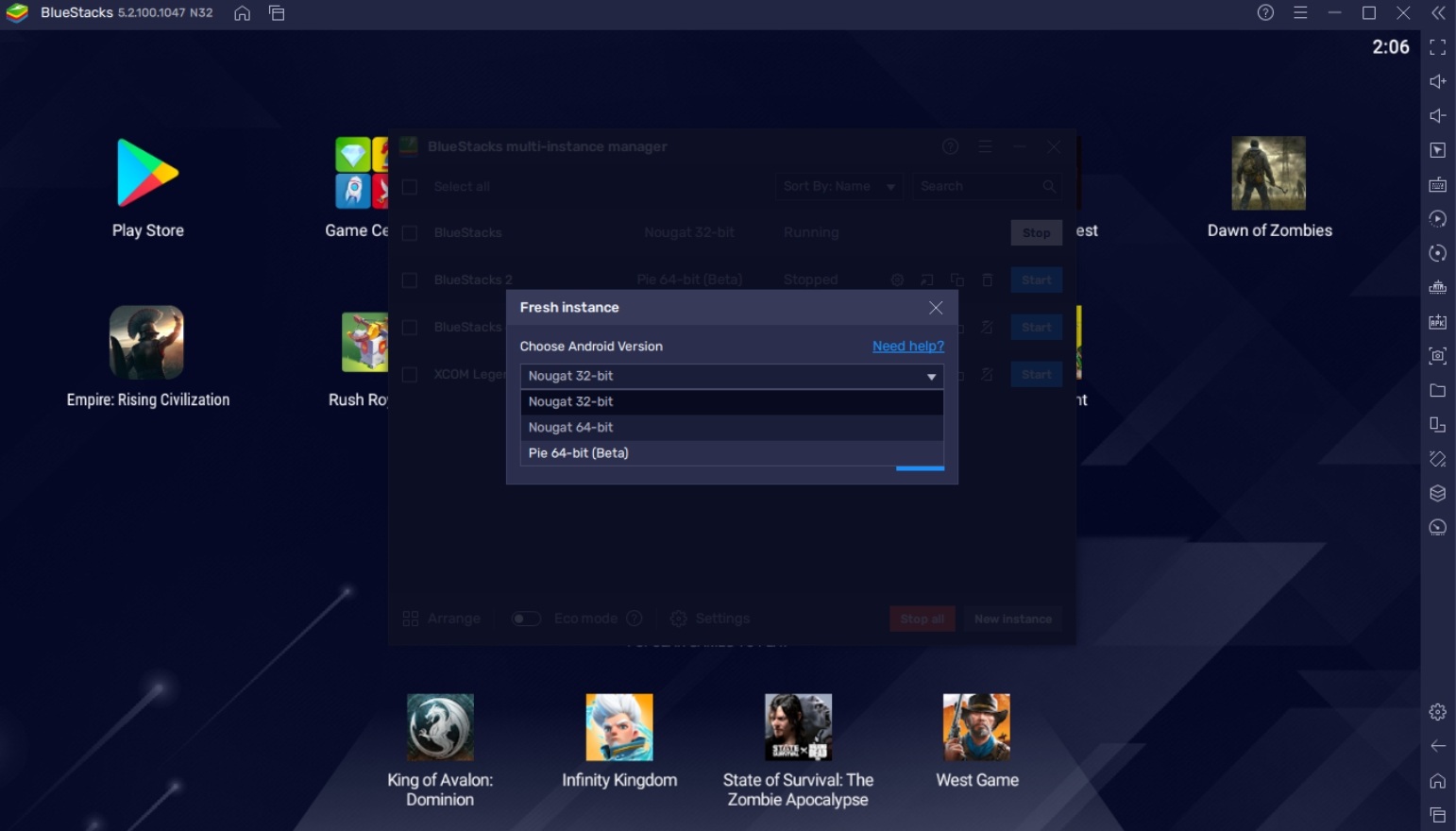 Useful Features When Playing XCOM Legends on BlueStacks
BlueStacks has some awesome features that players can definitely enjoy when playing their favorite Android games. As the leading expert on Android emulating, BlueStacks has a ton of features that you'll definitely find useful in progressing through the game. There are some things when playing on the smartphone that we wish we had but don't because such a small device can't handle running more advanced software. This is where your PC comes in handy!
The Controls Editor Function is a useful feature that allows players to map out commands on their screen using their keyboard so that they don't have to use the mouse to simulate the touch function. This feature makes it easier to transition from playing on the smartphone to the PC. You won't have to worry about misclicking your commands when playing XCOM Legends because your keyboard will be extremely accurate in inputting the commands.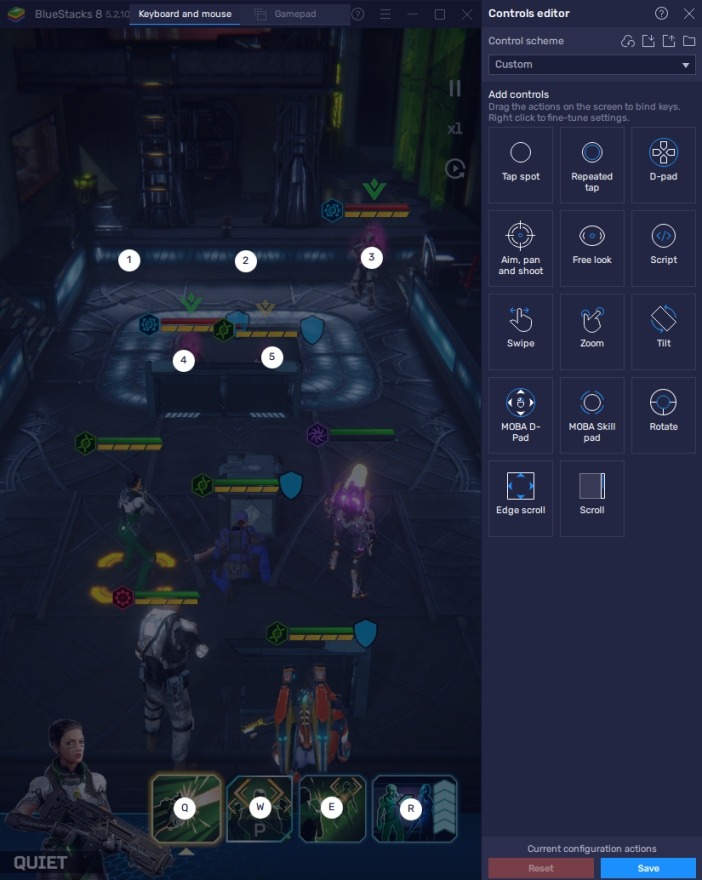 XCOM Legends uses tiles for strategic positioning and the boxes to click on abilities and targets. In crucial matches, misclicking the wrong target or ability can be disastrous and end up losing you the game. If you're able to use your keyboard commands to click on these areas, it won't just save you a lot of games, it'll also reduce the amount of time that you place commands if your hesitancy comes from a fear of misclicking.
The Multi-Instance Function is a feature that most players make the switch from smartphone to PC for. This feature has a lot of practical uses when gaming, such as being able to play two games at the same time or opening multiple instances of the same game to control various accounts at the same time. In combination with the BlueStacks Synchronization Function, players can control all of the instances of the game at the same time as if you had a universal controller in hand.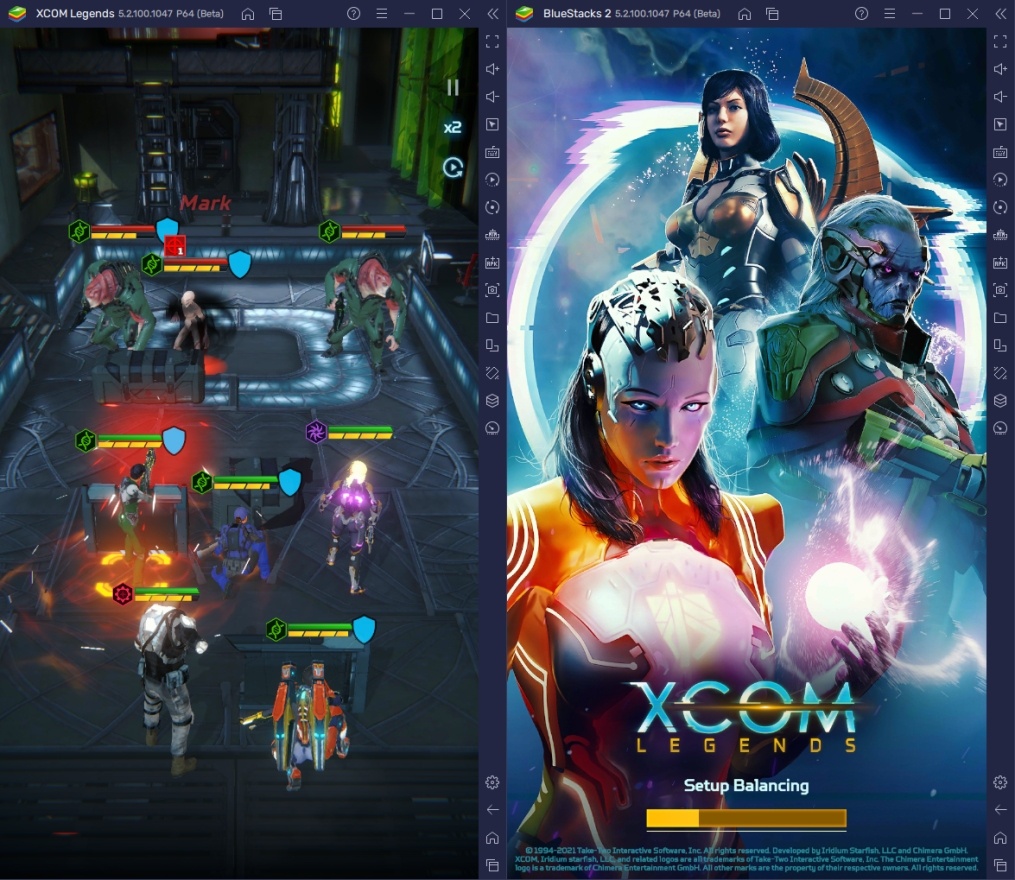 One of the things that you can do using the Multi-Instance Function when playing XCOM Legends is by doing Multi-Instance Rerolling. XCOM Legends is a gacha game so getting the right heroes for the case of competitiveness can be tough. The game doesn't give a lot of free stuff at the very beginning of the game so the grind will be difficult if you're on one device. It's time to get those awesome heroes by using the multi-instance function's for rerolling accounts.
The Macro Feature is another popular feature that players like about BlueStacks. This function allows players to record a series of commands so that they can replay it later, similar to the auto-play feature in some games. While it's true that XCOM Legends has its own auto-play function, the AIs can make some questionable decisions that don't make any sense and make the game last longer or make you finish the stage with some deaths.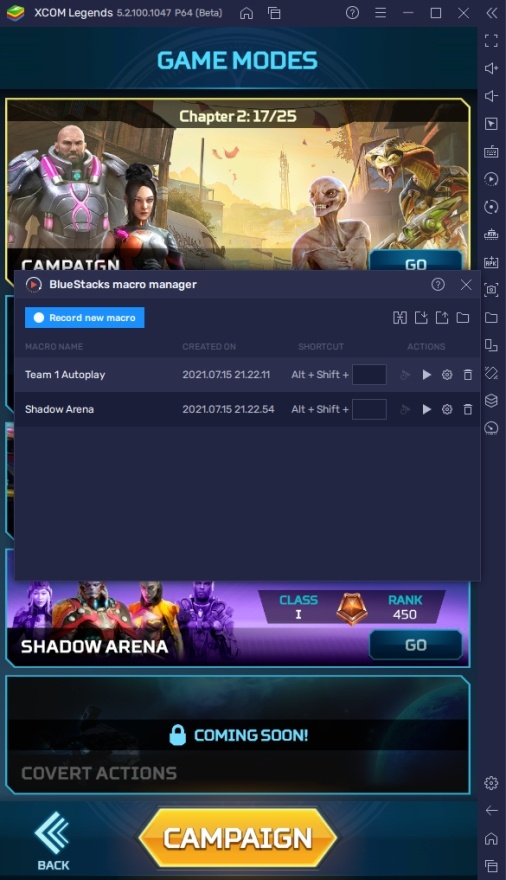 In this case, it's a good idea to input your own commands so that you'll be able to complete stages more efficiently without having to worry about the AI messing with your team. It's also a good way to skip trying to manually progress to the next stage or replay daily events. You can skip all those boring parts by recording a Macro that you can store and customize.
Your Next Mission Awaits in XCOM Legends!
XCOM Legends is quite an enjoyable game to play and becomes even more interesting once you unlock the additional features, such as the Shadow Arena. Players who have grown up loving gacha games like these will find that this game does everything right, from its unique gameplay to the riveting storytelling, allowing its players to get immersed in its immersive world.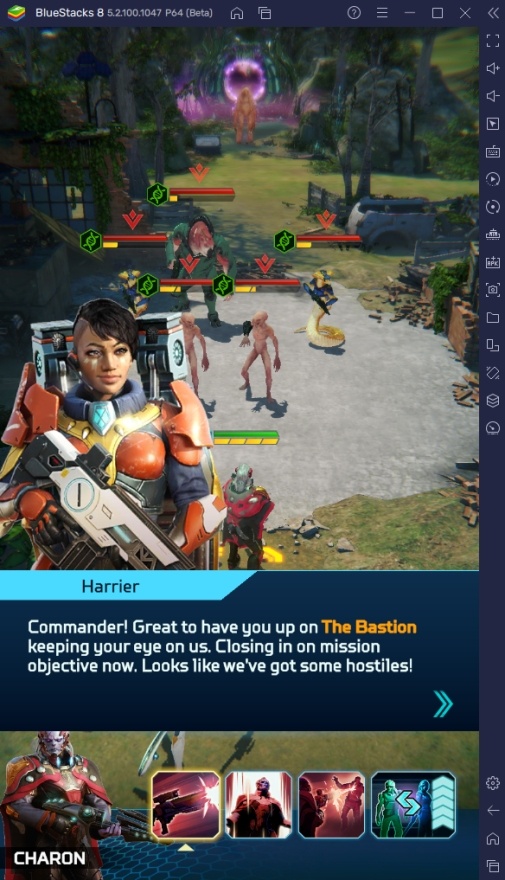 The game has been a huge hit since its release and will continue to grow as it slowly opens up to more countries. It's time to reach the top as one of the players that have adopted this game early by using every advantage that you can get, and where else can you find the best ways to get ahead of the competition than by using the features that BlueStacks gives you when playing this game?