Updates
AFK Arena Update 1.64 Patch Notes – New Hero, Recurring Events, And More!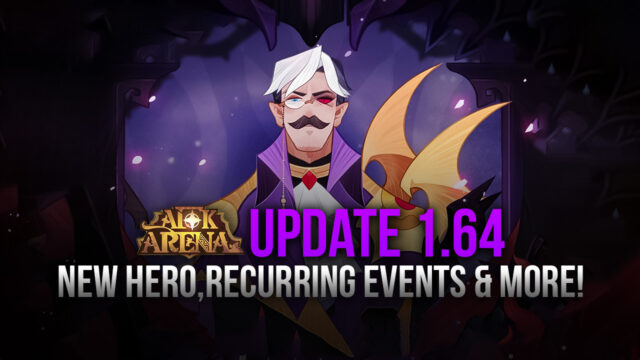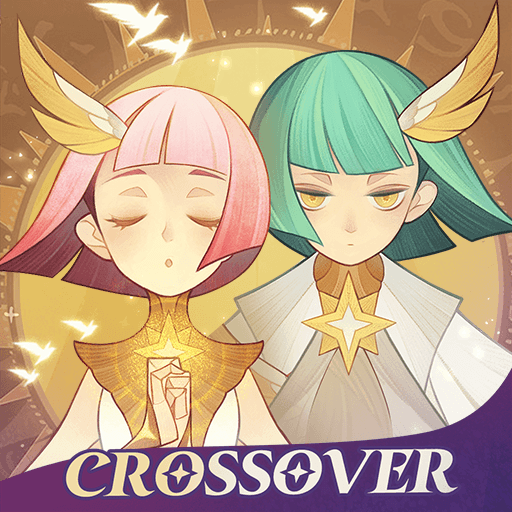 Ready or not, here he comes… The Malevolent Menace has arrived in Esperia, and you are invited to try him out on your party and battles. AFK arena's newest Hypogean hero, Leofric, is now live on the AFK Arena servers under Patch 1.64. He is the next hero after the Graveborn hero Desira who was just introduced to us a few weeks ago.
If you want to know more about Leofric, the Malevolent Menace, you can read all about him in our short hero guide from our previous blog posts.
New hero – Leofric
Leofric is a support hero who can buff allies. He is under the Intelligence type.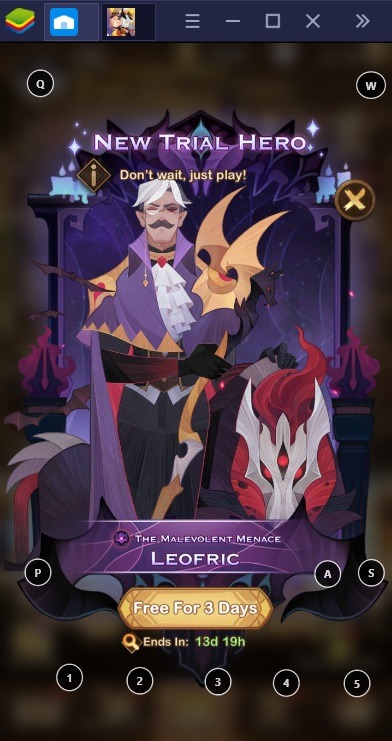 Leofric wears his faction's favorite color, purple. However, unlike the rest of the heroes in this faction, his outfit is more upscale, adorned with tons of golden details to emphasize his affluent identity. To balance his whole design, Leofric wears a pure white cravat which completes the whole look. Let us not forget about his magical staff, which reminds us of the Egyptian God Anubis because of its shape and color.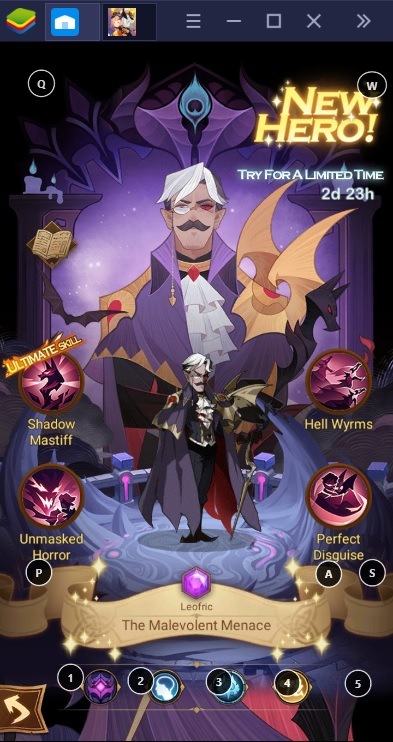 Leofric's Bountiful Trials starts from May 26 at 0:00 UTC.
Recurring Events
The following are recurring events for this patch:
Hunting Fields – Official Season (June 2, 0:00 UTC)

Misty Valley – New Round (June 4, 0:00 UTC)

Voyage of Wonders – Void Rift (June 5, 0:00 UTC)

Trials of God – Track of the Sands 34-30
The Hunting Fields has gotten a few optimizations to up the challenge for competitive players. The numbers of specified solo tasks have been increased, as well as the number of single challenge periods from seven days to eight days. The new mid-challenge "abandon-hunt" voting system is also now available for players to enter. Lastly, you will be pleased to know that the difficulty of the second team's enemies found for level 4 and 5 camps have been reduced. The HP of Adrax's first and fourth life has been reduced, however, the HP of his second and third life has been increased. Are you up for the challenge?
There are also a few reductions for the campaign:
Quantity of teams needed from stages 31 – 35

Combat rating limits of Chapters 20 – 41

Level of Signature Items worn by enemies in most stages of Chapters 35 – 40
The Arcane Labyrinth is now much easier since the Dismal Maze mode now includes a mutual assistance function. Through this new feature, a player can become a Dismal Master when they do not use Dura's Tear to complete at least four multi-team battles. The Dismal Master has the advantage to help other Maze-goers.
New Artifact – Life's Limit
AFK Arena patch 1.64 also debuts the new artifact "Life's Limit." It is a new Tank exclusive artifact that can be acquired from the Trials of God – Track of the Sands.
"When the wielder receives damage from an enemy that is positioned relatively far away, the source of the attack shall be regarded as the central target, and the nearby enemies shall be dealt AoE damage which ignore Defense Rating and reduce Haste for 5 seconds."
Hero Optimizations
We have plenty of hero optimizations, changes, and bug fixes for this patch for Queen, Silas, Oden, Pippa, Daimon, Kelthur, Morael, and Zolrath.
The most noticeable fixes come from the following heroes:
Queen

– Lilith Games fixed an issue that would sometimes cause an abnormal character position at the end of the action of the skill "Ms. Post-Apocalyptic Raider" to occur

Silas

– The developers fixed a problem causing the skill "Double Dosage" to incorrectly affect enemy targets that should have been non-targetable

Pippa

– Fixed a problem that would cause some enemies to incorrectly move to specific areas on the battlefield after being dropped down as a result of the skill "Astral Shift"

Oden

– Fixed a problem that would cause some enemies to still be sucked in by the skill "Eviction" after being dropped down, resulting in them moving to specific locations on the battlefield.
All players will receive 1,200x Diamonds as a compensatory gift for this maintenance.
Are you excited about using Leofric? Is he as good as he is on paper? Let us know what you think about this new AFK Arena hero in the comments!