Updates
MARVEL Strike Force: Cosmic Crucible and Weekly Events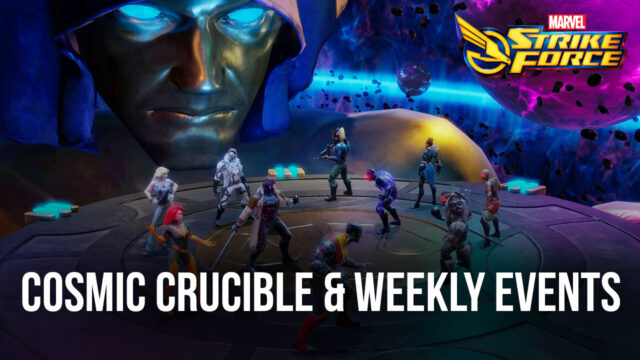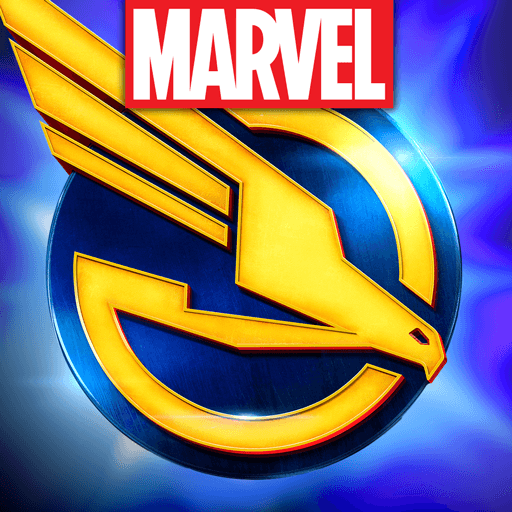 MARVEL Strike Force is adding a new game mode called "Cosmic Crucible" where the first season of the mode will be called 'Pre-Season" as a trial to improve the mode before the official start of Season 1 which will happen a few months later. Commanders Level 60+ are placed in a tribunal rating based 8-player brackets that are pre-seeded according to their TCP.
Defenses & Trials
Global Rules will grant specific bonuses to all rooms each season. Players will play six stages similar to Alliance War
There will be 3 Trials for each stage that last for one day. Players must attack all six defenses of the opponent where all enemy characters should be eliminated. Each room will only have a finite number of attacks so pregame strategy is advised before starting each trial.
Players are victorious when they finish more rooms than their opponent. "Victory Points" is a built-in mechanic to determine which player wins. Finished stages will be the top mechanic, then the fewest number of Offensive Attempts next, Turn Bonus + Healthy Characters + K.O.'s last. The player with the most TCP will be considered the winner If there should be any ties in Victory Points.
Rewards
It is by the division of the player where rewards will be granted. Basically, in order to get better rewards, players should have higher placements. These rewards include Teal Gears. It is highly recommended to achieve high rankings in tournaments in order to advance in the next Division.
Each character elimination will reward net Crucible Credits that can be spent in the Crucible Store including Purple, Teal and Orange gear pieces. Additional Crucible Credits and Elite Crucible Credits can be earned at the end of each tournament and at the end of the Season.
Launch Event
There will be multiple ways to earn these Cosmic Crucible Credits and Elite Cosmic Crucible Credits throughout the game. One way is through the limited-time login calendar where you can also get character shards for the Wakandans that were just recently reworked as well as valuable gear. Another way is through the milestone event where Cosmic Crucible credits will be placed randomly. Last but not the least, through the game mode itself!
Streamlining Raid Content
The dev team has put in multiple methods to streamline gaming experiences elsewhere to make sure players have ample time to learn and experience the new game mode of Cosmic Crucible. Players will be able to reduce a crucial number of manual input currently required in many of the Raids this coming somewhere in Version 6.2. More details to come as the version comes closer to the said 6.2 Version.
Tier 2 Level 4 Iso-8
Tier 2 Level 4 Iso-8 Ions can be earned in the upcoming Victory Blueprint Event as well as some limited offers in the Store. Characters equipped with a Level 4 Class will gain an additional 10% to Armor, Focus, Health and resistance. More ways to earn these coveted new Ions will be announced closer to the Version 6.2 release in the upcoming months.
A-Force of Nature Events
A is for Allies Event will start on May 7th at 5:00PM (PST). Use Iso-8 Campaign Energy to gain points towards a one week Alliance Milestone that gives A-Force Emblems, T2 Level 1 Ions and T1 Ions.
Victory Blueprint
This event will start on May 11th at 5:00PM (PDT) where not only you can earn T2 Level 4 Ions but also progress toward the A-Force of Nature milestone. Gain points toward this one week Milestone by using Campaign Energy excluding Iso-8 Campaign Energy, earning War credits, and by spending War Energy Refills. A-Force Emblems and special token item Jessica Jones' Jacket will be the milestone rewards.
Quick Rumble Blitz – Military
This event will start on May 12th at 5:00PM. For 2 days, Players who win Blitz battles will earn Ability Materials and A-Force Emblems for the A-Force of Nature Event. More points are rewarded for players who will use Military characters at 5 Stars and above
Legendary Event Updates
The Asteroid M Legendary Event will start on May 9th at 5:00PM (PST) and be under the Events section indefinitely for all players level 25 and higher. Black Bolt's "Unite the Kingdoms" Legendary event will enter a repeating rotation that will start on the same day as Asteroid M. The King of Attilan will be available every six to seven weeks (subject to change). The preparatory Bonus Event, 4 Asgard will continue appearing before "Unite the Kingdoms.". Go through your inbox to see when these events will start and receive shards as well for it.
The Next Horseman: Famine
This Legendary Horseman will have a Scourge Event and Famine will unlock at 3 Stars. There will be three trait options for Node 5 and 10 on Difficulties 5 and above: Inhumans, A-Force and Young Avengers. Details about Famine will be announced soon.
Weekly Events
Cold As Ice Blitz
Start Date: May 8th at 5:00PM (PST)
Reward: Iceman character shards
Unite the Kingdoms Repeating Legendary Event
Start Date: May 9th at 5:00PM (PST)
Reward: Black Bolt character shards
Requirements: 5 Asgardian character at a minimum of 5 Stars to unlock Black Bolt
Preparation: 4 Asgard Bonus Event
Payday Flash Event
Start Date: May 13th at 5:00PM (PST)
Reward: Gold
Required Characters: Mercenary
Knowing how to compose a team and build characters efficiently are really a good strategy in this game. If you are new and interested in getting better at managing your team in the game, you can read our guide here. Are you excited about the new game mode Cosmic Crucible? Which weekly events are you most excited about? Will you be building new characters for the new game mode? Tell us in the comments!