Updates
The Seven Deadly Sins: Grand Cross to Release 6 New Heroes in Latest Update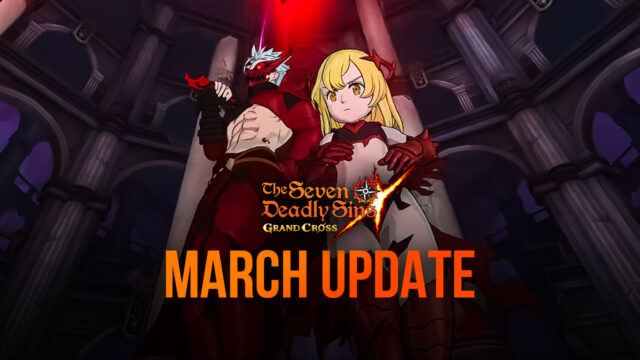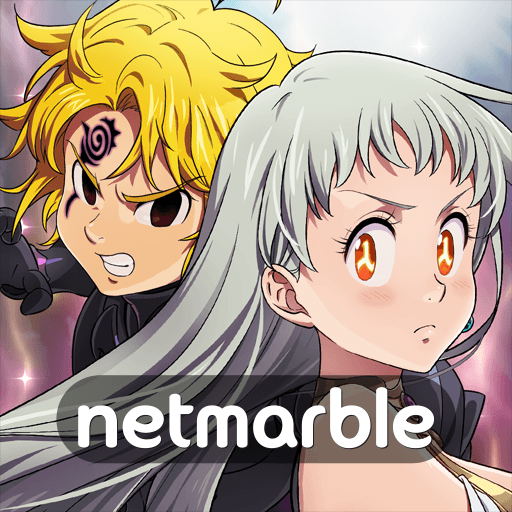 The Seven Deadly Sins: Grand Cross have a new update coming out on the eve of their 1st Anniversary with new heroes, events and the second part of the 1st Anniversary Festival known as 'The One' all being rolled out as part of the March 2, 2021 patch.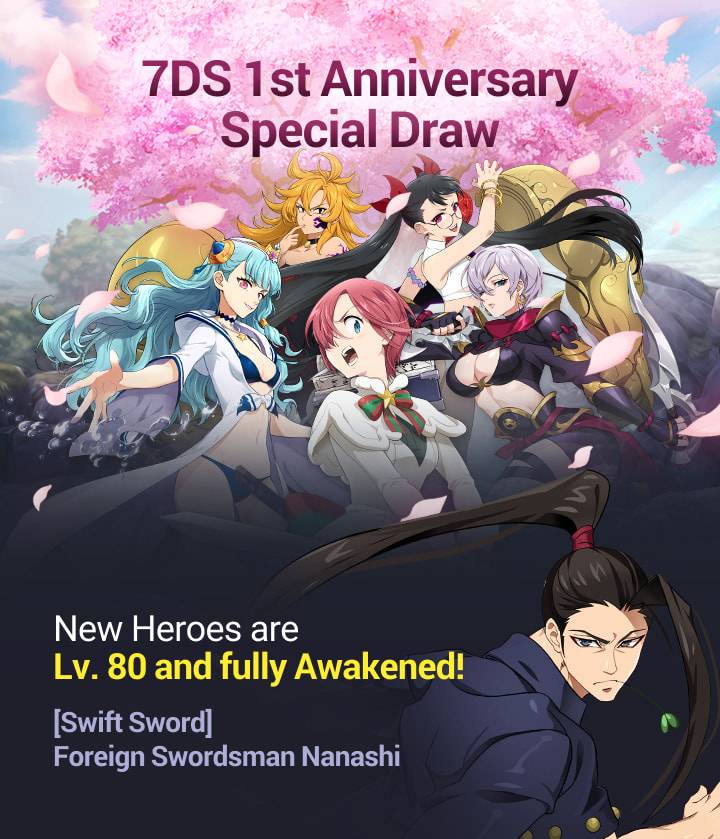 [Swift Sword] Foreign Swordsman Nanashi, [Advent of Destruction] Human Weapon Mono, [Sunny Vacation] Weapon Researcher Valenti, [Sunny Vacation] Noblesse Eastin, [Memory Fragment] Knight of Danafor Liz and [Sweet Temptation] Derieri of Purity are the heroes that will be added to the game with the new update. All of the releasing heroes will be fully Awakened and level 80 characters that can be availed through the 1st Anniversary Festival.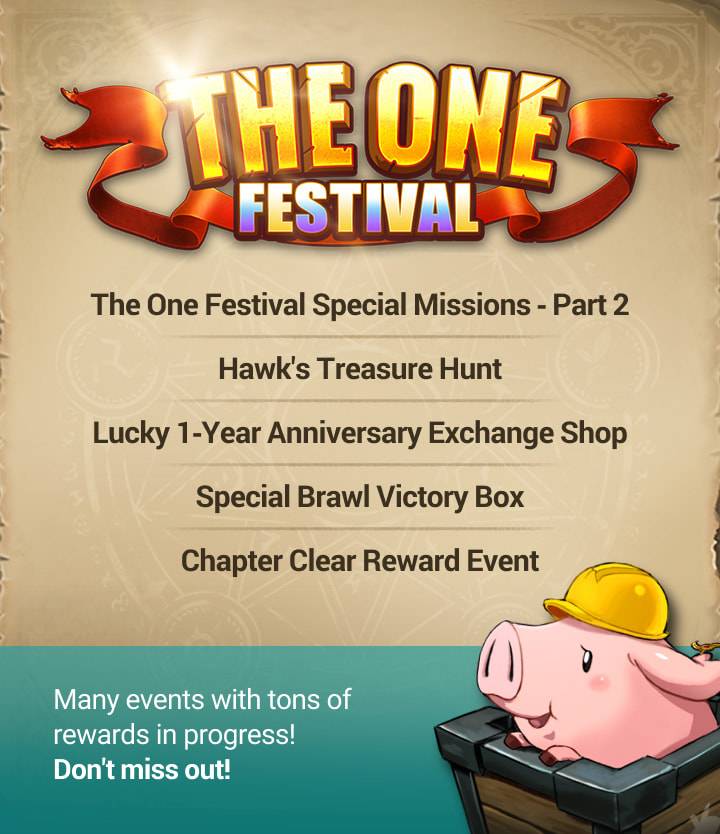 The second part of 'The One' Festival will also hit the servers with new special missions and events being introduced. There will be a Hawk's Treasure Hunt, a Lucky 1-Year Anniversary Exchange Shop, a Special Brawl Victory Box and a Chapter Clear Reward Event that will yield players several rewards as Seven Deadly Sins: Grand Cross gets ready for the 1st Anniversary of the game's release.
The Final Bosses of Season 6 have also finally been revealed, with players set to battle the likes of Dan and Elaine at the Temple of Belenus with several 5 Star and 6 Star Rewards up for grabs once the players manage to overcome the challenge posed by the Final Bosses.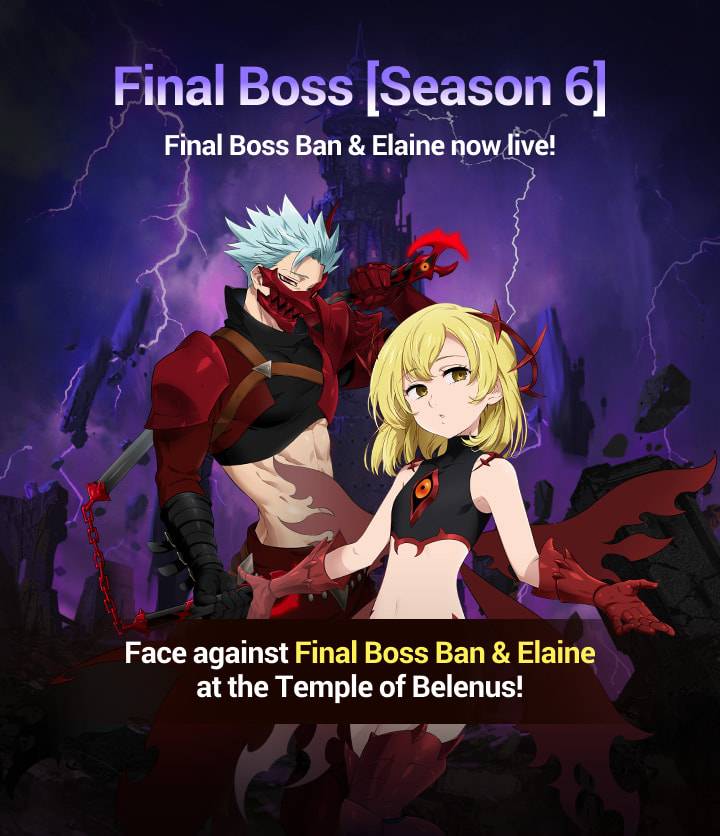 The new heroes are also arriving with some in-game merchandise as well. 3 New Hero Costume Sets for Foreign Swordsman Nanashi will go live with the update, with 2 of Noblesse Eastin's costumes also being reintroduced along with a new weapon and costume item for Derieri of Purity.
Three 1-Year Anniversary Special Bundles named Ticket Bundle I, Ticket Bundle II and Hero Bundle will hit the in-game market, with 3 Diamond Step-up Bundles also available for the players.
Buffs have been applied to increase the effect of Despair in each Rank that will affect SSR Red Levi along with an increase from 200 to 250 in max affection of heroes. Quality of Life improvements has also been made that will be part of the latest update.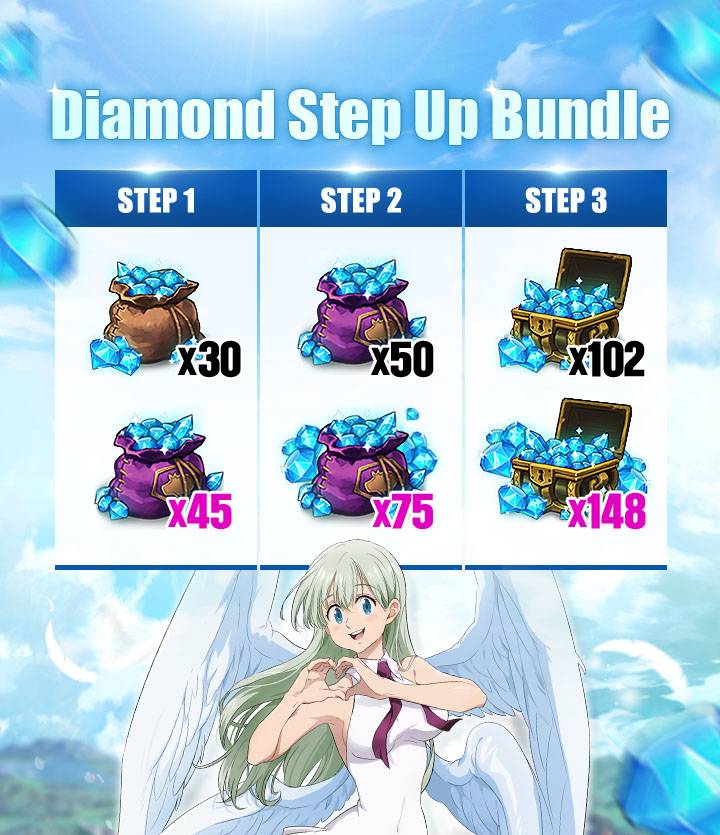 Players can now change the Global Chat channel in the West District while the Death Match invite acceptance button has been changed to display 'Accept Invite' instead of 'OK'. Several buttons have been added to enhance the user experience and make the UI easier for players.
A 'Receive All' button has been added for Daily Tasks, 'left' and 'right' buttons will now be displayed on the Main Hero Screen and the cooking menu's selection are has been greeted with 'Accept All' and 'Remove All' buttons to allow a quicker completion of the said task.
If players use the 'Go to Cook' shortcut present in the Hero Affinity screen, all relevant cooking ingredients will be selected on the resulting screen. Players can now register a maximum of 50 materials while enhancing heroes. Some draw banners that were previously incorrectly displayed have also been fixed.
Kelak has been announced as the next Knighthood Boss for the season after the Knighthood reset, with Akumu switched to the off season.
Several new titles have been added namely:
Fight Festival Victor

Fight Festival Conqueror

Training in Isolation (Additional 8% Defense when eating Defense food)

Outsider (Additional 8% Regeneration Rate when eating Regeneration Rate food)

Tavern Master (Additional 4% Crit Chance when eating Crit Chance food)

Nothing Is Impossible (Additional 2% Pierce Rate when eating Pierce Rate food)

Battlefield Conqueror

Absolute Challenger

Cold-blooded Gladiator

Feared By Monsters (Additional 2% HP when eating HP food)

Everyone's Friend (Additional 4% Crit Defense when eating Crit Defense food)

[The Seven Deadly Sins]
Meliodas and Nanashi have also received engravings while there are a bunch of events including the first part of the 1st Anniversary Festival that is set to end with the launch of the new update.