BlueStacks Roundups
Top Android Games in 2022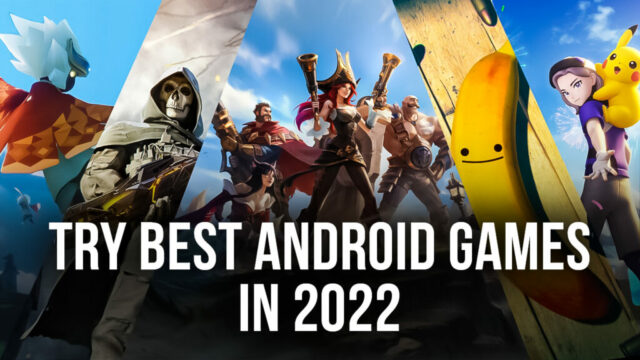 In terms of android games, the year 2021 was a rollercoaster. We've had countless experiences this year, ranging from RPGs to multiplayer crusades and while we're still waiting for some of the year's biggest titles to obtain release dates, there's a high possibility that every month this year will have many new releases that will wind up on our very lists.
We have started to see famous PC games ported to phones, as well as new IP's being announced every now and then, but with so many games released on Android this year, it can be difficult to pick the best ones, and it wouldn't be a true year of gaming if we didn't present you with our top picks to kick off your 2022.
1. Sky Children of Light [ Free ]
Sky: Children of Light has over 10 million downloads and a 4.7-star rating on Google Play. Sky: Children of Light is one of the most ambitious indie open-world social games, featuring stunning visuals and a captivating plot.
It's a three-hour adventure game about exploration, and it's pure beauty. The music and imagery completely immerse you in the game. The game may also be played with a friend, in which case you will both end up happy as you fly through the air, carried by the wind, while lovely music plays.
Sky is an awe-inspiring experience that will have you wondering if this game is actually running on your phone. The game was published in 2019, but after a few updates and improvements, everyone discovered what a gem of an experience it is.
It is unquestionably a one-of-a-kind game, and we strongly advise you to give it a shot.
2. Pokemon Unite [ Free ]
With over 10 million downloads and a 4.6-star rating on Google Play, Pokémon Unite is unlike any previous Pokémon game. You face off in 5-on-5 team battles to see who can score the most points within the allotted time. Teamwork is key as you and your teammates defeat wild Pokémon, level up, evolve your own Pokémon, and work to prevent the opposing team from scoring points.
The gameplay may feel familiar to returning MOBA gamers, and there are a number of Pokémon to pick from, each of which feels unique. The inclusion of Pokémon in a MOBA game has an impact on all Pokémon lovers. This Pokémon-themed game is also a lot of fun to play with your pals now that Nintendo Switch cross-play is available. With a simple click, you may add your Nintendo buddies and play.
The MOBA game was published in September of 2021, and the experience has only improved since then, with the addition of various Pokémon, new modes, and even a ranked mode based on a scoreboard.
The game is a must-play for MOBA fans, with a specific emphasis on Pokémon fans. If not both, Pokémon Unite is the ideal chance to fall in love with one or the other. Have a fun time with your friends while playing Pokémon Unite on PC.
3. My Friend Pedro: Ripe for Revenge [ $2.99 ]
My Friend Pedro by Devolver Digital has almost 5 million reviews on Google Play, with an average rating of 4.6 stars.
My Friend Pedro: Ripe for Revenge is a hilarious shooter that manages to convert bullet-time killing into a basic but beautiful art form. You take on the role of an assassin assisting a talking banana in rescuing his family. Every level is only a few minutes long and focuses on slaying in the most elegant manner possible. The game has magnificent sights and fighting that will constantly remind you of your favorite action movies.
Pedro began his vengeance narrative in 2021, and it is certainly one of the year's most enjoyable games. The game hasn't received any DLC updates, but it's more than enough to keep you entertained. The 2D platformer never stops to astonish you, the Max Payne-style shooting is fluid throughout the plot, and the banana buddy is certain to be worth it. Play My Friend Pedro: Ripe for Revenge on PC.
4. Call of Duty Mobile [ Free ]
On the Play Store, Activision's classic shooter has over 100 million downloads and a 4.3 average rating.
Call of Duty remains the same Call of Duty as it was in the past, and the game continues to provide the finest shooter experience available. Call of Duty: Mobile boasts the same speed and action as its console and PC versions, with the same satisfying headshots or the suspense during hardcore missions. It also includes some of the same modes, such as team deathmatch, Domination, and the entertaining Gun Game, in which you aim to be the first player to kill 20 different enemies with 20 different weapons.
Since its debut in 2019, the game has grown to include every mode that the famous Call of Duty has ever featured. The game is in the finest shape it's ever been, with daily login prizes and optimized gameplay, it's the best shooting experience you'll ever have on Android.
Call of Duty: Mobile appears to be designed with smartphones and tablets in mind. When it comes to the controls, though, it's evident that the devs are doing the best they can. This is the game to play if you enjoy FPS shooters. Have a fun time with your friends while playing Call of Duty Mobile on PC.
5. Crash Bandicoot: On the Run! – Top Running [ Free ]
The Android version of the legendary Crash Bandicoot has over 10 million downloads and a rating of 4.4 stars on Google Play.
This isn't 2012, and you're not waiting for school to end before playing Temple Run; in fact, it's 2022, and the genre is still alive and well, although with a revised Crash Bandicoot version. Crash Bandicoot: On the Run isn't your typical endless runner game, but rather a breathtaking experience that hits you with just the right amount of nostalgia.
Crash would be perfect for an infinite runner because of his leaping, spinning, and sliding abilities. You can spin by tapping, leap by swiping up, slide by swiping down, and swap lanes by swiping sideways. Survival Runs are a feature in the game that allows you to partner up with two other individuals for a group run.
The boss battles and difficulties that surround them should have you on the edge of your seat, and if you miss Temple Run or Subway Surfers, this is a game worth checking out. Play Crash Bandicoot: On the Run! on PC with BlueStacks.

6. Genshin Impact [ Free ]
Genshin Impact, a popular MMO, with over 10 million downloads and a rating of 4.3 stars on the Google App Store.
Genshin Impact is one of the most ambitious games available on the smartphone market, featuring a large open world to explore. You may climb any mountain, swim through any river, and glide over the planet below, all while soaking in the breath-blowing beauty. The game features a rich backstory as well as a variety of people to interact with throughout the plot.
The game boasts one of the easiest-to-understand controls, as well as CO-OP for up to four players, which is a great way to strengthen your friendship relationships. It does need a high-end device, but it will not let you down as the world evolves. Even nearly two years after its debut, the game continues to receive frequent updates and is well-received by the community. Play Genshin Impact on PC with BlueStacks.
7. Asphalt 9 : Legends [ Free ]
Asphalt 9, the latest installment in the popular Asphalt series is the next on our list, with over 50 million downloads and a 4.5-star rating on the Google Play Store.
The game has been on the market since 2018, yet racing lovers on mobile will never be bored with it. With gorgeous visuals, simple controls, and a number of settings to select from, the game seems new. Even after three years, Gameloft continues to offer new events without hesitation. The multiplayer aspect of the game is lacking, but the racing experience is excellent.
The game does take some grinding to unlock the vehicles, without which it would be unplayable. Asphalt features a variety of tracks and modes to select from, including a career mode, but if you want to enhance your multiplayer game, we recommend grinding for these top-tier vehicles.
Asphalt 9 is just as enjoyable as its predecessors, and if you enjoy racing even a little, it will undoubtedly increase your passion for racing games. You can also have a fun gaming time with your friends and family while playing Asphalt 9: Legends on PC with BlueStacks.

8. Stardew Valley [ $4.99 ]
On the Play Store, Stardew Valley has over 1 million downloads and an average rating of 4.7 stars.
ConcernedApe's big hit agricultural RPG Stardew Valley. The game has been popular on other platforms for a long time and has now made its way to smartphones. The game transports you to the countryside and allows you to start a new life there.
You begin with creating your character and choosing a farm to live on before being dropped into Pelican Town, where you are given 15 parsnip seeds and a modest home.
While the main goal of Stardew Valley is to improve your farm and generate as much money as possible, Stardew Valley is more than a farming simulator; the game is always adding new in-game events that allow you to interact with the crops you've cultivated or add additional items to your farm. There have been regular upgrades to maintain stability and to provide new materials of various types.
This game has been chosen by a number of editors, and we are honored to be one of them. If you haven't already done so, this game is a must-have for all farming RPG fans in 2022. Play Stardew Valley on PC with BlueStacks.
9. Brawlhalla [ Free ]
Brawlhalla is the lone fighting game on this list, it is still one of our favorites. On the Play Store, the game has over 5 million downloads and a rating of 4.3 stars.
Brawlhalla is a 2D action brawler that may be described as a cartoony, cross-platform version of Super Smash Bros. The main game option tosses four players into a tight platformer arena and showers them with weapons and stuff to beat one another.
Brawlhalla boasts a large roster of 50 playable characters, and its free-to-play model employs currency that you may gather to unlock them. As a result, the game is completely free to play, but unlocking them will be a long road.
Every character in the game has a unique personality, which you will notice very immediately once you begin playing as them. Although the game is new to mobile, the makers have ensured that cross-platform play works flawlessly, which it does.
Brawlhalla is the coolest fighting game you can play on your mobile device, and you should undoubtedly invite your friends to it. You can also enjoy Brawlhalla on PC.
10. League of Legends : Wild Rift [ Free ]
On the Google Play Store, League of Legends: Wild Rift has over 10 million downloads and a 4.0 rating.
Wild Rift is Riot Games' skills-and-strategy 5v5 MOBA experience, created from the ground up for mobile devices. Each match starts with you selecting a champion/agent of your choice. Compete in matches that are balanced for skill level and party size, which can be duet, trio, or five stacks.
If you are not new to the league franchise, you can simply add your mobile pals and queue for a game; but, if you are new to the MOBA genre, it just takes a few minutes to get started. Wild Rift might feel like a lightened-up version of League. But it's the onboarding, not the controls or the smaller map, that truly makes it work.
Since its release in October 2020, the game has seen frequent upgrades, with Riot rewarding players with rewards, new maps, and even new champions. This is the game to play whether you want to get into MOBAs or if you are already a fan of the genre.