BlueStacks Roundups
Best Android Games Like World of Warcraft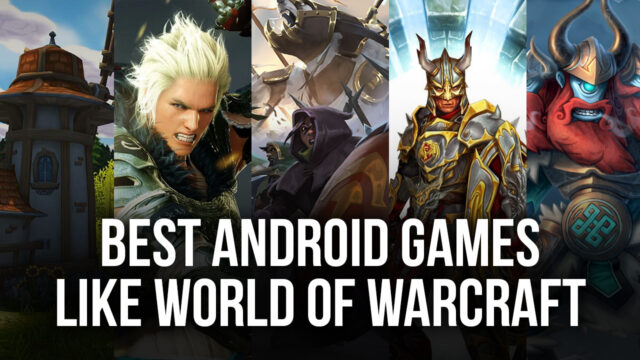 World of Warcraft (WoW) is a renowned massively multiplayer online role-playing game (MMORPG). The plot of the game is set on the planet of Azeroth. Users may build avatar-style avatars and explore a vast universe while engaging with bots and real-world players in World of Warcraft. Killing monsters and completing tasks will help you acquire experience. After gaining enough experience, the character gets a level, which boosts the character's abilities.
Blizzard Entertainment, which has nurtured the game since its introduction in 2003, has made it a well-known series. Because WoW does not have a mobile adaptation, several developers have looked into making a comparable game where you can create your own character, live in a realm like Azeroth, and complete great adventures. In this article, We list some of the Android games that are similar to World of Warcraft in any aspect.
1. AdventureQuest 3D [Free]
On the Play Store, AdventureQuest 3D has over 1 million downloads and excellent reviews. This game is a sequel to Artix Entertainment LLC's original AdventureQuest 2D Browser game.
This game has a strong resemblance to the renowned dragon tale game. This graphically appealing game appears to be a standard MMORPG. However, the game has a slew of tiny characteristics that set it apart from the competition. While you do play as a fictitious, class-based character, you aren't restricted to just one. This is due to the game's ability to transition between classes on the fly.
The game does not push you to pay microtransactions, but you may always buy the dlcs to get more story content. It also has cross-platform compatibility, allowing you to play AdventureQuest 3D with your pals on either iOS or PC.
Not to add it will take a long time to complete, but if you enjoy the unique visual style and MMORPGs, this game is well worth your time.
2. Perfect World Mobile [Free]
With over 1 million downloads on the marketplace and overwhelmingly favorable reviews, the developer Perfect World Games' MMO may be the perfect one indeed.
The Human Wizard, the Untamed Barbarian, and the Winged Elf Archer are just a few of the race-locked classes available. Combat is a lot of fun because of the amazing 3D visuals in a Xianxia environment where you can fly about and use flying horses and wings.
Throughout the game, there are various unique dungeons to explore, as well as distinct PVP and PVE content to confront alone or with others. Also You may autopay through tasks in this game, however autoplay is disabled in closed dungeons, so be careful. Have a fun time with your friends while playing Perfect World Mobile on PC.
Perfect World is expanding and has a long way to go, but it's never too late to begin your trip to Earthguard.
3. Villagers and Heroes [Free]
On the Playstore, the game has over one million downloads and a 4.3-star average rating. This is also the only Android MMORPG from Mad Otter Games.
Villagers & Heroes has a lot in common with other MMOs, including its classic gameplay, which reminds you of playing some long-forgotten PC classic. For those who are familiar with another MMO, the aesthetic visuals and character design seem like a comfortable welcome.
You begin by creating your character's narrative by selecting from one of the game's more than 8 Primary Combat Class builds. Create your own player town and manage it while developing your talents in a single gathering, or take on the challenge of mastering them all.
The ability to play fluidly between mobile and PC is a big plus, as are the unique seasonal events that pop up on a regular basis, as well as the active development team's constant upgrades.
4. World of kings [Free]
World of Kings, developed by archosaur games, has over 1 million downloads and a 4.8 average rating on the Google Play store.
The game is well-known for its stunning visuals and traditional gameplay. The rich races and class characteristics are the most notable elements of this game. There are four races to choose from and nine classes to choose from, each of which may be upgraded to one of three distinct classes. the stunning graphics that wouldn't appear out of place from a computer.
The plot is likely the game's weakest feature, but the extremely traditional gameplay exceeds expectations. Quickly leveling up and obtaining great drops and treasure, including epic loot at times, allows it to do so. Rewarding gameplay, and one thing that stands out is how well the producers have managed to hire some talented voice actors, as well as how well the game's music shines.
It is without a doubt one of the greatest mobile MMORPGs accessible. This game has a lot of moments that will make longtime MMO gamers feel perfectly at home. This is an absolute must-try. Play World of Kings on PC and have a fun time with your gaming buddies using BlueStacks.
5. Arcane Legends [Free]
With over 10 million downloads and a 4.3 average rating on Google Play, this game is a hit. Spacetime Studios, one of the top fantasy game producers, created this game.
Arcane Legends is a stunning 3D persistent World that is semi-open and features a variety of landscapes to explore. It is one of the most popular games on the market not only because of the universe but also because of the Hack-and-Slash Action Combat System.
Like previous games, there are numerous classes to pick from, but the addition of elements like the Pet System (train a pet to battle with you) makes this game stand out.
You can team up with a teammate in PvP battles or take him for a ride in PvE co-op, and you can always go lone wolf for better gear. Every week, epic events introduce new things to do and new ways to play, making this game an excellent pick.
6. Black Desert Mobile [Free]
On the Play Store, Black Desert Mobile has over 10 million downloads and a 4.1 average rating. The game is a mobile adaption of Pearl Abyss' famed black desert PC series.
The game features stunning visuals, and in terms of graphics and effects, it's quite similar to the PC version. The game introduces you to its systems via a tutorial at the beginning of the game, once you've chosen your class (from five options) and created your character.
There are several cool and intriguing features. You will be able to establish your own camp after you reach a specific stage. Like its PC counterpart, the battle is fast-paced, flamboyant, and exhilarating, and it also supports auto-fighting. So, if you just have a limited amount of time to grind, the game assists you.
If you love other action RPGs, you will most certainly appreciate Black Desert Mobile. We strongly advise you to give it a try because of its playstyle. Play Black Desert Mobile on PC with BlueStacks.
7. Celtic Heroes [Free]
Celtic Heroes is the best mobile MMORPG to keep an eye on. One Thumb Mobile LTD is the developer of this game, which has over 1 million downloads and extremely favorable ratings.
Celtic Heroes was one of the first MMORPGs to be released on the mobile platform. From almost eight years on mobile, it is renowned for being the sole authentic replica of what WoW does best. Celtic Heroes is set in a large globe that you may travel around.
The game begins with five classes to choose from and provides a variety of methods to explore the 3D landscape, which includes towns, fields, and dungeons. Join a party for difficult dungeon raids or show off your abilities in PvP combat.
The game has gorgeous graphics and unique features, and it's the closest thing to World of Warcraft on the platform. Fans of World of Warcraft should give it a go.
8. Albion Online [Free]
Albion Online has over one million downloads on Google Play and a 4.4-star rating. Sandbox Interactive is the studio behind the game.
The game begins like any other RPG, enabling us to build our character with a range of options. The game does have some narrative, which is primarily justified by the gameplay. Players won't notice it as much as they would in other RPGs, and will instead be sucked in by the grind, but the well-crafted visuals will draw you in. The atmosphere is well-designed and encourages you to explore the entire map.
The gaming mechanics are well-oiled, although you may find it repetitive after a while, in which case we recommend playing it with friends and passing the time in various PvP/PvE modes.
While the graphic style is comparable to that of other vintage MMORPG titles and appears to be rather good, we strongly advise you to give it a shot. You can also enjoy Albion Online game on your PC.
9. EVE Echoes [Free]
With over 1 million downloads and a 4.3 star rating on Google Play, this app is a hit. NetEase Games is the studio behind EVE Echoes.
This game is a science fiction MMORPG, which means you can explore the cosmos and wonder how small we are in the grand scheme of things.
Interstellar combat, exploration, piracy, resource harvesting, industrial manufacture, trade, and a variety of other activities are all part of the game, which takes place across thousands of solar systems. The entire history of EVE Echoes is written by its players, whether it's the rise and fall of an empire or the shifting balance of power.
It's a game with so much variety that pilots might get lost warping from one system to the next, but that variety also means there's a lot to discover.
The only sci-fi MMORPG that we would recommend is Eve Echoes. In this game, you are only limited by your imagination. Join a corporation or go freelance. This is a must-play game. Play EVE: Echoes on PC with BlueStacks.
10. RuneScape [Free]
With over a million downloads and a 3.9 star rating, this app is a hita and Jagex Games Studio is the developer behind RuneScape.
RuneScape is set in the medieval fantasy realm of Gielinor, which is divided into kingdoms, regions, and cities. Many MMO players will be familiar with RuneScape's gameplay.
Players have access to tutors and advisors in the towns they explore after completing the tutorial, who can provide them with relevant information about their respective skills. There are a lot of skills to choose from, to be specific there are 28 different skills. After you've selected your ideal combination, you'll be free to explore in any mode you want.
Like the original RuneScape on PC, the game's quests will require you to grind and improve your skills. New quests are released on a regular basis, as well as developers are constantly working to improve your experience. Play RuneScape on PC and have a fun time with your gaming buddies using BlueStacks.
BONUS GAME: Diablo Immortal
Diablo Immortal hasn't been released yet, hence this game may not be on our list of games, but we recommend keeping a watch on it.
The game's designers are the same as those behind World of Warcraft. The developers have confirmed that this will be their first MMORPG on Android.
The game was first announced in 2018, but no new information has been released since then.
You can pre-register and read more about the game here.