Game Guides
AFK Arena Morrow Guide by BlueStacks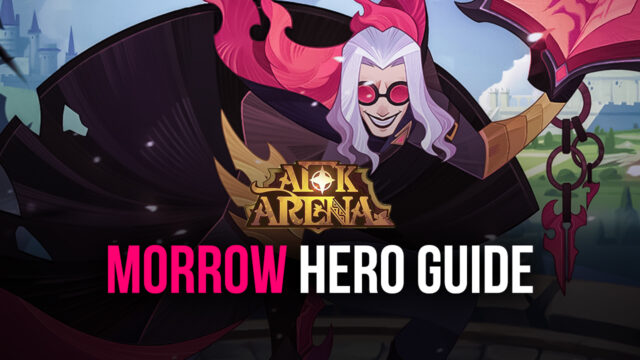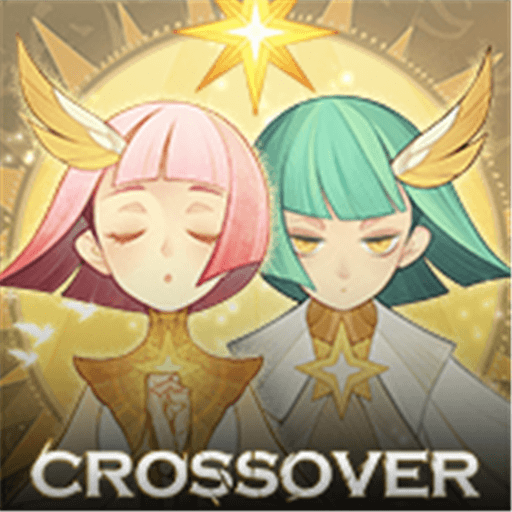 AFK Arena players, a unique hero is coming your way!
Lilith Games has announced the arrival of Morrow, the Dark Crow. He may be a full-on Hypogean when it comes to his appearance and abilities, but make no mistake because he has been classified as a Lightbearer hero.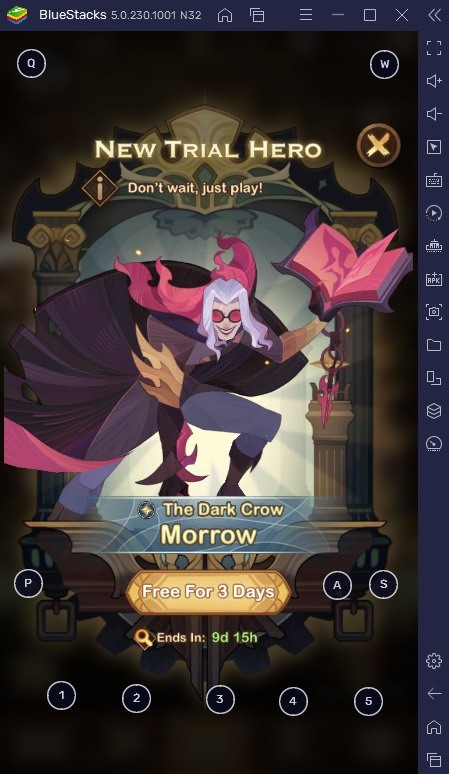 Before we dive into the newest AFK Arena hero, let us take a trip down memory lane on the previous Lightbearer hero that AFK Arena released. His name is Eluard, the Protector of Souls. Eluard is a mage Lightbearer hero who has AoE abilities at his disposal. You can read more about Eluard on our AFK Arena hero guide.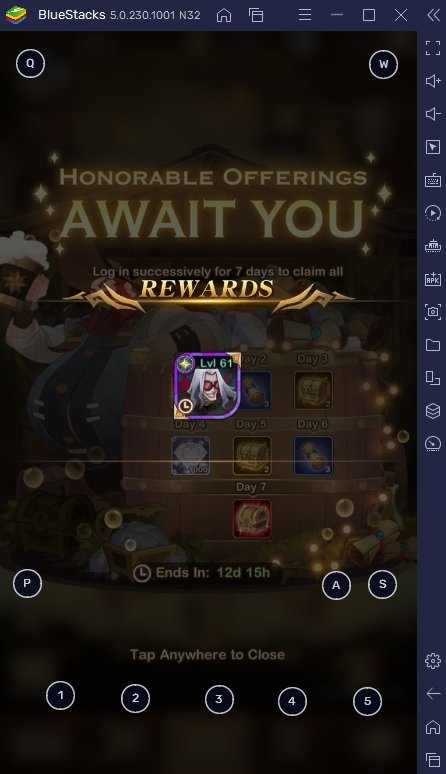 Now, let us take a closer look at Morrow.
Appearance
If you have been playing Riot Games' multiplayer online battle arena (MOBA), game League of Legends, the first glance at Morrow would remind you of its marksman champion named Vayne. Morrow has it all — Vayne's maroon and gray color palette, glasses, and even a fitted top and bottom outfit.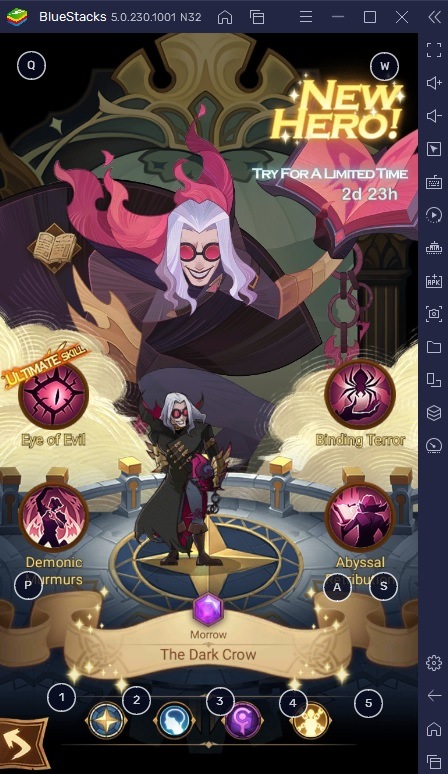 Morrow wears a black top with a matching cape similar to Count Dracula's. His top is paired with some metallic bronze clasps and accessories to give it more edge.
He carries a maroon book, the source of all his powers. The book comes in a metallic cover with the Eye of Evil at the center.
Morrow is a Lightbearer mage under the Intelligence type.
Lore
Morrow's lore is a very tragic one.
He grew up thinking that his mother left him at the Violet Orphanage and that his father left him because of his dark powers. The truth is, his whole family was manipulated by the vile Hypogean, Korgas.
Aside from tricking Morrow's whole family, Korgas also manipulated the villagers into killing his brother Bryn.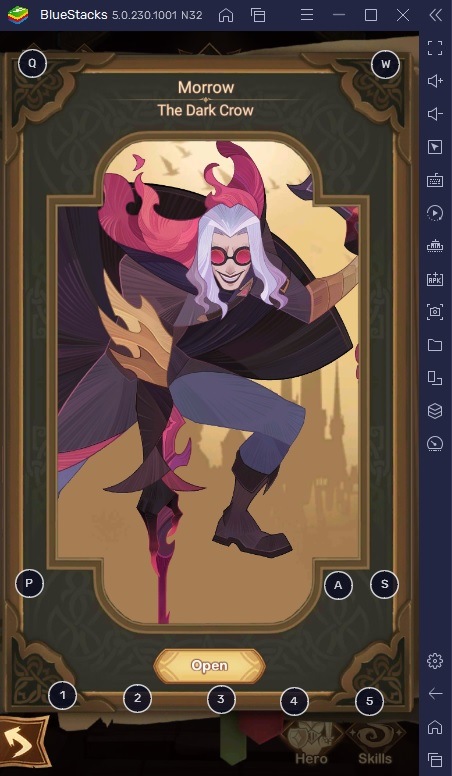 This led Morrow to be filled with anguish, hate, and vengeance. As the master of the dark arts, Morrow made a pact with Korgas and in the blink of an eye, Korgas was drawn into the magic tome.
Korgas was trapped into one of the pages of Morrow's tome, wailing and ranting to the Hypogean.
The ending of Morrow's lore showed the mage erasing all his memories when Korgas confronted him. He believes emotions make people weak.
"I don't need such folly," said Morrow.
Most AFK Arena players find it ironic that one of the strongest Lightbearer heroes is a Hypogean. Let us check out Morrow's abilities.
Abilities
Eye of Evil

– Morrow summons an Eye of Evil that deals 200% damage 5 times to enemies within range. Enemies that are burned are unable to use their Ultimate abilities for 4 seconds.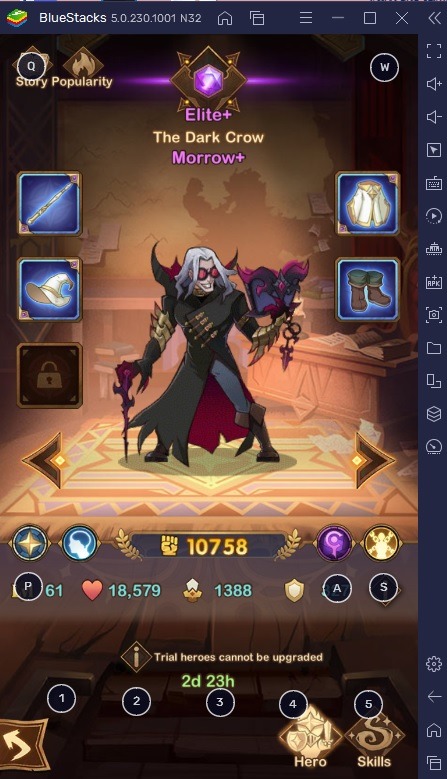 Level 81: Damage is increased to 240%.
Level 161: Burned enemies cannot use their Ultimate abilities for 6 seconds.
Binding Terror

– Morrow summons a spider that cocoons an enemy, dealing 220% damage to them in the process, also preventing them from moving for the following 4 seconds.
Level 21: Damage is increased to 250%.
Level 101: Enemy is unable to move and use abilities for 6 seconds.
Level 181: Damage is increased to 280%.
Demonic Murmurs

– Morrow releases Korgas behind the enemy that has dealt the highest total amount of damage and deals 250% damage to them, also manipulating them into attacking their own allies for 6 seconds. While the enemy target is being manipulated, they are unable to use their Ultimate ability and shall not be targeted by the ability "Binding Terror".
Level 121: Damage is increased to 280%.
Level 201: Damage is increased to 330%.
Abyssal Retribution

– Morrow deals an additional 220% damage to an enemy while attacking them. This ability can only target the same enemy once every 4 seconds.
Level 141: Additional damage dealt is equal to 10% of all damage dealt by the enemy target, but shall not exceed 400% of Morrow's Attack Rating.
Level 221: This ability's effects will be triggered while the enemy is being manipulated by Korgas.
Tips for using Morrow
Morrow is arguably the strongest Lightbearer hero in AFK Arena. Although he is categorized as a Hypogean, his lore reveals that he is out for blood in defeating Hypogeans. Morrow would be a good investment for your party, especially since he has tons of damage and a decent amount of crowd control (CC). His ultimate, Eye of Evil, is very powerful at level 161 especially since it can delay enemies' ultimate abilities.

Morrow's Demonic Murmurs is the answer to dealing with the enemy's hard-to-reach DPS hero. This ability summons the entrapped Korgas to the field and sends him behind the enemy that has dealt the highest total amount of damage. What's more, this ability manipulates the targeted hero to attack its own allies. Now that's like having two more members to your party! With this ability, you can surely counter the overpowered

Dimensional hero Ainz Ooal Gown

very well.

Morrow is a highly recommended hero for any full-Lightbearer team. He can fit almost any composition, especially when played as a mage DPS.
Heroes that can synergize with Morrow
Rosaline

– Rosaline is a good hero to support Morrow. She can further buff Morrow with her Motivation ability. Rosaline will restore the energy of Morrow to its maximum while in battle.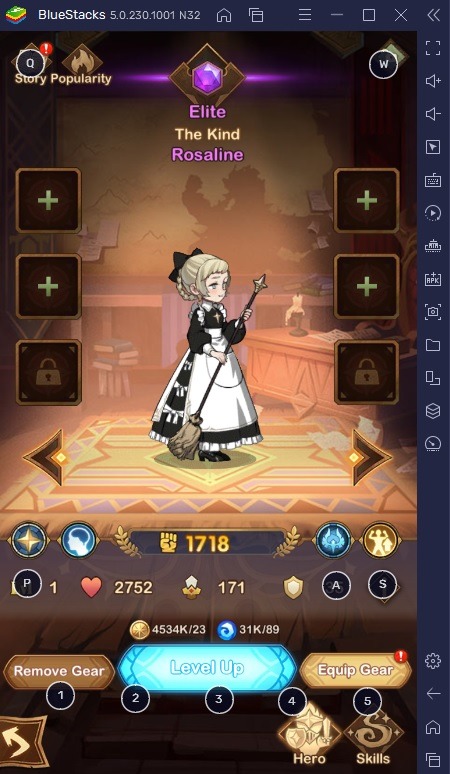 Rowan

– Rowan can steal the enemy's energy points to be added to Morrow so his ultimate skill, Eye of Evil, can deal damage to the enemy party. Rowan's Dazzle is also a double-edged sword as it can either grant bonus energy points to your heroes or it can stun enemies for four seconds.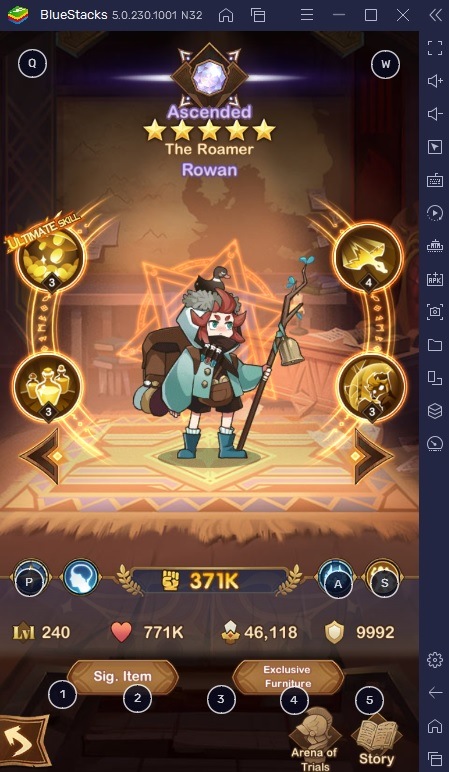 Raku –

Once Morrow maximizes his Demon Murmurs ability, Raku's ultimate Acorn Cannon can just swoop in to finish the job. Raku will shoot at the most injured enemy target, which coincidentally is the same target as Demon Murmur's. This will deal 330% damage to them.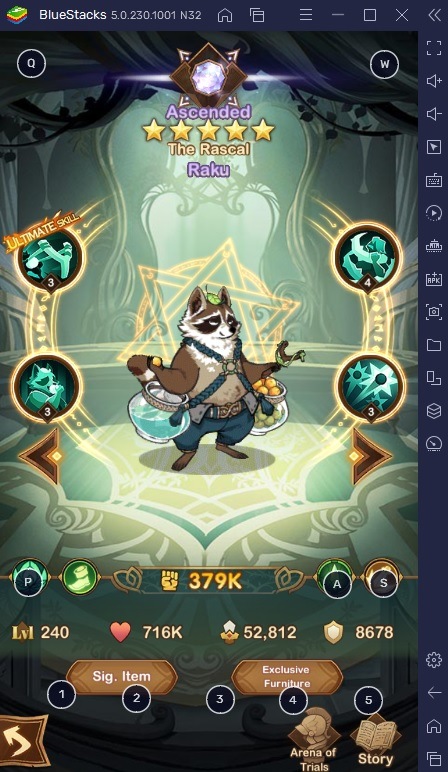 The attack also deals additional damage worth 55% of the health which the target has already lost, and stuns them for 4 seconds.
The best Lightbearer heroes in AFK Arena
Now that Morrow has been released in the game, you're probably wondering who are the best Lightbearer heroes in AFK Arena.
The three best Ascended Lightbearer AFK Arena heroes are:
You can read more about the best Lightbearer heroes in our previous blog post.
Can't wait to add Morrow to your team composition? Summon him (and all the other heroes that you like) in a jiffy with BlueStacks! Play AFK Arena on PC via BlueStacks and you'll be utilizing its wonderful features in no time. BlueStacks has this feature called the Multi-Instance Sync where you can replicate the rerolling mechanism in multiple instances for a more efficient way of acquiring new heroes.