Game Guides
Arknights – Strategize Your Way Through Character & Combat Guides, Rerolling and More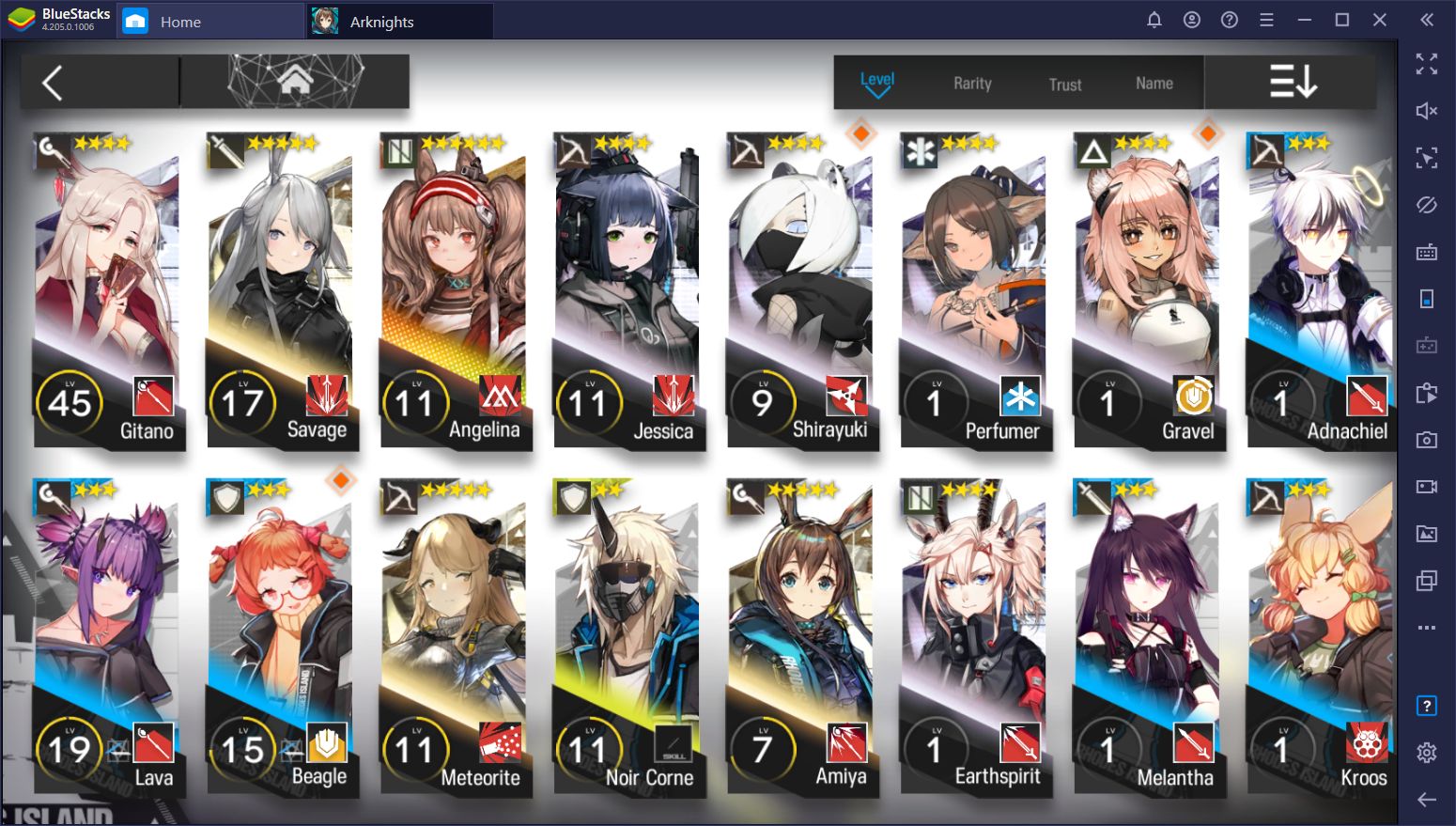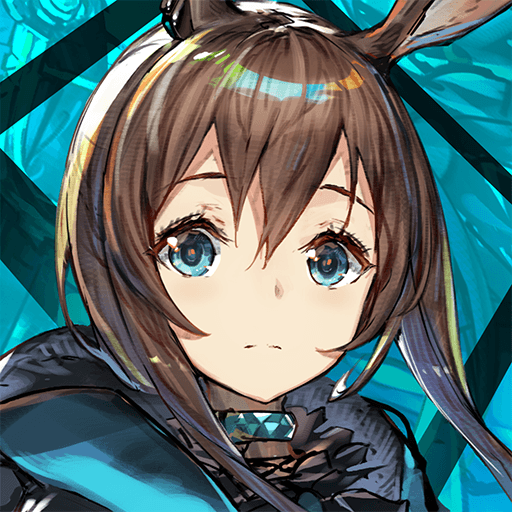 Table of Contents
The tower defense genre is a criminally-underrepresented category of games, which attained peak popularity back in the early 2000s. Similar to DotA, which started off as a custom map for Warcraft 3, the tower defense genre also saw its launch into popularity as a custom map for Blizzard's popular RTS game. While there are many precursors in the '90s that featured pivotal elements that would go on to become defining traits of the genre, it wasn't until the release of custom maps such as Element TD and Gem Tower Defense that sparked new interest in tower defense games and defined their standard gameplay in modern times.
And the rest, as they say, is history.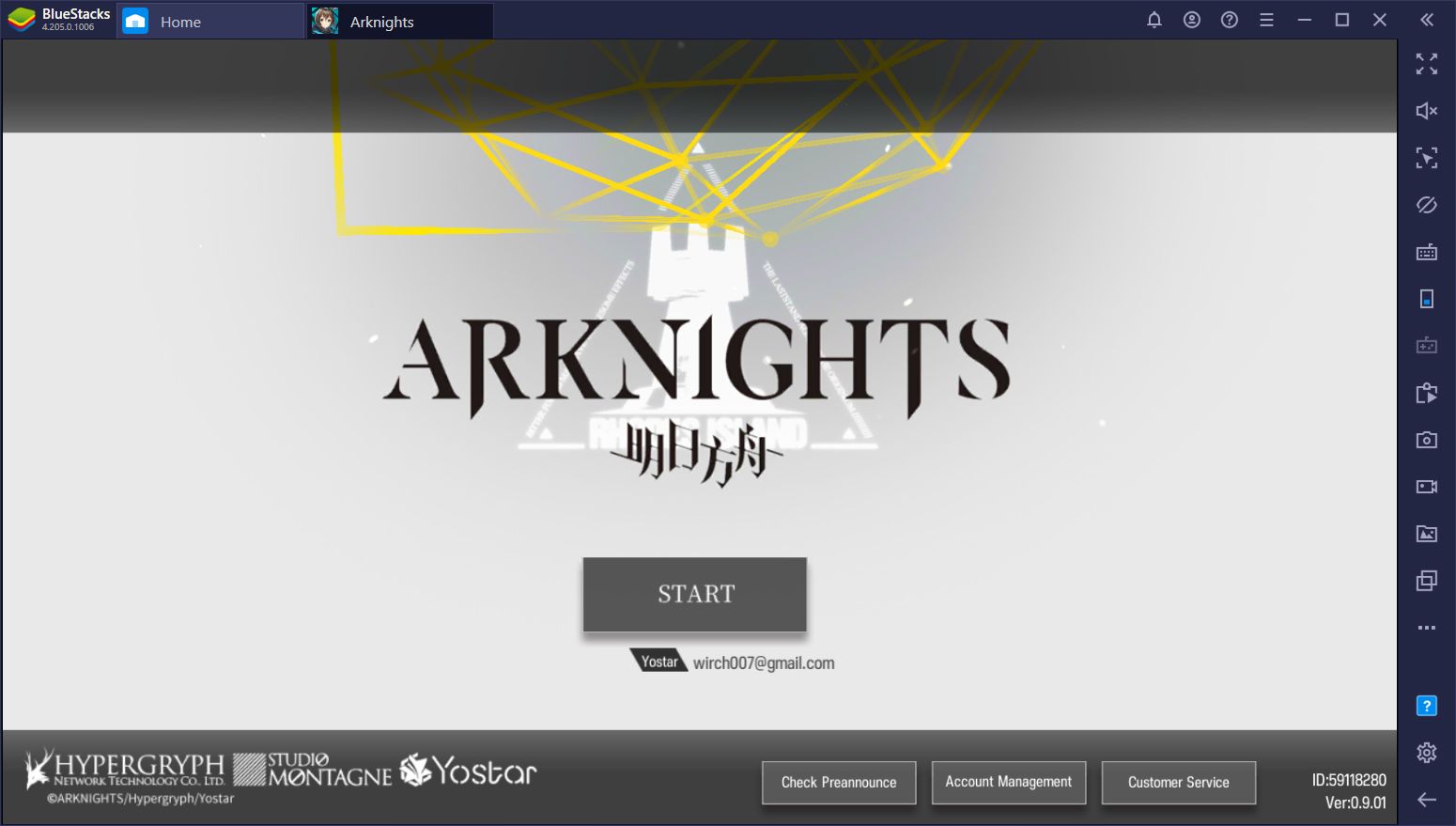 Of course, as it usually happens with the success of any game franchise, the copycats and imitators were quick to take notice, and in just a few months, the TD genre was everywhere, though not all of these games saw the success that the first WC3 custom maps did. With the release of the DotA 2 arcade feature, which allowed users to create their own custom game modes for the popular MOBA game, popular maps like the timeless Element TD were recreated looking better than ever.
However, even though they're quite popular and one of the most played arcade maps in DotA 2, the tower defense genre still struggles to gain mainstream notoriety, and instead has created a cult following among a niche gamer audience. Nevertheless, the interest was enough that the genre made it into the mobile platform. And considering how most of the gameplay in these games goes down automatically, with the player input being limited to setting down towers, and maybe using a special skill or two, it translated perfectly for playing it on mobile devices.
1. Tower Defense and RPG Elements Combine
This style of gameplay lends itself perfectly for mobile, which is why many games in the genre have actually surfaced on the Play Store and are freely available for download. Games like Incursion Defense, Kingdom Rush, and Bloom TD Battles are just a handful of titles that came out on the mobile platform. However, some developers went one step further and added interesting elements to the classic formula, combining genres to create more complex and engaging games.
Arknights is one of such creations, which combines intricate RPG elements with the classic tower defense formula to create a truly innovative experience. Instead of towers, you have many different unlockable characters, each with their own stats and attributes, which you can set down on the field to prevent your enemies from reaching your base. These characters essentially act as the towers in any other TD game, except for the fact that, instead of a handful of these structures that you must deploy correctly in any situation, there are quite a lot of different characters that you must unlock, upgrade, and deploy correctly in order to beat every level.
2. Arknights Gameplay Basics
The standard Arknights gameplay consists of using your characters to defend against the onslaught of enemies in each level, and prevent them from reaching your base. If a certain number of enemies manages to get past your characters and walk to your base, it's game over and you'll have to try again from the beginning. The enemies always spawn from specific points, which are always highlighted. Furthermore, they always walk towards your base following specific routes, which are also highlighted on the board.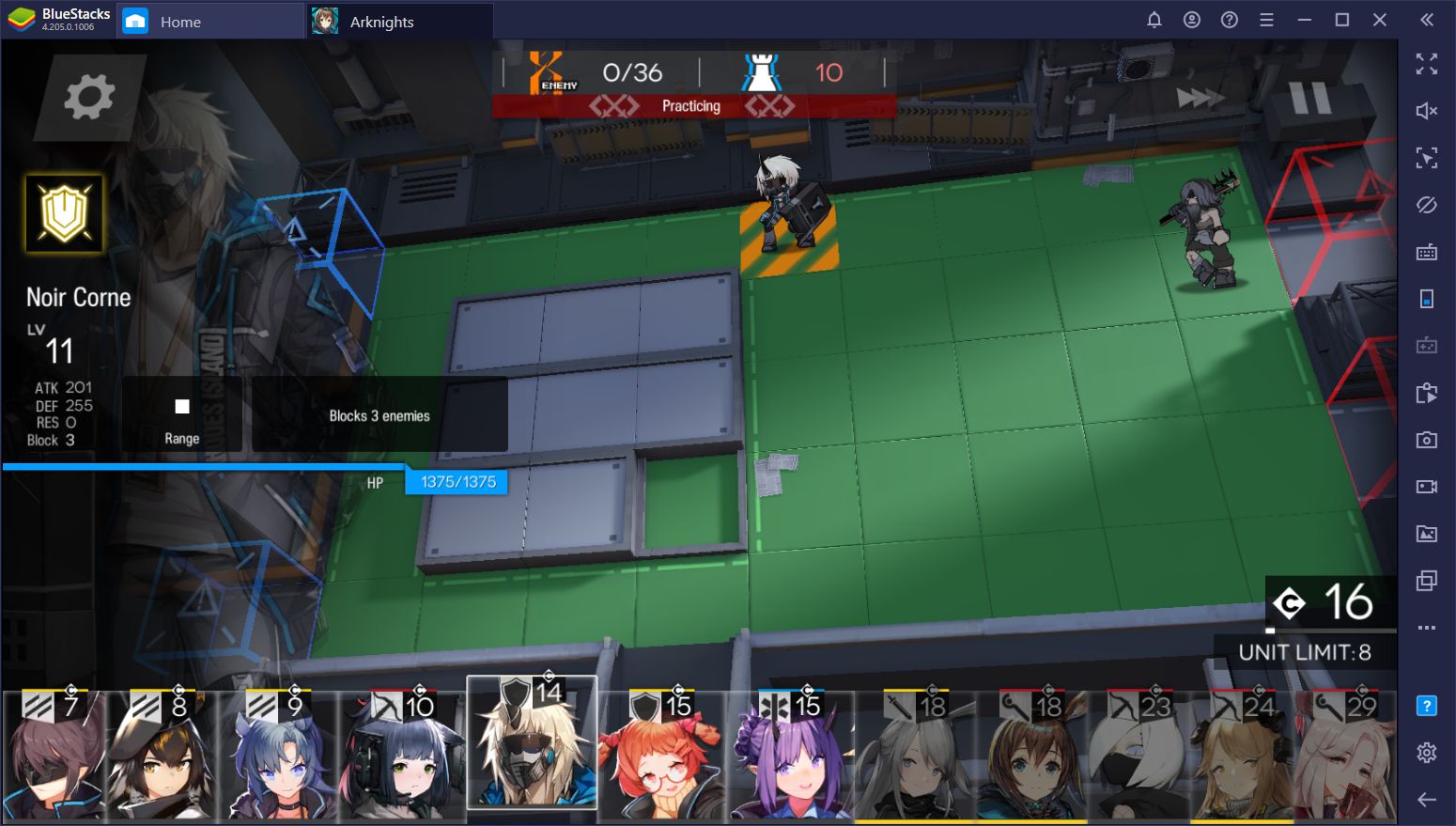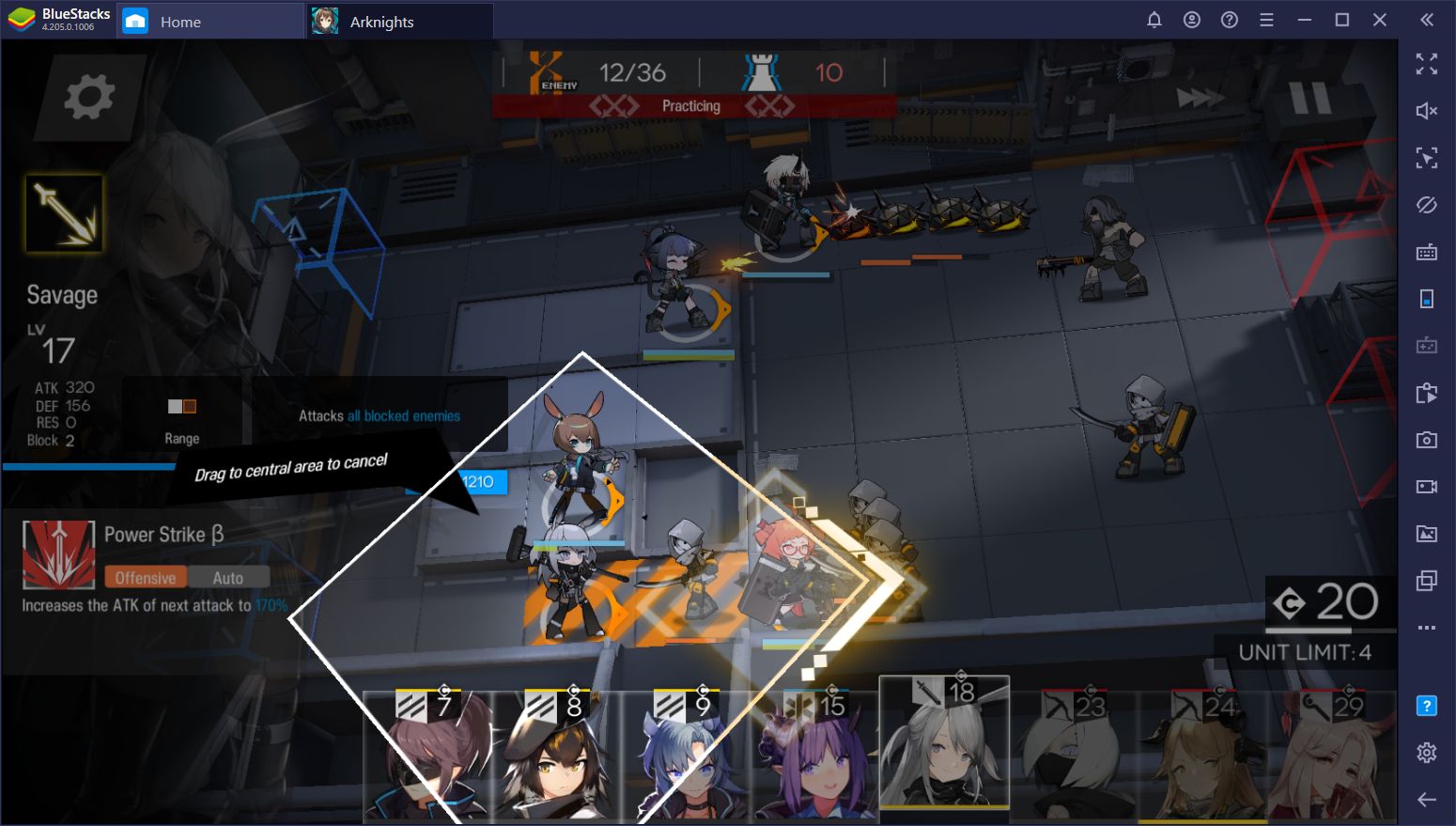 Just like with your characters, there are many different types of enemies in Arknights, each with their own unique properties and stats. However, the most important distinction between the different enemy types is whether they are fliers or ground enemies. While ground enemies can be blocked normally with your own characters, flying opponents completely ignore your troops and instead fly straight to your base. Moreover, only ranged characters can shoot flying enemies, with some types of characters even prioritizing attacking flying enemies over others.
There are many, many levels and side stories to complete in Arknights, all of which feature your standard tower defense gameplay. In each stage, you will have many designated spots for setting characters in order to block the enemy from progressing to your base. It comes down to you to choose the right characters for each mission, as you are limited to a number of characters to assign to your team, and deploying them in the spots where they will be the most useful.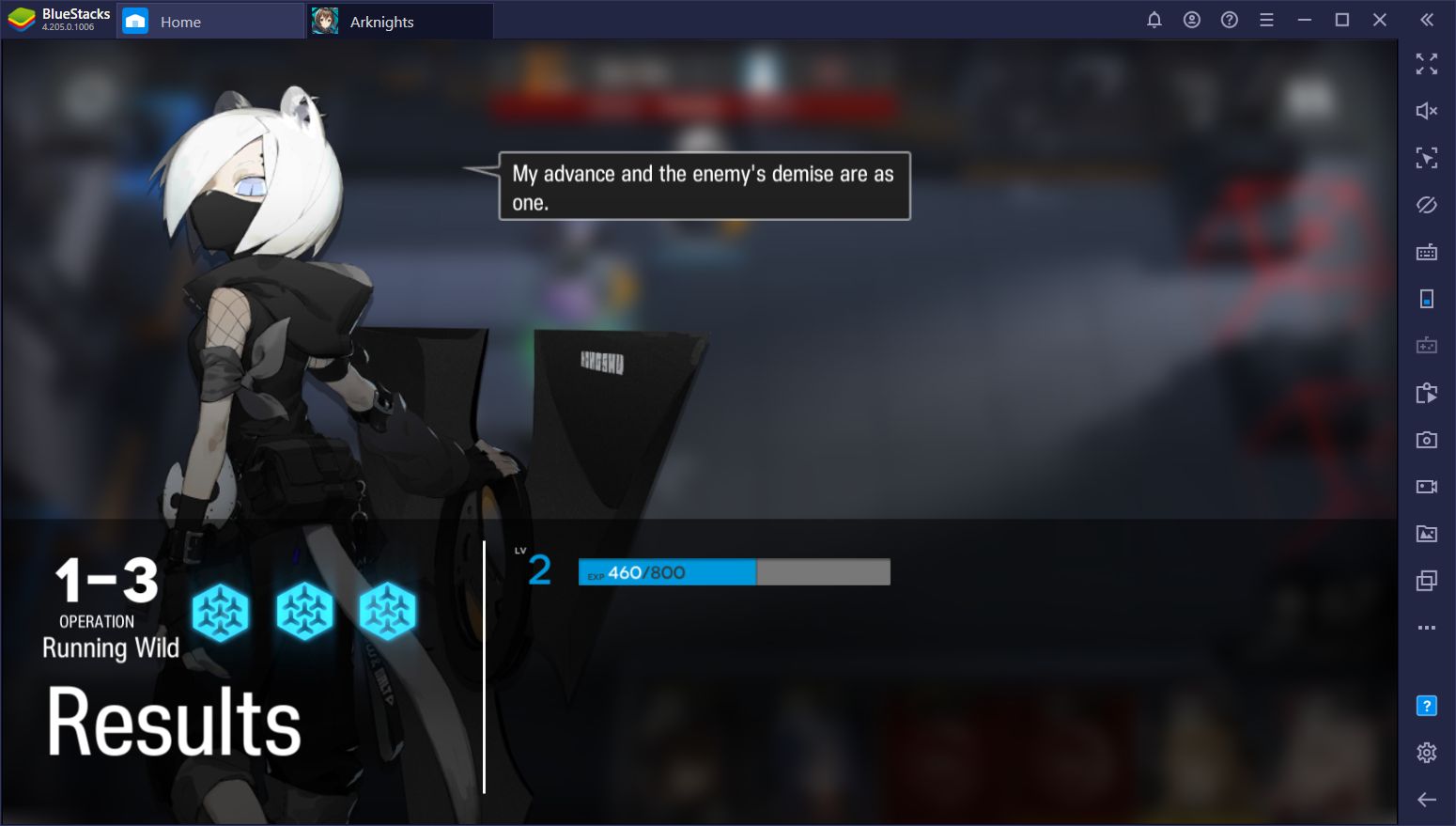 The level ends when you complete the objective, which is usually to defeat every single enemy while preventing them from reaching your base. If an enemy manages to slip by and reach your side, they will hurt your life points directly. As we mentioned above, when your HP reaches 0, the game ends and you'll have to retry the stage from the beginning.
3. How To Play Arknights on PC
Now, even though Arknights is quite comfortable to play on phones, especially since most of the player interaction is limited to dragging and dropping characters onto the board, the regular touchscreen controls leave a lot to be desired when it comes to their precision. In other words, since some boards can be quite small, placing your units can get a bit tricky, especially when you're being bombarded with wave after wave of enemies.
Instead of playing it on your phone, you could benefit greatly from playing Arknight on PC using your mouse and keyboard, and on a much larger monitor that makes even the smallest stages look huge in comparison. And aside from the improved controls and screen size, all games run better on BlueStacks since our emulator is more powerful than even the most expensive phones on the market, and allows you to crank the settings of any game to the limit, while achieving silky-smooth framerates and stable performance.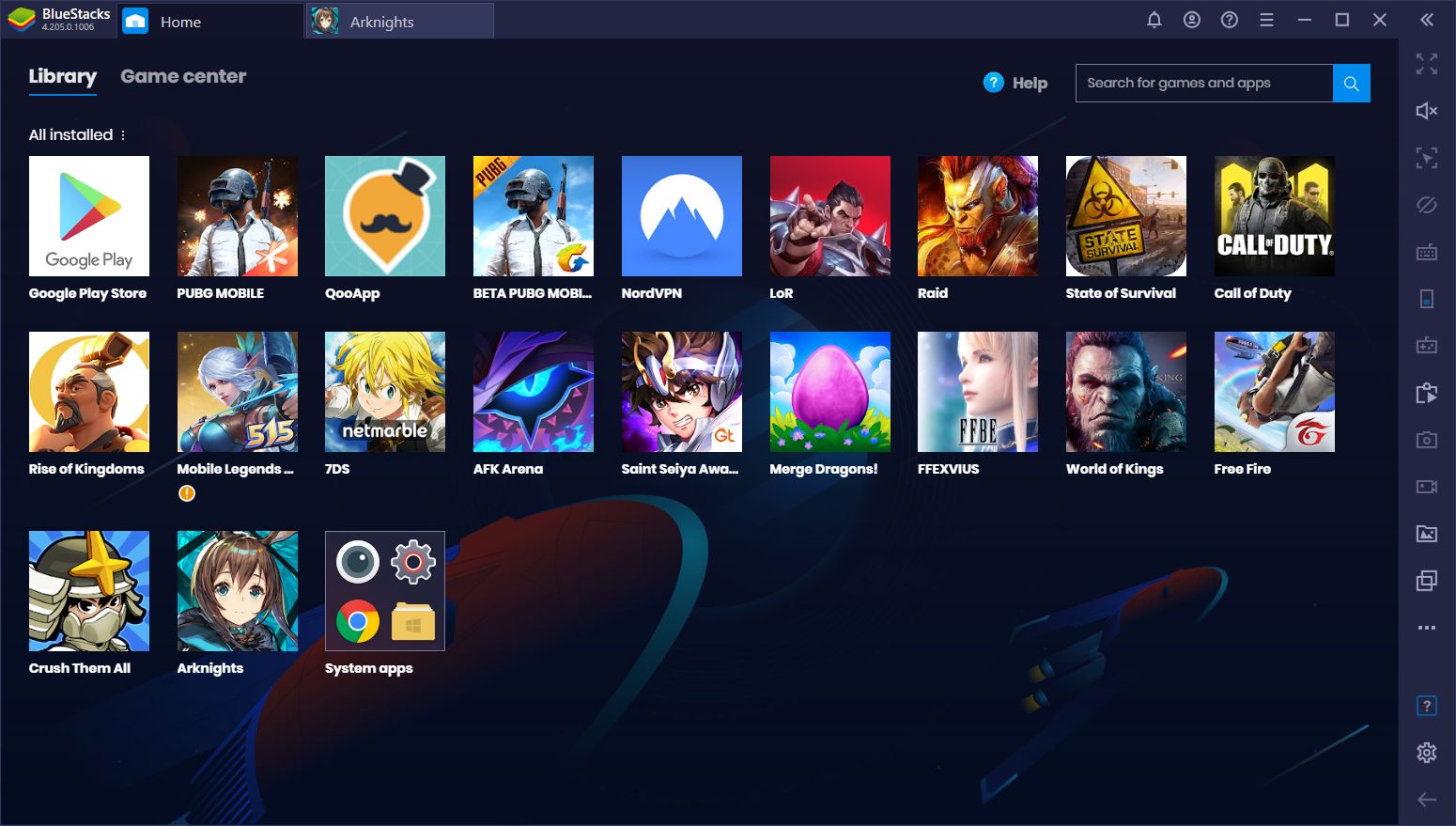 Playing Arknights on PC is simple. After downloading and installing BlueStacks, you can simply search for the game on the App Center and install it from the Play Store, like you would if you were doing it on your phone. Afterward, you can launch the game simply by clicking on the new icon that will appear on the BlueStacks home screen.
This process applies to anyone who lives in the countries where Arknights is supported. However, if you're anywhere else, such as South America, for example, you can still download and play Arknights on PC with BlueStacks, but you'll first need to download the APK file from elsewhere. There are plenty of sites and places from which you can download Arknights, and once you have the APK, you simply need to go to your BlueStacks home screen, click on the three dots in the upper left corner, and then on "Install APK". Afterward, you must browse to where you downloaded the APK file, select it, and BlueStacks will install it in a few seconds.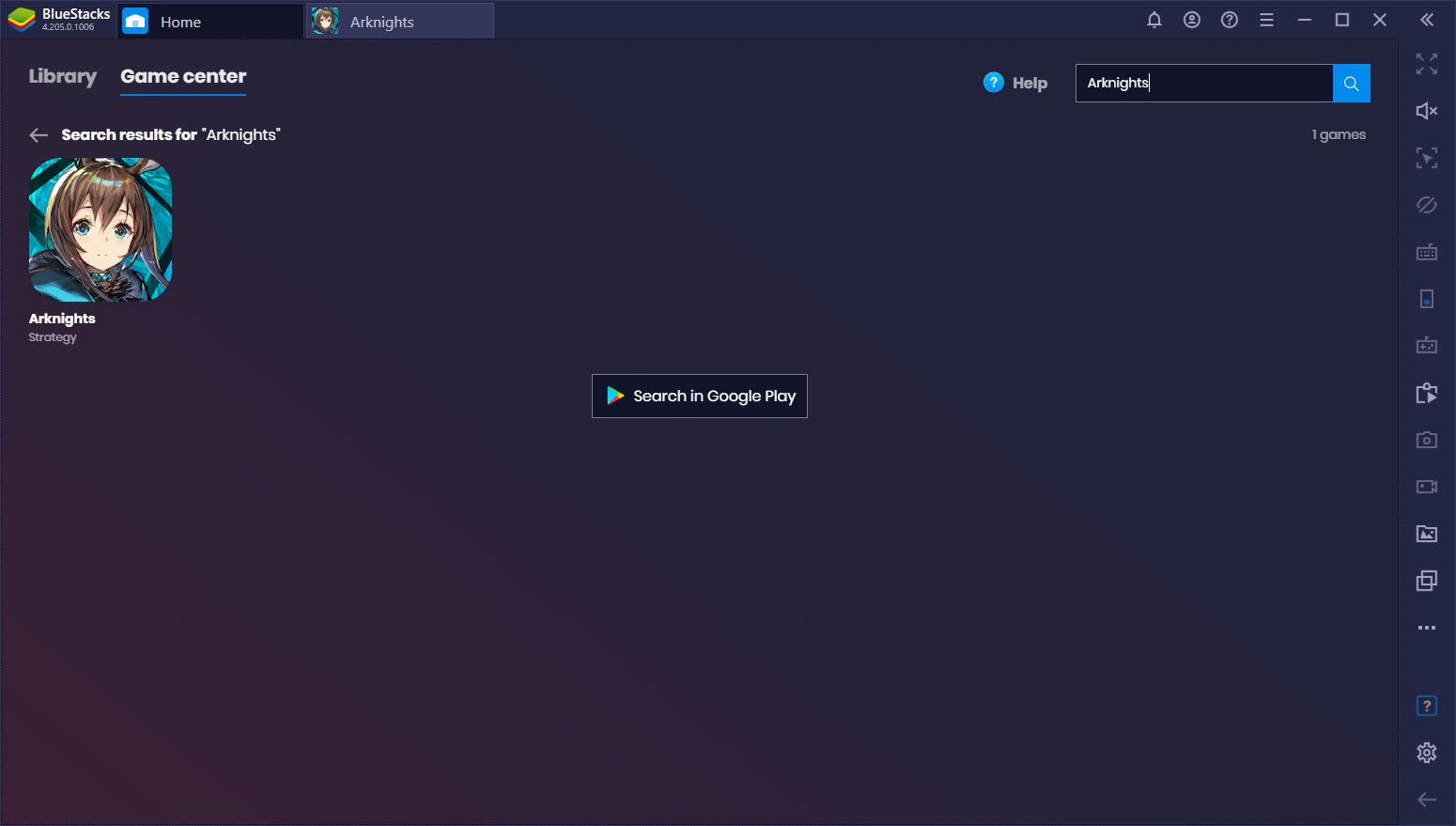 Once installed, you're set to enjoy Arknights on PC, regardless of your country of residence..
4. Improving Your Performance With BlueStacks
Now, we already mentioned how playing Arknights on PC is definitely better than on your phone. Not only do you have a much larger screen, but you can also drag and drop your units with improved precision by using your mouse. However, these are only the most basic features BlueStacks has to offer as our emulator also has a plethora of tools and features at your disposal, all of which are meant to improve the way you experience this tower defense game.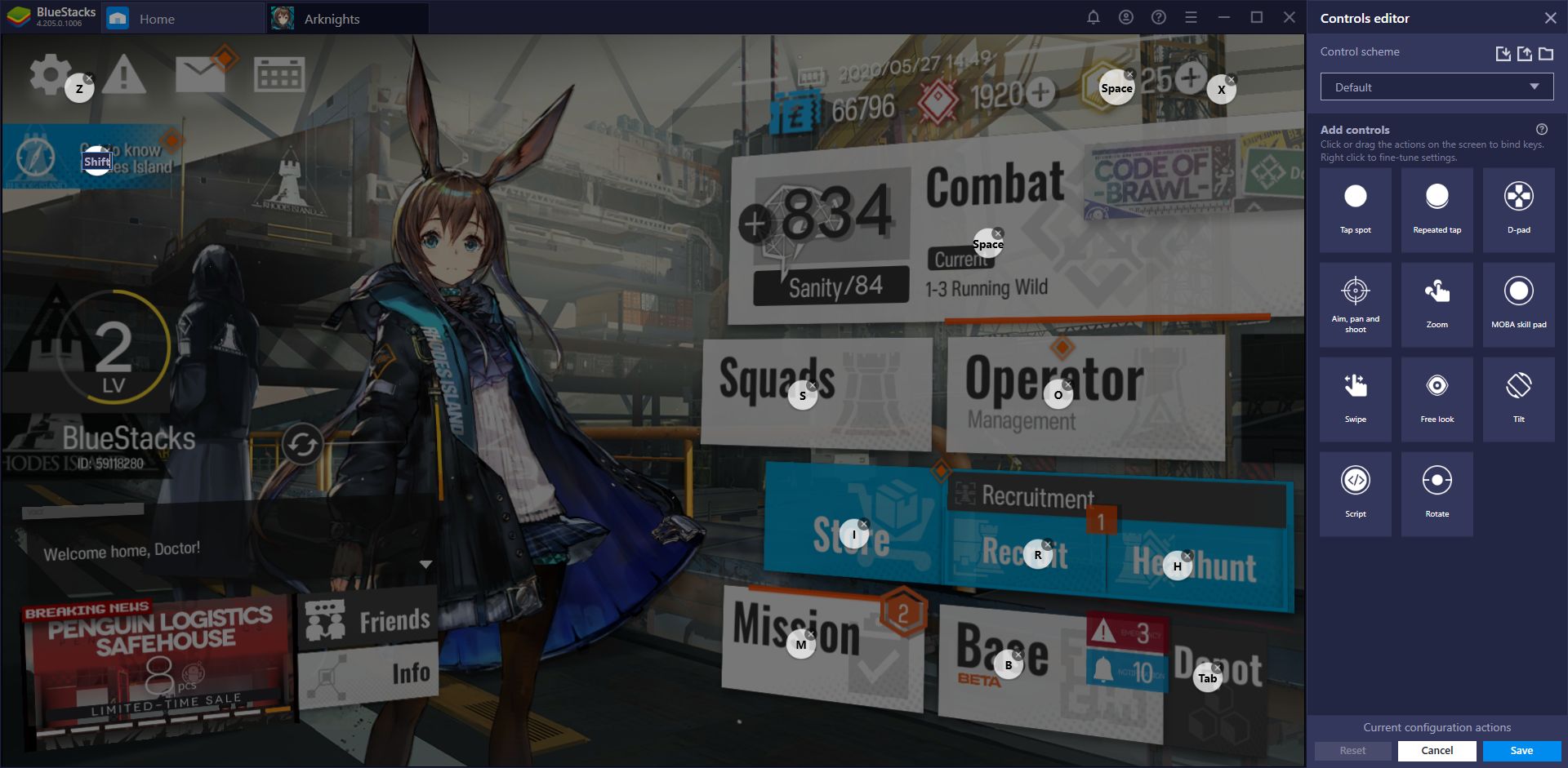 At its most basic, you have the Keymapping Tool, through which you can create customized control schemes for any game, using your mouse and keyboard. While this tool is not very useful when it comes to the main gameplay in Arknights, it can still help streamline navigation by allowing you to access any screen in the game's menus simply by using your keyboard.
Aside from that, you can also use the Macro Recorder to automate certain parts of the grind in Arknights. For instance, whenever you have to farm a level for resources, you can simply record yourself beating it once, and use the resulting macro to automate every subsequent attempt, effectively making BlueStacks grind resources in your stead. This feature is particularly helpful when completing your daily challenges.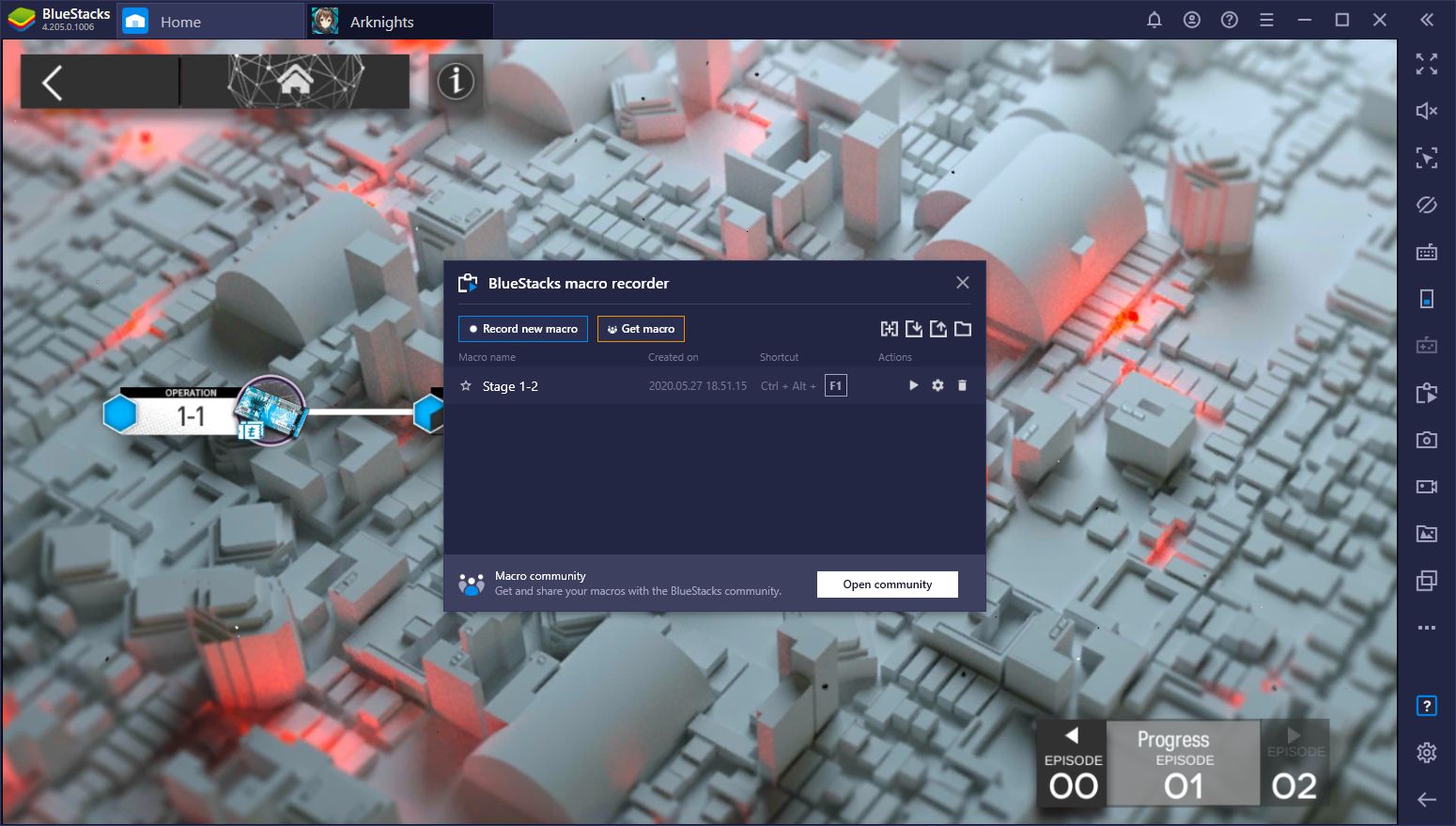 And finally, the best way that BlueStacks can help you, at least in the beginning, is through the Instance Manager, and the Multi-Instance Sync tools. Through the use of these features, you can reroll in Arknights significantly faster than when playing on your phone as you will be able to pull with multiple accounts simultaneously thanks to the former. Moreover, the latter allows you to synchronize your movements and actions on one instance to all other active instances. In this sense, you can reroll with many different accounts at the same time, and you'll only have to play on your main instance while BlueStacks mirrors your every move on all the other active windows.
5. How to Reroll in Arknights
As we mentioned above, Arknights is a tower defense game with lots of RPG elements, including many different playable characters that you can unlock and add to your squad. While most characters have a place in most formations, there are those that are objectively superior in terms of stats and abilities. This is one of the defining features in most gacha games as, in most cases, the endgame is not about completing the story, but about unlocking the best characters and upgrading them enough to create a powerful squad.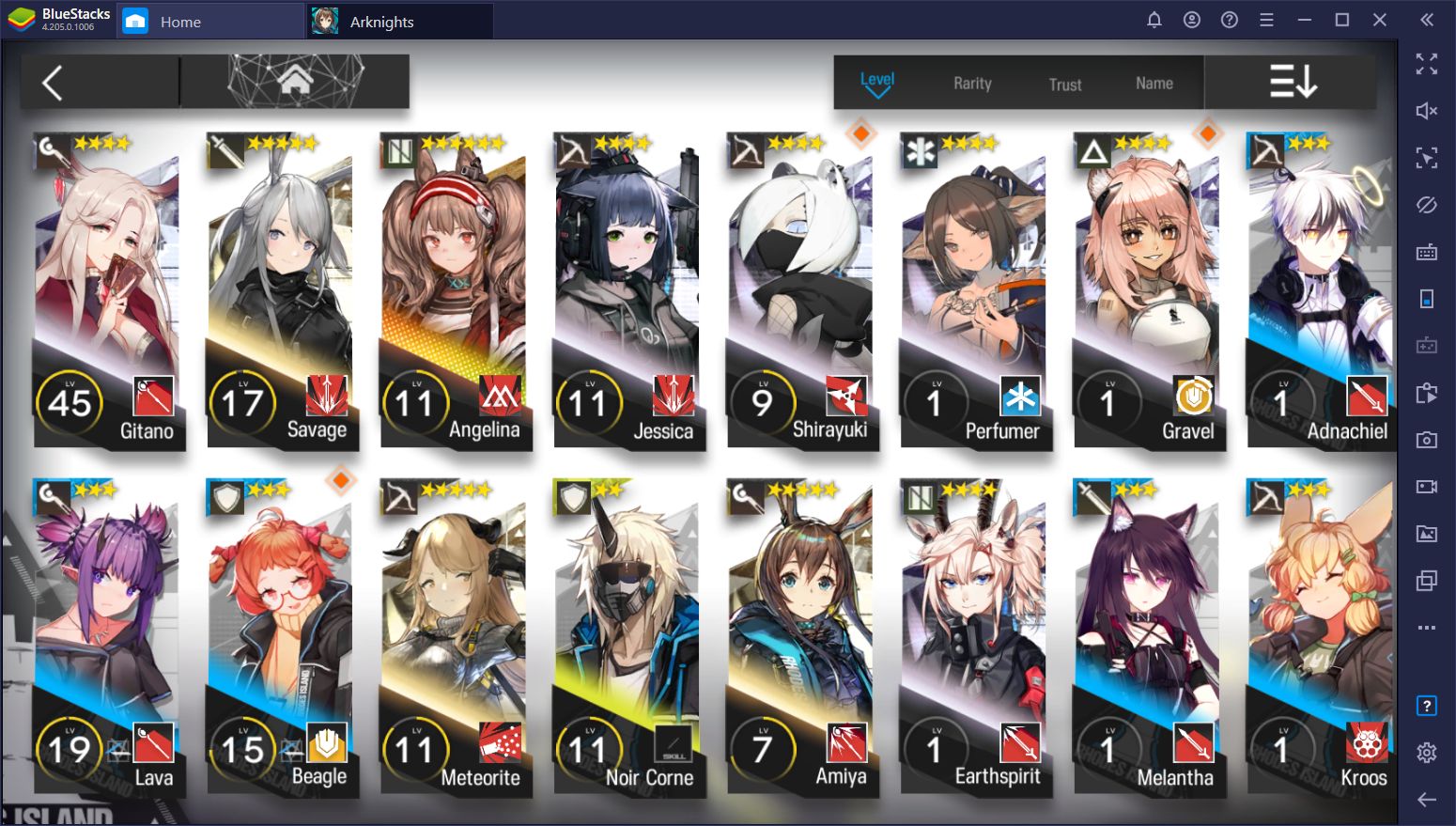 Arknights is really good in this aspect as, despite there being a meta, there are also many, many viable characters and squads, which adds a lot to variety to how you can approach any challenge in this game. Nevertheless, there will always be those who want to go full meta and unlock the best characters, preferably from the very beginning so that they can slowly upgrade them as they progress through the story.
This is where rerolling comes in as it's a process through which many gamers aim to unlock the best characters in Arknights from the start.
In concept, rerolling in Arknights is simple: The idea is to start your game and advance to the point where you can purchase your first bulk summoning, and then starting over if you're not happy with the results. Deleting your data in this game is quite simple as well, since you can just simply log in as a guest from the start, and logout from your guest account to delete your data after the initial summoning. You can repeat this process until you summon the best characters in the game.
6. The Gacha and Recruitment System in Arknights
Speaking of summoning, the gacha system in Arknights is a bit different than in other games. Specifically, aside from a regular summoning feature, in which you must pay currency to summon new characters, there's also a recruitment system in which you pay Recruitment Permits in order to scout for characters that fulfill a specific set of criteria, improving the odds of obtaining certain characters if you configure the search parameters correctly.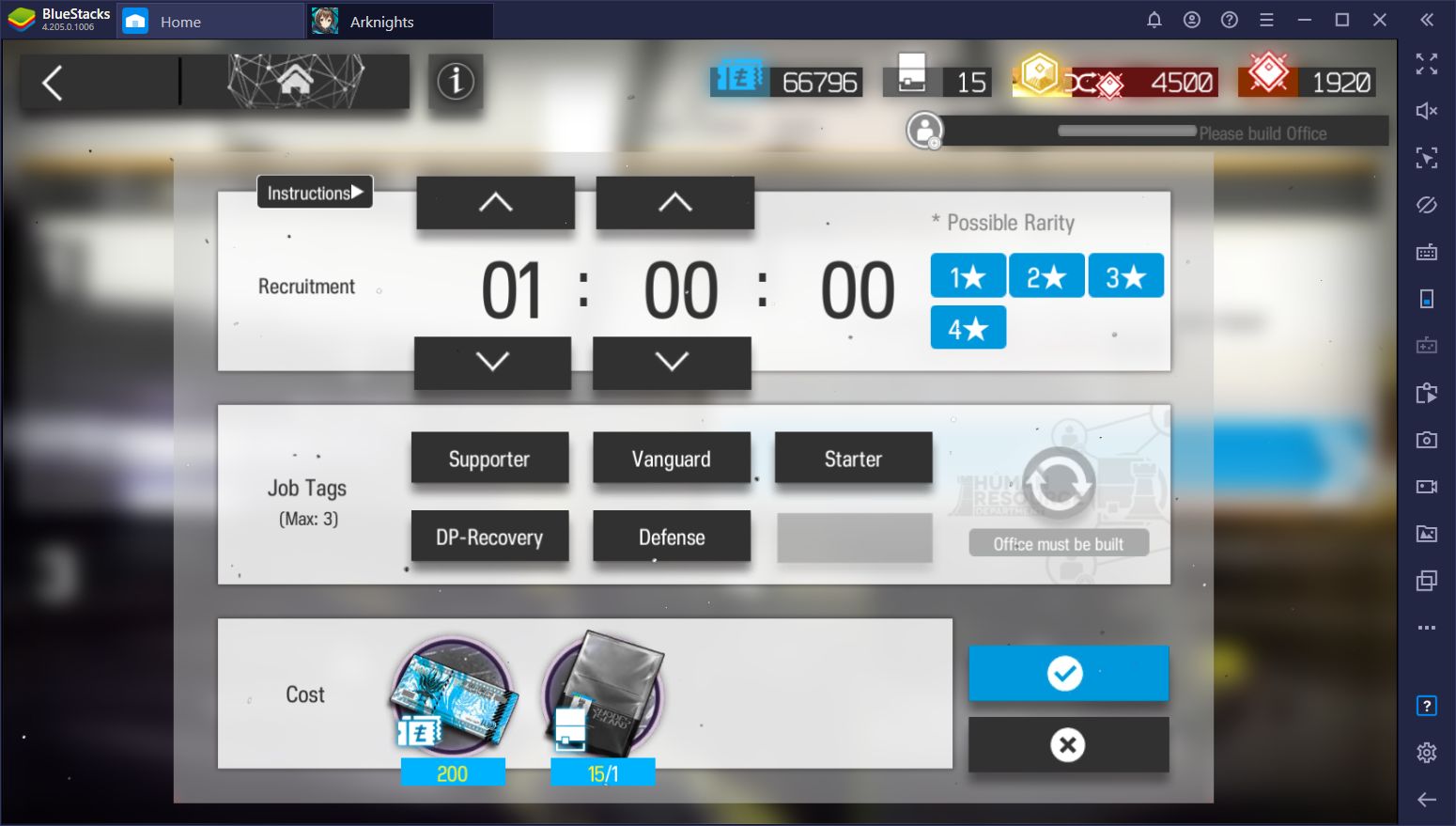 While you'll be using the regular summonings for the most part in Arknights, the recruitment system is tremendously important for when you're trying to obtain specific characters. The way this works is that every character has a series of traits and characteristics attached to them. By choosing these specific traits in the recruitment info, you have good odds of obtaining these specific heroes in the game.
We wrote an in-depth guide on how the recruitment system in Arknights works. Feel free to take a look if you want to learn more about this feature.
7. The Different Character Types
Now, one thing that you have to know when it comes to the best characters in Arknights, is that the heroes in this tower defense game are divided into several categories, which will determine their role in combat. It's important to consider these different character types as some are better suited for defending and blocking the oncoming enemies, and others are better for attacking and defeating enemies, while some can help by supporting, healing, buffing, or incapacitating the enemy.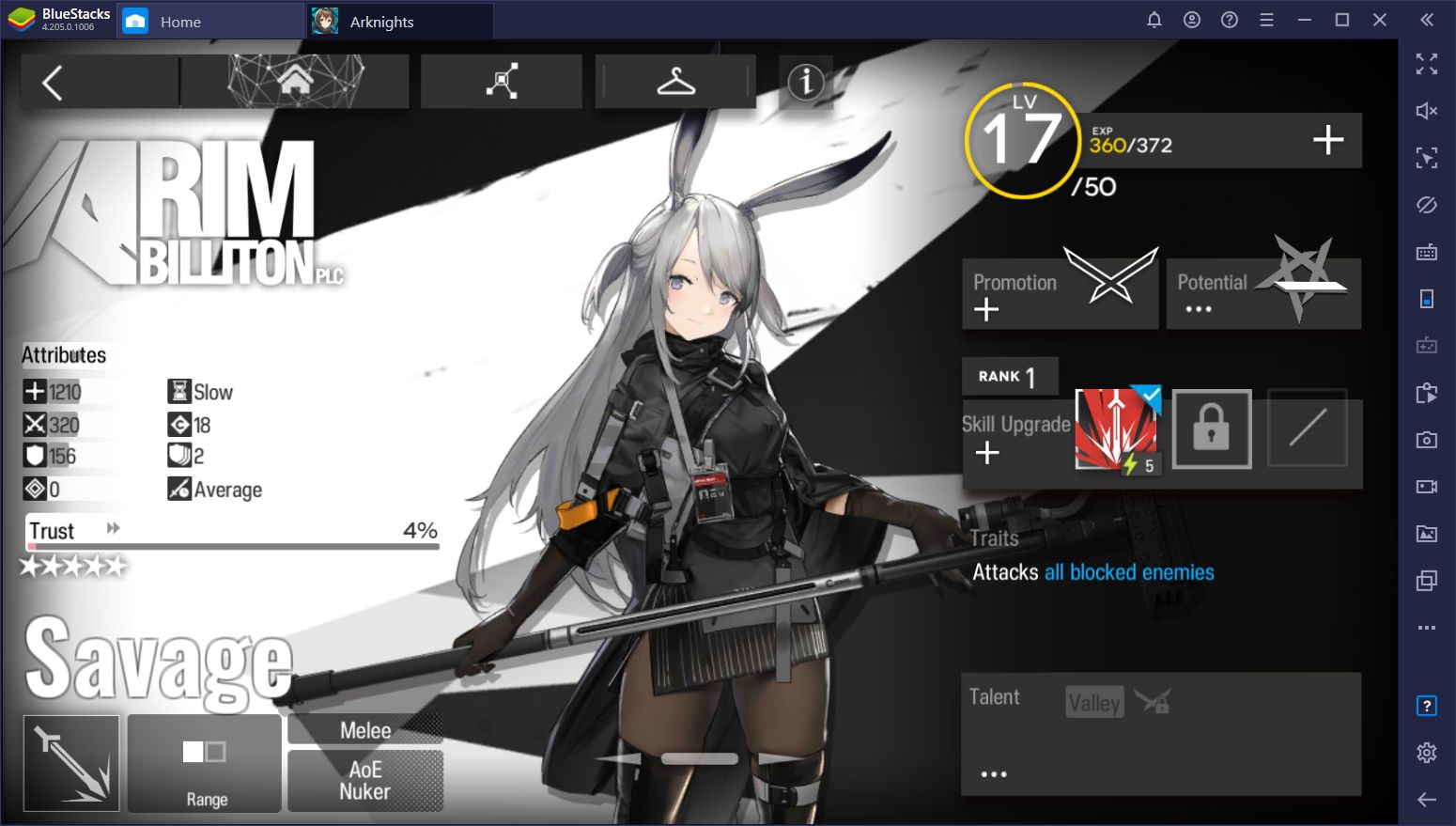 The different types of characters in Arknights are the following:
Vanguards: Low deployment costs and balanced attack and defense. They can block up to 2 enemies, which makes them excellent options for the beginning of any stage.
Defenders: High HP and armor, but with elevated DP costs. They can block up to 3 enemies at a time, which makes them good replacements for Vanguards in the middle phases of any level.
Guards: Physical DPS characters with high damage and that excel in multiple situations. Some of them have high DP cost, but others can be deployed quickly.
Snipers: Your primary source of ranged DPS and the best option for fighting against flying enemies. They prioritize attacking flyers over other enemy types.
Casters: These are also ranged DPS characters, but with a focus on dealing Arts Damage instead of physical damage. They're great against armored enemies.
Medics: While these characters don't fight directly, they can help by keeping your team healed.
Specialists: As their name suggests, these are specialized characters that can fulfill certain roles. They can either disrupt enemy movements by slowing them or pushing them around the stage, or destroy high-value targets quickly with devastating attacks.
Support: These characters excel at buffing allies and debuffing enemies. Some of them can also deal decent damage with their Arts.
8. The Best Characters in Arknights
While every character type has a specific use in most squads, there are certain heroes that are better than the others, either due to their raw stats or due to their Arts. In this section, we're going to give our suggestions for best characters in each category, according to the current meta and tier lists: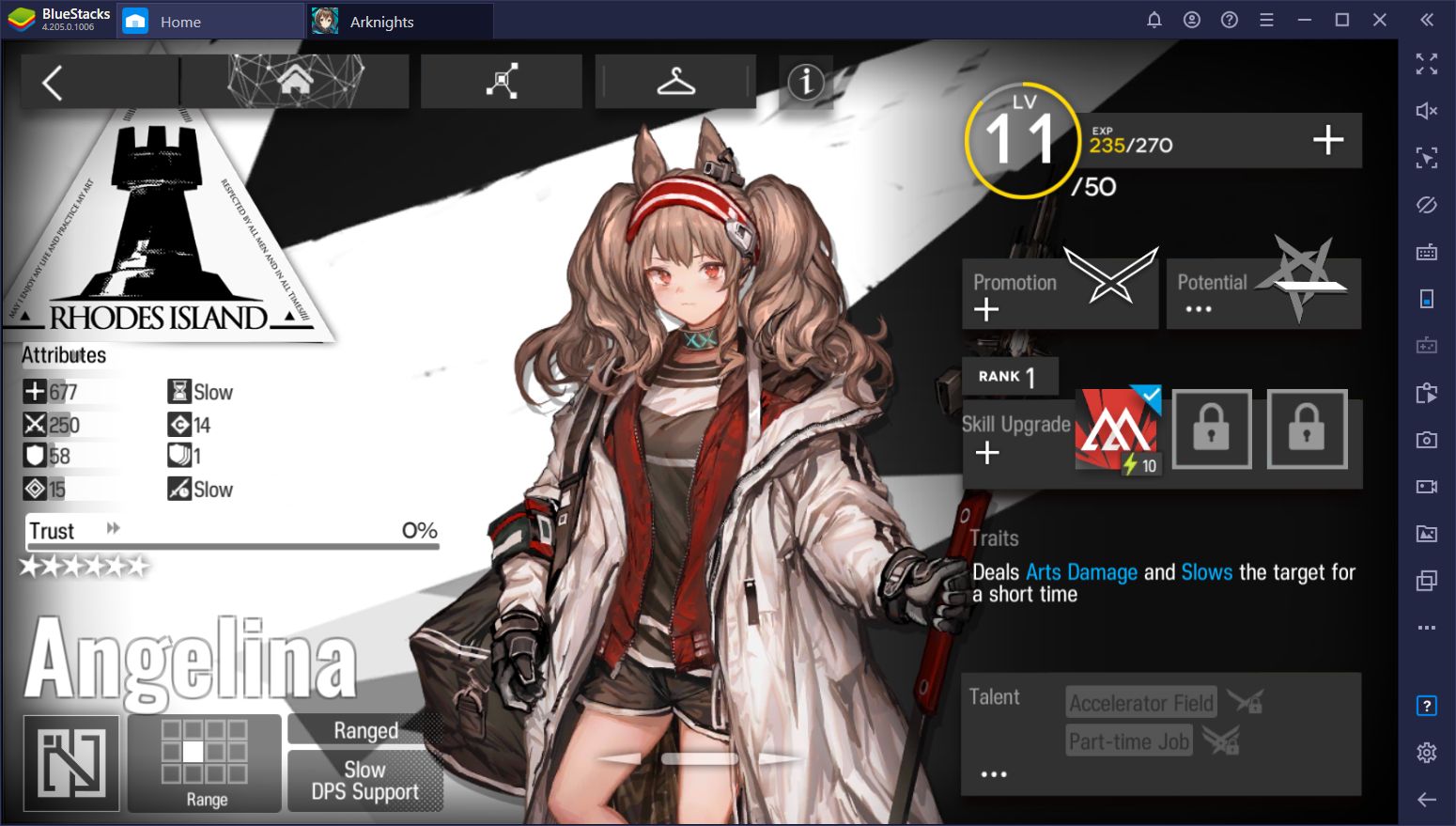 Vanguards: Myrtle, Siege, Zima.
Defenders: Saria, Hoshiguma, Cuora.
Guards: Skadi, Spectre, SilverAsh, Ch'en.
Snipers: Firewatch, Jessica, Meteorite.
Casters: Ifrit, Eyjafjalla, Gitano.
Medics: Shining, Nightingale, Silence.
Specialists: Cliffheart, FEater, Projekt Red.
Support: Magallan, Angelina, Mayer.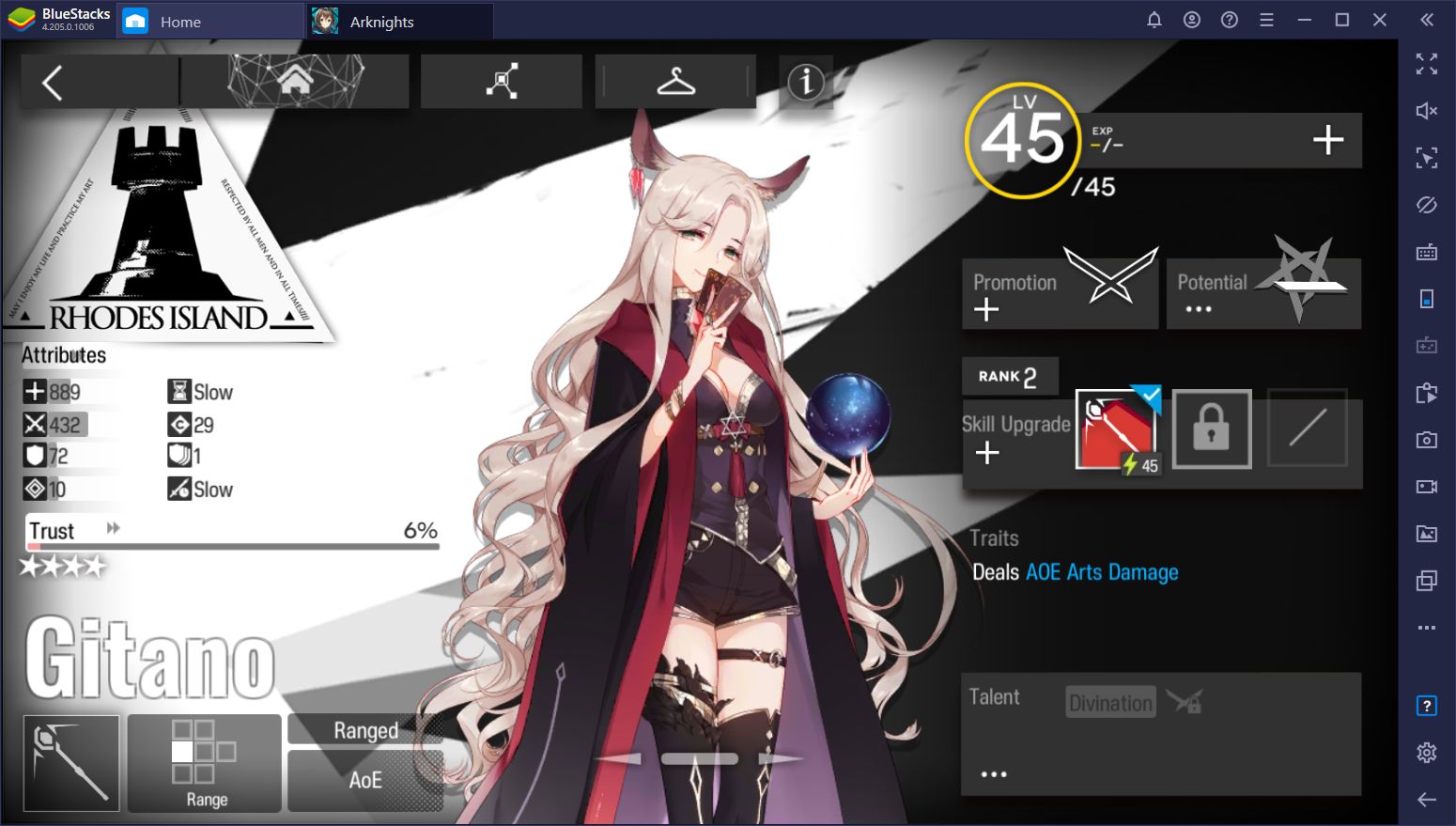 9. Guide and Tips for Arknights
Arknights is one of the most intricate and complex tower defense games we've played in recent times. While certainly not as hectic and chaotic as Element TD or other similar custom modes in DotA 2, it has its own learning curve and progression system in the form of many different unlockable characters, which you can mix and match to create powerful teams. However, there's much more to this game that initially meets the eye—certainly too much to address in a single guide.
Luckily, we've prepared many guides in our blog, which you can check out if you want to learn more about certain aspects of this game. Some of these articles include the following:
Despite its many intricacies, with these guides we've provided in our blog, you're now set to get started in Arknights. Leave us a comment in the section below if you have any questions!