Game Guides
Black Desert Mobile: How to Level Up Quickly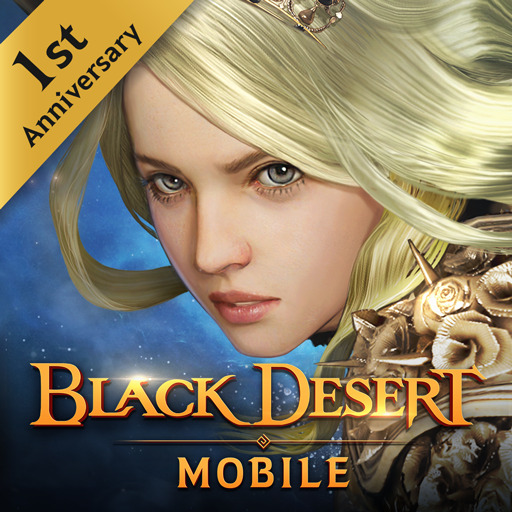 Pearl Abyss' awe-inspiring MMORPG, Black Desert Mobile, can now be played everywhere around the world. We couldn't help ourselves but be online at the exact time of its release, so that we can tell you all about the changes made to the beta version. The game is even more stunning than when we first played it, although the devs have made some impactful changes in terms of the balance between f2p and p2w. For now, we're thoroughly enjoying our pre-registration rewards.
In this article, we'd like to share some of our insight in terms of how you can level quickly in Black Desert Mobile. We highly suggest you also check out our guide to the currently available classes, since playing with something you like is usually more fun. The first step is making sure that you have the latest version of BlueStacks installed (4.150.10.1032), which will guarantee you can enjoy BDM's spectacular graphics without an expensive smartphone.
Level 10 in Less than 10 Minutes
Since BDM is an MMORPG, levelling is a big part of the game experience. Knowledge of what it takes to progress faster will ultimately lead to a more rewarding playthrough, not to mention more unique content to engage with. Black Desert Mobile is immensely fun to begin with, much like any of the PC role-playing games that made the genre famous in the first place.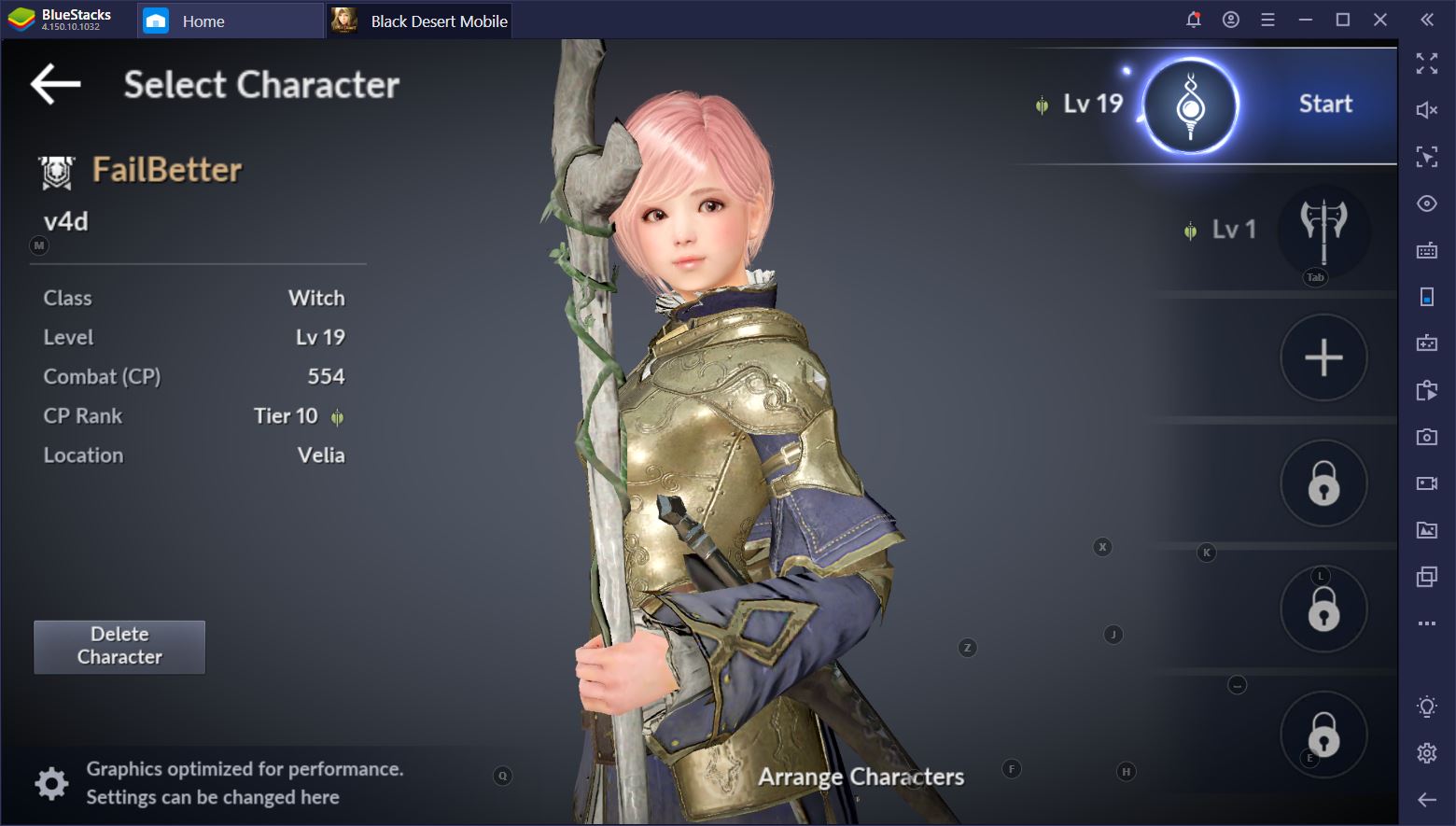 However, as you finish some of the initial tutorial, the pain of grinding will become more and more obvious. You'll notice that individual monsters yield less experience (0.1% at our current level, 17), while levelling requirements are ever-increasing. The most difficult aspect of growing your first character is that you'll have to do everything manually. The auto-play function is unlocked only when you hit level 13 and finally manage to upgrade your Black Spirit.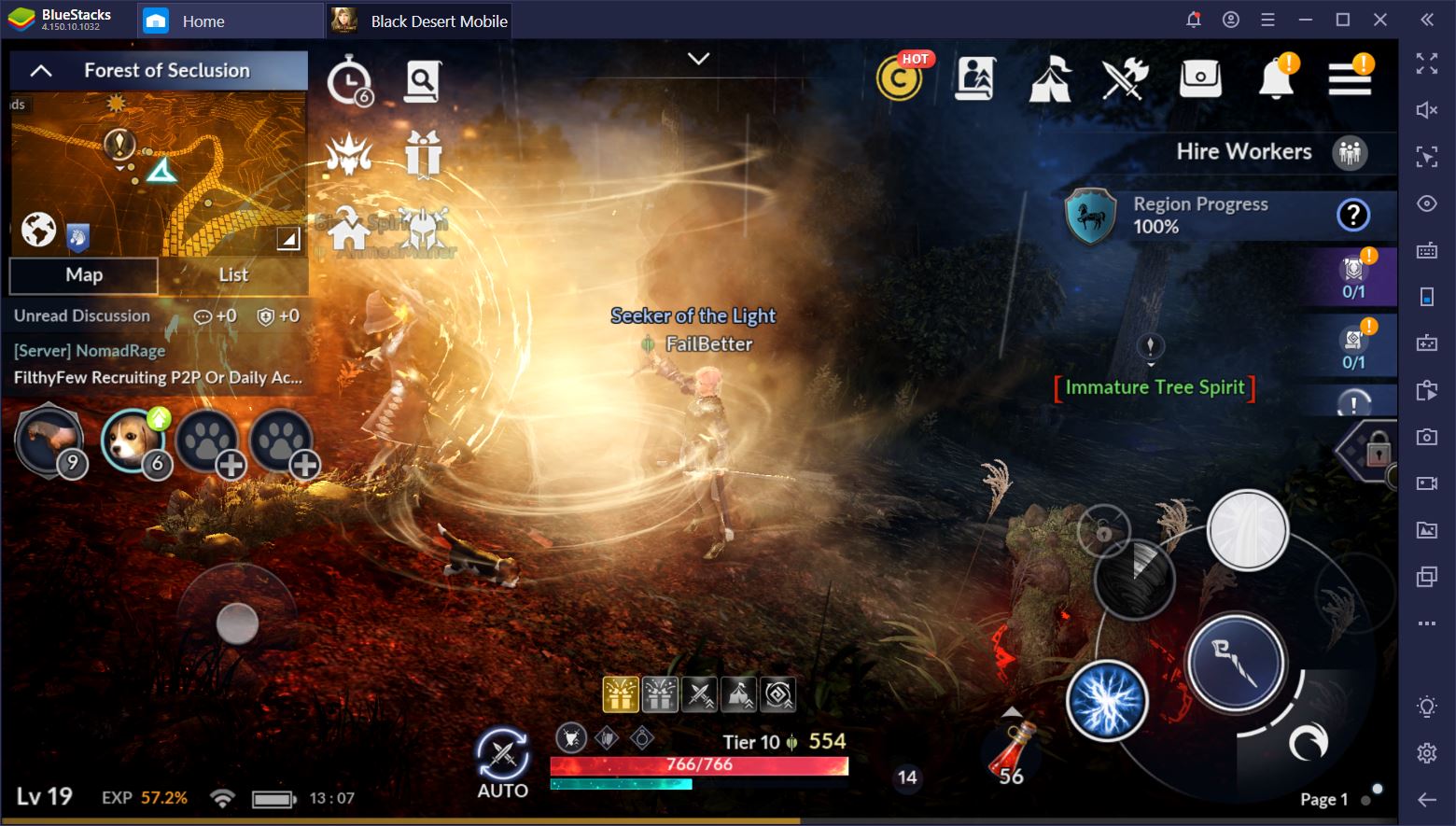 It took us about half an hour to do this the old-fashioned way, but we've come up with a solution that'll reduce that time to half and perhaps even less. With the help of BlueStacks' Macro Recorder, you can automate the entire combat phase. All you have to do is press the Macro Recorder button on the right side of your window, then press Record New Macro. Now, make sure to utilize all of your character's skills several times, so that you have a nice basic rotation. This will also come in handy when you have to do all those missions that prevent auto-battle.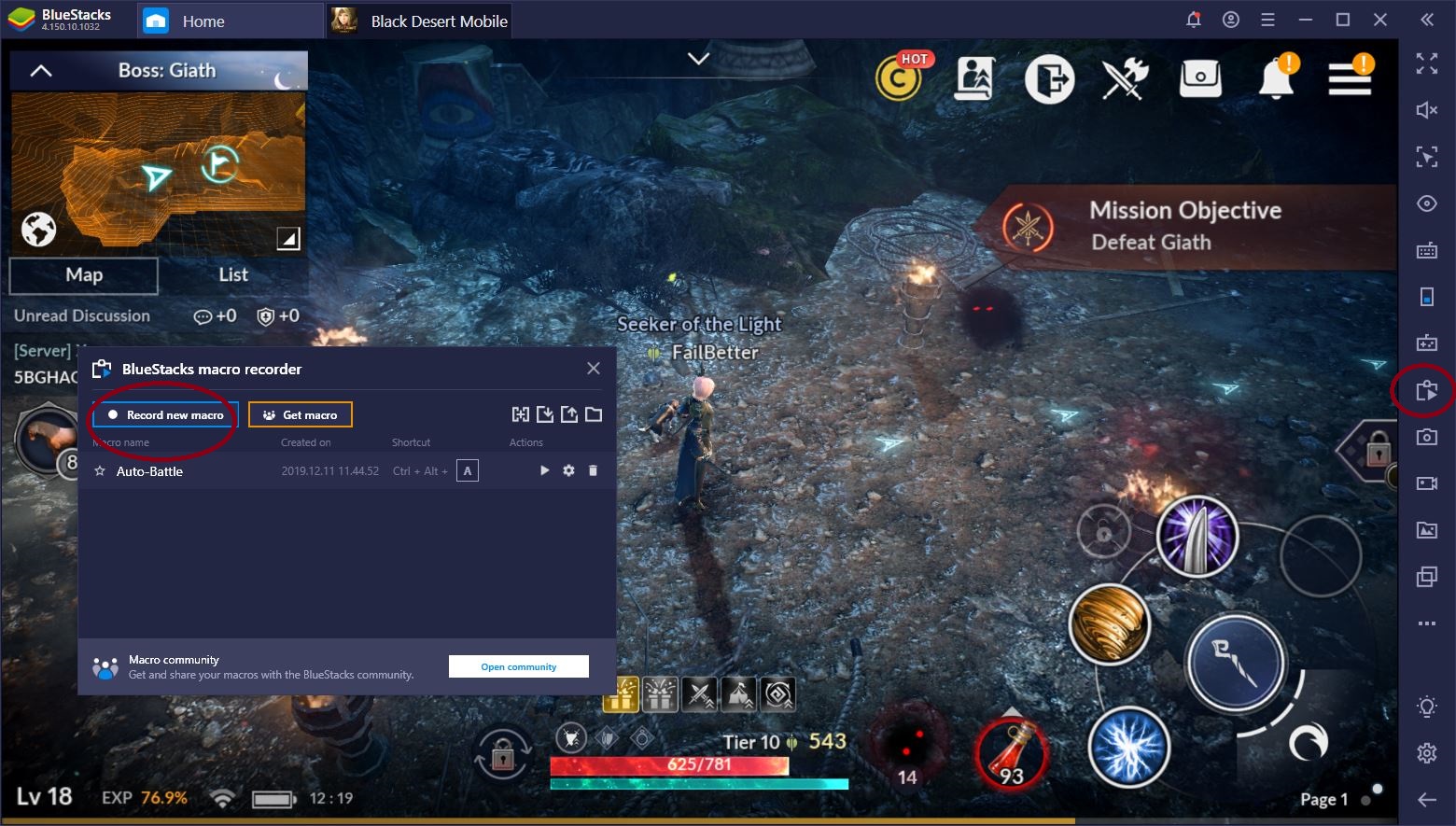 Then, press stop recording. Make sure to give your Macro a name, so that you know what it does (trust us, you'll want more of them in the future) and then edit it to suit your needs. For instance, we opted for 30 minutes of non-stop execution, since we can pause it at any time. This ensures that you can leave your character farm without having to manually cast abilities or constantly pay attention to your screen.
Don't get us wrong, the Keymapping Tool makes fighting a lot easier, since we don't have to tap on every single skill, but having to go through the same repetitive motions over and over again tends to get really tedious.
Sharing in the Burden
Pearl Abyss did introduce a mechanic that makes levelling more straightforward on subsequent characters: the Black Spirit. Aside from enabling your auto-battle function, the latter is a shared feature between all the characters on a server. What this means is that if you levelled your BS with one class, any new ones that you make will start off with the same exact Spirit. Whatever progress you make on the latter is saved and shared in-between your primary character, as well as your alts.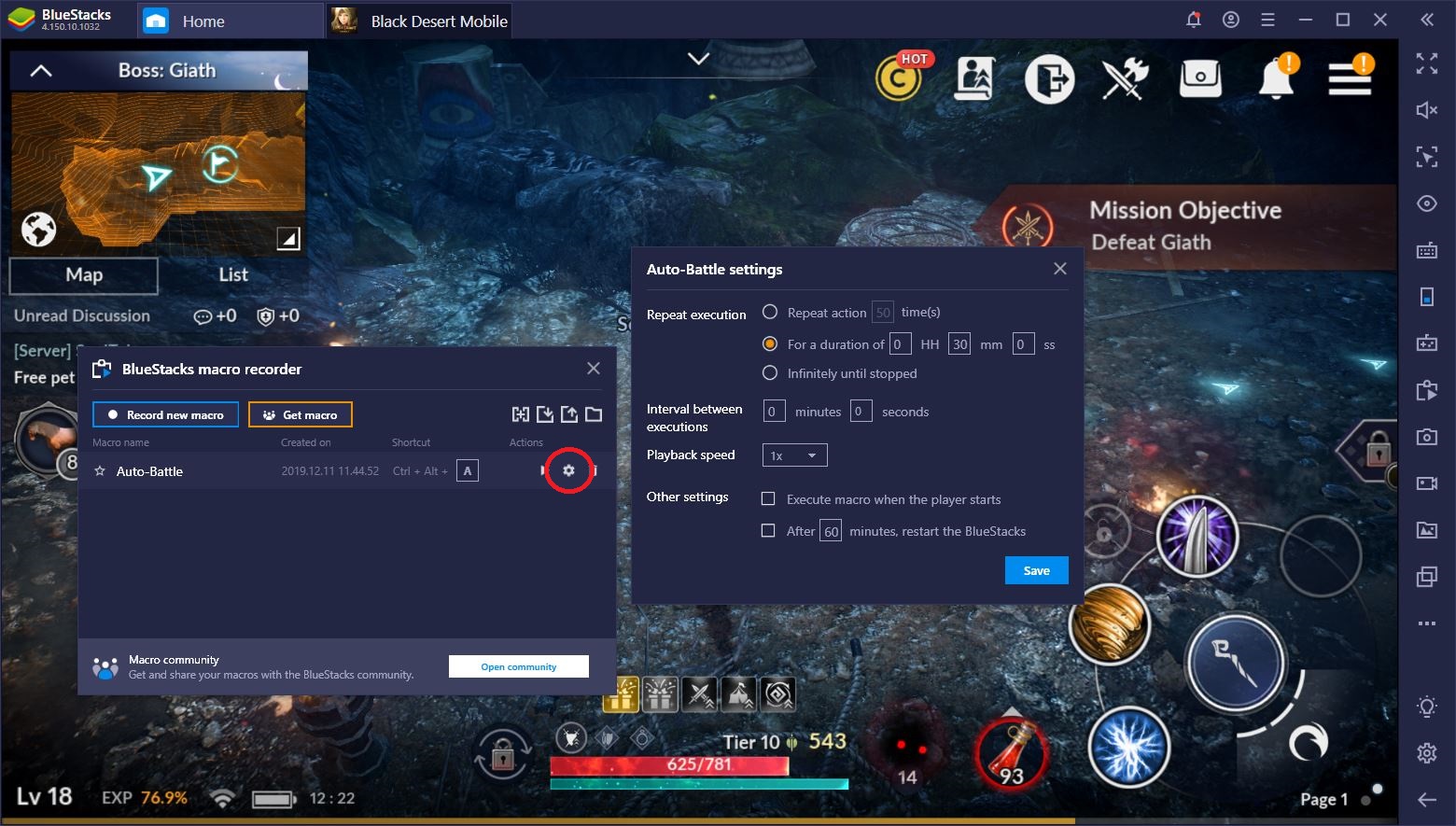 As such, you might want to consider growing an initial character just for the Spirit advancement. In this playthrough, we decided on a Witch, since they seem to be the ones most focused on delivering a swift destruction to BDM monsters. Once you reach level 15 or higher, you can then start on the class that you want to play. The already developed Spirit will give you a hefty boost to your CP, which will allow for faster progression.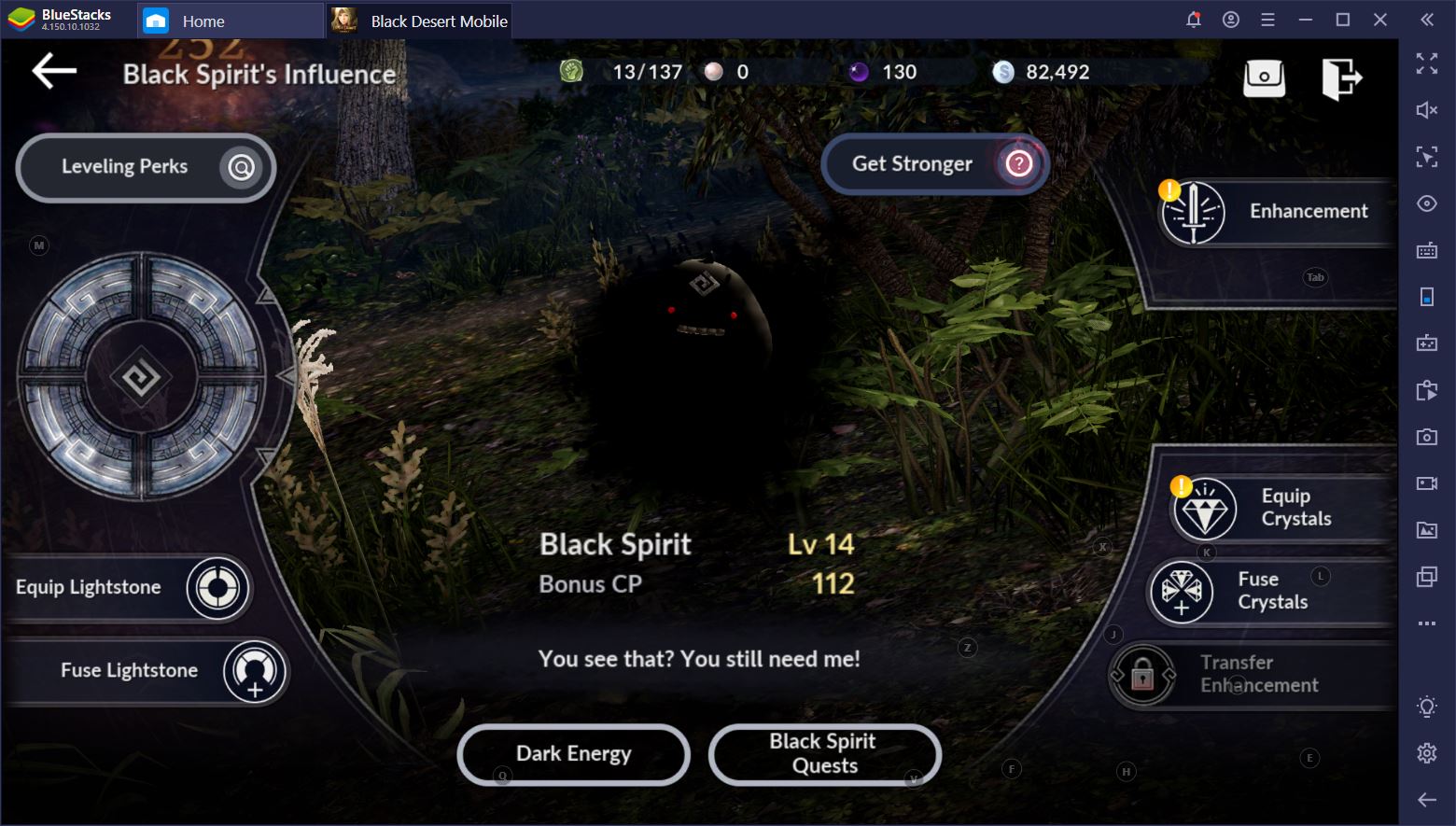 The best part is that, while you level your favorite class, any equipment that you feed to your playful dark essence will also count towards making your booster character stronger. As soon as you reach level 19, this nifty little helper can play for you while you're offline, making it all the more important to go through these initial stages as fast as possible. Because we play Black Desert Mobile on PC with BlueStacks, the emulator's features greatly speed up our advancement and we hit level 19 in less than two hours of play.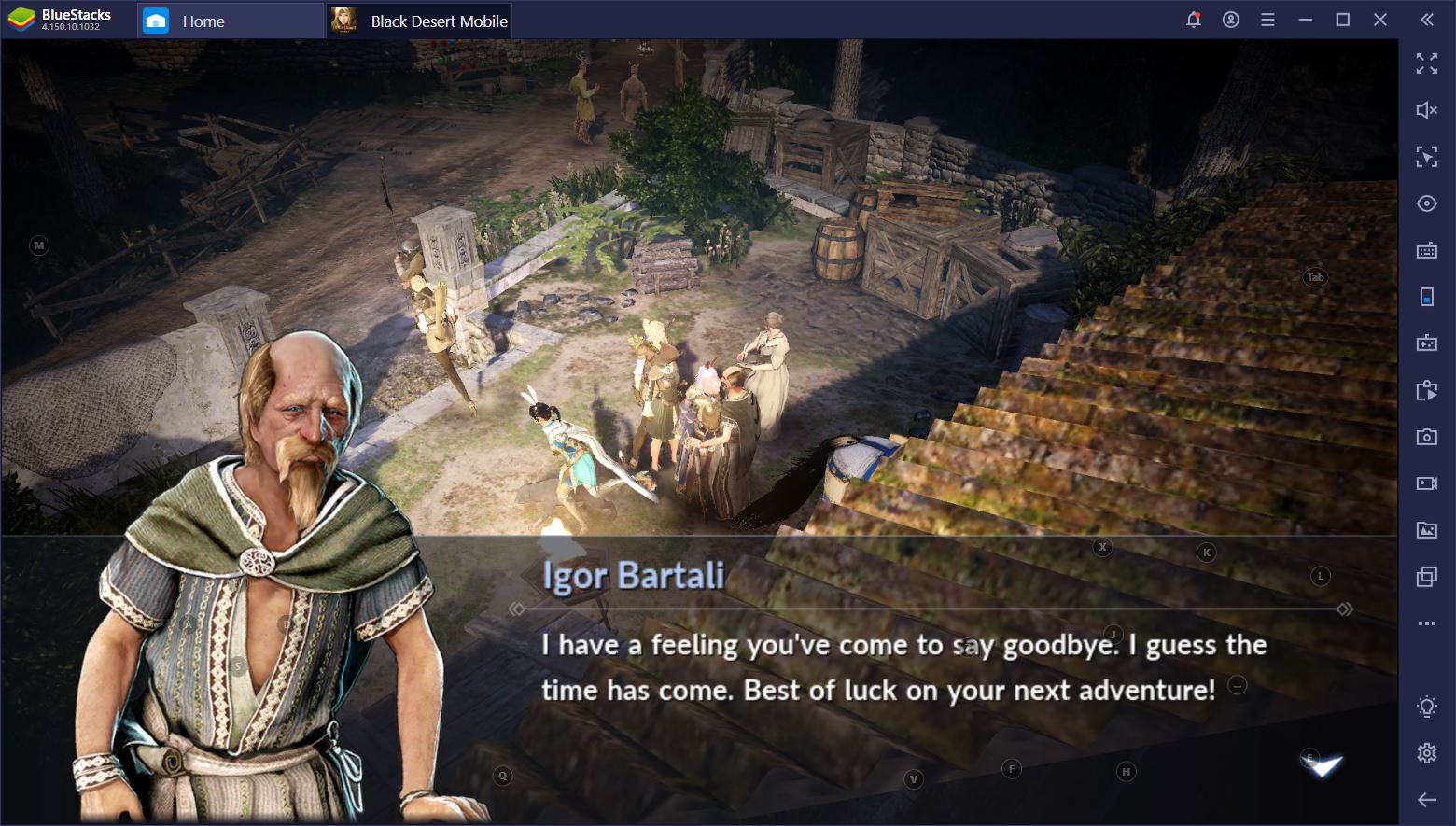 You might have noticed that there's no skip button on interactions with NPCs. While this may be true for your first character, your alts will have a skip button so long as you've done that quest at least once. Another aspect you'll want to keep track of is upgrading your skills. Whenever you defeat a monster, there is a chance that they will drop specific Skill Books. These can be used to strengthen the ability that's mentioned in their name. The more advanced a skill is, the more damage you deliver and the stronger you become.
Boost Yourself with BlueStacks
A constant throughout the game is that quests and Boss Rush events will give more experience than hardcore mob farming. While there is a limit to how many bosses you can kill at a time, since stamps are required to get in, quests seem to be abundant at every level, so make sure to complete any and every task that's thrown your way. When you do get a mission to kill a specific type of mob, you ought to let your character farm them for at least 5 minutes.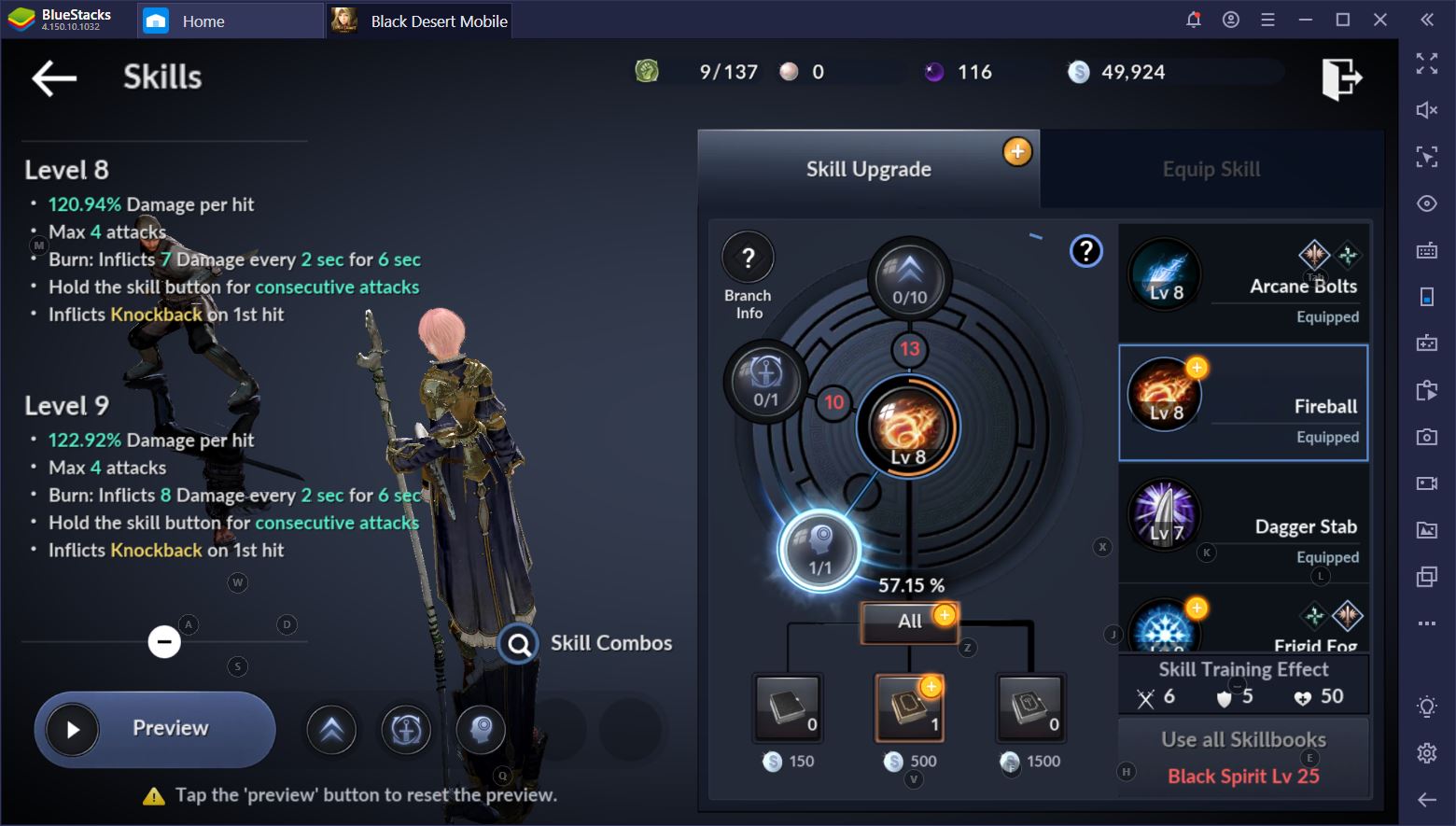 The reason why you want to do this is because they tend to drop Skill Books. Since the game has just launched, there are very few of these on the market place (yes, you can and should consider selling epic level ones) and their prices are extremely high, so the only viable way is to get them yourself. Don't be fooled by the fact that everything drops silver. The currency is not that easy to come by and you'll need increasingly higher amounts of it to level skills, as well as for other essential in-game tasks.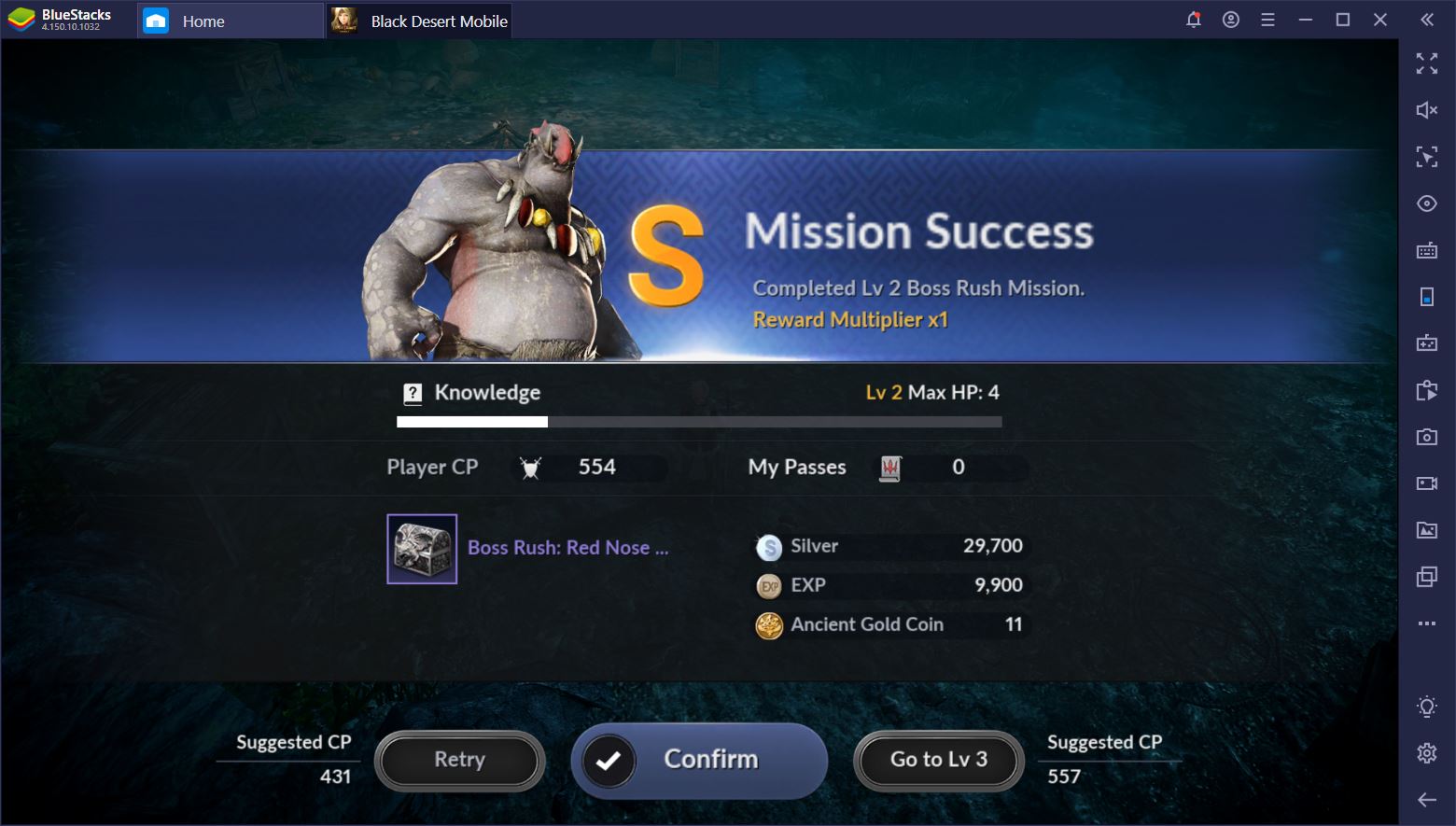 There's absolutely no doubt about the fact that playing Black Desert Mobile on PC is much easier than on a mobile device. Aside from smooth performance and crystal-clear graphics, the myriad of features you benefit from the BlueStacks emulator go a long way towards automating grueling, repetitive tasks that take the fun out of a game. In a matter of hours, you can put your character above level 20 and push into the mid-game.