Game Guides
Best Darkfire Heroes Farming Tips and Tricks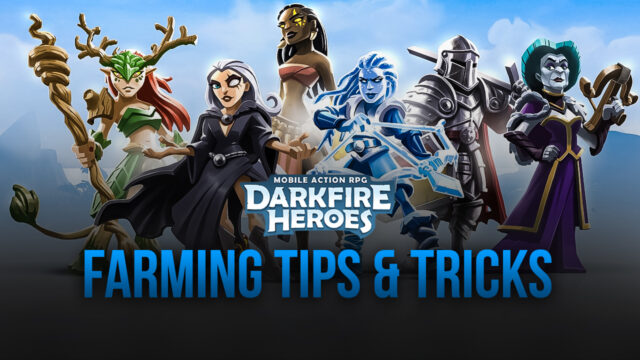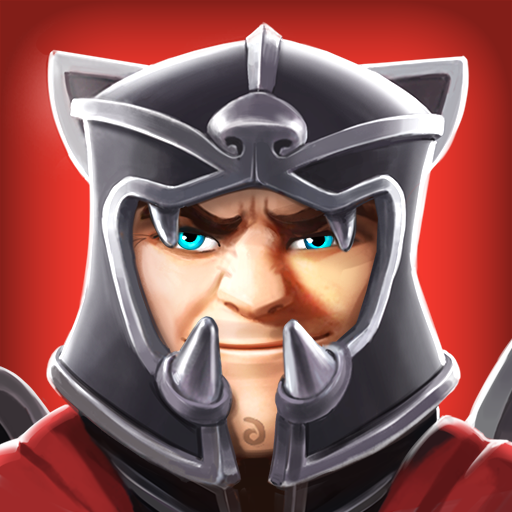 Darkfire Heroes is one of those games that are really easy to get into, but yet require commitment and know-how in order to progress – so basically it's like any other game in the market, with its own learning curve and gameplay style. Regardless, while it doesn't do much in the way of innovating in the RPG genre, it mixes up familiar elements and presents them in a specific way, creating a unique experience for the gamer. Because of this, we recommend checking out our beginner tips and tricks to learn a few pointers on how to get started on the right foot.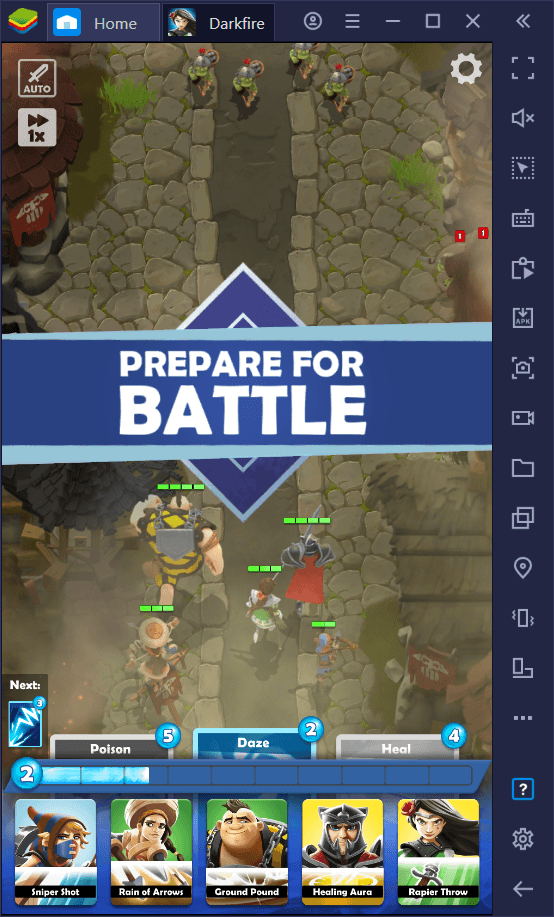 When it comes to making progress, however, the best way to do so in this game is by upgrading your characters. And we don't mean this as a way for you to be able to beat tougher stages; we mean it literally, as purchasing upgrades is the only way to increase your account level, which in turn will make more heroes and spells, as well as additional game modes, available to you.
In this sense, we can safely say that the fastest way to upgrade your account in Darkfire Heroes is by farming chests, which contain most of the materials necessary for upgrading your characters and spells. And while you can focus on upgrading the best units for your strategy, later on, your best option at the beginning is to always purchase upgrades as they become available.
To this end, here are some great Darkfire Heroes tips and tricks to help you score more chests and level up your account as fast as possible.
Claim Your Free Daily Chest in the Store
While it's easy and straightforward enough to acquire chests with regular gameplay in Darkfire Heroes, this game also offers its share of freebies to help speed players along, one of which being the free chest that you can get from the store. This is just a regular chest with some low-level drops that can nonetheless be very useful, especially at the beginning.
To find this chest, simply complete the tutorial until the game leaves you alone to do your own thing, and then head on over to the store by swiping to the right twice on the main menu. In the store screen, simply click on the "Free Chest" to grab your goods, which often consist of low level upgrade materials, gold, and other useful goodies.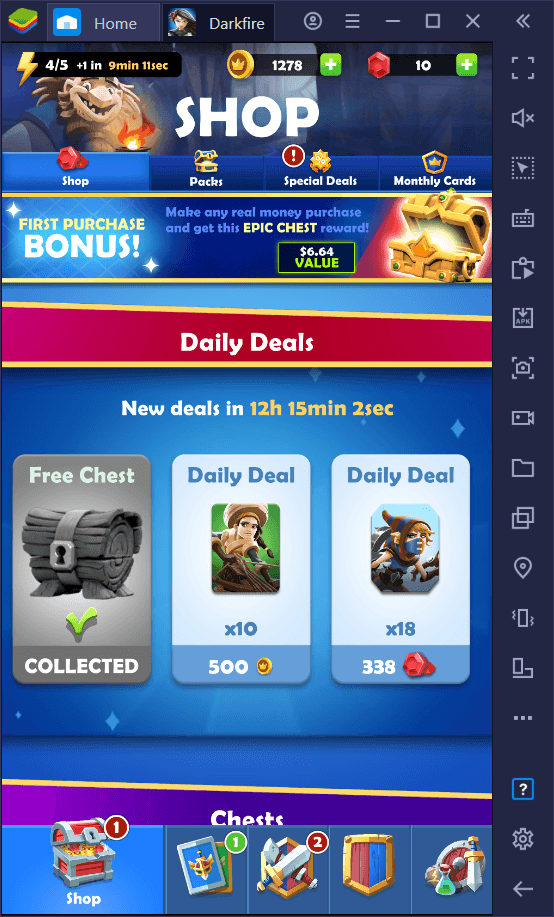 Don't forget to open this chest every day as you'll forfeit some items that, while not very significant in the grand scheme of things, will add up as time passes and will help you to upgrade your roster faster. Every little bit helps, especially in games like Darkfire Heroes where you're significantly limited in the things you can achieve on a day-to-day basis due to the energy system.
Protip: While you're at it, make sure to check out the daily deals in the store. You can sometimes find the specific cards needed for a certain upgrade, at good prices. If this is the case, feel free to spend some gold on them since this will allow you to upgrade your characters and spells faster. Just remember that you also need gold for purchasing upgrades, so don't spend it all in the store.
Take Your Daily Keys to Open Key Chests
Another freebie that the game gives you comes in the form of three chests that you can open on the main screen. These boxes always contain a random number of Chest Keys and, once you collect 100 of these, you can use them to open a Key Chest, which contains awesome drops.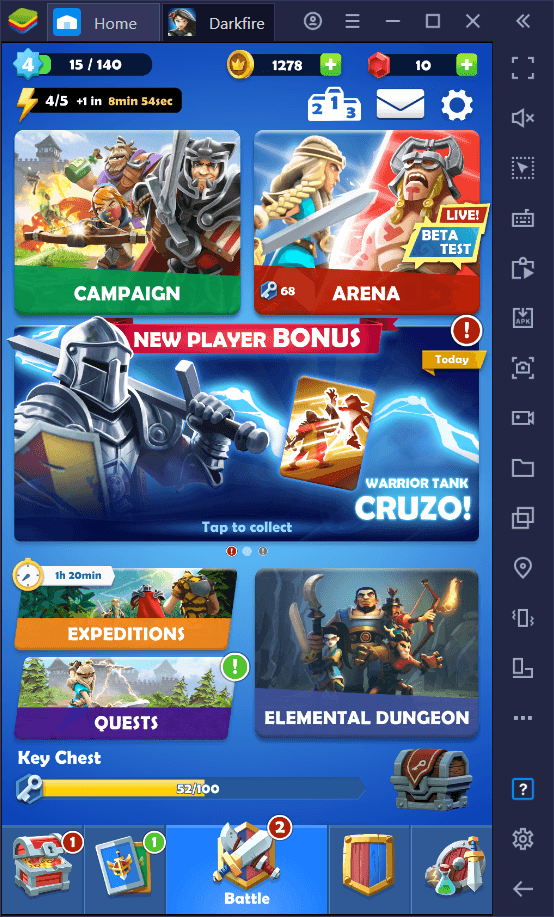 When claiming your three daily chests, you can pick from a pool of five boxes, and the number of keys that you can get is random. If you're lucky, you could get up to 50 keys per chest, which will potentially let you open three Key Chests in two days.
Participate in Daily Expeditions
Expeditions in Darkfire Heroes are automated missions that consist simply of a timer… That's literally it. There's really not much to say about this feature, other than you can score some useful pieces of loot by doing nothing; just click on the expedition and wait until the timer expires. You don't even get restricted while doing expeditions – you can still use all your characters in regular missions just fine. In this sense, there's literally no reason to skip these quests.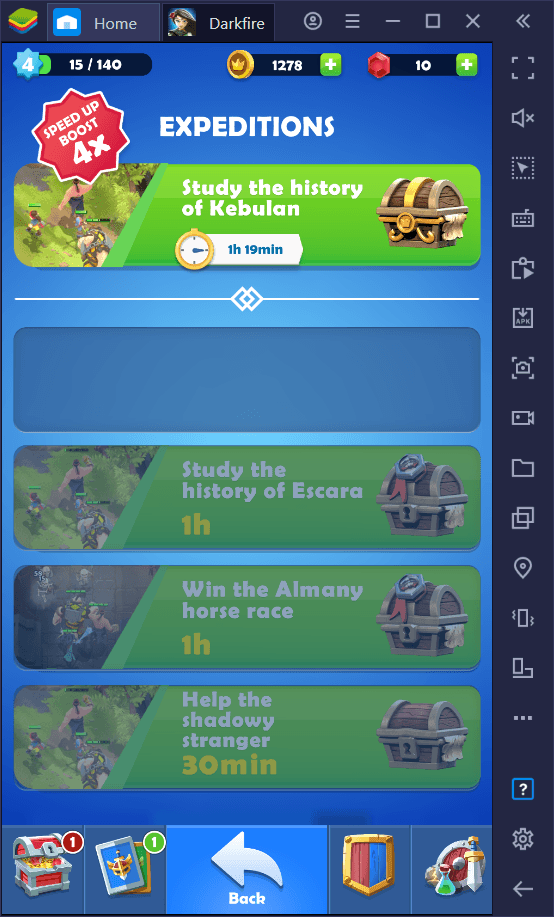 The only drawback to doing expeditions in Darkfire Heroes is that they often require a lot of time – up to 2 hours to complete a mission. This is a minor inconvenience as you can simply set a reminder in the amount of time it'll take to complete the mission and come back to claim your rewards, and if there are still missions left on the daily list, simply begin another one until you're done for the day.
Remember that if you play Darkfire Heroes on PC with BlueStacks, you can simply set up a macro to complete every expedition for you automatically, even if you're not able to play for the day. All you have to do is set up a macro to click on the missions and accept rewards, and set it to repeat every 2 hours or so until canceled. That way, you can leave the game open with the macro running, and do something else on the PC while BlueStacks completes all your expeditions for you.
Use Your Daily Arena Allowances
Remember when we mentioned the Chest Keys up there? Well, the Arena is a relatively new feature that can award keys by participating. You don't really need to win in order to get keys, but you get a sweet bonus for doing so. Regardless, your main daily goal in the Arena is to collect your maximum of 100 keys, which is another guaranteed Key Chest.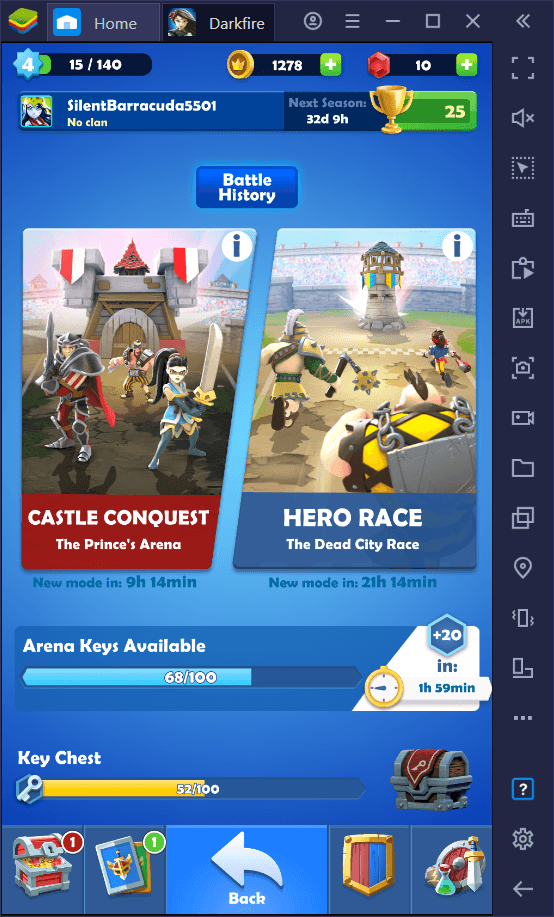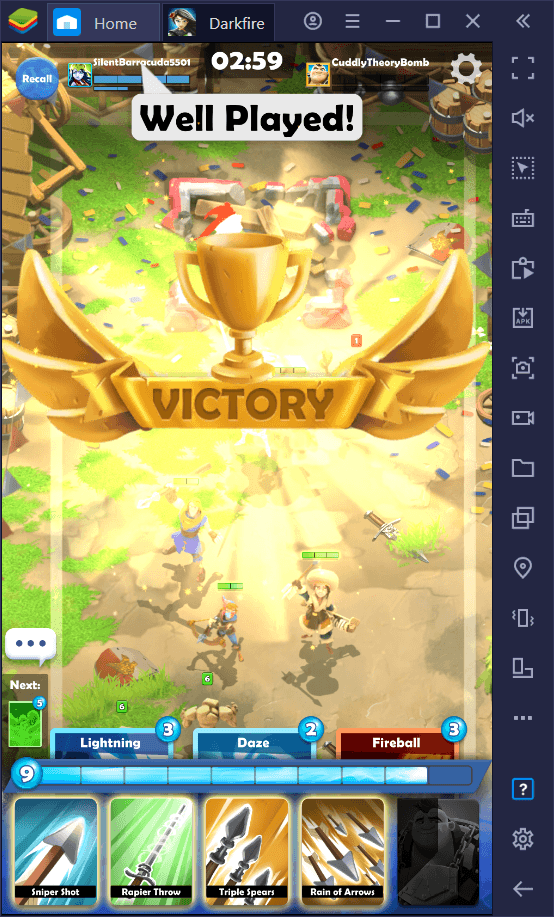 Feel free to keep playing afterwards since the PvP game modes are actually pretty fun. However, there's really no benefit to doing so after capping out your keys.
Do Your Daily, Weekly, and Campaign Quests
Last but not least, and one of the best sources of chests in the game, are the Quests. These are pretty much self-explanatory and consist of fulfilling a wide variety of tasks, most of which you'll be doing as part of your daily gameplay. Nevertheless, by completing these missions, you'll get points that will go into filling a bar. Once you've collected 100 points, you'll get a chest loaded with goods. Daily quests will give you a regular chest, while weekly quests will give you a golden chest with better items. Keep in mind that you can also get a variety of other items in the milestones leading up to the chests.
Campaign quests, on the other hand, consist of one-time tasks that give several different rewards, including the coveted gems, which are the premium currency in Darkfire Heroes. The Campaign quests don't have a time limit so there's no rush here. Simply swing by every now and then to pick up the prizes from tasks you may have completed, and go back to playing.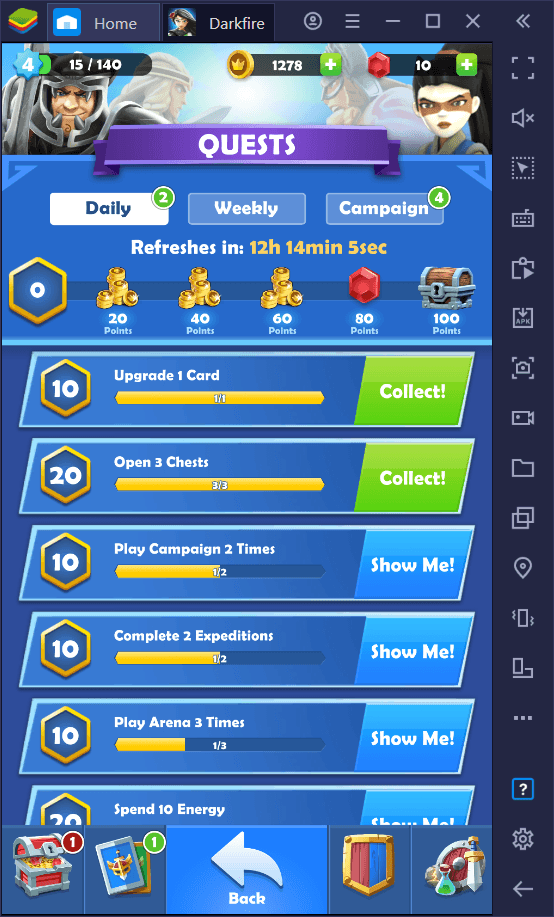 And those were our top 5 ways to farm and grind for chests and materials in Darkfire Heroes. Feel free to leave your own suggestions in the comments below to help your friends and other fellow gamers!