Game Guides
Building Progression in Game of Kings: The Blood Throne – Which Structures Should You Build First?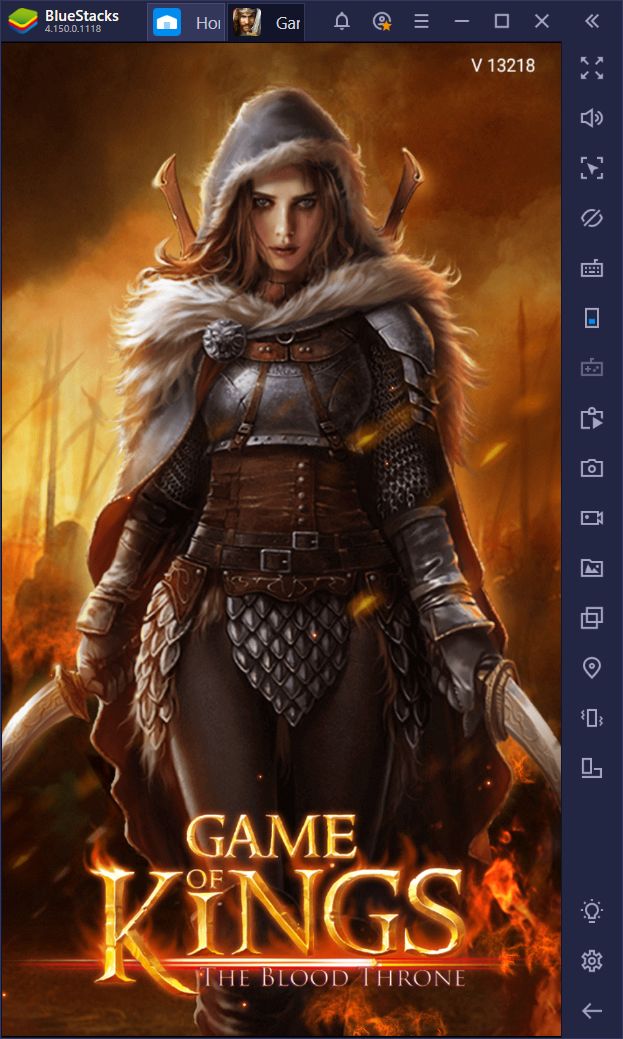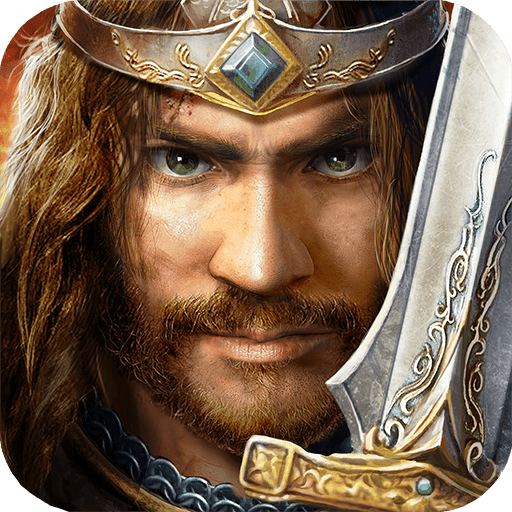 One constant in most war games is the fact that the development of your town often revolves around a single building. This structure goes by several names, depending on the game, but it's usually called your headquarters, castle, or something along those lines. In Game of Kings: The Blood Throne, it's called the stronghold.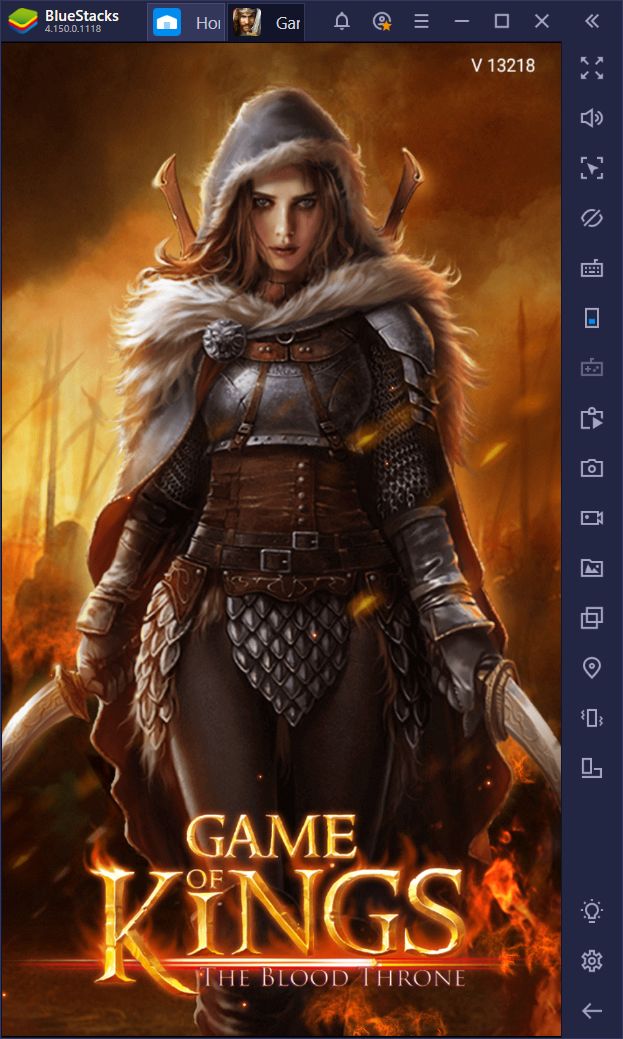 In other games, the importance of this building comes from the fact that none of your other structures can be of a higher level than your stronghold, which means that this pivotal building sets the bar for all the other assets in town. However, in Game of Kings, this aspect is very different as your other structures can easily go higher than your stronghold, significantly reducing the importance of performing timely upgrades to it.
This small detail changes the way you progress in Game of Kings considerably as, compared to other war games, you don't necessarily have to focus on upgrading your stronghold outright and can develop your town in different ways to adapt to the situation at hand. However, with so many options to choose from, what's the best way to progress in this war game? In this guide, we're going to briefly explore the importance of each type of building, and their recommended priority in order to advance in this game.
The Stronghold
As we mentioned above, your stronghold, while not as important as the ones in other war games, is still significant in Game of Kings. Upgrading this structure is vital since, while it doesn't affect the level cap of other buildings, it gives you significant benefits in march capacity, the number of alliance helps you can receive and, most importantly, march slots. Upon reaching stronghold level 7, you'll unlock a second march slot, which allows you to send out two armies simultaneously either to scout enemies, pillage cities, or to gather from the map.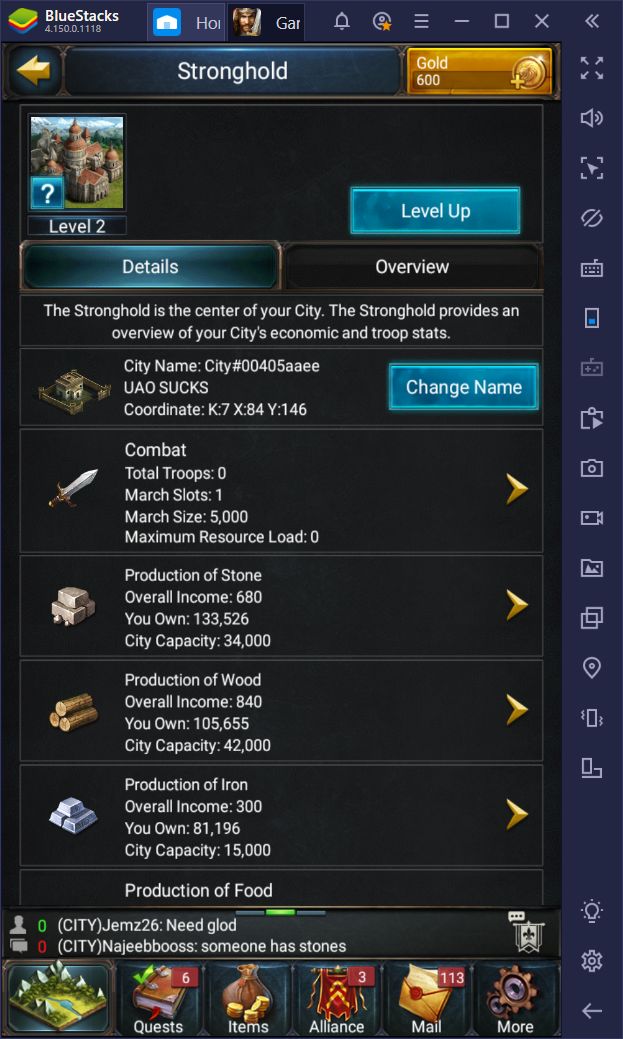 In our guide on tips and tricks to get started in Game of Kings, we talked about how gathering from the map is a pivotal action to supplement the passive production of your town. In this sense, having two march slots will increase your resource accrual greatly since you will be able to dispatch two large armies to gather instead of just one. The effectiveness of this task obviously goes hand in hand with your army size, but you should always be training troops, anyway. By the time you unlock stronghold level 7, you should have a half-decent army that you could split into two groups to do your bidding. At stronghold level 15, you'll unlock a third army slot, which will further help to expand your reach across the realm.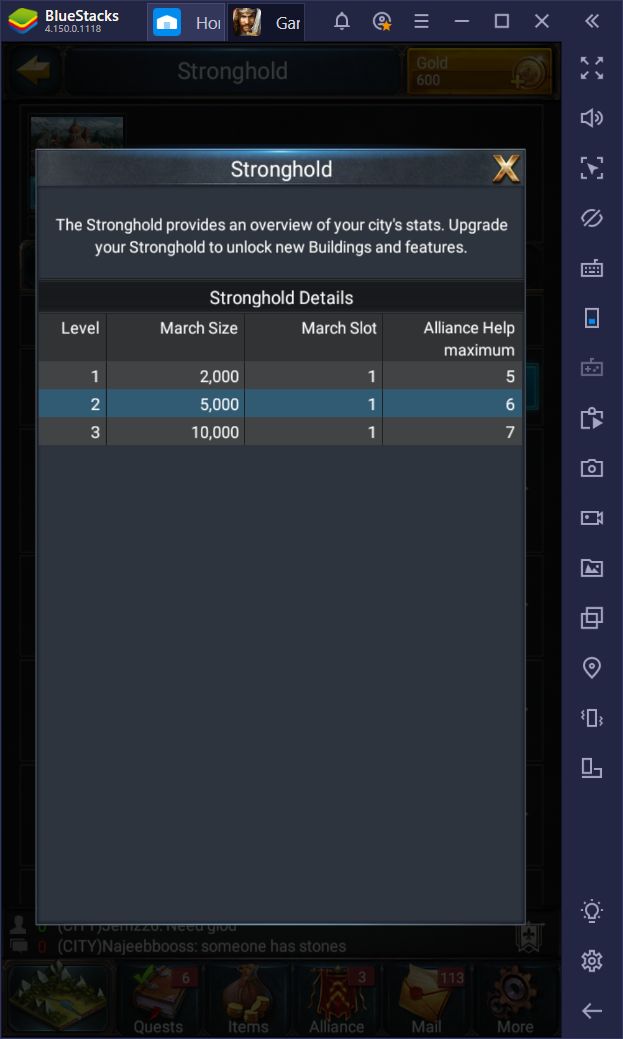 As a general rule of thumb, you'll want to reach stronghold level 7 ASAP. After that, you should only upgrade once your armies grow past your current march size limit. Remember that the more soldiers you can send out, the stronger your army will be. This is important regardless of whether you're attacking players on the map, fighting beasts with your hero, or simply gathering resources.
Production Buildings
In Game of Kings, most of your production buildings, with the exception of the silver-producing residence, are constructed on the rural slots outside your main town. From the very beginning, it's imperative that you fill every available slot with production buildings so that you can establish a passive resource generation ASAP. The distribution of production buildings will vary according to your requirements. At the start, you should focus more on building farms since you'll need lots of food to train new troops.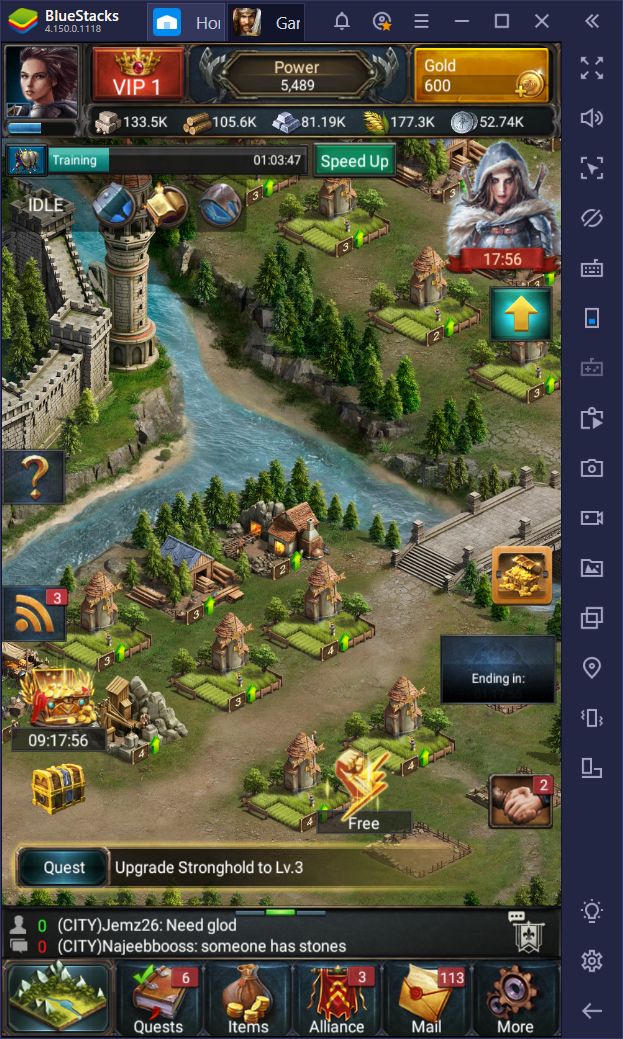 However, as you progress through the game, and your army grows, you'll want to pillage and gather your own food from the map, and demolish your excess farms to make room for other, more important, production buildings. Residences are a bit different since you'll need to build them on your interior slots, which are shared with other important structures such as the barracks. One or two residences should be enough to keep you stocked at the start, but make sure to upgrade them as much as you can.
Military Buildings
All of your troops in Game of Kings are trained in one single building, the barracks. Whether we're talking about infantry and mounted soldiers, to ranged units and siege engines, everything comes from this single structure. Since you're going to want to build an army from the very beginning, one of your main priorities should be building a barracks.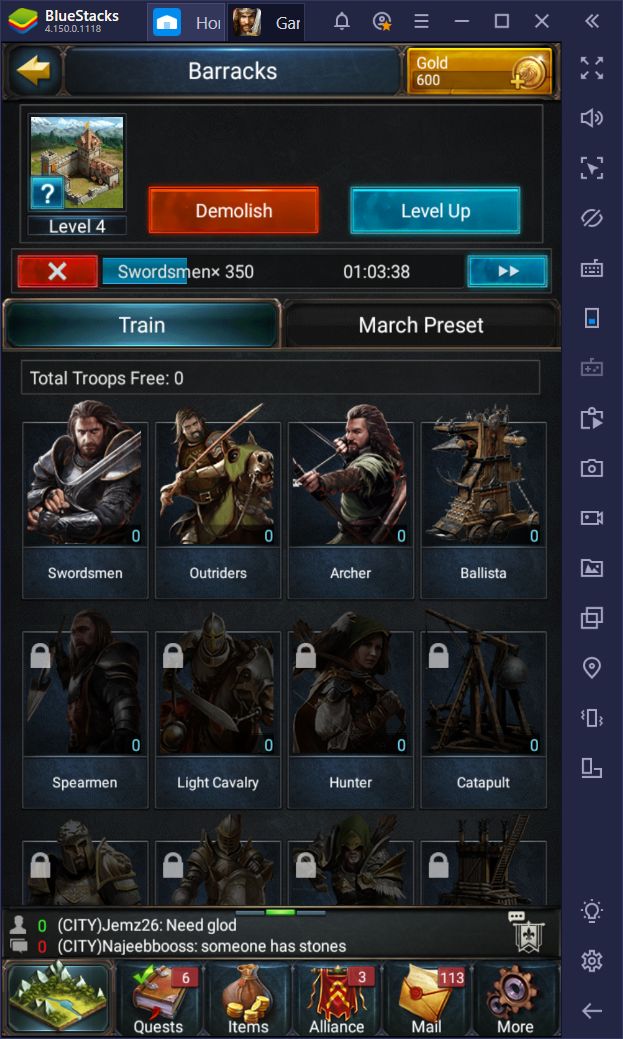 However, in stark contrast to other war games where you can increase your training speed and training capacity of the barracks by constructing support rural buildings such as war camps, there's no such thing in Game of Kings. Instead, if you want to increase the speed at which you can build an army, you'll need to construct more barracks. For each barracks you build, you will be able to train more troops at the same time. Furthermore, the more you upgrade these structures, the more troops you'll be able to train.
A good starting point here would be three barracks. With three barracks at level 4 each, you'll be able to train 450 soldiers in just under two hours. While this isn't a very high number of troops, it'll definitely add up. And remember, always train infantry first as these units are great for gathering resources from the world map, which will come in handy at the beginning. For added convenience, you could make a BlueStacks Macro to automate training troops. Take a look at our BlueStacks usage guide for Game of Kings to learn more.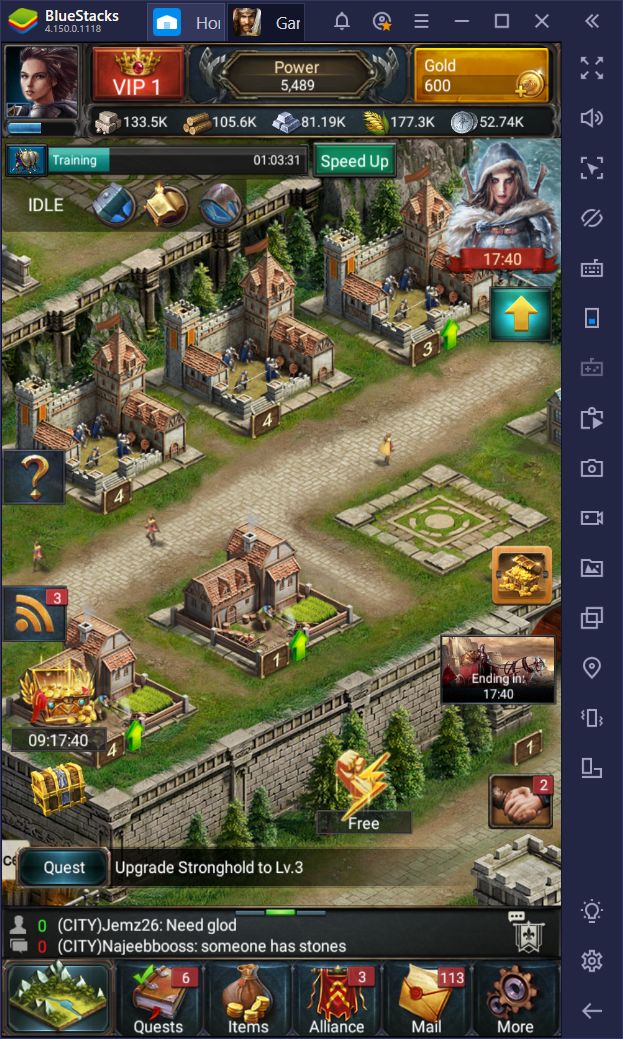 Build Until You Drop!
Given that your stronghold is not as crucial in Game of Kings than in other war games, you have much more freedom to develop your town however you see fit. However, if we'd have to recommend a good building route, we'll always prioritize getting your stronghold to level 7 as that extra march slot is just too good to pass up.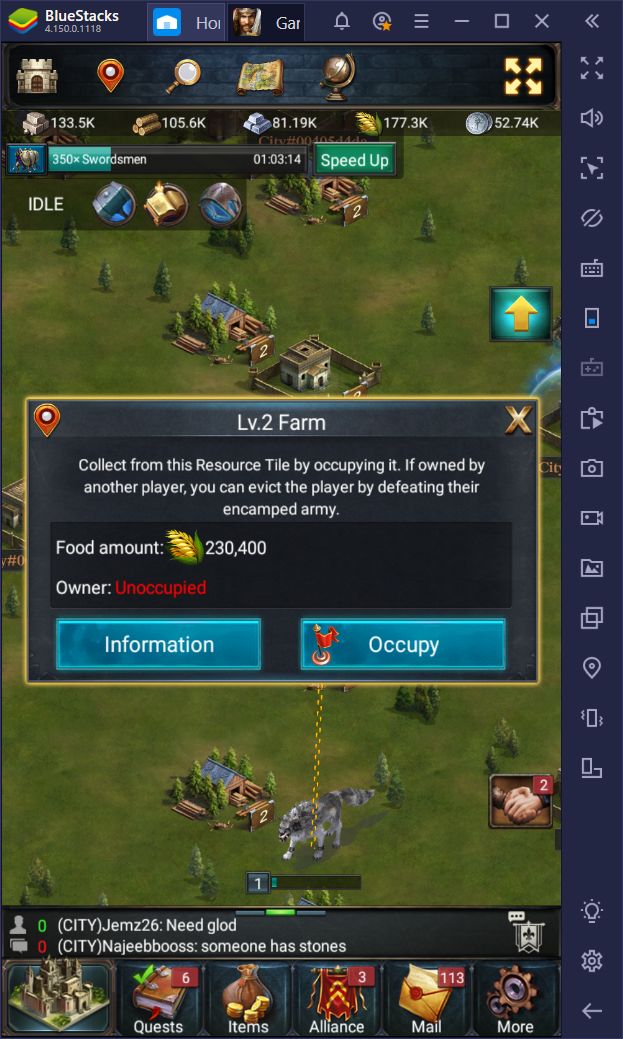 However, before committing to developing the stronghold, make sure to build at least three barracks and get them to level 3 or 4. While you're busy upgrading your stronghold, which will take a while, you can also train troops and raise an army. Furthermore, you should also fill all your rural slots with production buildings in order to start generating resources passively. Even a level 1 building is better than not having any at all.
And remember, while you're upgrading your buildings, you should ALWAYS send out your troops to attack monsters or gather resources from the map. This practice will help to further boost your resource production, especially once your army grows to a decent size and can bring home tons of materials.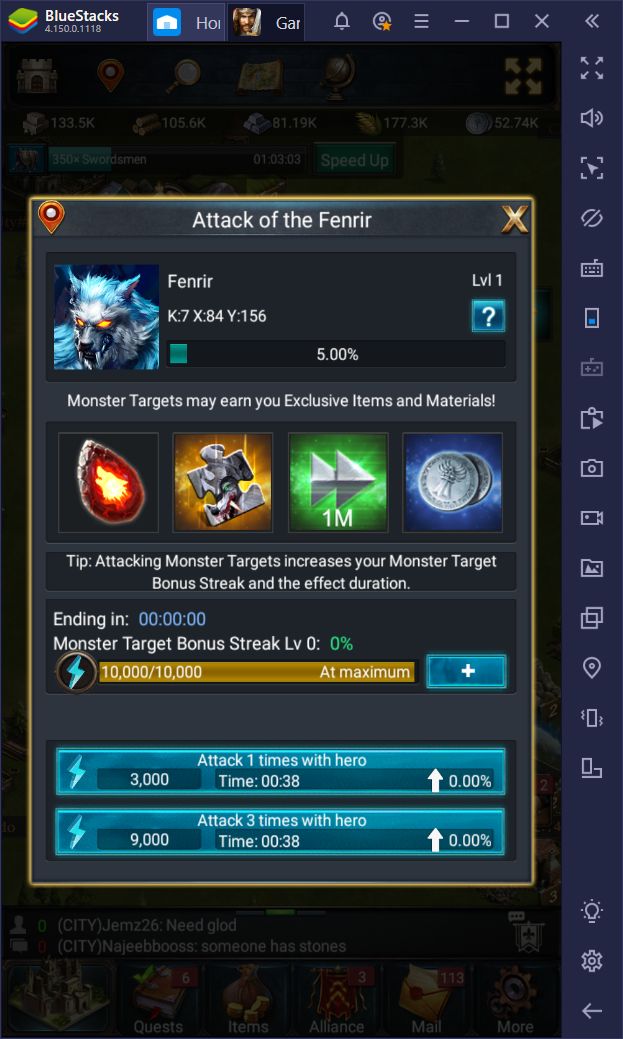 Have you already started your city in Game of Kings? What are your building strategies in this game? Leave us a comment in the section below if you want to chime in with some useful advice for this awesome war game!