Game Guides
KonoSuba: Fantastic Days on PC – How to get the Best Experience With BlueStacks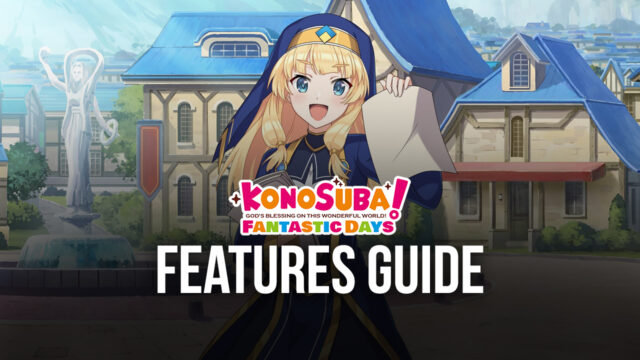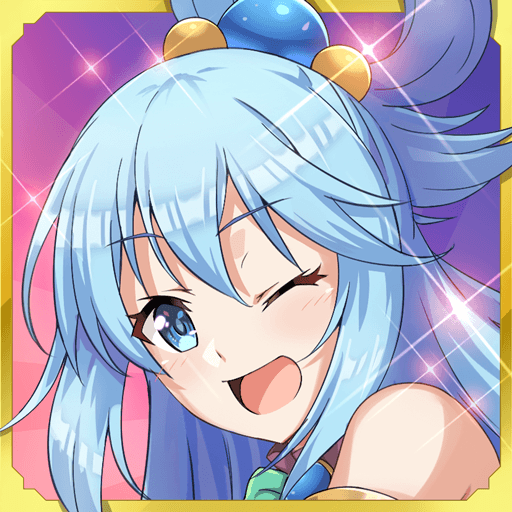 The new KonoSuba: Fantastic Days released just a few moments ago today on Android and iOS, allowing users to dive into the universe created by the popular novel and anime series. This game is set in a world parallel to our own, in which our protagonist is reincarnated after suffering an untimely end on Earth. Instead of going to heaven, he was given a choice to travel to this new world and try to solve the problems that were brewing within.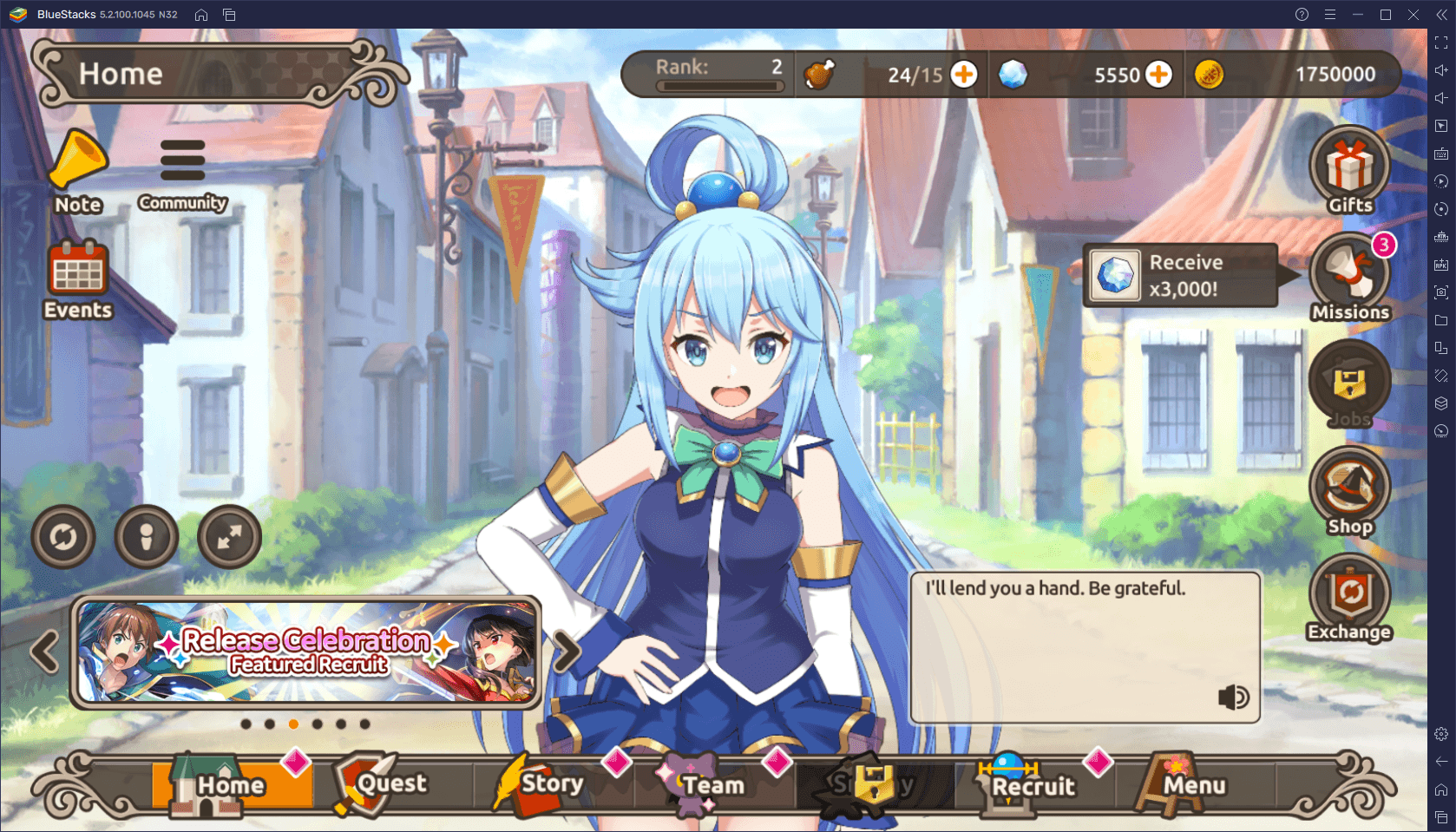 Along our travels, we will meet new characters and have a variety of interesting and funny encounters as we make our way through the main story completing missions and quests. And when it comes to meeting new characters, the only way to do so in KonoSuba: Fantastic Days is either through completing certain missions, or by summoning them from the gacha system—mostly the latter. And just like any other gacha, you can reroll in KonoSuba to unlock the best characters from the beginning. We've written a guide dedicated to rerolling in this game, feel free to check it out.
Despite featuring an interesting and entertaining story, KonoSuba: Fantastic Days is still a video game. And despite it releasing only on Android and iOS, you can have a much better experience with this title by playing KonoSuba on PC with BlueStacks. Our Android emulator is the fastest and lightest in the market, and also gives you many useful tools to enhance your gameplay in any mobile game.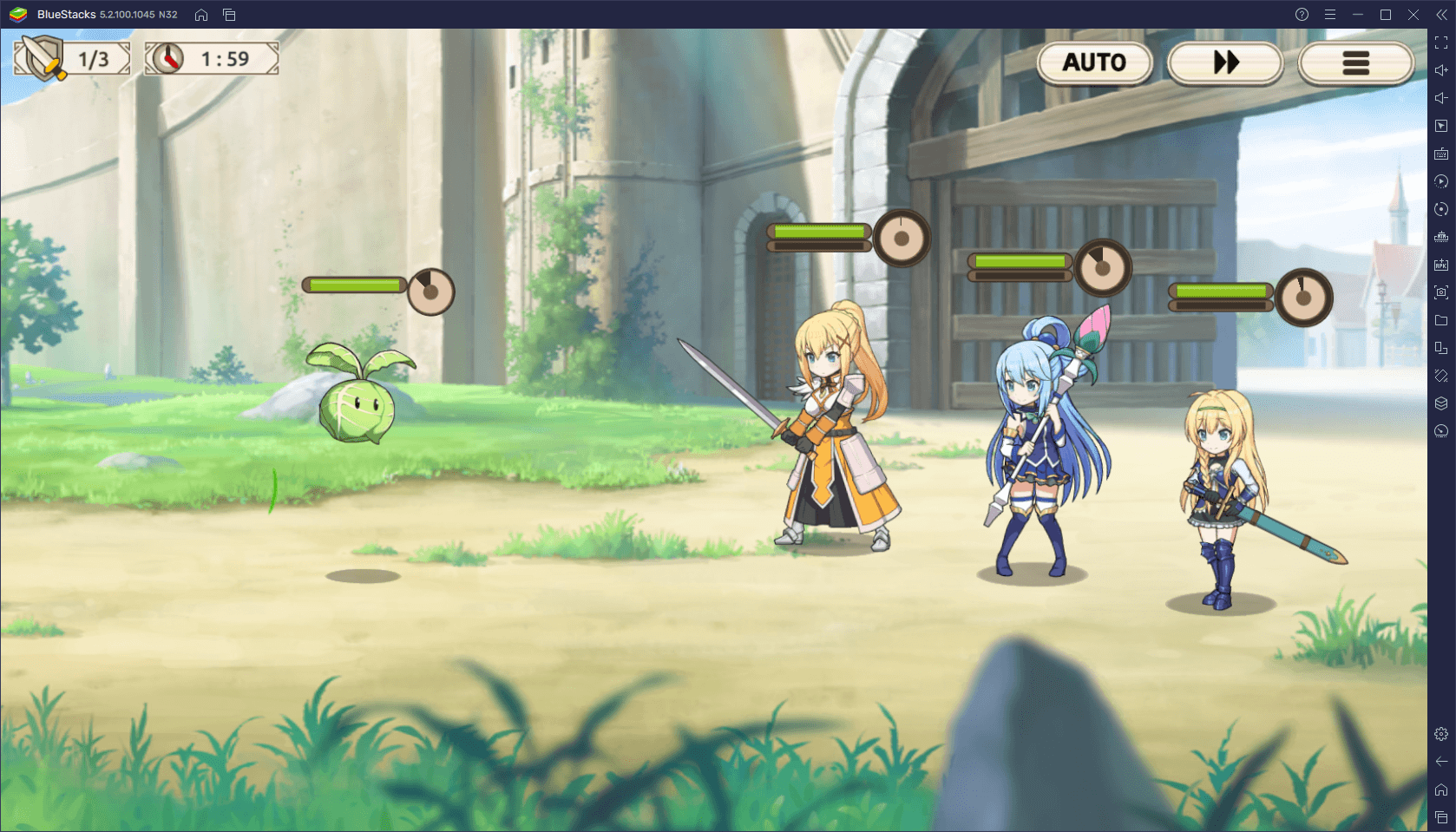 In this guide, we're going to show you how to configure BlueStacks' tools to improve your experience with KonoSuba: Fantastic Days.
Achieving the Best Performance
Like many mobile games that have launched recently, KonoSuba features top notch graphics and stellar performance. And considering that the game was published by Nexon, it's also quite polished and runs pretty well on most devices. However, in order to achieve the best performance and graphics, you need a decent device, or else you'll be stuck with the lowest framerate settings, and might even experience slowdowns or lag.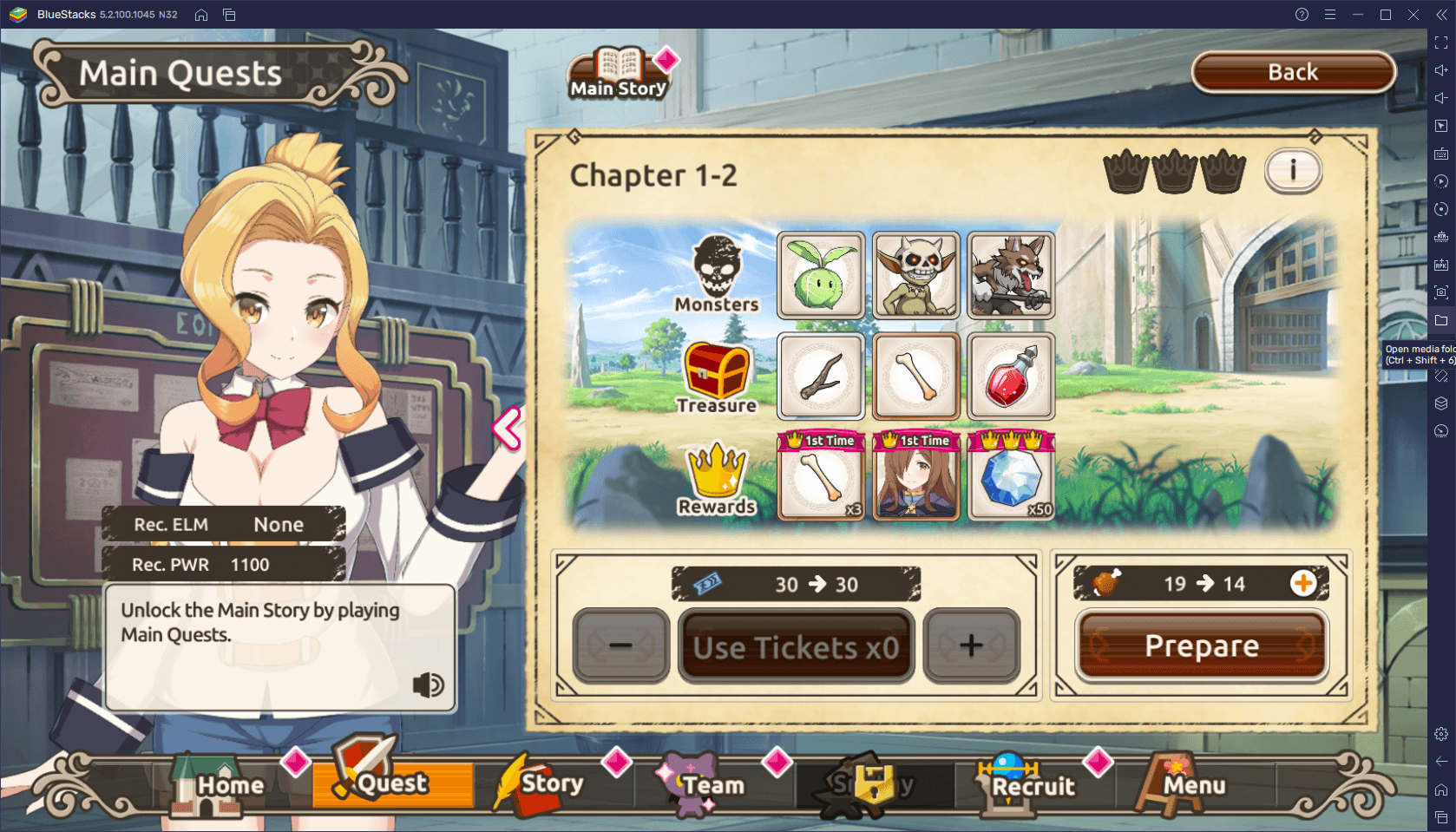 With BlueStacks, you don't really have to worry about any performance issues since our emulator is much faster than even the best phones currently on the market. Furthermore, since you'll be playing on PC, you can also forget about any battery drainage and overheating issues.
However, in order to achieve the best performance, not only does your PC have to meet the recommended requirements to run BlueStacks 5, which are quite accessible by today's standards, but you also need to configure your emulator and game correctly. To keep things simple, here's a quick rundown on how you should configure your BlueStacks to get the best experience:
Go to the BlueStacks settings menu by clicking on it in the hamburger menu on the top right of the window.

In the Performance tab, make sure to assign 4 CPU cores and at least 4 GB of RAM to the emulator.

To ensure the best and smoothest performance, set the performance mode to "High Performance". This will make the emulator consume a bit more RAM while running, though.

Exit the menu and go to the settings panel in KonoSuba: Fantastic Days.

In the System settings tab, make sure that the Frame Rate is set to "High".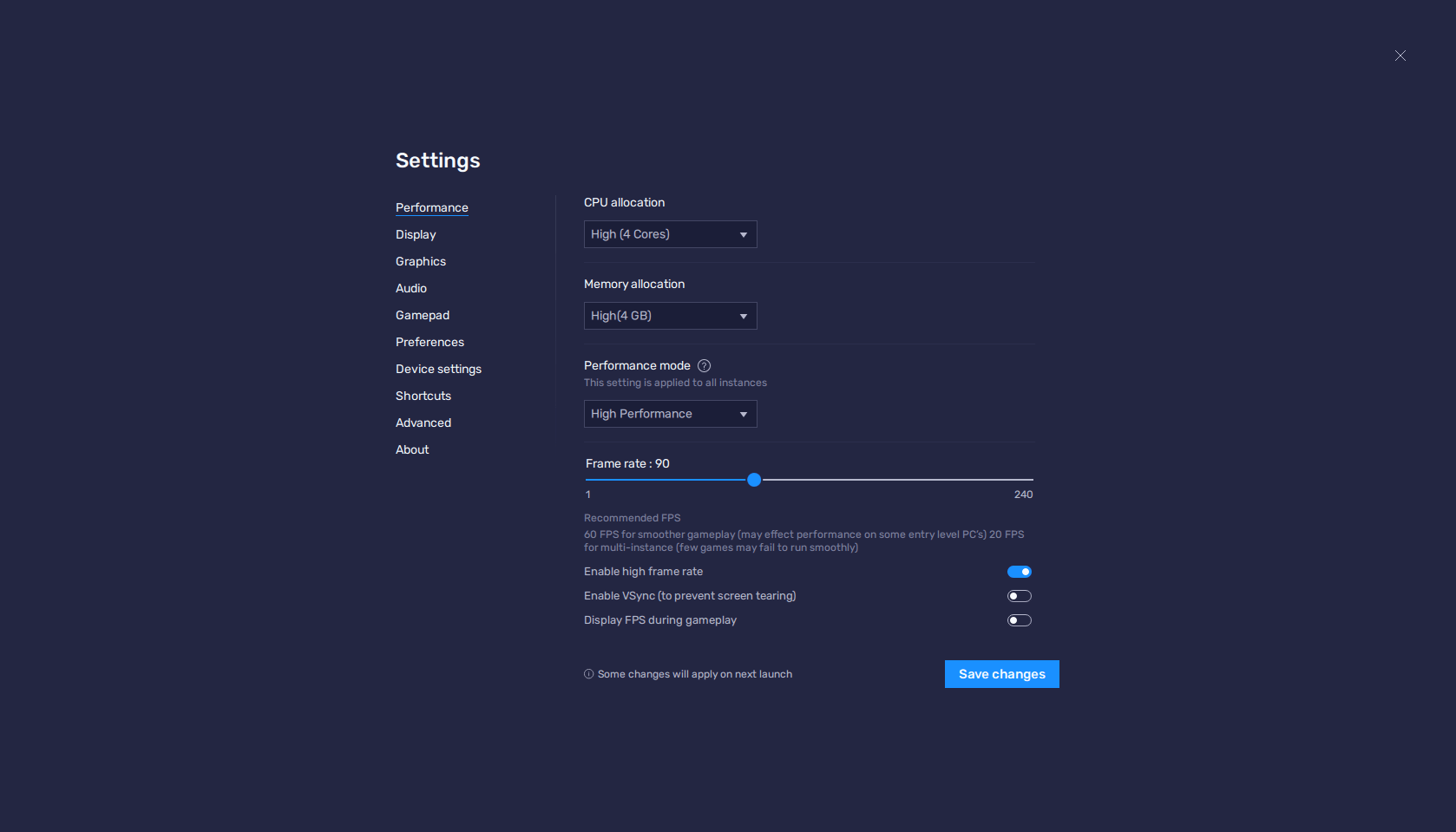 And that's it. With these settings, you'll be getting the best graphics and performance in the game, without the drawbacks of playing on your phone.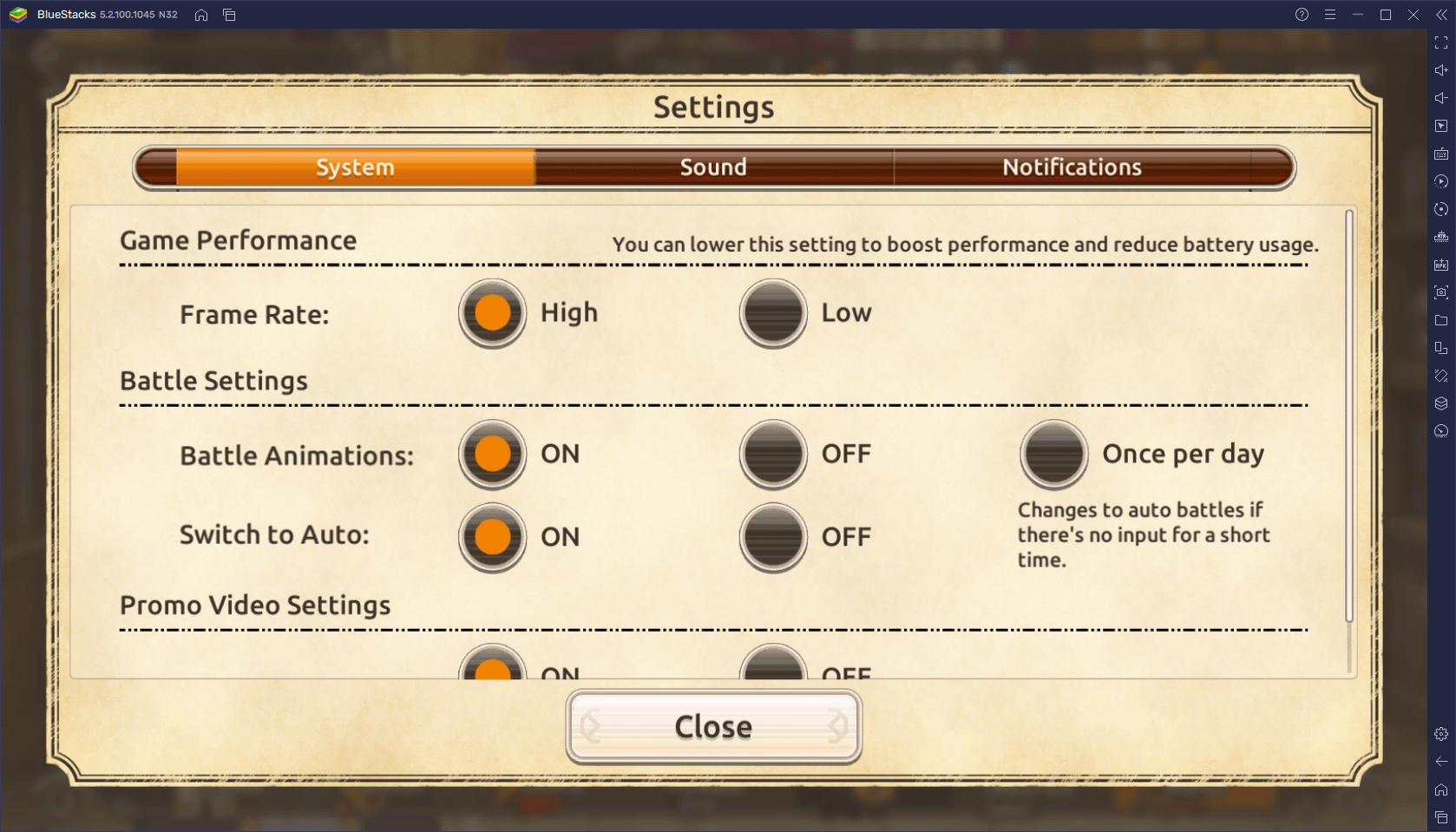 Configuring Your Controls
Another important part of the gameplay is, well, being able to control the game effectively. BlueStacks can also help in this regard thanks to its Keymapping Tool, through which it's possible to create customizable control schemes for any game.
Though the combat can be automated pretty easily in KonoSuba: Fantastic Days, there'll be times when you need to assume manual control. In these cases, BlueStacks lets you control the action using only your keyboard, without having to move back and forth manually clicking everywhere on the screen.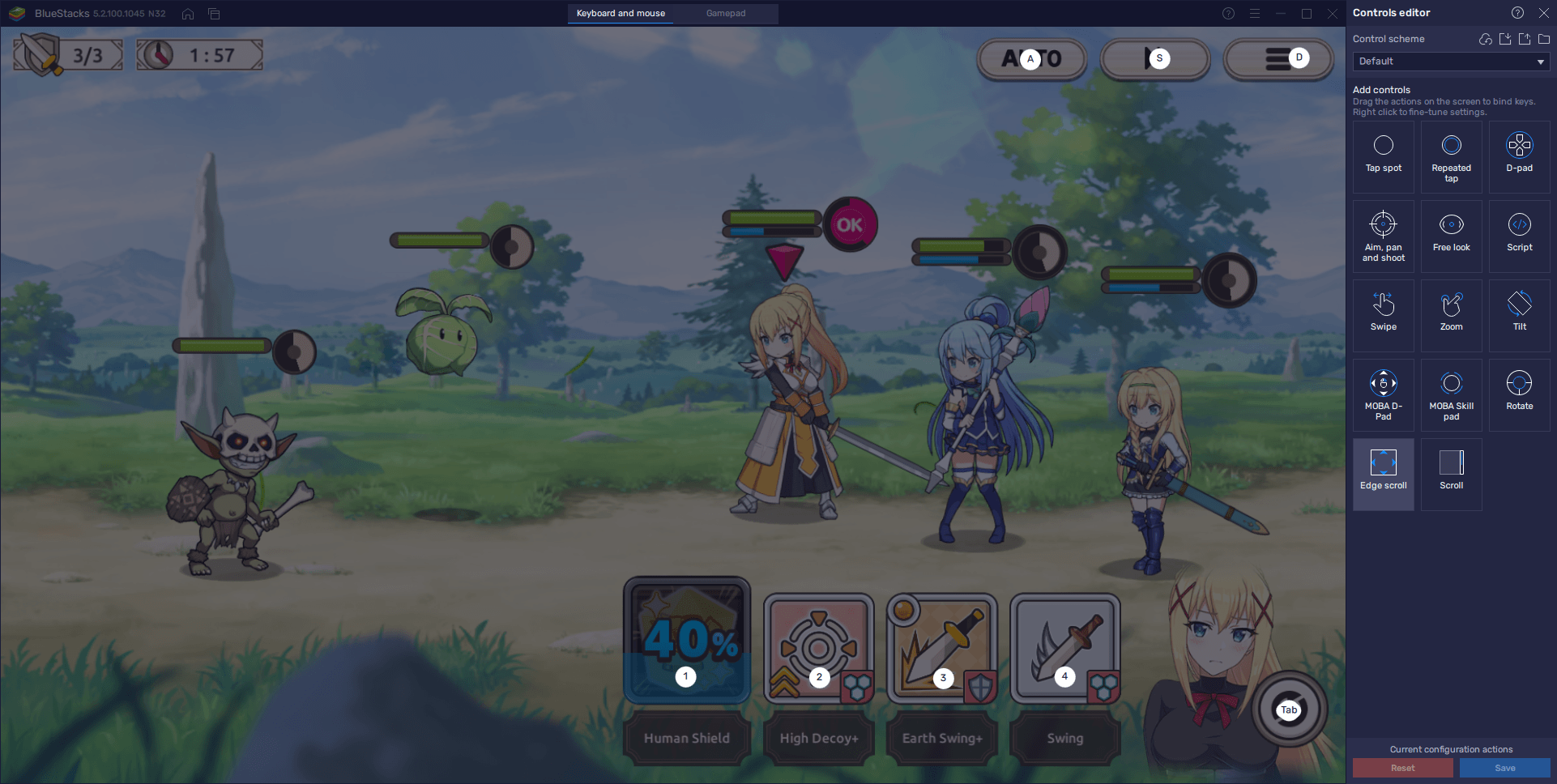 In order to access the Keymapping Tool, you must press Ctrl + Shift + A while in-game. And though this game already comes with a predefined control scheme, created by us here at BlueStacks, you can easily change these bindings by clicking on them, followed by tapping on the desired key. Also, you can add new shortcuts and functions by dragging and dropping them from the panel on the right.
Simplify and Speed Up Rerolling
Aside from enjoying the best controls, graphics, and performance, BlueStacks also streamlines the process of rerolling, which is something that is popular in most gacha RPGs. Simply put, this process consists in using the free summonings that players get after completing the tutorial, and then restarting as many times as necessary until they get a few powerful characters. This will effectively give the player a head start as good units can make the early game a breeze.
With BlueStacks, you can use the Instance Manager to speed up the reroll process by doing it on multiple instances simultaneously, instead of conforming to rerolling only on one instance. With this feature, you can reroll on two, three, four, or on as many instances as your PC can handle. And if you add the Instance Sync tool to the mix, you can reroll on multiple accounts without the extra effort of having to play on each of them individually. Check out our rerolling guide to learn more about the topic.
BlueStacks can significantly improve the way you experience KonoSuba: Fantastic Days. Not only does our emulator give you the best performance, but it also gives you the means to play comfortably and with numerous tools to enhance your gameplay.