Game Guides
How to Reroll in Lineage 2 Revolution with Bluestacks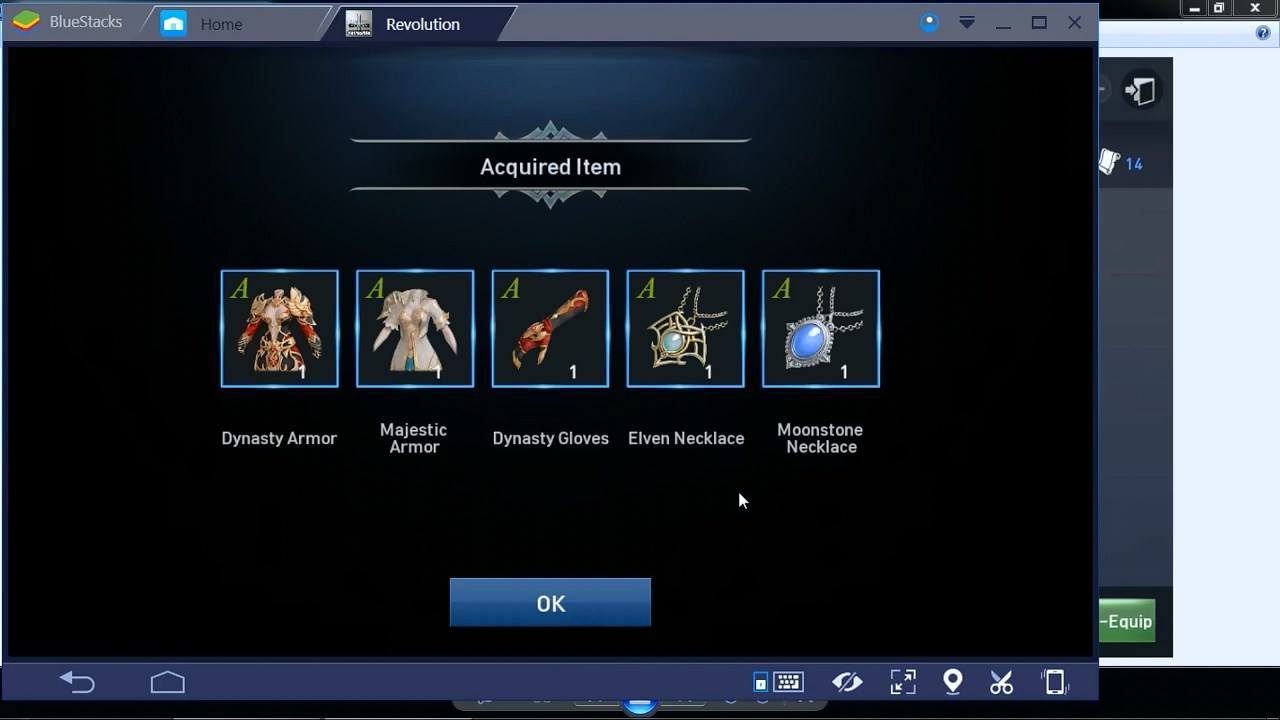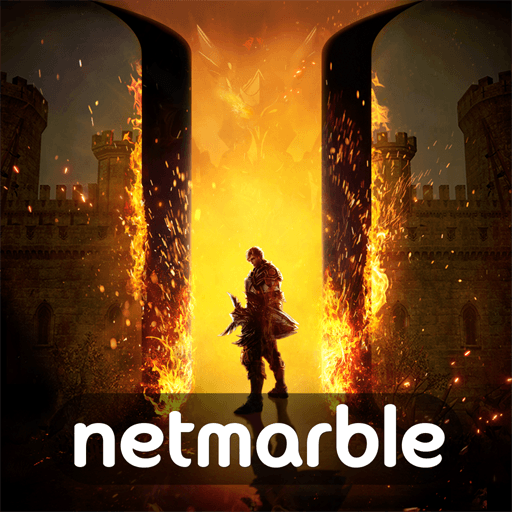 If you're even slightly familiar with Lineage 2: Revolution (if not, giving you all the more reason to read this), you would know that a new player starts out with a rank A up to rank SR Equipment Box for FREE. You could end up getting a 'rare item' too. It could also come with other items in the Account Mailbox (events dependent) but the main focus here is that specific Equipment Box.
The idea is to try to get at least a rank S item or higher from opening that box. But unfortunately, most of the time, you'll end up with rank A equipment. This will leave your character's Combat Power (CP) usable but low in comparison to what might have been possible with a little luck on your side.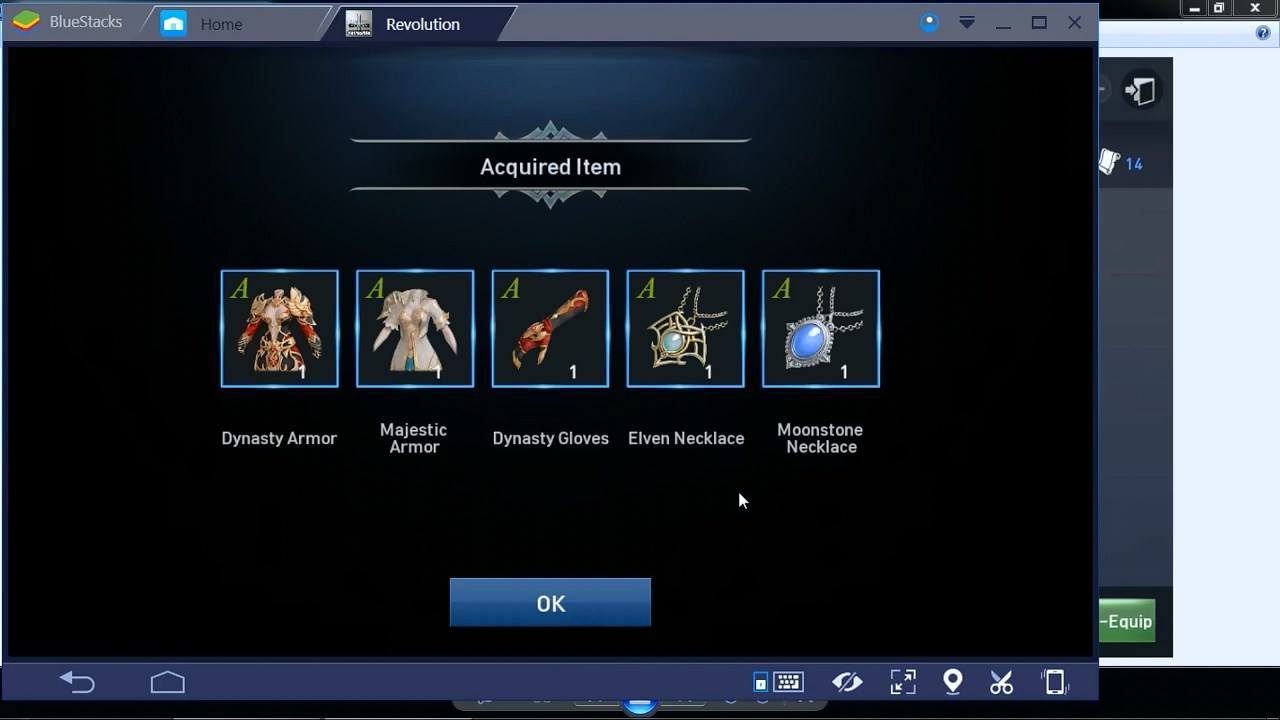 Rerolling is simply a method to reset the guest account. The aim is to get another chance to get better equipment from the free equipment box. Yes, you could end up getting 1 or more SR ranked items from that box and yes, rerolling does take some luck!! You'll find that some rerolls will once again leave you with rank A items. That's ok since you can repeat the process as much as you like until you link the current guest account!!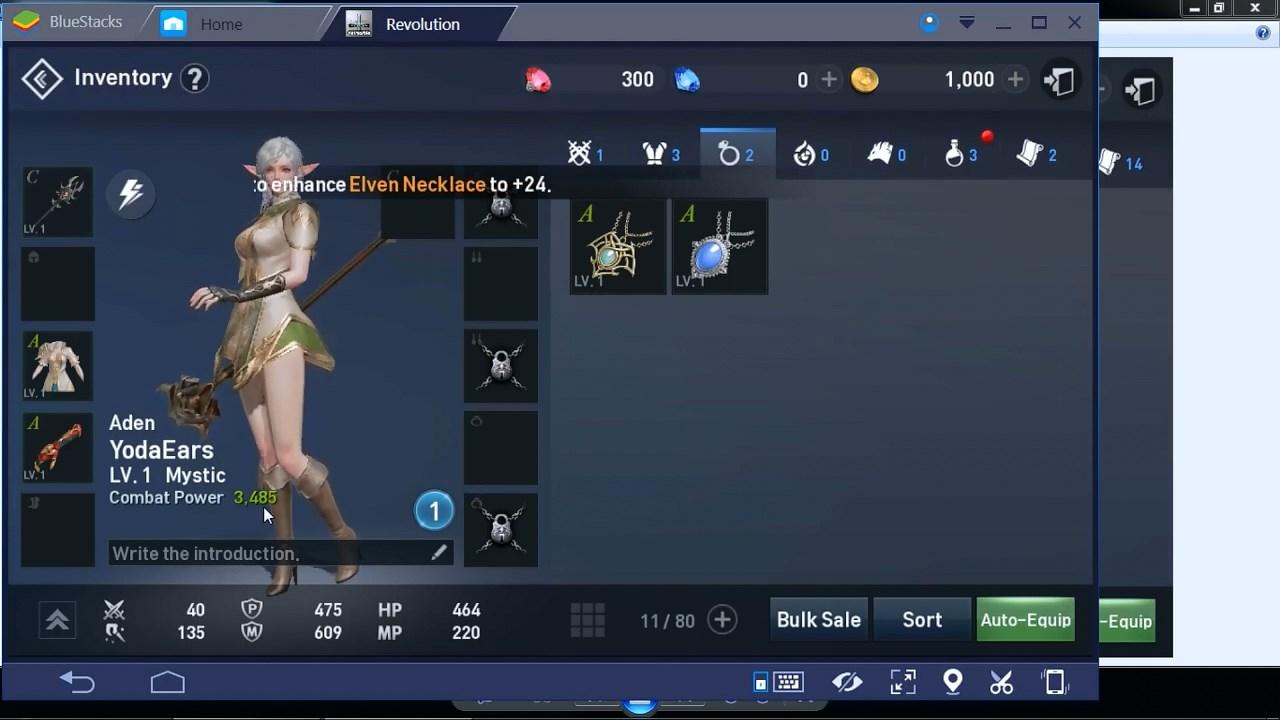 As you can see in the above 2 screen shots, when we first started on this guest account, we didn't catch any luck at all!! Some players gain a rank SR item(s) even on the first try. Again, completely depends on how generous the Gods are feeling at that particular moment. When you look at the above screen shot, you'll see that this character is level 1 with only 3,485 CP. Unfortunately, the equipment box in this case also came with 2 necklaces. Those are completely useless until the Class Transfer quests are completed. Those quests won't start until your character reaches level 31. So we can't even count those 2 necklaces yet.
But after rerolling several times, we managed to get a nice blend to work with as showing in the screen shot below.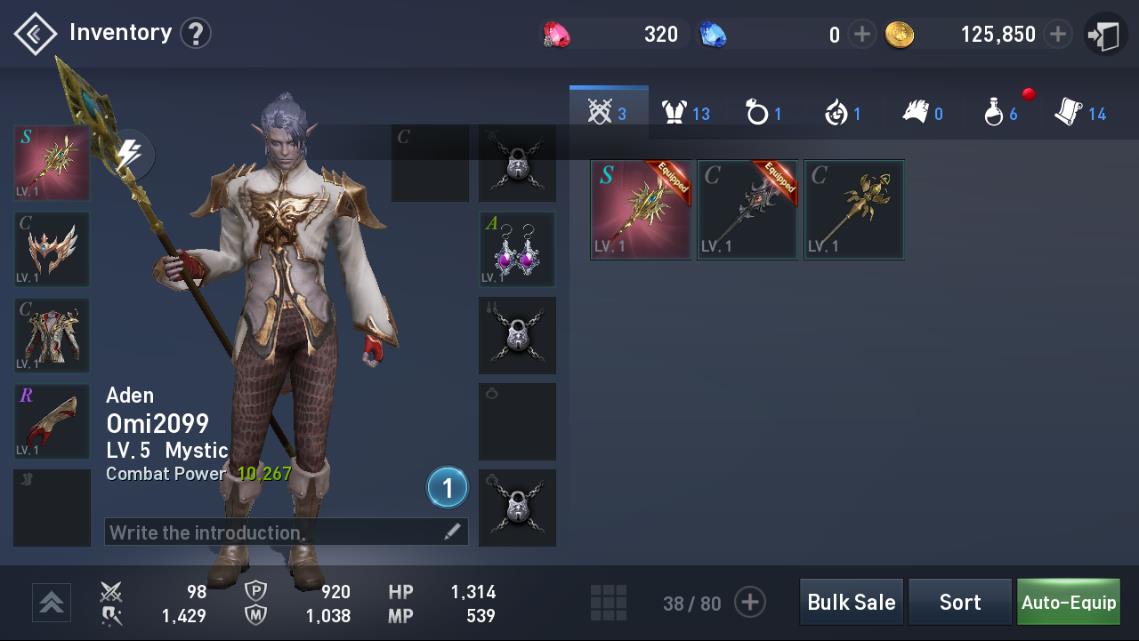 This character is level 5 with 10,267 CP. This one took 3 rerolls before we decided to keep it since we liked the options in the items gained. But since you'd be rerolling for your CP, you get to decide when to keep it!! As you can see, we gained a rank R gloves and a rank A earrings. The rank S weapon came via an event. When this character was at level 1, it had over 7,000 CP which is a pretty okay start. It wasn't the greatest start in the universe but considering this character is easily blazing through the quests, it's a pretty okay start, we'd say!!
What's needed to reroll?
If you've gotten this far, then you must already have Bluestacks 3 and Lineage 2: Revolution installed and running. From there, you simply need 1 account (for new players) or more for existing players. Even if you're a new player to the game, there's a chance you'll need more Google accounts if you want to make more characters.
Do note that if you make another character in the same account, you won't get the equipment box you're after by rerolling.
How To Reroll
For First Time Players
Start Lineage 2: Revolution and when you see the login screen (it's to link an account), just click an empty area of the game screen (any empty area). The login screen will go away and you can continue without a problem.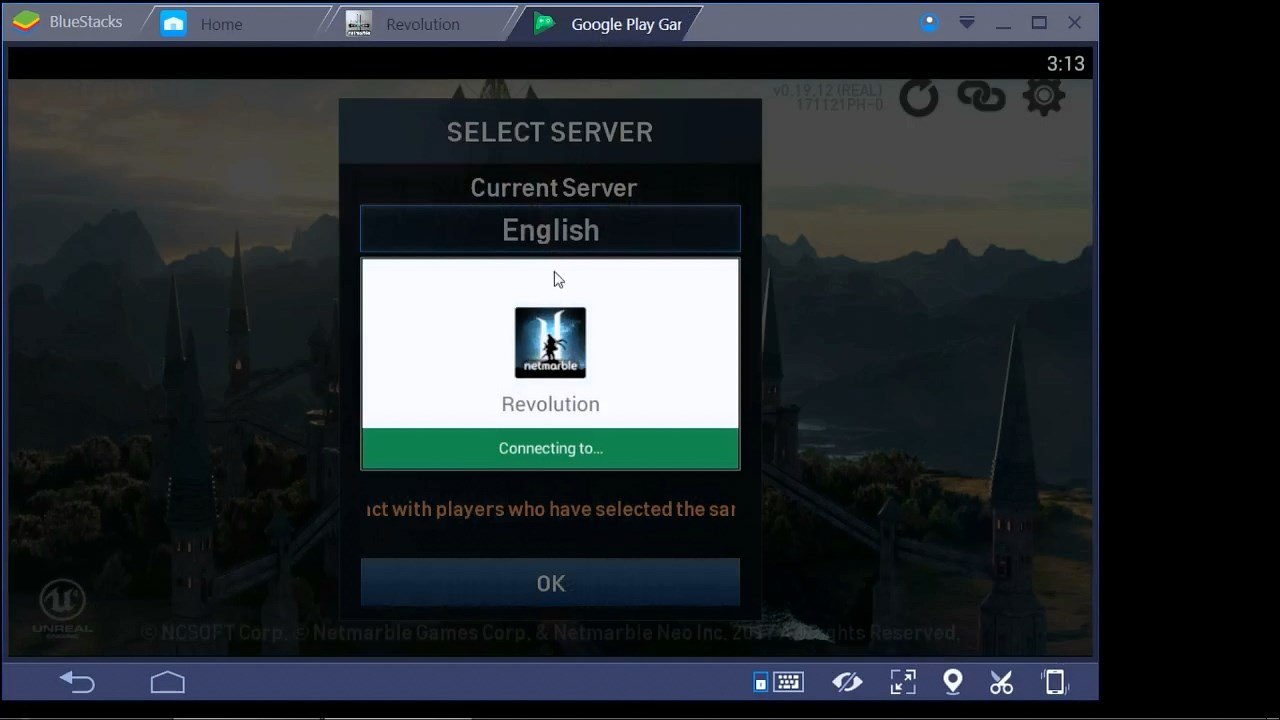 You'll typically be given the option to start in the newest (as of December 2017) server. You can choose to play in any server you like. In the screen shot below, the selected server is Aden.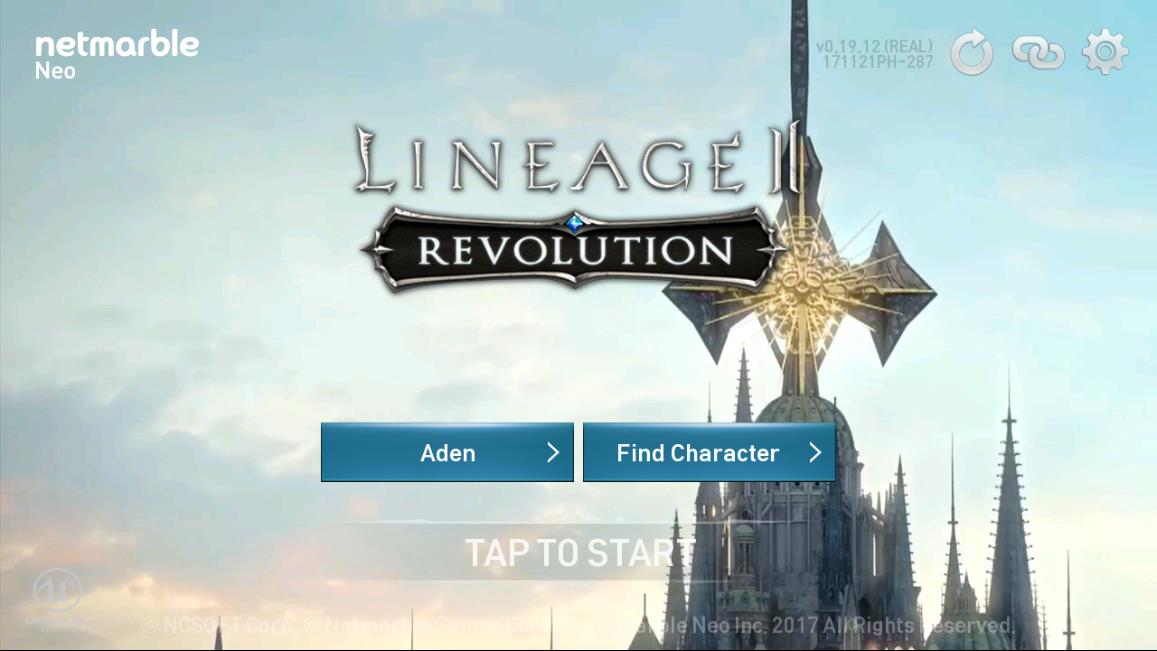 Once you start the game, you'll have to download (as of December 2017) 1.3GB+ worth of data. These are the patches to update the game. Click the OK button and let that complete.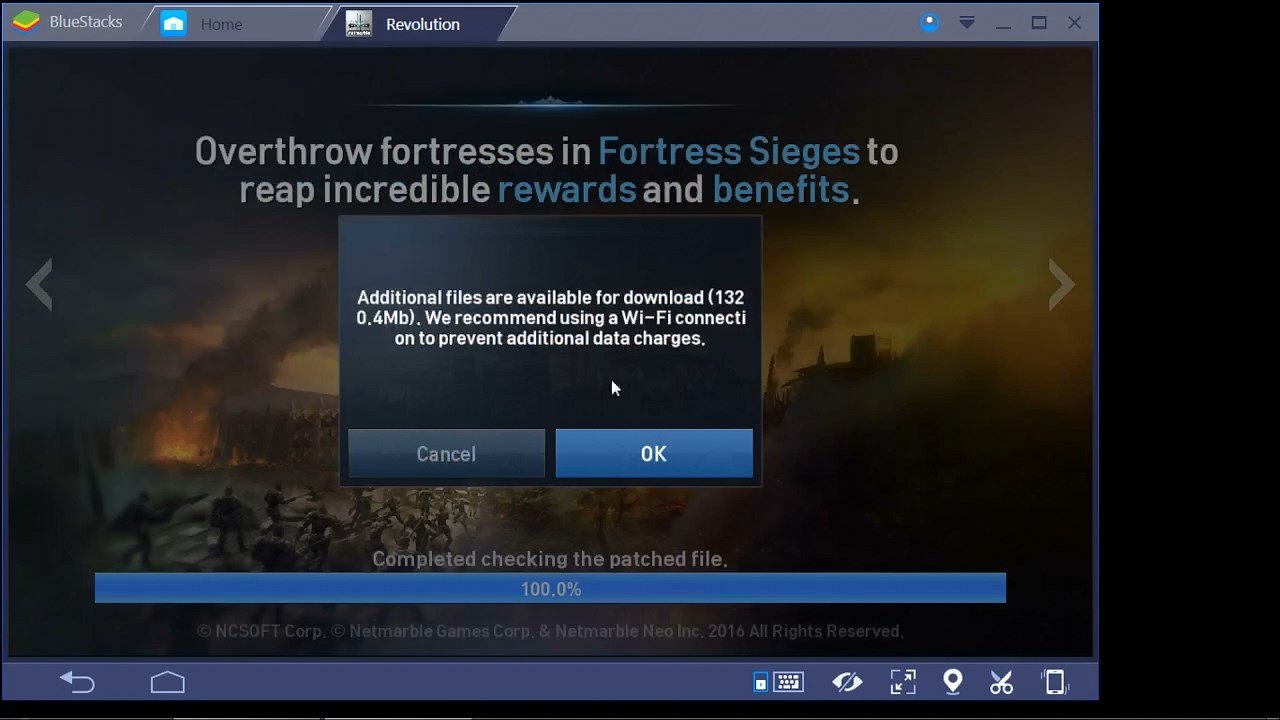 Once that's complete, you can either watch the opening videos or skip them. It's your choice!! You'll then proceed to make a character. Since this is the first time you're playing, I hope you checked out some details about the characters beforehand!!
You can refer to the Bluestacks Guide for Top 5 Classes to Play Lineage 2 Revolution, in order to make the right choice of character to start playing the game.
Once you're in the game, you can either go through the tutorials or skip them. Again, it's your choice!! But once you're able to do so, you'll see you have things to collect in the mailbox (the envelop icon) in the upper right area of the screen.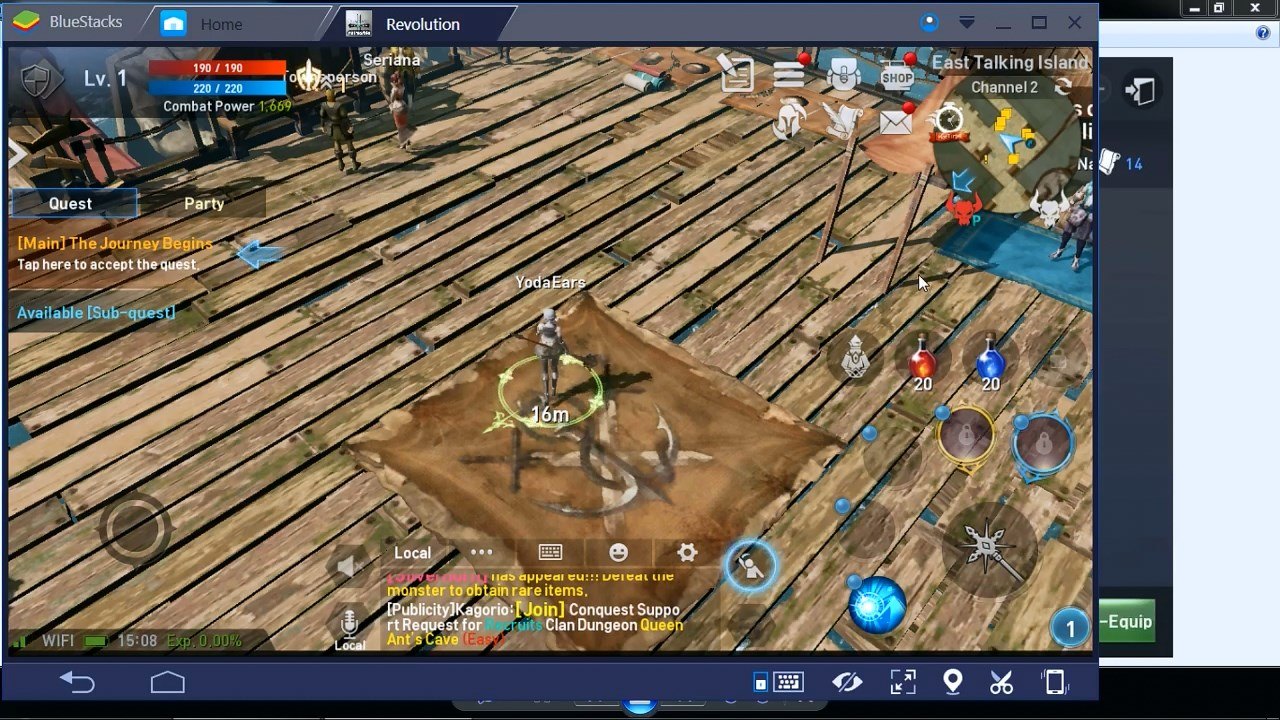 Click the envelop icon to open the mailbox and go to the Account mailbox. Click the Collect All button to send all items from your Account mailbox to your inventory.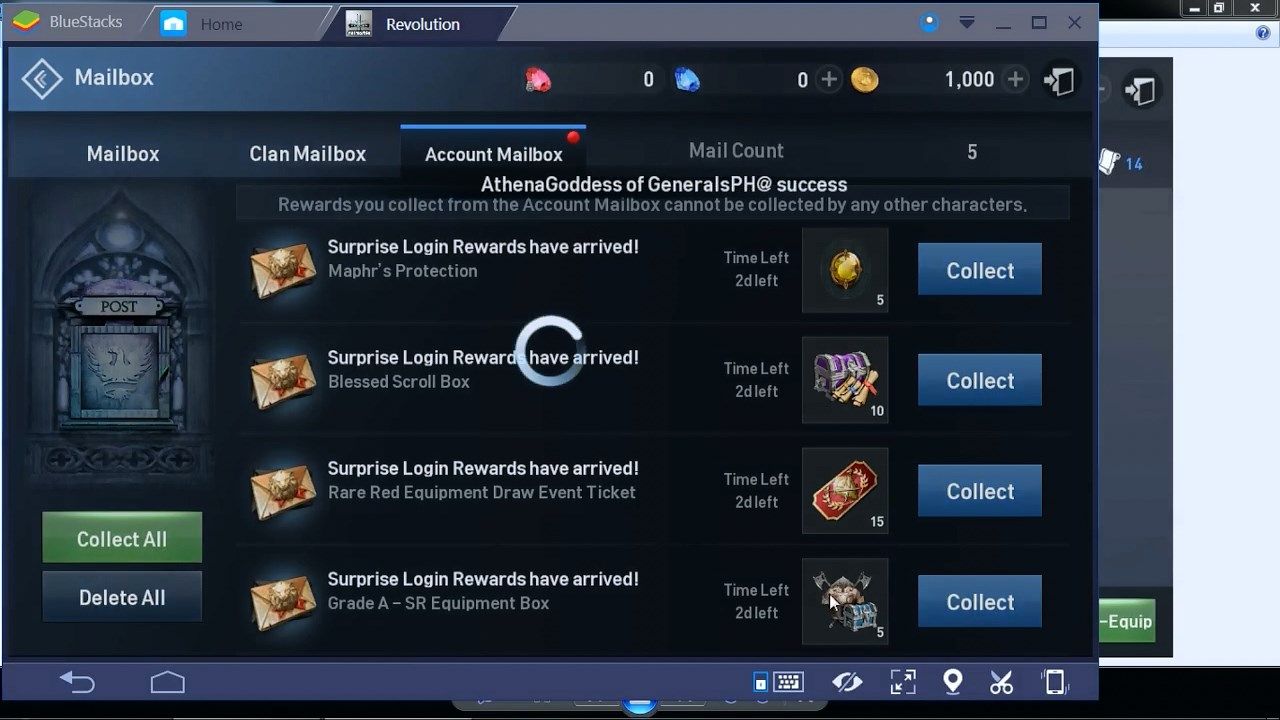 Depending on when you start playing Lineage 2: Revolution, you might see different items depending on the current events of the game. But in the screen shot above, you can see it's the last item in the list that we're after. That's where you can gain your rank A up to rank SR equipment. Looking at the very first 2 screen shots above, you'll notice that the "grand opening" for that guest account wasn't exactly spectacular!! Now it's time to reroll.
Click the Menu button (three horizontal lines icon), then click on the Settings button, and click the Info tab. You have to go back and delete the character as it is. Click on the Character Select button.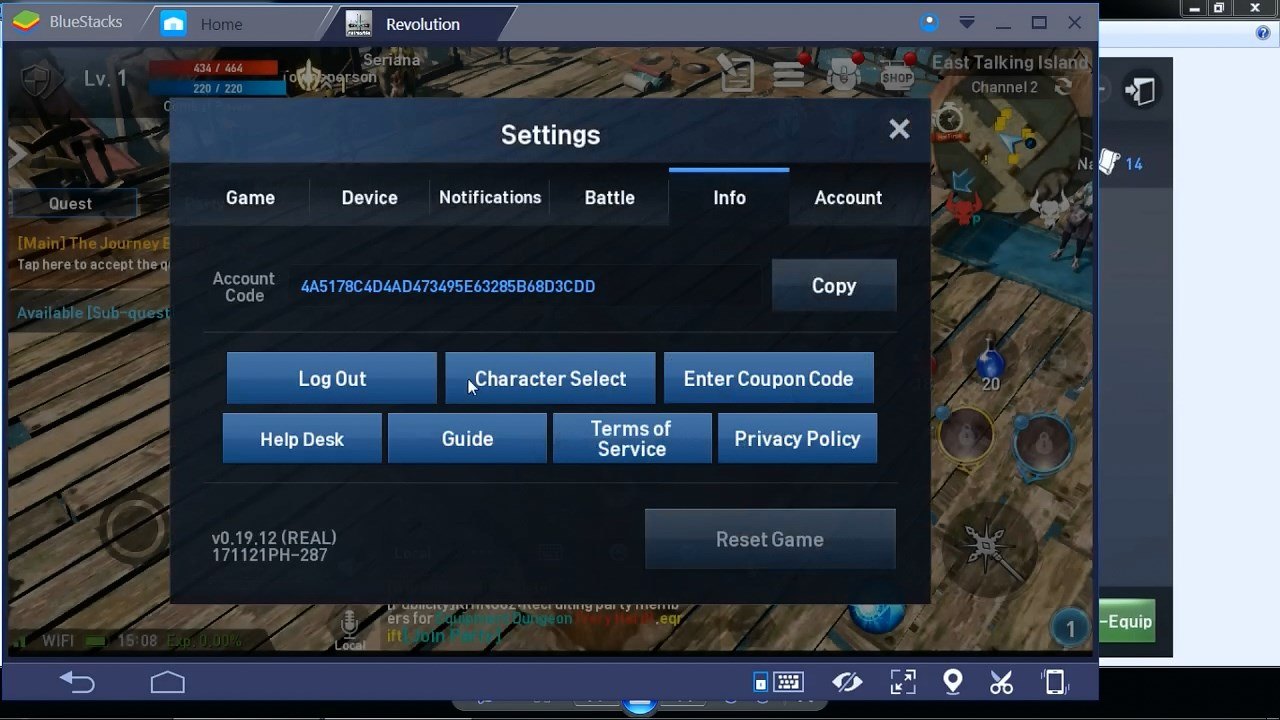 You'll be brought back to the character select/creation screen.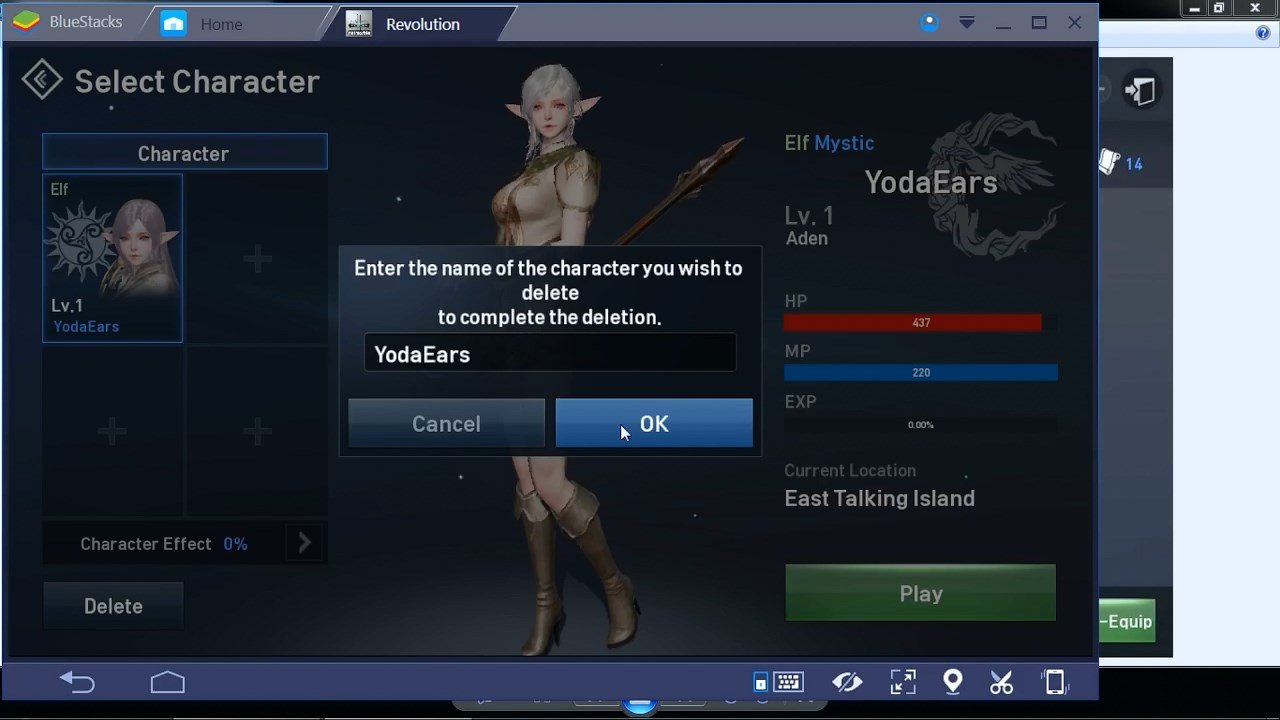 At this point, you have to delete the character. You can't leave it in the guest account at all. Once the character is deleted, click the Back button in the upper left corner of the game screen. You'll be back on the title screen. Simply exit the game.
Now you need to get into the Bluestacks Settings. It's the same stuff for when you're setting up an Android mobile device.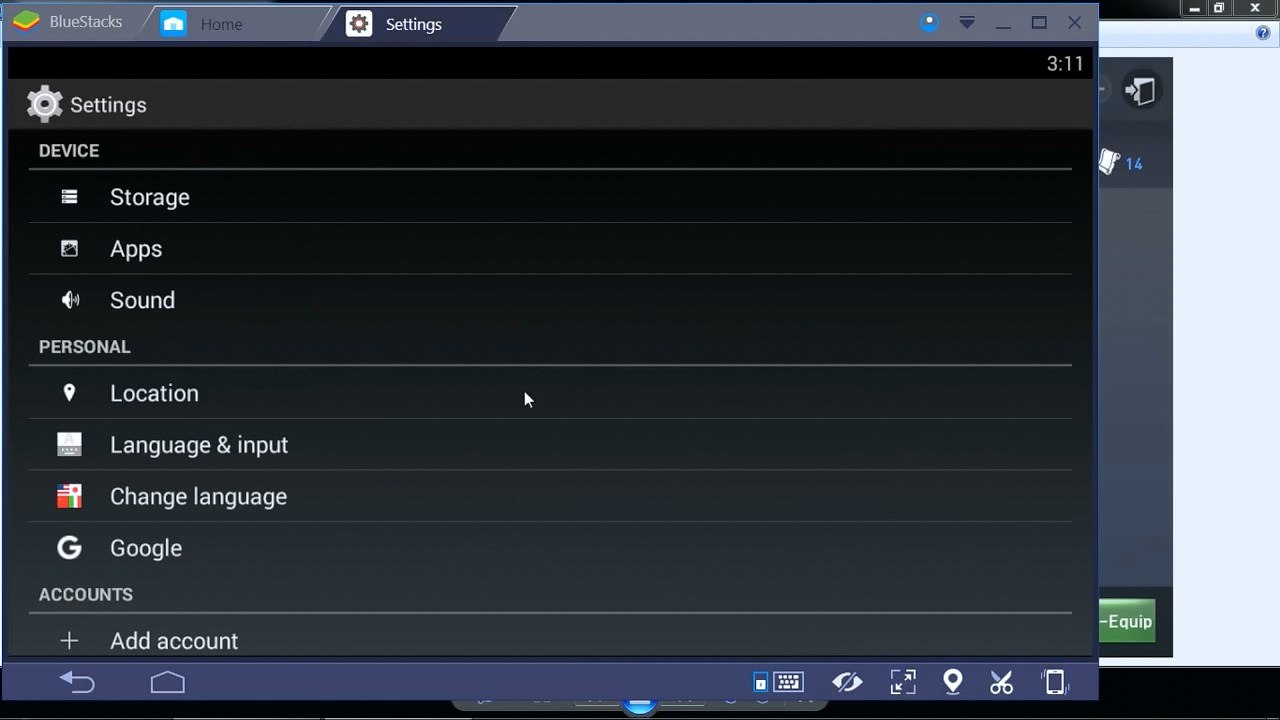 While in the Bluestacks Settings, go into Apps. Then look for the Lineage 2: Revolution icon and click on it. Once inside those settings, simply click the Clear data button and you're done. Once it's done, exit the Bluestacks Settings (don't exit Bluestacks) and restart Lineage 2: Revolution.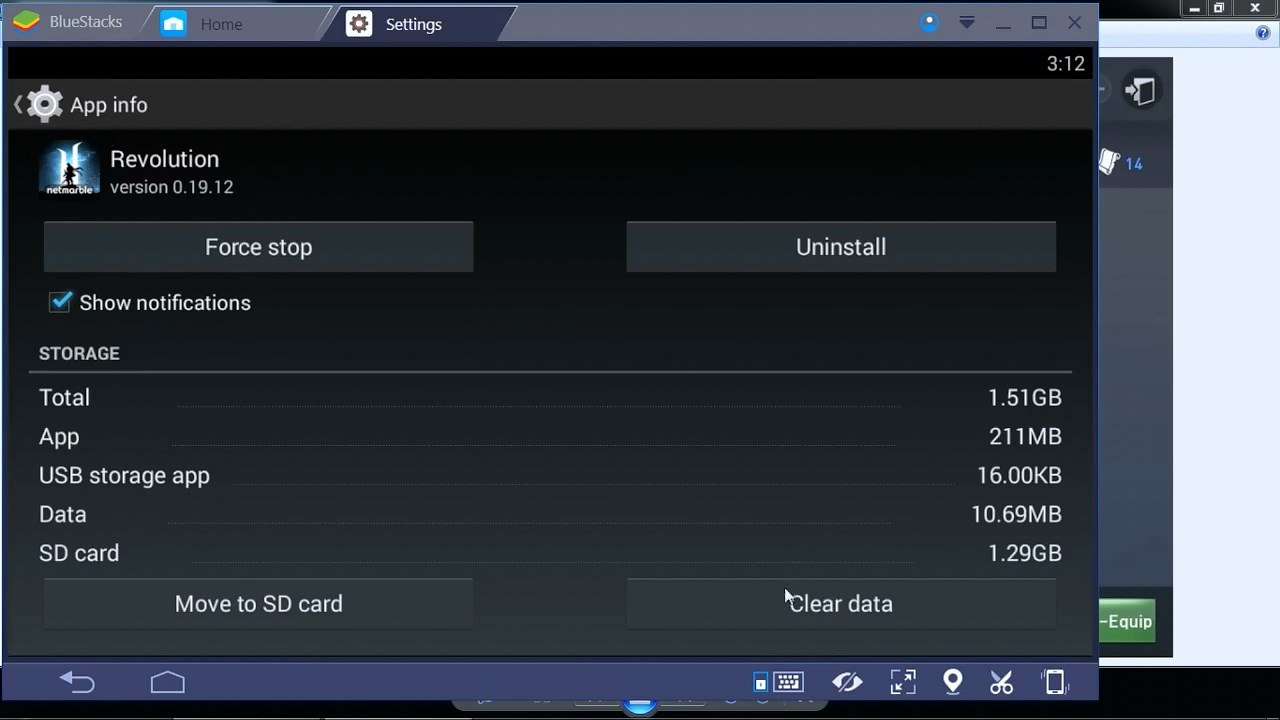 If done correctly, when the game starts, you'll be seeing the screen to login (link an account) again. Let the game update itself again. DO NOT link an account until you have the item(s) that you'd really like to have. From this point, it's the same process as described above over and over until you have what you want. Do note that when you remake the character, you CAN do so with the same name of the character you deleted.
Once you're happy with the item(s) you gained, link it to a Google account and you're all set. Once you've linked an account to the game, you CANNOT repeat the process with the same account.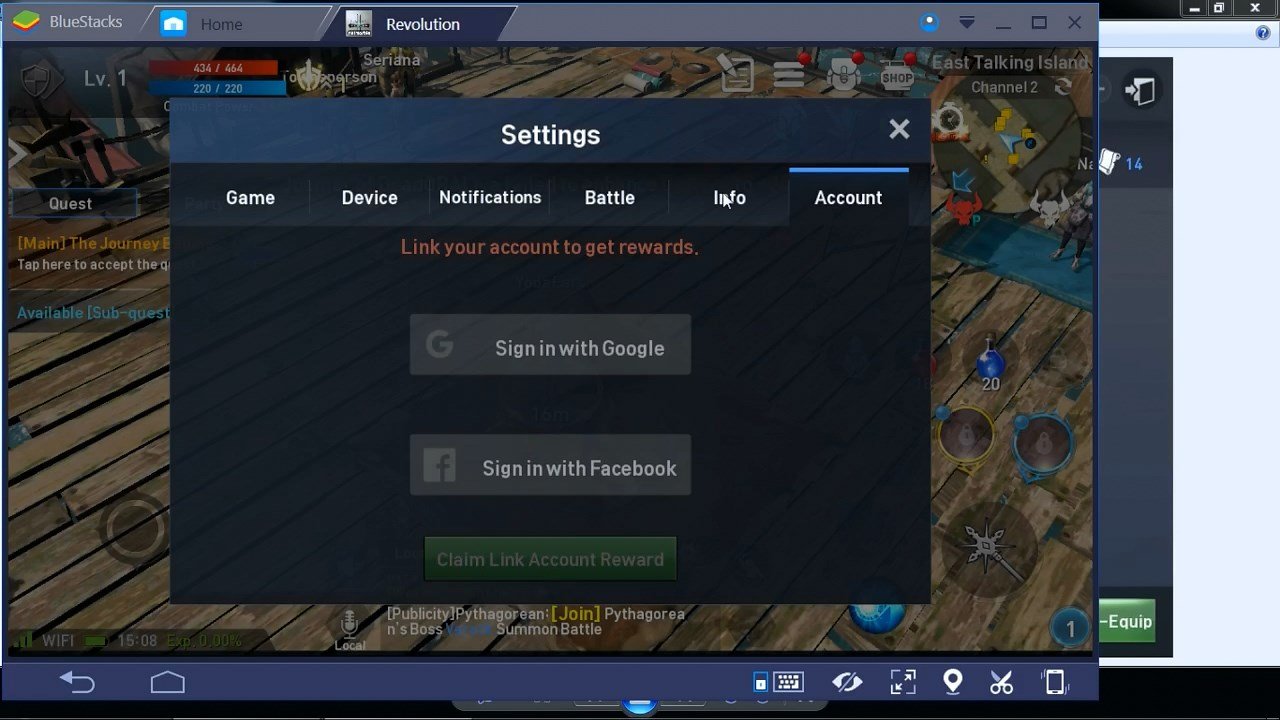 Click the Menu button, click the Settings button, and click the Account tab. If you've gained items you'd want to keep, click the Sign in with Google button and select an account you have NOT previously used for playing Lineage 2: Revolution.
For Existing Players That Have Already Linked an Account
Since you've been playing and want to start another character, you're only chance to reroll is to make a new account. You won't get that equipment box by making a new character in a previously used account. So you have to make a new Google account AND reset Lineage 2: Revolution back to a guest account state. Make a new Google account first and add it to Bluestacks in the Bluestacks Settings.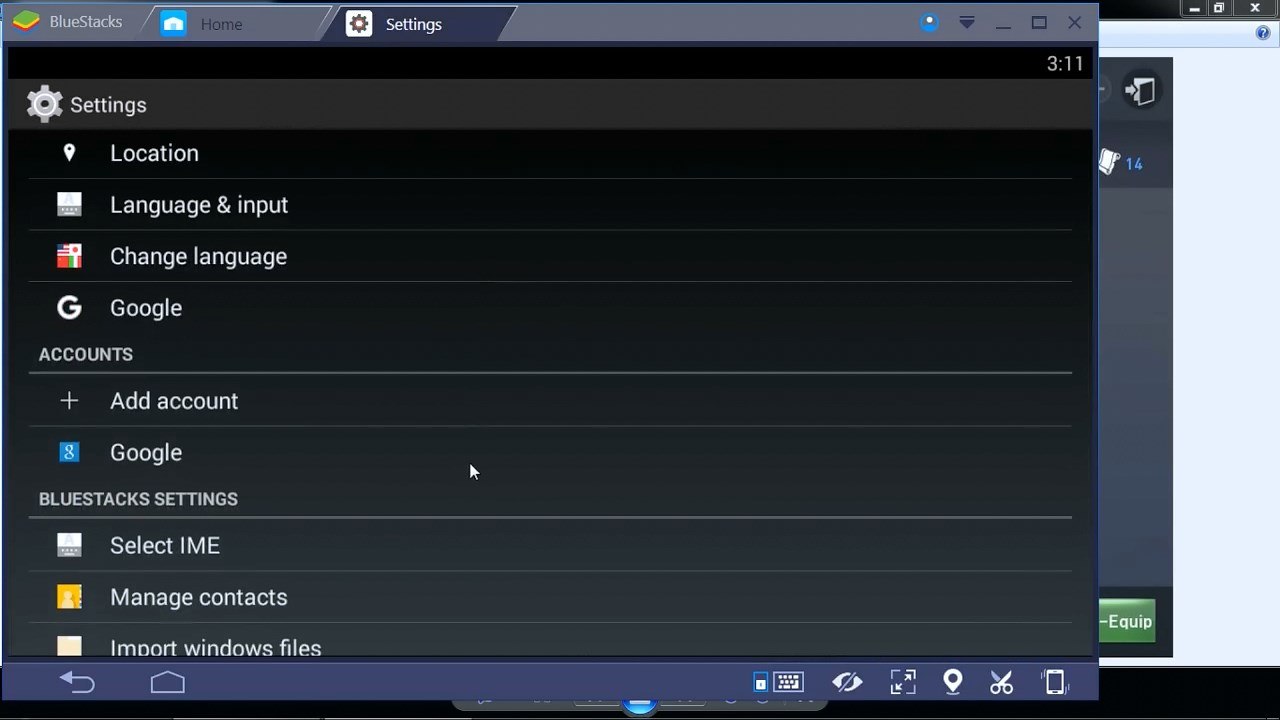 When you run Lineage 2: Revolution with an account linked, you'd automatically login into it unless you logged out from previous playing. Once you're in game, click the Menu button, click the Settings button, and click the Info button. Click the Log Out button. DO NOT attempt to delete you character for this reroll attempt since that won't help you at all.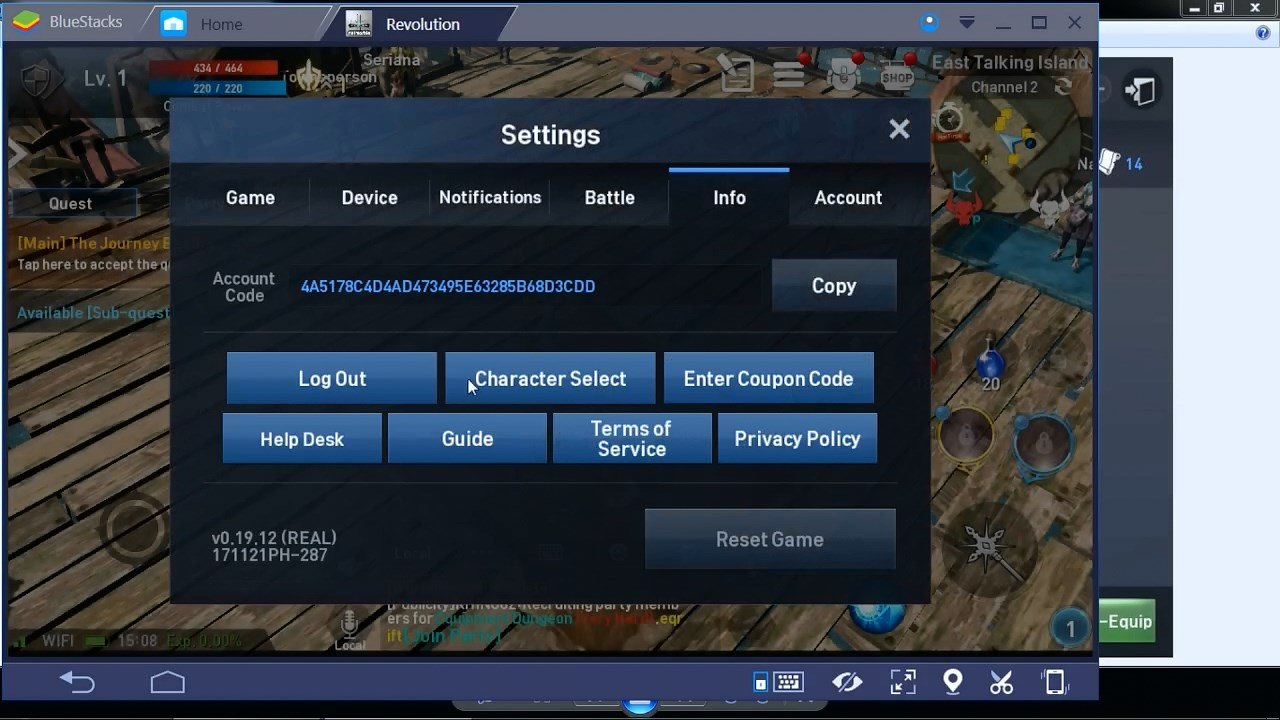 You should be back at the title screen. If not, just click the Back button. Check it to make sure you're not logged into anything by clicking the Link button (chain link icon) in the upper right.
You should see the screen just like the screen shot below where Google and Facebook offer a way to Sign in. Click the "X" to close that login screen.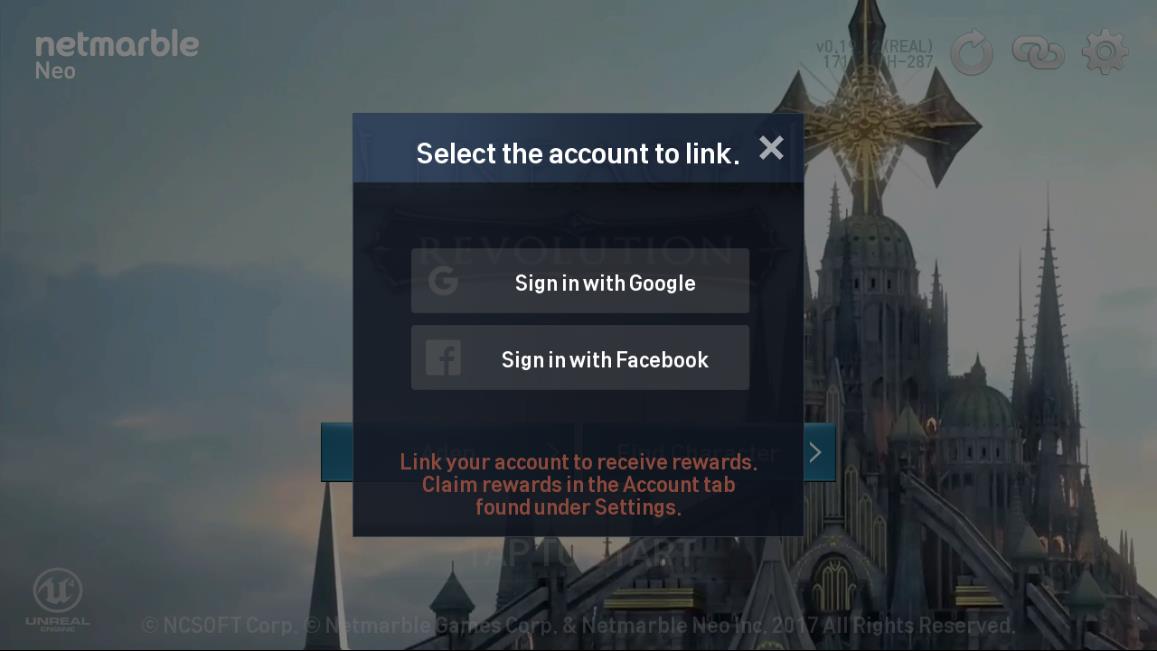 Once you're sure it's clear, exit the game and follow the steps given above for first time players. Your starting point is where you delete the game data (Clear data button as described above) in the Bluestacks Settings. This will reset you back to a guest account. Once you're back in the game, check for the equipment box in your Account mailbox. Then repeat the rerolling process as much as you like. Once you have the item(s) you'd like to keep, link that guest account to the new Google account you either freshly made or had all along and added in the Bluestacks Settings. MAKE SURE the Google account you use for this new guest account linking has NEVER been used to play Lineage 2: Revolution previously. If you try to link the newly reset guest account to a previous account with the new item(s) you just rerolled for, you'll lose the new item(s) and your previous account will load. You'd have to start this all over.
Good luck and happy rerolling!!