Updates
Princess Connect! Re:Dive Global Launch Event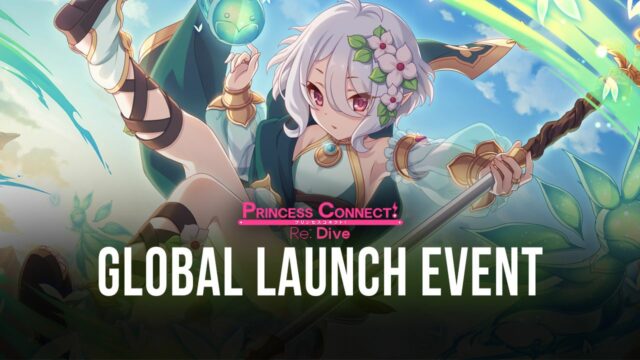 Princess Connect! Re:Dive is finally available for download internationally! As a celebration for the game's official English launch, a global launch event is being held to reward its fans for patiently waiting on the game's arrival. It's time to open up your BlueStacks client and download this game to make the most out of the limited-time rewards and start playing the game with your friends. But first, learn about everything you can do before the event ends next week.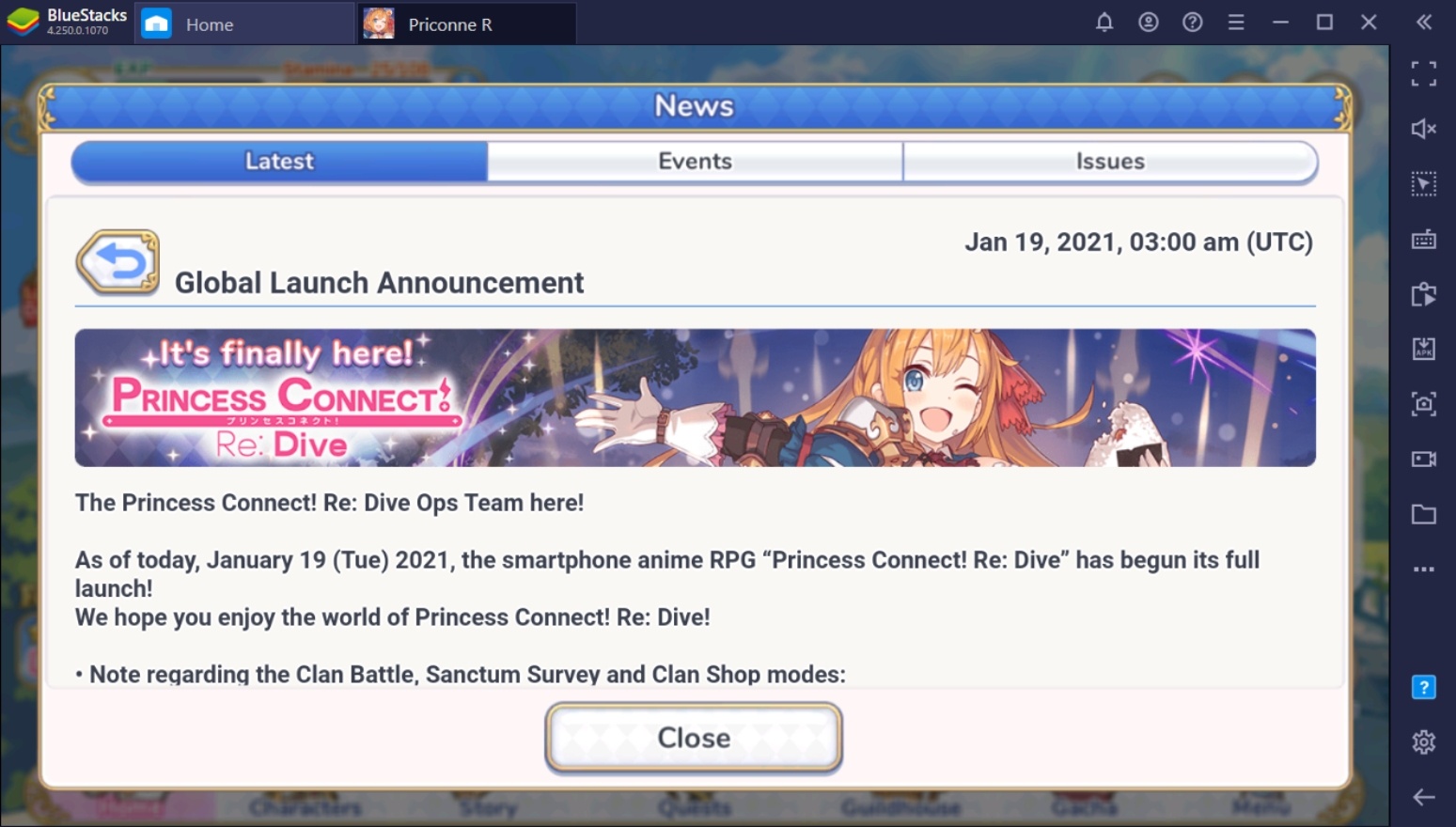 In case you're wondering, Princess Connect's English version has already been available for open beta for specific countries. This is why you might see a lot of high-level players with really strong teams despite the game being released just recently. If you want to catch up with these players, you're free to read our Princess Connect Catch Up Guide and our other guides on the website. This event is perfect for new players to pick up the pace and level up quickly.
Global Launch Rewards
Gems! Gems! Gems! Get a generous amount of gems from the Global Launch event and use these to get a lot of summons up. The game has given the players 1000 gems as a gift for the full launch and an additional 2100 gems for hitting 500,000 users during the preregistration period. You will also receive 100 gems and 20 skip tickets every day for 10 days as login reward. You can receive these rewards on your Present Tab which is found in the main lobby.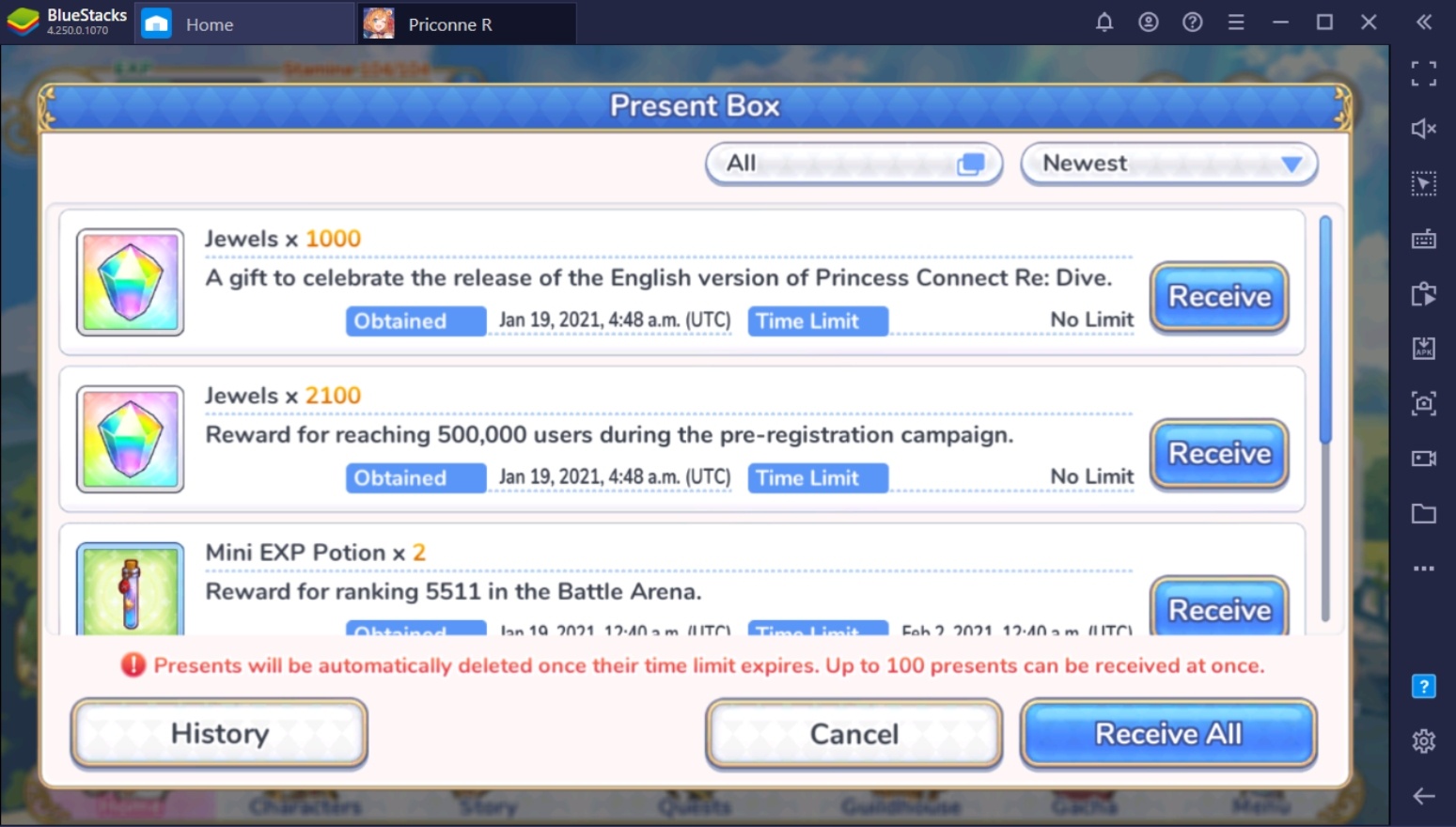 Now that you've received your gems, you might be tempted to spend it all on the Gacha. Before you do, there are some things you might want to consider like buying from the Mana Exchange or leaving some gems to recharge on energy. It's entirely up to you if you're feeling the need to push your progression quicker or just want to enjoy the game at your own pace. Now that the Global Launch is up, we can expect monthly events to begin showing up anytime soon with the first major event probably being Valentine's Day event since this is a waifu game after all.
The Featured Gacha Is Here!
The first-ever featured gacha character is here and who else to represent the entire Cygame's franchise than Granblue Fantasy's very own Djeeta! You have an increased chance to get her on the Focus Gacha banner so make sure to get your gems ready so that you can add her to your team immediately. After the event, she'll be joining the other 13 3-star characters on the Regular Premium Gacha banner.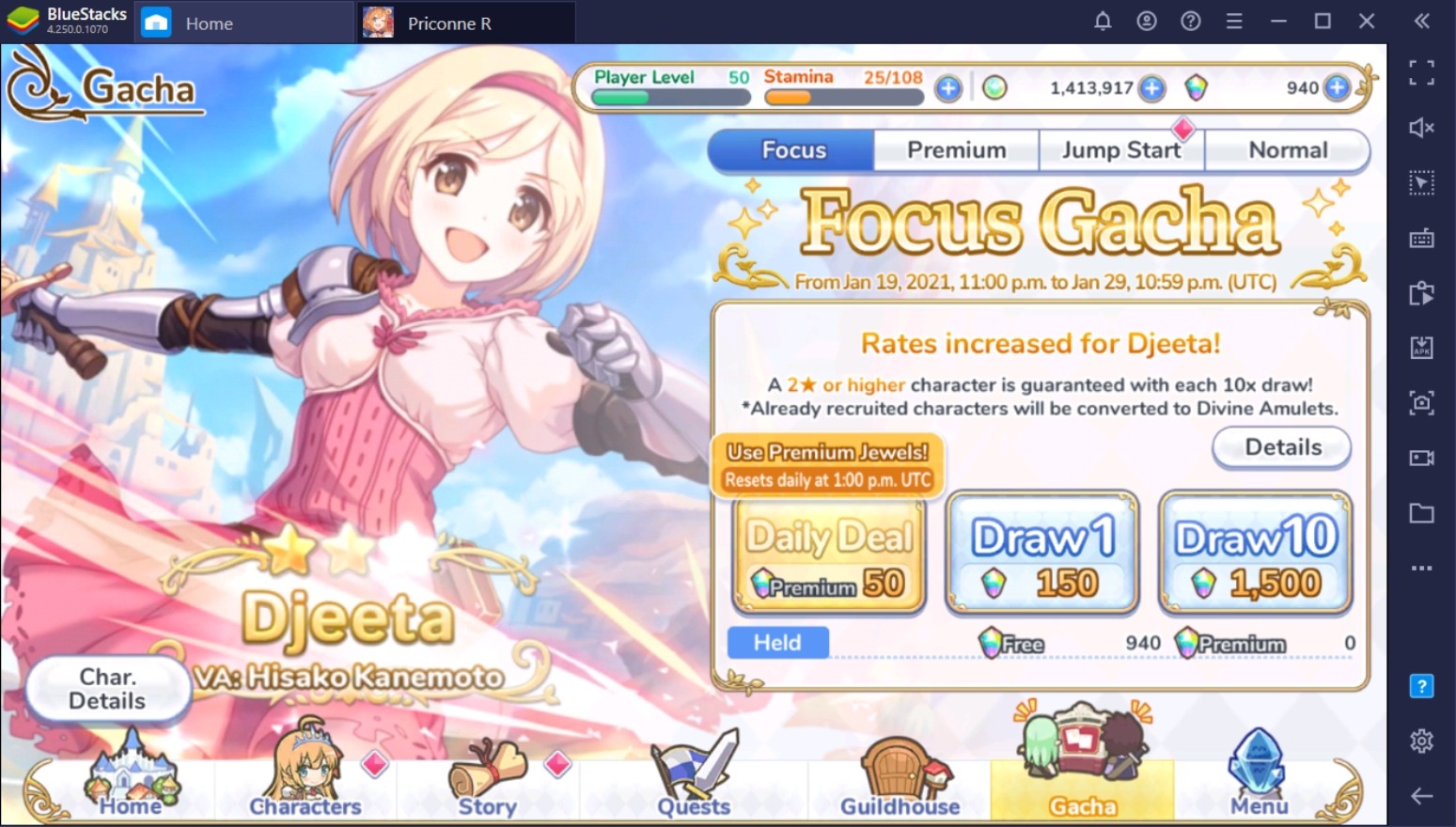 Priconne also opened up a one-time Jump Start gacha banner to help new players get a guaranteed 3-star unit using Premium Gems. Take note that Premium Gems are different from Free Gems as this currency is limited only to the gems purchased using real money so you can't use the gems you get from the game on this banner. Unfortunately, it does not guarantee that you will get a 3-star that you don't currently own already. But hey, 50 Divine Amulets isn't so bad.
Enjoy Discounted Gems
Premium players will enjoy discounted gems on the Jewel Shop. These deals are absolutely unbeatable and will help you get some much-needed resources to start the game. There are two 3-time deals on the Jewel Shop this week for 7500 gems which each cost approximately $80 each. If you're willing to spend about $500 on this game, you'll get a total of 45,000 gems which will allow you to do up to 30 10-summons on the gacha banner.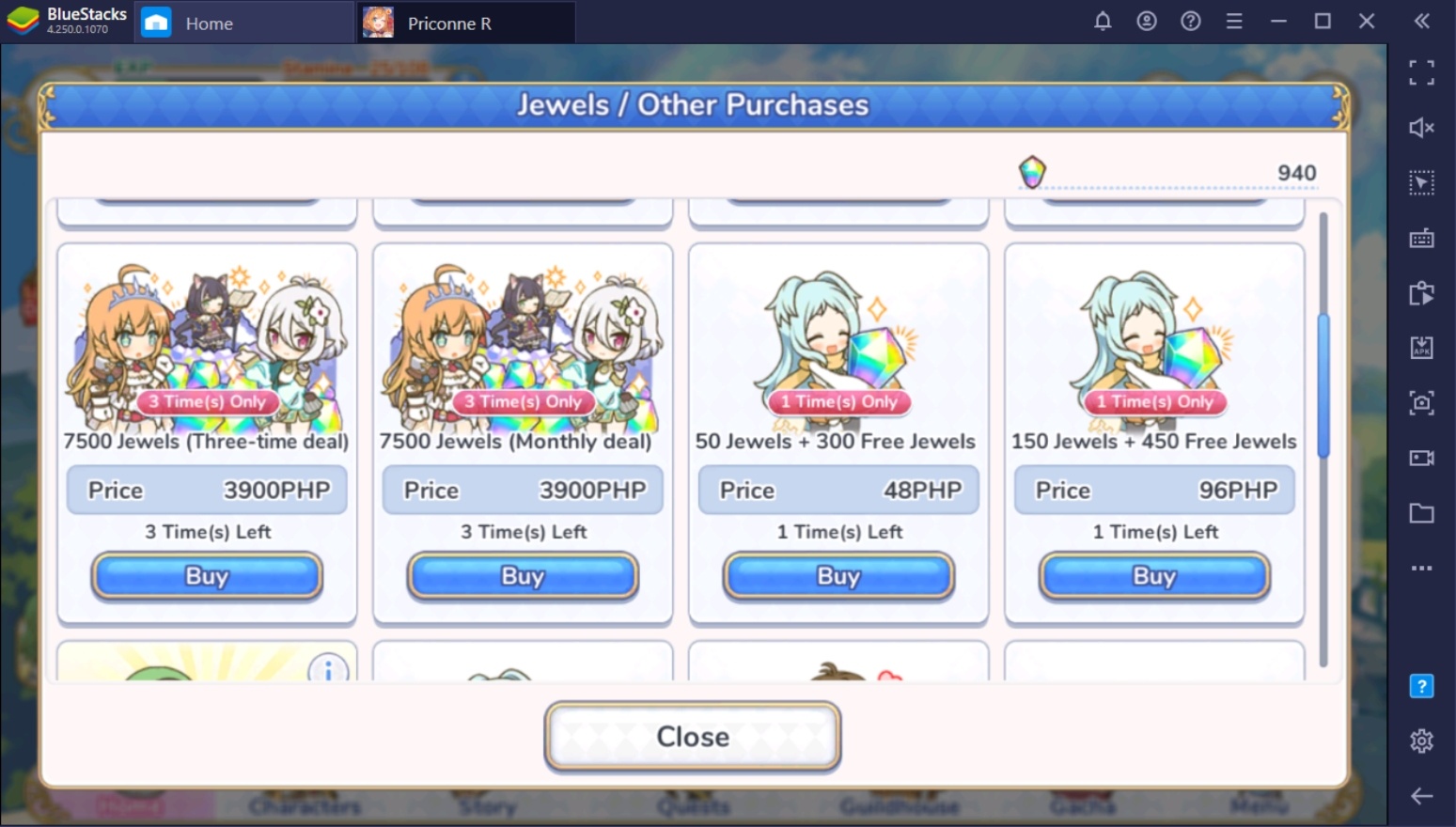 Players that want to get Djeeta or those that want to catch up to the competitive arena might want to take this deal because it should reward them with a good amount of Divine Amulets which is needed to ascend your characters to 6-stars. There are a handful of players that have already made it to the Princess Arena where the real competition begins so you might want to assemble a team of at least 15 characters ready during this time.
Hot Week For Rerolling!
If you don't have an account yet or you're not feeling any personal attachments to the account you already own, you might want to consider rerolling before the event ends. During the event, players are guaranteed to get more or less 3300 gems in total aside from the free 3-star unit that you get when you play through the tutorial. This is the perfect time for players to build the perfect team. Check out our Top 5 Best Characters list to look out for some of the units you might want to get.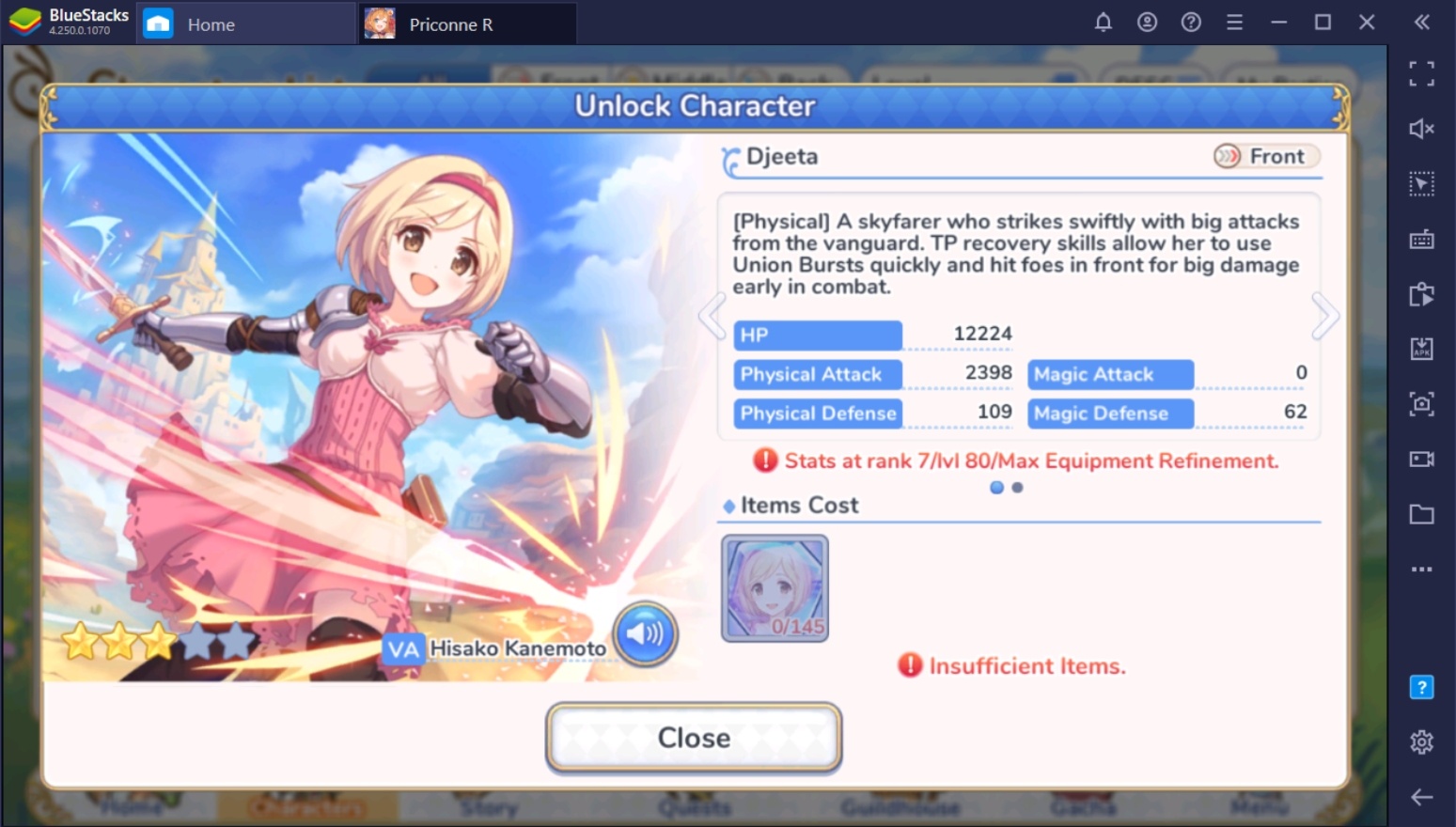 Don't know how to reroll? It's easy with BlueStacks' Multi-Instance Function. You can also use the BlueStacks Rerolling Guide as a step-by-step guide on how to reroll properly using this platform. Rerolling is one of the most important things you should do as a beginner since it saves you the frustration of spending your gems fruitlessly on gacha banners only to get a bunch of 1-star units and a single 2-star.
Catching Up To The Beta Players
There are tens of thousands of players who have been actively playing this game on the day of its soft release. However, don't be intimidated about that fact since there are probably about tens of thousands of players who probably quit the game after a short while due to a lot of different reasons like losing interest. Catching up to a month's worth of progress isn't so difficult as long as you're committed to playing this game to its full extent.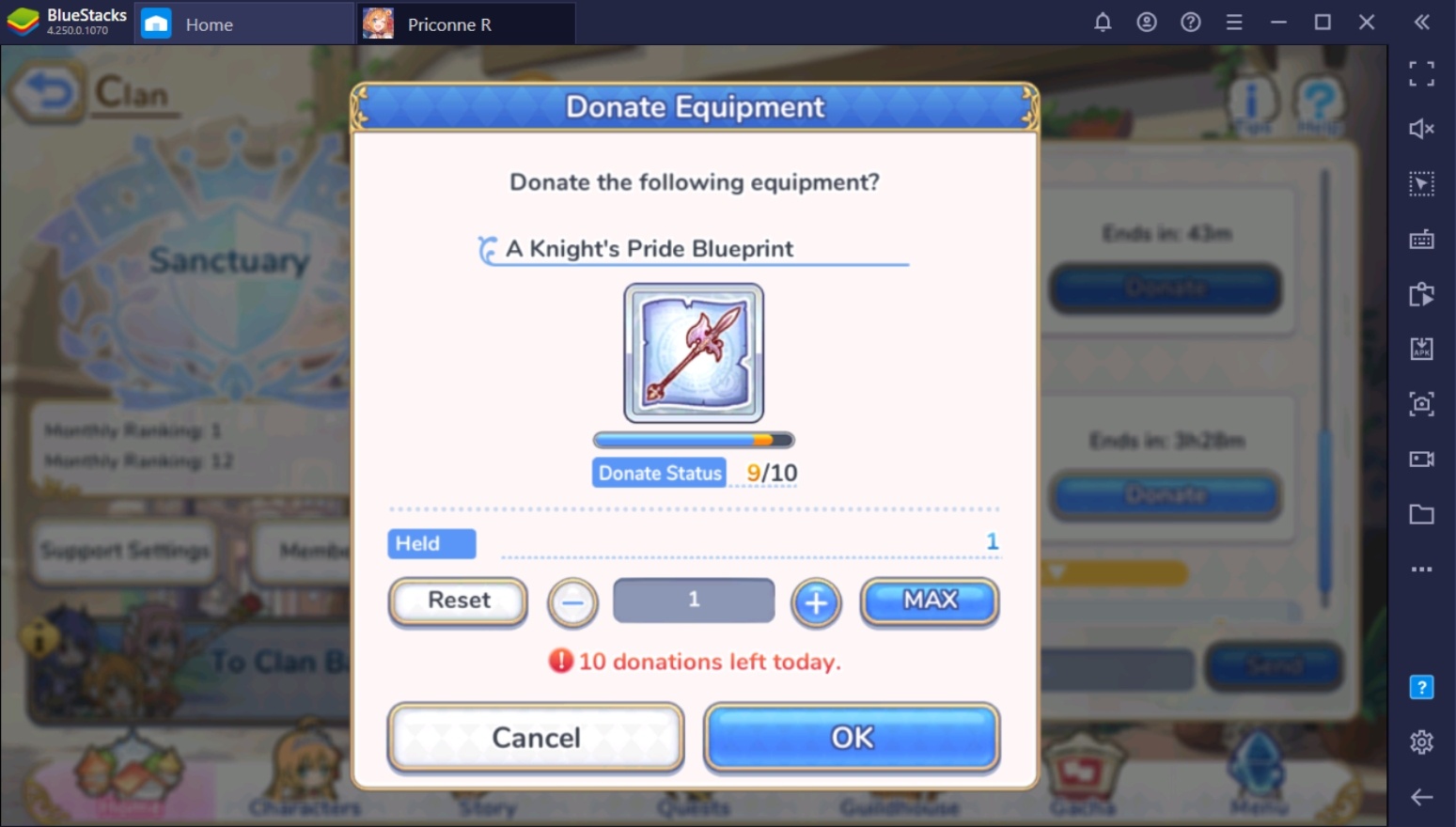 Beta players shouldn't be your main competition. In fact, beta players will help you progress a lot if you join a guild with a lot of members that have already played the game for a long time and have been farming materials for their characters. Befriend these beta players and you can even ask them for Materials you don't have that you need to upgrade your characters using the Clan's donation system.