BlueStacks Roundups
Top 10 Android Games for Low End Phones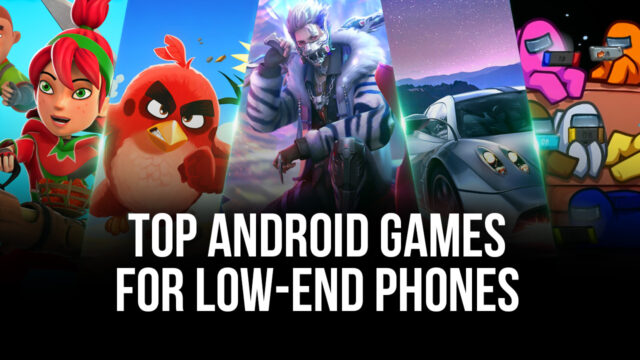 Mobile Gaming has evolved a lot in the past few years. Every year we see well-established developers announcing numerous games. New video games involve high graphical intensity as well as modern mechanics which following requires a mobile device with high specs. however, this isn't always the case. A lot of games do not require high specifications and storage. This allows you to enjoy multiple games without any restrictions. This article brings together 10 such Android games which can run on most devices.
1. Fruit Ninja
Fruit Ninja is a fan favorite game on over 12 platforms. With over 500 Million downloads and an average of 4.4 stars, It is made by the same people who built the action-packed arcade game Jetpack Joyride.
The game is a straightforward fruit-slicing experience. Players slice the fruit that jumps into the screen while holding the device sideways. More fruit appears on the screen as the game advances, and players can slice numerous fruits at once to score combos.
You can unlock various blades and backgrounds to avenge the fruits you were forced to eat. Hence there is a grind to unlock various types of cosmetics in the game
Fruit ninja is highly optimized and It only takes a few minutes to feel confident with the controls. What makes this game the best is it's outstanding potential and ultra responsiveness to even the most basic Android devices. You can also enjoy Fruit Ninja game on your PC.
The game is only 143MB in size and requires Android 4.4 or higher.
2. 2048
This game tops the puzzle category in the shop, despite hundreds of others attempting to duplicate it. The puzzle game was created by Gabriele Cirulli in 2014, which was later ported to Android via Solebon LLC.
2048 is a math-based puzzle game that extends the genre and encourages math skills. It is also easily accessible to younger players bringing up their cognitive skills. The aim of this game is to get a cube that adds up to 2048, users must slide numbered tiles across a 4×4 grid, matching up identical numbers. Users will see their score when they can no longer mix numbers.
This game is engaging and entertaining at the same time. It's not only a game about easy addition to getting to 2048, but it's also about noticing patterns after a while. It also consumes no data, so utilizing mobile data or WiFi is never an issue. Overall, a fantastic game for killing boredom.
The game is only 17MB in size and requires Android 4.4 or higher.
3. Angry Birds 2
Rovio Entertainment's Angry Birds 2 is the best Angry Birds game on the market. With over 1 Billion downloads on Play store and multiple editor's choice awards, this game tops the charts with surprising numbers.
The game is a Remaster of the original Angry Birds where the player is in charge of multiple types of birds striving to recover their eggs, which have been stolen by a gang of hungry green pigs. The enemies are protected in each stage by buildings composed of different materials like wood, glass, and stone. The ultimate goal of the game is to eliminate all of the pigs on the level by using the slingshot.
The game offers the ideal combination of new modes, crisp graphics, and simple controls. It's not just some repetitive building smashing but forces you to complete the level trying something new. Have a fun time with your friends while playing Angry Birds 2 on PC.
The game is only 73MB in size and requires Android 5.0 or higher.
4. Asphalt Nitro
Gameloft's Asphalt nitro is a hell of a ride when it comes to the racing genre. It came 2 years after the release of the famous Asphalt 8. The game currently has more than 1 Billion downloads alone at the Playstore.
There are several modes available in the game, In each phase of the race competition, players must perform different tasks. When it comes to novices and racing, the game is rather harsh, and players will have to learn to drive cars because driving assistance such as steering and brake, which were included in Asphalt 8 and GT Racing 2, has been removed from the game.
The game features expensive fast vehicles, airborne feats, captivating slow motion, and well-crafted racetracks, similar to its highly visually explosive predecessor Asphalt 8. However, in comparison to the 1.5 GB of Asphalt 8, play Asphalt Nitro on PC and have a fun time with your gaming buddies using BlueStacks.
The Asphalt Nitro only takes about 135 MB and requires Android 4.4 +.
5. Beach Buggy Racing
The popular Kart-Racing Action game is available on five platforms, with over one billion downloads on Android alone. Vector unit is the company behind the game.
The game brings back memories of Mario Kart and Crash Team Racing. Beach Buggy Racing is an offline game that has a variety of vehicles and personalities. The tracks are built in a unique fashion, with several hidden ways to complete the races. It also offers a career mode where you can start from the beginning of your career and explore various parts of the world in different tracks.
The game's easy UI, well-done graphics, and thrilling racing make you want to play it again and again. It also features a screencast capability that allows us to cast a screen to a television and play it either by tilting the smartphone or by tapping the buttons on the screen with our fingers.
The Beach Buggy Racing only takes about 135 MB and requires Android 4.4 +.
6. Stick Cricket Classic
Cricket passion has spread throughout the world, and there are numerous cricket games available for all platforms but Stick Cricket did something that none of the other games could: it remained consistent over time. It is developed by Stick Sports Ltd and has over a billion Android downloads.
Stick Cricket is a game that blends mind-blowing animations with incredibly simple and smooth controls to almost perfectly imitate the joy of playing cricket. Stick Cricket Live, Stick Cricket Classic, Stick Cricket League, and many other versions are available on the Play Store. You have the option of participating in tournaments and world cups. It allows you to create your own player and, if that wasn't enough, it also allows you to compete against your friends. This is what we refer to as an all-rounder game.
The game is an addition to the Stick Sports catalogue, and it requires 27MB of storage space and Android 5.1 or higher to play.
7. Chess – Play and Learn
Chess is a game that has been played for centuries in over 241 countries all over the world. Chess – Play and Learn is an online Android game with over 10 million downloads and a community of over 38 million players.
You can also play interesting chess variants like 960 chess (Fischer-Random) or blindfold chess, or race against the clock in a puzzle rush to beat your previous high score. The game has a built-in portal where we can add friends to play with or search for an online game. There are also chess tutorials and mini-challenges to help you improve your skills.
Chess – play and learn will not disappoint you if you appreciate chess and want to play it indefinitely without having to carry a board.
Chess – Play and learn only takes about 50MB and requires Android 5.0+.
8. Garena Free Fire
With over 10 Billion Downloads. Garena Free Fire, commonly referred to as Free Fire, is an Android battle royale game created by 111dots Studio and released by Garena.
Garena's Free Fire is an overtly PUBG-inspired third-person action game. On a vast island full of weapons and vehicles, 50 players battle it out to the death. Only one player survives the journey to the other side of the island.
Not only does the game have a variety of modes such as Team Deathmatch (TDM), Rush Hours, and Ranked mode in addition to the well-known Battle Royale, but it also continues to evolve in terms of gameplay and has a major esports component. So, if you're a fan of battle royale games, you should definitely give it a shot.
Free Fire is a really entertaining and addictive game. The game also uses less memory and is less demanding on your Android than other similar games. Enjoy Garena Free Fire on PC.
Free Fire's size depends upon the device you use and it requires Android 4.1+.
9. Ludo King
Ludo King is one of the most nostalgic and most played classic board games among friends and family, with over 5 billion downloads and a file size of 57 megabytes.
It's a multiplatform multiplayer game that works on desktops, Android, iOS, and Windows mobile devices. This game also has an offline option that allows players to play against the computer or in local multiplayer (pass and play mode). It allows you to communicate, utilise emoticons, and compete with Facebook friends. Play Ludo King on PC and have a fun time with your gaming buddies using BlueStacks.
The game was created to mimic the feel of a classic board game, and it has proven to be a lot of fun to play with our loved ones.
10. Among Us
Among Us was released in 2018, acquired popularity during 2020. It is one of the most popular games, with over 100 million downloads and 12 million reviews on Google Play.
The game can be played with 4-15 players online or over local WiFi as you prepare your spaceship for takeoff, but beware: there will be an impostor out to kill everyone! Crew members can win by completing all tasks or identifying and voting the impostor off the ship.
The Impostor can use sabotage to cause chaos, making for easier kills and better alibis. Among us is packed with thrills, lies, and a lot of chaos. You ought to have a good time playing it with your friends enjoy Among Us on PC.
Check if you can make everyone believe you're not the imposter and win the game. Among Us only takes about 124MB and requires Android 5.0+.