Game Guides
AFK Arena: Master Combat, Upgrade Heroes, Employ Currency and Much More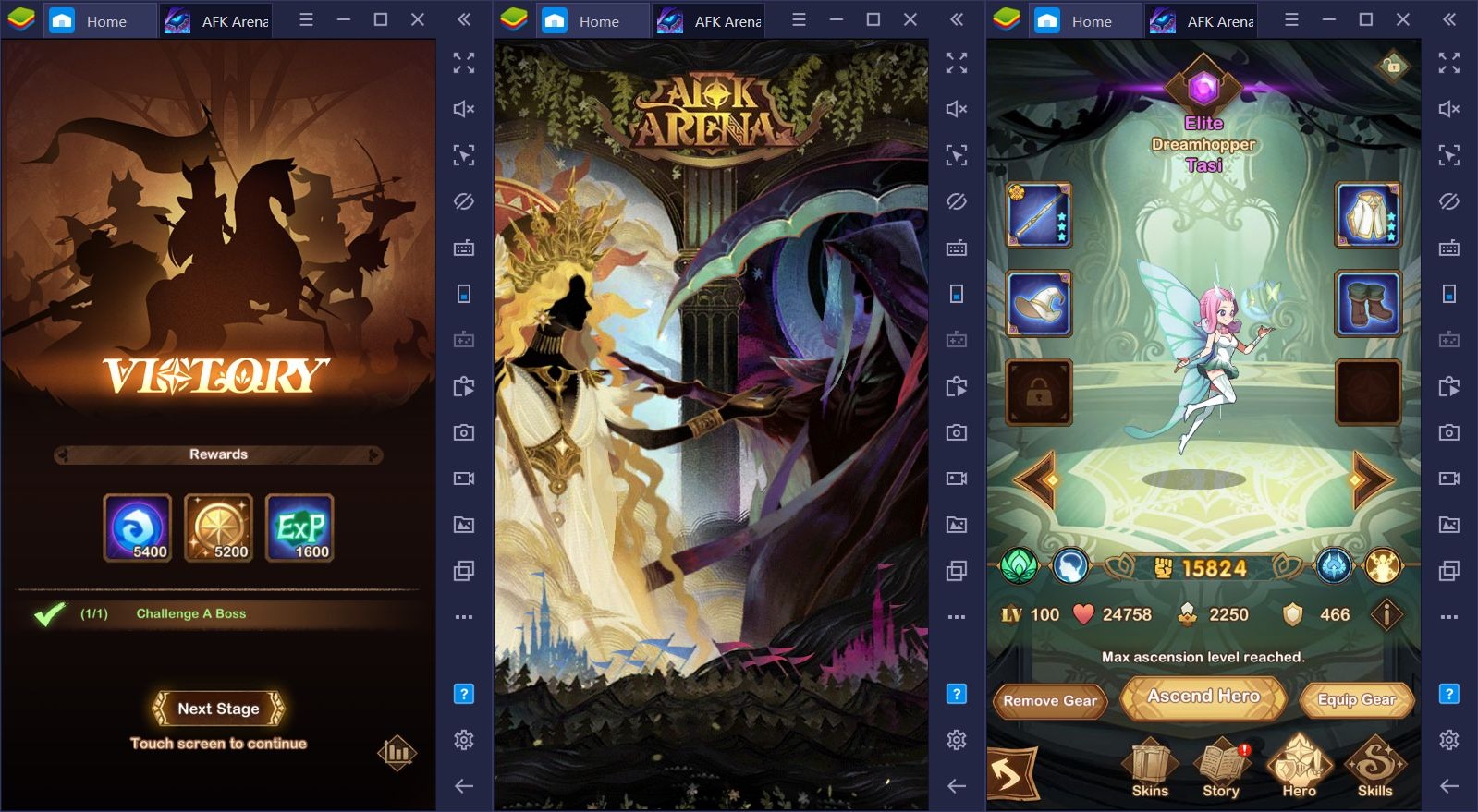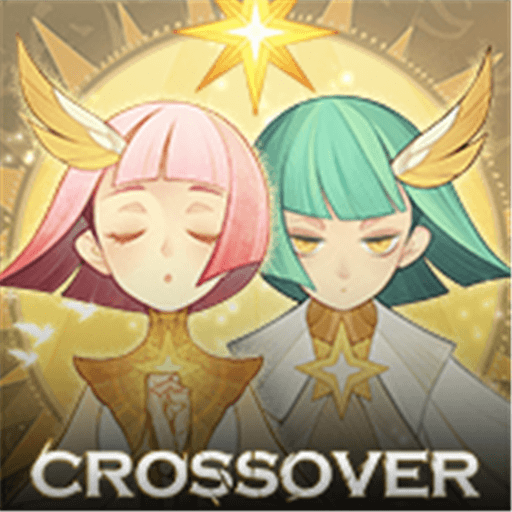 Table of Contents
Idle games occupy an interesting niche in the market of video games. Like the genre's name suggests, these titles emphasize automation above everything else and are designed for gamers that can't sink long hours into their hobbies at any given moment, which gives everyone the opportunity to progress at a steady pace. While they are mostly hit or miss, especially when it comes to the "clicker" subgenre of idle games, there are some titles within this category that have included elements from other genres and have become entirely different creations.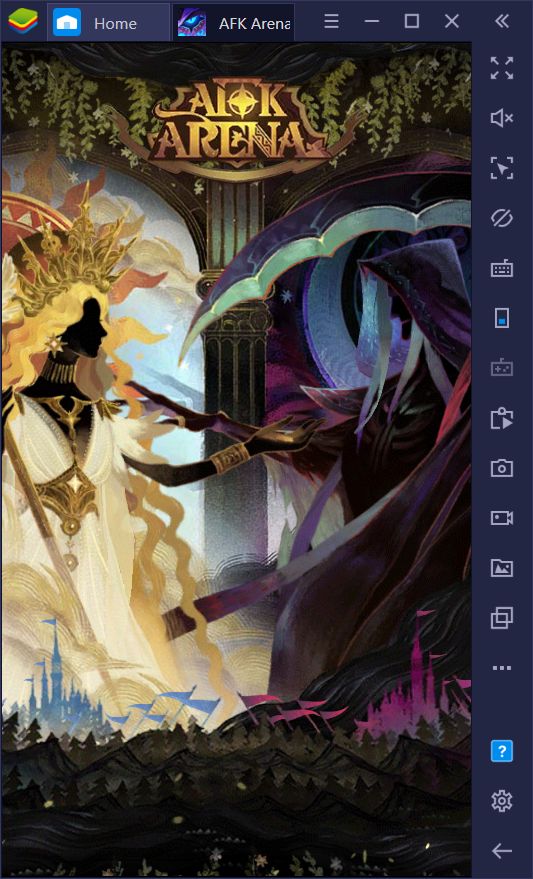 AFK Arena is one of such ambitious titles that takes the best elements from idle games and combines them with many engaging RPG and gacha mechanics to create a title worthy of standing on its own. This combination of features puts AFK Arena on the level of other titans of the industry such as Idle Heroes, while also innovating in many aspects. Suffice to say, since its launch, this title has set the bar for other idle games, and many have tried to copy its success.
The main gameplay loop in AFK arena consists of farming resources to unlock new heroes and then using certain materials and equipment to upgrade and strengthen your characters so that you can complete the levels in the main campaign, which are increasingly difficult as you progress.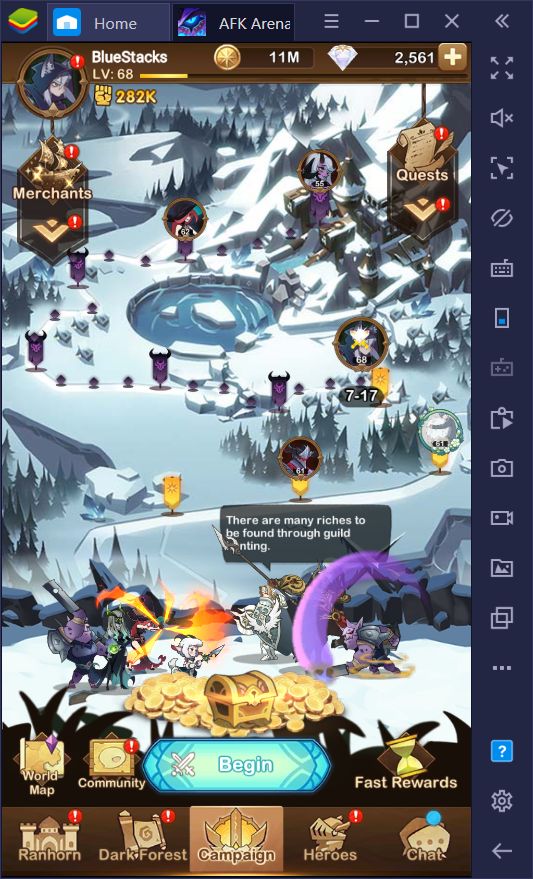 Aside from the main campaign, however, there are also many different game modes that offer plenty of challenges for you to beat, including a PvP Arena where you can fight against other players. These additional game modes are, in a way, the endgame content in AFK Arena, considering that, once you're done with the story, these are all that's left for you to do. This isn't to say that the main campaign is easy; you'll probably spend months unlocking and upgrading the best characters in the game in order to beat the toughest levels.
These additional modes are there to also give you something to do while you're stuck on a level so that you can continue farming and grinding materials. You can trust us when we say that you'll be stuck on certain levels for a long time as some of these are quite challenging. Especially if you have bad RNG and the game doesn't give you any good heroes in your summonings, you might be stuck a bit longer than usual.
All things considered, AFK Arena is more than your typical idle game; it's also a great RPG game that gives you plenty to do and that doesn't require long hours or excessive manual grinding to unlock its best features. In this sense, even if you don't have enough time to sit down and play in earnest, you can still progress at a steady pace if you know what you're doing and eventually ascend to the ranks of strongest players in your server.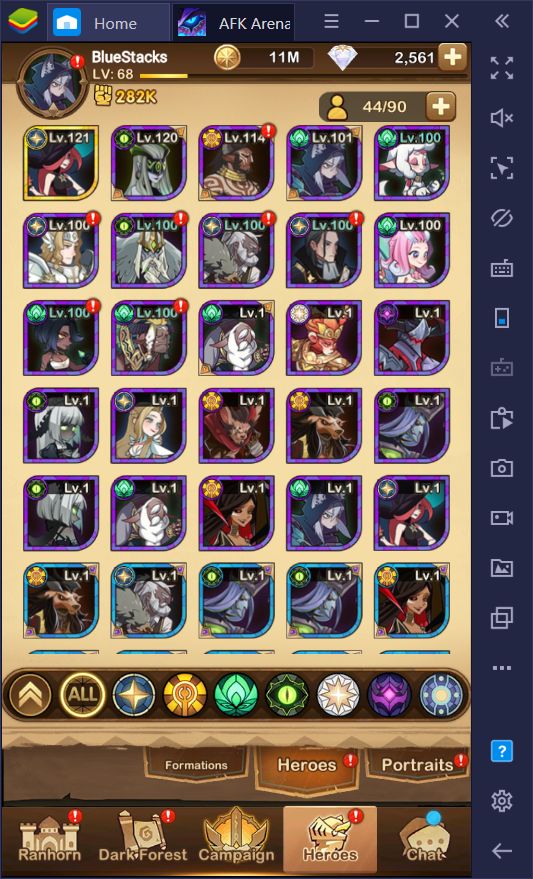 There's quite a lot to keep in mind when it comes to winning in AFK Arena. Things like the best heroes in the game, the best team compositions, the best ways to grind for resources, and even how to go about rerolling in this game are things you need to know if you want to get good. Luckily, these are things we're going to explain in this guide. And if you want to read more about a certain topic, please feel free to click on the links that you'll find throughout this article so that you can go to the articles where we delve further into the specifics.
1. How To Play AFK Arena on PC
The very first thing you'll need in order to get good at any game is an optimal setup. While AFK Arena is definitely meant to be played on phones and tablets, there's much to be gained from playing it on other platforms, such as PC, which is exactly what BlueStacks allows you to do.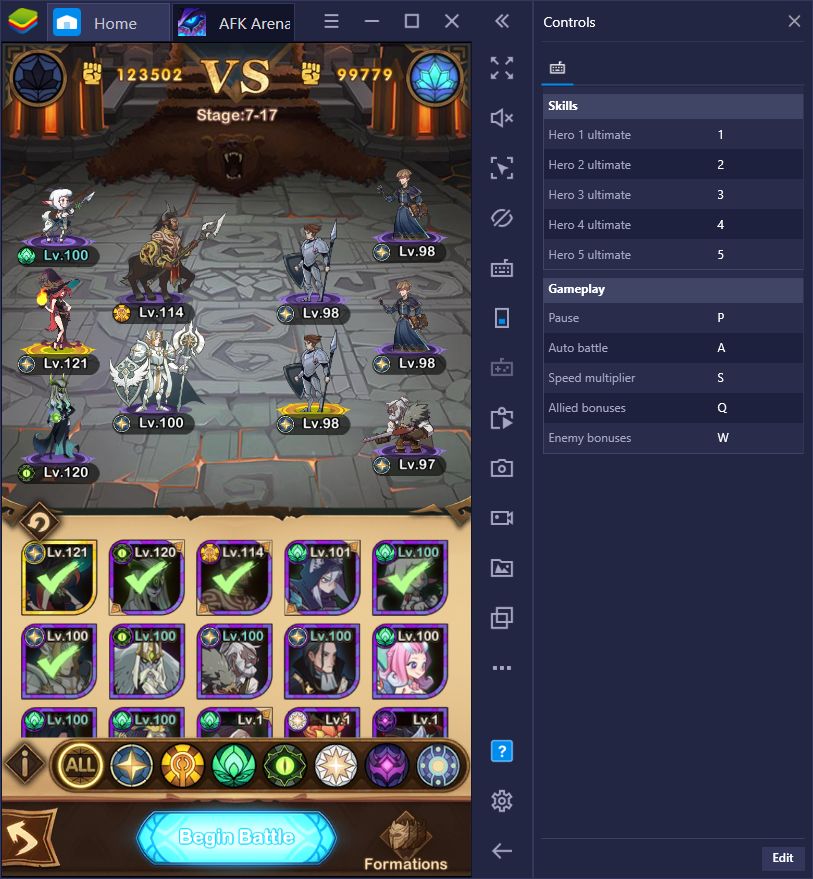 With our Android emulator, you can download this and any other Android game, and enjoy them on your PC with your large monitor and all the perks from having better hardware compared to your that of your phone, as well as having access to a mouse and keyboard. And not only that; by playing AFK Arena on BlueStacks, you will also have access to automation tools that can turn this mostly-idle game into a fully-automated experience.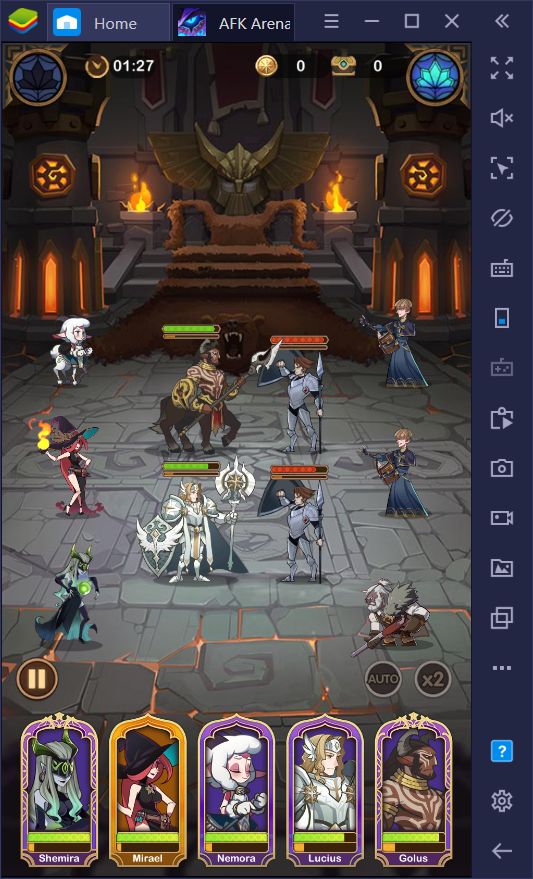 In order to play AFK Arena on PC, you simply need to download BlueStacks and install the app in the emulator from our App Center, as you would with any other mobile game. BlueStacks is an Android emulator, which means that it's as easy to use as any smartphone, but with the added benefit of using your large PC monitor and having access to your mouse and keyboard when gaming, which allows you to enjoy vastly-superior controls compared to playing on a touchscreen.
Some of the most important BlueStacks features when it comes to playing AFK Arena are definitely the Macro Recorder, along with the Instance Manager and Multi-Instance Sync tools. With these three key features, you can not only automate most of the game's grind, but you can also speed up certain processes like rerolling. In the case of the latter, you can even reroll with multiple accounts simultaneously, which will significantly shorten the time it takes until you summon a good character.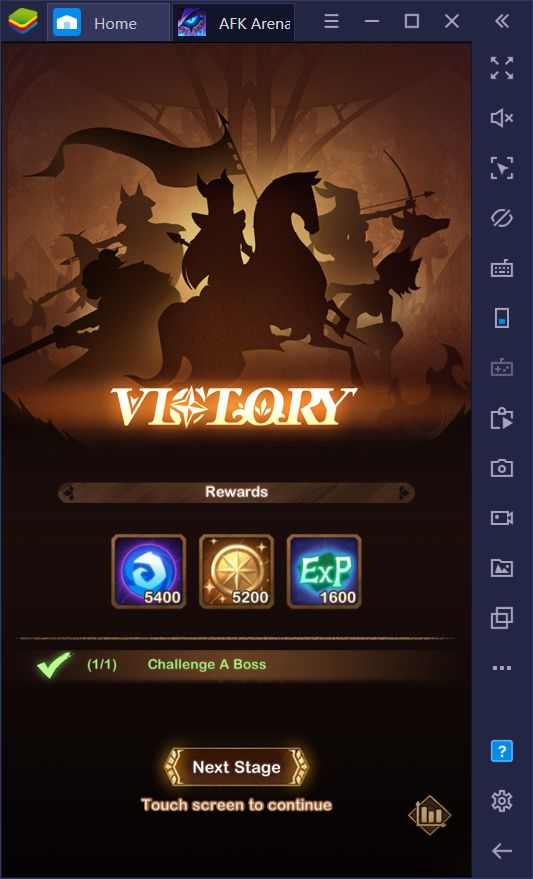 2. Getting Started in AFK Arena
As we mentioned above, the core gameplay loop in AFK Arena is quite simple: You simply complete challenges to obtain resources and then use the said resources for unlocking new heroes and powering up your team. However, most of these challenges require you to actually fight enemies, which is one of the aspects where the game shines brightest.
The combat in AFK Arena is mostly automatic, with player input being limited to activating ultimate skills, though you can also automate that as well. In most cases, you could simply activate auto-battle and have your team fight for you. In fact, being able to use auto-battle to complete challenges is, in a way, one of the objectives of the game since you could simply let your team fight for you and complete challenges without requiring your supervision.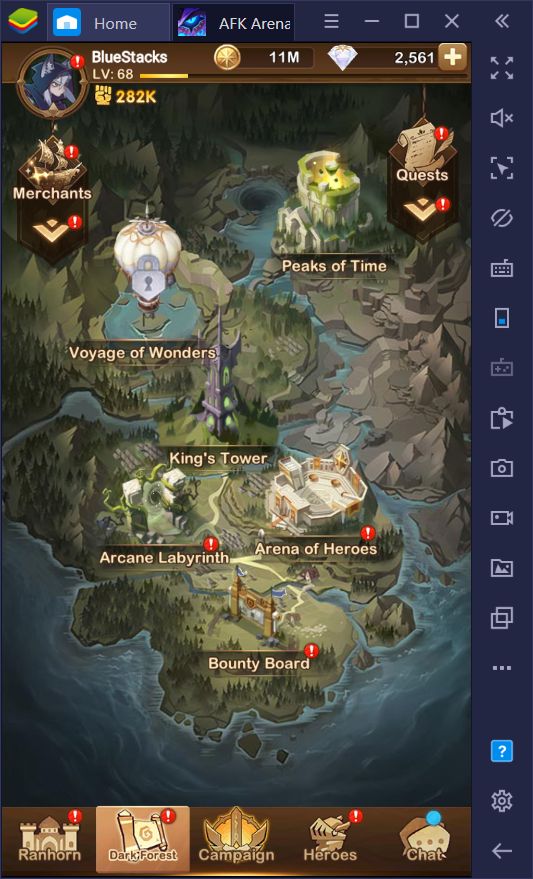 However, in the toughest game modes, such as in the PvP Arena, you'll definitely need to play manually as your characters' AI isn't very smart when it comes to using abilities effectively. In these cases, you'll often want to assume manual control and unleash your skills in the right moments in order to seize the victory. Luckily, there are only a few game modes in which you'll need to do this, and you'll rely on auto-combat for the most part.
In this sense, the gameplay in AFK Arena is more about unlocking the best characters, upgrading your units, and optimizing your formation so that you can clear most challenges automatically without any supervision.
A feature that AFK Arena took from other idle games is the fact that your champions continue farming even while you're offline. Your team fights enemies and gathers certain basic resources while you're gone, which is why you can still progress at a steady pace even if you don't have much time to play. While you'll still need to complete most challenges manually, your characters will continue to improve while you're away so that you can catch up and breeze through all the game modes in a few.
3. Farming Resources in AFK Arena
The most basic resources that you can obtain by offline farming in AFK Arena are gold, hero experience, hero essences, and some pieces of gear. However, there are other resources that you'll need to farm if you want to speed up your progress in this game, including diamonds, scrolls, and friendship points, among others.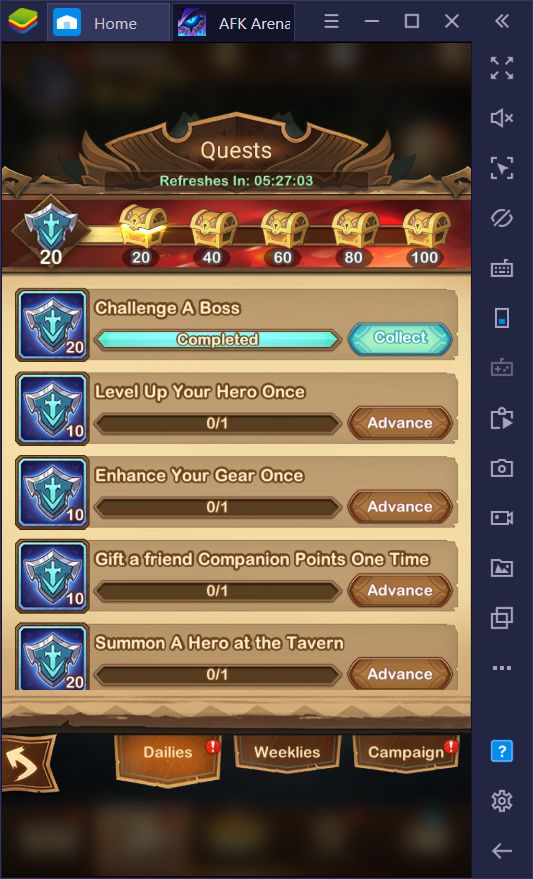 Diamonds are the premium currency in AFK Arena and are quite important as they are the main ingredients for summoning heroes. Luckily, unlike other games that put their premium currency behind a paywall, there are many ways through which you may farm diamonds. You can obtain diamonds from many sources:
Daily and Weekly Quests: 100 diamonds every day for completing daily tasks, and an extra 400 diamonds for finishing the weekly challenges.
Level-Up Rewards: Small amounts of diamonds upon reaching level 110 with a hero, and then additional diamonds every 10 hero levels until reaching level 200.
Unlocking New Heroes: 100 diamonds per hero for reading their biography on the portrait menu.
Completing Chapters in the Campaign: A large sum of diamonds for completing certain chapters and stages in the campaign.
Rewards For Ranking in the Arena: A static amount of diamonds depending on your number of victories, and an additional sum depending on your ranking at the end of the season.
There are other ways to farm diamonds in AFK Arena, though the ones we mentioned above are the most common.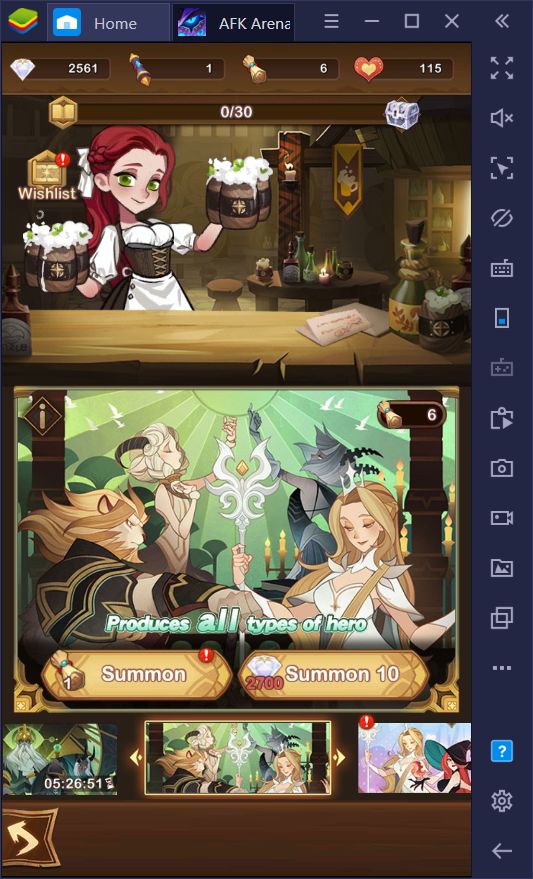 Aside from diamonds, there are two other materials that can be used for summoning heroes in this game, including Scrolls, and Soulstones. The former allows you to perform a summoning per scroll, while you need to collect 60 of the latter in order to summon a hero of the corresponding rarity. You may obtain these resources through the following sources:
Soulstones: From completing daily and weekly tasks, as well as from participating in the King's Tower.
Summoning Scrolls: From completing daily and weekly quests, and from winning in Guild Wars.
There are other resources in AFK Arena, but these are some of the most important as they will allow you to summon characters and upgrade your teams.
4. What is the Best Team in AFK Arena?
Effective team compositions in AFK Arena vary according to the meta. As new characters are introduced and old heroes get rebalanced, the best formations and tier lists will vary. Similarly, your choice of best teams will also depend on the type of mode you're challenging. For instance, a good team for PvP might not be very good in PvE. Moreover, a good general PvE team might not be the best for specific game modes like the Guild Hunt or the Arcane Labyrinth.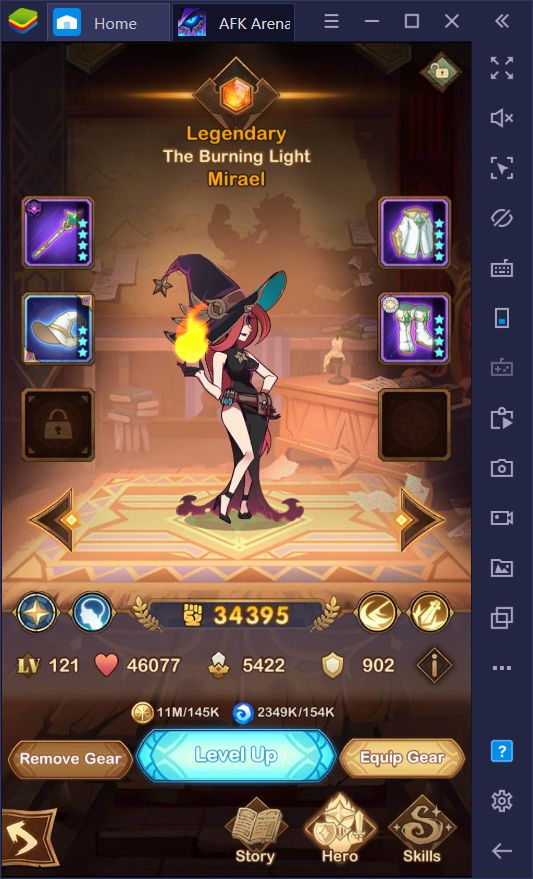 Nevertheless, some individual heroes in AFK Arena might be among the meta across several game modes. In this sense, if you want to remain competitive, your best bet would be to scout for these versatile heroes so that you can excel at most game modes, without spending months on summoning specific characters.
Some of the best characters in AFK Arena as of May 2020 include the following:
Talene (Celestials, Ascended)
Rowan (Lightbearers, Ascended)
Athalia (Celestials, Ascended)
Mehira (Hypogeans, Ascended)
Elijah & Lailah (Celestials, Ascended)
Lucius (Lightbearers, Ascended)
Tasi (Wilders, Ascended)
Eiron (Wilders, Ascended)
Ferael (Graveborn, Ascended)
Rosaline (Lightbearers, Ascended)
These are 10 of the strongest characters in AFK Arena, which excel in most aspects of the game. You can't go wrong with adding a few of these to any formation.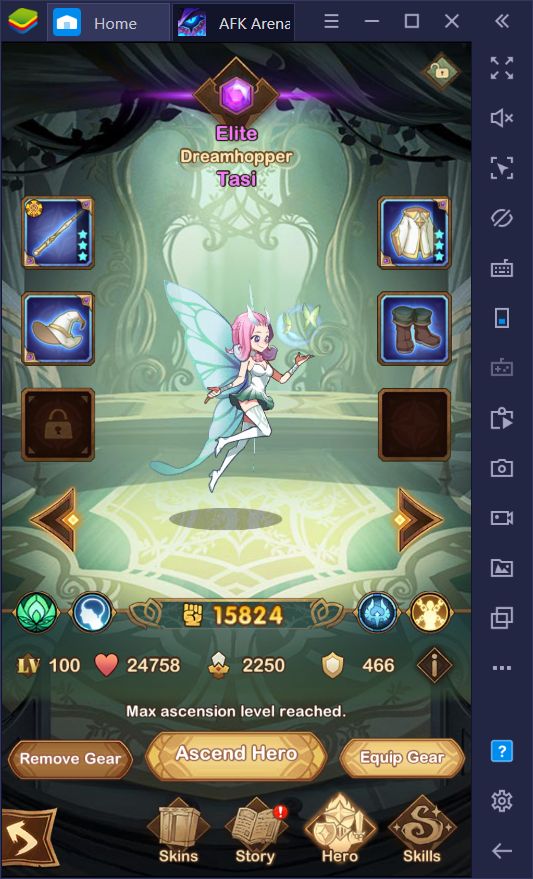 5. The Best Guides for AFK Arena
Despite being an idle game, AFK Arena's RPG mechanics makes this title into much more than meets the eye. There are many aspects, game modes, and challenges that you need to master in order to get good. We've already talked about some of the most important elements that you'll need in order to get started. If you want to learn more, you can find more information in the following links:
These guides cover most of what you need to know in order to get good in this game. However, if you still want to learn more, feel free to swing by our blog, where you'll find other useful AFK Arena guides.